Before visiting we had never heard of Olomouc, Czech Republic. Little did we know this was going to be one of the more underrated destinations we visited on our month-long adventure through the country.
Often referred to it as Little Prague without the tourists, Olomouc has many historical and cultural gems throughout the city. This was one of those places that we wouldn't have appreciated as much without knowing some of the history and stories that give this place character and personality.
While the name is a bit confusing to pronounce, like OH-la-mootz, we found ourselves finding plenty of things to do in Olomouc that made us fall in love, from cats to cathedrals and cheese!
12 Lovely Things to Do in Olomouc
1. Enjoy the younger vibe of the town.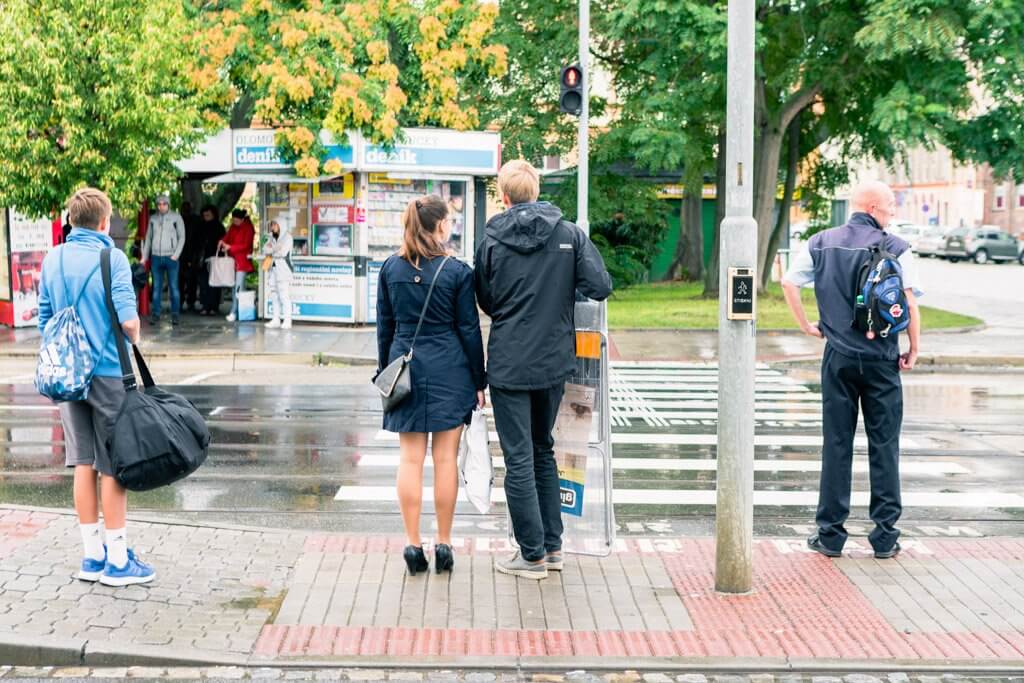 Olomouc isn't young in age, not even close, but it does have a large young adult scene. Home to universities that bring in around 25,000 students per year, 25% of the inhabitants in Olomouc, you can expect to find a younger, hip crowd and vibe in the city. There are tons of amazing pubs and bars that cater to this crowd as well as great cafes.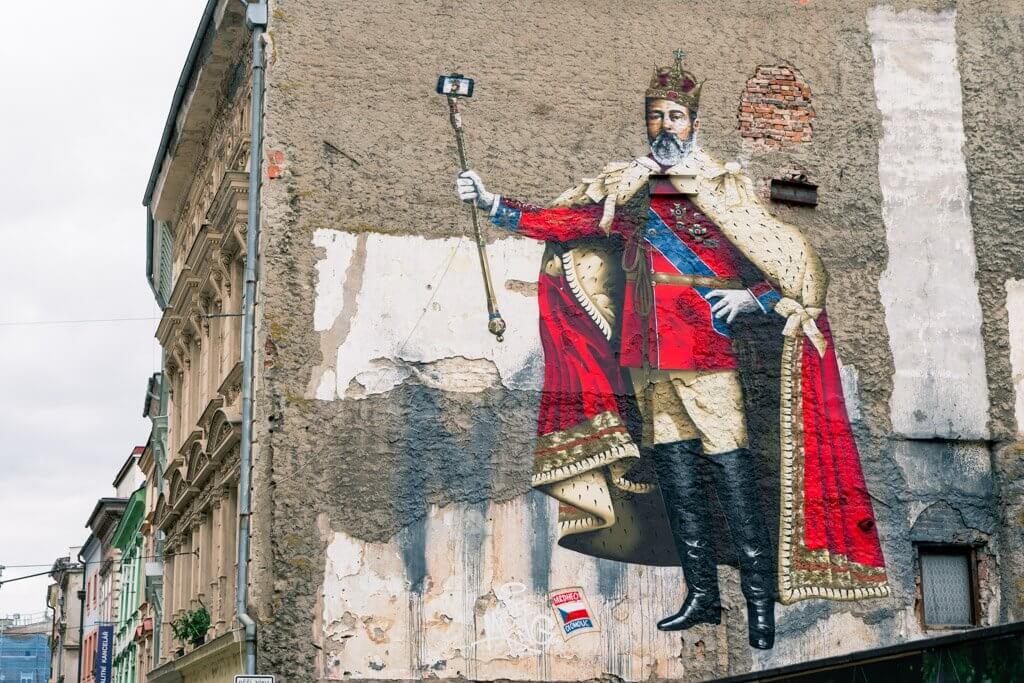 We think that this gives the city a bit of an edge and a fun vibe that a lot of historical cities don't have. We enjoyed the personality this younger crowd gave Olomouc.
2. Eat all the cheese from Olomouc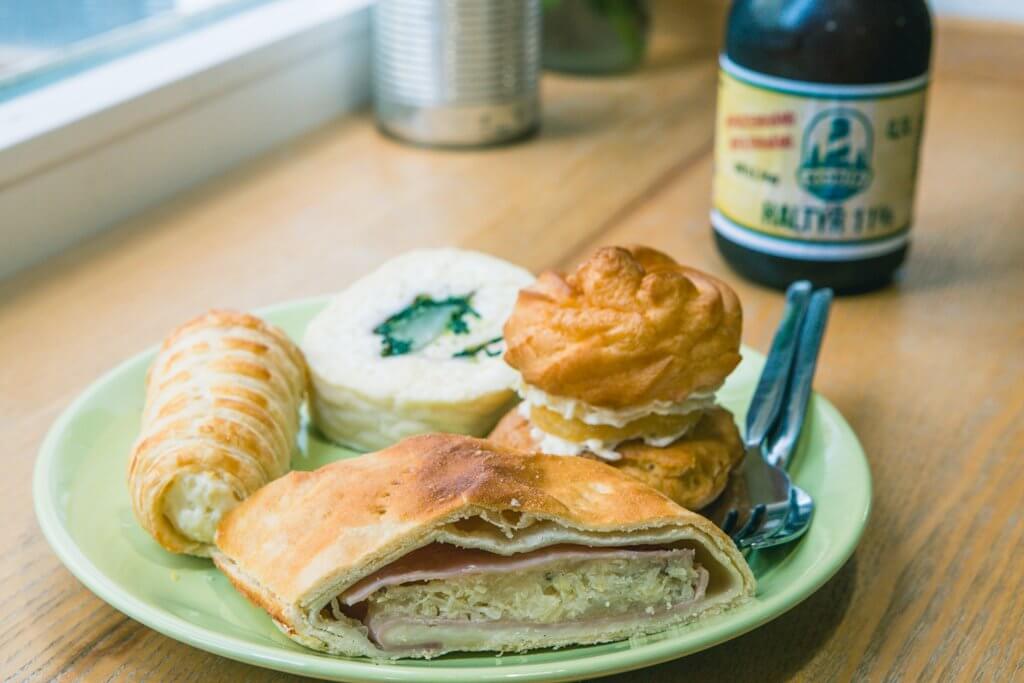 If you're a cheese lover, than this should be the top things to do in Olomouc! While not everyone is a fan of the cheese due to its strong scent, we had to try it during our visit. We ended up really enjoying it, but there really aren't many cheeses we do not like. What makes it even better is that it's meant to be paired with beer. Win, win!
Their local cheese is a specialty in the region and you can even visit a Cheese Museum about 30 minutes out of the city.
If you don't want to leave Olomouc, there are plenty of places that offer the cheese including a vending machine in the tourist information center in the square! We enjoyed sampling different pastries using the cheese at Tvarůžková cukrárna. Many restaurants serve dishes with the cheese if you aren't sure you can always ask. But this is a must do while in Olomouc.
We found Olomouc cheese to be one of the most unique finds in Czech Republic, see what else made the list!
3. See Why Mozart Has Ties with Olomouc
We were intrigued to learn that the city of Olomouc had historical ties with famed child prodigy composer Mozart. When Mozart was really young he became very ill and was taken care of for a few days in a residence in the Lower Square of Olomouc (the building directly above Hanacka Restaurant).
After getting better he showed his gratitude to the city of Olomouc by including a score in one of his symphonies. Some locals say that Mozart was at such a young age during this time that his father may have helped him here, but still, there is a part of a Mozart symphony that is dedicated to Olomouc!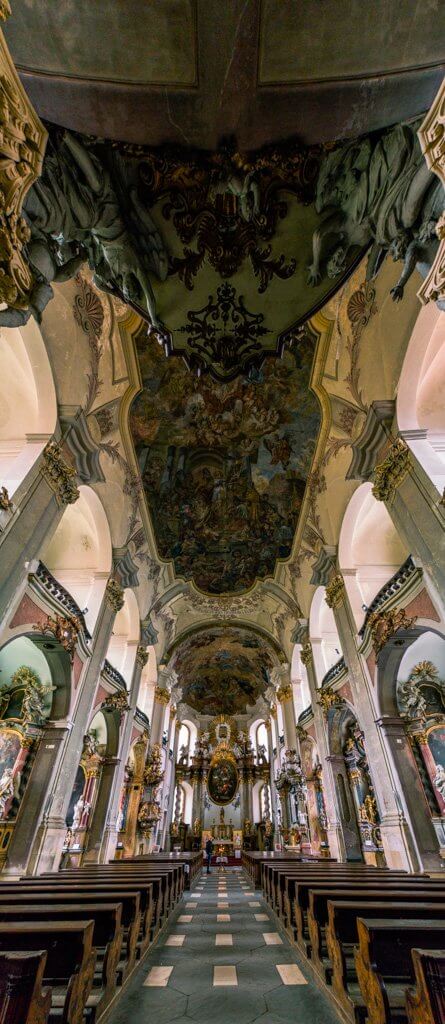 Also, Mozart used to play the pipe organ in the gorgeous and my personal favorite cathedral in the city, Virgin Mary of the Snow. Visiting was one of my favorite things to do in Olomouc, not because it's the largest or most popular cathedral, but because of its interior.
Check out the stunning decorations and just imagine young Mozart playing on the pipe organ with the incredible acoustics built into the architecture. The cathedral is actually known for its amazing acoustics and is still used for concerts today.
The last Mozart tidbit we learned was that he actually resided in what is now the Archdiocesan Museum when he was 11 years old. There is now a cafe at the museum named Amadeus after him.
4. Check out the Cat Cafe
This certainly screamed Czech Meowit all over it! (see what I did there?) While I think that is a much better name for a cat cafe in the Czech Republic, the actual cat cafe is called CoffeeCat.
Located just on the outskirts of town near the new shopping mall and next to a huge park, you can enjoy a purrfect cup of coffee or beer with some feline friends.
In case you missed it, I am a huge fan of cat cafes and have visited them in Korea, Japan, and Taiwan. So, I wasn't going to let this opportunity slip through my hands. While the odor walking through the entrance of the building was a bit strong, once you got up to the cafe it isn't too bad. We loved that there was a huge drink menu to choose from and of course kitty cats to hang out with.
5. Enjoy the total lack of tourists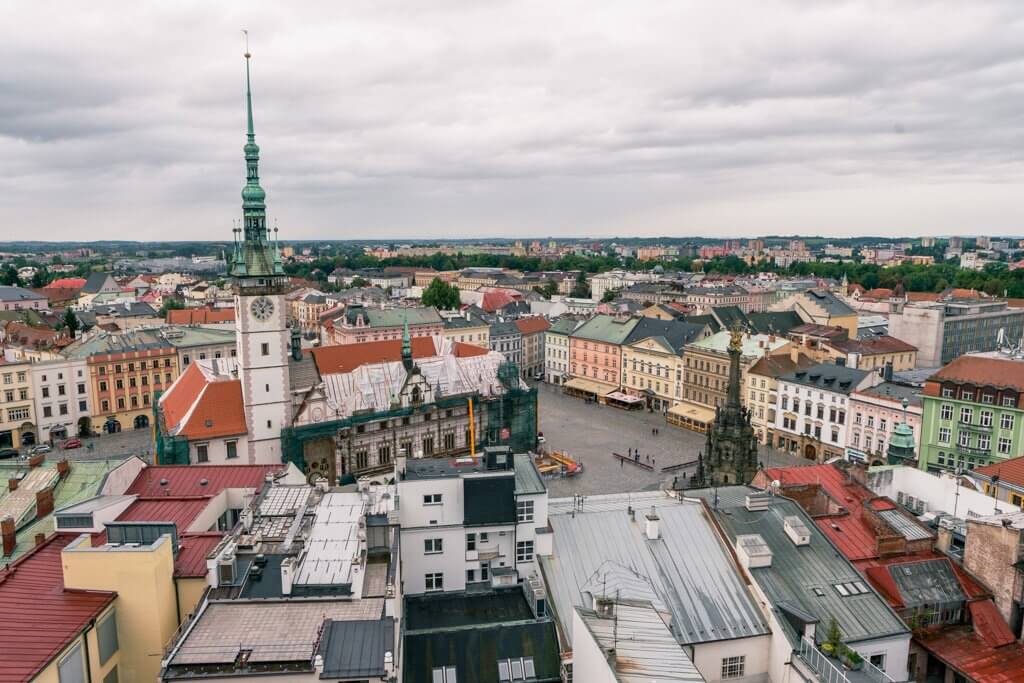 One really cool thing about Olomouc is that it's not on everyone's radar, yet. Meaning that there aren't hoards of tourists making the city feel like it's bursting at the seams to accommodate them like in popular stops such as Prague and Cesky Krumlov.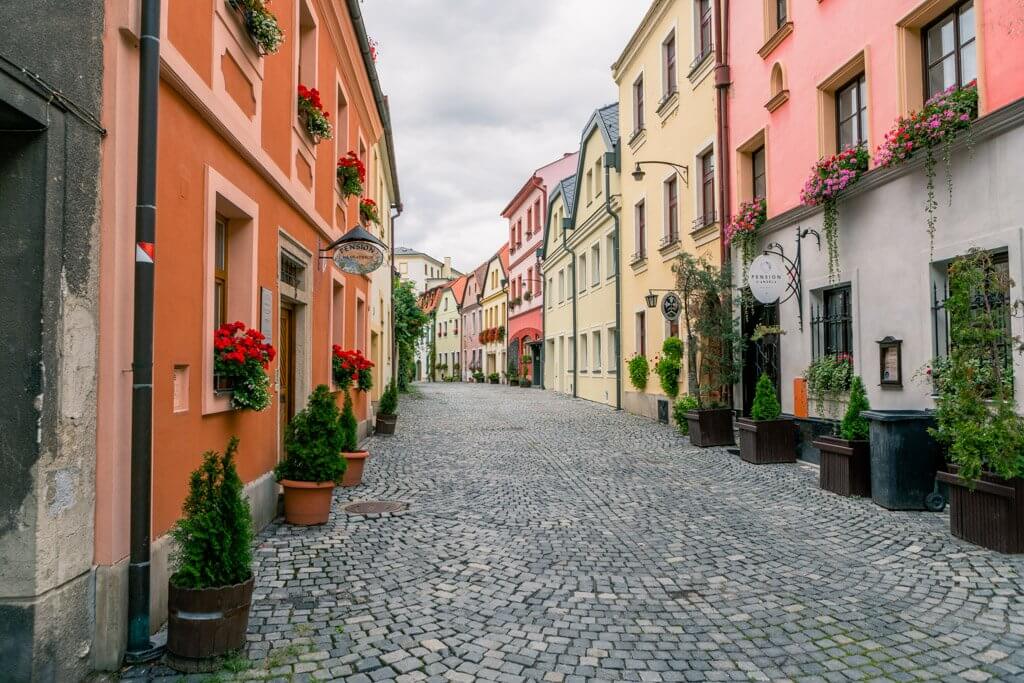 In the summer and peak travel season, Olomouc loses about 25% of its total population as the students go home during summer break. While this may mean that all the bars and pubs won't be open, there is still plenty to do and see in the city without fighting huge crowds and watching out for tourist traps.
6. Visit an epic castle and caves nearby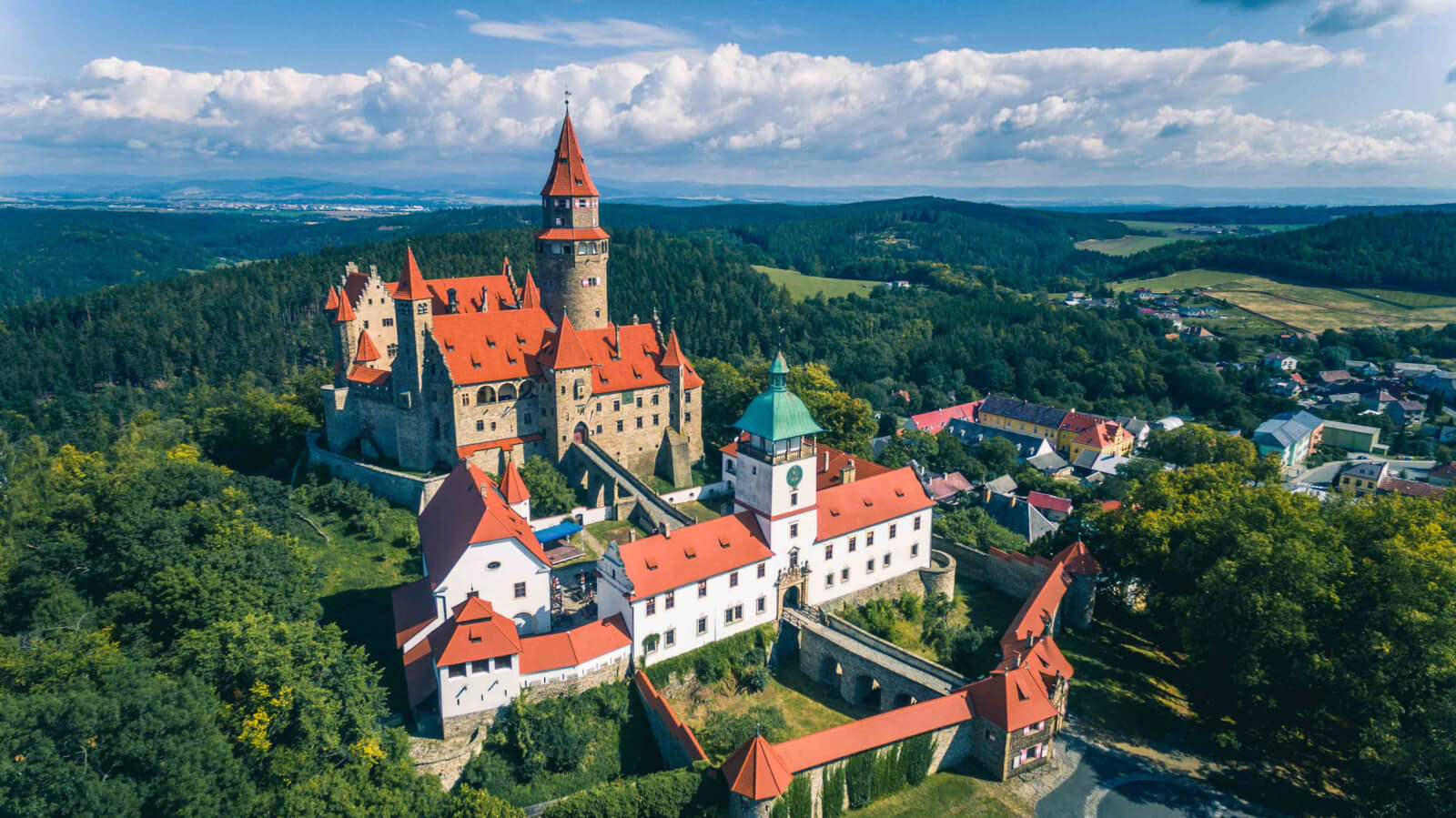 One of the most stunning things to do in Olomouc is to drive about 20 minutes out of the city to Bouzov Castle, one of the most fairy tales like castles straight out of the pages of a storybook or Disney movie. The castle dates back to the 14th century but its current appearance is from the 20th century and a romantic looking place.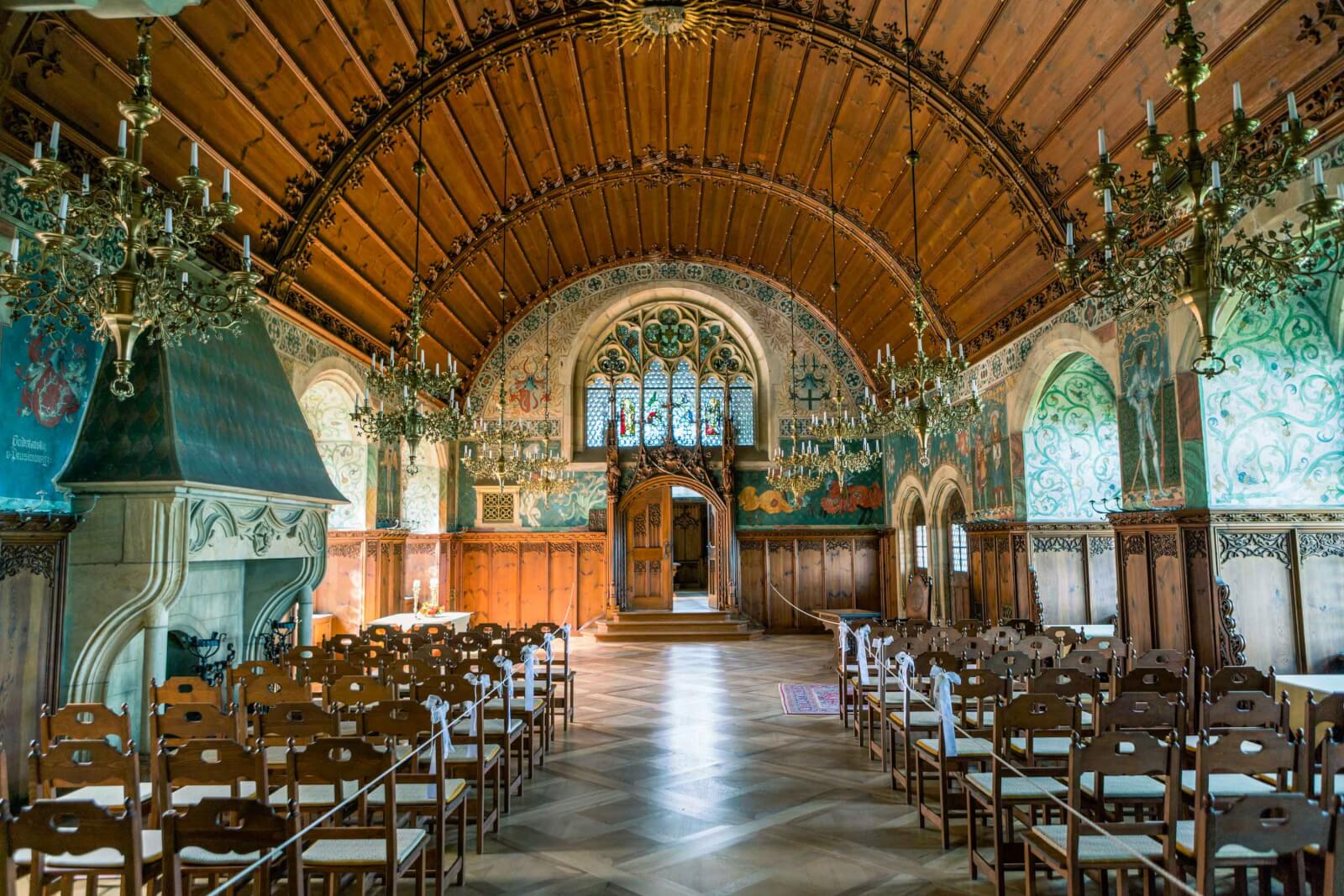 You can tour the inside where you can check out the impressive armory collection, including a mammoth tooth and executioner's sword among other weapons and original furniture and art collection throughout the rooms of the castle.
Our guide told us that you can actually buy the castle and the collection inside if you have an extra $270 millionish laying around and you just don't know what to do with.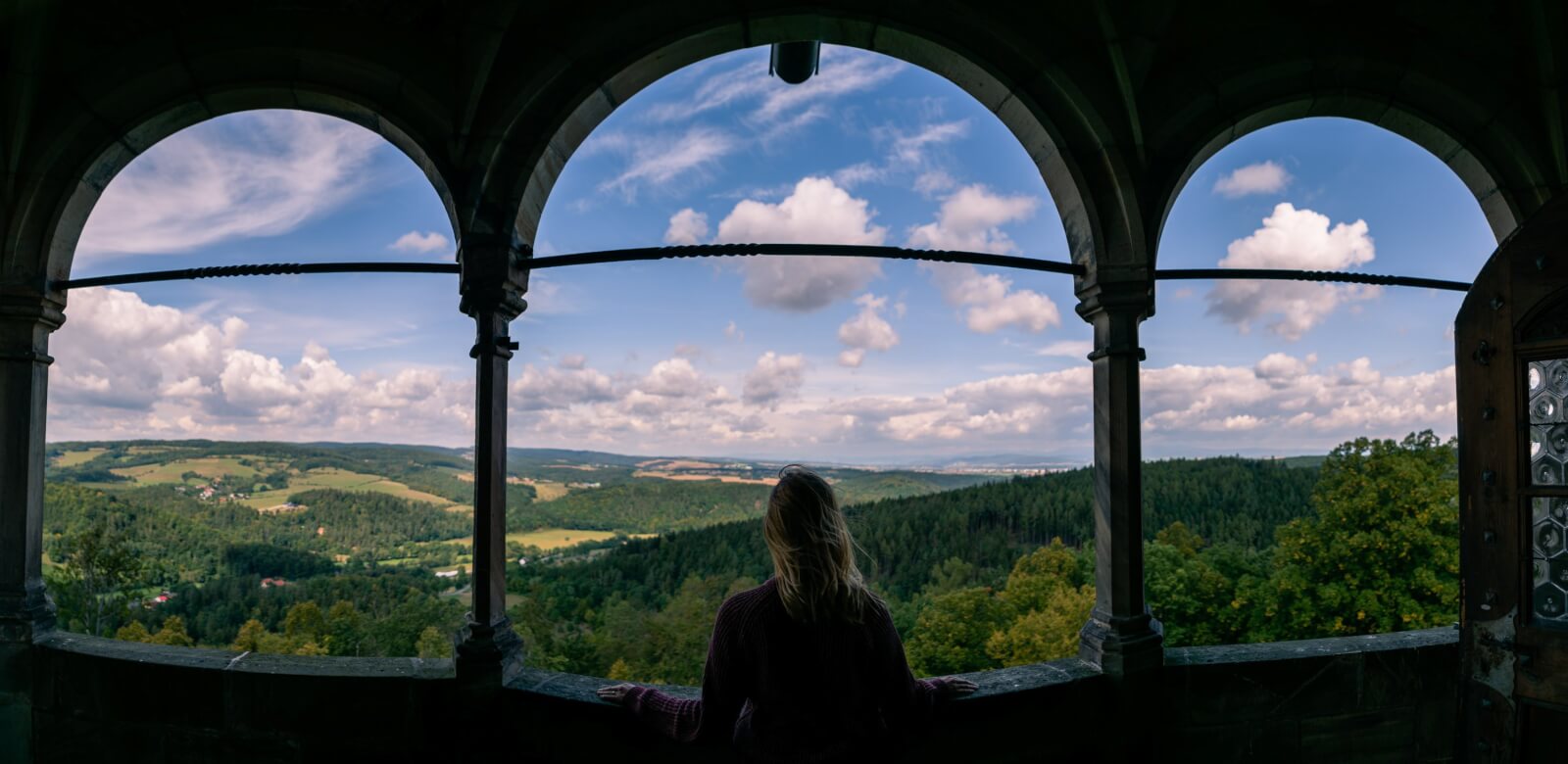 You could spend your days training to be a knight, overlook the gorgeous Moravian hills from your balcony, and wander off a few kilometers to the nearby caves when you're bored.
The Javoříčko Caves are considered to be some of the best in the country and are worth a visit, just be aware that they are closed on Mondays!
7. Check out the world's most beautiful hospital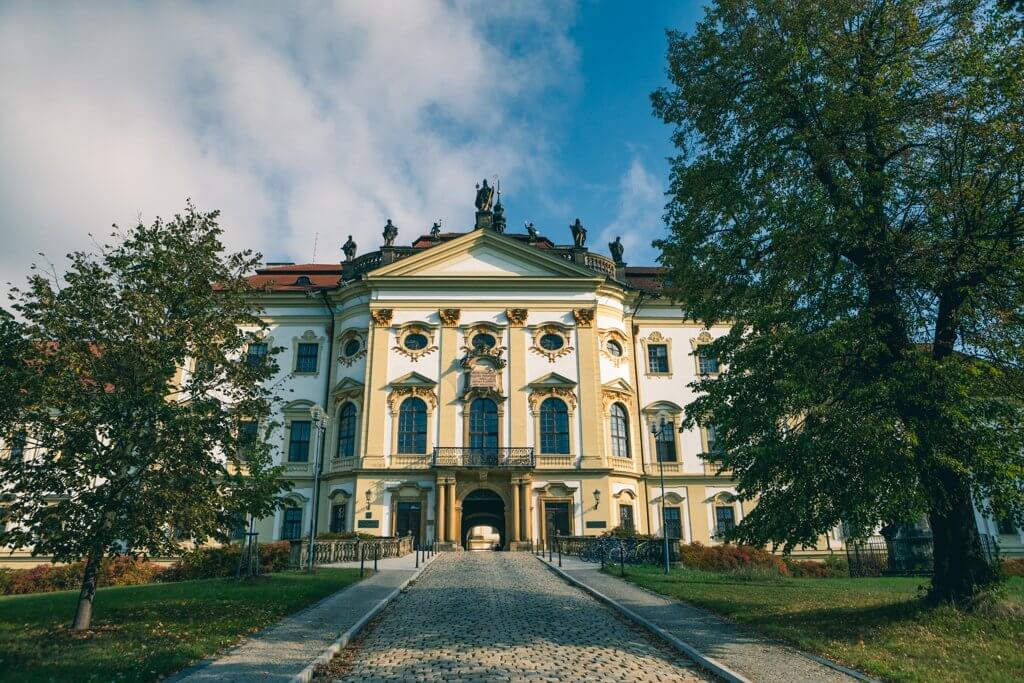 This one seems like a strange honor to behold but one look at this hospital and you won't blame us for mentioning it. The Olomouc Hospital is the Czech Republic's oldest military hospital and is still in use today.
In fact, its Central Europe's second oldest military hospital behind Vienna. The hospital dates back as early as 1078, but today you see it's Baroque exterior and interior which is what makes it so ornate and beautiful.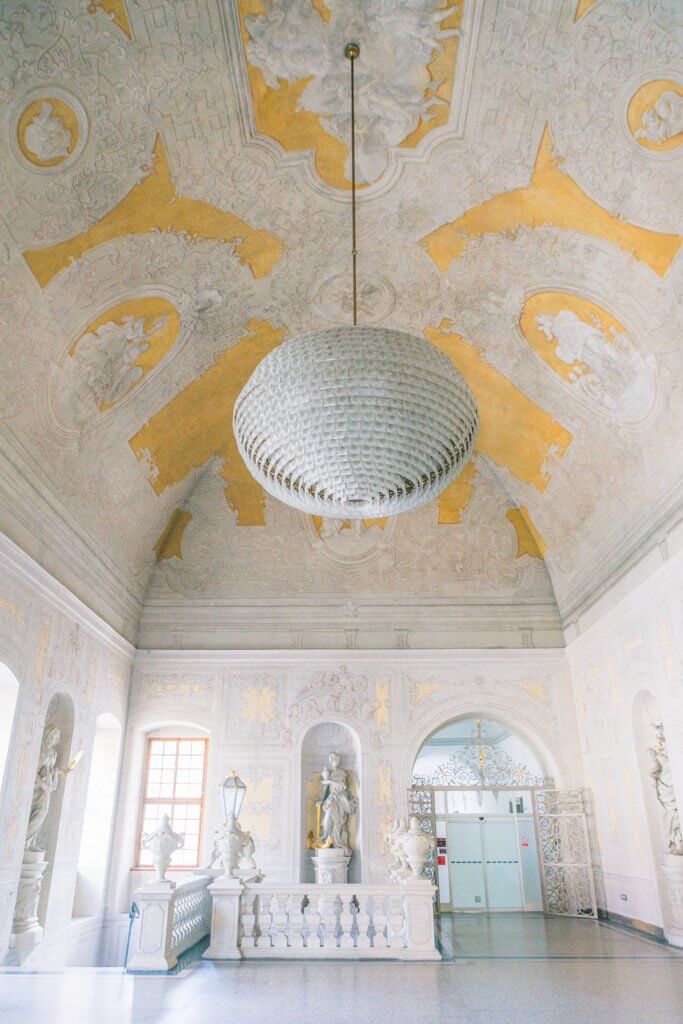 It's hard to believe that this place is in use today and isn't blocked off as a beautiful art gallery or something. You can walk around the exterior and if you're lucky you can peek inside at all the gorgeous details from floor to ceiling.
One thing that gave us a laugh was that there was actually a place to buy beer in the hospital. It really isn't that surprising in the Czech Republic, as they believe beer is actually very healthy for you delivering your body Vitamin B. But it was a bit funny to us to see beer being sold at a hospital, no matter where we are.
8. Visit more of the amazing cathedrals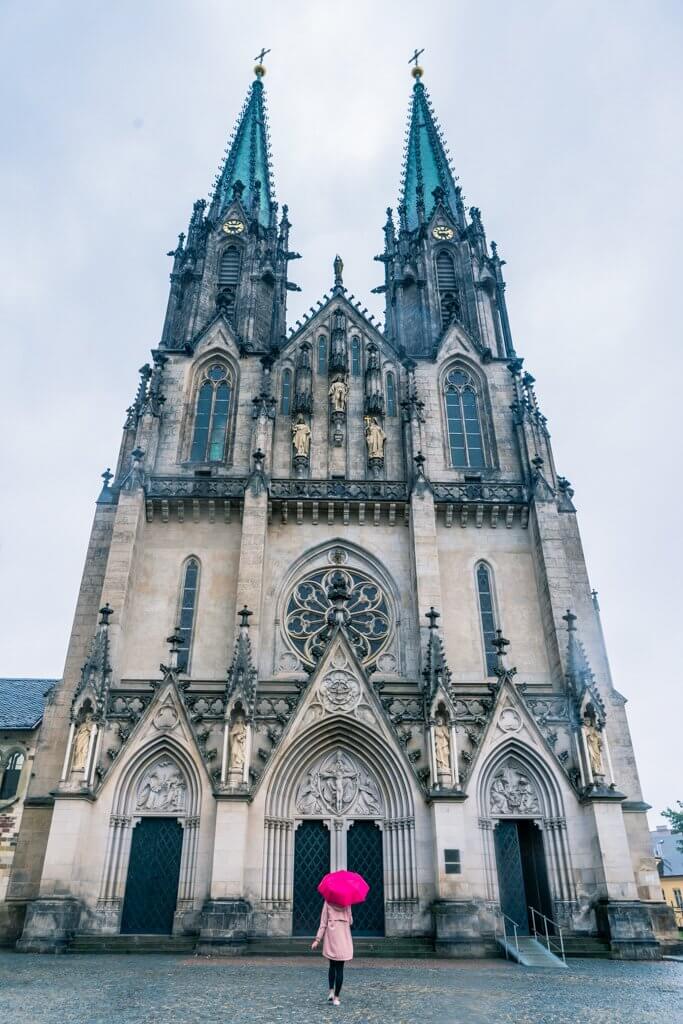 Olomouc has numerous churches and cathedrals and we actually didn't make it to them all. You could just spend an entire weekend just visiting all the different churches here.
The few we did visit and are totally worth it in our opinion are the following:
Church of Virgin Mary of Snow: where Mozart used to play the pipe organ
Church of Saint Maurice and it's tower overlooking the city
Saint Wenceslas Cathedral with its Gothic exterior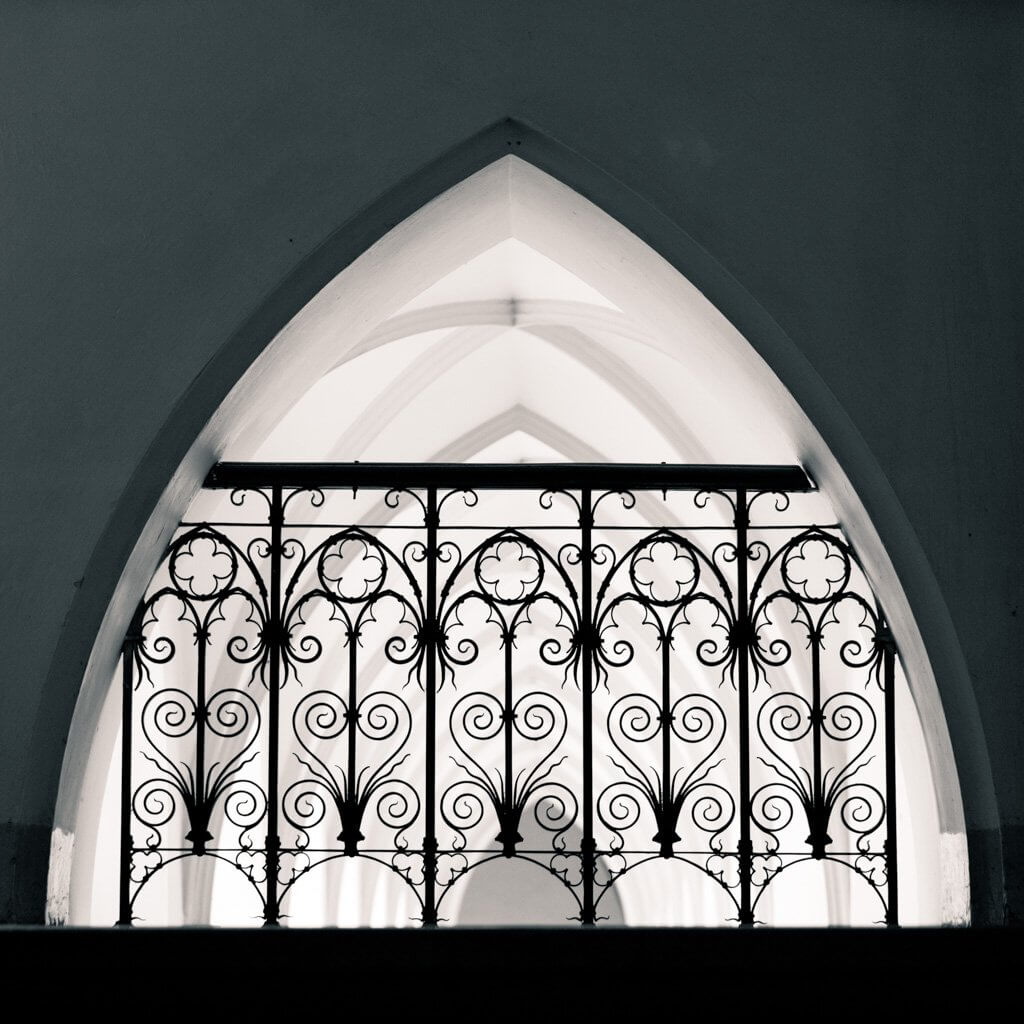 There is also one peculiar church we witnessed from far away, the Olomouc Orthodox Church. You can't miss this church as it really looks like it doesn't belong with the rest of the city. The church itself has more of a Russian look to it and bright vivid colors like a kelly green.
9. Check out the UNESCO Site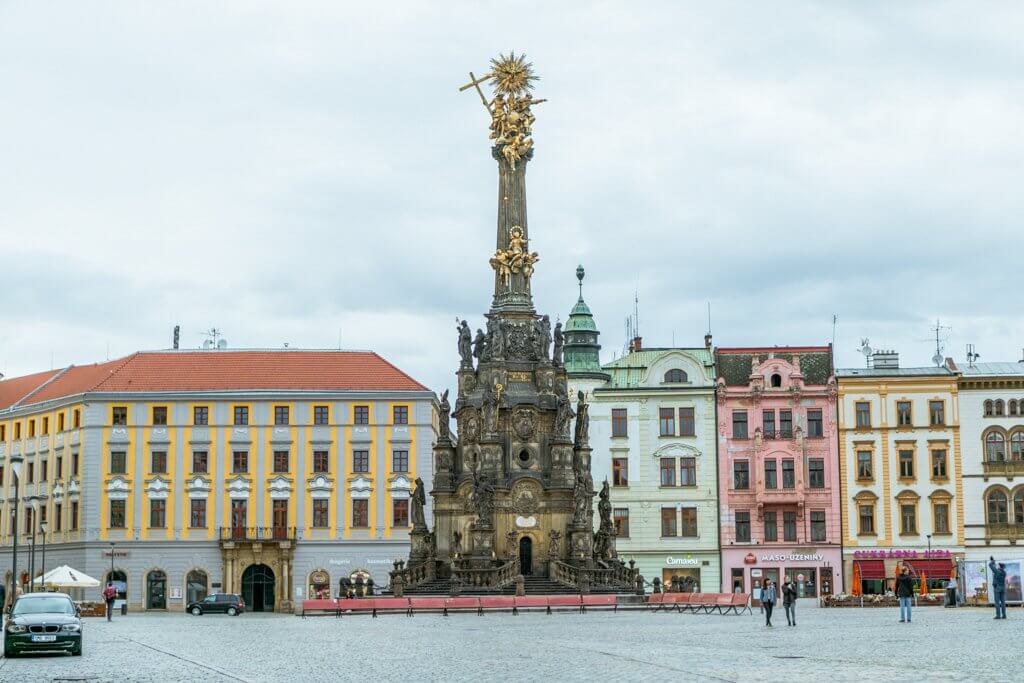 One of the things to do in Olomouc that you can't miss is visiting the Holy Trinity Column. It's one of twelve national UNESCO World Heritage Sites.
The column was erected as gratitude for the ending of a plague that struck Moravia in the 1700s. The column took an entire 40 years to build and is really special to the locals.
We were told a story that took place during the Prussian War where the Holy Trinity Column was struck by a shot and severely damaged. The locals realized their beloved monument could be taken out easily with three blows and begged their enemy to please stop shooting near the column, and they did.
The column was repaired and today there is a golden cannonball in the place where the Holy Trinity Column was struck.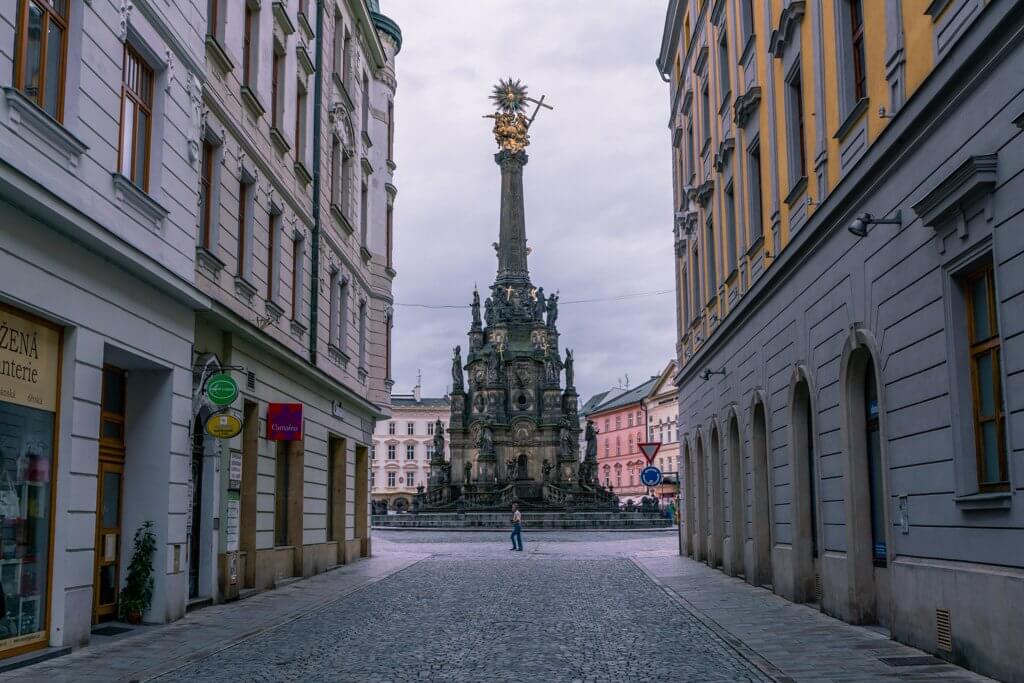 Fun Fact: After seeing the golden ball on the Holy Trinity Column you may notice there are a few others placed around town on various buildings. These spots mark the location of other hits during the Prussian War.
If you really wanted to you could do a scavenger hunt to try and find them all, the tourist information center told us there are around 2o.
10. Go Shopping
This usually isn't something that we care about much when we travel but Olomouc does have great shopping options in this relatively small city. Seeing how the weather took an unexpected cold switch on us I ended up needing to find a jacket and a few more warm layers.
There's a new shopping mall, Gallery Santovka, that has become the new hang out spot for university students and the place to go if you need a one stop spot for all your shopping needs.
Many locals aren't fans as they fear it'll keep people from hanging out in the historical city center. However, it is rather convenient if you end up in a bind like myself on a weekend when everything else is closed.
Also, Gallery Moritz is located in the heart of Olomouc next to St. Maurice Cathedral. This old communist building has been revamped and turned into a young shopping center with everything from housewares to clothing stores.
11. Take in the amazing views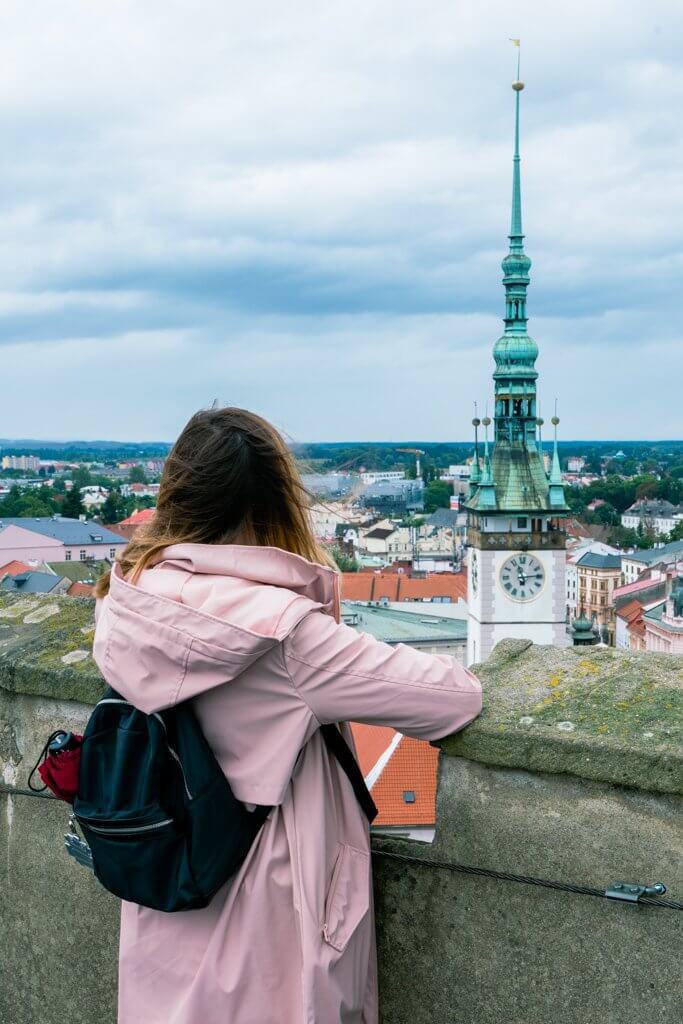 We love getting a different vantage point of the city. What better way to do that than from up above? There are three amazing view points in Olomouc that are worth viewing. The first, and most popular are the clock tower from the Town Hall in the Upper Square. Climb the stairs all the way up and reward yourself with a fantastic view from above.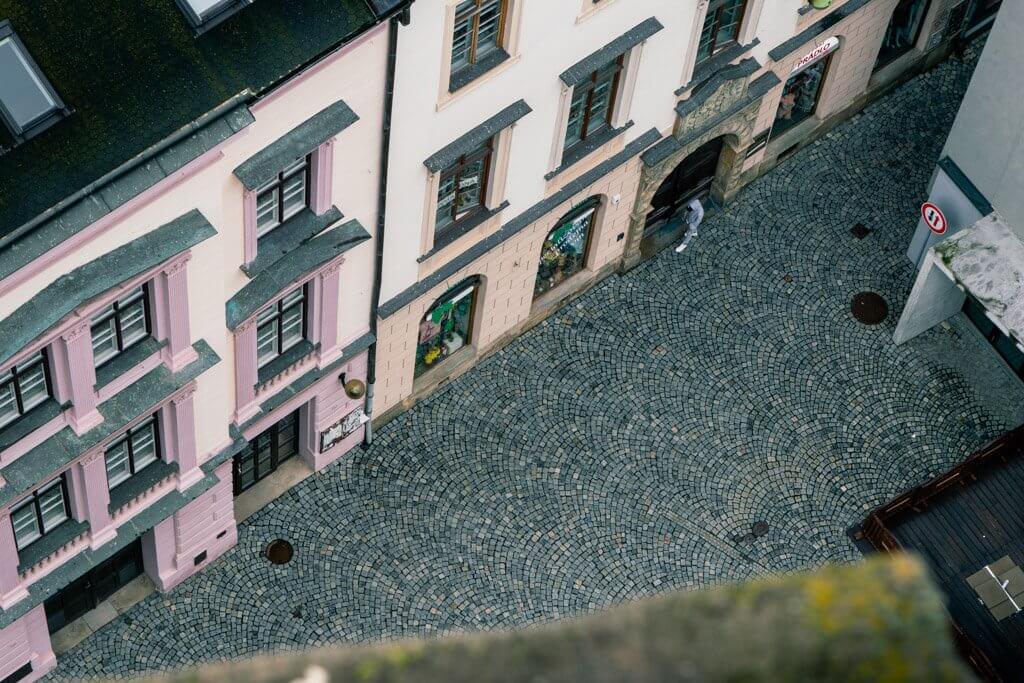 Another one right near the Town Hall is from the tower at Saint Maurice Cathedral. This was our favorite viewpoint in the city center because it was a bit taller than the Town Hall tower and you got to see the other clock tower close by! We also haven't visited a tower viewpoint quite like this one yet during our time in the Czech Republic.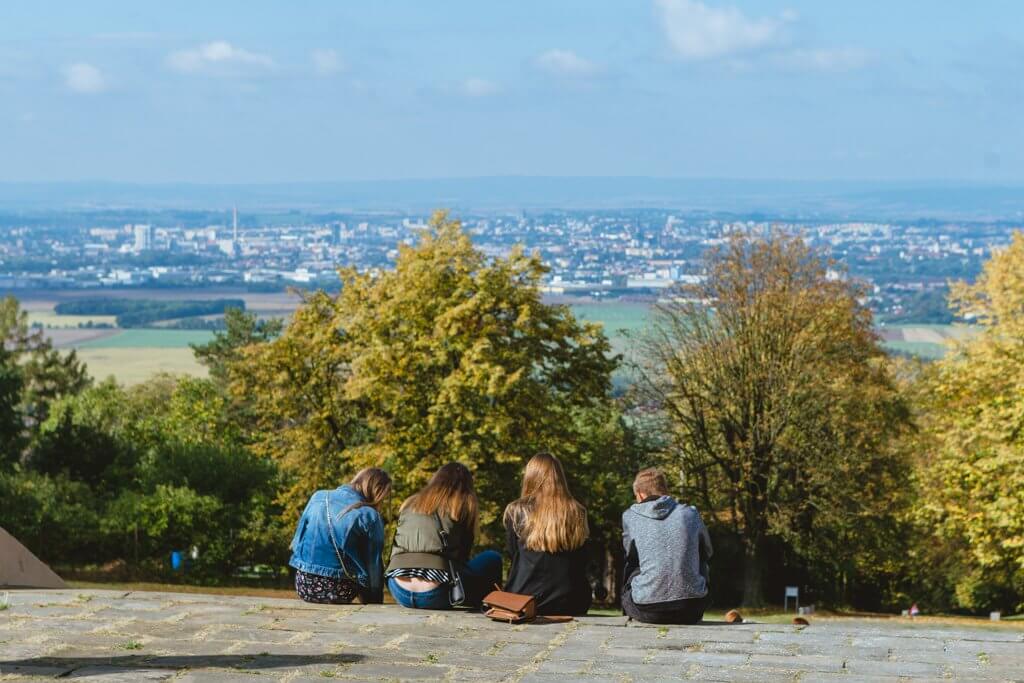 The last view point is a bit out of the city at Holy Hill. Drive or take local transport up to the giant church on top of the hill overlooking the city. You can see this church from miles away, even from nearby Bouzov Castle!
It has become a landmark of Olomouc since you can see it from very far away. This church was once the summer residence to monks, received a visit from the pope in 1995, and has a cool story. During the end of WWII, the church experienced a miracle. When the church caught fire, which we have learned has devastated many towns and buildings here over the centuries, a sudden rain came in and put the fire out.
You can imagine what extremely spiritual people must have felt about this surprise! Besides being interesting, there is also a great view up here looking down at Olomouc and it's gorgeous cathedral filled skyline.
12. Visit a very unique astronomical clock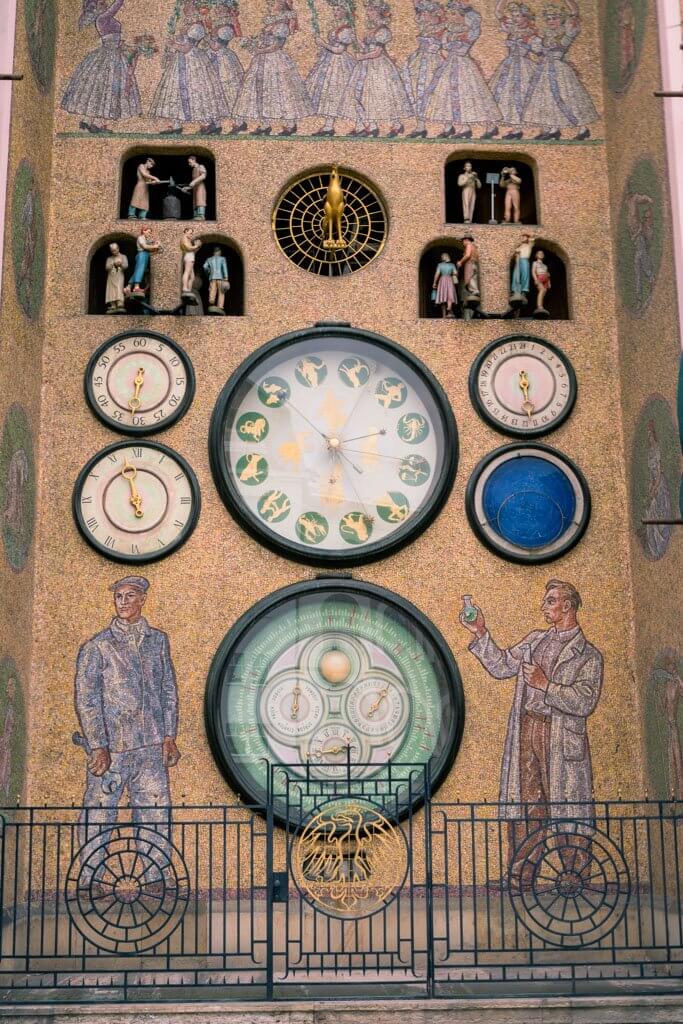 When you think of astronomical clocks and the Czech Republic you probably instantly think of Prague. But Prague isn't the only city in the Czech Republic with an impressive astronomical clock, Olomouc also has their own and it is very unique.
Now a socialist clock, it wasn't always this way. It was built in the 1400s just a decade or so after Prague's. During the last night of fire in 1945 in Olomouc, the clock was destroyed by Germans. They just wanted to stick it to the locals and their beloved clock.
When it was rebuilt it was redesigned around socialism with mosaic tiles. What used to be apostles on the clock are now working people. Some people love it, and some people hate it.
Unlike Prague, whose clock puts on a small performance every hour on the hour, the clock in Olomouc only goes off at noon daily. Also, the Olomouc clock is run without electricity. A man physically has to do it every day at noon without any days off!
We were told it was the same family in town who has passed this role down from generation to generation. Imagine not being able to take one day off!
Don't fret if you miss the show at noon, it was a bit underwhelming. But do make sure to swing by any time of the day to just enjoy the unique theme!
Tips for Visiting Olomouc, Czech Republic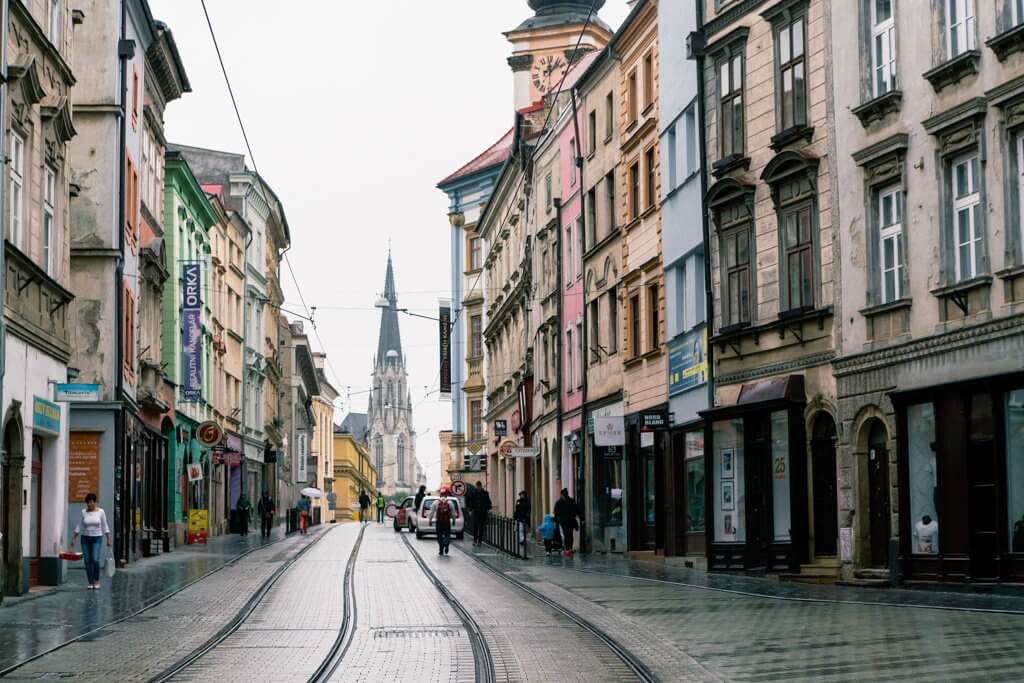 Use a Tour Guide
We recommend coming to Olomouc, Czech Republic for at least two full days. This will give you enough time to really see what the city offers. Go on a tour or hire a personal guide to take you around! They'll give you some of the interesting details around every corner.
We both kept saying to ourselves that we ended up enjoying our time in Olomouc even more because we learned so much. This includes all the little stories and big events that shaped Olomouc to what it is today. It really brought the city to life and gave us a perspective we wouldn't have gotten on our own.
You can set up a personal tour with our guide Stefan. You can contact him via email at [email protected]
If that is just out of your budget, and we totally understand. Instead we recommend going to the information center and getting some literature and pamphlets on the city.
Plus you have to see the cheese vending machine! If there is any particular thing that you are interested in learning more about you can ask one of the people working in the information center and they will gladly help.
We also recommend getting the Olomouc Card. For around $12 you have access to public transport, free museums, free entrances to places even outside of the city like Bouzov Castle, and discounts at restaurants for 48 hours. Just be aware that many places are closed on Mondays, so it may not be worth it if your trip falls on a Monday.
Where To Eat and Drink in Olomouc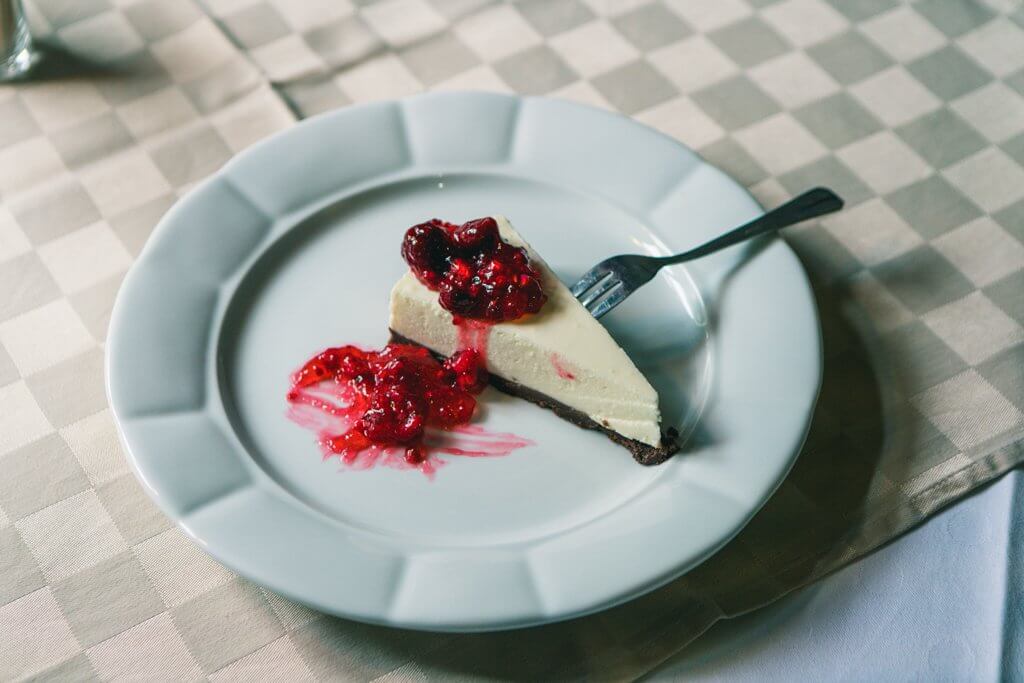 We ate extremely well here and honestly didn't have a bad meal. Here are our top picks for foodie things to do in Olomouc!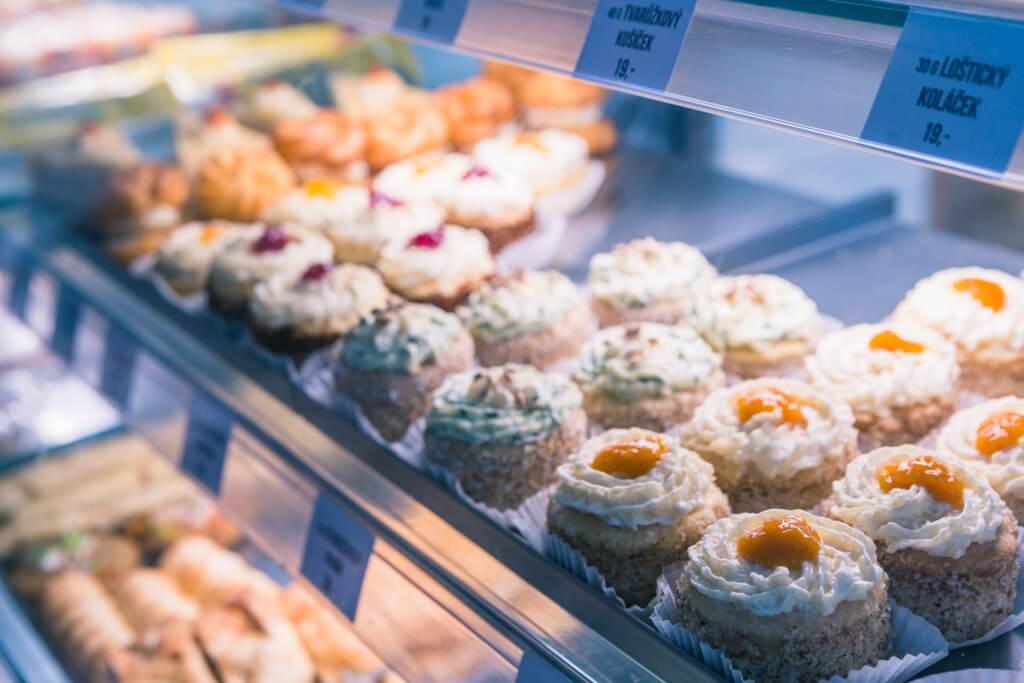 Tvarůžková cukrárna
For the local cheese check out Tvarůžková cukrárna. They have a selection of all sorts of different cheese pastries made with the local specialty. The cheese is meant to be paired with beer! Buy unpasteurized beer here to sample with your cheese!
We recommend trying this beer because it is not found many places. Since it has such a short shelf life, this is the freshest beer you can taste. It surprisingly pairs well with the cheese!
Riegrova
For a great spot for beer and pub food, we recommend Riegrova. This restaurant serves up tons of tasty dishes including great pizza on certain nights.
We ended up sampling different beers with different beer snacks. This includes the local friend Olomouc cheese, Olomouc cheese tartare, and beef tartare. All were tasty and great with our beer.
Hanacka Hospada
For an overall delicious meal with a lively environment, we recommend Hanacka Hospada. This is in the same building that a young sick Mozart stayed in and got healthy at.
We both enjoyed delicious meals here. Try the wings and a sirloin steak sandwich that were both mouthwatering and paired amazingly with a Czech beer on draft.
Podkova
If you want to have a fancier meal without a crazy price then check out Podkova. The dishes they were serving would easily cost you $30 in the US and here they were about $10/person. The quality and flavors were out of this world.
We recommend trying the local specialties. Scott enjoyed a steak with a savory cheese sauce made from the local cheese. It was actually his favorite meal in Olomouc. End the meal with a piece of their homemade cheesecake which is much lighter tasting than US cheesecake. The location and setting of this restaurant are also romantic.
Moritz
For a good microbrewery and fun environment check out Moritz on the outskirts of town. Don't worry, it's still walkable. Located right across the Maria Theresa gate of the town, you get to experience something a bit different. Enjoy the 20th century vibes decked out with art nouveau style.
We really liked the atmosphere in here and will find any excuse to sample new beers!
Where To Stay in Olomouc
Miss Sophies Boutique Hotel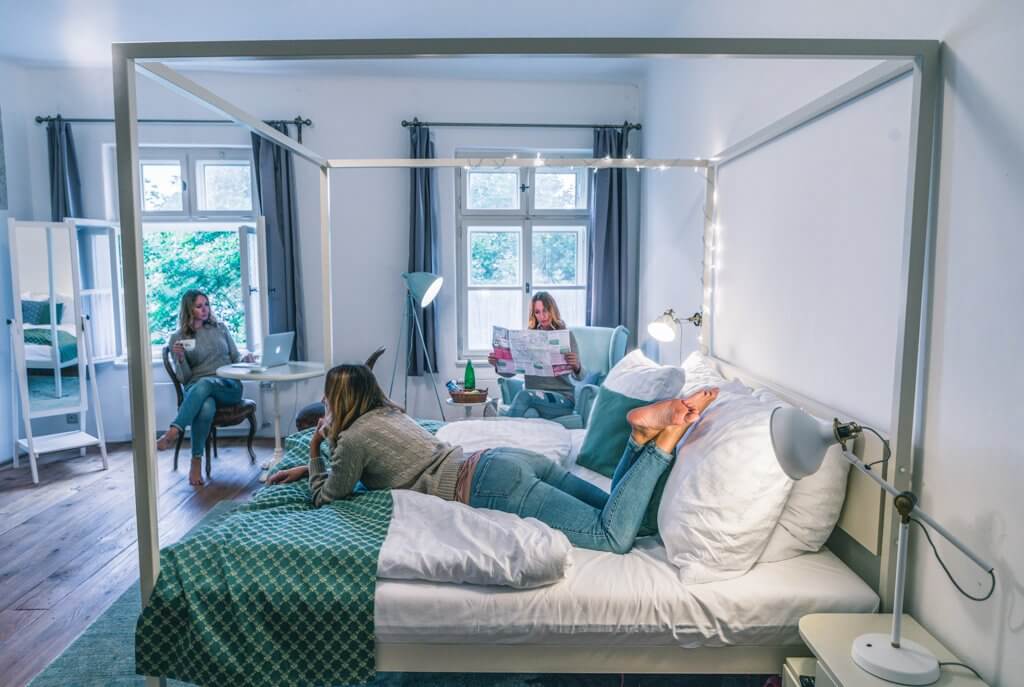 This adorable boutique hotel is so cozy and cute you won't want to leave. The rooms are spectacular and spacious with huge bathrooms. We enjoyed our stay here and would come back again in a heartbeat.
We loved everything from the decor to the cloud like bed to the room amenities like tea and chocolate! Don't miss the adorable cafe and the amazing breakfast that's enough food to feed a family! You are definitely getting what you pay for here, we recommend splurging a bit and enjoying this fine accommodation.
Check rates and availability here.
Long Story Short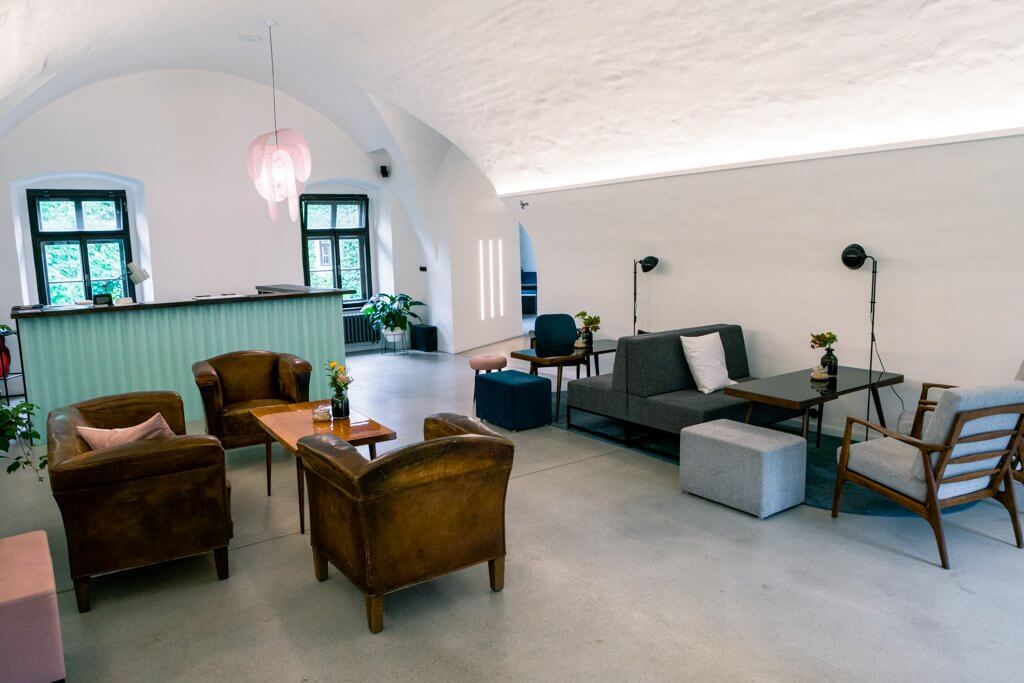 Another amazing boutique hotel that offers affordable hostel accommodation as well as private rooms. We got to sneak a peek at the rooms and wish we were able to stay here too!
The interior mixes the old architecture with new modern chic furniture. There are plenty of places to sit and read a book, sip a coffee, or meet other travelers.
There is also a really nice cafe attached to the hotel that serves up a nice breakfast spread. Long Story Short also has a prime location near the center of town. It's in a beautiful building complex, same as the restaurant Podkova. There is also a great terrace with a beer tent to hang out on during warm summer nights.
Check rates and availability here.
---
Want another reason to love the Czech Republic? The country also happens to be LGBT friendly. Check out these Czech Republic LGBT travel tips by Dopes on the Road.
---
Liked this post on the best things to do in Olomouc, Czech Republic? Share the love below on Pinterest!