Another weekend, another day trip to hike in Korea. We traveled on the KTX from Seoul to Daejeon to check out Gyeryongsan National Park and the beauty it has to offer. After grabbing a few snacks and bottles of this area's signature chestnut makgeolli we were ready to get hiking.
The hike we did was perfect for a day trip and full of stunning views. We hiked on a comfortable overcast day in June. The total hike took us about 4.5 hours to these five different sites.
We started the hike at the main entrance from Daejeon. At the sign with a map of the park take a right up a hill and start your hike to do the path exactly as we did.
Pro Tip
If you start to the right of the sign you will not have to pay admission to the park.
Nammaetap Pagoda
About an hour after beginning the hike and going up several uneven stone steps you will reach a well-deserved break at Nammaetap Pagoda. There are plenty of places to sit and enjoy a picnic surrounding the temple and stone pagodas. You have climbed a way up the mountain already and have views overlooking the mesmerizing landscape.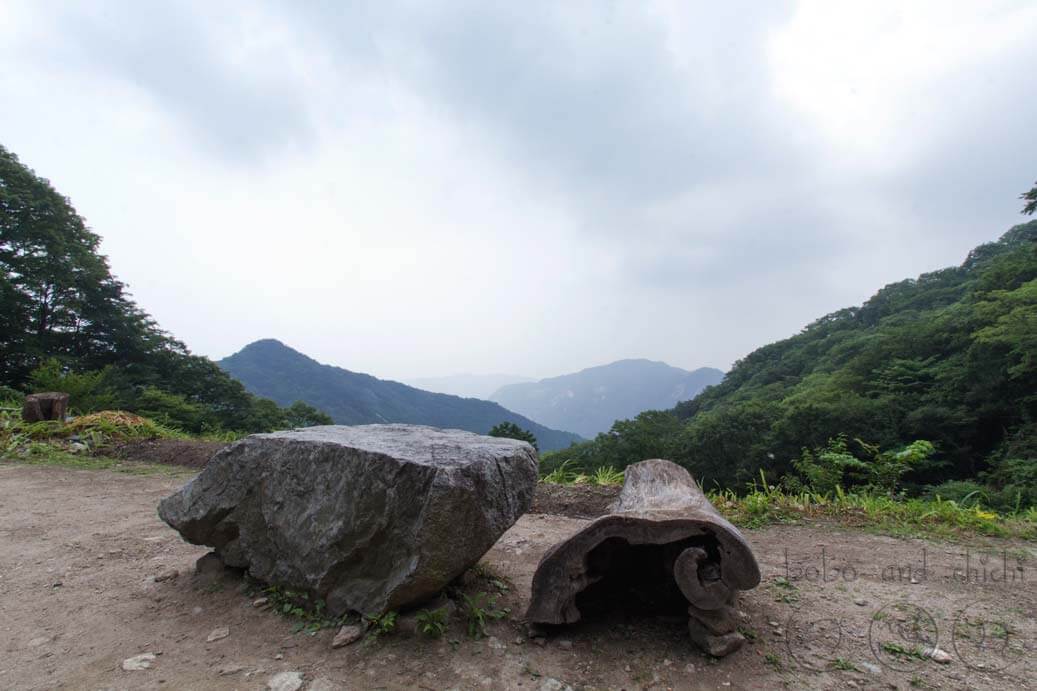 ---
FYI
There are restrooms here!
Sambulbong (Sambul Peak)
Only about a 15-20 minute hike from Nammaetap Pagoda is Sambulbong or Sambul Peak. The peak rests at 775 m (~2,546 ft) and is known as the Three Buddhas Peak. After hiking to Nammaetap Pagoda, this is a quick climb up. This peak is not ideal to sit and relax, just more of a photo spot and to take in the beauty of the park. From this peak you will begin the journey across the ridgeline to Gwaneumbong or Gwaneum Peak.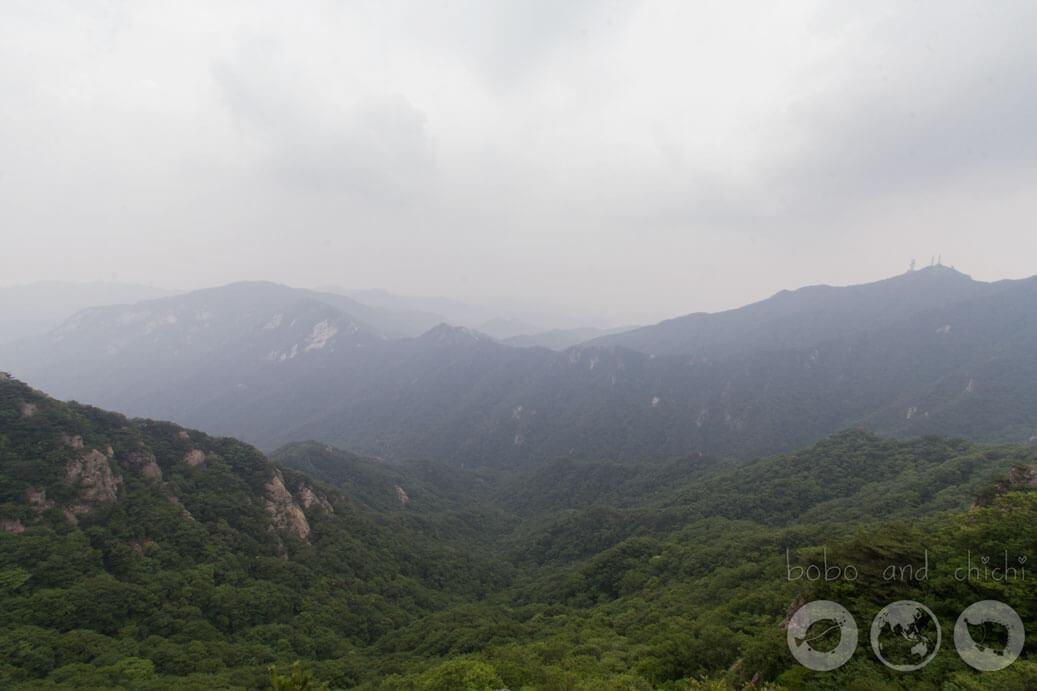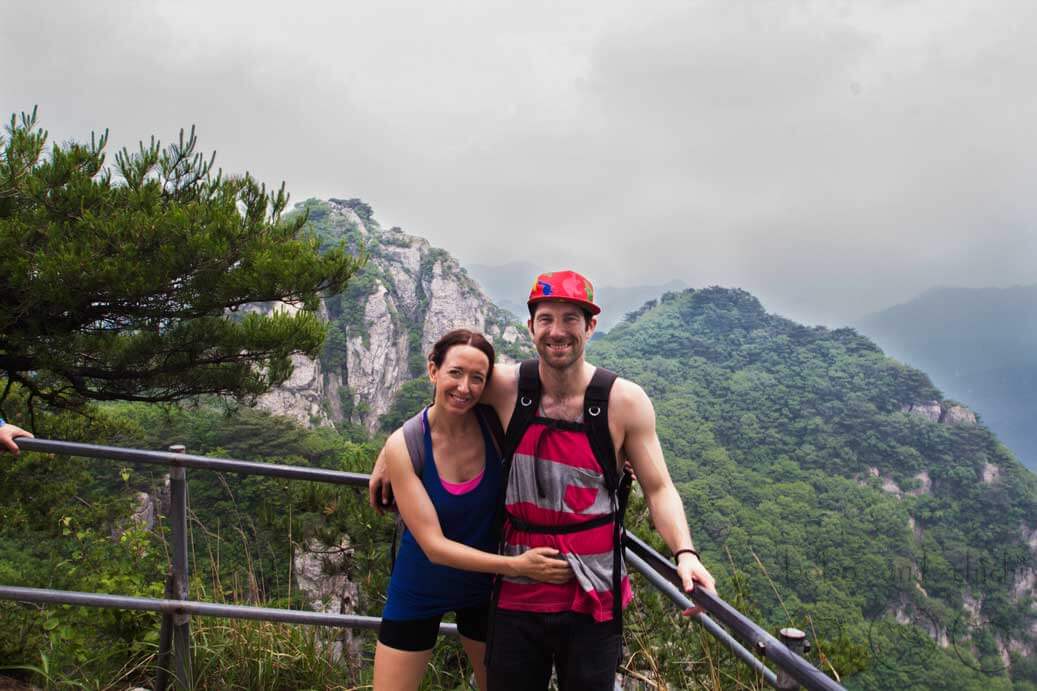 ---
Gwaneumbong (Gwaneum Peak)
After crossing the ridgeline from Sambulbong it will take about an hour to reach Gwaneumbong the highest peak on this hike standing at 816 m (~2,677 ft). There are breathtaking views and it is a great place to sit on a giant rock on top of the mountain to rest and finish off the rest of that chestnut makgeolli you bought!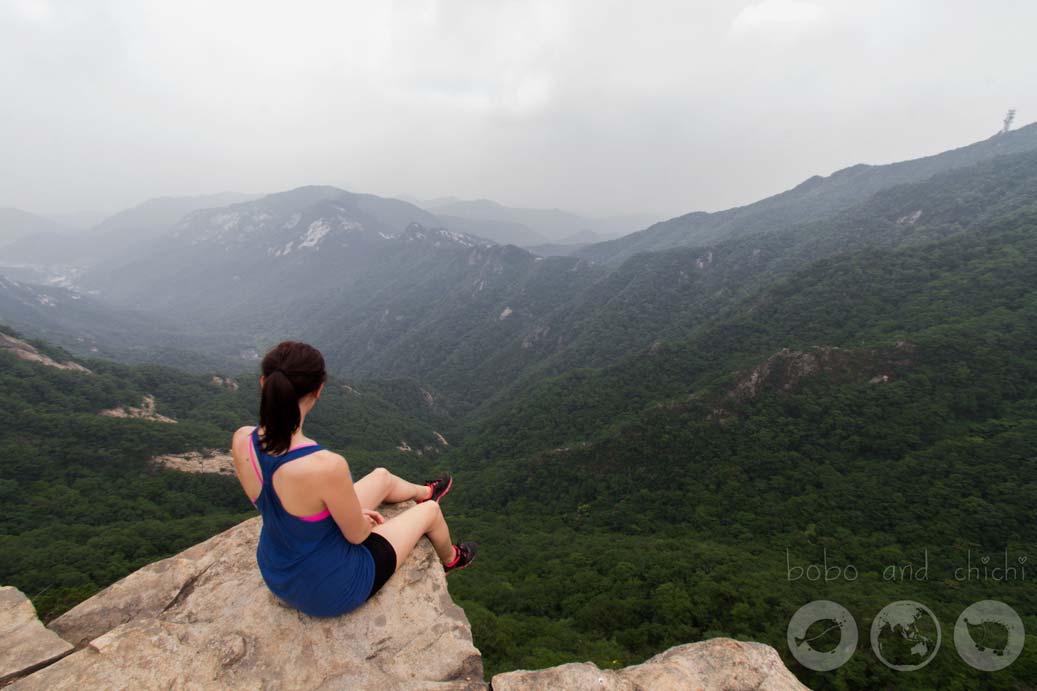 ---
Eunseon Pokpo (Eunseon Waterfall)
On the descent down from Gwaneumbong you will walk along a stream of calming and soothing trickling mini waterfalls. This is a relaxing way to climb down 816 meters! We stopped off and took a few pictures along the mini waterfalls before we reached the observation deck and main Eunseon waterfall. The height of the skinny, trickling falls is approximately 50 m (~154 ft.). The main waterfall itself is not very impressive during June, but definitely a beautiful site. It might be nice to see the waterfalls just after winter when the ice melts.
---
Donghaksa temple
Once you reach Donghaksa Temple you know you've made it. This gorgeous temple is known for housing and teaching a large amount of female Buddhist monks. The grounds consist of multiple buildings to worship with stone pagodas tucked between buildings. There are many visitors at this temple due to its location close to the entrance of the park.
---
You could actually do this course in reverse and this would be the first place you pass.
One last drink before we hit the road…
After completing our hike we headed back to the small town at the entrance of the park where we had to catch our bus. Along the way we saw some restaurants located right next to the stream that leads to Eunseon Waterfall. We decided to stop and enjoy one last bottle of chestnut makgeolli at a riverside restaurant. The place we stopped at also offered seating on blankets right on the river where the food would be brought right down to you. This place was romantic and beautiful. Not only was it great for couples, but a great place for families to eat too.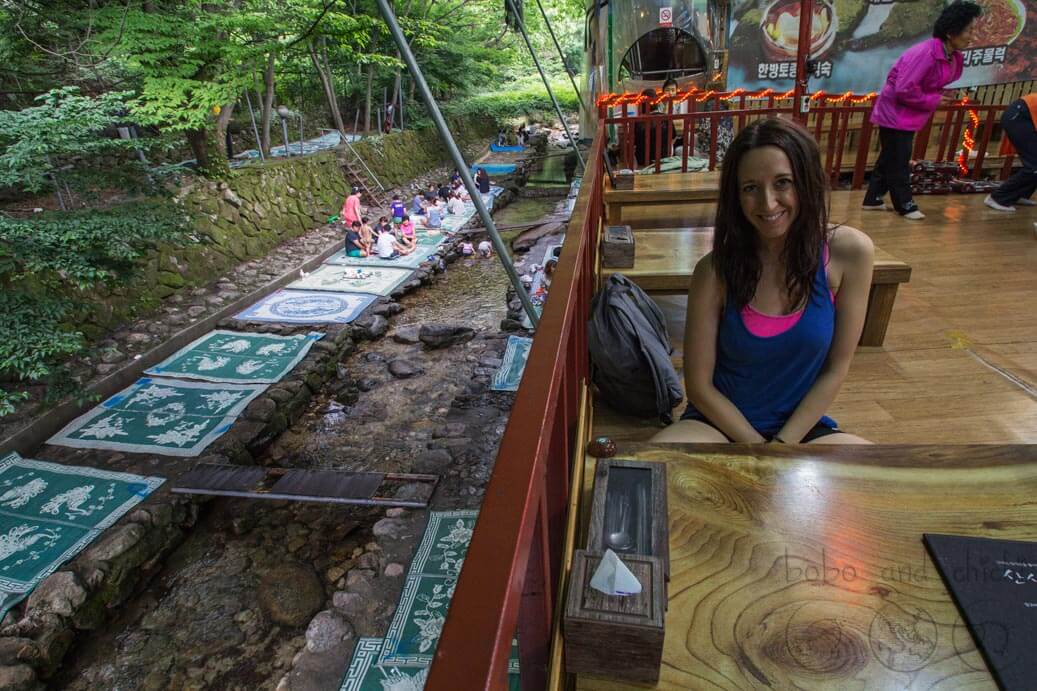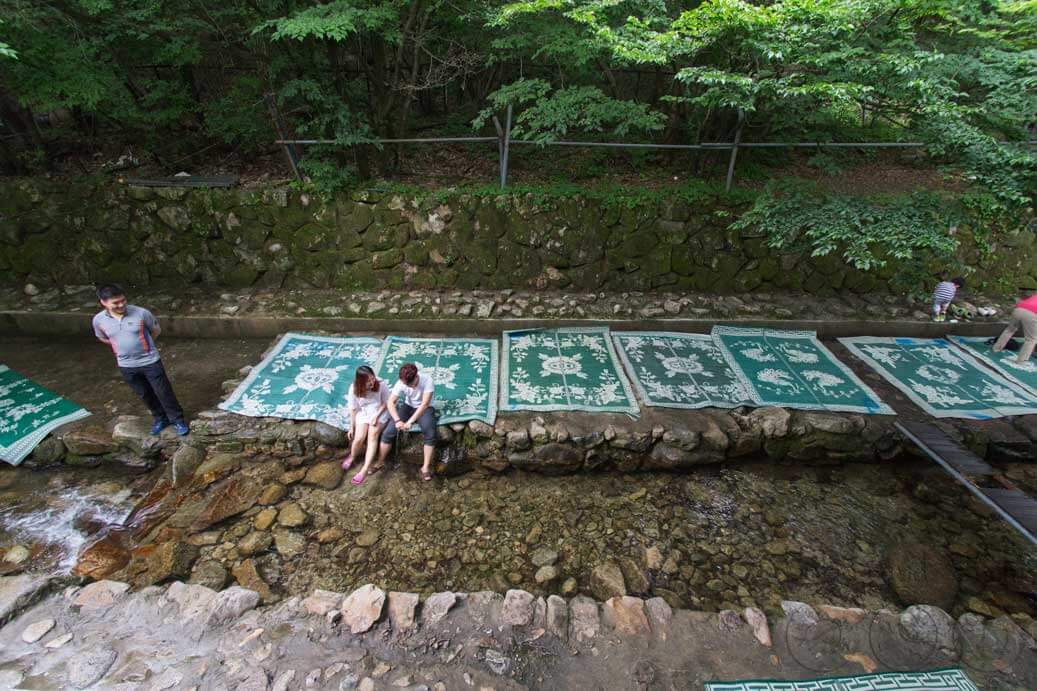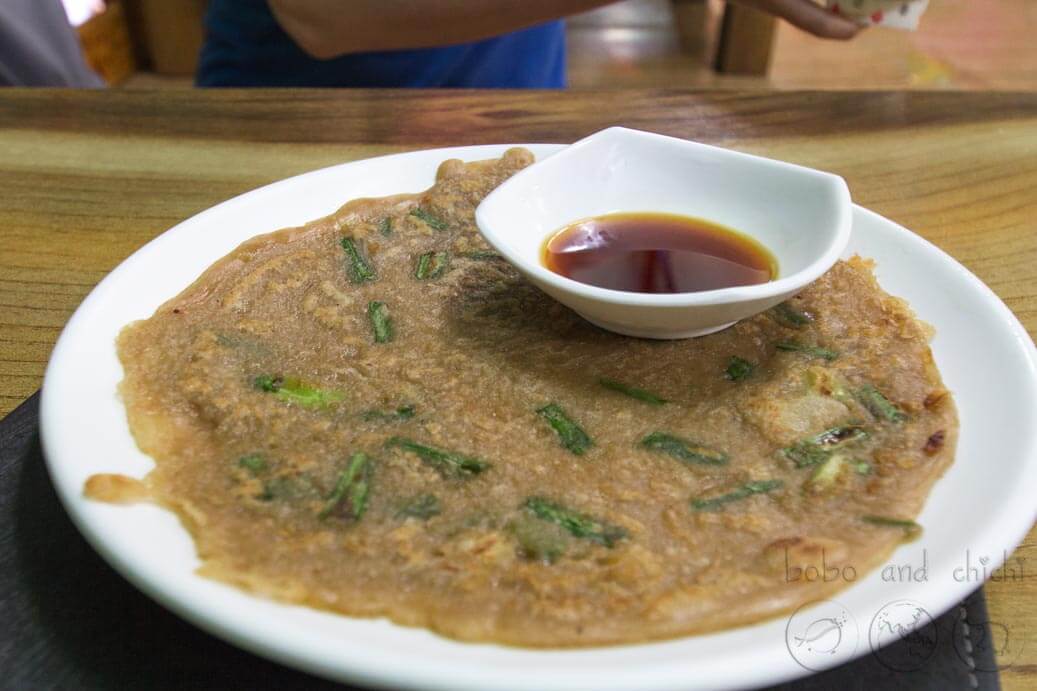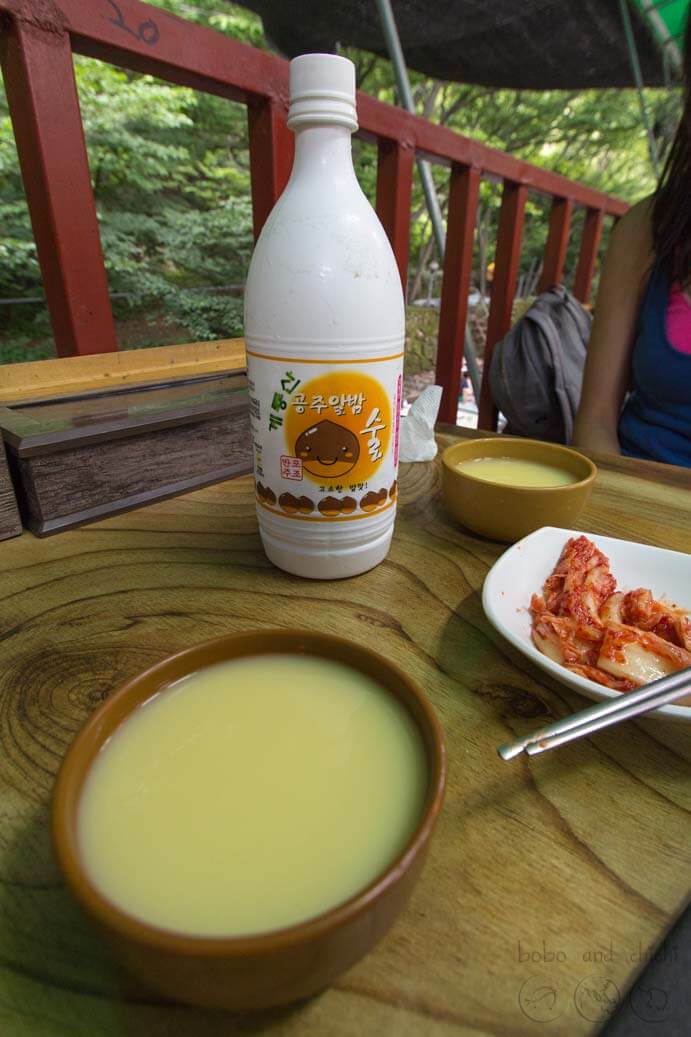 ---
Overall, Gyeryongsan was a beautiful and an awesome day hiking trip. After hiking 4.5 hours we were ready to call it a day and head home. We recommend making the journey to at least spend one day hiking here.
Directions to Gyerongsan National Park
KTX from Haengsin to Daejeon
23,900 KRW (~$23.90) per person
1.5 hour ride
Looking for other day trips to do in Korea? Here's a couple suggestions
Have you been to Gyeryongsan National Park? Share your hiking experience below! Like or Follow us on Facebook,Instagram, and Twitter!