Busan is Korea's second largest city and rests at the south-eastern tip of South Korea along the sea. Tourists flock to this seaside city to enjoy the various sites. We had been anticipating our trip to Busan so much and were excited to finally go for about two days and one night! After our trip, we thought we'd put together a list of all the best things to do in Busan on your first visit!
8 Fun Things to Do in Busan on Your First Visit
1. Walk around Gamcheon Culture Village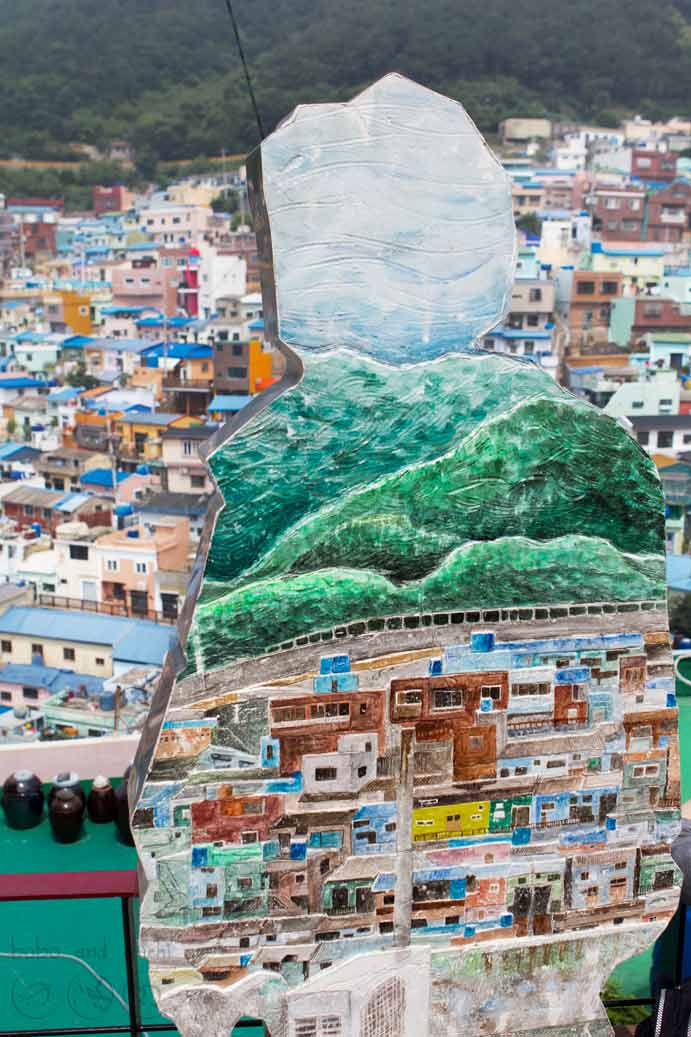 ---
Gamcheon Culture VIllage is known as Korea's Santorini of the East. Clusters of colorful homes cover the hillside where you can wander through the buildings and steps to admire and photograph the charming village.
---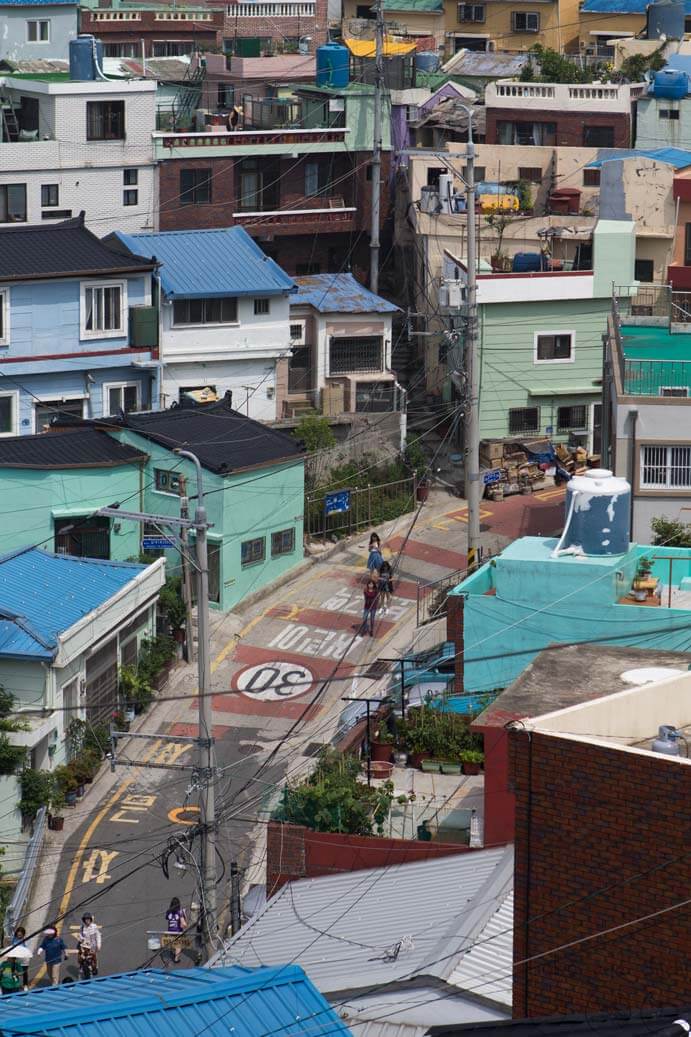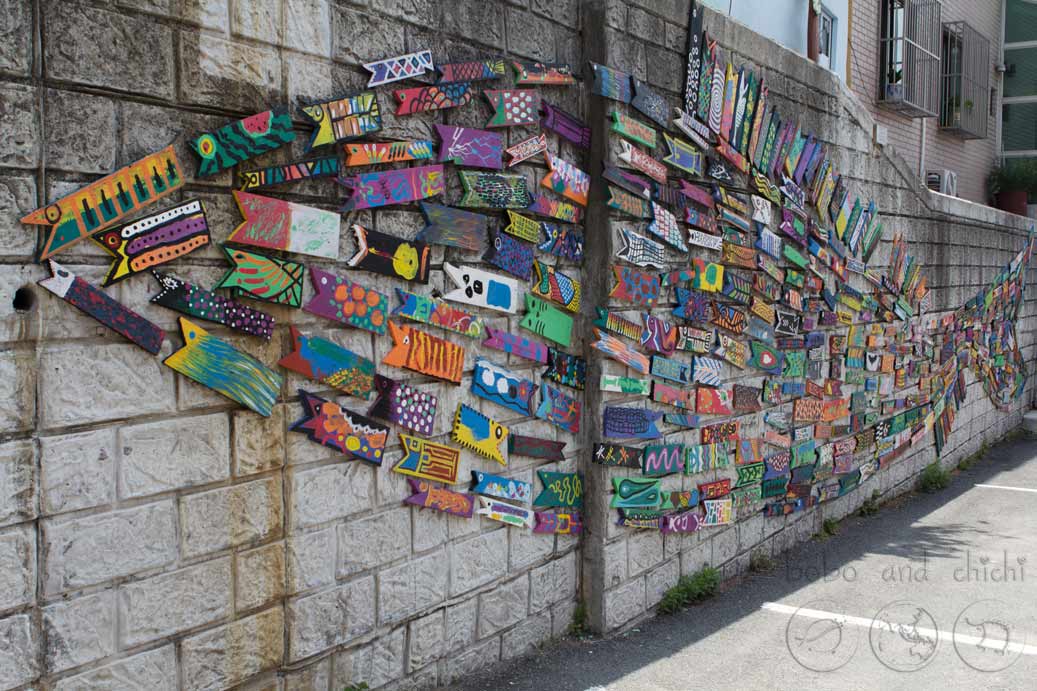 ---
This area began during the Korean War where some of the poorest people of Busan migrated to build their small, colorful homes. As you wander through you will notice the vibrant art and paintings on the buildings. You will also notice that even though this is a high traffic tourist attraction, the area is still impoverished. The homes are on top of each other and the living conditions of the people who still live here are not that great. We even saw a young infant who was placed in a cage in the window like an animal. We felt a bit strange about this, but what could we really do?
---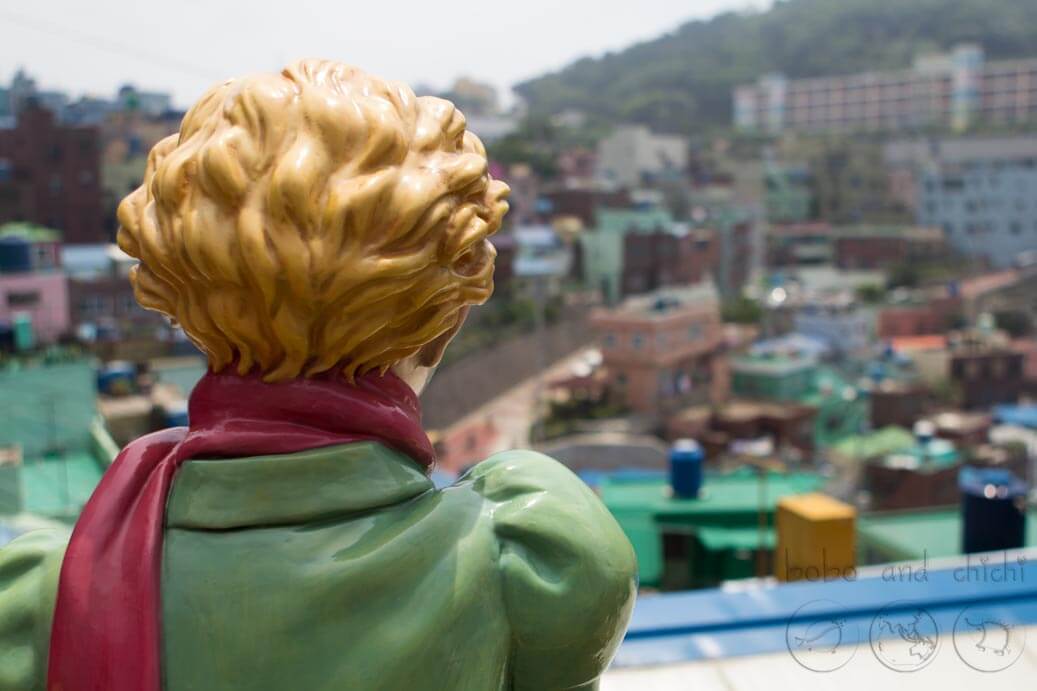 This village is definitely worth a visit. There is a charming beauty about it and an even more interesting history. Enjoy a coffee or snacks from some of the local vendors or just enjoy the aesthetic beauty of the array of colors you will see.
Directions to Gamcheon Village
Take the subway to Toseong Station and exit 6. Turn right at the corner in front of the hospital and take bus 2 or 2-2 to the top of the hill. The stop is called Gamcheon Culture Village.
2. Get a bite to eat at Jalgachi Fish Market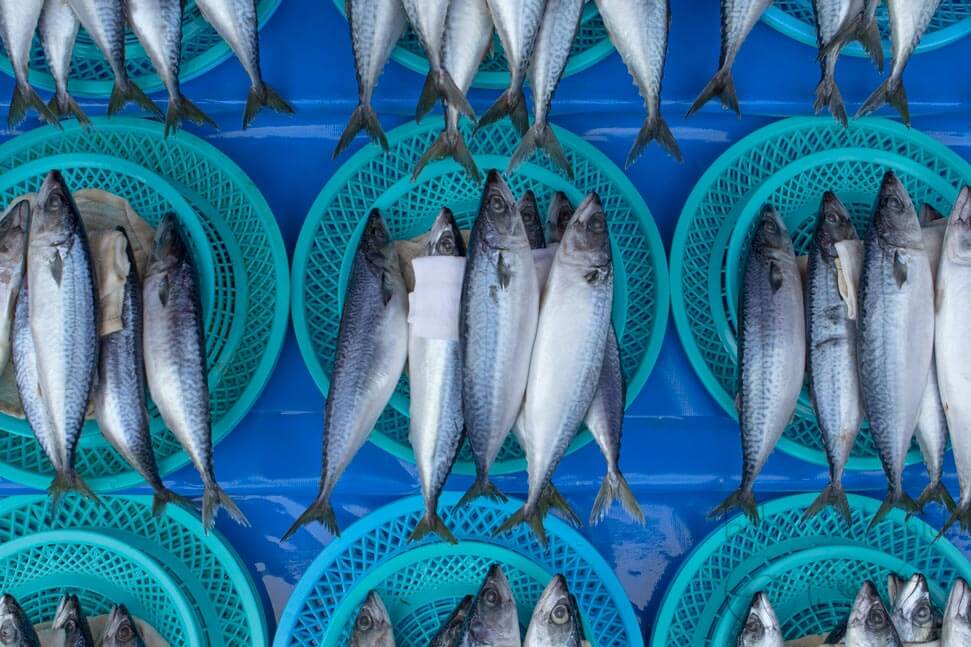 ---
We wandered the streets of Korea' s largest seafood market, Jagalchi Fish Market. It's truly one of the most unique Busan attractions. Even though there are apparently many westerners in Busan, we got quite a bit of stares from the locals who looked like they have never seen a foreigner before. Many wanted to take selfies with us.
---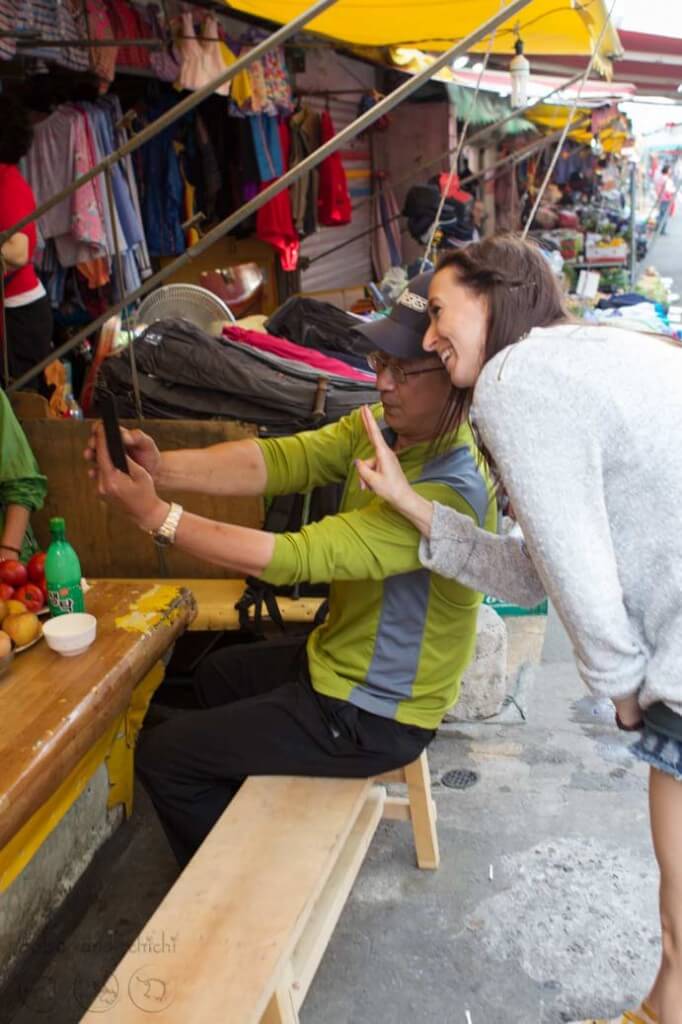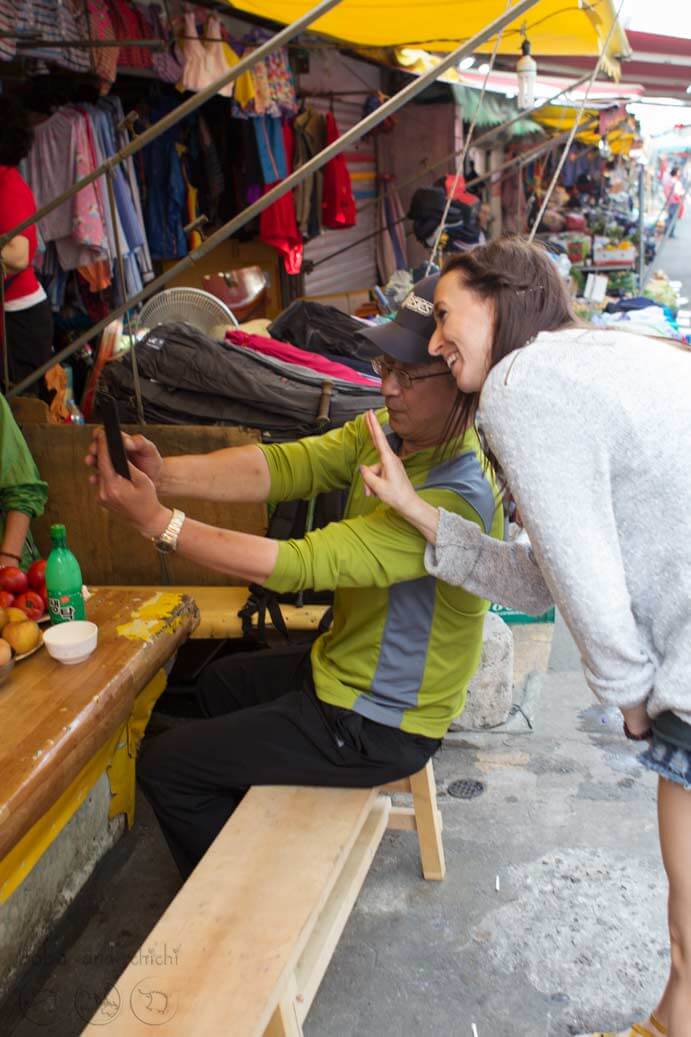 ---
Lined up on either side of the streets are vendors after vendors selling fresh fish and various other seafood. If you have strong stomach you may get to witness the skinning of live eels. This can be disturbing to watch! They drive a stake into the eels head, and skin it alive. It made our skin crawl. We tried to document this, but the woman preparing the eel yelled at us for taking a photo.
---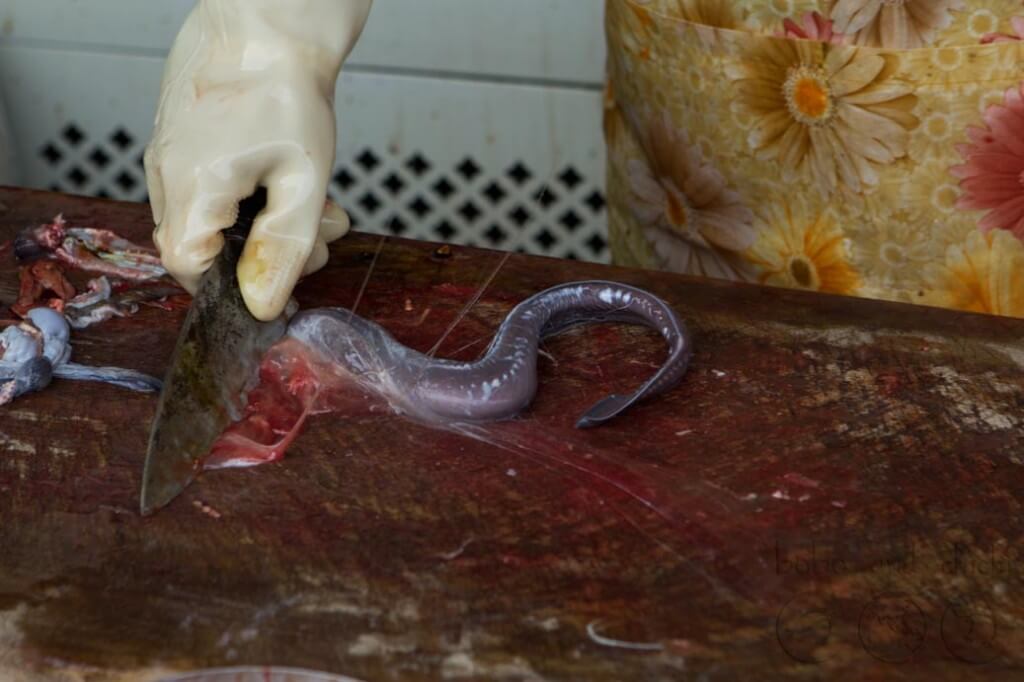 ---
After awhile the Jagalchi Fish Market tapered off and we decided to stop for a bottle of local makgeolli (of course we did) and odeng (fish cake) from a local vendor. Two old Korean men, who were a few drinks deep, competed to be our friends by ordering us more makgeolli. Something strange happened and eventually the lady who owned the stand had enough of us, and the attention we were getting, and kicked us out.
---
Directions to Jagalchi Fish Market
Subway to Jagalchi Station and exit 10.
3. Go to Igidae Park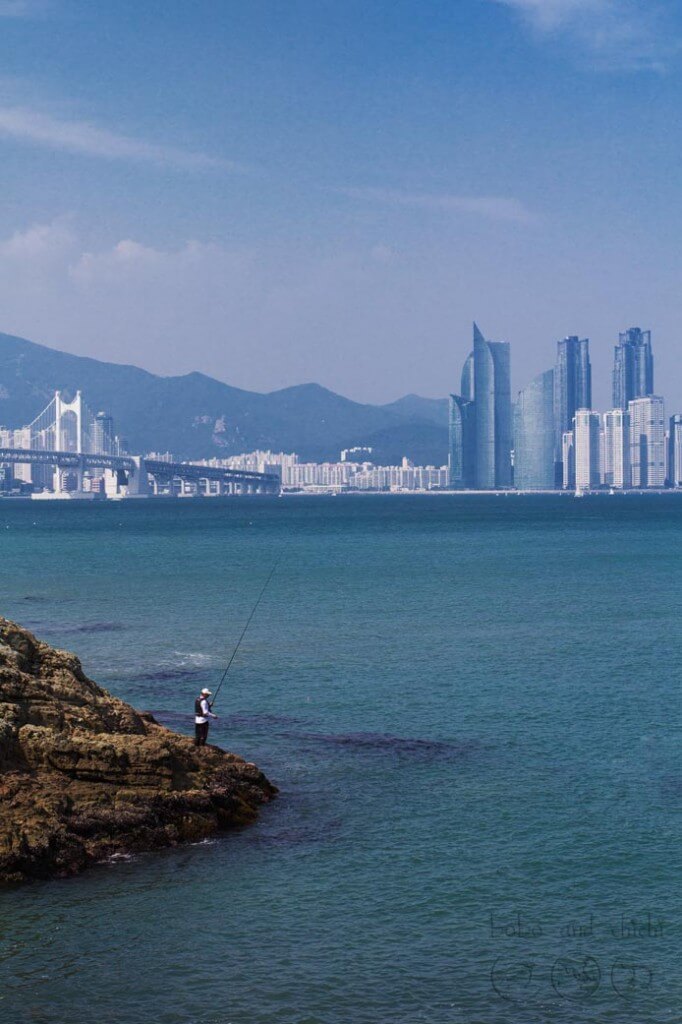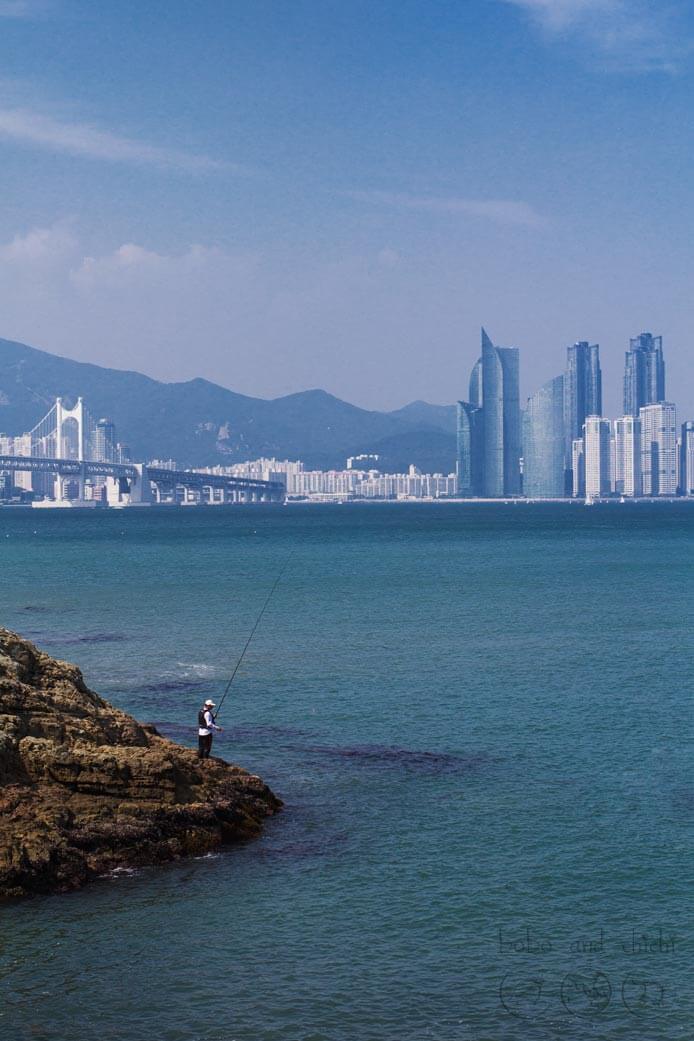 For a relaxing, scenic walk along the coastline, we visited Igidae Park. Along the walk, you have views of Haeundae Beach across the water, Gwangalli Bridge, and the city's skyscrapers. We spent about an hour and a half walking along the casual coastline walk. There are small bridges that take you from boulder to boulder and even resting places to stop and enjoy the view and take photos.
---
We packed our own snacks and drinks to enjoy on the walk. The people were friendly and the view was gorgeous. We wish the sky were less hazy so we could enjoy the view more, but it's definitely one of the more peaceful things to do in Busan.
---
4. Visit Haedong Yongungsa Temple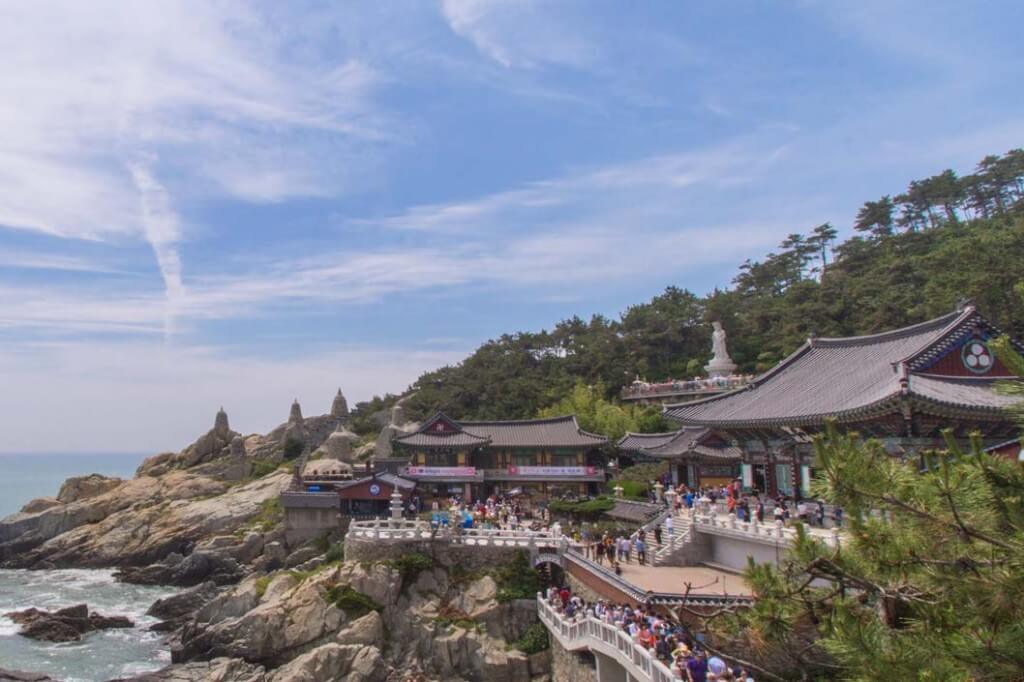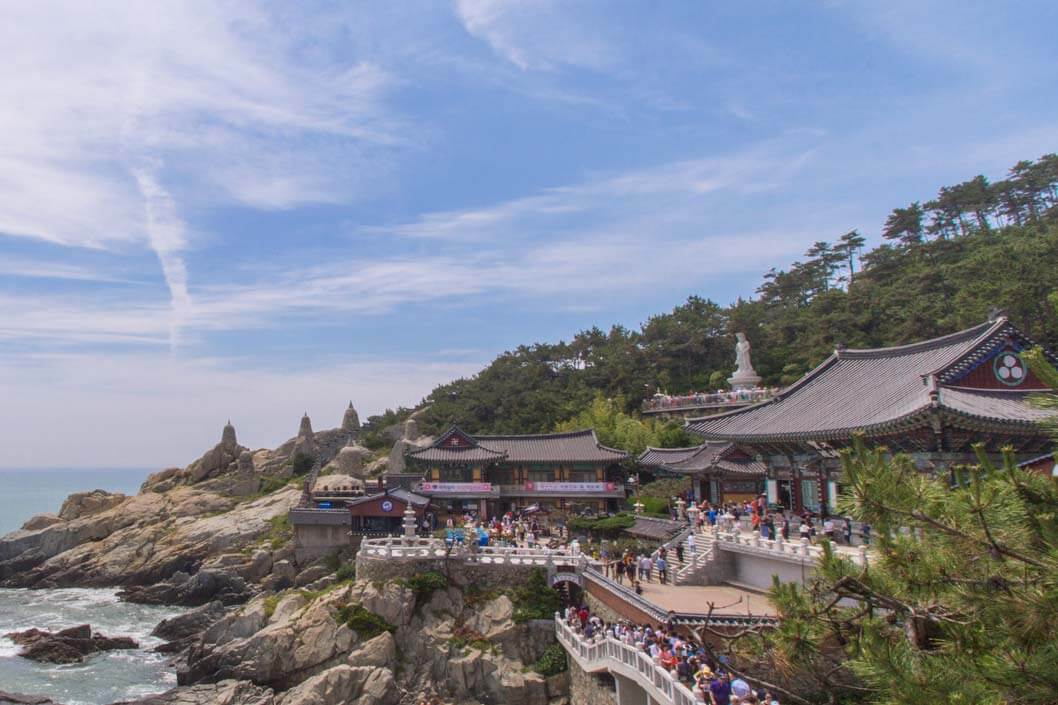 ---
Most temples in Korea are located in the mountains. Haedong Yonggungsa Temple, though, is located along the coastline, making it a popular tourism site in Busan. Be prepared for crowds of people pushing their way through the beautiful, majestic temple.
---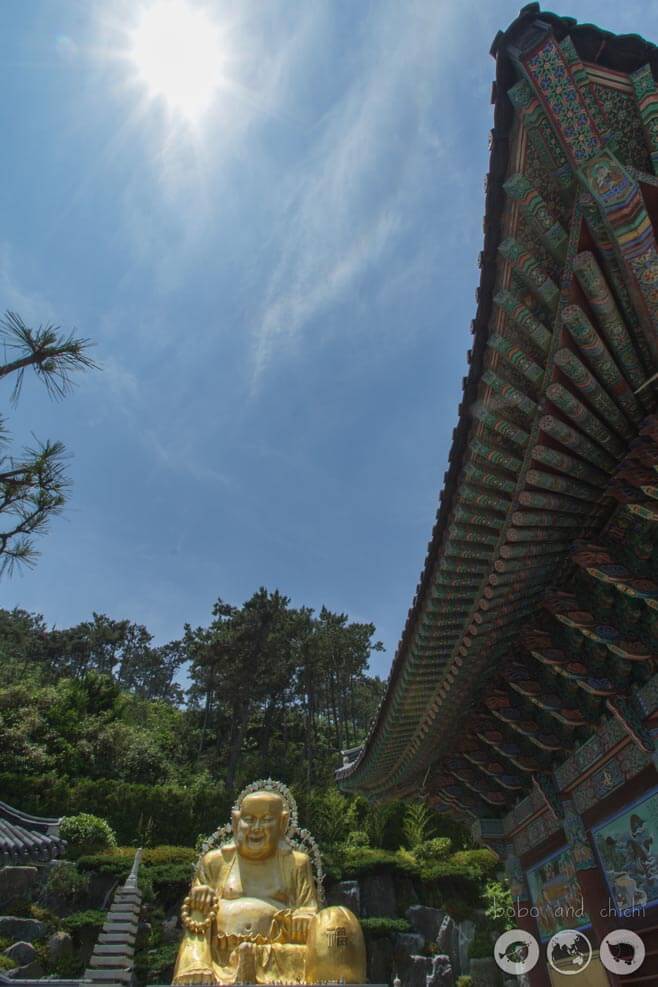 ---
You may have to be patient to take the perfect photos, but it is definitely worth the wait. The unique temple also has various Buddha statues including the standing seawater goddess Buddha and a large golden Buddha. They also have clusters of our favorite tiny Buddha statues throughout the grounds that we loved admiring and photographing.
---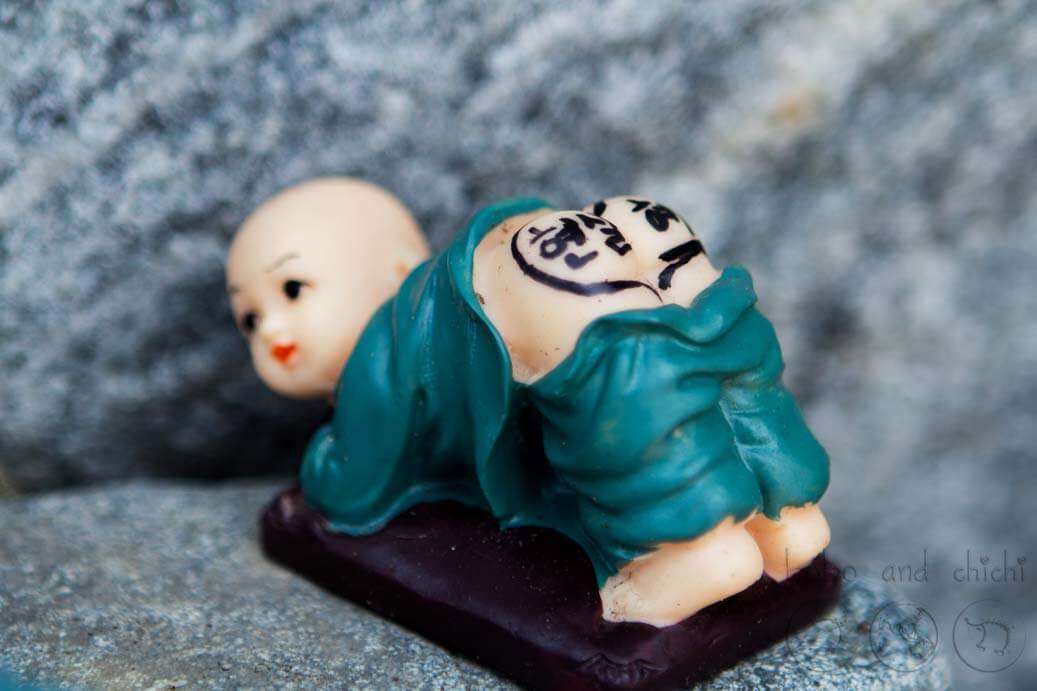 ---
Take about an hour or more to explore, photograph, and admire the temple then head to the entrance where there are various street vendors serving delicious snacks and souvenir shops.
---
Haedong Yonggungsa Temple
Outside exit 7 of Haeundae Subway stop, grab bus 181 to Yonggungsa Temple. (the bus comes every 20 minutes)
5. Relax at Haeundae Beach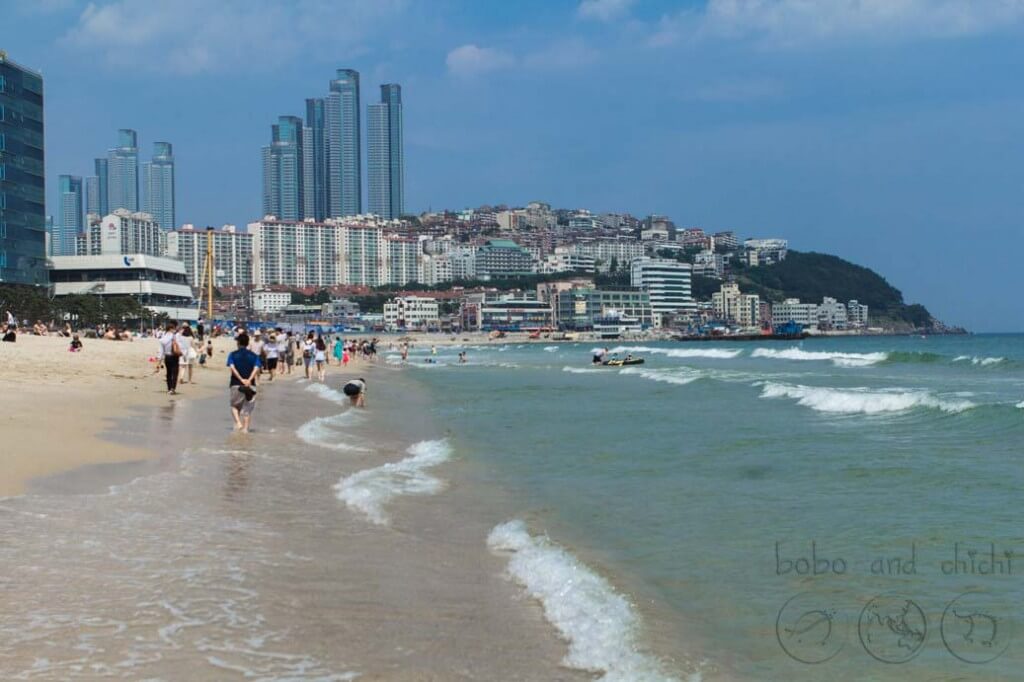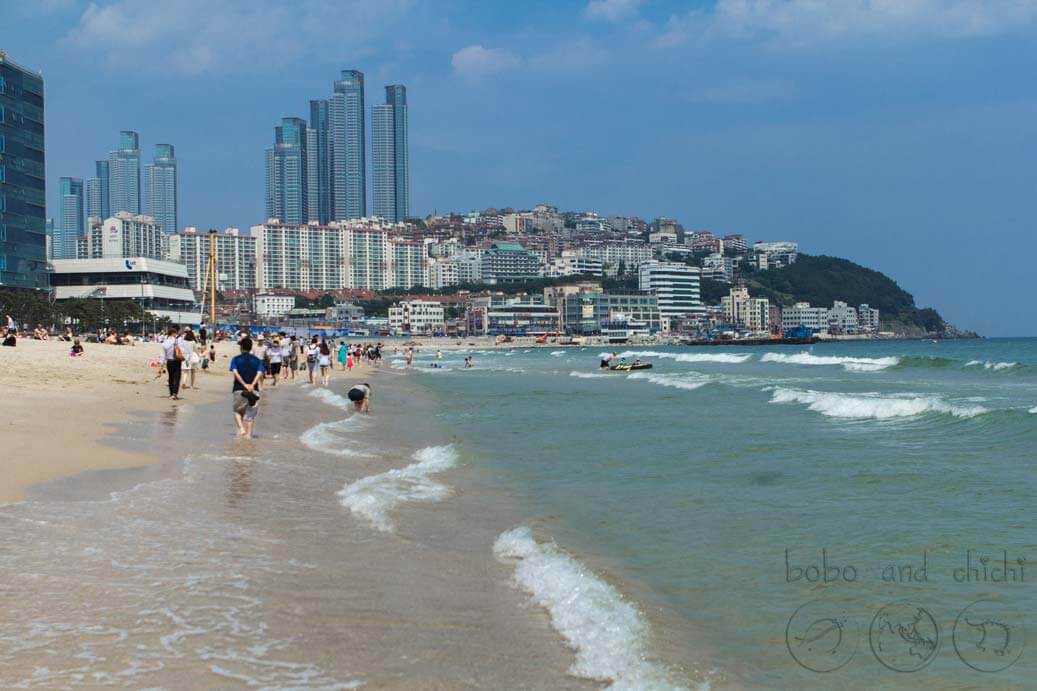 ---
A trip to Busan is not complete unless you visit Korea's most popular beach, Haeundae Beach. During peak season in August you may not see any sand since the beach will be packed with visitors and thousands of umbrellas. We visited at the perfect time in June. The weather was nice, and the beach was only relatively crowded compared to what it will look like in August. The beach itself is only 1.5 kilometers long and is situated right next to tall buildings in the city.
---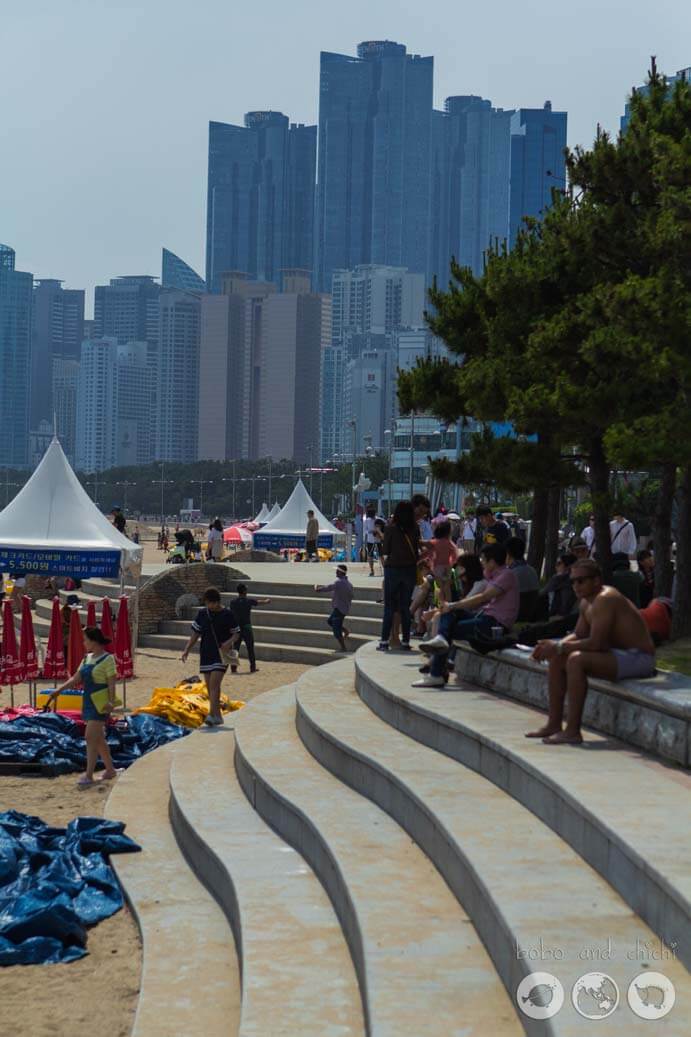 ---
Haeundae is definitely the best we have seen in Korea so far. Being from California and living next to some of America's most beautiful coastline, we are a bit spoiled and not easily impressed. It was awesome and refreshing to feel the soft, worm sand between our toes. Hearing the calming gentle crashes of waves hitting the shore, and the familiar feeling of the warm sun against our skin, definitely did the trick to help transport us home and even make us a little home sick. We had a wonderful, relaxing time basking in the sun and witnessing the variety of international tourists take photos and enjoy the beach.
Haeundae Beach
Outside exit 3 or 5 of Haeundae Subway stop, walk 10 to 15 minutes.
6. Go to the Centum Beer Festival
We were pretty excited to hear there was a beer festival in Busan while we were visiting in June! We read on reputable tourism sites that there were an unlimited variety of beers and samplings for only a 10,000 KRW (~$10) along with food stands and live performances.
Well, they definitely stretched the truth, a lot. We showed up to the festival to find out you only get Hite beer, a Korean beer that is similar tasting to Bud Light. Not a bad deal for 10 bucks for unlimited beer, but there were not "various beers" like stated on tourism sites. The festival also closes at 10 pm, so come early enough to drink the amount of Hite beer you like to get your money's worth.
We were disappointed only because we were expecting something completely different. It was a nice activity for the evening, but we would have rather spent the time at the bars in Haeundae.
Centum Beer Festival
Subway to Centum City Station, exit 6, walk straight for a block and you will see the festival lights and entrance.
7. Do a Day Trip to Gyeongju
Gyeongju is one of the coolest historical cities to visit! Although it's fairly easy to get there from Busan by bus, the big attractions are pretty spread out. Definitely do a day tour to make things easier. Check out more details on this tour here
8. Spend the morning at Spaland
Spaland is one of the fanciest Korean bathhouses out there! With tons of sauna rooms, it's also the biggest. Go early in the morning so it's less crowded, and just know you're only allowed there for 4 hours. Get a ticket here
Centum Beer Festival
Subway to Centum City Station, exit 12, go left past the CGV until you see signs for Spaland.
Tips for Your Busan Itinerary
How to Get to Busan from Seoul
You can get to Busan from Seoul by bus, train, or even by plane.
It takes a little over 4 hours by bus, and you can get one from Seoul Express Bus Terminal or Dong Seoul Terminal. If you go by train, you can get there as quickly as a little under 3 hours by KTX, and by plane, it's only an hour.
How to Get around Busan
It's super easy to get around Busan on foot and by the subway. You can also grab taxis very easily if you can't figure out either. Download KakaoTaxi because Uber/Lyft/Grab are banned in Korea. You can, also, try out the Busan City Tour Bus. Get a ticket here
Where to Stay in Busan
There are a ton of options of where to stay in Busan depending on your budget. Here are a few at different budgets:
Check for more places to stay in Busan on the map below:
Overall we loved our stay in Busan and it definitely had the best beaches that we had been to in Korea. (HAVEN'T BEEN TO JEJU, YET) But this place has a lot to offer and is definitely a must while visiting Korea. If we end up teaching another year in Korea, this is currently the number one option for us right now!
Have any tips on things to do in Busan that we missed? Let us know in the comments!
Pin for later!