Situated between the mountains Inwangsan and Bugaksan is the charming, quaint artsy village of Buamdong. Come here and you will feel displaced from Seoul, even though you are just about a mile away from the main palace, Gyeongbokgung, and the presidential Blue House. Instead of seeing tall apartment buildings covering every block of the town you see upscale homes (yes, real houses!) tucked away in the hills and streets of Buamdong.
A trip to Buamdong wouldn't be complete without noticing the Seoul Fortress Wall in the views of the mountains.
Enjoy a coffee with a view, walk along the fortress wall, wander through the galleries and museums, grab lunch, and end with a cupcake.
Sanmotoonge Cafe
Nestled uphill from Buamdong, rests a popular café that was once a filming location for a Korean Drama known as Coffee Prince. The café is a little more on the expensive side but offers breathtaking views of the neighboring mountains and the Seoul Fortress Wall. There are two different terraces including indoor seating surrounded by glass with a view too. Don't forget to check out the basement full of antique toys and furniture. Check out more and directions to Sanmotoonge cafe here.
Sanyoohwa Cafe
Another cute but more quaint café a few minutes walk up the hill past Sanmotoonge. We stopped at this small café/home made furniture design shop for their bingsu. Not the best bingsu we had, but there hasn't been a bingsu that we didn't like! We were here on a rainy day and took a break from getting drenched by enjoying the color sprinkled bingsu. The owner was friendly and the café was reasonably less expensive than Sanmotoonge.
Sai Chicken
There are two delicious looking fried chicken and beer places just doors down from eachother in Buamdong. We opted for the less crowded restaurant that has a cute bear sign holding a chicken in one hand and a beer in the other. We ordered the first thing on the menu that was a popular dish for 27,000 KRW (~$27). Seemed expensive until the food was delivered to the table! This meal included 12 pieces of deliciously breaded fried chicken, double battered perfectly seasoned French fries, and an amazing bean sprout salad with a spicy oriental dressing. We were in food heaven!
Sai chicken is now our second favorite fried chicken we have had in Korea. First is of course the hole in the wall you can find randomly throughout Korea called Charm Charm Chicken. We will definitely be back to Sai Chicken next time we walking the streets of Buamdong! Get directions and more information here about Sai Chicken here.
Gyeyeolsan Chicken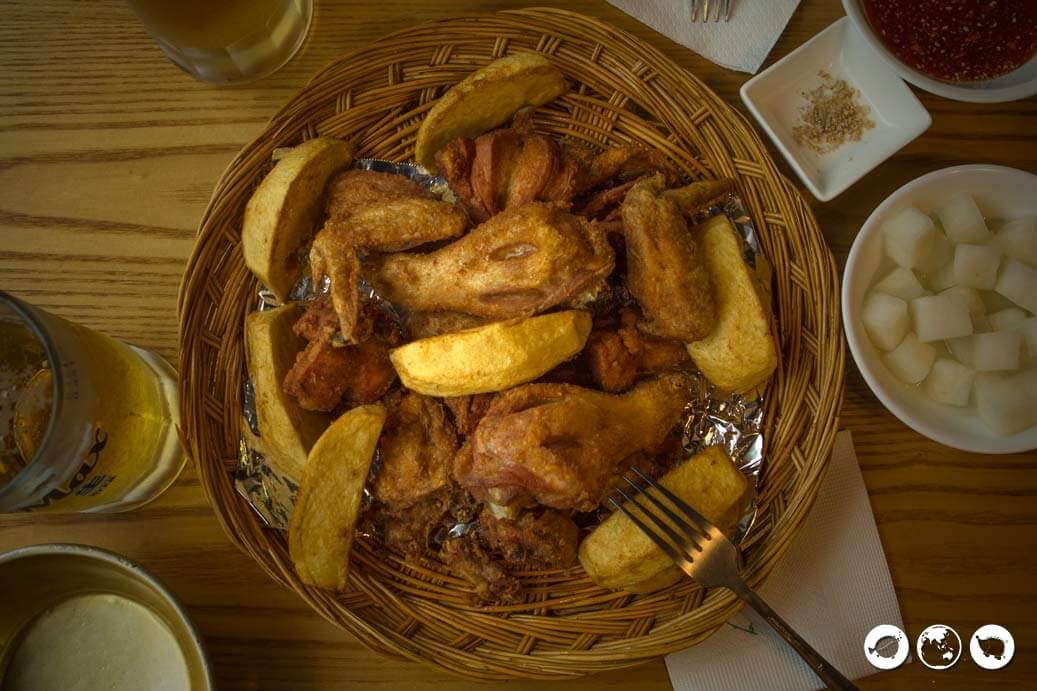 Formerly known as Cheers Chicken, this famous fried chicken joint is known around Seoul for its fried chicken and its potato wedges. Come with a big appetite, as the meal is large! Don't forget to order a beer to pair with the home style food. This restaurant is much more crowded then its nearby competitor Sai Chicken and very feisty workers. If you don't like crowds or bumping elbows with the stranger at the table next to you while eating you may want to check out the other place. The food is delicious and it is a great place to get a quick, BIG meal. Get more info and directions to Gyeyeolsa Chicken here.
Cupcake Café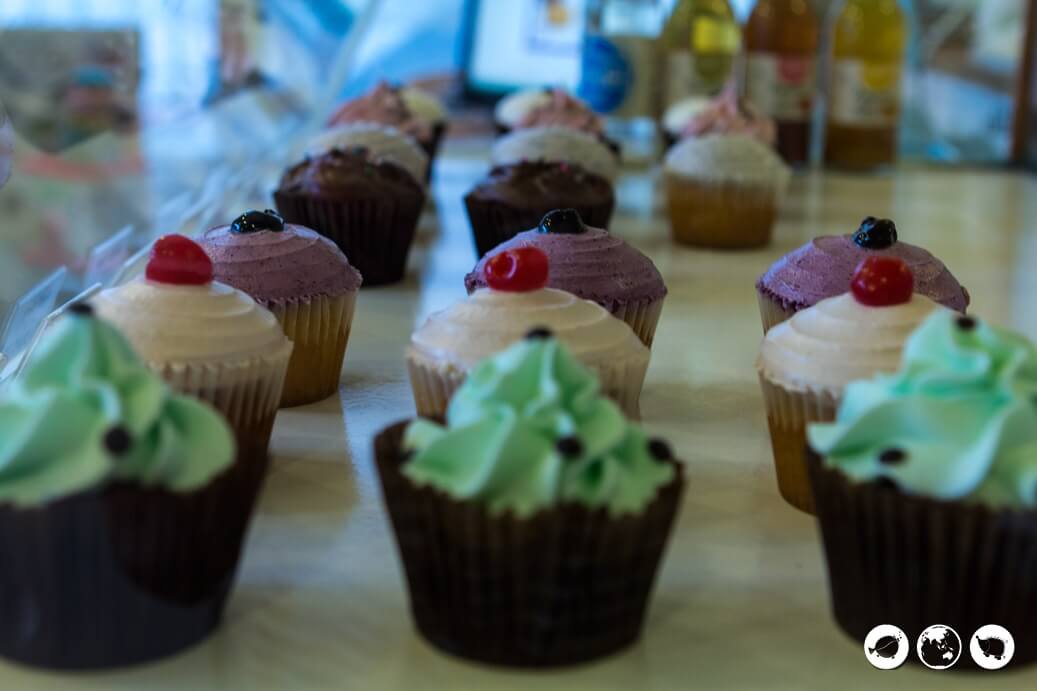 If you aren't too stuffed from all the fried chicken you just gobbled down then head over to Shortcake for dessert. This tiny, kitschy café offers delicious cappuccinos and homemade cupcakes! We ordered vanilla and raspberry. The cupcakes were a little dense and dry on the inside, maybe they were not made the same day. The best part of the little cakes had to be the frosting. Scott's cupcake tasted like it had a vanilla cream cheese frosting. My cupcake had a light raspberry flavor to the frosting. Make sure you order a coffee to pair with your treat so it seems less dry. It was tasty, but not the best cupcakes we've had. Cupcakes are 4,500 KRW (~$4.50) and decent in size.
The best part of Shortcake is all the crazy dolls and random things you can buy. This place makes for a great date, but is also worth checking out just for the things you will see.
Noteworthy Places in Buamdong
We've headed down to Buam-Dong three different weekends to see what all this place has to offer. We noticed art galleries and museums are often free and always changing exhibits and are scattered throughout Buam-Dong. See below for a few that we know of.
Art for Life $$$ 
Details: It's a cute artsy hanok that got turned into garden art space and restaurant featuring a wine list and small plates. Cute, but pricey. $$$
Seojin Artspace – Free  
Details: More like a small gallery that you can stroll through on your way to or from the cafes up the hill in Buamdong. Cool for a quick stop. It updates regularly and is free.
Literature Museum – Free  
Details: (Free) Another small museum featuring Korean poet. Yoon Dong-ju who used to get inspired to write on the nearby mountain..
Whanki Museum – $ 
Details: (Free) A privately owned museum featuring Korean abstract painter Whanki Kim's artwork. For under 10 bucks you can enjoy the works of this talented artist.
---
---
Have you been to Buam-Dong What was your favorite part. Be sure to share you experience in the comments below. Like or 
Follow us on Facebook
, 
Instagram
, or 
Twitter
!