S
urprise, surprise! We are here to talk about another Korean chicken dish! Except this one is not fried chicken! This scrumptious meal is a MUST try for all travelers visiting Korea. This is one of our favorite meals, and it seems like we say that a lot, but really look at the pictures can you blame us?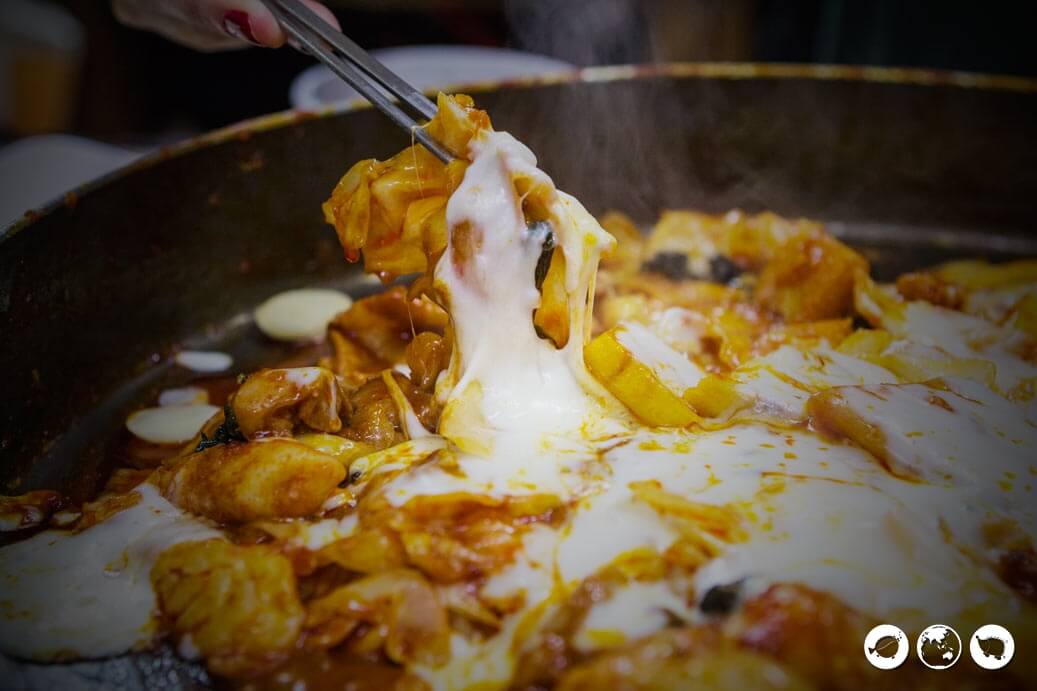 Scott stumbled upon this hidden gem of a restaurant during one of his photoshoots along the Hangang River. Located about a 10-minute walk away from Yongsan Station is this packed Korean joint. Every time Scott walked past this place it had a line. Lucky for us we went on a Wednesday and were seated within 10 minutes.

Now for the food, Chicken Dak Galbi is cooked right in front of your face on a table top skillet. The server puts the raw chicken, vegetables, tteok (rice cake), and spicy red sauce in all at once. Either the server or you will have to use a wooden spoon to keep moving the cooking food around in the skillet. About 10-15 minutes later you can top it off with cheese and voilà, time to enjoy heaven for the mouth.
If you are still hungry you can get rice at the end. The server will cook it on to the pan and mix it around, you can also order cheese on this as well! We were too full this time to order. But if you are a group of people, it's definitely worth a try!
There has not been a dak galbi restaurant that we have not liked. So we definitely recommend trying it and think everywhere will be good. However if you want an amazing dak galbi experience that you're sure to remember, consider going here. But at the very least, make sure you check out this signature comfort dish while visiting Korea!
Feeling frisky and want to try this meal from home? Check out this recipe![/text_output]
If you liked this post and want to see more like it, consider liking our page on facebook, following us on twitter, or seeing our latest photos on instagram.
*Please remember all photos on this website are copyrighted and property of Bobo&ChiChi. Please do not use them without our permission. If you want to use one of them please contact us to ask first because we'd be absolutely flattered and would love to share. Thanks!