A
bout an hour south of Seoul rests Suwon, home of Samsung Headquarters and more historical the only walled city left in Korea. Hwaseong Fortress was built in the Joseon Dynasty and was built to surround the entire city and protect a tomb of Prince Sado. Now the city expands far past the walls of Hwaseong Fortress and it is a popular tourist attraction. The fortress walls were severely damaged in the Korean War but has since been restored.
The fortress wall includes many different sites including the fortress gates, a temple, palace, museum, and if you're lucky people walking around in traditional clothing.
Here's a list of sites within the fortress walls to check out and what they have to offer. If you can only go once, it may be best to visit in September or early October as the weather is cooling down and the leaves are changing colors.
Experience a unique tour of Suwon Hwaseong Fortress at night. The tour starts and ends in Myeongdong, you can purchase your tickets here.
Janganmun- The North Gate (aka front gate) of the fortress. Walk through the top of the building or cross the street and grab a coffee or some food for a break.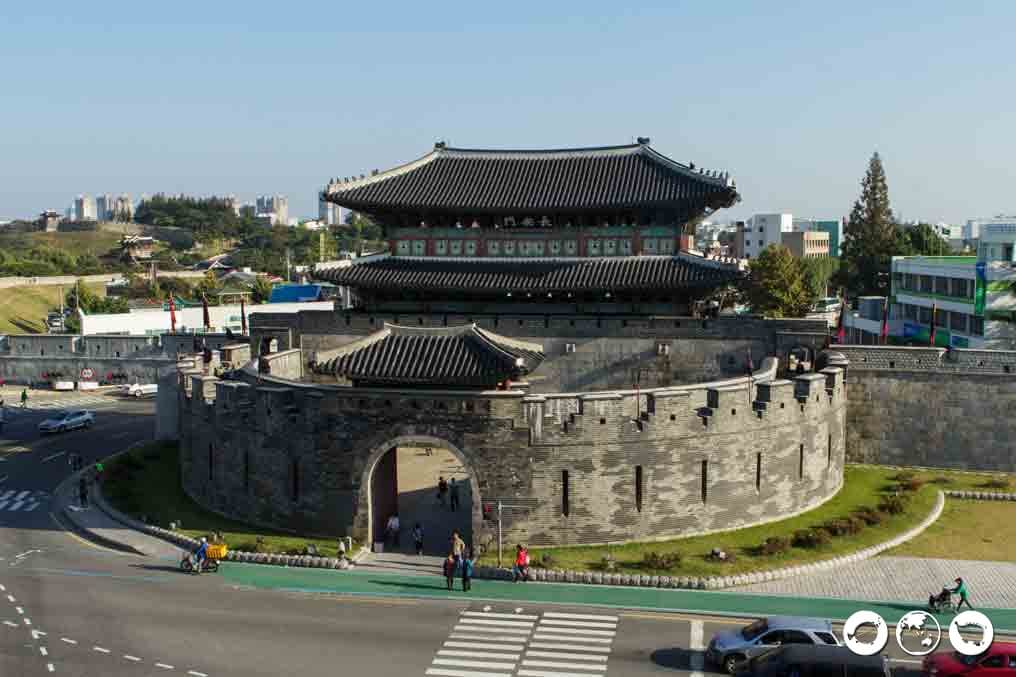 Hwaseomun– The West Gate of the fortress.
Paldalmun- The South Gate of the Fortress. The second largest of the gates, Paldalmun is set further away from the fortress to serve as a protection from the main gate from getting broken into.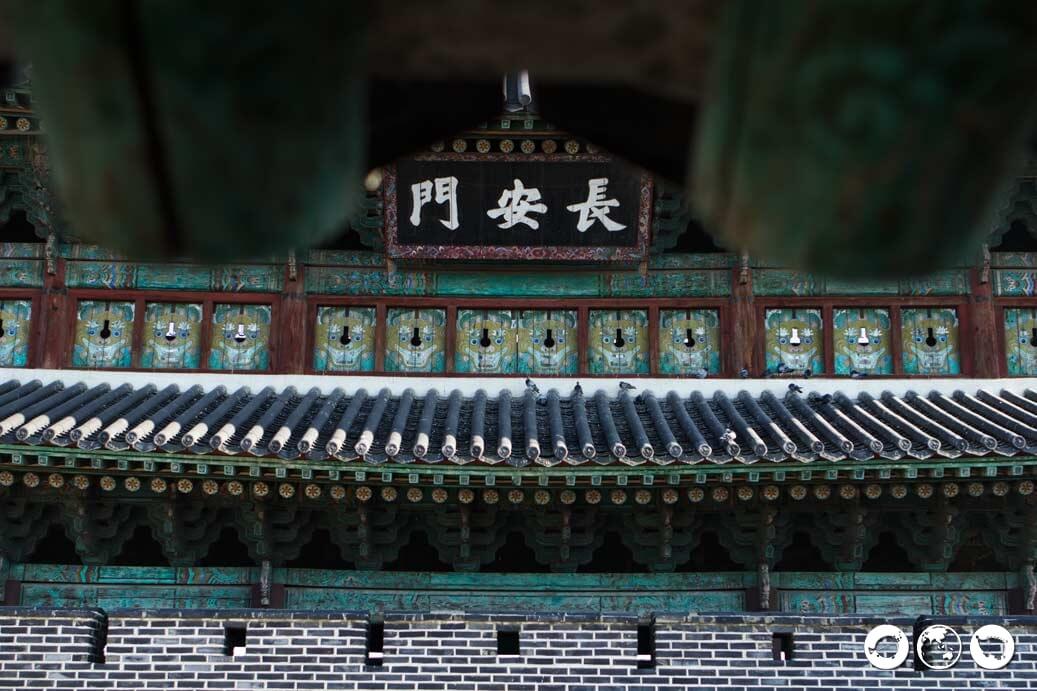 Hwahongmun– North flood gate which has water passing through the lower bridge.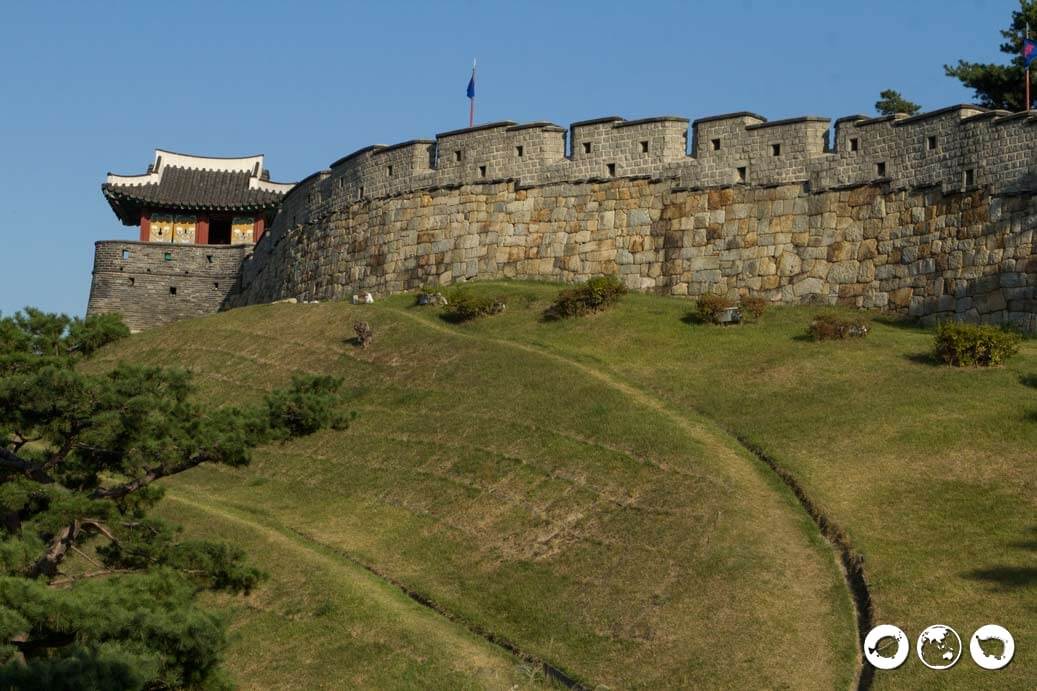 Hwaseong Haenggung- This palace was created for King Jeongjo to stay at when he visited the tomb of his father. We were able to play dress up in warrior clothes here for 3,000 KRW each and walk through the clusters of buildings.
Admission: 2,000 KRW for adults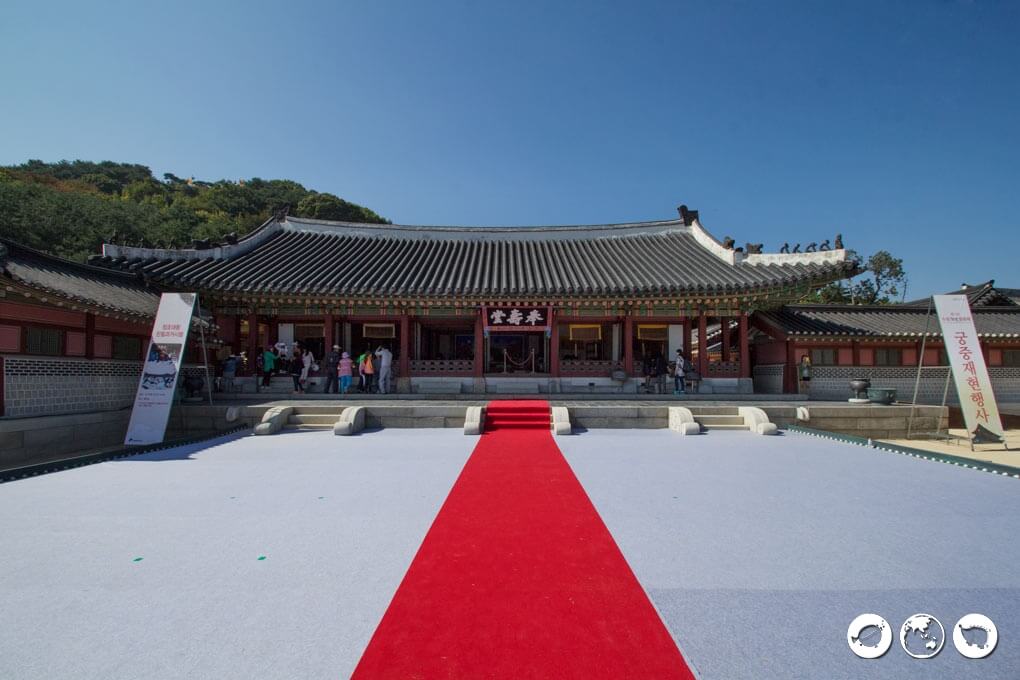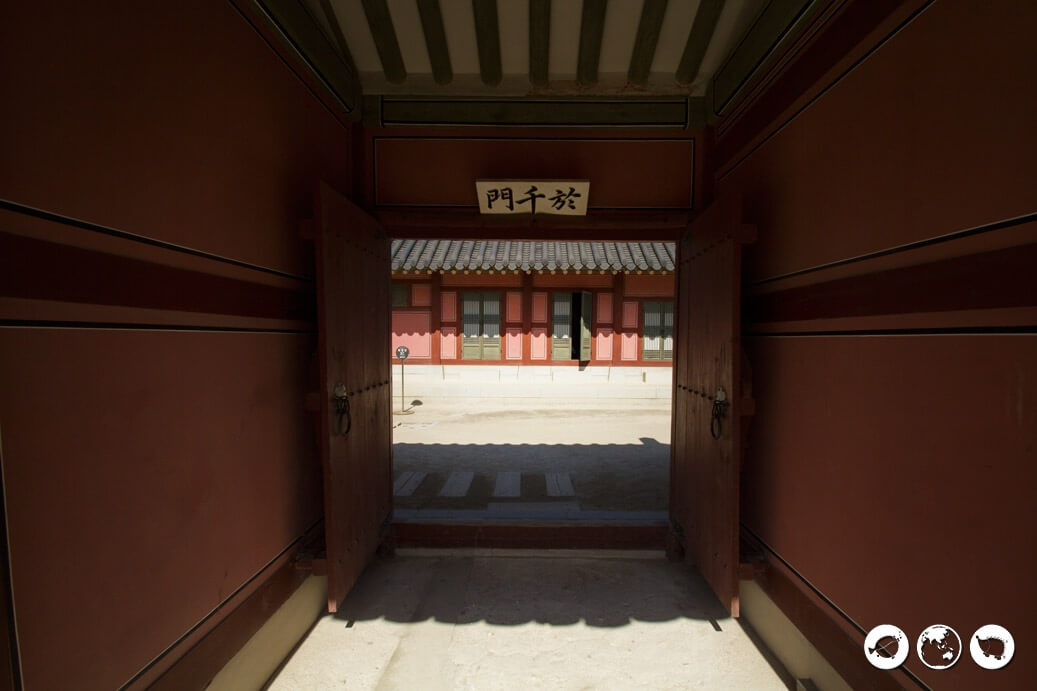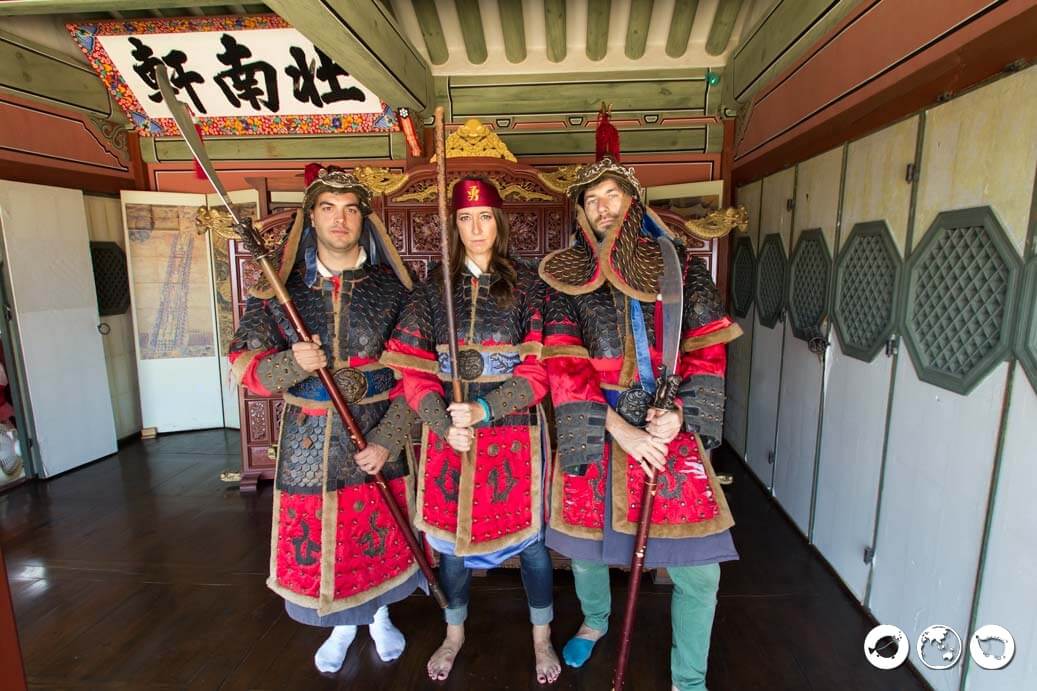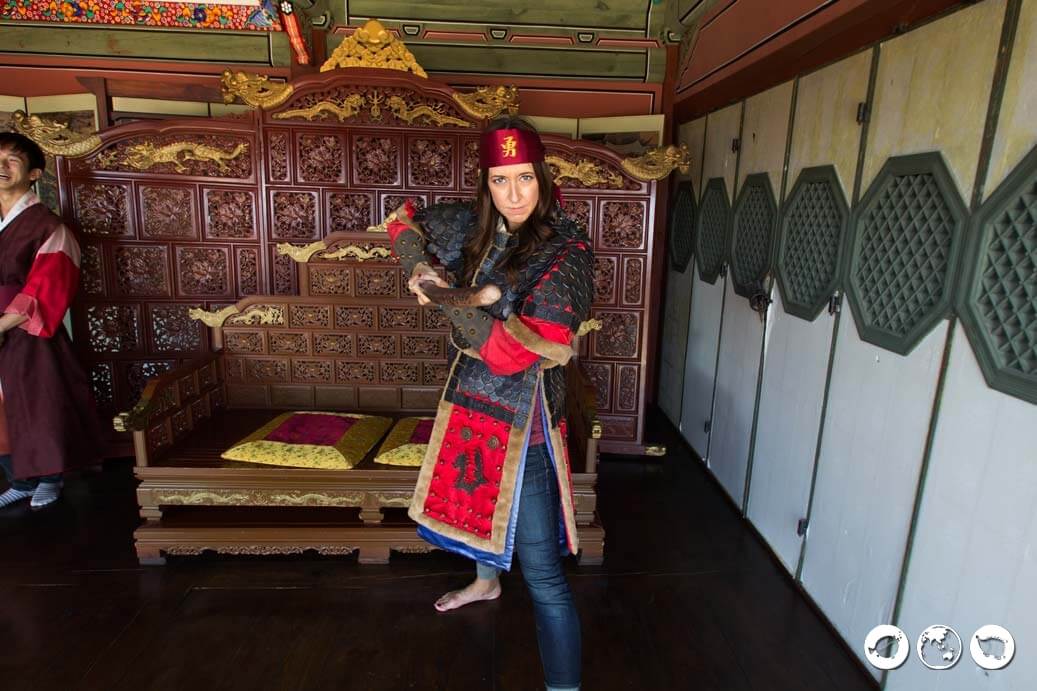 Yeonmudae
This area used to be a place of training for the military. We were extremely disappointed that we were not able to participate in the old fashioned archery they have available here. For 2,000 KRW you get 10 arrows and a bow to shoot at old fashioned targets. This was something we were really looking forward to. Due to an event being held here they did not have this activity. We wanted to feel like Robin Hood!!!! Maybe next time!
Hwaseong Museum– This museum is free with admission into the fortress. We did not get to check it out due to time, but it offers the history of the fortress as well as historical artifacts on display.
Seojangdae Command Post– A short climb near Hwaseomun Gate is Seojangdae Command Post used to guard against enemies from entering the gates. Its location on a hill made it easy to spot any potential intruders.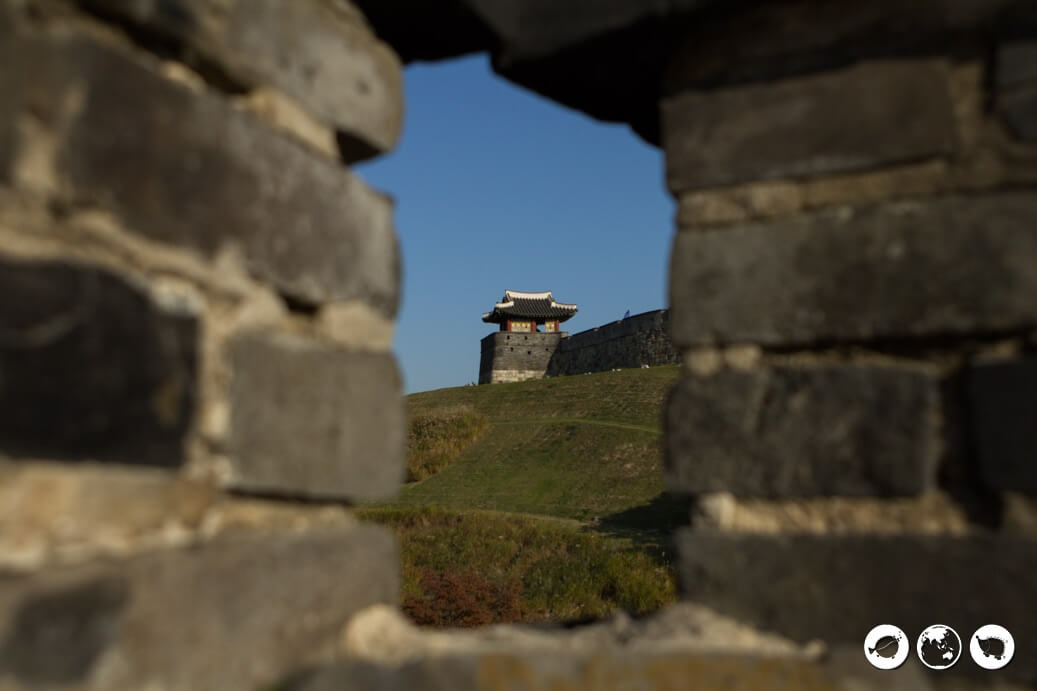 Daeseungwon Temple– This Buddhist temple is tucked away between Seojangdae and Haenggung Palace. The grounds are not very large and very quiet. You will want to visit just to witness the beautiful standing golden Buddha statue.
Hwaseong Trolley– You can't miss the crazy looking dragon train that totes people around the interior perimeter of the fortress walls. Cost 1,500 KRW
What's great about spending the day here is you are constantly able to access streets of restaurants and little shops. We spent an afternoon exploring the fortress walls and still missed things. Make sure you plan enough time. We were impressed with how enormous the grounds were and how much there was to see here. We felt like we went back in time and are hoping we can make it back to admire more of the grounds before we leave Korea.
Directions to Suwon's Hwaseong Fortress.
You can get to the Suwon Hwaseong Fortress a number of ways. Either by your local bus or when in doubt take the subway all the way to Suwon. It's about a 2 hour trek to get there. Than take a local bus the rest of the way. The bus will depend on what time you get there. Use the map to help you get to Suwon's Hwaseong Fortress from wherever you are.
If you liked this post and want to see more like it, consider liking our page on facebook, following us ontwitter, or seeing our latest photos on instagram.
Disclaimer: This page contains affiliate links. By purchasing through the links on Bobo & Chichi you will help us keep the site up and running at no extra cost to you.
*Please remember all photos on this website are copyrighted and property of Bobo&ChiChi. Please do not use them without our permission. If you want to use one of them please contact us to ask first because we'd be absolutely flattered and would love to share. Thanks!