Seoul is one of the largest cities in the world and visiting for a short period may be overwhelming with picking which destinations you would like to see. We've been lucky to call this city home for a total of two years and have had the opportunity to explore most of what it has to offer. After all our experiences, we have now put together the perfect one-day Seoul itinerary to highlight the most iconic areas in the city! All of these spots are situated within a nice 4km walking radius.
Check out our guide on how to spend one day in Seoul and, for even more help, a map with all the attractions below!
Updated: April 2019
How to Spend One Day in Seoul
Tip: Before you start exploring, get either a SIM card or a pocket wifi at the airport. Then download KakaoMap to help you navigate! Google Maps hasn't been allowed to update since 2009, so any new alleys, stores, or streets won't show up there. We also recommend booking ahead because it's much cheaper.
Get more details on a SIM card here and a pocket wifi here
You can also book this tour, which will cover many of the places we cover below!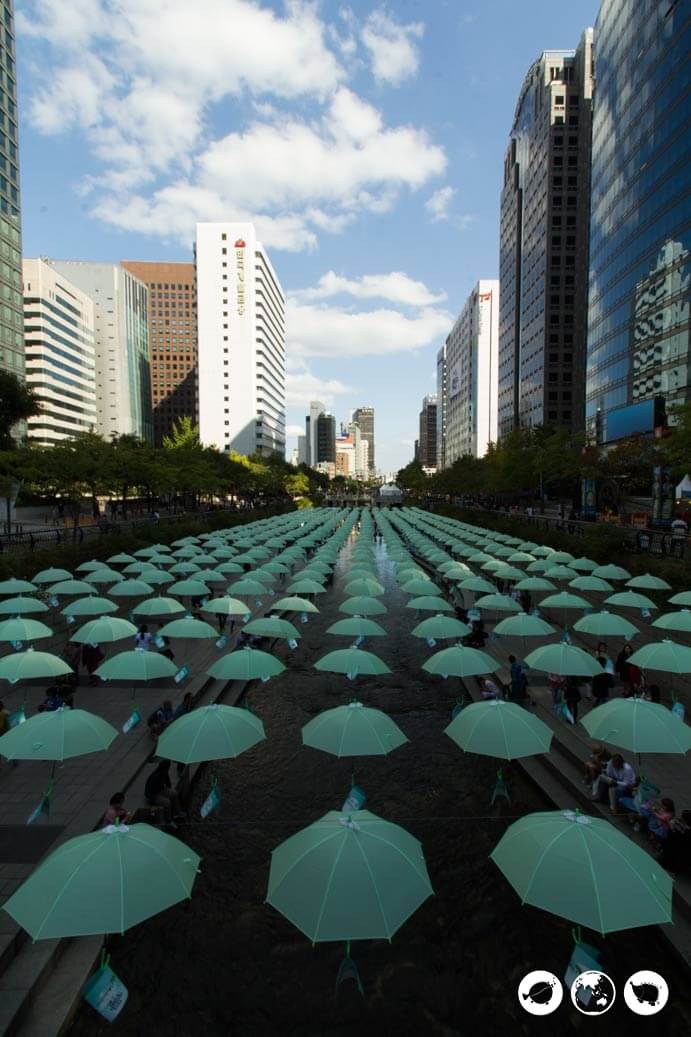 Start at Cheonggyecheon Stream
Start your adventure at the Cheonggycheon for a relaxing walk along the downtown, manmade stream. Take your shoes off, have a snack, and rest your feet in the water! If you are lucky it could be decorated with either lanterns or umbrellas for one of many festivals they celebrate here.
If you haven't eaten breakfast before starting your day, go to a nearby convenience store and get some kimbap and coffee and have a mini-picnic here!
How to Get to Cheonggyecheon
To Cheonggycheon Stream: Take subway to Gwanghwamun Station (line 5) exit 5
Walk to the iconic Gwanghwamun Square.
Once you're done with Cheonggyecheon, start over to one of the most recognizable spots in your Seoul itinerary. Gwanghwamun Square is one of the most photographed areas of Seoul.
Walk along the path leading to Gyeongbokgung Palace with views of Bukhansan Mountain in the backdrop. Along the way you will pass the King Sejong Statue (known for developing the modern Korean alphabet, Hangul) and Admiral Yi Sun-Shin Statue (famous naval war hero who used the Korean turtle ships to defeat the Japanese). On the weekends there are flea markets and musical shows filling the empty space between statues!
How to Get to Gwanghwamun
The square is off the same station as Cheonggycheon — Gwanghamun Station. It's near exit 2 or 3 instead of 5 though.
Have extra time?
Check out the free museums below the King Sejong & Admiral Yi Sun-Shin Statues in the Square.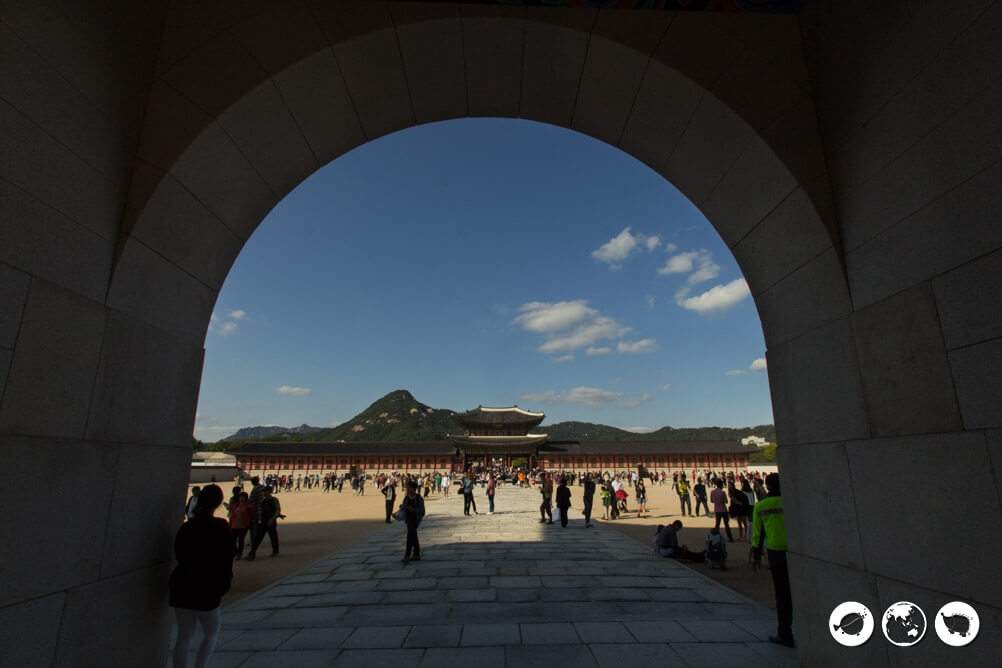 Explore Gyeongbokgung Palace
If there's only one thing you do during your one day in Seoul, it's visit Gyeongbokgung Palace! Not only is the largest of the five palaces built during the Joseon Dynasty, it's also considered the main one. The palace was originally built in 1395, though it was destroyed first during the Imjin Wars in the late 1500s and then again under Imperial Japan in the 1900s.
Since then it's been restored to what it is today, still following traditional architectural guidelines from the Joseon dynasty.
If you are lucky you will get to see the changing of the guard at the front entrance!
Give yourself at least an hour to wander the massive grounds with beautiful, colorful intricate painted buildings. The grounds are a lot bigger than they look from the outside!
Admission: adults 3,000 KRW (~$3) and children 1,500 KRW (~$1.50)
Directions:
If you're coming from Gwanghwamun Square, it's quite literally across the street (you have to go out of your way to miss it). Otherwise, use Gyeongbokgung Palace Station (Line 3), Exit 5.
Note: Gyeongbokgung Palace costs 3,000 KRW for adults and 1,500 KRW for children, and is closed on Tuesdays. You can, however, get in for free if you're wearing a hanbok. Rent one here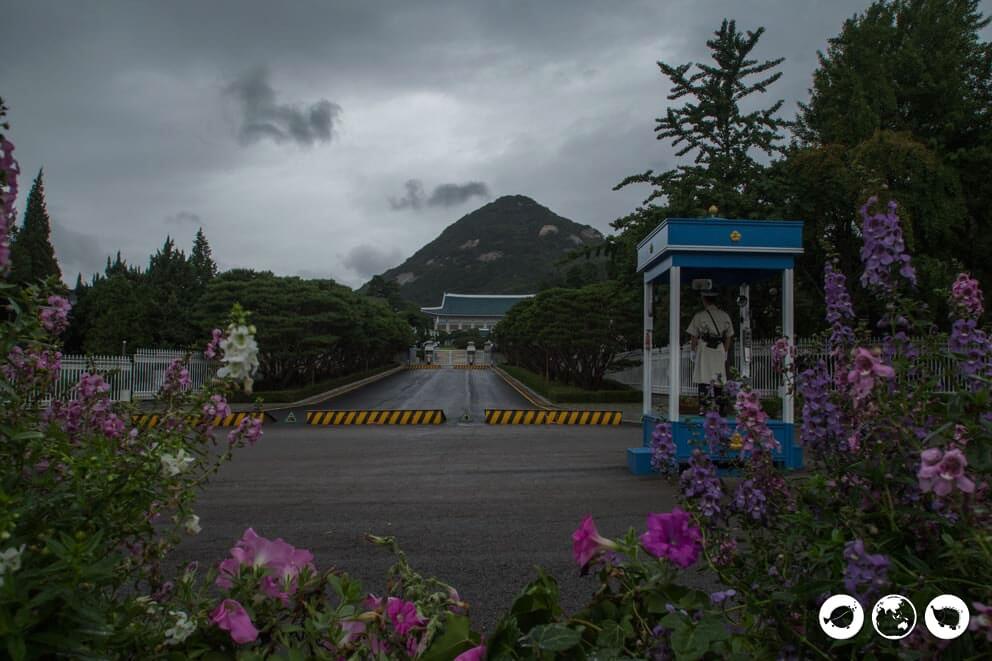 Have extra time?
You can also visit the National Palace Museum of Korea and the National Folk Museum, both of which are on the palace grounds.
If you exit through the back gate, you can se the Presidential Blue House (above).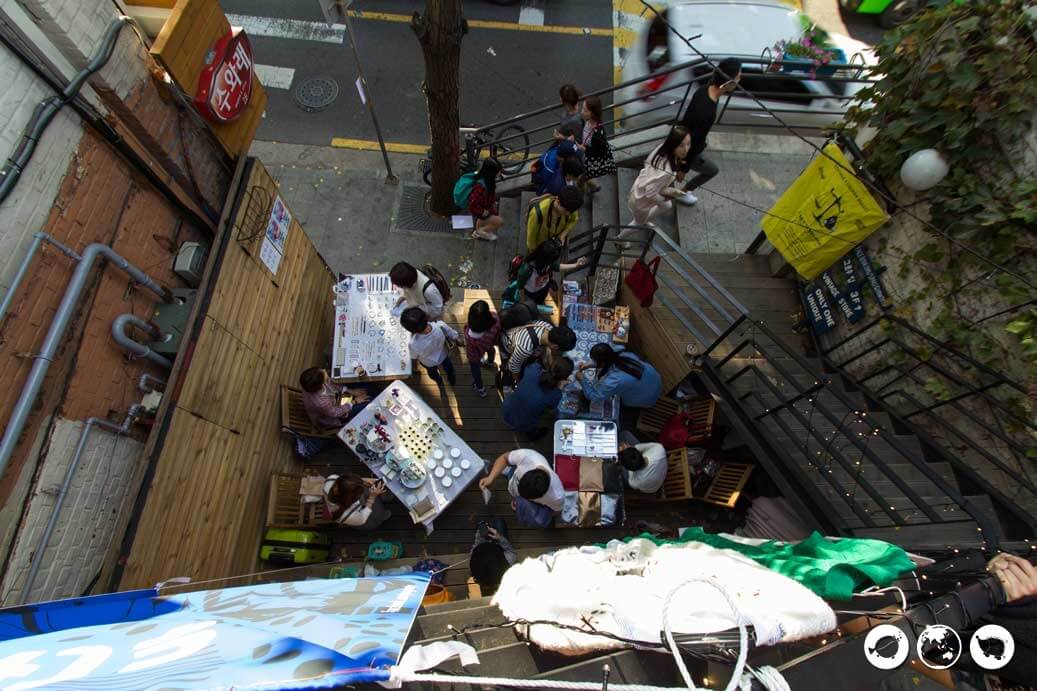 Walk around and shop in Samcheong-dong
This delightful area is located directly right of Gyeongbokgung Palace. Samcheong-dong is famous for its traditional Korean hanok style buildings, tons of shops, cafes, restaurants, street vendors, and art galleries. This area is conveniently sandwiched between Gyeongbokgung and Bukchon Hanok Village which makes it a perfect stop to enjoy a cup of coffee and a snack.
This is one of our favorite places to spend an afternoon shopping and strolling through the streets. The area is very charming and you can't help but love the small town atmosphere tucked in the big city. It's a good spot to grab lunch if you're feeling hungry!
How to Get to Samcheong-dong
From Gyeongbokgung, exit the gate on the right side of the palace. OR walk around to the right side of Gyeongbokgung. If you're coming by subway, use Anguk Station (Line 3), Exit 1 toward Jeongdok Library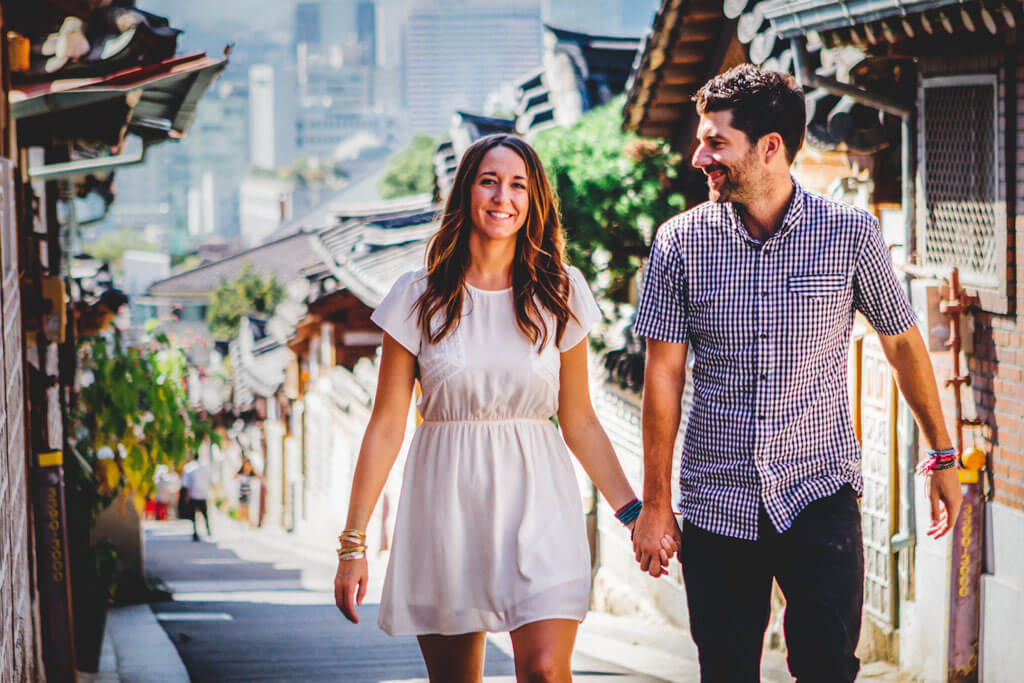 Stroll through Bukchon Hanok Village
Walk through this historic village of Bukchon and enjoy the splendor of these traditional Korean homes called hanoks. Bukchon's hanoks are the giwa style, which means they have the tiled roofs unlike places like Andong Hahoe Folk Village, which are in the choga style with straw roofs.
There are around 900 hanok style buildings scattered through this small area nestled between the Gyeongbokgung and Changdeokgung palaces. This village is actually home to residents of Seoul and has a few small museums. Grab a coffee to go and meander through the alleyways of these historical, traditional homes and buildings. If you can, spend the 3,000 KRW to go up the observatory for views over roofs. On a clear day, you'll see all the way to Namsan Tower. For more, check our guide to the Bukchon Hanok village here.
How to Get to Bukchon
From Samcheong-dong, walk back towards the palace and make a left on Bukchon-ro 5-gil. Then make a left on Buckhon-ro (the 3rd street). If you're coming by subway, use Anguk Station (Line 3), Exit 2.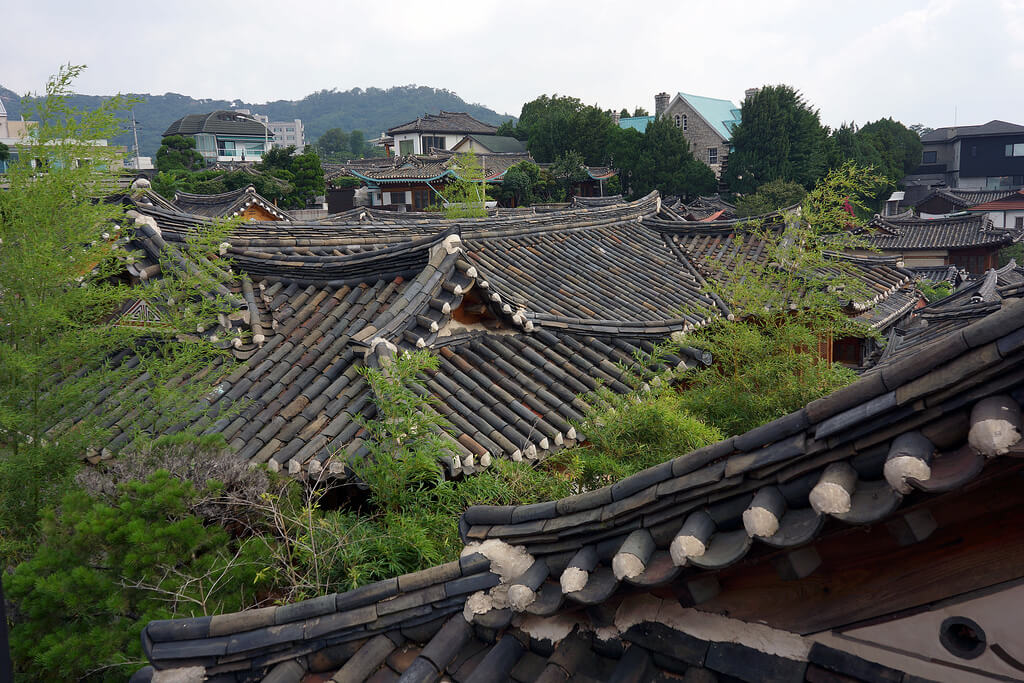 Have extra time?
Rent your hanbok here and do a nice little photoshoot. Check here for more details
In Seoul for longer than a day? Stay in Bukchon! There are so many hanok stays, like Sky Guesthouse or Hanok Guesthouse 201.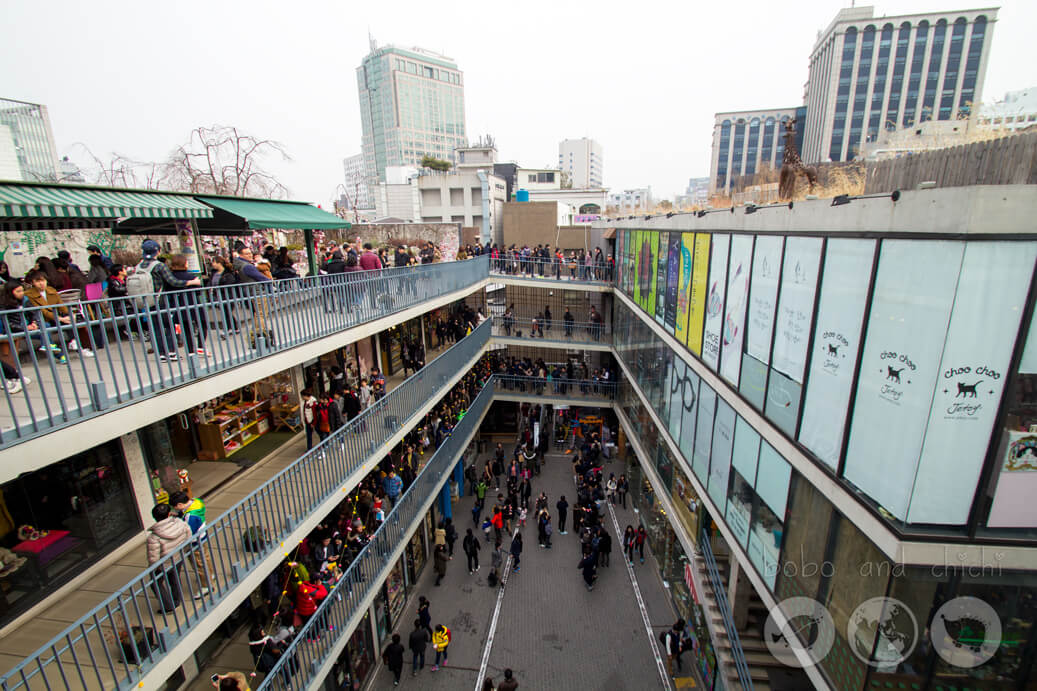 Shop for souvenirs in Insadong
Insadong is a great stop in the afternoon. Wander through the main street and alleyways for tons of traditional shops, tea houses, restaurants, street vendors, art galleries, and street performers. This is the place to shop for souvenirs! Even if you are not fond of shopping, you should still walk through Insadong to try some of the traditional candy or sweet treats this area has to offer.
Check out Ssamziegil shopping center located in the heart of Insadong. This shopping plaza is home to local artisan boutiques and delicious snacks. Check out the Alive Museum, a trick art museum, in the basement and the rooftop coffee shop. Oh, and of course, the poop cafe!
If you haven't eaten yet, then we recommend one of our favorite places to eat in Korea! Bukchon Mandu for the best mandu you've ever tried.
Note: Make sure you plan a visit to Insadong in the afternoon or early evening as most places close by 8 pm.
Directions
From Bukchon, head back towards Anguk Station (line 3) and find exit 6. Walk 100 meters then turn left.
Visit Jogyesa Temple
Jogyesa is one of Seoul's most popular Buddhist temples due to its convenient location in the heart of the city. Check out the temple anytime of the day as it is always open to the public.
Take off your shoes and enter Daeungjeon, the main Dharma Hall, and silently admire the golden Buddha and witness how the Korean Buddhists worship.
During different times of the year the temple will be covered with paper lanterns or other decorations. We were lucky enough to visit Jogyesa during Buddha's Birthday where the temple is decorated in hundreds of colorful lanterns.
Directions:
Head back towards Anguk Station (Line 3), Exit 6. Walk 50m straight then cross the street in front of Dongduk Gallery. Walk another 50m to arrive at a path to Jogyesa Temple.
Where to Go for Experienced Seoul Visitors:
If all of these spots are already familiar to you, then we recommend the following:
Buam-dong
Already been to Gwanghwamun Square? Then start in Buamdong and walk your way down to the Presidential Blue House. Enter Gyeongbokgung from the back entrance.
Never heard of Buamdong? Then you need to go. Check out what all there is to do in Buamdong.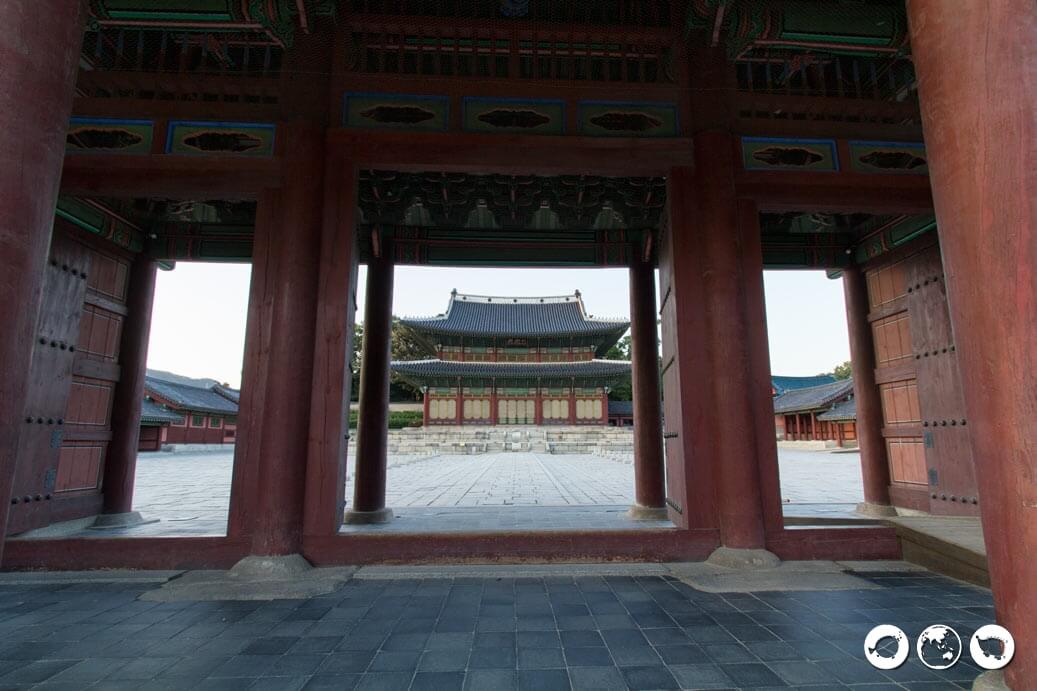 See Changdeokgung Palace and its Secret Garden
Check out Changdeokgung Palace near Bukchon Hanok Village. It's most famous for its secret garden, which you need to book a tour for. You can see our hyperlapse of Changdeokgung here Note: Changdeokgung Palace is closed on Mondays.
Directions:
By Subway: Anguk Station (line 3) exit 3: walk straight for 5 minutes
Before heading to Korea why not learn a few of the local phrases? Check out this book, Korean Made Easy.
We hope that this itinerary guide was helpful and you now have a better idea of how to spend one day in Seoul! Let us know if you'd add anything else in the comments below!
*Please remember all photos on this website are copyrighted and property of Bobo&ChiChi. Please do not use them without our permission. If you want to use one of them please contact us to ask first because we'd be absolutely flattered and would love to share. Thanks!
Pin for later!