Celebrating holidays and birthdays abroad often leaves you missing your family and friends back at home. Luckily for me, I have my bestfriend with me and he knows how to make a lady feel special on her birthday!
Last year for my birthday I got the gift that kept on giving all year long, Everland Resort passes that we got our fair share usage out of! This year Scott decided to wine and dine me at N Seoul Tower Restaurant N.Grill. But before we get there let me share our tasty lunch in Itaewon.
H Room
This place is perfect for lunch and we have actually dined here three times! They have delicious craft beer on tap and great pizzas. The atmosphere is relaxing and nice along with some good music sometimes.
We enjoyed two cold house IPA beers. Oh, how we have missed a good beer. This really does the trick and leaves you salivating for more. They have a few pizzas to choose from but we always order the same thing because it is so delicious! We get the Garlic Gorgonzola Pizza. Cheese heaven with a few nips of garlic. Top it off crushed red pepper and drizzle the honey all over it. (Sounds weird, but trust us)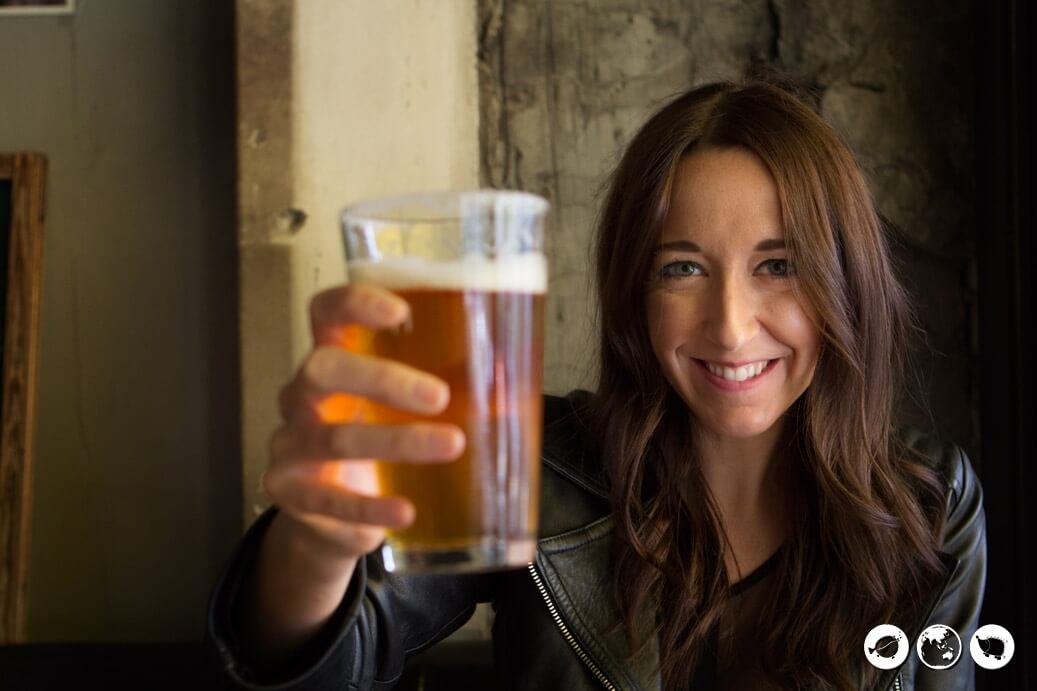 With perfectly stuffed bellies we continued to wander around Itaewon through the antique street until our dinner reservation.
N Seoul Tower Restaurant N.Grill
Wow, where do I begin? First of all, Scott really splurged and did the true definition of wining and dining his lady . We are soon coming to an end to our journey in Korea where we made goals and accomplished a lot of them. One being saving money to continue our travels and continue a savings plan for us. We made our savings goal thanks to both of our sometimes extremely strict budgets. So we don't go to fancy restaurants on the regular where the head chef is from two different Michelin Star restaurants.
Again, this was a real treat for us and honestly the most romantic dinner experience I have had in my life. We were taken to the top floor of Namsan Tower with a 360 view of Seoul at 5:00 pm. We were able to witness the backdrop of mountains around the entire city and the Hangang River during the sunset. Pretty magical.
We ordered the couple set which included the following courses. Check out our dinner experience below.
As we sat down we were greeted with two glasses of Italian Prosecco.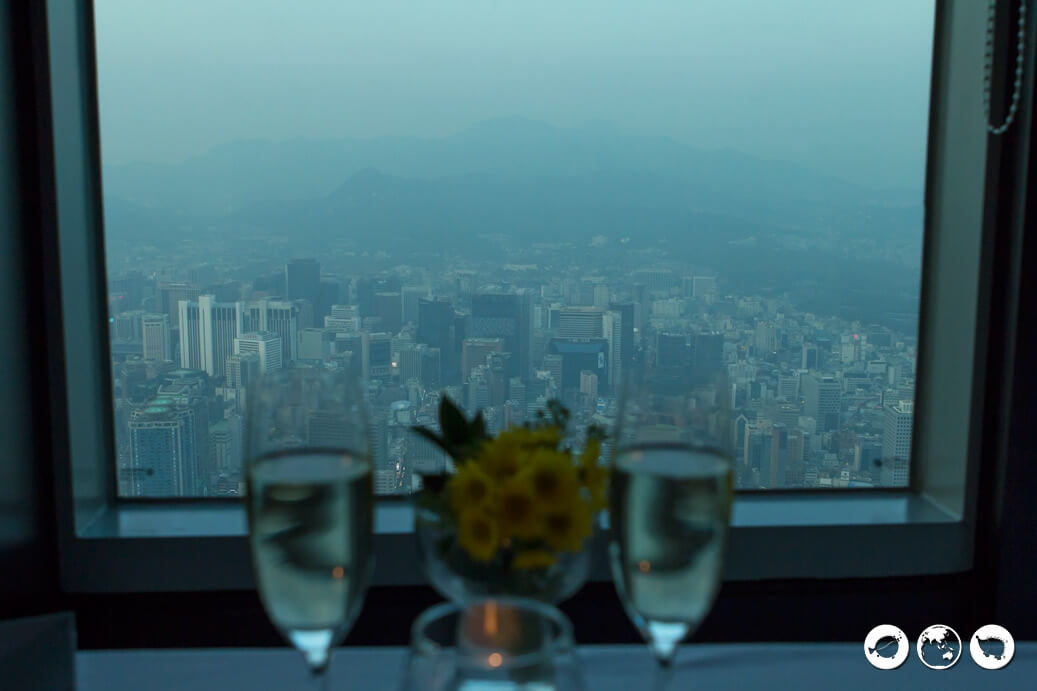 1st Course Buratta di Bufala, Smoked Bottarga also warm dinner rolls with balsamic and olive oil
2nd Course Tartar of Korean Fillet Steak served with Avruga Caviar –first caviar experience and loved it!
3rd Course Sea Bream Sashimi with Grapefruit and Chili Oil- another delectable dish!
4th Course Lobster Fettuccini
5th Course Pillows of Ricotta Cheese in a silky Chicken Broth Soup –this was to die for
Main Course- Selection of three cuts of Korean Beef medium rare grilled over charcoal. Paired with Macaroni and Cheese, Mousseline Potatoes, Buttered Spinach, and Smokey jus to drizzle on your steak. –ahh, heaven.
Dessert Tarte Craquante Drambuie Cream and Chocolate Orange Ganache served with Caramel Popcorn and Nurungji Ice Cream.
Bonus
If you buy the couple set you get a "Love Heart" chiffon cake to take home. We ate it the next day because we were so full and it was so light, sweet, and full of fluffy goodness. 

After the best meal I have ever had in my life at the famous N Seoul Tower Restaurant N.Grill we were able to go up to the observation deck of Namsan Tower for free. The view from the restaurant was way better! Overall, this was an amazing birthday celebration and a wonderful experience. There is no doubt this is expensive, but if  you have some money to splurge we recommend heading to Namsan and visiting N Seoul Tower Restaurant N.Grill for this wonderful two hour dining experience.

Thank you Scott for another amazing birthday! xoxo