Looking for how to see the best of Angkor Wat in 2 days? Angkor Wat is one of the seven wonders of the world and should be on everyone's travel bucket list.
We completed a full 2 day itinerary in Angkor Wat exploring as many temples as we could in this enormous wonder of the world.
We have shared our favorites below in hopes it will help you choose your 2 day Angkor Wat itinerary of what possible temples to visit for those who want to see Angkor Wat in two days. We didn't realize how big this place really is, so be sure to give yourself some time.
Some of the sites are over 20 kilometers away from each other which can make for some tough bike rides in the heat. If you're not a biker, we recommend hiring a friendly tuk-tuk driver you trust and like to show you around, especially if you only have two days!
Hate words and just want see photos? Check out more photos of Angkor Wat here. Also, if you're traveling with kids, be sure to check out this guide to Angkor Wat and Siem Reap with kids.
2 Days in Angkor Wat
Angkor Wat
Want to witness one of the most magical and popular times to see Angkor Wat? The sunrise is an enchanting time of day to visit and a must for your 2 days in Ankgor Wat.
Tourists crowd the reflecting pond for photos and monkeys start coming out of the surrounding trees to join visitors at the temple. Absolutely stunning and a must see, even with crowds.
Be sure to book a tuk tuk and a driver in advance, we recommend organizing with them what you will see after to avoid the crowds after the sunrise (which, brace yourself will be crowded, its one of the most popular experiences and things to do in Siem Reap).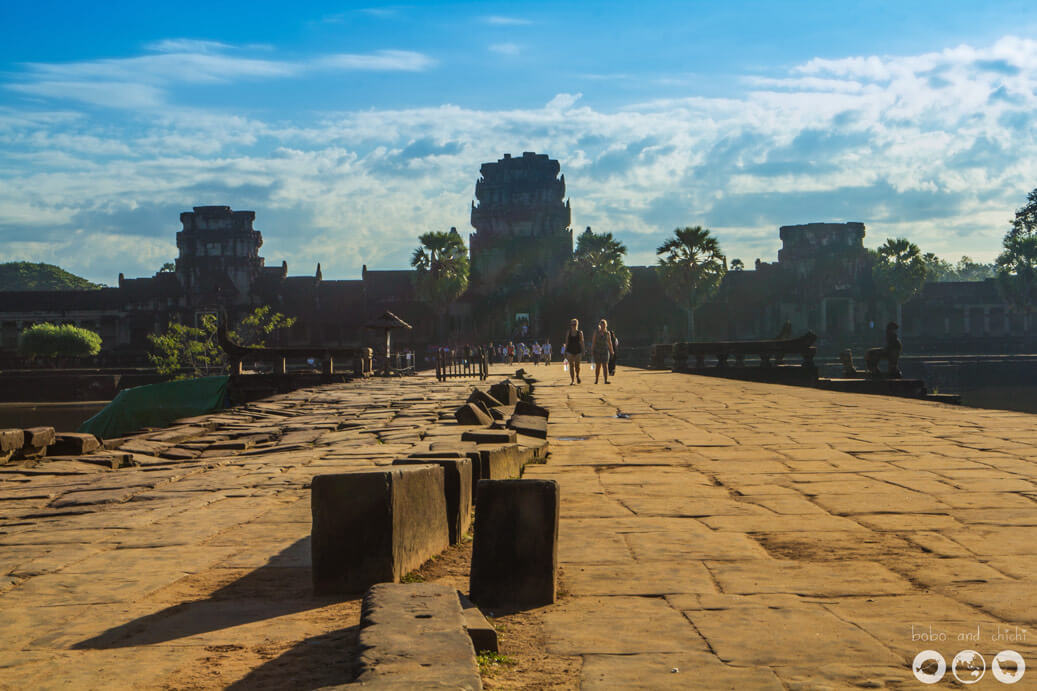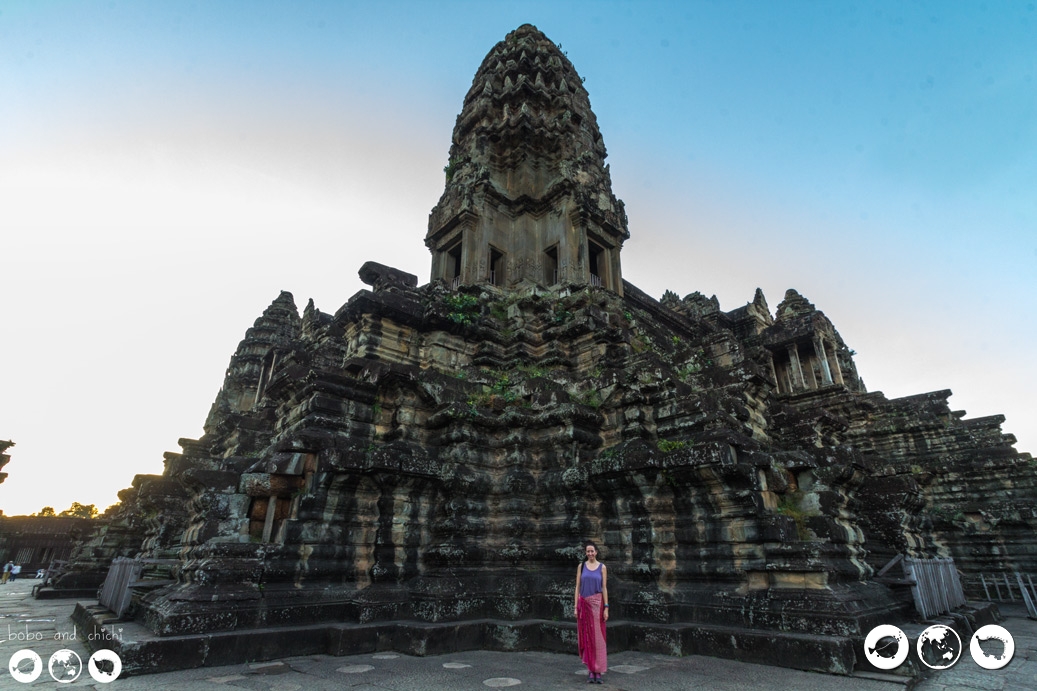 Angkor Thom
Another must see spot to add to your 2 days in Angkor Wat itinerary is Angkor Thom. This massive temple takes more time to explore inside and out.
Covering 10 square kilometers you will find yourself wandering Angkor Thom for at least an hour and half, if not longer.
The impressive south gate is worth a few pictures alone depicting the epic story of the churning of the sea of milk. Where demons and gods had to pull the Naga (5 headed snake god) rope for a thousand years to try and get the elixir of youth.
Make sure you spend an ample amount of time in the Bayon with heads looking at you from every direction. Don't forget the Elephant and Lepur King Terraces as well.
This is another one of the more popular spots, so we recommend either knocking out all the most popular/crowded spots in one day, then having your tuk tuk driver take you to more remote places on day 2. You can also arrange to go against the normal pattern tourists and tuk tuk drivers go so you can avoid some of the traffic.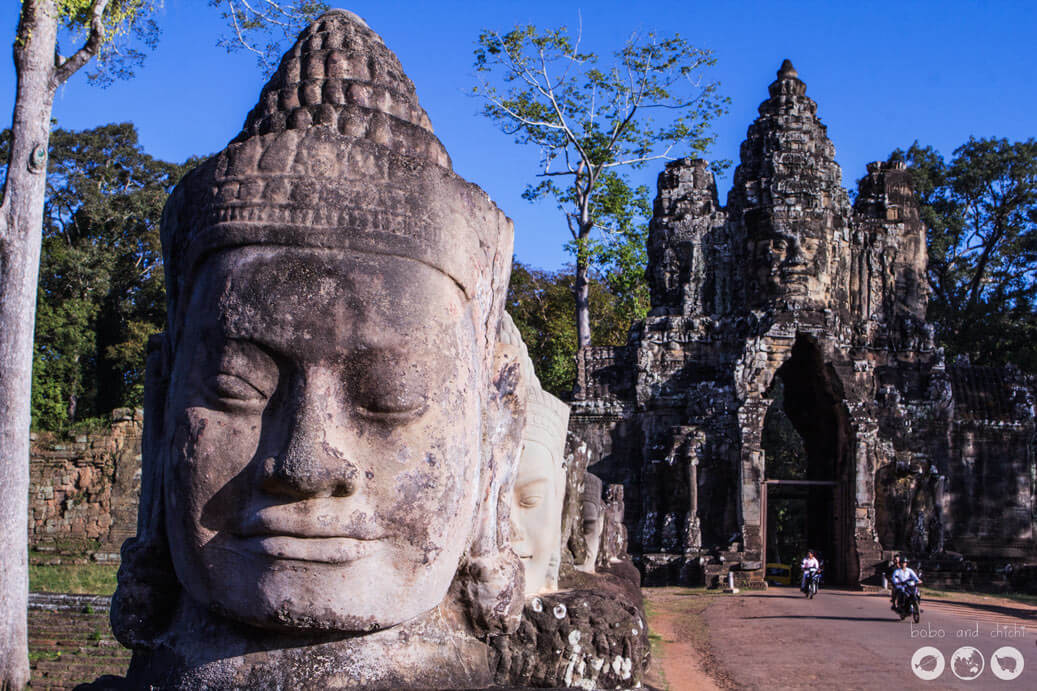 Bayon
Another one of the most recognizable places to visit during your 2 days in Angkor Wat is the Bayon. We found out we missed Beyonce here by just a few days, dang!
Located inside Angkor Thom is one of the most recognized and mesmerizing temples of the Angkor complex. Walking around you will see face after face carved into all sides of the temple. Spend time here to explore and climb a little to see different perspectives.
Ta Keo
Ta Keo is a quick stop as it is a smaller, unfinished temple to add to your 2 days in Angkor Wat itinerary. While it is still unknown to why the temple wasn't completed, it is still worth taking a peek.
Ta Prohm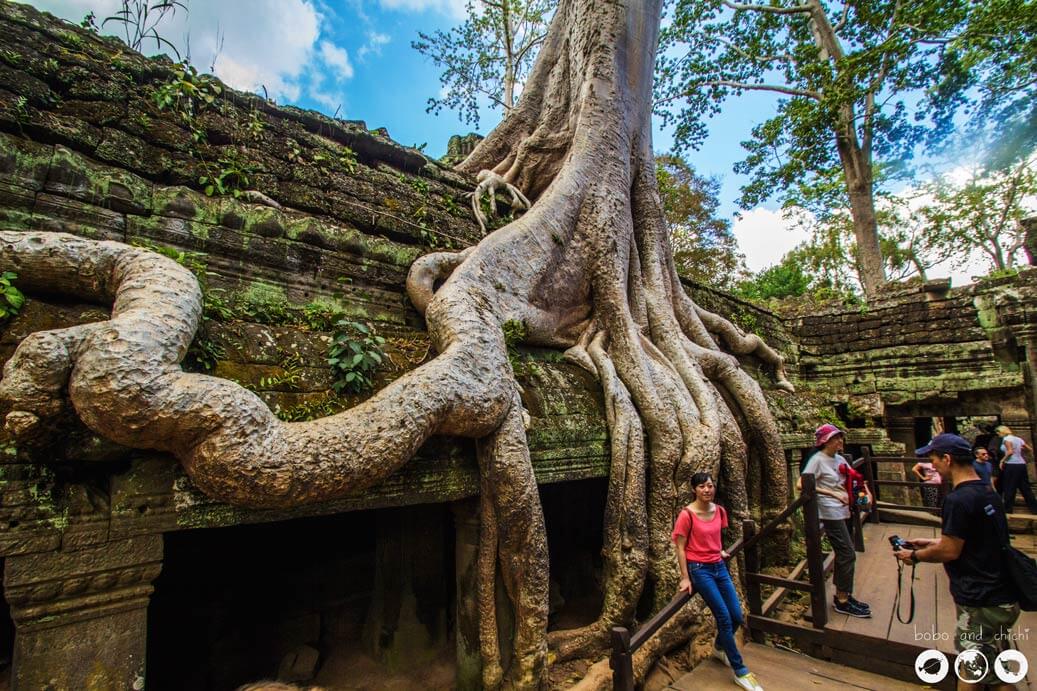 Time for a crowd pleaser! This is a MUST for your 2 days in Angkor Wat itinerary. The Ta Prohm temple is a movie star alongside Angelina Jolie.
Ta Prohm has to be on the top of our list as this majestic temple looks like it was swallowed by the jungle and enormous trees. Unique from the other temples of Angkor you will easily recognize this place if you are a fan of Tomb Raider.
You feel like you're in a lost world and after about 200 pictures and at least an hour later you may catch yourself walking back through for more.
Because of its fame and pure majesty about it, this temple always seems to have a crowd. You can ask your tuk tuk driver to try and take you at an optimal time, but just be prepared to share this space with others.
Banteay Kdei & Sra Srang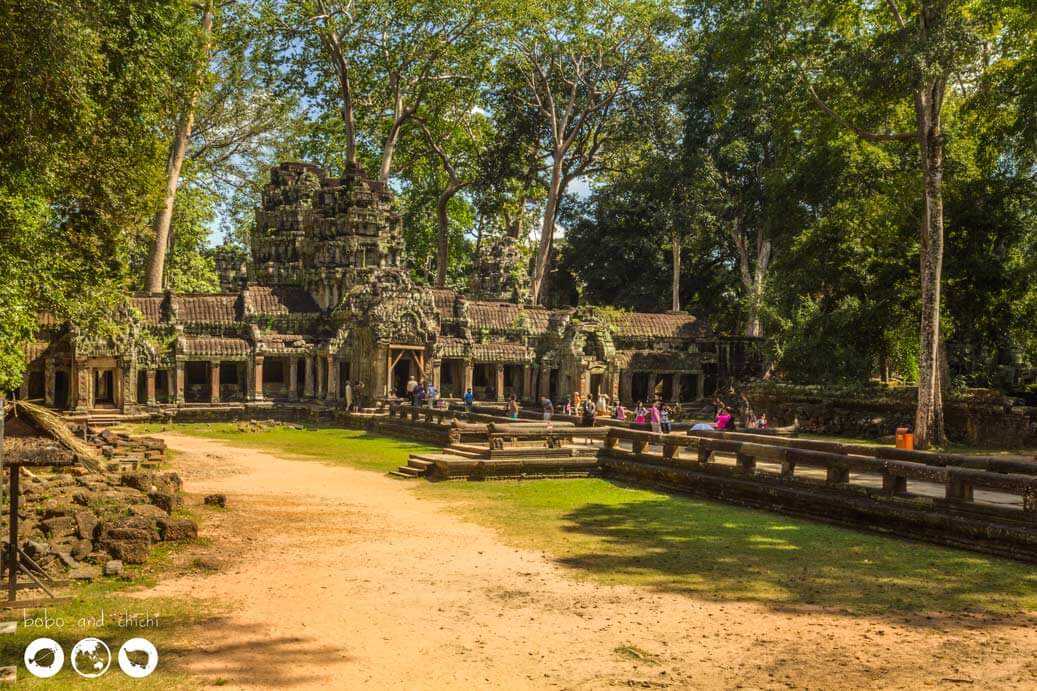 Ok, so finally we are going to talk about a few places to add to your 2 days in Angkor Wat itinerary that are a bit less hectic with tour buses. These are less crowded and worth a visit if you need a peaceful break from the crowds.
Although, this temple is less preserved than the others you can still find yourself lost in the ancient beauty of the architecture.
These temples are also the only other current option to see at sunrise in Angkor. Not bad if you would like a more private start to your morning! When we revisit we will be doing this!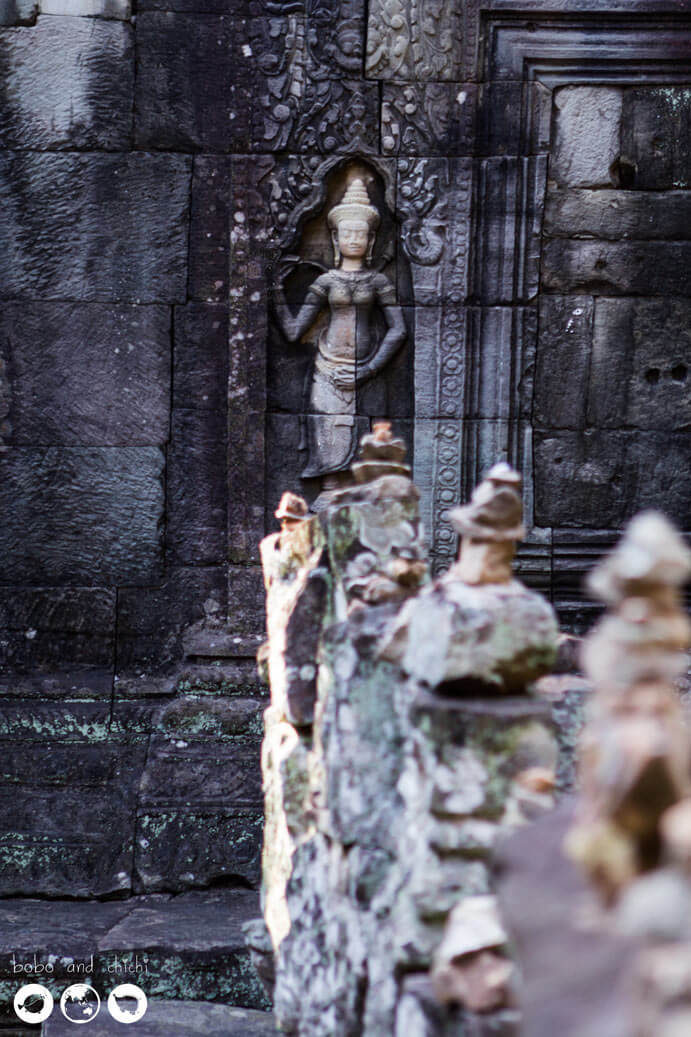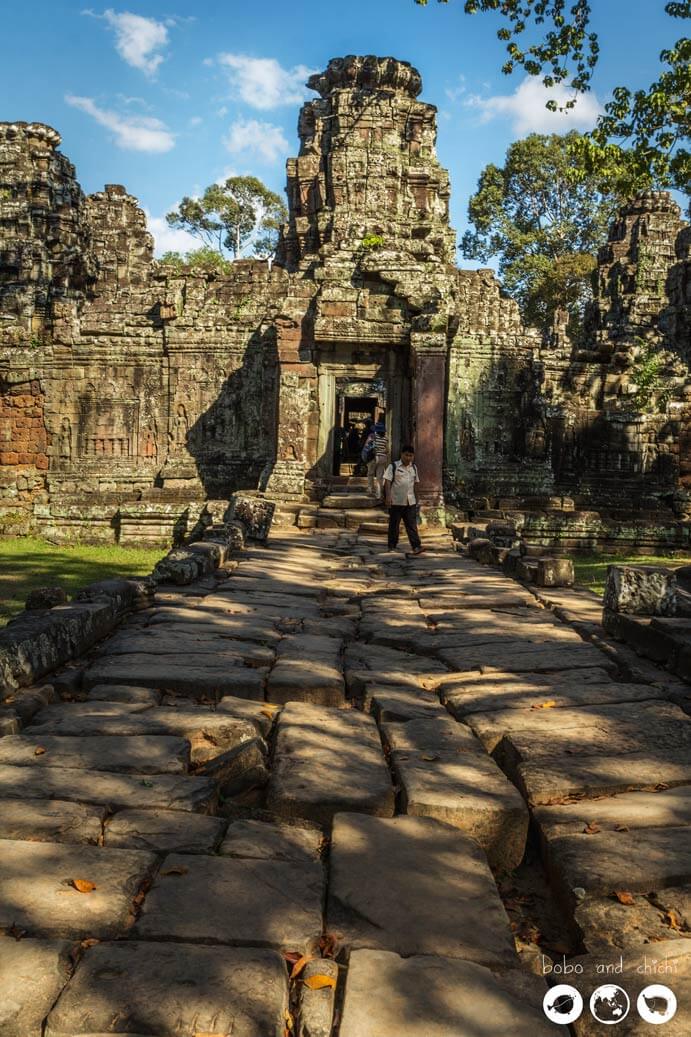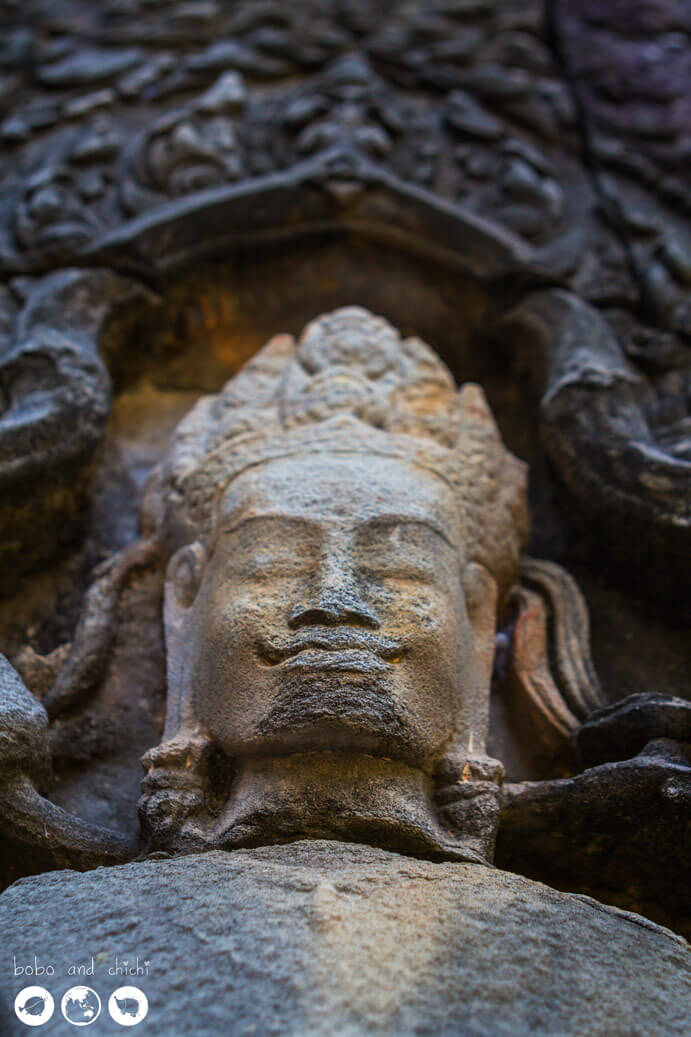 Neak Pean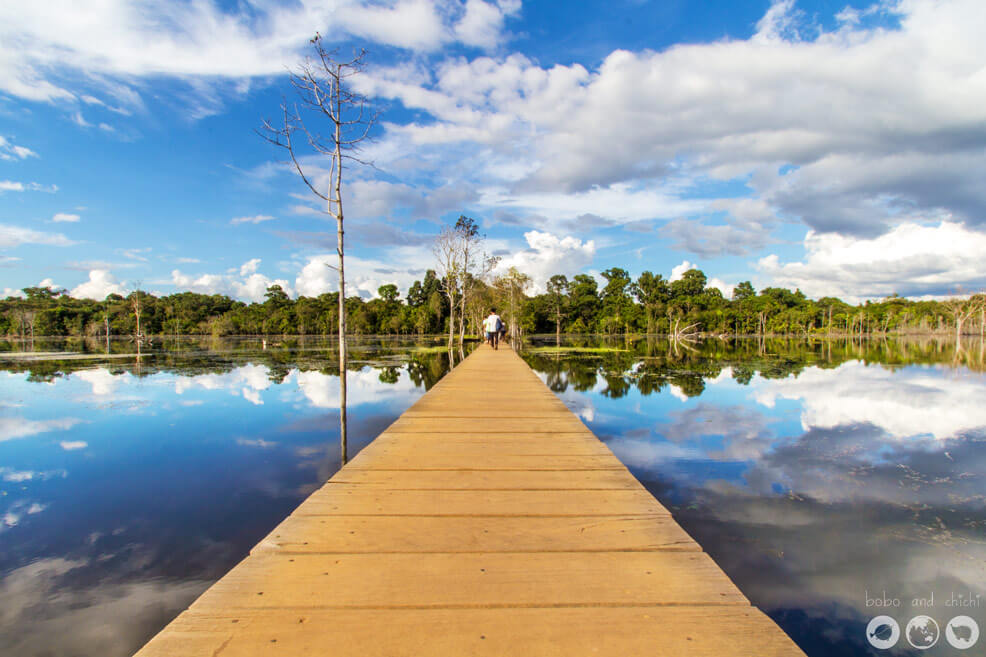 Next up on our recommended stops for a full 2 day Angkor Wat itinerary is Scott's favorite to photograph! This was an unexpected gem for us and easily became one of our favorites.
You enter the temple by walking on a long, narrow, wooden bridge over water and a gorgeous backdrop of reflections and petrified trees on either side.
There are landmine survivors that play traditional Khmer music to add to the atmosphere. Once you reach the temple you will notice how unique this is compared to the rest.
Situated between pools of water Neak Pean is unlike anything else you've seen in the Angkor Wat complex.
Banteay Srei
This is one of our top picks for your second of 2 days in Angkor Wat or in the afternoon of your first day if you're still up for it. This is one of the best preserved temples in the entire Angkor complex and the detail is truly amazing.
Banteay Srei is a bit of a hike on a tuk-tuk from the rest of the Angkor temples. Situated about 20 kilometers further than the rest, but worth a visit.
The temple itself is smaller in size, but the beauty and detail make it worthwhile. The bas reliefs are in the best condition of all the temples. Get close and admire the detail and craftsmanship into each square inch of this place.
Kbal Spean
Again, for your further journey away from the regular tourist trail of Angkor Wat. Kbal Spean is a hop and skip away via tuk tuk from the rest of the temples. Worth a visit if you are making your way to Banteay Srei.
Hike through the jungle to find the River of a Thousand Lingas and beautiful waterfall.
Don't wander off the path here as there are still active landmines known to be present in the area.
*make sure you have clothing/footwear suitable for a small hike.
Suggested 2 day Angkor Wat Itinerary
Also, be sure to check out our suggested 3 days in Siem Reap itinerary!
Day 1: took us around 9 hours
Sunrise at Angkor Wat, then breakfast after outside the temple
Angkor Thom & Bayon
Lunch or Snack Time
Ta Keo
Ta Prohm
Banteay Kdei & Sras Srang
Day 2: Took us around 6 hours
Kbal Spean (1.5 hour away from Siem Reap via tuk tuk)
Banteay Srei
Neak Pean

---
This place is absolutely massive and we recommend soaking it up. Personally we think two days is too fast and that it should be enjoyed and just soak up the fact that you are walking through one of the most amazing places to have ever existed. B
ut hey, we know you got places to be and people to see. We know we definitely want to come back to see more and are sure you will to0.
Be sure to enjoy your time in Siem Reap as well, check out 10 meaningful things to do in Siem Reap!