O
n our trip to see as many of Thailand's islands in a few short weeks we stumbled upon fellow bloggers
Hedger's Abroad recommendation to visit Koh Mook.
Without any hesitation we added it to our itinerary after
our idyllic escape on Koh Lipe.
At first we were nervous about price, we went a little over budget on Lipe and heard our last stop Koh Lanta can also be difficult to find places to stay in our budget. To our surprise Koh Mook offered great prices not only on rooms but food as well and ended up being a surprising paradise on a budget.
Find out why we think Koh Mook is the perfect paradise on a budget. Or just scroll to the bottom to see a breakdown of every penny we spent and what we spent it on.
Inexpensive Rooms
---
We stayed at Rubbertree Bungalows just a short walk from Had Farang Beach. Since it was the end of April, we were able to negotiate a little with the kind owner and get the room down to 400 baht (~$13.33) a night. The room was basic and set on a hill in the rubber tree plantation. We were greeted with a GIANT gecko in our room. If we were able to do it again, we probably would have done a room with AirCon because we visited during the hottest month of the year and the humidity was a real biatch. Across from our bungalow, Mayow Thai Kitchen offers room for 300 baht (~$10) a night for those looking to save even more.
Koh Mook's Beaches are Beautiful
---
Had Farang Beach is small, but beautiful. We were unlucky with some of the weather we encountered while staying here, but it made for gorgeous sunsets. We had views of the magnificent, rocky cliffs in the sea. The sand was nice and clean and the water was perfect for swimming. Perfect swimming water and sunsets are clutch for a paradise.
Koh Mook Is Less Crowded
---
The island itself is less developed than any other we have been on in Thailand. We liked this because it meant that there were very few people visiting and felt like we had the island to ourselves with the few locals who call this paradise home. We like to imagine this is what it must have felt like on other popular islands before the major development began.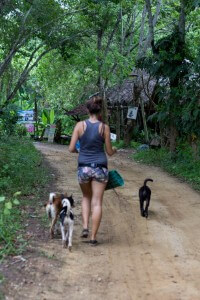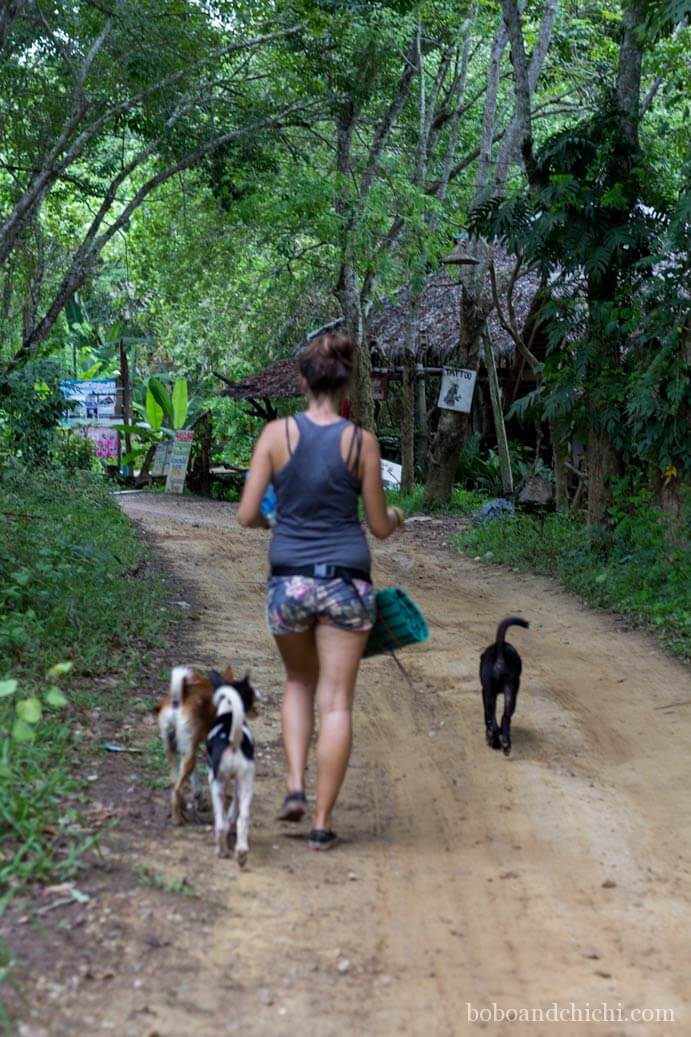 You feel a little more connected with nature here. There are trees, jungle, wild friendly dogs, and wildlife everywhere. Within the first 10 minutes arriving on the island we saw a giant lizard we were convinced was a komodo dragon. After a little research I learned it was a monitor lizard. We also have seen various types of lizards, geckos, and butterflies on a regular basis. We also see more creatures on the beach and near the water. Walk slow and you will probably see a hermit crab making its way across the beach. The only negative to this would be the amount of bugs, bring bug repellent!
Getting Around is Easy
---
It's about a 30 minute walk or a 5 minute taxi ride from Had Farang Beach (Charlie Beach) over to the other side of the island where the villagers live and Ao Kham Beach (Sivalai Beach). There are more resorts and bungalows on this side of the island where the fisherman village and the locals live. We got caught in a rain storm over here but made a few stray dog friends and waited it out. The locals are friendly, welcoming, and willing to share their roof with us to wait out the rain. Again, no crowds!
The beach by Sivalai Resort is beautiful. The sand is fine and white and the water is clear. They have the best location on the island in our opinion for a resort. Expect to pay more premium prices for accommodation here. The connecting beaches are filled with fisherman boats and are not as attractive.
Every Paradise Needs A Cave
---
How can you have a paradise without a cave? We're just kidding you don't need a cave, but the fact that Koh Mook's got one makes it even better!
The highlight of our trip would have to be Emerald Cave (Tham Morakot). We have a video coming soon :). We hired Mr. Yoon, a friendly local tour guide, to take us early in the morning to beat the crowds at the cave. It cost us 800 baht (~$27) total for about a two hour trip (we screwed up and overpaid – should have been just 600 baht.)
The cave itself is located at the base of one of the rocky cliffs that juts out from the sea. There is a small opening that you swim through in the dark during low tide. We were the second boat in the morning to reach the cave and we were both scared to jump in the water because we could see jellyfish everywhere. Luckily, these jellyfish do not sting, but still unnerving as we could feel them touch our bodies as we swim. After a dark 100m swim through the cave you are introduced to light again and a small white sand beach at the other end of the cave. Story has it pirates used to hide there treasure here. It felt truly like something out of a movie. If you're lucky, the monkeys will come down the cliffs and greet you in the secret island oasis. This is a must see on your trip. If you cannot afford a tour guide, you are able to rent kayaks and complete the journey.
Why We Consider Koh Mook a Paradise On a Budget
---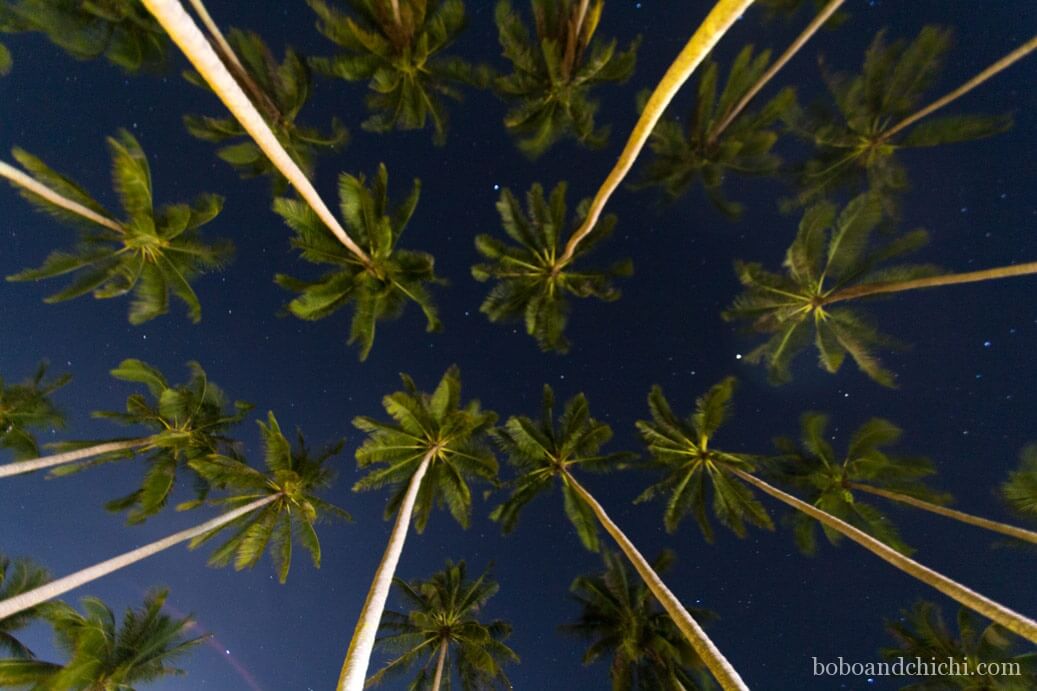 We loved our time on Koh Mook. The island is typically just a day trip for most people and not that crowded, so for us it felt like we had the island to ourselves. The sunsets were to die for and the stars at night shined bright in the dark sky. Clear skies, white beaches, sunsets, perfect water and a cave. To us those are the ingredients you need for a paradise. It was an added bonus to have such inexpensive and delicious food and to easily find clean, private accommodation on the island.
Here's what we spent in 4 days on Koh Mook. We didn't include transportation to and from because we all will be coming and going to different places. Overview is on the left and all the nitty gritty details of every penny we spent is on the right if you are interested :).
You can save money on rooms by going across the street, and on the boat to Emerald cave. We goofed and paid an extra 200 baht (~$7) for the boat. All in all not bad for $26 a day per person.
It was nice to see a less developed island for once. The majority of the island are small, family run bungalows. The creatures we saw sometimes freaked us out, but it was a nice feeling being somewhere where they haven't destroyed the jungle to build big resorts. This is a great place to go to get away from your busy life and enjoy a bit of mother nature's finest.
---
---
If you liked this post and want to see more like it, consider liking our page on facebook, following us on twitter, or seeing our latest photos on instagram.
*Please remember all photos on this website are copyrighted and property of Bobo&ChiChi. Please do not use them without our permission. If you want to use one of them please contact us to ask first because we'd be absolutely flattered and would love to share. Thanks!