K 
oh Lanta was our final island for our tropical island tour this year and made us second guess spending the rest of our tourist visa in Northern Thailand. The island is relaxed and doesn't feel too overdeveloped and ruined by mass tourism yet. There's no wonder why so many people rave about their time on this gorgeous island. We visited during the beginning of the rainy season in May which left us feeling like we had Koh Lanta all to ourselves. Not only was the island empty, but the prices were lower. Here's what we enjoyed during our time on Koh Lanta.
Koh Lanta Beaches
Not only was the water refreshing on the hot, humid days, but the water was clear and calm which was perfect for swimming. The best part would be we always felt like we were the only people on the beach. We maybe shared the beach with one or two other people at a given time, but that's it. The island is large, and it didn't matter which beach we were at we felt like we had the place to ourselves most of the time.
Stunning Sunsets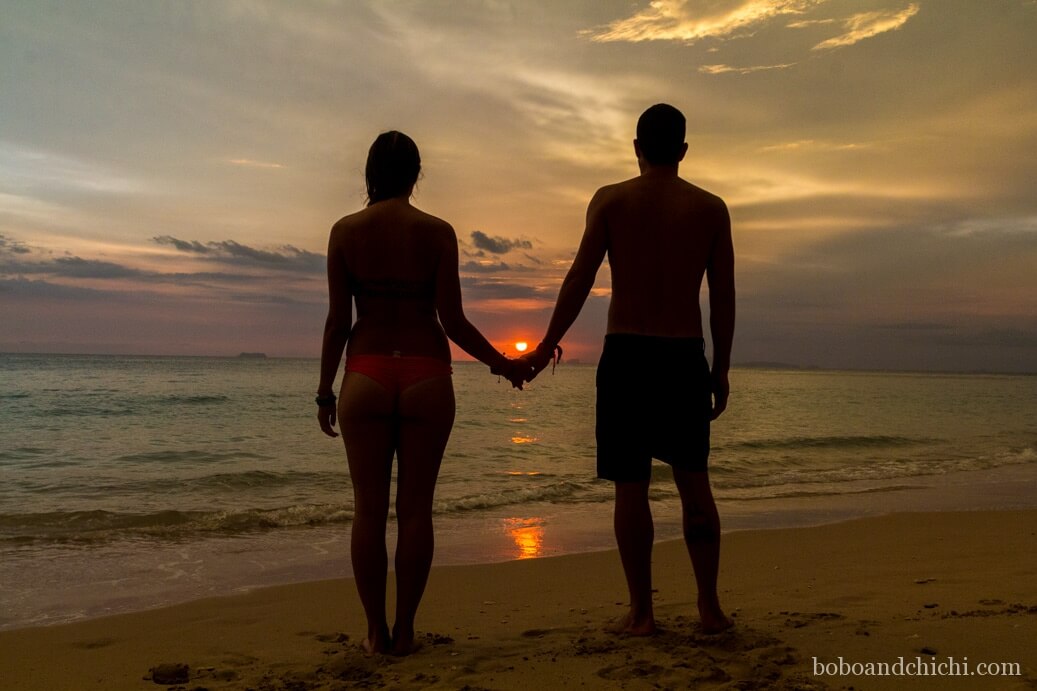 We love sunsets, and Scott loves photographing them. There was something magical about the sky in Koh Lanta at dusk. We enjoyed the view from right outside our bungalow at Phra Ae Beach (aka Long Beach) and from Baan Kantiang Bay. We were given advice from a friendly local to check out Noon Sunset Viewpoint at Ban Kantiang Bay for the best view. The restaurant was closed the day we went, but it didn't stop us from checking out the sunset from there. You're on top of a cliff looking over jagged rocks in the sea that lead to a dark, black cave and nothing but the horizon and cliffy shoreline. It was absolutely beautiful and we cannot recommend seeing a sunset from here enough.
---
Rest & Relaxation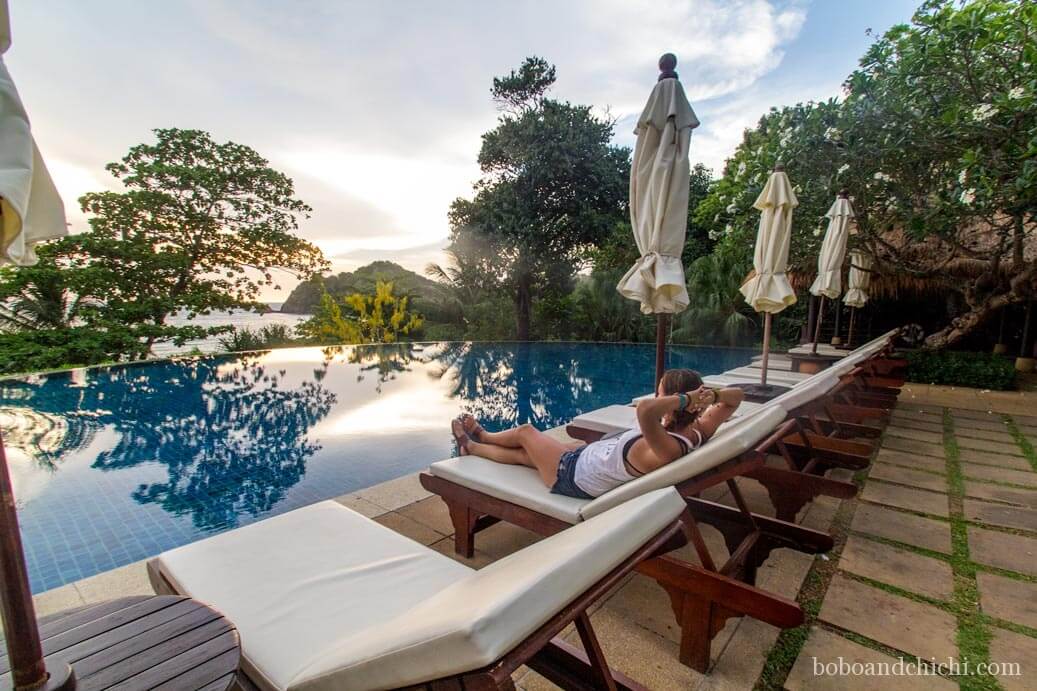 This one is pretty obvious since most people go to the beach to relax or getaway from the daily stresses of their lives. What's different here is that you can literally feel by yourself at the beach, get a massage by the beach, or do yoga on the beach without being disturbed by anyone. There was always a calming presence no matter which beach we ended up at for the day.
---
Motorbiking on Koh Lanta
We loved exploring the entire island via motorbike, like we did on
Koh Chang
. Having the motorbike was a great way to see the island at your leisure. We love having the ability to stop whenever we see something we want to check out. This is also a great way to cool off when its super hot and humid!
---
Koh Lanta's Charming Old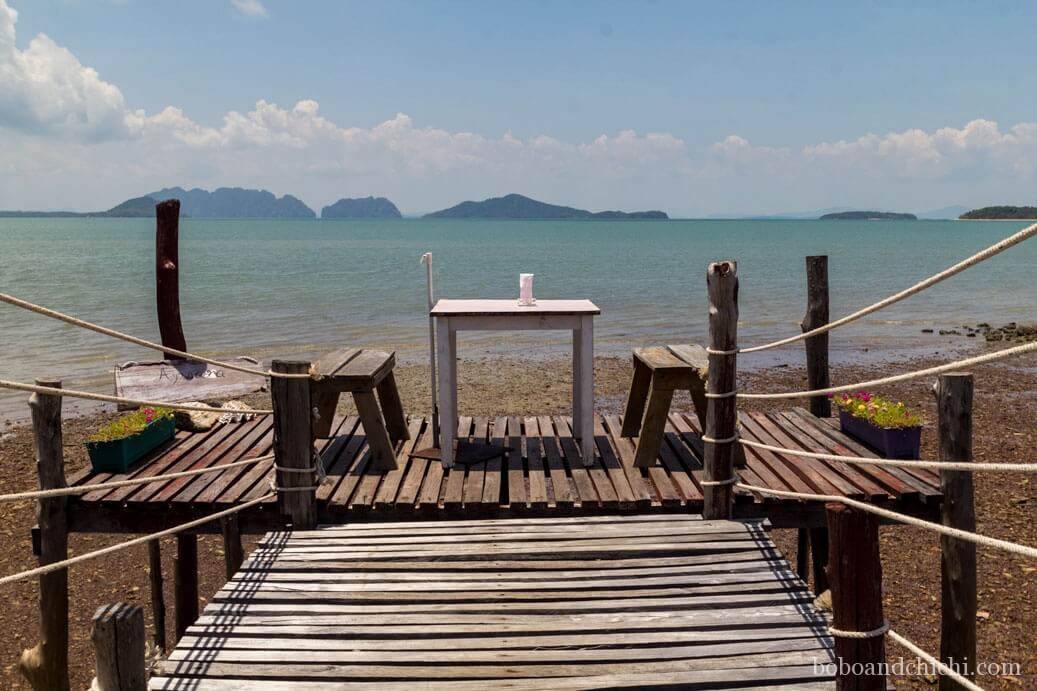 Lanta Old Town was our favorite part of the island besides being at the beach. This charming, rustic town will instantly win over your heart. There are cute restaurants and shops scattered throughout this little street near the pier. We enjoyed walking and checking out every place. We also took a ton of photos here. There's also a B&B downtown and the kind local woman will proudly share with you all the restoration that went into preserving their historical building. If you're lucky, she may also give you a tour like she did for us!
---
Food To Die For
---
Recently we have been striking out on food, but not on Koh Lanta. We didn't get to try a lot of the foodie recommendations fellow travel bloggers suggested due to our tight budget. But every meal we had was certainly delicious. Our favorite meal would have been at Apsara in Lanta Old Town. We split the whole snapper fish in the 3-spice sauce and it was heavenly. We also are spicy coconut curry lovers and everyone we tried was amazing. You will eat well here no matter what your budget is.
---
Awesome Accomodation
There are so many choices of places to stay on Koh Lanta for every budget near the beach. We were lucky and visited close to the beginning of sow season. We were able to snatch up a room at Lanta Palm Beach on Phrae Ae Beach (aka Long Beach) with AC, great wifi, lots of space, and on the beach for 400 baht (~$13) a night. We usually don't splurge on AC, but it was the hottest month of the year and it was a bargain. We also checked out many other places that had similar prices including our neighbor Pearl Beach Resort.
---
Convenience on an Island
Koh Lanta is developed enough (but not overdeveloped) to have anything you need. There are ATM's, 7 Elevens, Food options at all hours, gas stations, pharmacies, etc. The nice thing is that all of these places are not obstructing your view of the beach, but are close enough to walk to if you need them. We find ourselves loving 7 Eleven on the road because it's a great cheap breakfast option for us in the mornings.
---
Activities on Koh Lanta
If your way of relaxing is having tons of activities to do, then you got it here. There are caves to see, a waterfall, trekking, snorkeling, scuba diving trips, yoga classes, cooking classes, trips to neighboring islands, kayaking through mangroves, shopping, drinking, you name it. If you get bored lazying on the beach, then no fear my friend.
---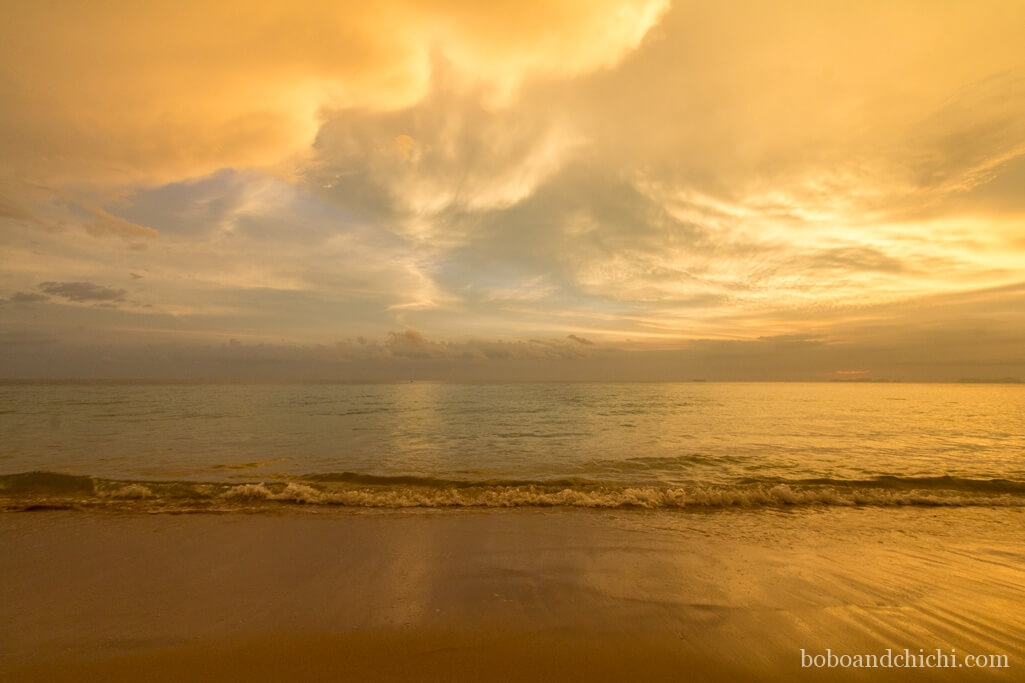 We hope to return to Koh Lanta again and it not to be over run by overdevelopment and tall buildings. Until then we dream of those empty beaches, mesmerizing sunsets, motorbiking through the middle of the island, and walking through the near vacant street of Lanta Old Town.
Check out more things to do on Koh Lanta.
*Please remember all photos on this website are copyrighted and property of Bobo&ChiChi. Please do not use them without our permission. If you want to use one of them please contact us to ask first because we'd be absolutely flattered and would love to share. Thanks!