A 
fter being treated like sheep getting herded around by a dog in
Halong Bay
we had enough with organized tours. They may be right for some people, but not us. We had a hard time doing last minute research on how to book Sapa independently. Luckily, we went with our instinct and decided to wing it. We ended up having the greatest time and meeting some of the most wonderful people through
our homestay in Sapa.
Below we are going to break down how to book Sapa independently as opposed to a tour. We will explain why it is beneficial for the locals to book independently below after the steps.
1. Buy a bus ticket to Sapa
---
We chose bus over train because the bus will take you directly to downtown Sapa. The train will take you to Lao Cai, which is another hour bus ride from Sapa. You can easily book a bus ticket through your guesthouse like we did, or book at the bus station. If you take the night bus, the bus may arrive at 4 am, but the driver will let you sleep on the bus until 6 am.
Find out more tips on how to get to Sapa from Hanoi.
2. Make a decision
Either sleep a night in Sapa or start your homestay that day. Did the night bus not treat you well? It didn't treat us very well…we had a drunk idiot talking at 300% volume all night and kept our entire bus awake. As a matter of fact the story of this bus ride could be a post of its own. But needless to say,
we wanted to roundhouse kick
this dude off the bus. We got off the bus at 6 am and didn't get any sleep. So we decided to do a hotel one night and get some rest otherwise we start trekking right away. So if you got great sleep on the bus, by all means get ready for step 3. Or get a hotel and do step 3 the next day.
3. Pick a local lady to stay with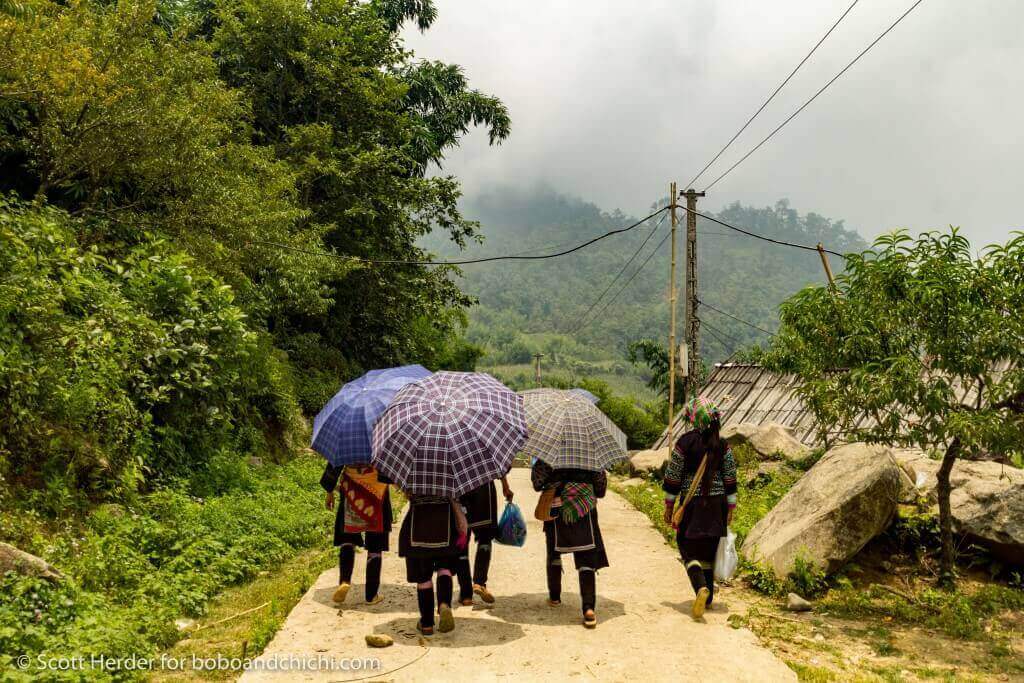 Once you get off your bus you will see tons of local tribe ladies. You may be tired and grumpy, and they understand, but you should pick one of these ladies for your homestay. For us, it was the first two ladies who talked to us after the bus ride. Both were friendly, and not pushy. They were willing to wait for us the next day because we needed sleep. We got their phone number and they even helped us find a hotel. They even arranged for our big bags to get taken to their village via motorbike so we only had to carry a small bag with our camera and water in it for the day. You will stay and live with them for the next one or two nights depending on how long you decide to stay.
*This way is also less expensive than an organized tour.
4. Start Trekking
We were taken to the village we will call home for the next two nights by foot. It was beautiful and totally worth it. You will be trekking through mountains and rice paddies.
You will see some tourists this day doing single day treks, but as you get closer to the village you are staying in you see less and less people. Your guide looks after you, is very patient for those who like to take photos, and it was great because it was just the two of us and her. You will be in your guides' care until they bring you back to Sapa at the end of your stay. Our guides even helped us book our bus ticket back to Hanoi and gave us a parting gift and a warm hug goodbye. It was sad to leave!
Why you should NOT do a homestay through a tour company
The tour companies will tell you the local ladies that offer homestay do not have a license to have people stay at their house. Big deal…that is just a way for tour companies to get a cut of the local tribe people's money. If you book directly through the local people all of the money goes towards them, not tour companies ripping these people off. Another bonus would be you skip the "touristy" towns and go straight to their villages. At the end of day 1 and all of day 2 we barely saw tourists, just locals. It felt more authentic and we were happy to not go through a middle man and have our money go directly to the families.
Is a homestay right for you?
This is something you need to seriously consider before doing a homestay. Ask yourself these questions.
Can I trek for 4-5 hours a day straight? (some hills, but not difficult trekking)
Can I use a squat toilet with a bucket of water to flush the waste? (they do not have western plumbing)
Can I bathe using a bucket of water?
Will I eat the food they prepare for me (by the way our meals were delicious)
Can I sleep in basic accommodation?
*the entire family lives and sleeps in very small houses with no running water and maybe one light.
*Your bed will most likely be in an open area of the house
If you are okay with all of these things and respecting the locals then you will love your homestay. You are living how they live. But if you want a hot shower every night and to pick the food you eat you will be better in a hotel in Sapa and organizing single day treks. (You also can book single day treks with the local ladies in town instead of booking through a tour company.)
We loved our experience and wanted to stay longer than two nights! Our hosts showed us around their towns, introduced us to their friends and families, and made us feel like we were a part of their family for the three days we spent with them. This had to be one of our favorite experiences thus far. Feel free to ask us any questions in the comments below.
If you would like to use the same guides as us, please message us and we will give your information. The tour companies get very angry when they lose money being the middle man, so to protect the privacy of our guide we will not post their numbers online.
For more photos and to see what the trek in Sapa was like check out our post living with the Black Hmong in Sapa.
If you liked this post and want to see more like it, consider liking our page on facebook, following us on twitter, or seeing our latest photos on instagram.
*Please remember all photos on this website are copyrighted and property of Bobo&ChiChi. Please do not use them without our permission. If you want to use one of them please contact us to ask first because we'd be absolutely flattered and would love to share. Thanks!