A 
fter a painful night bus from Hanoi to Sapa, Scott and I were determined to find a local family to do a homestay on our own. We had enough of guided tours after Halong Bay, we felt like they sucked all the fun out of the beautiful place by making you do things when they wanted you to do them. When we got off our sleepless night bus (thanks to a drunk idiot yelling at his wife all night) at 6 am we were bombarded with local Hmong ladies trying to get us to do a homestay or trekking in their village. We tried our best to be no so grumpy and found two lovely ladies who were willing to wait for us to do our homestay the next day after we got one good day of sleep in a hotel.
---
For those who do not know, Sapa is home to some of the most beautiful mountains in Vietnam. The mountains are filled with lush, green rice paddies and small local tribal villages. Most of the villagers are Black Hmong, but there are other tribes as well including Red Dzao. We were lucky to spend two nights and three days with an amazing Black Hmong guide and her family in Lao Cai. What's even better is that it was very personal and unique, she could only house Scott and I so it was a more intimate experience.  
Trekking
---
---
The trekking itself is through a beautiful, almost dream like backdrop. You will see layers and layers of rice paddies, a few waterfalls, rivers, and of course the gorgeous mountains. Your guide will look after you. Each day we did about 4 hours of trekking that was moderate to easy. There were times we were huffing and puffing after doing some steep inclines, but overall it was pretty easy. It's impressive to think that these ladies do this type of trekking daily even while pregnant! Here is the trekking schedule we did.
Day 1: Sapa to Lao Cai
Day 2: Lao Cai to Sapan (these villages are actually close to eachother but our guide took us off the beaten path)
Day 3: Lao Cai to Tavan, Lao Chai and end in Sapa
Our Home
---
---
  The lovely family's home we stayed in housed our guide, Bau and her husband and their three kids. The house is basic and only had two beds, so when guests are there the entire family will sleep in one bed. We were impressed that they still were so gracious to open their home to strangers when in fact they only had two beds. We were mostly impressed with the kitchen which consisted of a small fire pit and a small table to prepare food. There was no running water so they had to gather spring water from the mountain behind the house for cooking and bathing. The house was basic, but surrounded by some of the most beautiful scenery we have ever seen. Scott loved the full on access he had to exploring through their rice paddies and taking photos.     [justified_image_grid preset=c2 row_height=600 max_rows=1 gallery ids="13167,13166″]
Our Family
---
  Like I said before, Bau has three darling children including an 8 month year old son. It was fun to play and watch the kids interact and have fun without all the luxuries and technology gadgets that children back at home had. My favorite moment would have been waking up in the morning to kids laughing and sounding really excited. When I looked outside I saw that they had caught giant beetles and attached a leash (small string) to it and were watching it fly circles around them while their kitten also tried to attack the beetle. The kids sounded just as excited as when kids in America are told they are going to Disney World.
Not only were the kids cute, but our guide Bau was extremely welcoming to her home. She even let me try on her beautiful homemade clothes!
  We also had a second guide who we only did trekking with named Vang.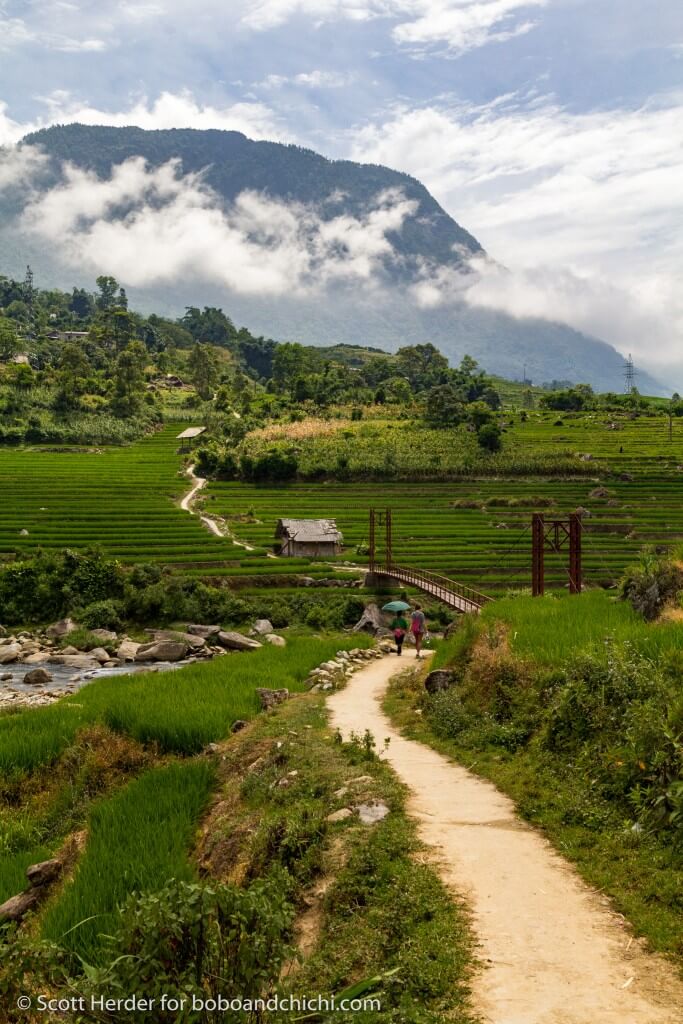 What Vang didn't tell us that she is also secretly a model. I mean seriously WTF!   [justified_image_grid preset=c2 row_height=400 max_rows=1 gallery ids="13170,13169″]   She took us to her family's home in Sapa on the second day for lunch, and again her family was welcoming and friendly. They did a great job making us feel like a part of the family. They also tried to get us drunk on rice wine, but we still had 2 hours of trekking to do! We feel like we had a really special experience because of the families we were surrounded by.      
Food
  We were amazed at how they prepare all of their food. Everything is so fresh! They do not have refrigerators or anything to preserve their food, so every meal we had was fresh from the garden and fresh meat. Most meals consisted of a lot of rice, meat, tofu, hot chili, and tons of vegetables. We loved the food and admired how healthy their diet was. What was even more incredible was how they cooked the food. They have a tiny, open fire pit in their kitchen and cook one to two dishes at a time over an open flame. Their kitchens have the most bare cooking utensils and yet they bust out delicious meals with 5-6 different dishes to try.
Shopping
You will be hounded by people to buy handmade goods from them. Luckily, our guides were not pushy with selling. We liked this tactic so we ended up buying more from them. The women make the clothing and the men make the jewelry. I couldn't go home without an arm full of their beautiful bracelets. If there is something you want, ask your guide to help you find it for a good price. Otherwise you will be BOMBARDED with women and children trying to sell you stuff. It is a bit overwhelming because you do not feel like you get to look at what they have to offer to see if you like anything first and feel obligated to buy something if you even make eye contact. Luckily, Bau and Vang were very good about selling and were never pushing things on us.
Local Culture
We were intrigued by their local customs and culture. I tried to ask as many questions as I could while we were trekking with our guides. Both of our ladies were married by age 20 and had children right away. I found it fascinating how hard of workers they were, even while they were late in their pregnancy. We even saw a woman who was over 100 years old and our guide told us that there are quite a few elderly that age. We also got to learn a little about how they make their clothes out of hemp and dye it with indigo. At our home there was a giant tub in the back with indigo leaves soaking in the water, you could see the dark blue color. I really wanted to stick my hand in there to see what would happen. Their clothing was so intricate and beautiful. I would find myself admiring every tribes' clothing. I was really happy when Bau let me try on her clothes even though I was twice her size! Their jewelry and accessories are beautiful. The women wear silver barrettes in their hair and stick a silver comb in at the top. I didn't realize how long their hair was until I saw both of our guide's fixing their hair. I was sad when I realized my hair wasn't long enough to replicate their hairstyle when trying on her outfit. [justified_image_grid preset=c2 row_height=600 max_rows=1 gallery ids="13173,13172″] Bau also had a gold tooth that we saw common among women in the Black Hmong tribes. This is just for looks, they see it as more ornamental than covering up a dead tooth. It was interesting just to be surrounded by women and people who live in a completely different way than what you were used to.
Overall
We loved our time in Sapa. The landscape and homestay had to make this one of our favorite experiences yet. We are hoping to come back and stay with Bau and Ban next year to watch the rice turn yellow. For those considering going to Sapa, we highly recommend doing an independent homestay. Although, they may not be for everyone. Not only does your money go directly to the local villagers (instead of a tour company who only gives a small cut to the villagers) you get to stay away from the super touristy villages like Cat Cat and stay in less visited villages. On the way back to Sapa you will get to visit two of the more visited villages like Tavan and Lao Chai. If you need AC, western toilets, hot shower, and are a picky eater then you probably should just book the day trekking from Sapa from the local ladies. Check out our 15 second hyper-lapse of the sun setting in Sapa.
*You can also book independent day treks from Sapa as well from local tribal women. The tour companies and tourist information center will tell you not to use the local guides because they do not get a cut of the money that way.
If you are interested in staying at the same lovely family's home we did please message us and we would gladly give you her number!
The scenery here is absolutely breathtaking for more great tips check out 50 unique things to do in Vietnam.
Planning on traveling around Vietnam? Check out this three weeks in Vietnam suggested itinerary by The Traveling Mitch.