There is something magical about Seoraksan. It's easily my favorite place in Korea and any time I can go I know it's going to be a great time.
When Pete DeMarco of The Nomad Within invited me to go to Seoraksan during the fall I was as giddy as I was on my first date. We planned to hike up to a peak, camp on the mountain and shoot the sunrise.
Unfortunately, that plan didn't pan out so well as what we thought it was only a 4-hour hike and ended up being a 7.5-hour hike one way. Little did we know the shelters on the mountain will turn you away, even at dark without a reservation. Oops. We had to turn back and camp out of sight of the trail since camping at Seoraksan is technically illegal.
Pete had downloaded this app called PhotoPills that allowed us to figure out real quick where the Milky Way was going to be and try and shoot it. Another epic first for me.
The bottom left image is the best one I got of the Milky Way. On the right is Pete's photo where he did some light painting and got this image. If you don't already you should check his instagram feed. He's always explaining how he does things and giving super awesome advice.So yeah, I can't explain how excited I was to shoot the Milky Way for the first time.
Fast forward to 3:30 am when we woke up to finish the last 2.5 hour hike to the peak to try and catch sunrise. This was the toughest hike I'd ever done. We finally got to the peak just in time to watch the sunrise but we had shrubs and foliage blocking our view. There was another 40 minute hike across the ridgeline to the next peak and knew we weren't going to have time to photograph the sunrise, so we had to work with what we had.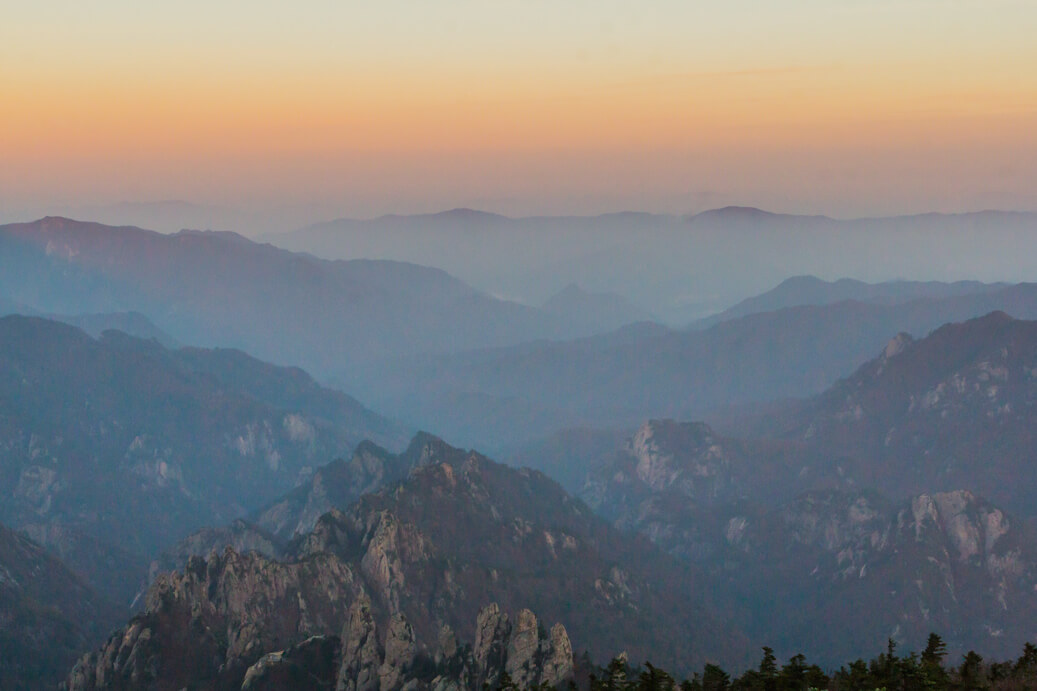 Being at the top of Seoraksan was freezing, so we began to head back down. I documented our journey on the descent getting some fun shots during the golden hour.
Besides taking photos and hiking in arguably the most beautiful area of South Korea, I got to learn more about Pete and connect with a guy who inspires me to go out and create photos. Besides our interest in photography, Pete is an avid traveler, another one of my passions.
After learning more about Pete and his tales from Mongolia and exchanging tales from both of our adventures on the road, we had finally made our way down most of the mountain. Pete eyed a beautiful area of trees with patches of light just illuminating the red leaves as if to set them on fire.
I haven't photographed like this before and was adamant about trying. I was feeling a bit nostalgic being back in Korea at one of my favorite hiking areas. Pete and I fired away, you can see my images below.
---
With legs aching we were almost home. But not before I got these two last gems. [justified_image_grid preset=c2 row_height=600 disable_cropping=no gallery ids="13813,13852″]
---
Seoraksan was a fun weekend getaway that all in all cost me just under $60 for the entire weekend including transportation, food and going to a national park. I had a great time taking photos and enjoying the fall at Seoraksan and would recommend anyone go.
Here are the rest of the photos that I took. A little tidbit about them. All of the photos below are using Pete's Lightroom Preset's which you can get for free here! My go to were Reality+1 and Reality+2 but there are some fun ones I am sure to use in the future.
[justified_image_grid preset=c2 row_height=400 height_deviation=50 max_rows=3 last_row=center gallery ids="13812,13811,13810,13821,13798,13796,13807,13805″]
---
If you are interested in going to Seoraksan for a day trip consider reading this: A Day trip to Seoraksan.
You can actually take a day tour from Seoul to Seoraksan in the fall if you're short on time! You can purchase your tickets online here.
Have you ever been to Seoraksan? What is your favorite hiking trail whether it's Seoraksan or anywhere else in Korea I would love to know before we go.
Disclaimer: This page contains affiliate links. By purchasing through the links on Bobo & Chichi you will help us keep the site up and running at no extra cost to you.