Korea was recently named the country with the most cafes in the world! WOW! If you spend 10 minutes here you can easily see why. There are cafes stacked on cafes, cafes facing cafes, cafes bumpin butts with cafes, basically you can't walk a block without seeing one of the many cafes in Seoul! That's a lot of coffee! But which cafes in Seoul are right for you?
With so many places to choose from you can imagine it's not hard to wonder where shall I grab a coffee from? Some cafes stand out above the rest, including crazy themed cafes. We are pretty much coffee addicts and make it our personal goal to try and have a cup of joe everywhere we go. So we wanna help you on your java journey and make sure you end up in a café that's right for you?
See our list below to see which cafes in Seoul are best for you.
For Cat Lovers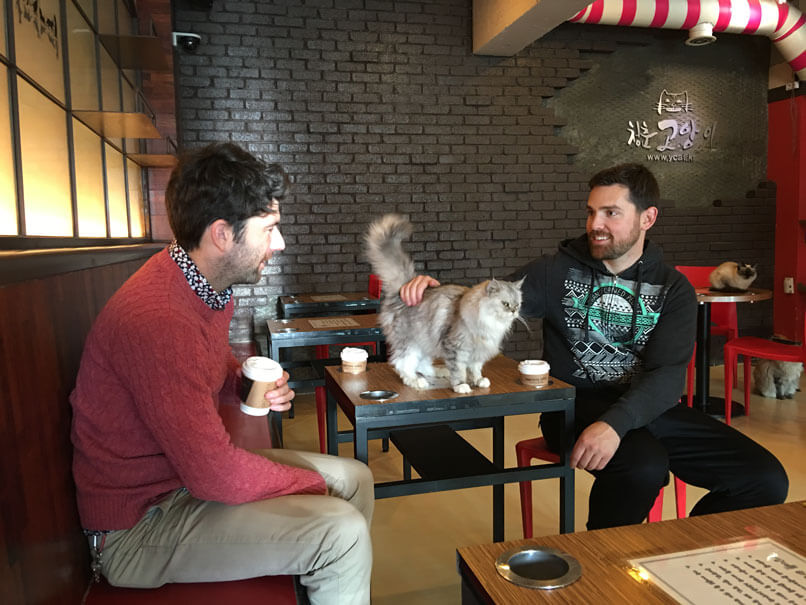 Try out a cat cafe, which is exactly what it sounds like, a cafe full of cats! Spend a few hours sipping on a cup of joe surrounded by all kinds of kitties is the purrrrrfect way to spend your day.We suggest going late in the morning when it's not crowded and you have all the kitties all to yourself.
Be sure to check out our video at a cat cafe in Korea!
For Dog Lovers
For people who are allergic to cats or just really prefer dogs, you can still enjoy petting animals at a dog cafe! Dog cafes are full of spunky pups who like to run around and play around you while you drink a coffee.
For Animal Lovers who don't want REAL animals getting hair in their coffee

Everyone loves animals at least a little bit. But not everyone wants cats or dogs running around them while they are sipping the foam off their latte. If that's you and you still want to enjoy feeling like you're surrounded by animals then check out Zoo Coffee. This café is filled with safari and jungle décor including large stuffed animals from giraffes to gorillas. Some of these large stuffed animals are even placed to sit with you at a table incase you don't have anyone to talk to!
Hello Kitty and the color Pink lovers
If you love pink girly things or Hello Kitty then the Hello Kitty Cafe is right for you. Surround yourself in a room full of pink and cutesy Hello Kitty décor from the couches to tiny details around the store. Make sure you sit down and stay for your drink so you can enjoy looking at your latte art of a Hello Kitty head in the foam of your drink! If you didn't have enough HK for the day, then you can continue shopping at the gift store inside the shop!
For Coffee Addicts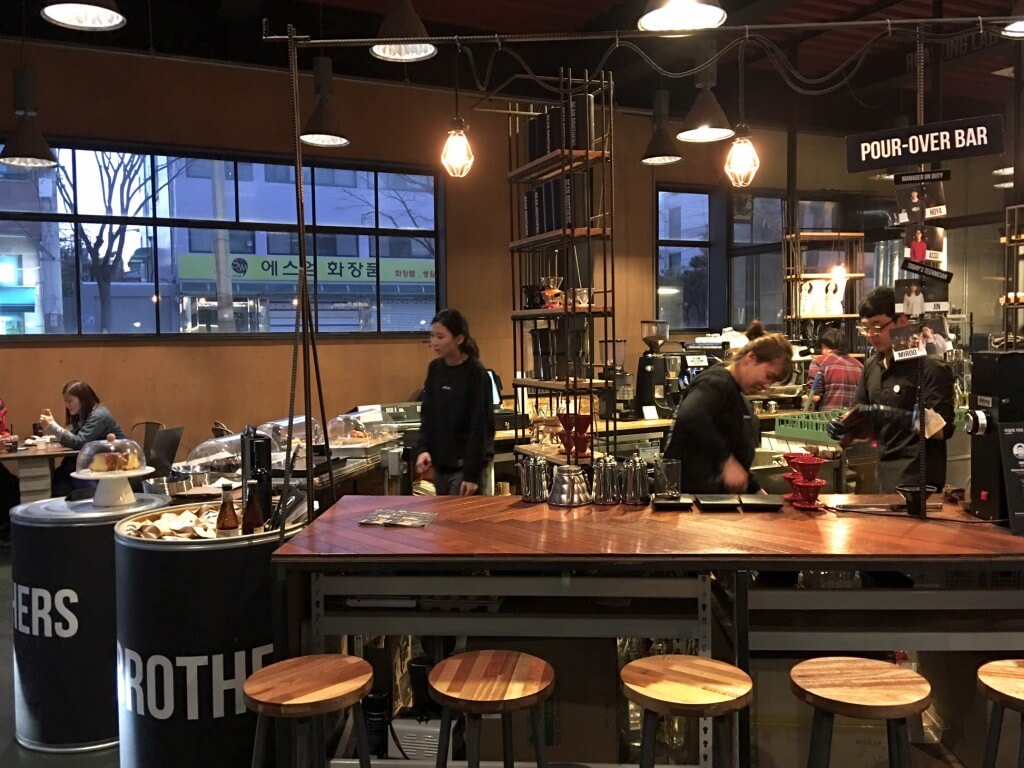 If your ideal café includes hanging out with cool people in a lofty garage sipping on hand dripped coffee with unlimited refills, then Beans Brothers is just for you! Beans Brothers has a few locations scattered around Seoul and is a popular hangout spot. We enjoyed their main location near Hapjeong where Scott, the coffeeaholic, got to enjoy 5 cups of premium hand dripped coffee. He was in seventh heaven!
For People on a shoestring budget
Let's face it, cafes in Seoul aren't cheap. As a matter of fact, at most places a watered down Americano runs you almost three bucks, if you go to a fancier spot then you can fork out almost 6 bucks for a little bit better or even the same watered down coffee. Womp womp. For those who don't need a fancy spot to hang out and are on a budget then check out any convenience store. There's always a wide variety of hot and cold canned coffees and usually a place to sit inside or outside. You don't have to be fancy or rich to enjoy the perks of caffeine.
For People Who Like A View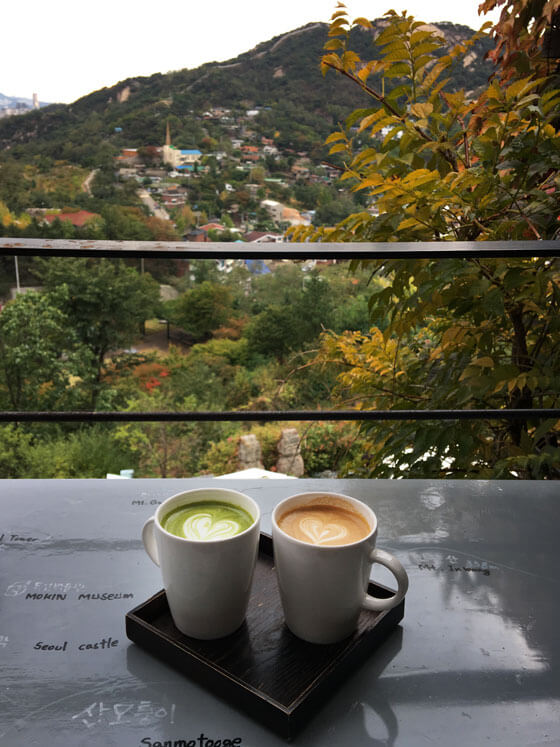 Perhaps you want to look at something beautiful while you're enjoying an afternoon pick me up. We don't blame you! When we want a view with our coffee we head over to Buamdong to visit Sanmotoonge café where we have views of Inwangsan Mountain, the Seoul fortress wall, and Seoul. Not only does Sanmotoonge offer plenty of patio seating with a view, but it is also a famous K-Drama filming spot with some quirky interior decorations.
For Doll Lovers
I'm not going to lie, we were creeped out by this café. Café Blue Fairy in Hongdae stretches wall to wall with glass cases full of dolls. You can actually rent some of the dolls in the café to play with while you drink coffee. You can also bring your own doll and dress it and comb its hair while you enjoy the doll loving atmosphere. We saw grown men and women playing with dolls the day we stumbled upon this café. This was one of those moments where I knew what Dorothy was going through when she realized she wasn't in Kansas anymore.
For Sugar Lovers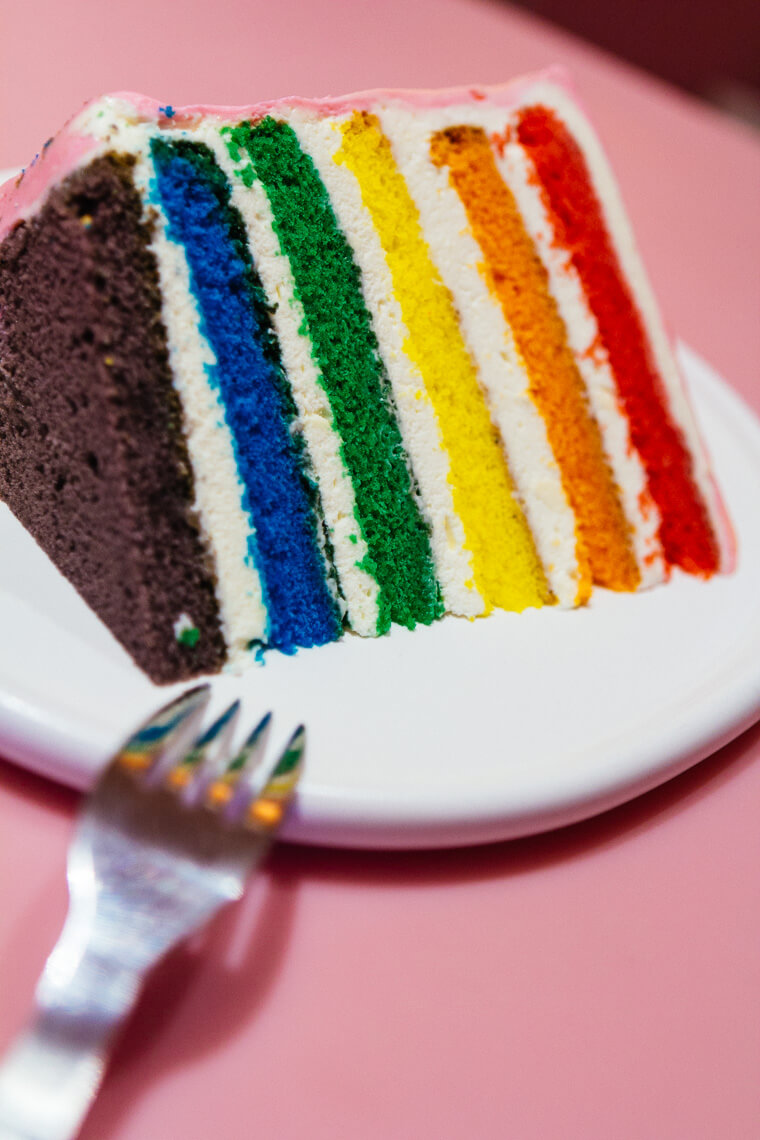 If you love sweet treats and fancy cakes then you must check out Dore Dore in Sinsa. There are all kinds of mouthwatering cakes to choose from, but the most popular would be the rainbow cake! There's nothing like a great piece of cake to pair with a delicious cup of coffee!
For Halloween Lovers
A photo posted by @sonololo on
Do you like creepy crawlers and scary things? If you also happen to love cupcakes and coffee then Monster Cupcakes is the right spot for you. Featuring an array of gory and grotesque decorated cupcakes along with some coffee! Everyday will feel like Halloween when you come here.
For Tea Lovers
Not everyone enjoys drinking coffee when they go to a café. Good thing
Osulloc tea houses
are available throughout Seoul! Featuring tea and focusing on green tea made from Korea's own Jeju island, this tea house is a must try when visiting Korea. They also have green tea desserts! We enjoyed the green tea bingsu during our visit! There's also a gift shop to pick up some tea to take home as gifts or for yourself!
For Those Who Like to Play Dress Up
If you like to play dress up then you may want to check out Princess Diary Café near Ewha Women's University in Seoul. This isn't just an ordinary dress up place though, this is for the ladies who dream to be a bride one day and can dress up in a wedding gown, powder your face, and take fancy photos all while drinking a cappuccino. You can also try on Korean traditional clothing called hanbok here as well, but it's far less popular than dressing up in the bridal gowns.
For Those Who Want To Learn a New Language
You are Here café was opened by popular vloggers Simon and Martina from Eat Your Kimchi. They are celebs in Korea and encourage people to enjoy language exchange at their café in Hongdae. If you participate in their Speaker's Corner (video recording of you answering the day's question) you could end up on youtube getting thousands of views.
For Crappy Coffee Lovers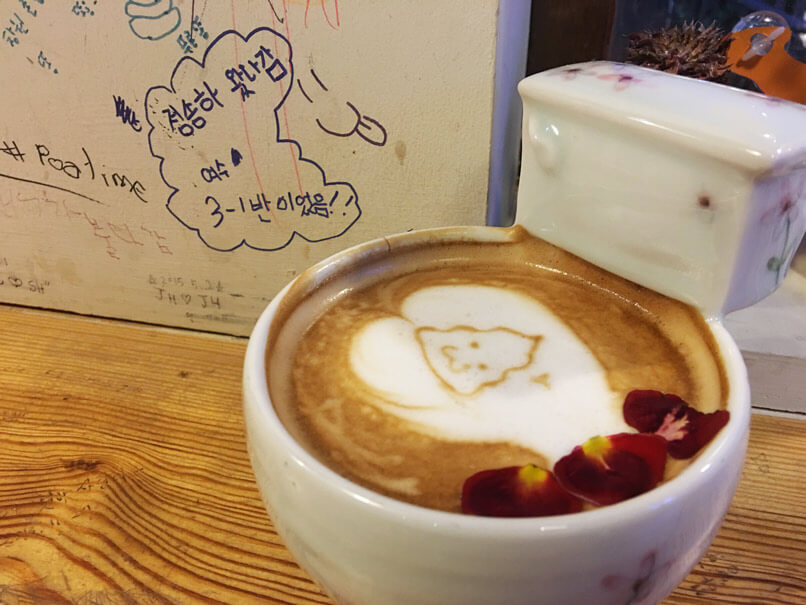 Ok, so the title of this one is misleading. But this café is called Poop Café and themed around poop and toilets so forgive me. Located in Insadong, you can get a latte served to you in a tiny toilet. If you have the munchies try one of their poop shaped cakes on the side!
BONUS: MEERKAT CAFE
If cafes in Seoul couldn't get any crazier, there's now a cafe filled with meerkats available!!! They don't stop at meerkats either, they have arctic foxes and raccoons too! To see more check out that video above!
Did we miss any? Share any special spots to grab a cup of joe in the comments below!
If you liked this post, share it on pinterest!