It's now March and signs of spring are popping up all around us. This is one of our favorite times of the year in Korea as we watch all the flowers and trees start to bloom as well as start spending more time outdoors again! For those of you out there curious about this time of year we have 11 fun ways to spend spring in Korea!
See the Cherry Blossoms
No matter where you're visiting/living in Korea you will see some Cherry Blossoms every spring in Korea towards the end of March and early April. Popular destinations to see these gorgeous flowers include Yeouido Park in Seoul, Jinhae if you're in the south, and Gyeongju has three different places to see the cherry blossoms!
Stay tuned for the best cherry blossom viewing spots in Seoul!
Hiking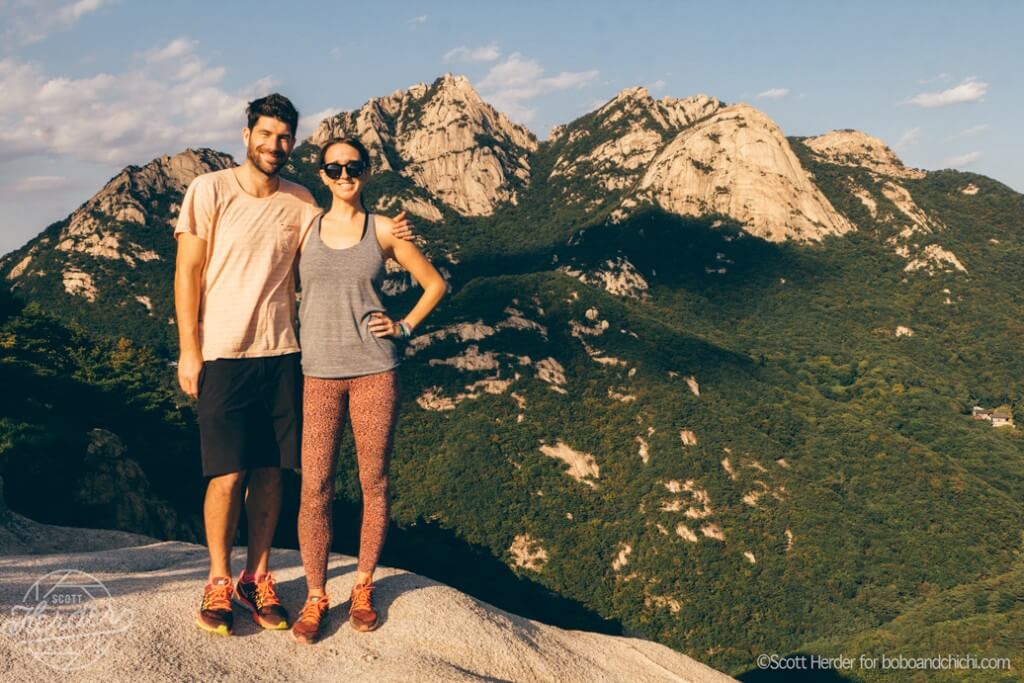 For being a small country, Korea is packed full of mountains and 21 National Parks! That's impressive! We love hiking in Korea, mostly because the mountain is full of friendly locals, stunning views, and some of the freshest air you can get in Korea. It's also nice to get out of the city and feel a part of nature. Our top picks for hiking spots include Bukhansan National Park in Seoul, you have easy hikes that don't take long to climb like the Golden Buddha Hike and longer, more challenging hikes like Bagundae Peak. We also recommend Gyreyongsan National Park and our FAVORITE mountain range, Seoraksan National Park. If you want to see more about hikes in Korea click here.
Boseong Tea Fields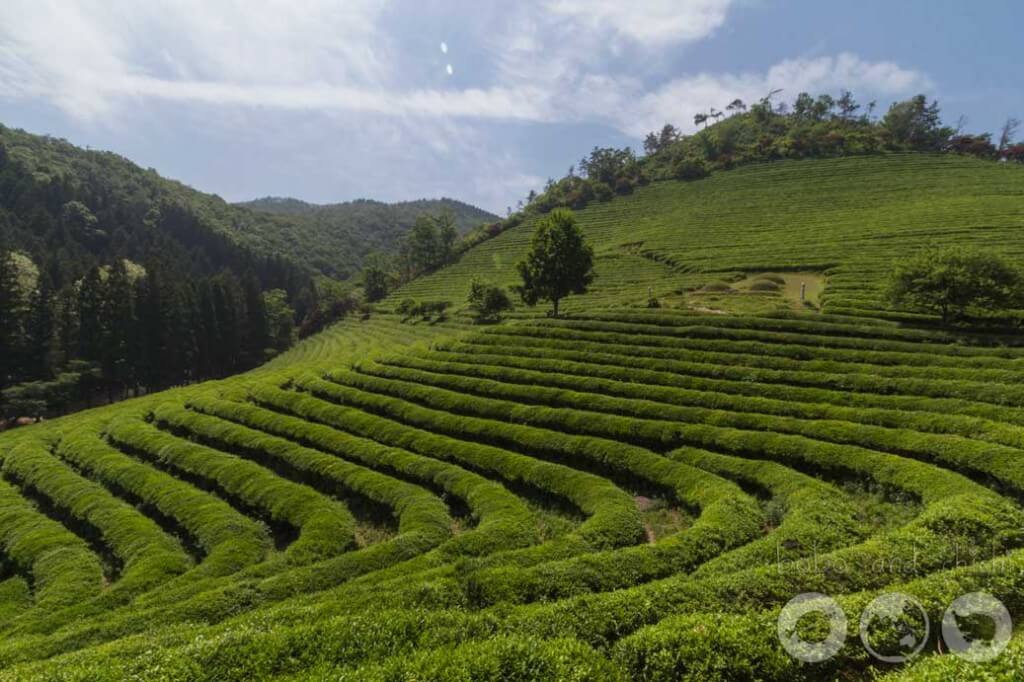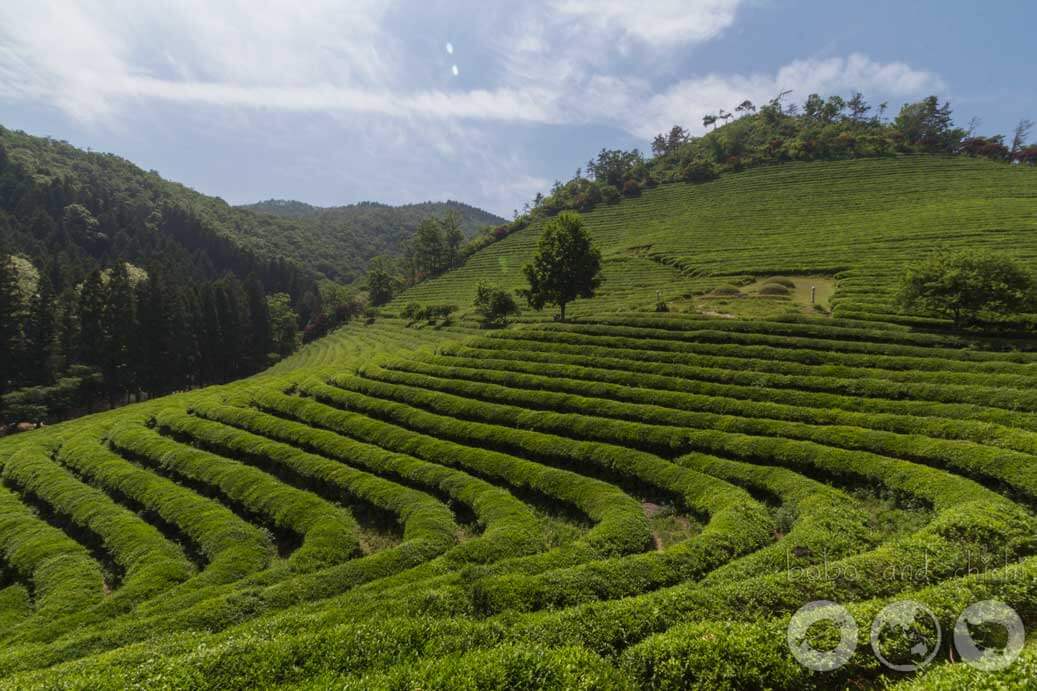 Head down south and enjoy the views of Korea's famous rice terraces in Boseong. You have two tea plantations next door to eachother to spend a beautiful afternoon during spring in Korea. Daehan Dawon is the most famous and offers food, and a cafe to try some green tea products! Walking distance away is Botjae Dawon tea plantation, which is less visited and if you climb to the top of the terraces you can enjoy the sea view. After taking gorgeous photos and walking through the tea plantations make sure you try to green tea ice cream!
Busan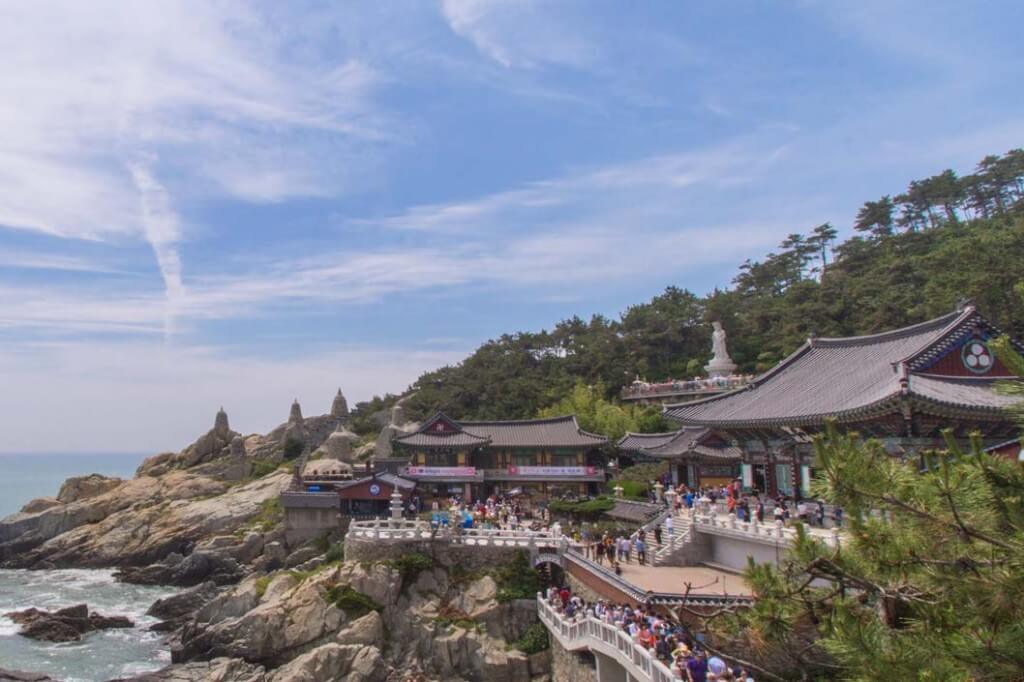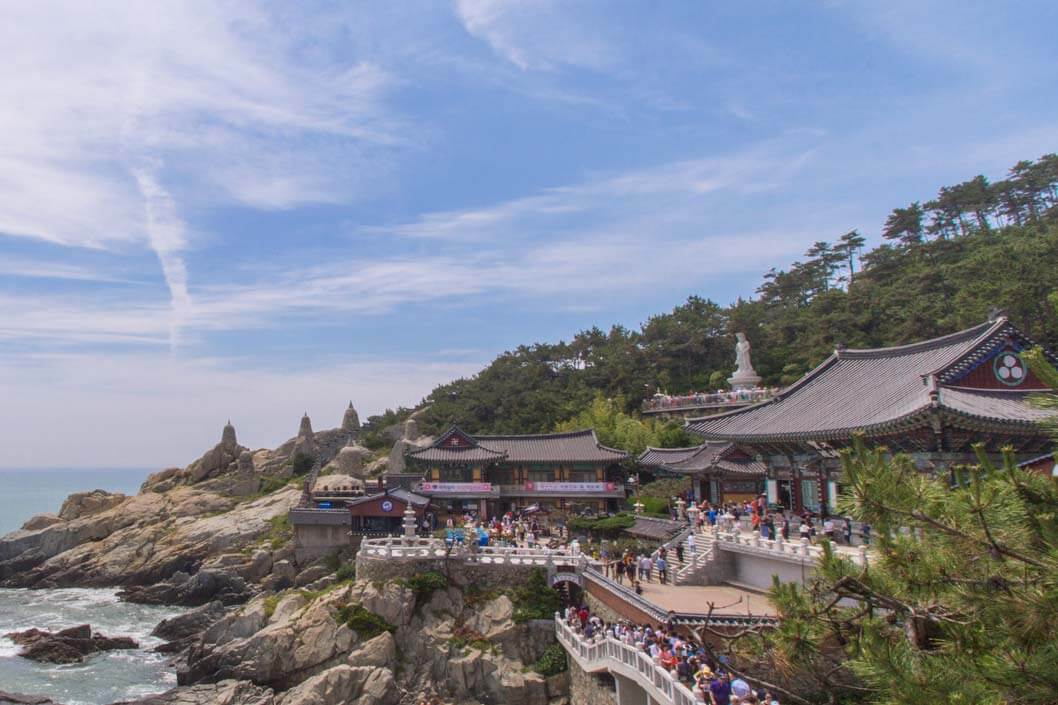 We prefer to visit Korea's second largest city during the spring. Since Busan is on the coast, it becomes a popular summer destination and attracts local and foreign tourists to it's crowded beaches. We prefer to skip the crowds and enjoy everything Busan has to offer in the warmer spring months. Top picks in Busan include colorful Gamcheon Village, seaside Haedong Yonggungsa Temple, and the scenic views from Igidae Park. To see the best of Busan check out this post here.
Damyang Bamboo Garden
Located in Jeollanam-do rests Damyang's Juknokwon Bamboo Garden. Enjoy walking through the walkways to the garden through the tall bamboo lined pathway. We recommend packing a picnic and enjoying lunch in the pavilion. Don't forget to check out the Seqouia trees afterwards, we learned about this thanks to our friends at Hedger's Abroad. You can see their experience here as well as some other great places to see in Jeollanam-do!
Seoul's Rabbit Park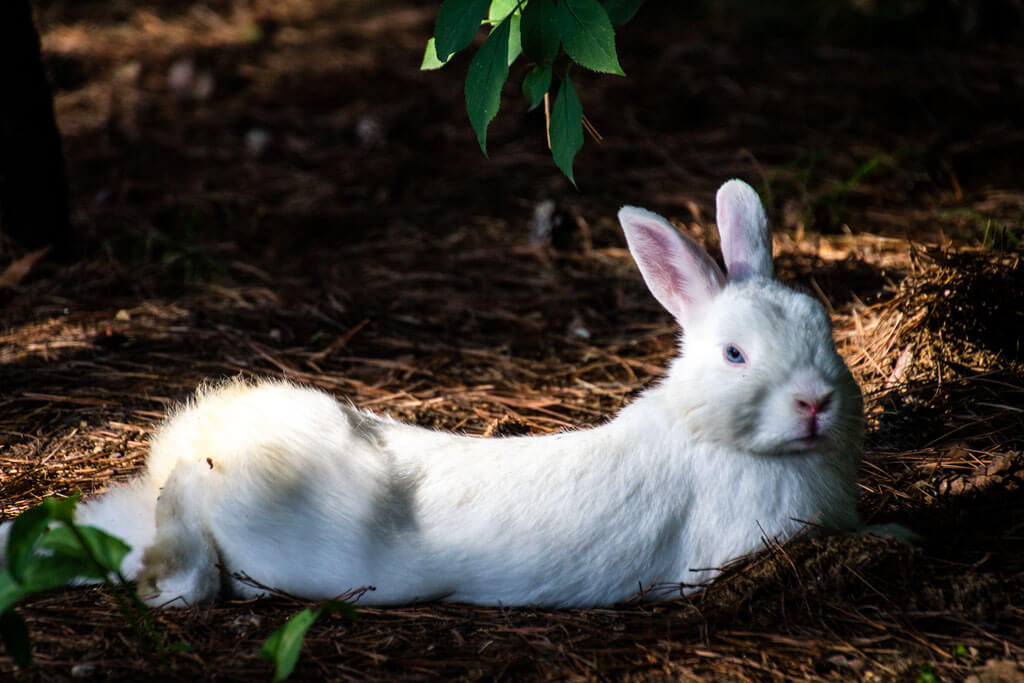 Parc Montmartre is home to tons of little rabbits hopping around and tame enough for you to approach for a photograph. Don't try to get too close and pet little Peter Cottontail or he may just hop on out of your photo. After you spend some time in the park make your way over to Seorae Village, Seoul's french village, and enjoy some fine wine and french cuisine.
Yeouido Park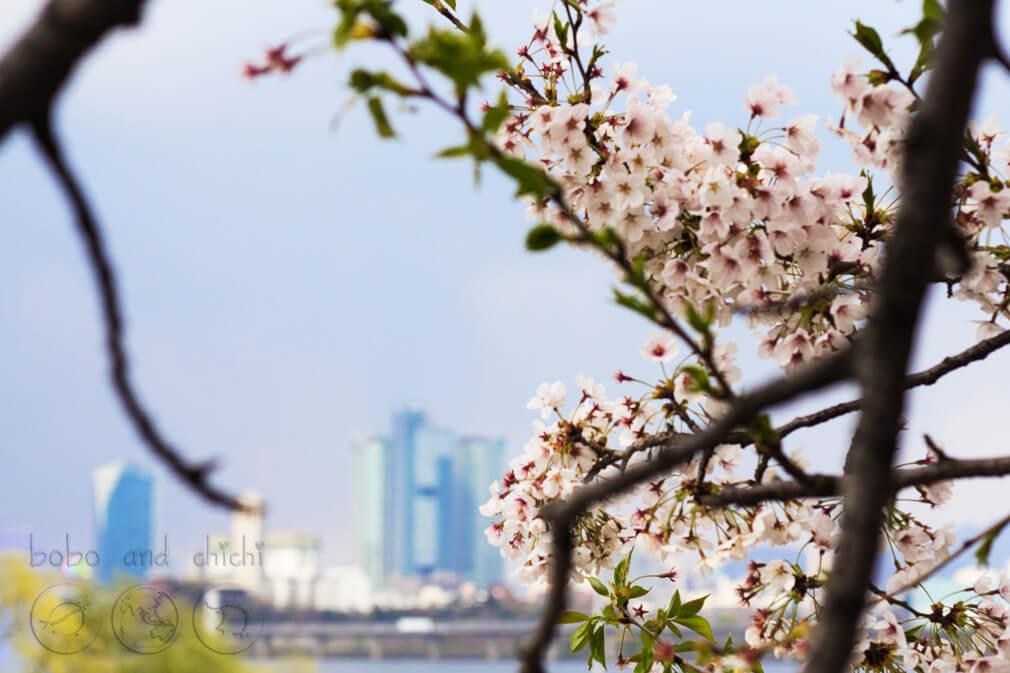 Yeouido was already mentioned on this list for their cherry blossom festival, but don't let that stop you from visiting this riverside park after the cherry blossoms are gone. You can rent bicycles, fly kites, and pack a picnic along this riverside area and enjoy the views of the city. We enjoy renting bicycles and adventuring down along the Han River. If it's a windy day you can check out the IFC mall and Building 63 for it's activities indoors!
Garden of Morning Calm
We love the Garden of Morning Calm all seasons, especially in the spring when the flowers start to bloom! You can take your time spending a few hours easily visiting the various gardens and have some delicious lunch at the dak galbi restaurant up the hill right afterwards. You can visit the garden all year long for different festivals, another one of our favorite times of the year to visit is during the winter during their lighting festival. Make a weekend out of it and stay at a fun themed pension and see the rest of Chuncheon!
Take a guided tour to the best spots in the area, Petite France, Garden of Morning Calm, and Nami Island in one day. Purchase your tickets at a discount here.
Nami Island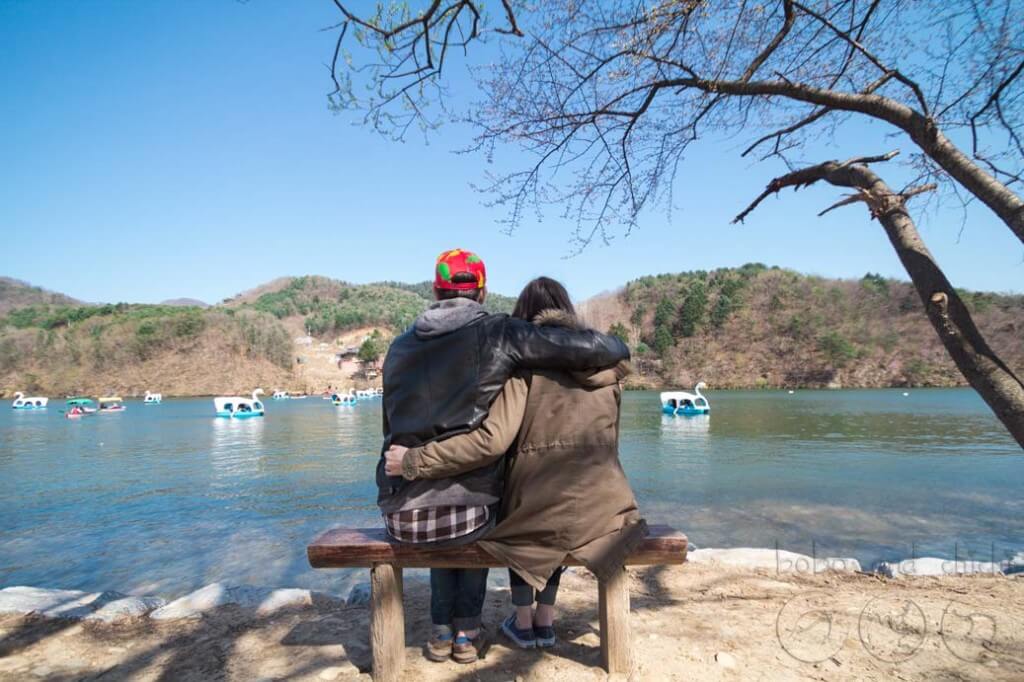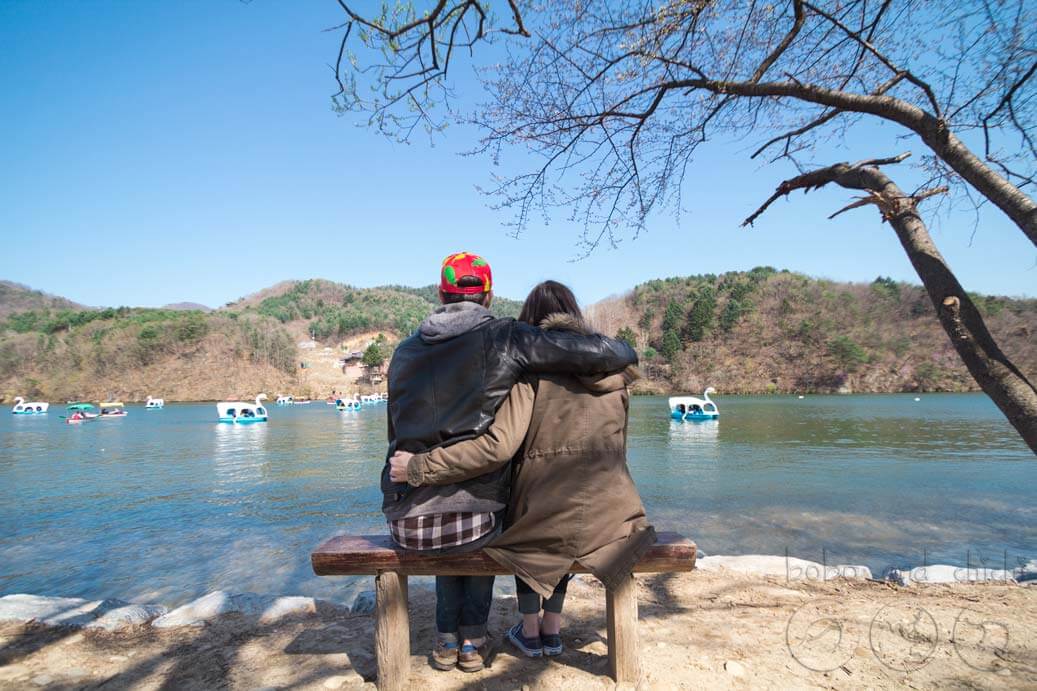 Nami Island is another place that's beautiful all seasons, we especially love it in the fall and spring. In the spring there are tons of cherry blossom trees scattered through the island as well as flowers and gardens. You can get pedal around the island on a swan boat, rent bicycles, enjoy a mini rail bike, listen to live performances, and even zipline to the island!
Take a guided tour to the best spots in the area, Petite France, Garden of Morning Calm, and Nami Island in one day. Purchase your tickets at a discount here.
Everland Amusement Park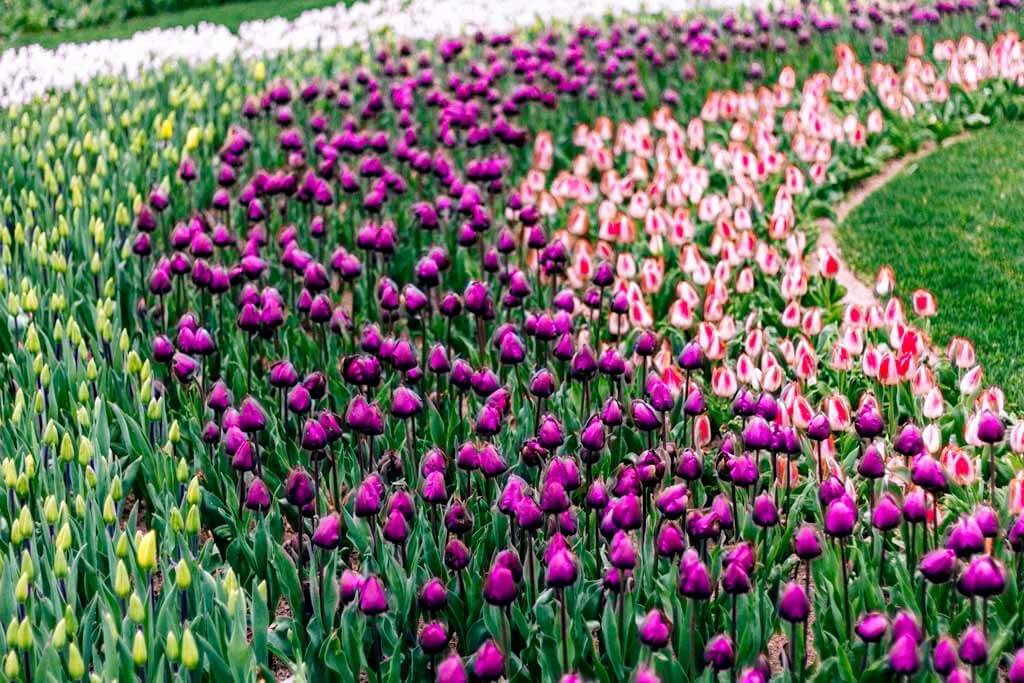 In the spring, Everland hosts it's tulip festival! There are over 1.2 million tulips planted as well as over 100 other kinds of flowers throughout the park! Enjoy your day riding rollercoasters and rides, visiting their animals inside the park, and drinking a beer in Holland village surrounded by gorgeous flowers!
Want to experience Everland yourself? You can buy your tickets in advance online to avoid a long wait!
Take a Scenic Train
[justified_image_grid preset=c2 row_height=500 max_rows=1 rml_id=undefined rml_count=undefined rml_lightbox_groups=undefined rml_breadcrumb=undefined gallery ids="15067,15069″]
Hop on one of the many Korean scenic train tours. There are the O Train (One Train), V Train (Valley Train), S Train (South Train), DMZ Train (goes along the DMZ), A Train (Ariang Train), and G Train (Golden Train). All of these trains feature scenic routes and unique experiences on each train. The G train is one of the newest featuring foot jacuzzis at your seat facing the window so you can kick back, relax, and enjoy the view as your feet soak. We recently were aboard the O Train from Seoul to Taebaek and enjoyed the scenic and comfortable ride!
Did we miss anything? Share in the comments below! We love hearing from our followers!
If you happen to be in Korea during our other favorite season, then check out this post about our top picks of places to see in the fall!
If you enjoyed this post, share the love with your friends on Pinterest or our fun social buttons below!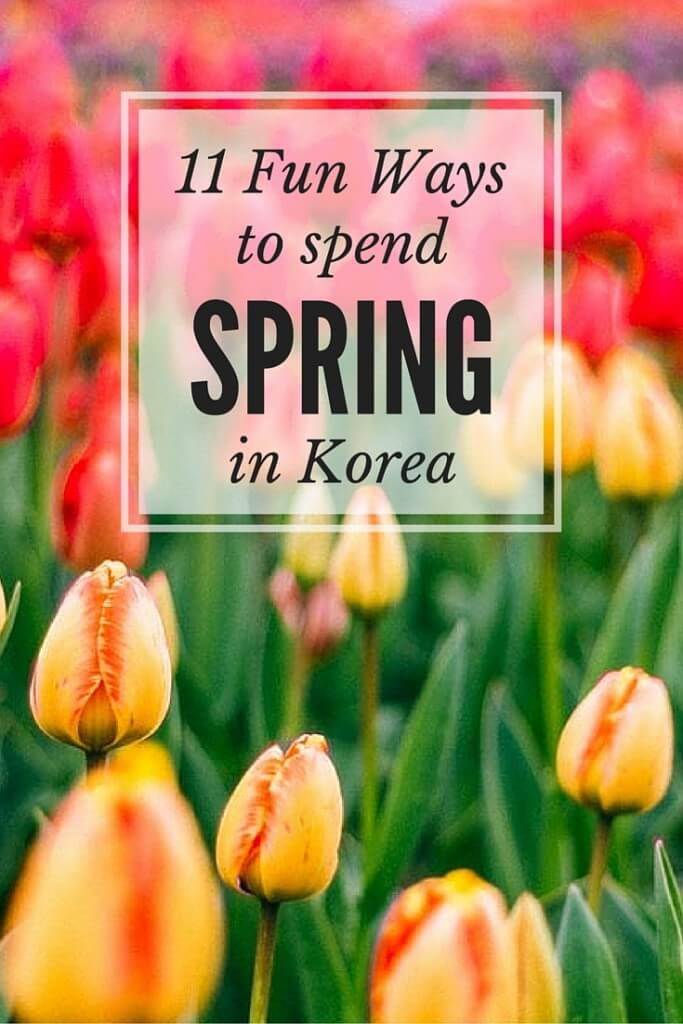 Disclaimer: This page contains affiliate links. By purchasing through the links on Bobo & Chichi you will help us keep the site up and running at no extra cost to you.