Not only is Seoul a fun historical city to visit or live in, but there are also tons of places you can go shopping and is one of our picks for best things to do in Seoul! Shopping in Seoul has to be on the top of most tourists to do lists while visiting Korea and a highlight of any expat living here.
From huge shopping malls with international chains to small local boutiques, Seoul has got you covered. We were almost overwhelmed on a daily basis on how much shopping this city has to offer! That's why we've put together a list of what we think the best shopping in Seoul is.
Update: February 2020
Tips for Shopping in Seoul
Money
Shopping in Seoul can be as cheap as a few dollars for a shirt to as expensive as spend hundreds on an imported designer item. It's up to you to decide what you want to buy and where.
Most places accept credit card, but if you need to exchange money, you can easily do so in any bank. You can also take out money via ATM for relatively low fees (maybe ~$2-3 max) using your own debit card.
Style
It'll definitely help to get an idea of what the style trends are in Korea before you plan on shopping as they're often a bit different than what may be trending in your home country. We personally think Korea can be a bit ahead on some trends (like the maxi/midi skirts were big here before they went to the US, and, of course, the whole selfie thing was called selca here first).
Right now a big trend is a more comfortable, oversized look with a lot of nineties inspiration.
Sizing
Keep in mind that a big issue most foreigners have with Korean shops is sizing. You'll rarely find larger than an M in franchise stores, and most cheaper areas are free size only.
Free size can be anything. We've found things that look like they'd only ever fit an elementary school child all the way to oversized styles that could fit two of us. It's like the wild, wild west when it comes to "free size"!
None of this ever seems to account for any sort of curve either.
Shoe Sizing
Beware that if you have larger feet, you may not be able to find your size in Seoul, especially in more budget-friendly shopping areas.
Brands
If you're living in Korea, then the two brands we always were able to find our sizes in were Uniqlo and H&M. You can also order ASOS online and as long as you keep it under a certain amount, you won't have to pay import fees.
There are other popular stores in Seoul like 8 Seconds and Stylenanda, but we've had better luck finding things in the random, no-name shops outside of the big malls.
Quality
Keep in mind quality. If you pay $5 for a shirt, it's probably going to be $5 in quality in Korea. Look at the lining, the stitching, and the fabric before you buy and see if it's something you want to last.
Our friend, Sam, went crazy buying cheap shoes when she was a student and they all fell apart within a few months.
Trying things on
Many places that are cheaper and no-name won't let you try anything on. The big fear is that you'll get make-up on the clothes. So make sure you know how something might fit on you before buying!
Where to Go Shopping in Seoul
Super Mega Malls
The shopping malls in Seoul are freaking huge and have everything you need plus more, hence the name I gave them, Super Mega Malls! All of the malls here are equipped with huge food courts, loads of restaurants, really nice movie theaters, and some even offer entertainment option like an aquarium! Here are the three malls (out of the many to offer) we enjoy shopping in Seoul the most.
Lotte World Shopping Mall
---
We visited this mall and were blown away. The shopping selection includes local and international chain stores, huge department stores. You're connected to one of Korea's most beloved indoor/outdoor theme parks, Lotte World!
Other Things to Do:
Get there: Jamsil Station (Line 2)
Times Square Mall
Located in Yeongdeungpo just south of the Han River, Times Square Mall offers floor after floor of different shopping options. This includes local and international chain stores and our favorite, the CGV Starium 4DX movie theater. If you you're not all shopped out after exploring this mega mall then walk about 10 minutes to D Cube City where you can continue to shop until you drop.
Get there: Yeongdeungpo Station (Line 1) towards Times Square Mall or Sindorim Station (Lines 1&2) towards D Cube City
Starfield Coex Mall
COEX mall is located in Gangnam under Korea's World Trade Center and has to be one of the most famous places for shopping in Seoul. COEX actually happens to be Asia's largest underground shopping malls! Pretty neat!
This mall is full of local and international chain stores as well as a 16 -theater Megabox cinema, aquarium, arcade, and even a kimchi museum. There's now even a huge library that has easily drawn global attention as one of the most beautiful libraries in the world.
Things to Do Near COEX Starfield Mall
Bongeunsa Temple
O'Sulloc tea cafe
Get there: Samseogn Station (Line 2)
Underground Shopping
Underground shopping has to be the best experience if you're on a tight budget. Located underground, usually connected to the subway, these underground meccas carry tons of small retailers carrying various cosmetic, clothing, and accessories stories at low prices.
Here are some of the most popular underground shopping locations in Seoul:
Gangnam Station (Line 2)
Myeongdong Shopping – Connects Myeongdong (Line 4), Euljiro-1 (Line 1&2), and City Hall (Line 1&2) Stations
Yeongdeungpo Station (Line 1)
Jamsil Station (Lines 2&8)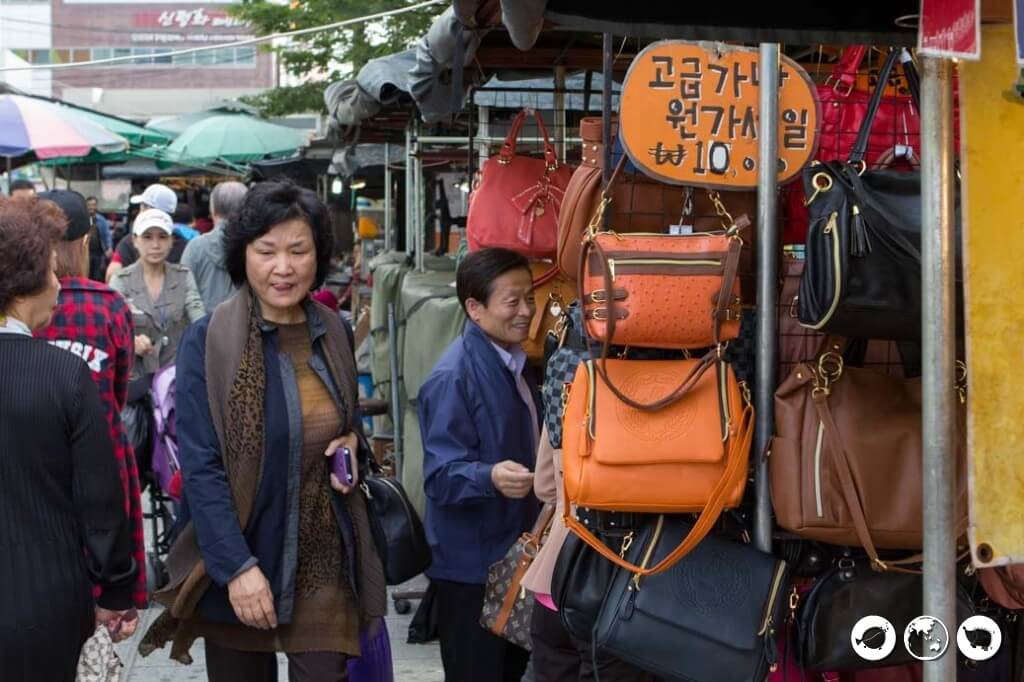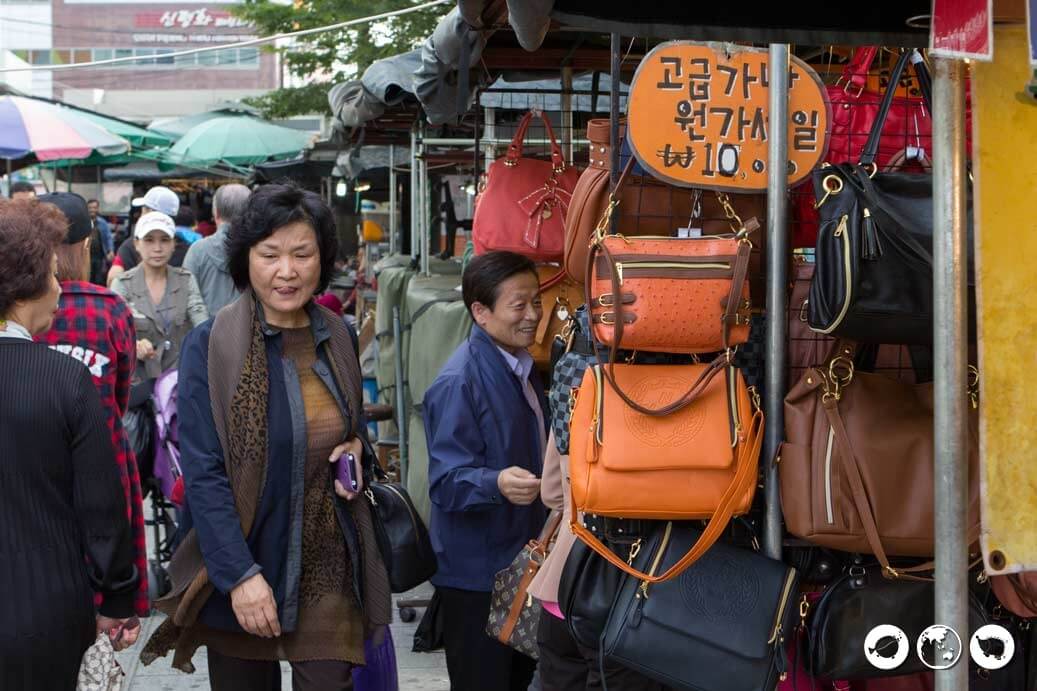 Shopping Streets
These shopping streets are pretty much everything you can get in a mall, but scattered throughout one main street and its alleyways. Some include huge international brands and other streets are for local artists and boutiques. We love going to these areas for a meal then spending the rest of our time checking out the different shops!
Garosu-gil
Garosugil looks less like most of your shopping in Korea since it's shopping isn't located underground or in tall buildings. All of these stores and specialty shops are located on an outdoor promenade on a tree lined road. You will find chic boutiques with the latest fashion trends as well as tons of cafes and restaurants.
In between shopping, try out some of their trendy dessert stops.
Get There: Sinsa Station (Line 3), Exit 8 or Apgujeong Station (Line 3), Exit 5
Apgujeong Rodeo
This is where the elite shop, we say this because this is where you will find your Louis Vuitton and other designer labels most people can't really afford. Don't let that deter you from visiting though, there because you are just a short walk away from Garosu-gil's shopping street!
Get There: Apgujeong Station (Line 3), Exit 2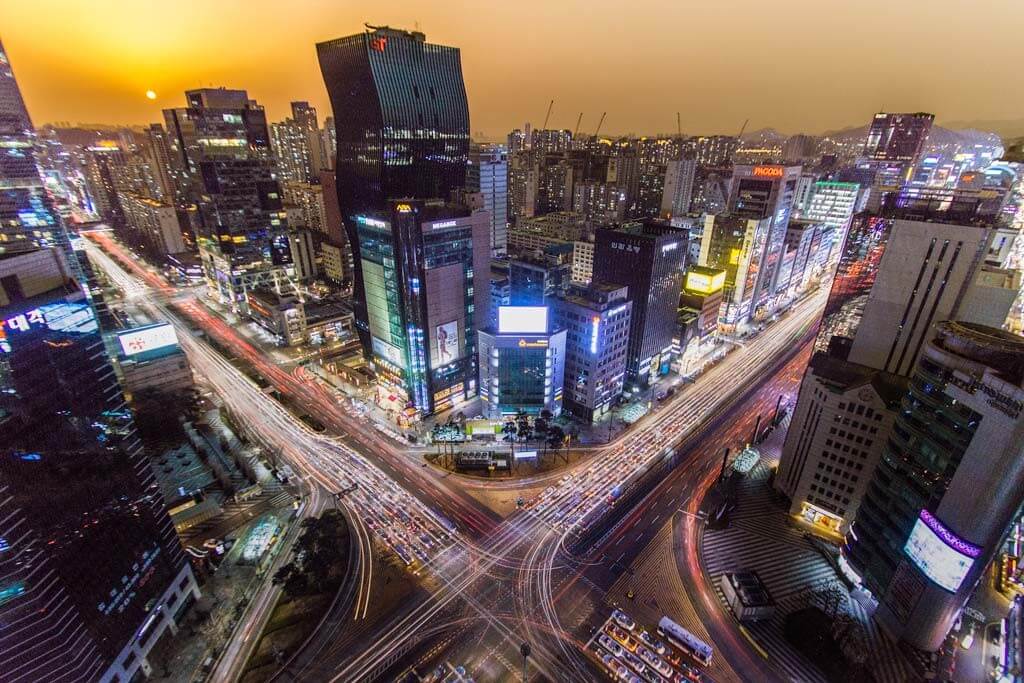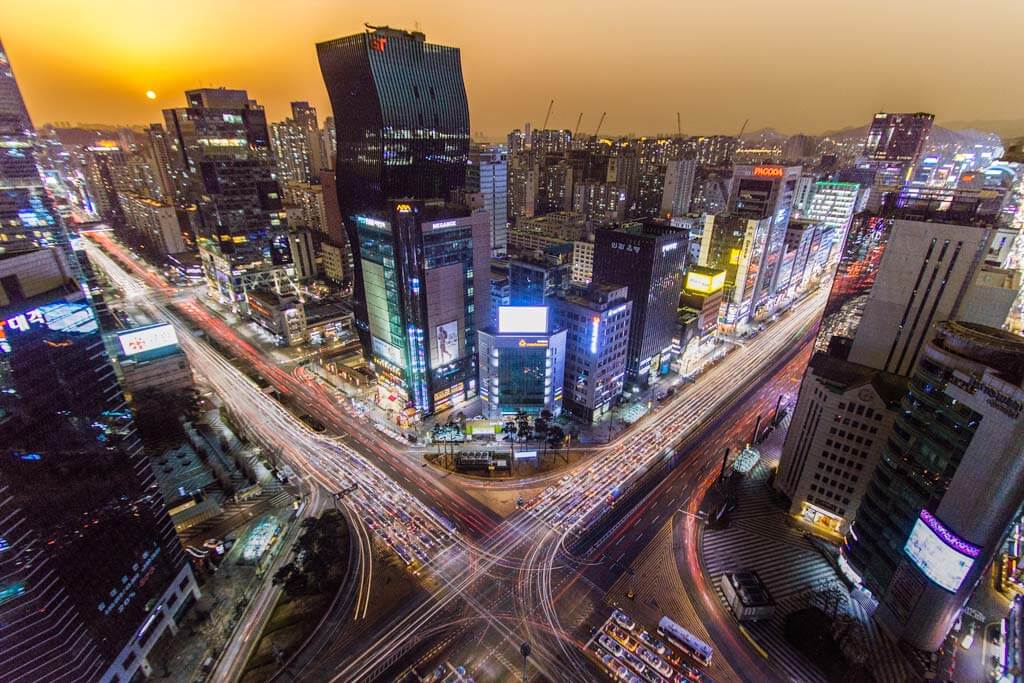 Gangnam Shopping
This shopping street is bustling in Seoul. Full of big international and domestic brands the stores in Gangnam tend to be huge and multilevel. There are also tons of cosmetic and accessory stores here as well. Gangnam is also famous for it's clubs and nightlife as well as delicious food options. You can find a giant "Gangnam Style" photo spot that plays PSY's famous song to take a quick pic in too!
Get There: Gangnam Station (Line 2), Exits 10 & 11
Myeongdong Shopping
Myeongdong is probably the most famous shopping area in Seoul. There are several department stores, huge international labels like Nike, H&M, Forever 21, etc. as well as local brands. This is also the best place for Korean beauty products as a lot of Korea's best beauty brands have their flagship stores in Myeongdong. Shopping here can be a bit overwhelming, but you have endless shopping and food options to choose from!
Get There: Eujilro-1ga Station ( Line 2), Exit 6 or Myeongdong Station (Line 4), Exit 6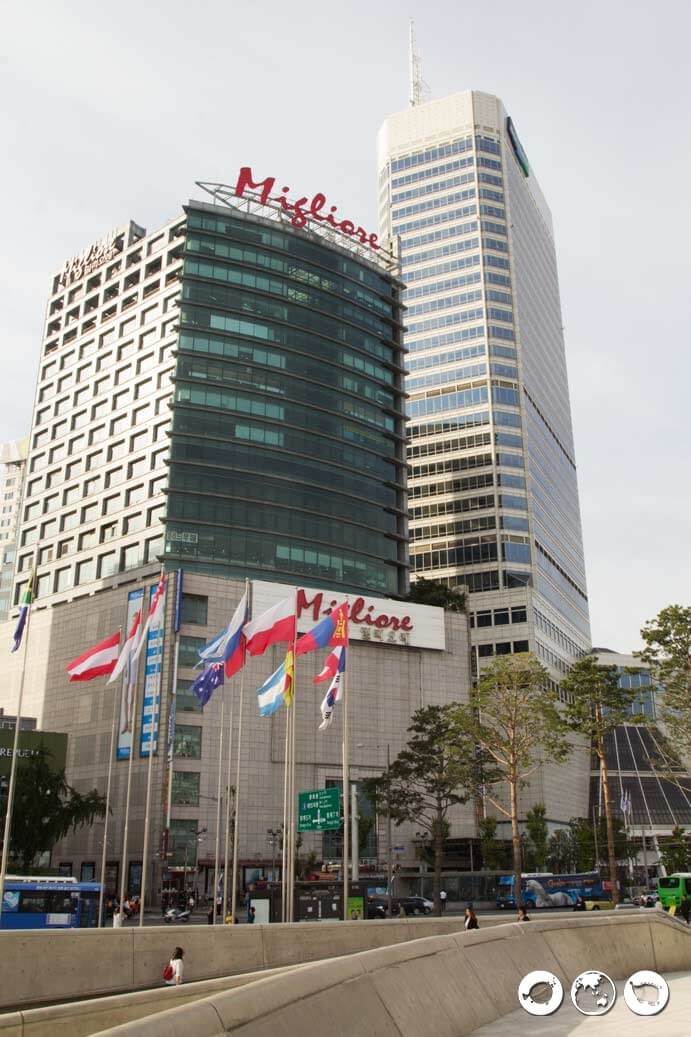 Dongdaemun Shopping
Dongdaemun is a famous spot to find local Korean fashion. The department stores are full of local designers and boutiques. You can even shop late at night until the wee hours of the morning here. There's even a department store named after it's late night shopping hours called AMPM.
If you need hiking, athletic gear, shoes, stationary etc. you can continue exploring Dongdaemun's specialty districts which are alleyways full of any specialty good store after another. They have this for anything from stationary to shoes to camping gear.
While you're in Dongdaemun don't skip out on visiting Dongdaemun Design Plaza (DDP) the interesting space ship looking building. Inside there's more novelty and gift shopping! If you're here in March or October, you'll also see Seoul Fashion Week!
Get There: Dongdaemun Station (Lines 1&4), Exit 8 or 9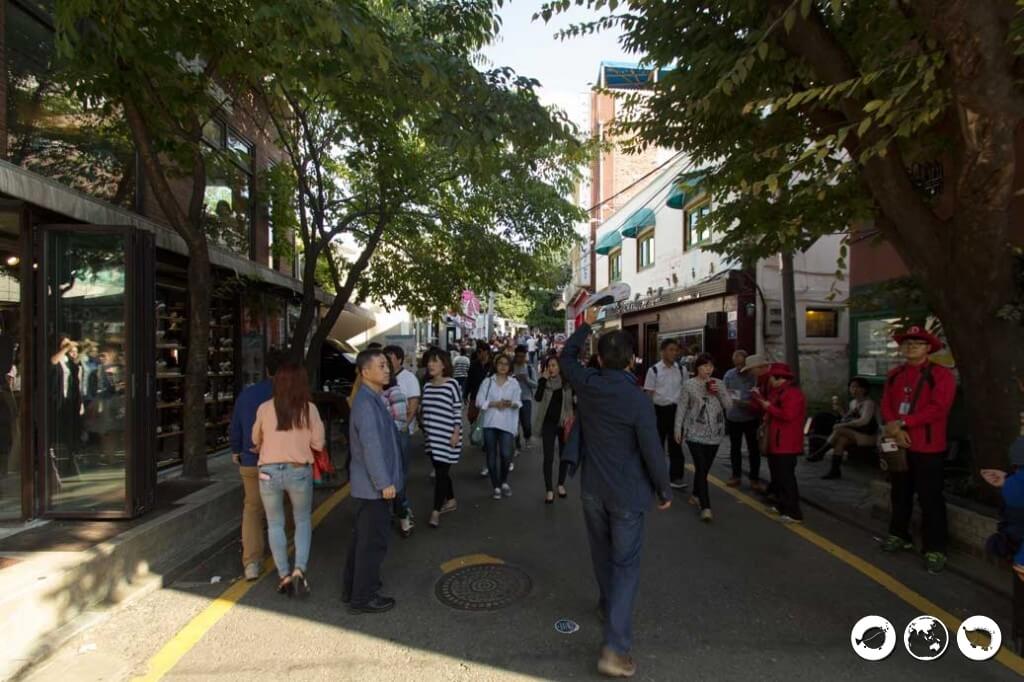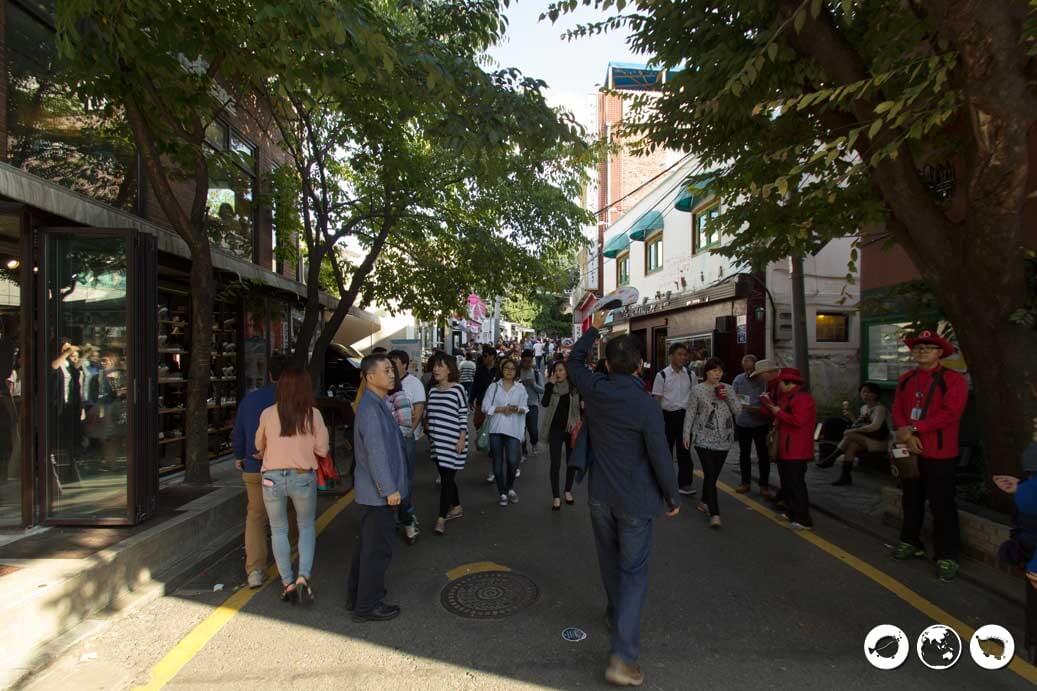 Samcheong Shopping
Samcheong is conveniently located next to Gyeongbokgung Palace and Bukchon Hanok Village. These adorable, tree lined streets are chocked full of small, independent boutiques as well as cosmetic stores, restaurants, cafes, and museums. This happens to be one of our favorite places to shop for a unique gift or just to grab a cup of coffee with a pleasant view.
Get There: Anguk Station (Line 3), Exit 1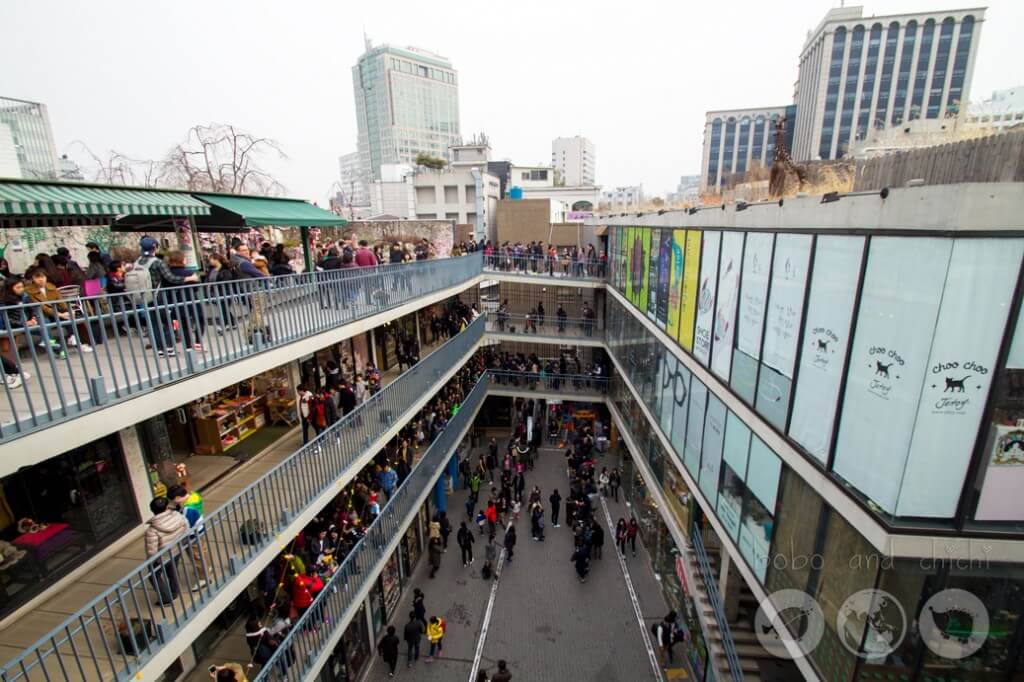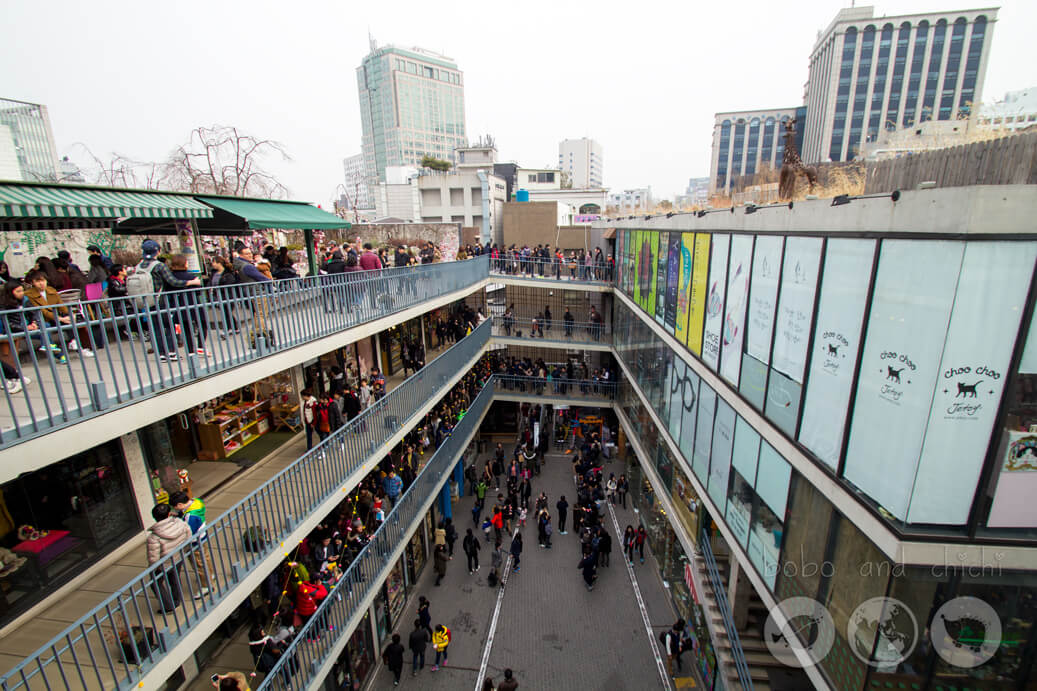 Insadong
Insadong is a great spot to pick up a souvenir from Korea as well as shop at local, independent gift stores. Through the streets of Insadong you can find local antiques, traditional paintings and artwork, tons of galleries, and one of the only areas in Seoul you can really find souvenirs that say Korea on them.
There's also a small shopping mall called Ssamziegil in the middle of Insadong offering tons of local specialty boutiques as well as cafes, restaurants, and even museums. You can check out Seoul's famous poop café here too!
Get There: Anguk Station (Line 3), Exit 6
Around Universities
Anywhere where large groups of young adults gather or live in Seoul you can guarantee there will be great shopping! Nearby university campuses are streets after streets of local boutiques, international brand name stores, cosmetic stores, and also tons of food and night life options! Some of our favorite local universities to shop near are below.
Honggik University (Hongdae)
Hongkik University or Hongdae is one of Seoul's best spots for shopping and nightlife for young adults. There are tons of clothing, accessory, footwear, and specialty boutiques here along with tons of street food, cafes, restaurants, bars, and clubs!
See our favorite things to do in Hongdae here
Get There: Subway Line 2 Hongkik University Station Exit 9
Ehwa Women's University (Edae)
Also known as Edae, this area is full of shopping! Explore the main street and alleyways for different cosmetic stores, independent retailers, accessory stores, and for foreigners this is a great area to find a hair salon! You also have tons of food and drink options here too!
Get There: Subway Line 2 Ewha Women's University Exit 2 & 3
Sinchon
Located right next to Yonsei University and located smack in the middle both Hongdae and Edae, Sinchon hosts plenty of options for shopping including small clothing stores to big retail brand stores. Like the other two university areas mentioned there are tons of food and drink options in this area as well!
Get There: Subway Line 2 Sinchon Station Exit 2 & 3
Final Tips
Don't let the amount of options for places to go shopping in Seoul overwhelm you, especially if you're short on time! A lot of the mega malls carry a similar selection of stores, so if you visit one you've pretty much seen them all.
If you're looking for more unique items to Korea we recommend visiting the smaller shopping streets like Insadong or Samcheong.
For local designers, check out Dongdaemun shopping areas. If you have a tight budget or want entertainment mixed in with your shopping then check out the university areas.
If you're looking to plan your trip, be sure to see our guide on where to stay in Seoul by neighborhood with all the best attractions nearby to help make your trip planning easy peasy!
No matter where you end up shopping, Seoul has got tons of options!
Do you have anything to add to this list? Let us know your favorite places for shopping in Seoul in the comments below!
Pin for later!