Featuring light installations from different artists around the world, Seoul's D Museum's Spatial Illumination 9 Lights in 9 Rooms exhibit has been on our radar for the past few months. After hearing the museum's exhibit was also camera friendly, something that is not as easy to come by, we decided it would make a really interesting and different kind of hyperlapse film.
We finally got to the exhibit this week after months of seeing photos worthy of eyegasms pop up on instagram and facebook of this popular visual exhibit. One exhibit that really caught our eye was the Chromosaturation room by Carlos Cruz-Diez because of it's similarity with Drake's Hotline Bling music video.
Below, before the grand finale (our video!) we have shared a photo from each room's visual light display.
Room 1: Neon Forms by Cerith Wyn Evans
The first installation features a simplistic neon light structure inspired by a Japanese noh theatre. You can learn more about Cerith Wyn Evans here.
Room 2: Primary & Contour by Flynn Talbot
[justified_image_grid preset=c2 row_height=500 max_rows=1 gallery ids="15182,15189″]
This light installation was fun to watch as the colors red, green, and blue constantly change and move across this geometric piece making all different colors. The longer you watched, the more color combinations you saw. We watched for a few minutes and felt like we never saw the same combination twice. The other installation was a simplistic black and white circle filled with different contouring lines.
Learn more about Flynn Talbot's latest projects and news on his website.
Room 3: Line Fade by Erwin Redl
This giant color changing cylinder from floor to ceiling is made up of fiber optics and is a pretty simple piece, but if you spend time in the room you can admire the slowly changing lights which was oddly calming for us.
You can learn more about Erwin Redl's current events, projects, and bio here.
Room 4: Chromosaturation by Carlos Cruz- Diez
This room may remind you of Drake's Hotline Bling video, as it did us, but this artist has been around with this exhibit for decades before Drake's song. This exhibit is really interesting to walk around as the bright, neon colors change depending on where you are standing at in the room. This exhibit is said to disturb your retina causing you to see different exposures and different ranges of light and color.
To learn more about Carlos Cruz-Diez and his work you can check out his website here.
Room 5: Mirror Branch by Studio Roso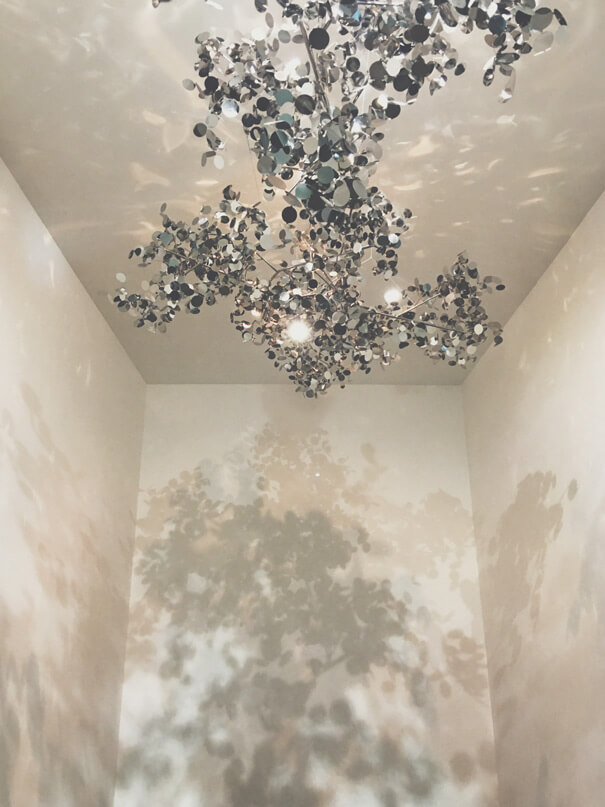 These small mirror discs hung from the ceiling reminded me of blossoming branches. Their shadows on the wall definitely helped us come to this conclusion, this display was beautiful, simple, and feminine.
You can learn about m ore of Studio Roso's work on their website here.
Room 6: My Whale by Tundra
The name of this exhibit goes hand in hand, mostly because you hear various sounds that resemble whale sounds. Sounds strange, but this room was oddly calming and felt like you were in another world. You could literally feel the light move over your body as you stood in the tunnel of moving hexagonal tiles.
Room 7: Bourrasque by Paul Cocksedge
[justified_image_grid preset=c2 row_height=600 max_rows=1 gallery ids="15178,15177″]
This installation looked like white paper floating through dark empty space. Since the room was dark, if you stared long enough if felt like you were floating through space with the paper as well.
Room 8: Don't Look into the Light by Dennis Parren
First you walk into a room where there are three light fixtures with neon shadows, then you enter a room where the lights on the ceiling cast colorful shadows on the ground. This room was really interactive since it's pretty fun to see your shadow in all sorts of neon colors!
To see more of Dennis Parren's work and exhibits you can check out his website here.
Room 9: Onion Skin by Olivier Ratsi
This room was our favorite; you could really feel the visuals and the sounds of the geometric shapes moving towards and away from you. The sound really pulsated inside you while your eyes were fixated on the ever changing geometric graphics that are to represent peeling the layers of an onion. You really had all the feels in here.
You can learn more about Olivier Ratsi and his work on his website.
---
Overall this exhibit was pretty bad ass. We left some of the rooms feeling like we had been to outerspace or another dimension. If you're in Seoul we highly recommend checking this exhibit out before it ends on May 8, 2016.
To find more out about the exhibit and museum you can check out D Museums website.
If you want to see the museum through another perspective, check out Willful and Wildhearted's Photo Essay on 9 Lights in 9 Rooms.
We hope you enjoy our video as much as we did making it!
If you thought this post was freaking neat then share the love on Pinterest below!