After debating back and forth whether we were going to wake up at 2 am to do the illegal "Stairway to Heaven" hike in Oahu, we opted for a legal hike that didn't require us to jump fences or possibly pay a $600 penalty per person. Instead, we did another hike with rewarding views, Koko Head hike in Oahu!
Update: The fine for trespassing on the "Stairway to Heaven" trail is not $600 but over $1000 and requires you to come back to Hawaii for a court date. It's not worth the risk so please take this seriously. It's not only dangerous but illegal.
Koko Head hike isn't as gnarly as the Stairway to Heaven, but the 1,048 steps up the steep, old railway track isn't exactly
easy.
Especially after eating a heaping plate of huevos rancheros for breakfast. The hike starts out with an easy incline up the abandoned railway, then becomes more challenging with a much steeper incline after reaching a terrifying section where suddenly there's an abrupt 40ft drop below the train tracks. You have to take your steps with care here as if you take one bad step you could make a nasty fall. Luckily, for those who do not want to dare to take this way there is a small path that goes around it.
After you are finished with this scary ass part the hike gets REAL. You feel like you're going 90 degrees up this railway and your buns and calves start burning. This is where those huevos rancheros we ate for breakfast came back to haunt us. We had to take a few breaks because it felt like our breakfast was rejecting this hike. We were foolish by not giving our food a full hour to settle.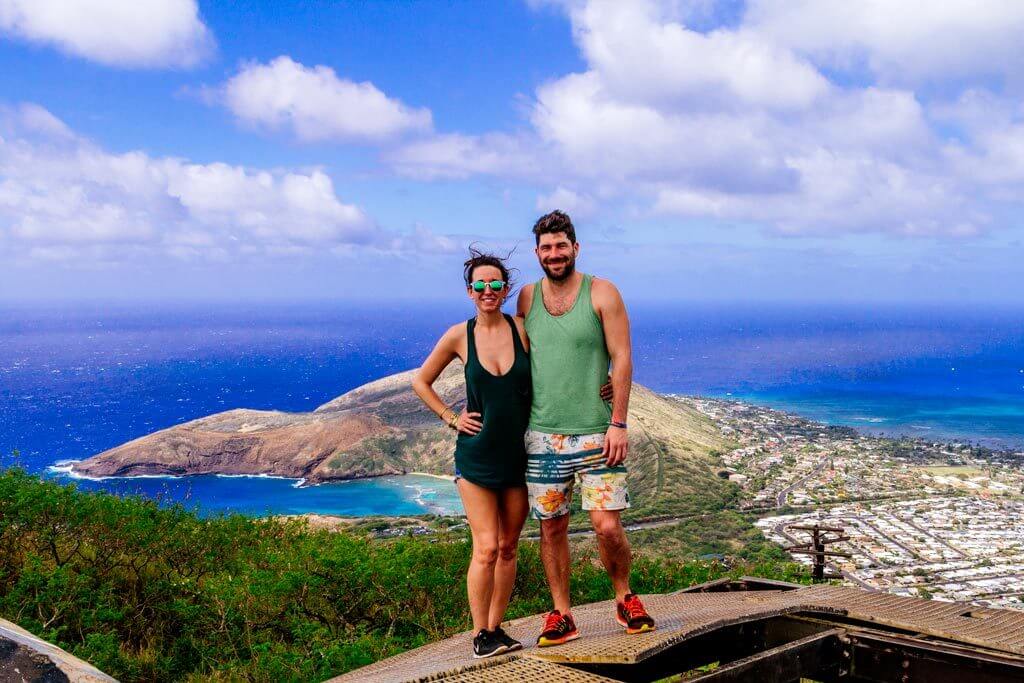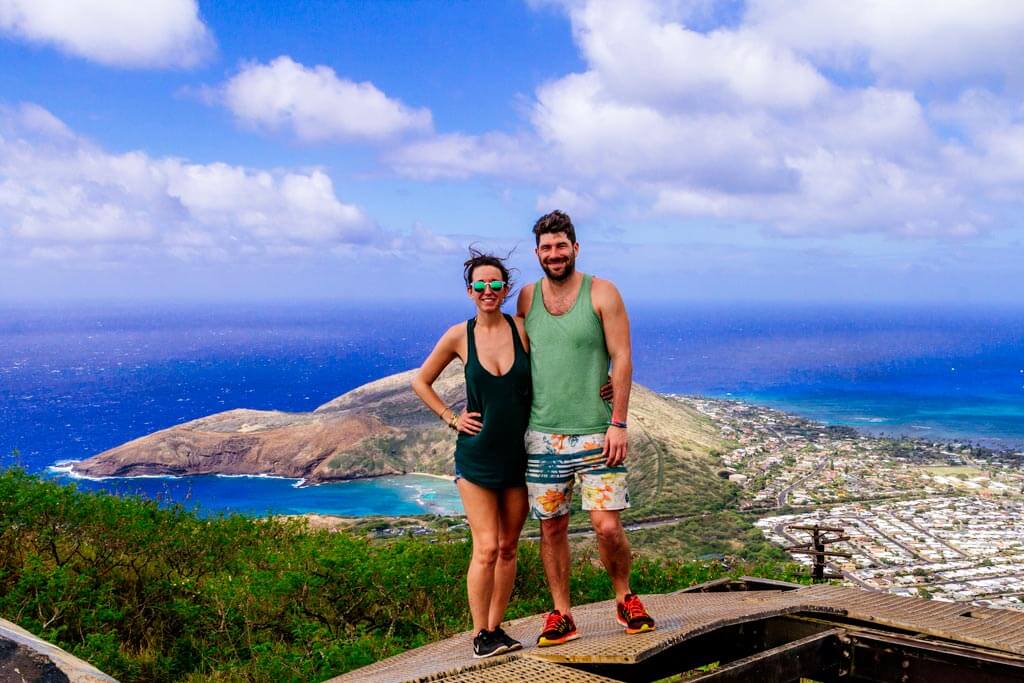 The hike to the top of the crater itself is challenging, but it's not too bad if you didn't eat huevos rancheros 30 minutes prior, don't have bad knees, and you are in somewhat good physical condition. It only took us about 45 minutes to climb and that's including all those huevos rancheros breaks. You'll also notice there are people, old and young, who train by running up and down the stairs several times. Pretty badass!


Once you reach the summit you are rewarded with a refreshing breeze and a breathtaking panoramic view overlooking Hanauma Bay. On a super clear day you are supposed to see neighboring islands, but we did not. You can take a much deserved rest on one of the left over WWII pillboxes and enjoy the view with a breeze before you start your steep descent down.
We recommend the Koko Head hike for anyone who is in shape and looking for an awesome view! Afterward, we rewarded ourselves with some ahi poke and snorkeling at Hanauma Bay.
If you don't like the hot heat, make sure you start this hike early in the morning and bring lots of sunscreen. We started the hike around 9:30 am and didn't have a problem with the heat.
This is easily one of the best things to do in Oahu that's inexpensive, for more ideas of free things to do in Oahu check out this post!
If you enjoyed this post, then be sure to share it on Pinterest below! After all, sharing is caring!