A trip to Hawaii wouldn't be complete without trying the fruit of the islands; pineapple! If you're a lover of this sweet, delectable, juicy fruit like us then Hawaii is the place for you. We love pineapples so much we even did an entire beach photoshoot with them!
Dole Pineapple Plantation
---
A trip to Oahu wouldn't be complete without a visit to the Dole Pineapple Plantation. This popular tourist attraction is a hit for a reason. First, you have pineapple flavored everything in the gift shop. Then, you have to try one of the infamous heavenly pineapple whip ice cream cones! And lastly, you get to explore and enjoy the botanical gardens. We came here with our family after our engagement and enjoyed a mouthwatering pineapple whip.
Pineapples at the Beach
So, we kind of became obsessed with pineapples. So much that we wanted to do a fun shoot with them at the beach. We ended up purchasing a beautiful pair of Hawaii's famous pineapples and headed on over to Lanikai Beach, our favorite beach and a perfect spot for some fun pineapple photos!
---
We had so much fun with this. Although, I was very intimidated to pop off my top (I had a cover up) and place the pineapples perfectly and hold them without flashing anyone. After waiting for the sunlight to hit my face perfectly, we had about 30 seconds to get our photos as all of a sudden there was a kid's canoe class headed our way and I had to scurry on over to my cover up and get my top on before anyone noticed what we were doing!
Don't worry, I didn't flash anyone.
We did notice one lady sending some judgmental stares our way and an older couple who were enjoying how much fun we were having taking photos with the pineapples and kept throwing us compliments and words of encouragement. Like I already said, we had a lot of fun and nerves going on. My mom is not a fan of these photos, sorry mom!
Where to Buy
You can find pineapples everywhere for just a few dollars! As you drive or explore around the island you will see farmer market stands where you can buy fresh fruit and pineapples straight from the farmers! If you don't have a car then you can stop at any supermarket or store and find them!
Hawaii Pineapple Facts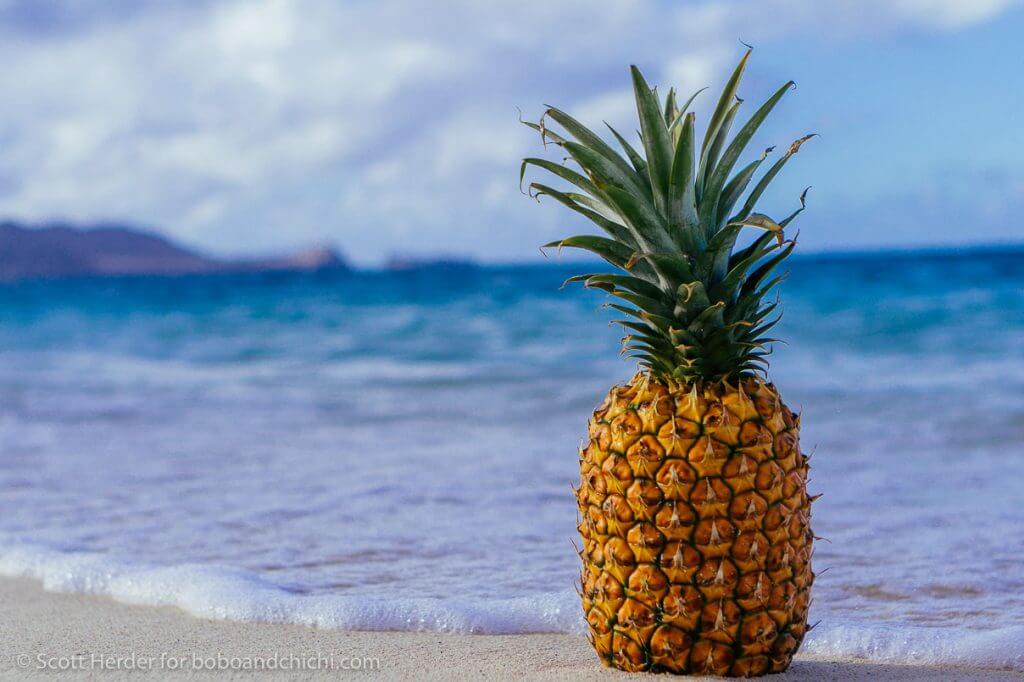 Every pineapple plant only produces one pineapple per year.
Make sure your pineapple is ripe before eating! Unripe pineapples taste awful and can be poisonous! You can get serious diarrhea and throat irritation from eating the fruit that's not ready to eat!
Pineapples are originally from South America, but today most are grown in SouthEast Asia!
The first pineapple to reach the Big Island of Hawaii was believed to have arrived in 1527 on a trade ship from Paraguay or Brazil.
In 1922, Dole bought the entire island of Lanai which ended up being the world's largest pineapple plantation of the time pumping out 75% of the world's supply of pineapples!
Nowadays, Hawaii is only responsible for about 33% of the world's pineapple crop production.
You can use pineapple or the juice of a pineapple as a meat tenderizer thanks to the Bromelain enzyme which breaks down proteins.
Pineapples grow from the ground, not a palm tree as I thought- haha!
To read more Hawaii Pineapple Facts check out Love Big Island and this article by The Huffington Post.
Enjoyed this post? Great! Share the love on Pinterest below!