When was the last time you stayed at a hotel that visually blew you away? We can't say that's ever happened to us before. During our stay in Singapore we got to experience the artsy chic boutique hotel, Wanderlust.
First Impressions
Immediately we were swooned by the building Wanderlust Hotel is located in. Located in an authentic colonial building you would never imagine that the inside of this hotel was going to be a funky mixture of eccentric interior that gave us some serious feels. We felt like we were in our incredibly cool friend's house who has impeccable taste for interior design.
The front desk staff was incredibly friendly and helpful and even arranged for us to have a packed breakfast the next day as we had to go to the airport before breakfast service starts. It's things like this that make a hotel experience stand out above the rest. Sadly, our order didn't get put in properly and our packed breakfast was MIA. The staff was very sympathetic for their snafu, even though we didn't get the breakfast to-go we still think it's such a cool feature to offer guests!
After check in, we were sent off to our Mono room on the 3d floor, the "Princess" room. Don't let the name fool you, there were no pink, girly frills in here.
There are also other types of rooms at the Wanderlust Hotel including, Pantone and Pantone Deluxe which are brightly colored themed rooms, Mono and Mono Deluxe which have contemporary black and white with 3D pop art designs or colorful light accents all inspired by white paper, and Whimsical rooms which are loft style rooms with themes from outerspace to a giant typewriter. Each of the 29 rooms here was designed with local design agencies and architects.
Our Room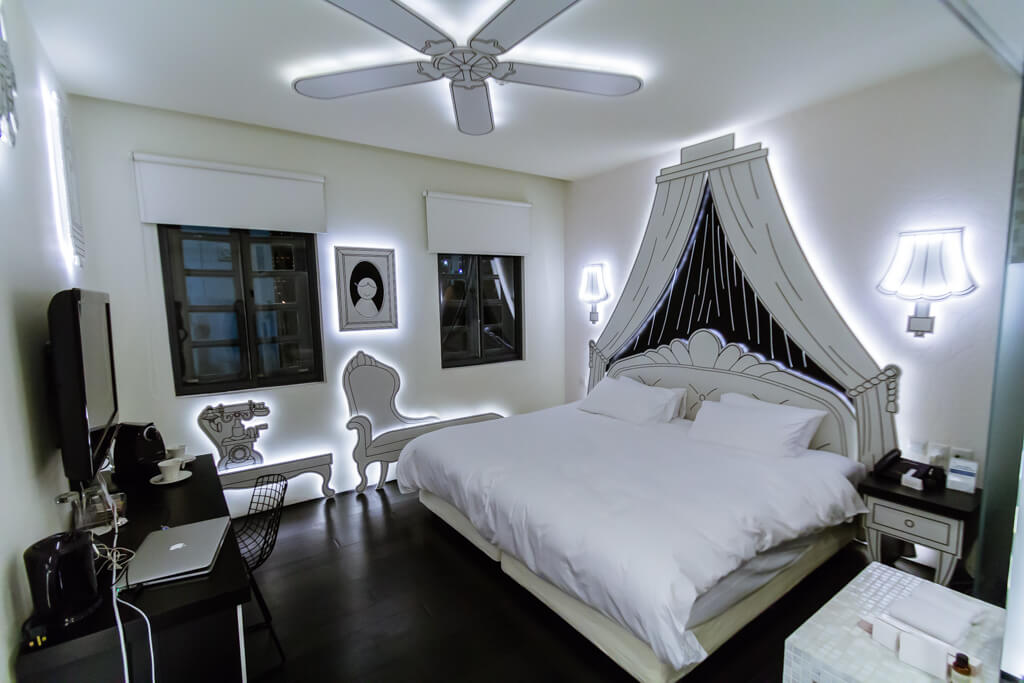 We were in awe as we walked in to this incredibly contemporary and stylish room. The entire room is black and white and the walls are covered with dimensional back lit pop art installations. The entire room felt like a living art exhibit at a mod art museum.
Things just got better after noticing we had a nespresso coffee maker in the room and the use of Wanderlust hotel's handy phone. With the handy phone we get access to free wifi, free local and international calls, city guides, maps, and even free wifi hotspot for other devices. This is incredibly helpful when you're visiting another country, it eliminates the need for a sim card and makes exploring the city a breeze.
The bed, pillows, and linens were extremely comfortable and having a fully stocked complimentary mini fridge with juice, soft drinks, and water was another bonus.
Even though this wasn't in our room, we loved the access to the colorful jacuzzi on the 2nd floor terrace right outside our doorway! Talk about pool goals!
Restaurant
Cocotte restaurant is located on the first floor with an impressive looking french menu with a great selection of drinks and wine. Regrettably we were only here one night and we didn't get to eat this adorably trendy, industrial style eatery. The atmosphere was inviting and comfortable while still being incredibly stylish. We loved the light fixtures and the colorful metal chairs.

Location
Wanderlust hotel is conveniently located in Little India, one of Singapore's most lively neighborhoods. We loved it's location because we found ourselves loving the food in this area during our entire trip in Singapore. Located only a 5 minute walk away from the MRT station, making this location easy to get around and explore other parts of Singapore. We were also only 2km away from the Singapore Flyer and a few steps away from the temples and vibrant life of Little India.
Overall
We loved our stay at Wanderlust Hotel. The hotel staff made sure we were comfortable and taken care of, like offering a to-go breakfast the morning of our flight even though we were checking out. Even though there was a freak mistake with our order, it didn't change our opinion on the quality of staff at the hotel. We felt like we were staying in a modern art museum with the comforts of a luxury hotel. Our room felt like a living art exhibit with a really comfortable bed and terrific shower. We recommend staying at Wanderlust hotel for those who love contemporary design and the small stylish feel of a boutique hotel.
Wanderlust Hotel
2 Dickson Rd, Singapore 209494
(+65) 6396 3322
To make a reservation or check rates visit Wanderlust Hotel's website.
Disclaimer: Our 1-night stay was courtesy of Wanderlust Hotel.  As always, all opinions and photos are our own.