As our wedding approaches the two of us have got to thinking how we would like to continue traveling even if we start a family. We really heard and seen others traveling with kids successfully but always wondered if it was something that would work for us someday.
Most of the places we've stayed at during our travels aren't as "kid or family friendly." Typically we see solo travelers or young couples without children making us feel like we may have to make a huge lifestyle sacrifice one day if we do decide to have children.
Then we stayed at Grand Mirage Resort in Bali where we saw how comfortable and easy it could be to travel with kids.
First Impressions
We were greeted with a refreshing welcome drink made of ginger and lime in the large and elegant lobby of the Grand Mirage. We quickly noticed and enjoyed the open air throughout the building which brought in natural sunlight and a gentle breeze from the ocean.
It didn't take long for us to notice the families here enjoying their holiday at the Grand Mirage. As a childless couple, we were a bit nervous there were going to be kids everywhere running all over the place. But that worry was soon gone as we discovered the true size and number of activities the Grand Mirage had to facilitate families and couples. Which soon made us realize this is a place we would want to travel with kids ourselves one day.
For the Kids
It's no wonder why families come here. The Grand Mirage Bali takes the stress out of worrying how to keep your kids occupied or busy on your holiday. There are tons of activities and areas for kids to enjoy including a game room equipped with table tennis, a giant chess board on the floor, and other games. Kids can swim in the large pool around the restaurant area or make a splash in the designated kids area with slides and a volleyball court.
At night we noticed there were movies played on a projector for kids to enjoy a flick with some popcorn around the restaurant area. They were playing the movie Rio during our stay and I was tempted to grab some popcorn and join the kiddos!
There are even babysitter services at the Grand Mirage in case mom and dad need some alone time!
For the Adults
Whether you're a couple or parents with kids, there are plenty of things to enjoy with or without children around. Since kids have so many activities of their own to enjoy, we barely noticed their presence other than the casual observation of kids enjoying and entertaining themselves.
Adults can enjoy water sports, yoga, massages, access to the gym, swimming and lounging by the beach with full bar service, and even a bar inside the pool area.
We preferred lounging on the beach chairs and enjoying the ocean view. We even witnessed a wedding at the beach chapel making us get even more excited for our upcoming wedding next month!
Offering full spa services, it was very tempting to spend the entire day getting pampered from head to toe with facials, seaweed wraps, and massages.
Our Room
We stayed in an ocean view deluxe room with a king bed. The room was comfortable and spacious. Our favorite features of the room had to be the bathtub with open shutters and the ocean view balcony. I enjoyed a relaxing soak in the tub while watching a movie with refreshing drink and then moved out on the balcony and enjoyed a sunset view with Scott.
Not a bad way to spend a day at all!
The only room for improvement would have to be the power outages as soon as I used the hotel's hair dryer and the limited number of outlets in the room. There were only three outlets to use for charging our computers and camera equipment and one of the three outlets had to be used for a dehumidifier to absorb the excess moisture in the room.
Location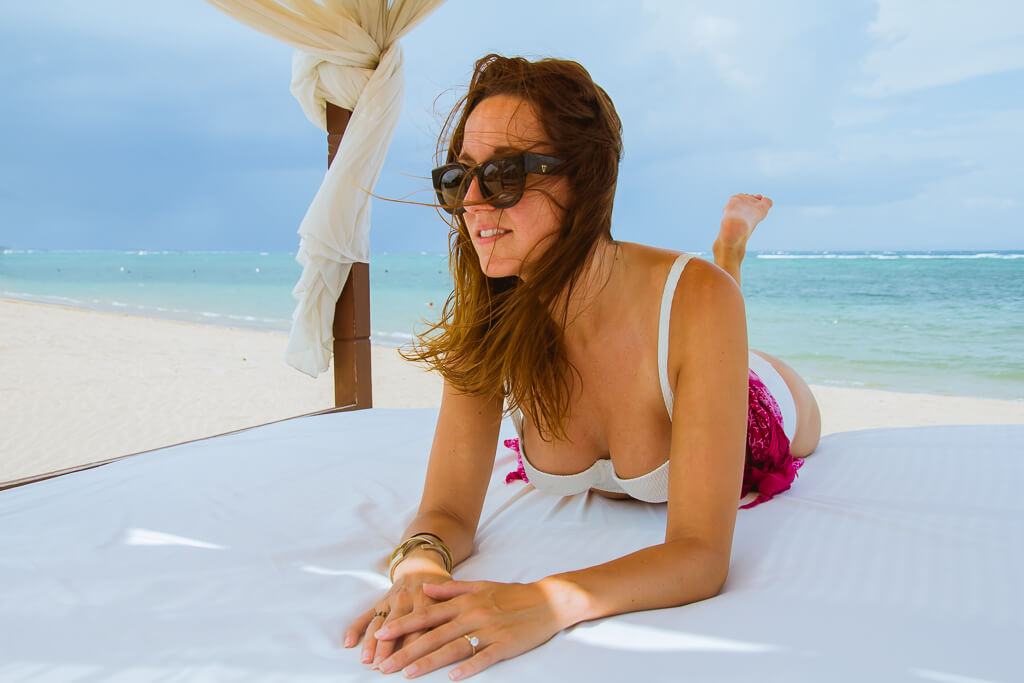 Grand Mirage Resort is located in the Nusa Dua Resort area on the beach overlooking the Indian Ocean. What makes this location great would be it's close proximity to the airport making it a convenient place to stay if you only have a few days in Bali. This was perfect for us since we were spending our last days on the island in this area making our commute to the airport painless.
Our first time coming to Bali we stayed on a beautiful black sand beach in Tejakula all the way on the north end of the island. It was a fantastic location, other than it was a 3 hour drive one way to the airport cutting our vacation short by all the driving time needed to get around.
Located near Denpasar makes it very convenient to make day trips and explore places like Ubud and the entire area of Kuta.
The only downside to being in this area would be the shopping and restaurant selection. We much preferred the variety of restaurants and shopping that Ubud had to offer. Even when we stayed in the small fisherman village of Amed we felt like we had more food to choose from. This area had alot of overpriced mediocre restaurants leaving your only option to be to eat in the resort. Not ideal if you like to get out and explore the area like us.
Overall
We enjoyed our stay at the Grand Mirage Bali. This hotel offers western comforts in it's rooms and restaurants as well as plenty of activities for couples or families to enjoy. This is a place we would return to when we have our own family or are just in Bali for a few days and would like to stay near the airport while still having a beach front stay.
Check out a tour of our room in the video below!
---
Grand Mirage Bali
To check out rates and all inclusive packages check out the Grand Mirage Bali website here.
Jl. Pratama No. 74, Tanjung Benoa, Nusa Dua
+(62) 361 771 888
Disclaimer: Our stay at Grand Mirage Resort Bali was complimentary.  As always, all opinions and photos are our own.