Halo from Kalimantan on day two of our jungle cruise through Borneo! If you missed day one, be sure to check here! Day two was eventful, lots of wild animal sightings, the day were Marco the orangutan flirted with us and tried to climb into our boat during lunch, our visit to the infamous Camp Leakey, and the day we met Phree-doh the little gray monkey!
Our morning started off strong with wild orangutan sightings right next to our boat! It's not always so common to see wild orangutans, but since we visited during mid-September when a lot of the fruit in the trees were in season, we were lucky to spot quite a few!
We were still in the part of the Sekonyer River that was brown and moving towards the more narrow section of the river with black colored water. Our guide Chris informed us the brown water color was because of the silt from the nearby gold mines.
Our next wild animal encounter was one of my least favorite animals, a snake! This Borneo jungle snake was pretty gnarly showing off his latest kill in his mouth as he was swimming in the shallow waters of the river. That's right, we saw a freaking snake with a dead fish in his mouth swimming. I would have probably been screaming had he been swimming closer to our boat, I really am terrified of snakes!
Camp Leakey
Fast forward to right before lunch where we were the first boat to arrive at Camp Leakey. Camp Leakey was founded in 1971 by Dr. Biruté Galdikas who has famously done the most important research on orangutans at this research facility to date. Galdikas was mentored by Louis Leakey, the famous paleoanthropologist who also mentored Diane Fossey and Jane Goodall.
Today, researchers still gather at Camp Leakey to observe and collect data on the semi-wild orangutans who this place home's behavior. The orangutans here are considered semi-wild because they are used to the presence of humans. Most of these orangutans still have never been touched by humans and guests can stand behind the rope and witness the orangutans during their feeding times.
The orangutans that call Camp Leakey home are some of the original or descendants of the original orangutans Galdikas has done her studies on and many have been photographed and featured in National Geographic.
The friendly mother orangutan we encounter in the video with her young was one of Chris, our guide, a favorite female orangutan. She knows and trusts Chris very well making it possible for us to observe her up close. She and her baby put on quite a show for us. She showed off some of her fabulous poses and the baby showed off it's climbing skills.
Chris informed us that the mother was the star of Nat Geo when she was a baby. Unfortunately, I was unable to remember her name or which cover of Nat Geo she was featured on even though we were shown while visiting Camp Leakey.
Marco
While eating lunch on the boat we met Marco, the handsome young male orangutan who wanted to hang out with us on our boat. He was a friendly and outgoing orangutan who came very close to our boat and tried to grab the ropes of our boat and pull us towards him. We had to move our boat a bit further away from Marco because he was almost successful at joining us for lunch!
Phree-doh the little gray monkey
After doing more sight seeing and wild animal spotting, like a crazy crocodile during our selfie we made an early stop along the river in the afternoon where we would all hang out, talk, and wait for the sun to go down. That is when we met Phree-doh, the little gray monkey.
We had a small solo gray monkey who we saw peeping on us from a far away tree. He slowly crept is way to our boat making daredevil jumps over the tall grass where surely there is monkey eating crocodiles to get on a tiny branch that would give him a successful crossing to our boat.
Little Phree-doh, as we named him, made it on our boat twice before his bedtime at dusk snatching a banana and the second time around a napkin for his sticky fingers. We were a little frightened as we weren't sure if Phree-doh woud come close and bite us, we unsuccessfully tried to scare Phree-doh away. As soon as Phree-doh saw the captain of our boat though he took off!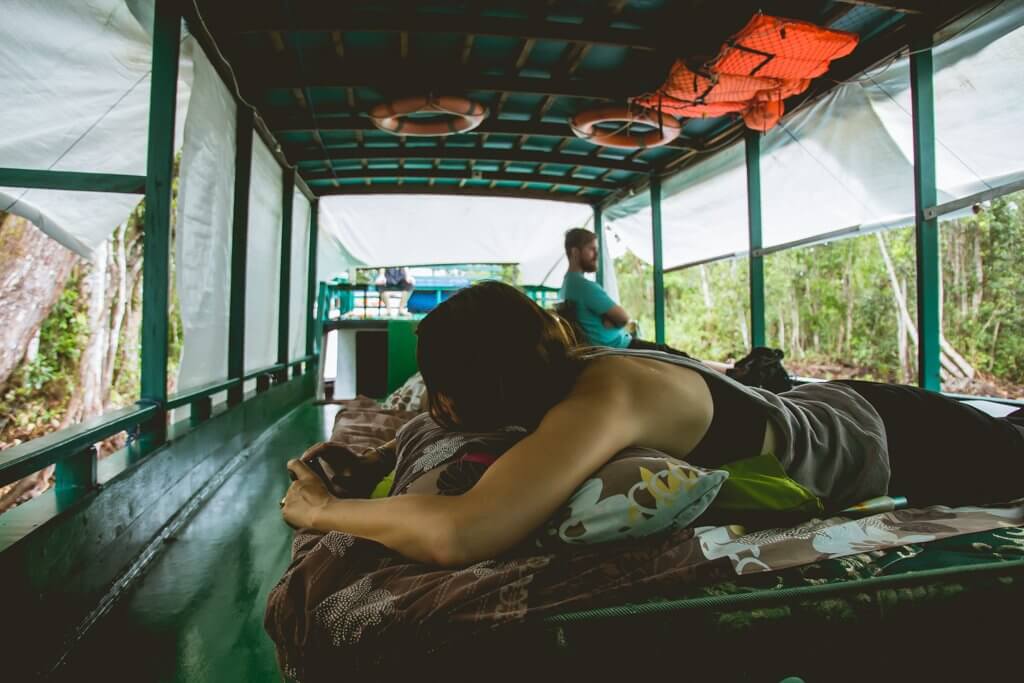 We slept at that spot at night and woke up to Phree-doh on our boat again trying to tag along with us for breakfast and the morning departure. Katy and I ended up letting our imaginations run wild with Phree-doh and told tales of him as if he were Curious George and always up to mischief. We even made up our own song about Phree-doh the little gray monkey that we sang the rest of the trip. Phree-doh, the misunderstood little gray monkey, will hold a special place in our hearts forever.
That wraps up day two of our Borneo Jungle cruise, stay tuned for our final vlog, day 3!
To read more about our Borneo jungle cruise check out our full post!