Back to Bali! This is our return trip to this glorious tropical paradise because one time just wasn't enough for us. Our first visit was full of amazing activities including the Mt. Batur volcano sunrise hike, getting depantsed by monkeys in Ubud, and going white water rafting! But our time flew by too fast to get to see more of Bali, which is what drew us back for more.
On our second trip, we decided to spend a few days all over the island rather than just spend our entire time in the same place. Bali isn't exactly the easiest place to get around considering you either have to rent a motorbike and navigate through the winding hills like the locals or hire a driver for the day to take you from place to place which is usually spread out hours away from each other.
We spent the first part of our trip in Ubud where we spent two nights in an incredible villa near the Bali zoo then moved to an incredible Airbnb in rice fields walking distance from the heart of the city, a few nights in the remote and gorgeous fishing village of Amed, and our last nights enjoying a luxurious pre-marital honeymoon in Nusa Dua. We got to experience it all.
One of our favorite days in Bali would have to be the day we hired a driver for the day with our friends to go sightseeing around the island. For those wondering what the heck Megan is singing at the beginning of the video it's actually a song we made up about Phree-doh the little gray monkey from our 4 day jungle cruise in Borneo. A little gray monkey joined our boat one night and we made up an entire backstory on this little guy, named him, and made a song about him. If you want to see Phree-doh in action check out our vlog here. 
We ended up starting our journey at Ulan Danu Bratan, a sacred water temple high up in the mountains. You may recognize this temple if you've ever been to Indonesia and used their local currency, the rupiah, it's on the 50,000 note.
After getting caught in the rain our heroic driver came to our rescue with large umbrellas to guide us back to our car. This was great since I was wearing white shorts and you know what happens to white clothes in the rain. It was basically a wet white t-shirt contest with my little shorts. That's some great planning on my part. Oops.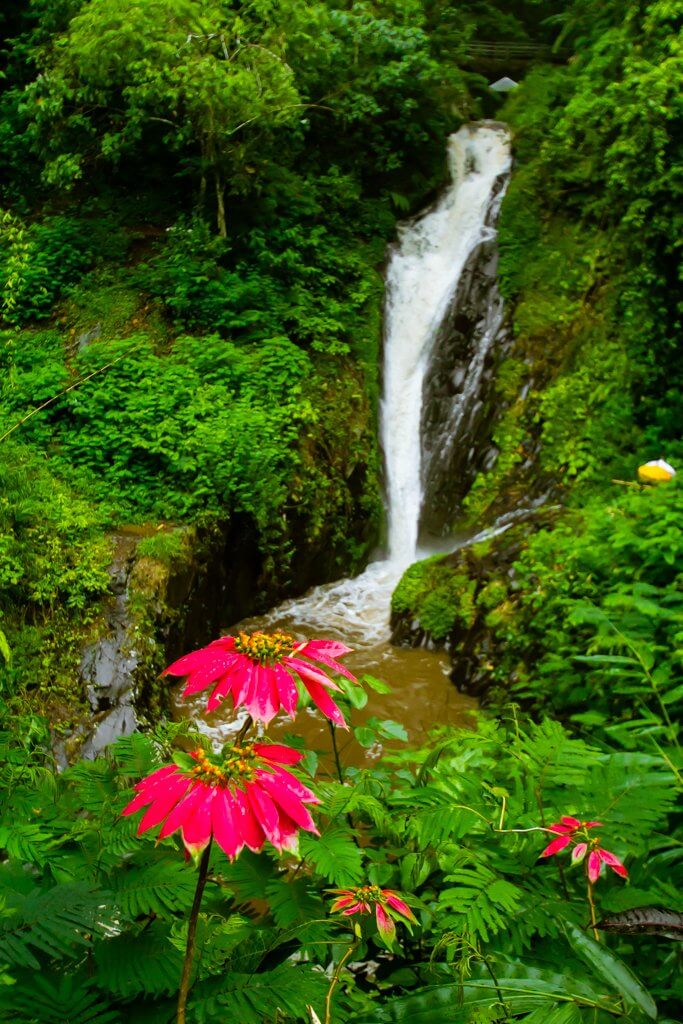 After driving about an hour in the rain, the weather cleared up for us enough to enjoy the beautiful Gitgit waterfall. This was actually suggested to us by friendly locals running a restaurant near our Airbnb in Ubud. Even though the current was a bit too strong and the water was a bit too murky to swim, it was an impressive waterfall. What was awesome about Git Git would be that it wasn't just a single waterfall, there were actually multiple waterfalls to check out even though they all technically were one waterfall since they all flow into each other.
We were able to leave just in time before the heavy rain starting coming down again! This time we were on our way to our final spot, Jatiluwih Rice Terraces! This was probably my favorite stop of the day. Most people visit Bali and visit Tegalang Rice Terraces, which is the most convenient choice since it's located so close to the popular traveler hub of Ubud.
Jatiluwih is more of a mission to get to but totally worth it! Not only is it a UNESCO World Heritage site, but the place is enormous! You could actually spend an entire day here walking through the terraces and soaking in the gorgeous views.
We only spent about an hour here on the same path but we were able to capture some of the incredible views with our camera and drone while taking in the entire experience. If you were to only visit one rice terrace, we recommend making the trip to Jatiluwih.
Overall, we had an awesome day exploring. We were really happy to find a bunch of new spots that we didn't see on our first trip to Bali and packed in some of the most beautiful spots on the island. We were able to work around the weather enough to enjoy each spot in between the rain. We recommend packing a huge umbrella when exploring the island of Bali because of this humid tropical climate you can expect some rain especially if you are driving around the island up and down the mountains into the clouds.
This was the perfect day trip and we recommend it to anyone visiting the island. If you want to save money find some other travelers who want to chip in and split a driver for the day with you. We spent around ~$45 total (divided by 4 people) for a driver for the entire day. In our opinion it was WELL worth it!
Do you have any awesome spots in Bali you've been to or want to check out? Let us know in the comments below, we'd love to hear about it! Afterall, I don't think we are finished with Bali quite yet!