As we kiss 2016 goodbye it's fitting that we have reached the time to talk about our favorite trip of the year. A 4 day 3 night Cruise through the beautiful and lush green jungle of Borneo.
We arrived at Kalimantan with our friends Katy and Emil who are veterans of Borneo cruising. Not only have they already done this cruise and loved it so much they came back with us again, but they have also visited the Malaysian side of Borneo and did a similar experience there. For those wondering which one was better, they both agreed they liked the experience in Indonesia better!
Hop on board with us on our first day of our Borneo Jungle Cruise in Kalimantan, Indonesia!
BORNEO JUNGLE CRUISE DAY 1
We were first introduced to our guide, Chris who immediately saves Scott from a splinter that we decided would have meant certain death for Scott had Chris not removed it. This was Chris' first taste of our sarcasm and humor.
Our first wildlife encounter happened on the way to the opening of the Sekonyer River. Chris spotted a few dolphins that I was able to see but unable to capture on film. You can thank Scott for the beautiful dolphin graphics in the video along with their names.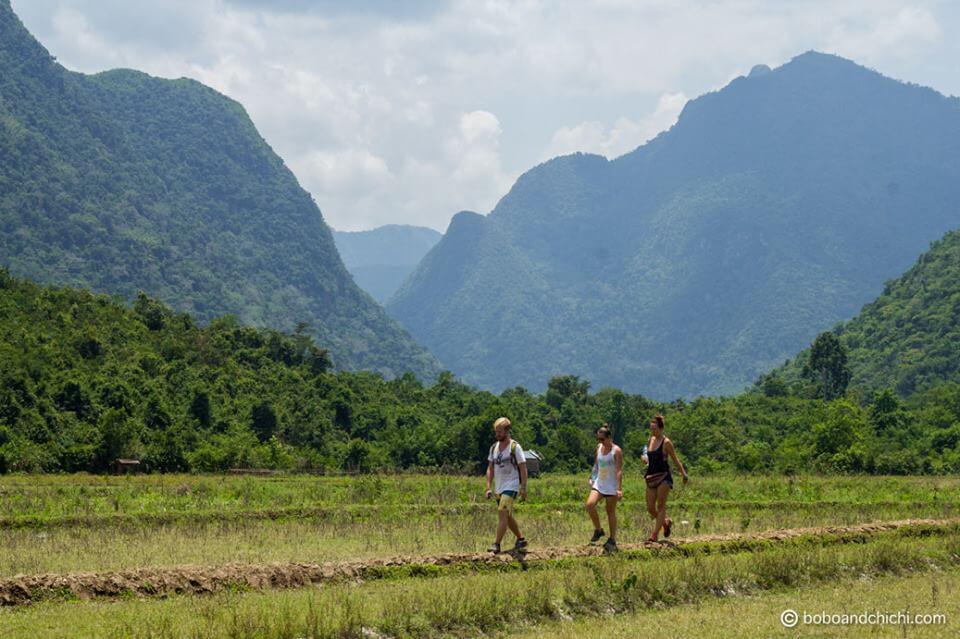 When we met Katy and Emil in Laos the previous year we shared them in on a secret that used to entertain us on never ending bus rides. We would play a game where we had to rapid fire name every animal we saw without using the same name twice. For anyone who has ever been to Laos you can imagine all the animals you see along the roads including chickens, dogs, cats, goats, and cows. There were never just one either. We decided we were going to have to do this with every animal sighting during our cruise, which is why the dolphins have been named Carmichael  and Sir Anthony. This game quickly came to a halt after seeing our first tree of monkeys about 15 minutes later. There were just too many.

Back to the cruise, our next wildlife encounter included tons of proboscis monkeys in one tree after another. I was so excited about seeing these because they are crazy looking monkeys. We referred to them as the "Al Bundy" of monkeys thanks to their interesting physique that included a pot belly and a grumpy looking face with a big nose. We started seeing so many of these guys that I stopped recording them because it was just a ton of the same looking footage.
After being served an enormous and delicious lunch on the boat made by our very own chef below deck, we made our way to the first feeding station. We were immediately impressed with Chris, our guide's, knowledge of the orangutans. He knew each orangutan by name and told us characteristics about their personalities. Our first encounter with an orangutan here included a giant male high up in the trees. We were amazed by how far up he was and how trustworthy he was of these skinny trees. He was a big boy and those trees did not look like they could support his weight. He ended up breaking one of the trees which we happened to catch on camera. Immediately after this big boy orangutan spots us and starts to come down, I had turned off the camera at this point, but our guide Chris aggressively whispered, "RUN!!!!"
We ended up getting out of there without any incident, but apparently, the big boy didn't like us watching him high up in the trees. I suggested that maybe he was self-conscious and embarrassed after breaking that tree in front of us.
Later on, we witnessed the orangutans gather and eat at the feeding station. These orangutans are considered semi – wild since they are used to the presence of humans. The orangutans that are brought here were either formerly orphaned or injured and are studied and looked after.
The guides are professional and care about the orangutans, it's really important you follow all the rules and instructions of their guides to not harm, bother, or hurt the orangutans. The guides have also grown up in the area and have been around for most of these orangutans lives. They know the orangutans by name and even their personality traits. Our guide Chris has a special relationship with some of the orangutans who know him and trust him making it easy to get close to a few of his orangutan friends to observe. However, you are NEVER allowed to touch them, not even our guide Chris touches the orangutans and most here have still never been touched by humans.
You may have noticed the part in our video where the guy slaps the tree with the orangutan in it. This was not okay. This man was a guide, but we were told that not all guides that offer a cruise to the feeding stations are legit. Some have not been around the orangutans and don't have the experience and knowledge. If you plan a trip to Borneo, please make sure you plan your cruise through a company that offers responsible and trained guides. We did ours through Orangutan Voyage, I recommend trying to book Chris.
After the first feeding station (there are three total in Tanjung Puting National Park) we did some more wildlife spotting, enjoyed dinner on the boat, and slept on our mattresses on the top deck of our boat.
Stay tuned for day 2 of our Borneo Jungle Cruise!
If you want to read about our entire experience and see more photos check out our post here.