This was our first visit ever to the beautiful islands of the Philippines. We were lucky enough to have acquired friendships while blogging and able to stay with a local family thanks to our friend Izzy, from The Next Somewhere. After our travel blogging conference, we then were able to team up with the local blogging crew at Our Awesome Planet. Thanks to these experiences, we got to immerse ourselves more into the culture than we get to normally see by just visiting our passing through.
We learned 7 things in the Philippines
1. the "ber" months
Did you know the Philippines has an EXTRA long Christmas season?  You won't be catching anyone protesting early holiday decorations here. Christmas festivities and decorations start popping up September 1st! The Christmas season lasts from September to December, known as the "ber" months. We were visiting in October and were shocked to see Christmas decorations all over the big malls, little did we know they have been up for over a month at this point!
2. Pasalubong
Pasalubong, aka souvenir, is a custom in the Filipino culture. In this tradition, if you go away on a holiday or even a weekend trip you are expected to bring back gifts for your family and friends. This is also expected on visitors coming from far away places! Thanks to our friend Izzy, we did not mess up on this local custom when arriving at her family's home! Pasalubong is said to strengthen the bond between you and your friends, family, or coworkers. Tips to consider would be packing light when you go on your trip to leave room for gifts and no need to wrap those pasalubong gifts, it's accepted to give as is.
3. Relatives will sleep on the graves of their loved ones
In the Philippines 90% of the population are Christians, of that 80% are Catholics who observe All Saints Day or All Souls Day. During the end of October through the beginning of November, family members will actually camp or sleepover at their relatives graves. Instead of being a somber event, this is often looked at as a party or a happy family reunion to honor their dearly departed. Because of this annual tradition, many cemeteries or family graves are more like mausoleums rather than tombstones for their family when the come to visit! At first, we thought this was kind of a spooky tradition then thought it was kind of an endearing way to stay connected with loved ones who have passed.
4. Tarsiers are suicidal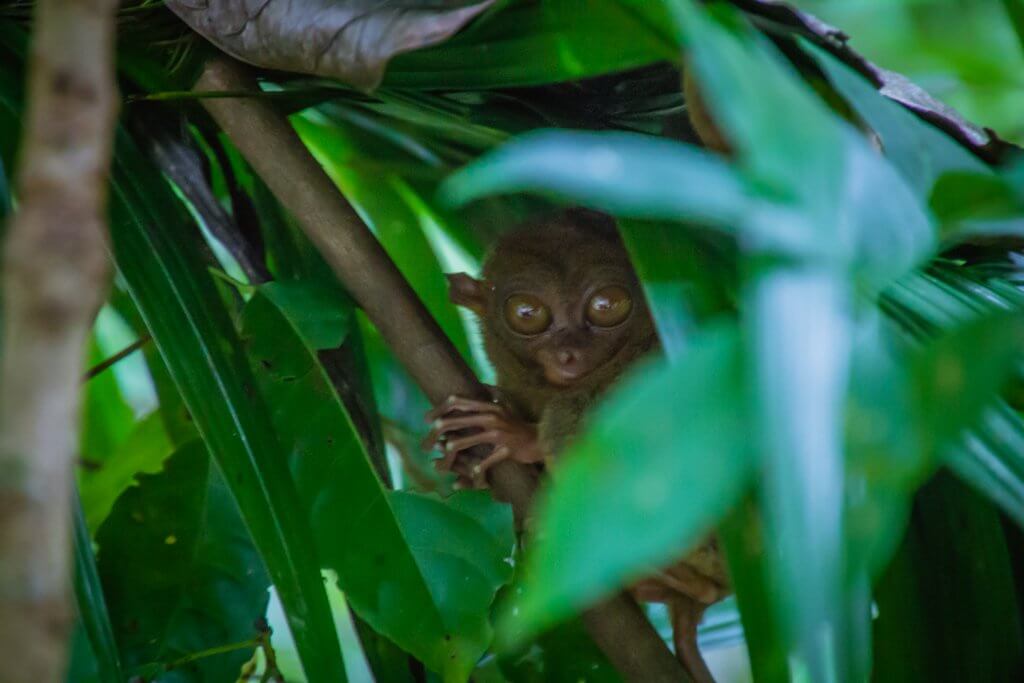 One of the world's smallest little monkeys, the tarsier, is found in the Philippines! We were actually lucky enough to get up close and see some in a tarsier in Bohol. Before visiting we did not know much about the tarsier and were educated on the spot. These little guys are known to be very shy and nocturnal. Other than observing from a safe distance in the tarsier sanctuary it is frowned upon because tarsiers are actually suicidal under stress. If a tarsier is relocated, caged, or kept in captivity, chances are the little guy will tragically end it's own life by bashing its own head.
Tarsiers are now endangered and only a few hundred still exist in the wild in Bohol.
If you want to see a tarsier, we recommend visiting the island of Bohol in the Philippines and witnessing them responsibly at the Tarsier Sanctuary. Be sure to follow all the rules such as being quiet, no flash photography, and absolutely no touching the animals.
5. The Philippines is the Social Network Capital of the World
We were shocked to find out that the Philippines has the most active users on social networking sites like Facebook, Instagram, Twitter, and Snapchat. They have actually been crowned the Social Network Capital of the World based on the number of social media activity of internet users in the country. Cellphone and data plans are as low as $.60 a day and can be topped up anytime or even shared with friends if a buddy is running out of data. It's no wonder why people are browsing the web and checking their friends latest updates with deals like that!
Check out more information and stats at Huff Post. 
6. Don't Joke about Ghosts
Ghosts in the Filipino culture are not a joking matter. Ghosts date back to local ancient legendary tales and modern urban legends. Most believe that a majority of the paranormal activity in the Philippines happens in the countryside, but there are occasional ghost legends in Manila like the white lady on Balete Drive.
Some of the ghost stories passed down generations include scary mythical spirits to a monster like or goblin-like creatures scaring the crap out of anyone listening to these stories and spooking even the most skeptical person around.
While on a road trip through the countryside of Ilocos Norte, we were informed that you would see garlic hanging from buildings or homes to ward off spirits. We actually did. We would have never guessed why or thought twice to why people had so much garlic, other than it's delicious and they liked to use a lot in their cooking like myself. But nope, the majority of it was to ward off spirits!
7. Hospitality is Something you're born with here
Hospitality is a trait that all Filipinos have. Whether it be a warm smile to a stranger or opening up your home to guests or people you barely know, the Filipinos know how to make a guest or stranger feel comfortable.
We got to experience Filipino hospitality at it's fullest by staying with a friend of ours family in Manila. This family did not know us and gladly welcomed us into their home making sure we had everything we needed and were comfortable the entire time. This was something we've never quite experienced at this level before. Everything from checking the traffic, giving us a ride from the airport, feeding us meals, and giving us candy to name a few of the gestures our hosts did to make us feel welcome. It really blew our mind and is unlike anything we have experienced in another country to date.
We also were invited to travel by a few of the crew from Our Awesome Planet who showed us around northern Luzon on a road trip, arranged a hotel for us in Manila, and even gave us a lift to the airport on our last day. Again, the kindness and generosity blew us away.
The hospitality here is something that left a lasting impression on us and challenged us to be better at making others feel more welcome in our home country in the future.
---
Liked this post? Spread the love on Pinterest below!