We were welcomed back to the beautiful country and islands of Indonesia after our first visit to Bali two years ago. This time we did go to Bali, but we also made a stop in Jakarta and Kalimantan to see orangutans in Borneo.
We have to say it was good to be back and it probably won't be our last time to Indonesia either. There are so many places to see here that we could probably spend a whole year traveling to the different islands and still not feel like we completely covered this archipelago.
Jakarta
Our first and brief stop were in the capital city of Indonesia, Jakarta. We have never been here before and to be fair we didn't really get to see any of it. We were only here to catch up on some work in a cozy Airbnb apartment while waiting to meet up with our friends to head to Borneo.
For two days we indulged in the amazing food and shopping selection at the upscale supermarket that was attached to our apartment complex of our Airbnb listing. The only bad meal we had here would be at A&W at the airport. (There weren't many options at the airport – please don't judge but laugh with us).
We paid a premium price, compared to local cuisine, to have an American burger. We received the saddest looking burger in the world with a weird, holy rusty colored square they tried to call bacon. There was nothing to do but laugh and learn from this pathetic meal. Next time we will stick to local cuisine.
To say the least, it was a peaceful and productive two days!
Kalimantan (aka Borneo)
Fast forward to what we came to Jakarta for, Borneo! We met up with our friends we met traveling in Laos the year before at the Jakarta airport where we would catch an early flight to Pangkalan Bun on Kalimantan, the Indonesian side of Borneo.
From here we were greeted by our guide for the next 4 days and 3 nights aboard our wooden boat that will cruise through the rivers of Tanjung Puting National Park where we will look for wild animals and visit the three famous orangutan feeding stations including Camp Leakey.
You can read all about our experience here or watch our videos here.
This was our friends second time to do this exact trip and after spending the first 20 minutes on the boat I could see why. This had to be one of the most relaxing and amazing experiences we have had to date. Not only did we get a digital detox while floating down the river on a boat far away from any internet or electricity, we got to witness some of the most amazing wildlife encounters we could have hoped for.
Anyone who knows me knows that I am a huge fan of animals and being around them. To be able to just sit and watch monkeys jump from tree to tree only a few feet away from our boat was something else.
We also got to see wild orangutans which are not always so common. Most people get to encounter orangutans at the feeding stations where orphaned or injured orangutans are taken to eat if they can't access food for themselves in the jungle. Since we were visiting in mid-September a lot of the fruit was in season and we were able to spot wild orangutans, even giant males from our boat far away from the feeding stations. This is something that our friends didn't get to experience last time and was truly incredible to witness endangered animals that close.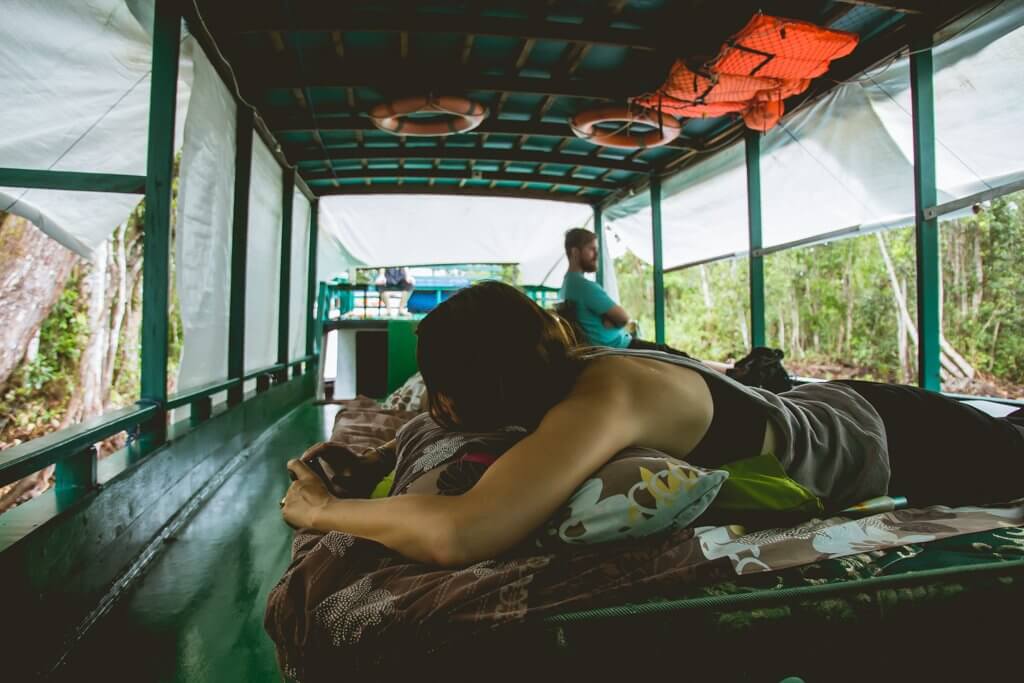 We had so many sightings it felt almost surreal, more like we were on a Disney safari ride rather than actually experiencing this in real life. We saw wild orangutans, proboscis monkeys, macaques, gibbons, two different types of crocodiles, hornbill birds, monitor lizards, and a snake swimming with a fish in its mouth to mention a few.
It really felt like you were living in a zoo, except no cages and none of these animals were taken from their natural habitat.
I could really go on and on about this experience for hours. We really had an incredible time and would love to experience it again.
Bali
After roughing it on a wooden boat for a few days we went to enjoy the luxuries and the beautiful island of Bali. We started our trip in Ubud staying two nights outside of Ubud next to the Bali Zoo and then the following two nights in Bali at the most amazing Airbnb in a rice field.
Our time in Ubud FLEW by so fast it almost felt like we weren't there at all. We took an amazing day trip from Ubud to see Gitgit Waterfall, the gorgeous Pura Ulun Batur Bratan, and the jaw-dropping UNESCO Jatiluwih Rice Terraces.
Our favorite of the day would have had to be the rice terraces. The sheer size of this place was impressive, you could spend all day walking through the fields and admiring the lush green layers and layers of beautiful greenery. We ended up having a lot of fun flying the drone and testing new techniques and shots here. It was such a great place that was wide open to take risks where we didn't have to risk losing Walter again like we almost did in Taroko Gorge!
On our way to spend 4 days in the peaceful and beautiful black sand beaches of Amed we stopped at Besakih Temple, the mother of all temples in Bali. Even though Besakih is touristy and a place for scams, it really is one of the most fun places to photograph. We ended up getting caught in a downpour and used the time to sit under a roof and wait it out while snapping a few photos.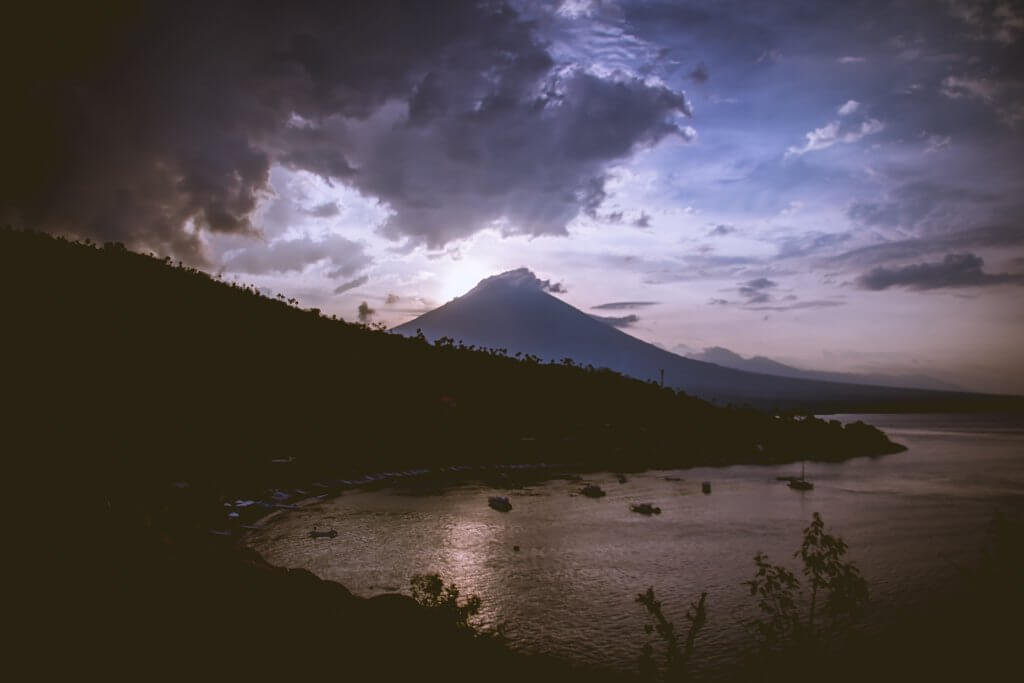 Amed ended up being our favorite area on the island on this trip. This quiet, fisherman village has guesthouses and resorts for all price ranges, black sand beaches, epic volcano views. and great snorkeling. We could have spent a month here just swimming and working on our site.
Our final days were spent in Nusa Dua where we had two sponsored hotel stays, one being Grand Mirage Bali where we saw a ferry on fire off the coast. All we could do was hope that everyone was safe. Apparently, ferries and boats catching fire in Indonesia are not uncommon.
We were told a week before there was another ferry that exploded killing people including tourists then we continued to see other news stories that always pop up in our feed about boats catching on fire here. Note to self: maybe reconsider any boats or really do some research before booking one.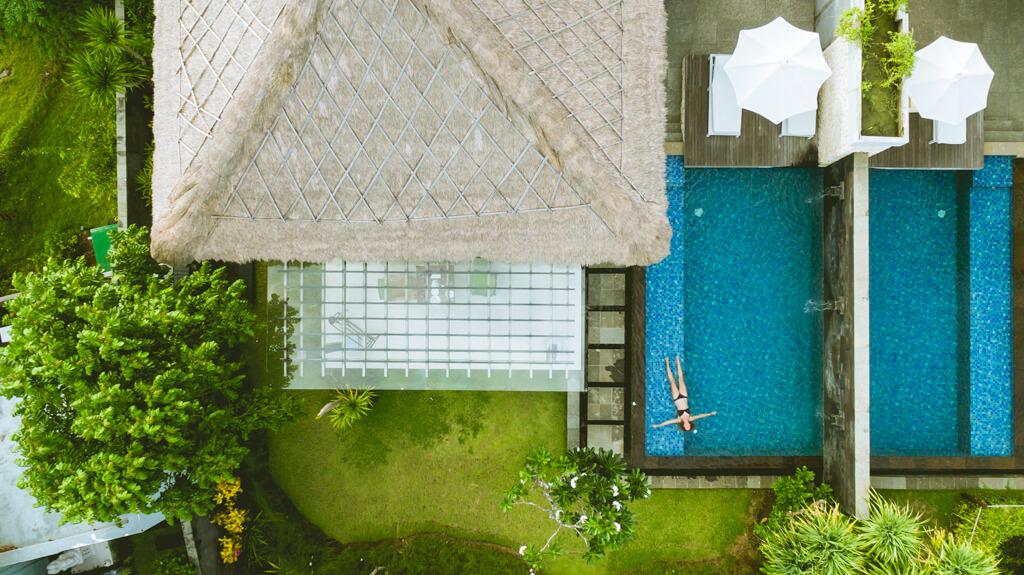 The second sponsored stay was at Samabe Suites and Villas. the BEST resort we have ever been in our lives. We came a month before our wedding in California and felt like we had our honeymoon first by staying at the luxurious private villas here. This is one place we would totally come back to. We still dream about this place today.
Be sure to check out more places to stay in Bali.
Overall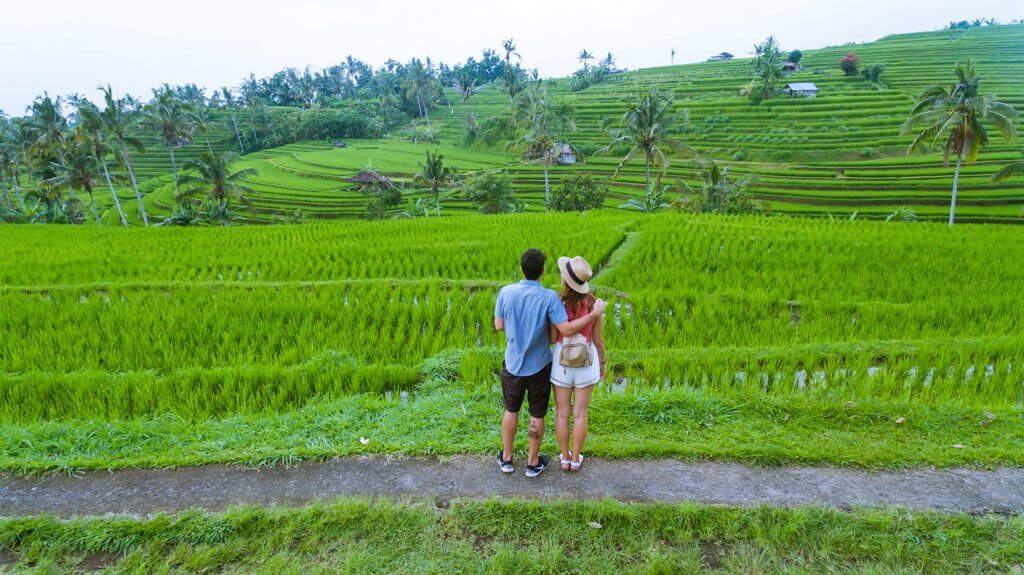 We had an amazing three weeks in Indonesia, but it made us realize how little of this incredible country we've seen. Even after our second trip to Bali we haven't seen all there is to see. Since it's estimated that Indonesia has over 17,000 islands, we are bound to be back to explore more. Until we meet again Indonesia, we love you!
Have you been to Indonesia? Where have you gone and what were your impressions? Share with us in the comments below!