I love infographics and have always wanted to make one. I thought this would be the perfect post to break down our video in raw numbers as well as give some insight to how it was made. This should be fun.
The result, one three minute video weaving you through 7 countries. (Japan, Taiwan, Malaysia, Singapore, Indonesia, Philippines, and the U.S.) It is a part of a series that I intend to do until the day I die that documents our travels in a fun and memorable way.
My favorite part about making these videos is that everytime I watch them I can remember the feelings, smells and just every little detail about each day. These days on the road are some of the most difficult, challenging, tiring, wonderful, beautiful, and memorable days of my life. They bring us both so much closer and give us a voice and something to remember and a goal to improve upon.
This is the second in the series which begins from when I proposed to sweet lil chichi, (which you can check that out here) that was shared on live TV by NBCLA (thanks Mac) and How He Asked (thanks Sam.) This video starts where that one left off, on a three-month pre-honeymoon if you will. Up to when we crashed a beach to get married. Below is a pic of us on our wedding day shot by the super talented Priscilla Frey.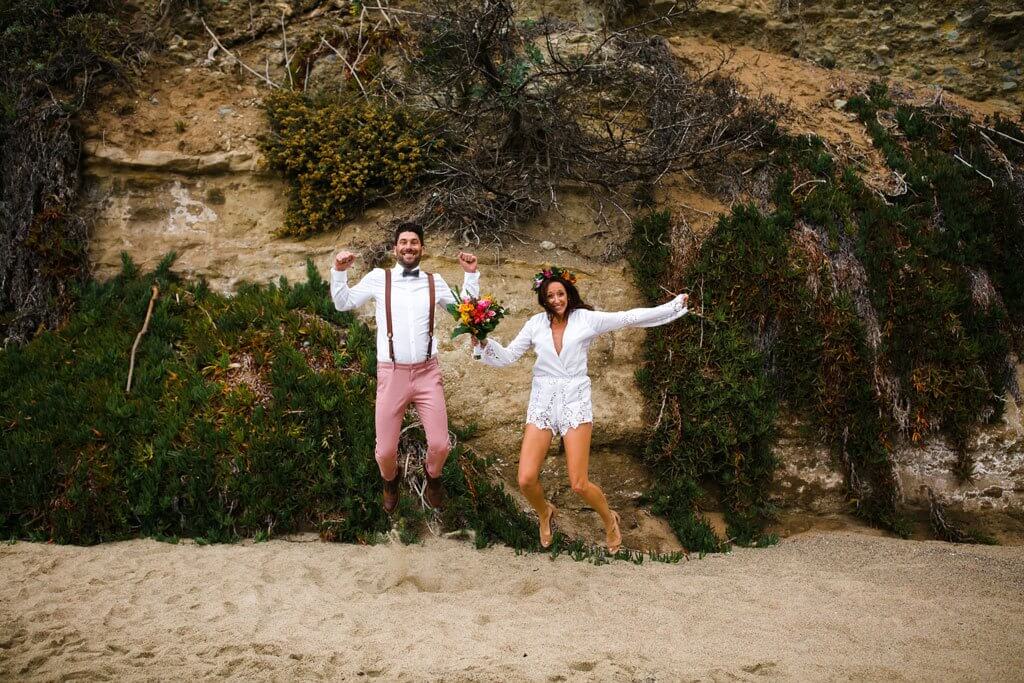 The Challenges
The challenges to shooting when you are traveling to some of the most iconic places in the world (especially in Japan) meant that there were so many early mornings to beat the crowd of tourists because) one, they get in the way. So many people accidentally bump my camera/tripod and) two, I still sometimes get embarrassed/shy while doing this because it wasn't too long ago some girl yelled at us saying "are you seriously taking pictures here," when we were in a mall shooting this practice hyper-lapse.
Besides that, the biggest issue is we pretty much just get one take. If we fail, rats, better luck next time we are ever here again, if ever. Sometimes we have the opportunity to do a re-shoot but for the most part we both want to enjoy our travels as well because who knows how long this ride will last and there is always a balancing act in life.
Some Exciting News
This video helped us land a job shooting hyperlapse videos. Go friggin figure! We are pretty excited about it and are happy to be accomplishing goals we set in the past.
I want to thank everyone who has watched the video, shared it, liked it, and supported us. We are really lucky and fortunate to be in our position and it's with all the support of our friends, family, and you.
If you are new to this blog and liked the video. I encourage you to stick around, we make these fun hyperlapse videos as often as we can and have an absolute blast doing it.
Our next one should be next month on our trip to Nepal! Super friggin excited! I hope to get some stars!
The Tech Stuff
If you are into the technical stuff and like talking camera gear or just plain curious about what we used to make this video check it out. If you want to buy any of the stuff please do from the links. It will help us continue to make these videos 🙂
If you want to learn more about time-lapse or hyper-lapse photography visit this site dedicated to hyperlapse photography. I intend to start creating some fun and free videos walking people through the process 🙂
GEAR USED
We used a total of three cameras. Those were:
Canon 60D = 85% of the video
DJI Osmo = 10% of the video
DJI Phantom 4 Drone = 5% of the video
I typically shot most of these shots hand-held or with my Manfrotto befree tripod.
I used 2 lenses on my Canon 60D for most of these shots.
Tamron 16-300mm – 90% of the shots used this. The zoom power is awesome, it's light which means it's great for travel and pretty inexpensive
A 24-70mm L series lens. L series lens, enough said. It's also awesome but heavy and expensive.
Software used:
Lightroom for basic color correction in photos.
LRTimelapse to process and smoothen out all the sequences and flicker.
Adobe After Effects to stabilize all the footage and make it smooth and watchable.
Final Cut Pro to assemble the final video. (Nothing I did in FCP can't also be done in Premiere)
*** Lightroom, After Effects & Premiere only cost $9.99 a month if you use a student id. Buy at a discount if you went to college.***
There you have it! This is how we took over 237 hours and over 25,000 photos to make this three minute video!
If you liked this post please consider sharing it with a friend via your favorite social media.