Palm Springs is the perfect little oasis in the desert that has made itself a popular weekend getaway for Southern
Californians as well as visitors to the golden state. Palm Springs not only has great weather unless you're visiting in the mid-summer, but it has a definitive mid-century style making you feel like you've just shown up to a town that hasn't changed much since the late 1950s through 1960s.
Famed for its luxury hotels, retro architecture, and history with celebrity visitors like Marilyn Monroe, Dean Martin, Frank Sinatra, Elvis Presley, and Sonny and Cher to name a few. Whether you're visiting for a day or just passing through there are a few things you just can't miss when visiting this desert oasis.
Check out our guide to this California road trip, the best things to do in Palm Springs.
On Your Way
Here are some great stops you can make on your way to or while leaving. These are some of the best things to do in Palm Springs to break up the drive, get some great photos, win some money, or get some great deals.
Cabazon Outlets
The Cabazon Outlets are one of the best things to do in Palm Springs because this outlet mall is considered one the finest outlets in all of California! With over 180 stores with luxury retailers like Saks Fifth Avenue, Barneys New York, Gucci, Dolce & Gabbana and other high-end retailers.
You'll find deals for days! I went a few years ago and found tons of deals at All Saints. I ended up walking out of the store with two pairs of jeans for $30 that easily each retailed for well over $100. There's something about finding a bargain like that to make you feel like you're winning at life.
48750 Seminole Dr, Cabazon, CA 92230, open 10 AM – 8 PM
The World's Biggest Dinosaurs
The Cabazon dinosaurs, or as they call themselves the world's biggest dinosaurs, are a quick stop just a short drive outside of Palm Springs and next to the outlet mall. If you were a kid from the 1980s you may recognize these bad boys from PeeWee's Big Adventure! They have also starred in a few other movies including a music video Tears for Fears, "Everybody Wants to Rule the World." Nowadays they are just a popular stop for people wanting to get a photo of a giant dinosaur.
You can go inside the T-Rex and walkthrough animatronic dinosaur exhibit for a fee of $10. We spent that $10 at the casino instead. Since we didn't go inside we didn't realize that this exhibit was actually a creationist museum, haha who would have thought?
50770 Seminole Dr, Cabazon, CA 92230

If you're feeling lucky then why not try to win a few bucks at Morongo Casino on your way into Palm Springs? Perhaps you can win a few bucks to buy a swanky new outfit at the outlets next door too? We only stopped to gamble $20 for fun but could have easily spent more time and money if we didn't have other things to do in Palm Springs planned for the day.
If gambling isn't your thing but pampering yourself is then you may want to stop at Morongo for their spa with 14 different treatment rooms, different massages, skin care treatments, and body wraps.
49500 Seminole Dr, Cabazon, CA 92230
Palm Springs Windmills
On your way to Palm Springs from LA, you know you're getting close when you start to see some of the 4,000 tall white windmills on either side of the highway. Although there isn't much to actually do, the windmills make for great photos and are just fascinating to look at.
If you're really interested in learning about the windmill farms you can take a 2-hour tour guided tour.
In the Heart of Palm Springs
Once you're in the heart of the city it's hard to leave. Some of the best things to do in Palm Springs would be to explore the entire area whether by car, foot, or bicycle you can't help but love the palm tree lined roads with the mountain backdrop, old cars driving down the street, vintage signs, and retro homes.
Find Fun Photo Spots
Palm Springs is a treasure chest full of fun photo opportunities! From colorful and retro hotels you have endless Instagram spots from their chic decor to the amazing homes from the 60s, vintage cars, palm trees, and the mountain backdrop. The possibilities are endless and probably why so many photo shoots take place here.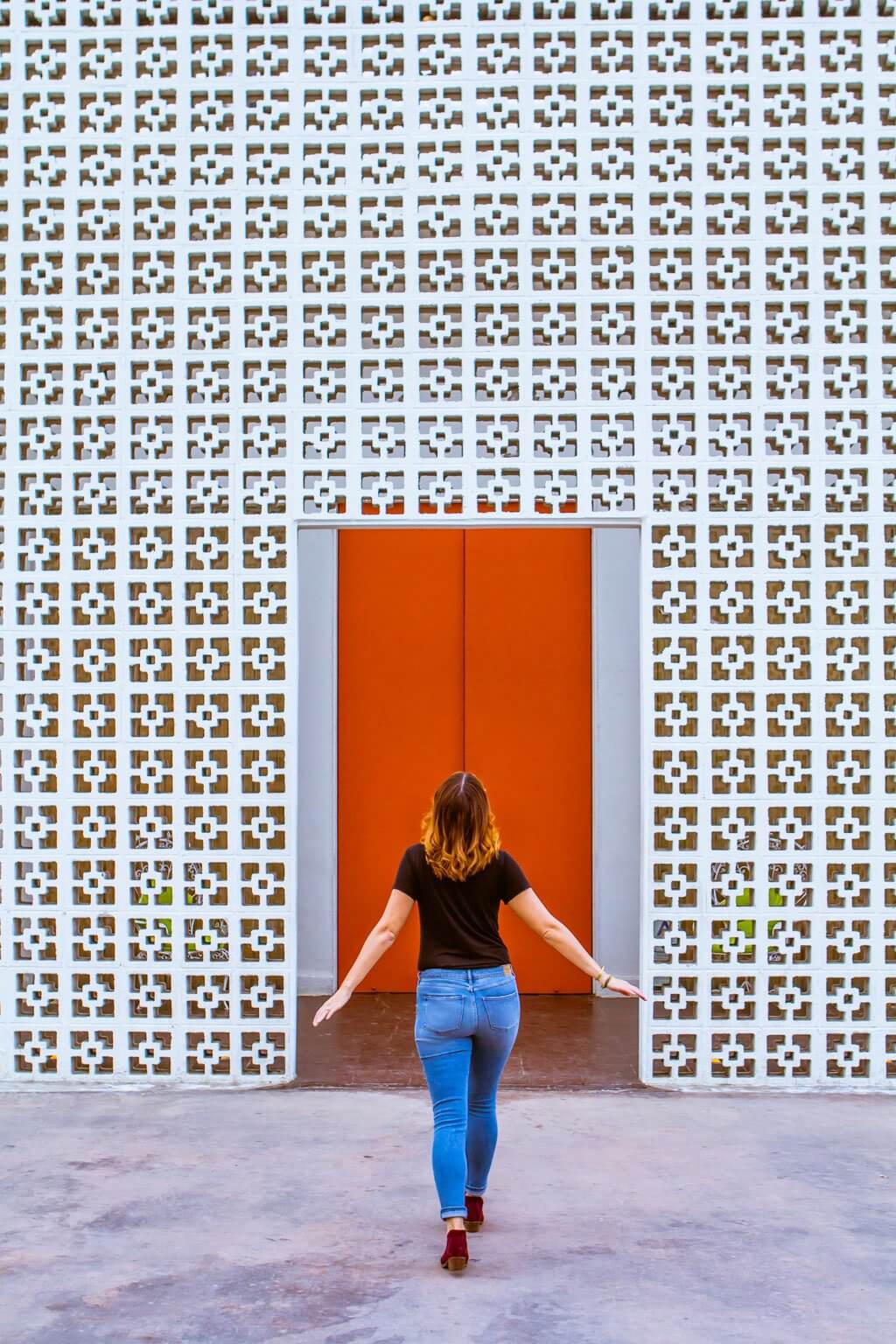 We fell in love taking photos at the Riviera Palm Springs Hotel, the infamous that pink door, and the Parker Hotel's white patterned wall with an orange door!
Palm Springs Art Museum
If you love art then you may want to check out both locations of the Palm Springs Art Museum, the location in Palm Springs is free on Thursday evenings after 4 pm and the Palm Desert location is always free! There's nothing better than free entertainment!
101 Museum Drive, Palm Springs, CA 92262, free admission Thursdays fro 4-9 pm
72-567 Highway 111, Palm Desert, CA 92260, free admission
Take a Bike Tour
What better way to explore the beautiful area and homes of Palm Springs than by pedaling a bicycle? There's a bike loop throughout the downtown area of Palm Springs that takes you through the historical neighborhoods and past restaurants and cafes if you need a break.
Depending on where you stay, some hotels offer free bicycles for their guests if not there are inexpensive bicycle rentals and tours available.
pick up a map at the visitor center 2901 N. Palm Canyon Drive
Follow the Walk of Stars
Did you know that Palm Springs has its own version of Hollywood's celebrity stars? The Walk of Stars in Palm Springs honors famous celebrities who have once resided in the area. You'll find former presidents of the United States, Medal of Honor recipients, and famous entertainers as well as writers.
193 S Palm Canyon Dr, Palm Springs, CA 92262
Palm Canyon Drive
Whether you're looking for a place to eat, shopping, gambling, or entertainment you'll find it on the palm-lined road of Palm Canyon Drive. The shops and restaurants are walkable or you can ride a bike or drive a car and park on the street. You won't find many chain stores or restaurants here, you will be shopping and dining at independent retailers.
We found this area to be the perfect place to grab a bite to eat and enjoy the gorgeous view of the palms and mountains.
Palm Springs Air Museum
Check out the collection of World War II planes at the Palm Springs Air Museum. Learn a little history and admire the beautifully restored planes to see what they must have looked like during the war through the three hangars at the museum. Many of the planes in here have been used as props in movies set during WW II. There's also a theater and a gift shop to check out while you're visiting.
745 N Gene Autry Trail, Palm Springs, CA 92262, admission $15, 10 am- 5 pm
Nature Lovers
There are plenty of outdoor things to do in Palm Springs besides sipping on cocktails by the pool, not that there's anything wrong with that! For starters you're right next to Joshua Tree National Park, there are mountains, canyons, and even a waterfall believe it or not! Although, if you come to Palm Springs in the middle of summer you may end up in the pool to beat that scorching desert heat!
Aerial Tramway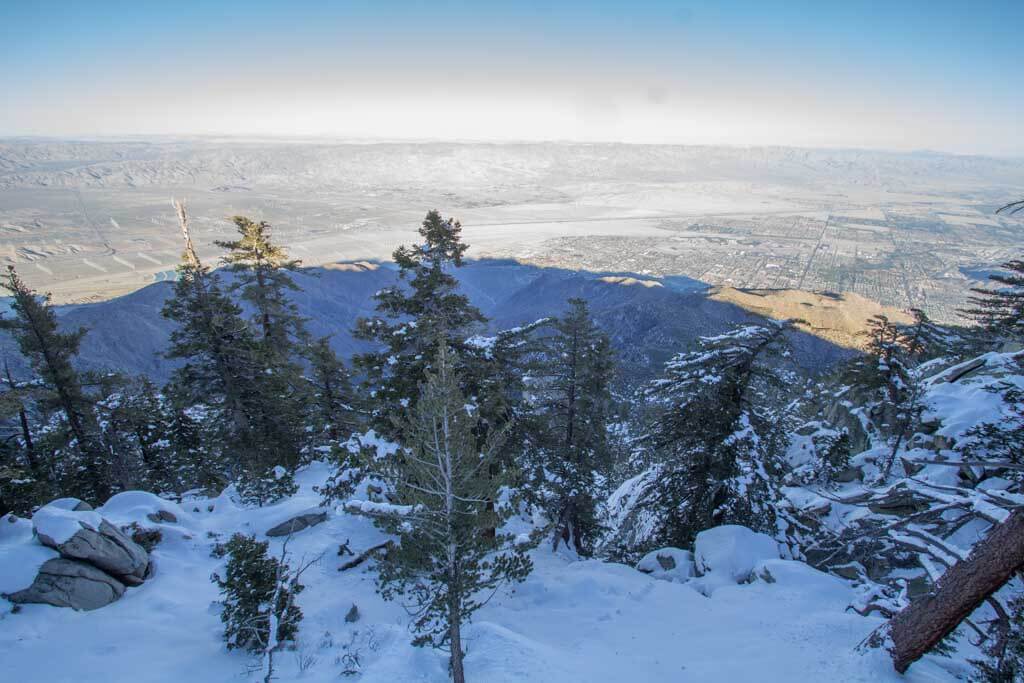 This is one of the best things to do in Palm Springs and can be done even in the dead of summer. Ride up to 8,500 ft elevation to the top of a mountain in Mt. San Jacinto State Park on the world's largest 360 degrees rotating tramway! The ride itself takes about 10 minutes up and another 10 minutes to come back down. Before you descend make sure you give yourself plenty of time to explore some of the walking trails behind the visitor center, drink a beer or a cocktail to get a little buzz at the higher elevation, and take in the gorgeous view of Palm Springs!
It's hard to believe you're in the middle of the desert when you're all the way to the top because the climate is completely different. In the summer the top is much cooler and gives you a great break from the summer heat. In the winter you will see snow and feel like you're in a winter wonderland. Don't forget to bring a jacket, even in the summer! Check out their website to find out any special events they have like dining under the stars for a romantic Valentine's day at the top!
1 Tram Way, Palm Springs, CA 92262, admission $25.95, 8 am- 8 pm
Tip: On holidays and busy weekends purchase your ticket in advance to secure a spot without a long wait.
Joshua Tree
Visiting the unique type of Yucca tree that looks like something out of a Dr. Seuss book, beautiful rock formations, and cacti in the desert at Joshua Tree National Park. Some people make this a trip all on their own but it is possible to do a few hours or a day trip here making it one of the best things to do in Palm Springs if you have a few days!
If you start at the Joshua Tree visitor center they will give you a route that takes about an hour and a half to drive through if you're short on time. We stopped several times to take photos and just stare in awe at the beauty and unique terrain of this place.
We loved seeing the endless trees with the clusters of rock formations. The view continued to change as we made our way through the park. We would love to go back with camping gear and spend a few days exploring different areas, but we love that we got a taste of Joshua Tree in just a few short hours we were there!
Don't forget to get a stamp for your US National Parks Passport at the visitor station! We just bought ours to start filling up the day we came to Joshua Tree!
6554 Park Blvd, Joshua Tree, CA 92256, $25 per car for 7 days use
Tahquitz Canyon
Inhibited by the Agua Caliente Cahuilla Native American tribe for more than 2,000 years, visiting Tahquitz Canyon is one of my favorite things to do in Palm Springs. Pay a small fee of $12.50 at the visitor center then make your way on a 20-minute walk through the desert terrain until you reach the refreshing Tahquitz Falls. Come during the warmer months and the cool water will feel amazing after walking in the hot heat.
Be sure to carry plenty of water and bring sunscreen, the hike is a hot one! If you're sensitive to the sun be sure to wear a hat or bring an umbrella on this 2-mile loop hike.
500 W Mesquite Ave, Palm Springs, CA 92264, 7:30 am – 4:30 pm
Coachella Valley Preserve
Coachella Valley Preserve is a wildlife refuge in the desert where you can enjoy hiking, look for the local fringe-toed lizard, horseback ride, or take a guided tour. The best part is that it's free to enjoy! You can stop by the visitor center to get a map and make a donation if you wish!
When visiting this wildlife refuge be sure to follow all the rules like no dogs, stay on the path, and no flying drones.
29200 Thousand Palms Canyon Rd, Thousand Palms, CA 92276, 8 am – 5 pm
---
Found this post about the best things to do in Palm Springs helpful? Bookmark for later or share the love below on Pinterest!