After our California beach wedding we decided to hit the road and do a mini honeymoon getaway up the incredibly gorgeous central California coast. With some many cool things to do in San Luis Obispo, we knew we had to make it one of our California road trip stops!
Knowing we were in the land of beautiful coastline views and wine we knew it was going to be a success. We ended up falling head of heels in love with this short road trip and discovering that there are actually a ton of things to do in San Luis Obispo other than wine tasting, even though that's enough reason on its own, to check out and stay a few days!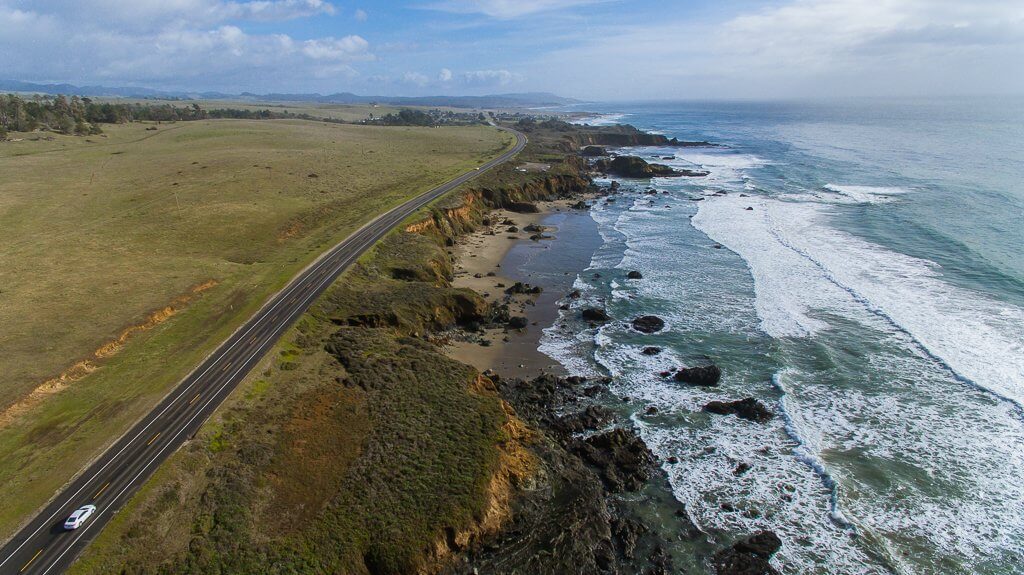 I mean look at that view! Check out our guide on what to do in San Luis Obispo!
Best Things to Do in San Luis Obispo for History Buffs
1. Hearst Castle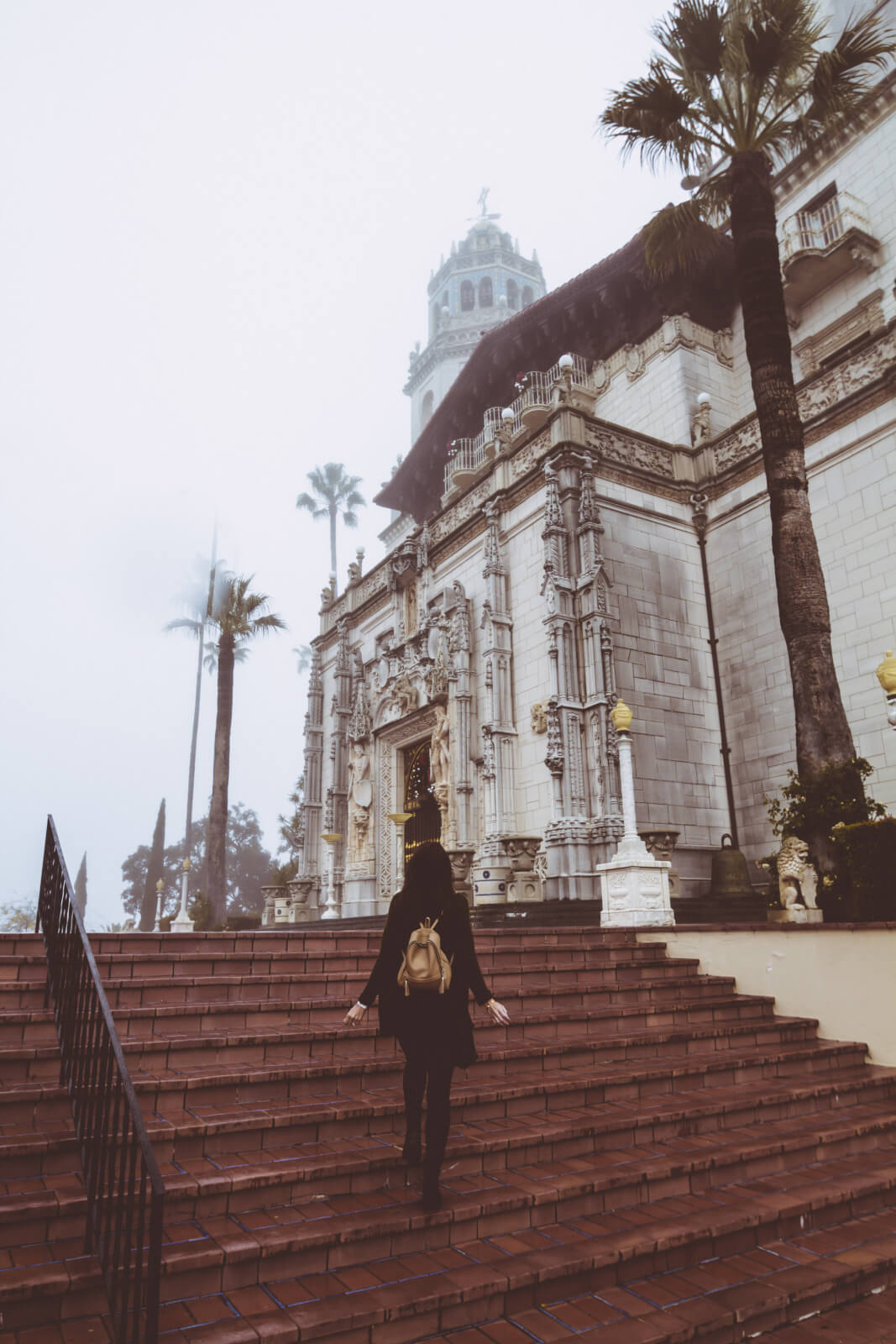 One of the coolest things to do in San Luis Obispo County is to visit the landmark of San Simeon, Hearst Castle. This is one of the many homes that newspaper tycoon William Hearst owned.
Today, you can tour the massive ranch and beautiful home that's been beautifully preserved by the state of California for decades. Step back in time to what it must have felt like to be one of the many guests of Hearst's home.
Hearst Castle was well known for being the weekend getaway for Hollywood's biggest celebrities in the 1920s. There are several tours to choose from that could fill up two whole days if you wanted to do them all!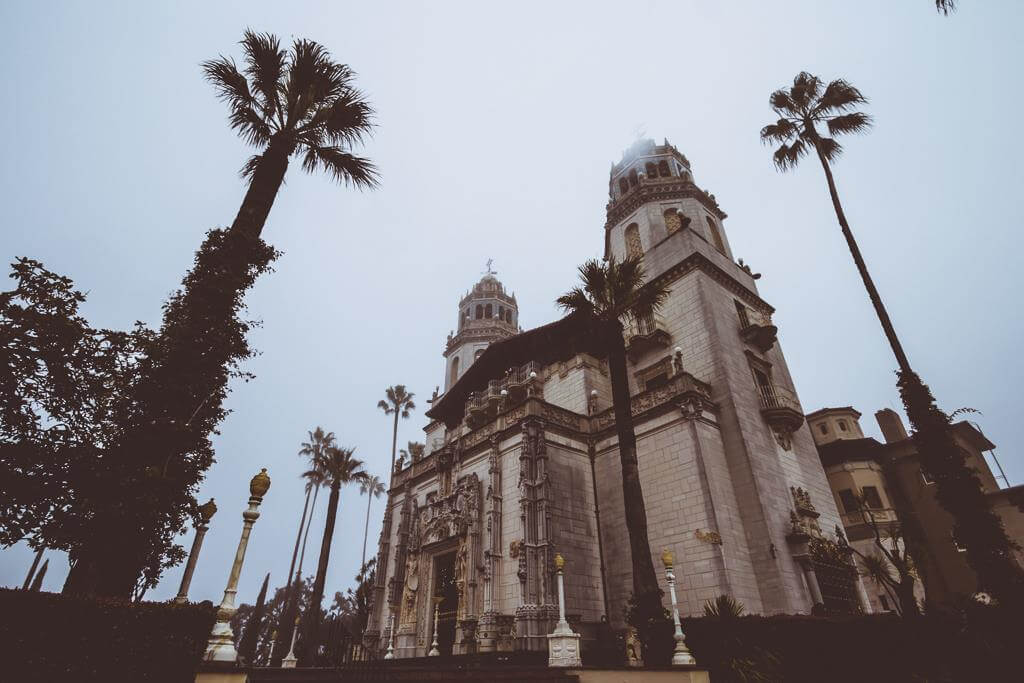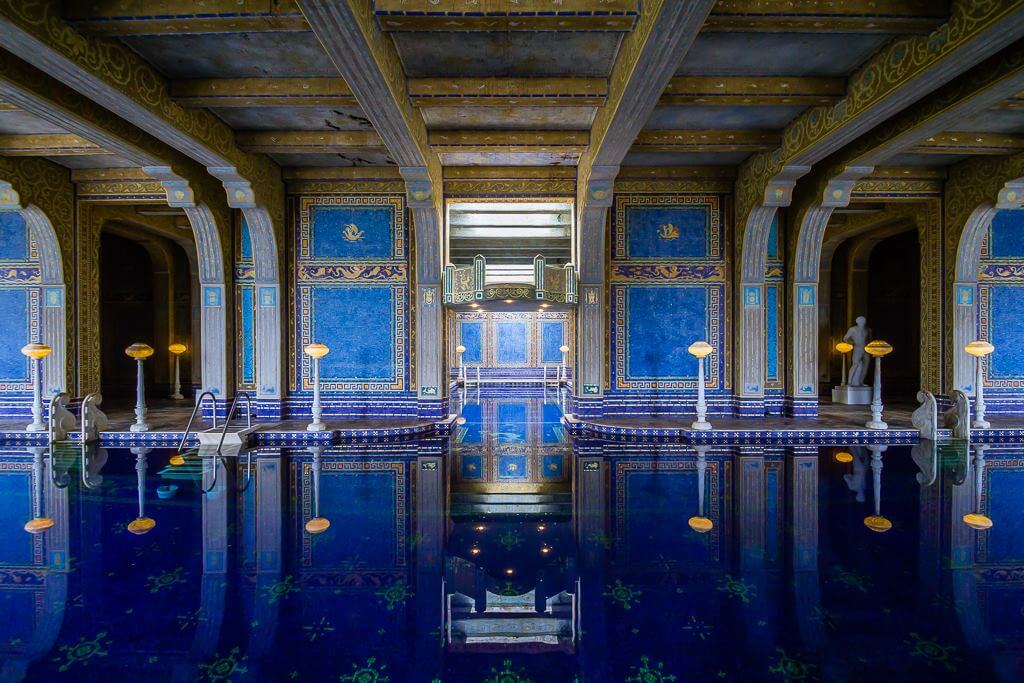 Hearst Castle Tips:
2. Mission San Luis Obispo
Visit the fifth California mission that still stands in the heart of downtown San Luis Obispo. Built in 1772, you can learn the rich history of the mission through the museum or a tour throughout the grounds.
Mission San Luis Obispo Tips:
751 Palm St, San Luis Obispo, CA 93401
Hours: 9:00 am to 4:00 pm
What to do in San Luis Obispo for the Nature Lovers
3. Pismo Beach
Enjoy the charming downtown of Pismo Beach for their selection of restaurants, retro cafes, and shops. Explore the area by enjoying the view from down their famous pier or walking around the promenade. Hang out long enough and witness a gorgeous California sunset from the beach.
After visiting the beach, head to the Oceano sand dunes where you can drive your car right on the beach! This is one of the only beaches in California that allows the public to drive around the beach. You can even bring your camper here to camp or rent an ATV and ride around the dunes.
4. Guadalupe Nipomo Dunes
As far as nature goes, the Guadalupe Nipomo Dunes is one of most famous things to do in San Luis Obispo. Why? These sand dunes were once a set of the movie The Ten Commandments whose set was buried on site. Years later people were discovering what they thought were ancient Egyptian artifacts, turns out it was just the movie set!
Today you can visit and enjoy camping or off-roading through the largest sand dunes south of San Francisco!
6999 W Main, Guadalupe, CA 93434
5. Morro Bay
This beach town located on the central coast of California is most recognized by its famous rock, Morro Rock.
You can walk through the harbor and enjoy any of the seaside restaurants and walk or drive straight up to the famous rock. Catch a peek or join the local surfers or hang out and watch the sea lions bask in the sun!
6. Los Padres National Forest
This massive forest runs all the way up the central coast of California to Big Sur coast. The scenic forest also is a mountainous area and has gorgeous wildflowers, waterfalls, and hiking. Visit for a day or stay and camp at one of the camp sites.
Other Things to Do in San Luis Obispo Outoors
7. Surfing
Spanning over 100 miles of coastline, one of the best things to do in San Luis Obispo is surfing. Offering spots for all levels of surfers from beginner to advanced. Don't forget a wetsuit, though, the waters are a bit more chilly up here.
Popular spots include Morro Bay just north of Morro Rock, Pico Creek in north county, and the beaches of Montana Oro State Park.
Check out Surfline to learn more about surfing in San Luis Obispo.
8. Horseback Riding
What better way to enjoy the view of the rolling hills that San Luis Obispo County has to offer than on the back of a horse. If it's a clear day you may even get to catch a peek of the ocean from the trails or even ride a horse right on the beach!
You can go horseback riding at the Madonna Inn Trails, Outback Trail Rides at Morro Bay, Pacific Dunes Ranch at Pismo Beach, and Work Family Guest Ranch in Paso Robles.
9. Hiking Trails
One of the best things to do in San Luis Obispo to see views you can't get from your car is hiking!
Go hiking in many of the different trails this region has to offer. There are trails for all levels of fitness and even family-friendly treks as well. Get a full list of hikes available in San Luis Obispo at Hikes Peak.
10. Ziplining
Get the ultimate view of Paso Robles wine country from the sky while ziplining! Margarita Adventures offers six ziplines that go through the valleys, forests, and vineyards. If you're nervous take the edge off by having a glass of wine at Santa Margarita Ranch before zipping through the sky!
What to do in San Luis Obispo for the Wine Lovers
11. Paso Robles
With more than 200 wineries, Paso Robles is considered to have the perfect climate for wine making. While driving around and checking out tasting room and wineries don't forget to stop at the historic downtown area for restaurants, shopping, and even more wine tasting rooms!
To learn more about the wineries of Paso Robles check out this website.
12. SLO Valley
Covering land from Avila Beach inland to Edna Valley and Arroyo Grande Valley, the vineyards in SLO wine country are all located within a 15 to 20-minute driving distance.
With just under 30 wineries to check out in the area the best wines in the region include Chardonnay and Pinot Noir thanks to the cold coastal breeze.
Miscellaneous Fun Things to Do in San Luis Obispo
13. Bubble Gum Alley
More of a quirky things to do in San Luis Obispo but a total Instagram-worthy spot is Bubble Gum Alley in downtown San Luis Obispo. This socially accepted form of vandalism is a hotspot for passersby to add their mark to the town's famous wall. Just be careful not to lose your balance and touch all that ABC gum!
733.5 Higuera St, San Luis Obispo, CA 93401
14. Drive In Theatre
Enjoy some evening entertainment by going to one of the few remaining drive-in movie theaters left in America! Drive up for a double feature of Hollywood's latest blockbuster movies and grab some popcorn for the car.
Be sure to also enjoy the retro intermission videos in between movies as well. There aren't too many of these theaters left, so be sure to experience them while they last!
Don't forget to start your car's engine throughout the movie to prevent the battery from dying! If you do manage to kill your battery, the friendly snack stand lady can get you out of a bind with her jumper cables!
255 Elks Ln, San Luis Obispo, CA 93401
15. Chumash Casino
If you like gambling and are looking for a variety of entertainment for things to do in San Luis Obispo, head on over to Chumash Casino where all your needs will be met.
The casino offers a full resort and amenities as well concerts and events. For anyone looking to pamper themselves, there's also a spa offering a variety of services!
3400 East Highway 246, Santa Ynez, CA 93460
16. Driving Along the Coast
Our favorite thing to do in San Luis Obispo is the drive alone! Driving along the highway and seeing nothing but gorgeous rolling green hills and the ocean on the other side is a real treat.
You can easily do a day trip or spend a few days from Los Angeles depending on what you want to do or see! We highly recommend going to at least one vineyard and picking up a bottle of wine to take back to remember your epic California road trip!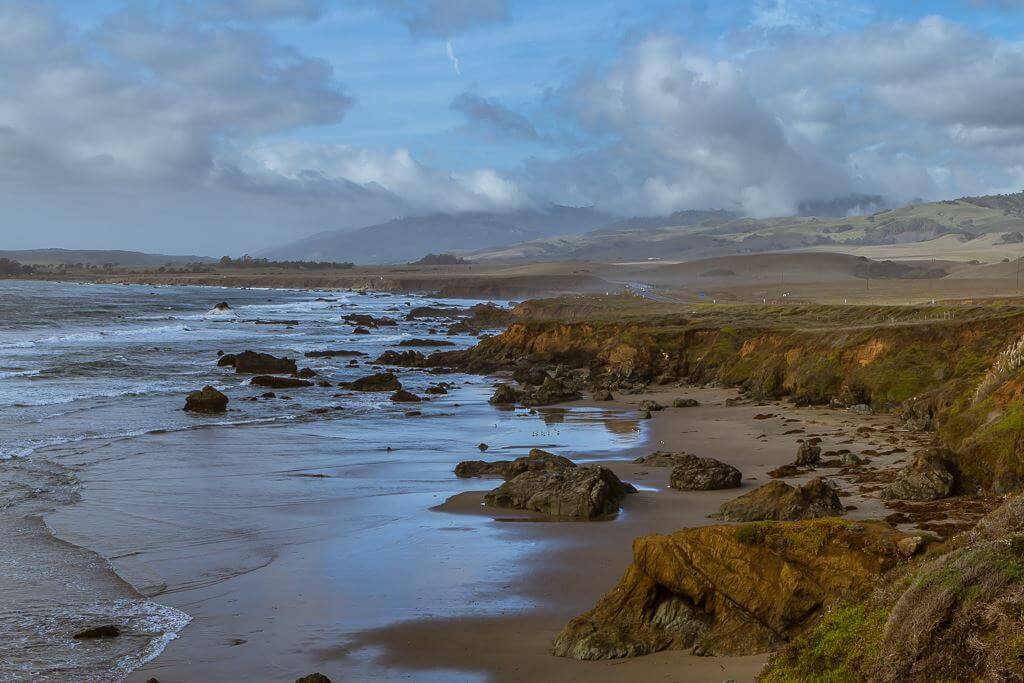 Where to Stay in San Luis Obispo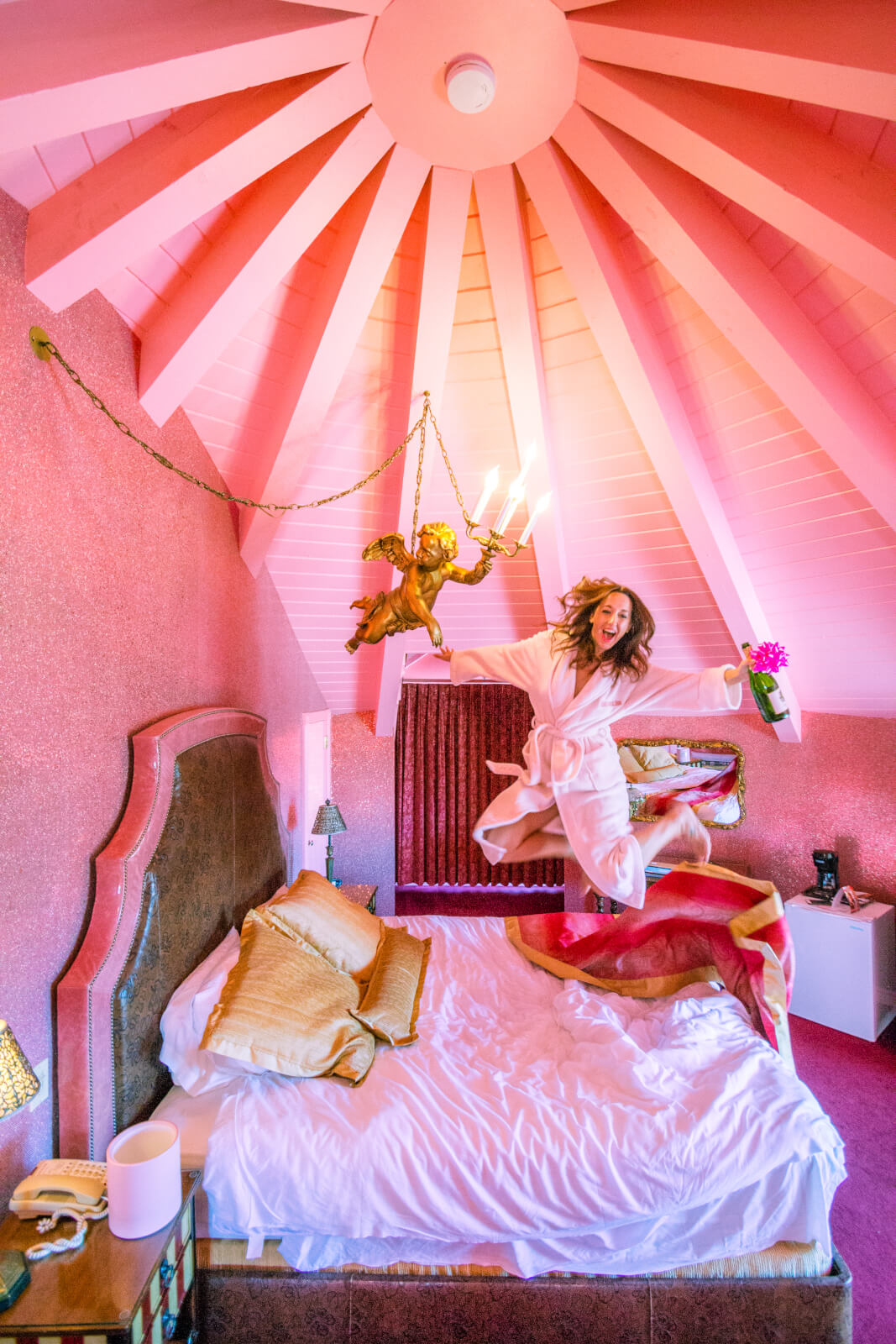 Probably one of favorite things to do in San Luis Obispo would be making a pit stop at the Madonna Inn. This colorful and over the top themed hotel is literally a site to see.
Each of its 110 rooms offers a different theme and has gained a lot of popularity over the years for professional photo shoots, tv shows, and people who just want to experience something out of the ordinary.
The Madonna Inn dates back to the 1950s and has hosted famous guests and made a name for itself with its gorgeous cakes and pastries at their bakery.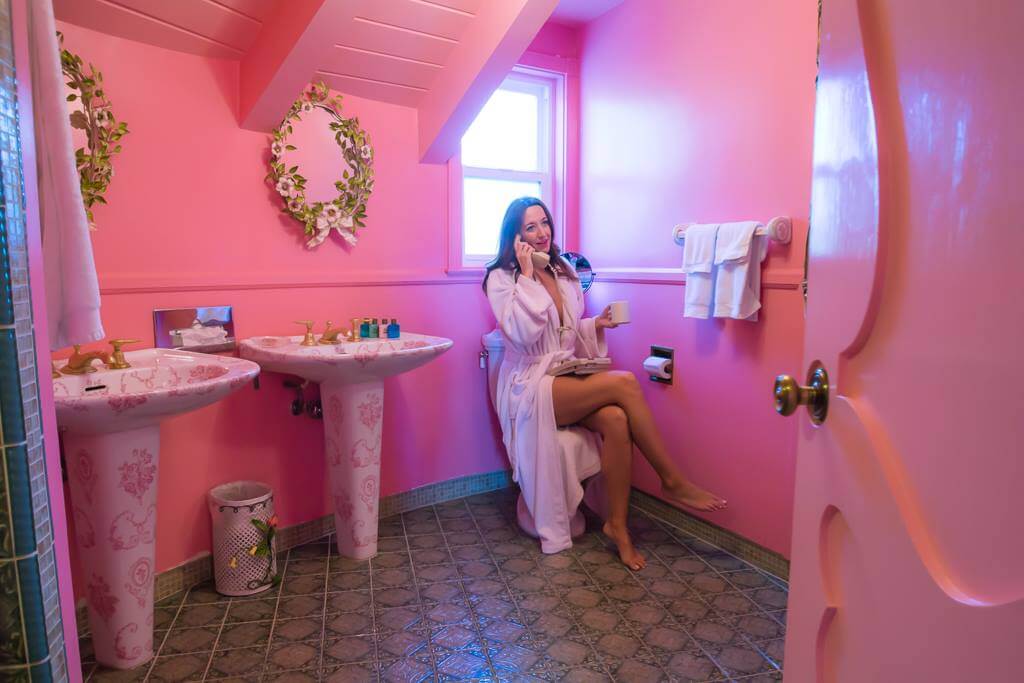 Whether you're just stopping by for a bite to eat in their dining room or spending the night in one of their themed rooms, the Madonna Inn is worth a stop and a look around!
Book Now | Read Trip Advisor Reviews
For more places to stay in San Luis Obispo, check the map below
For more fun trips around California, check our guide on the best things to do in Palm Springs, our picks for where to stay in San Diego, and our post on what to do in Joshua Tree.
What do you think are the best things to do in San Luis Obispo? Let us know in the comments!
Liked this post on what to do in San Luis Obispo? Share it on Pinterest below!