Before coming to Israel we were asked by several people from home if it was safe and thought we were headed into a war zone. We knew before coming to Israel that we wanted to visit the West Bank and see what it's really like to visit as an American
or tourist
. Our goal was to answer the question for ourselves instead of letting the fear mongering media determine it for us.
I mean there are daily tours from Israel to the West Bank, can it really be that dangerous? We also read numerous articles from others who have also done these tours and even visited West Bank on their own without any issue.
Before going further we want to make it clear that we are no experts on this subject, we are only speaking from our experience on a tour we took with Abraham Tours.
To get a better idea of the history of the conflict between Israelis and Palestinians check out Everything you need to know about Israel and Palestine by Vox, this article by BBC and this article by New York Times.
So to answer our question "Are Americans Really in Danger in the West Bank," we should begin with what our trip was like from our American point of view.
What West Bank is really like to visit as an American
We met our group at Abraham hostels in Jerusalem, hopped on a bus and were on our way.
After boarding, we sat in silence and a bit of confusion as to why no one was introducing themselves to us and starting to provide information on our tour. Our driver silently drove for about 20 minutes until we stopped randomly in the middle of the highway to pick up a man. Not realizing we were already in the West Bank we were confused as to why our bus was stopping to pick up a random dude on the freeway.
The man introduced himself as Ashraf and explained he would be our Palestinian guide for the day and why he had to be picked up in the middle of the road. Ashraf is not able to enter Jerusalem or cross the other side of the West Bank because he is Palestinian. However, our Israeli bus driver is able to drive in and out of the West Bank at ease.
We were thinking, wow it was that easy to drive into the West Bank? We literally just drove in without a checkpoint or stop.
During the trip so far there was zero fear of danger.
Throughout the day we would get to know a little more about Ashraf and some of the struggles Palestinians deal with on a daily basis.
Before arriving at our first stop, Ashraf had our bus stop and look at giant, red sign that read it was unlawful and forbidden for Israelis to enter Palestine. However, he explained that the government made these signs and in fact, Israelis are actually able to freely come into Palestine without punishment at their own risk.
But, it is impossible for Palestinians to go to the other side of the West Bank and the checkpoints going out are very strict and often involve searching vehicles making sure no one from Palestine is coming on the other side. Like I just mentioned, we literally just drove into the West Bank from the Israeli side without a stop or a checkpoint with the tour and also on our own when we did a Dead Sea day trip.
Throughout the day we would learn more while visiting religious and historical sites.
First Stop: Jordan River
Qasr-el-Yahud, or the famous religious baptism site of Jesus by John the Baptist and considered the second holiest site in Christianity was our first stop. We were surprised to see how narrow the Jordan River actually was since it stretched only a few feet across and looked like you could easily cross over into Jordan with just a few strokes. Our guide informed us that there were Israeli guards on duty and pointed them out with their machine guns behind us. (Which I guess is pretty dangerous if you plan on illegally entering Jordan by crossing the river)
Since this religious site was open to tourism in 2011, over half a million people visit annually many of them being baptized in the holy waters. We witnessed lines of people (photo above) in their white robes waiting their turn to be dunked in the river. Many patiently waiting with anticipation and some with tears rolling down their faces. You could feel the weight of meaningfulness this site had to so many people.
Neither Scott and I are religious people, but we both agreed that we felt the high emotions running through the premise. The friendly stray cat who was meowing and lapping water out of the river as people were getting baptized lightened the mood and made us both laugh given the seriousness of what was going on around us.
Danger Level – 0.
Second Stop: Jericho
Just a few minutes drive from the Jordan River we made it to an archeologist's dream, Jericho. Considered the oldest city in the world, Jericho dates back 11,000 years from 9,000 BC. What seemed like giant holes dug out in the ground was actually over 20 different settlements built on top of each other over the years.
Jericho is significant for also being the first place where mankind left caves and started building a society and modern civilization. This is also the site where man invented agriculture.
Without a guide or understanding of the significance of the area, this stop would have been underwhelming. It wasn't until the history of Jericho was explained to us that we found this stop to be incredibly interesting.
Third Stop: Ramallah
Next up was Ramallah, the capital city of Palestine. We first visited the Tomb of Arafat where you could sense our guide had an emotional attachment to the place and admiration for his past leader. It was interesting to hear a Palestinians side of why he loved their past leader since most Palestinians saw Yasser Arafat as a heroic leader and Israeli's saw him as a terrorist. We will not go into detail or pick sides on Arafat, but we did listen to our guide with open minds and open hearts for what Palestinians side of the story is.
Afterward, we made it to Ramallah's city center where we were given free time to walk around and experience the city on our own without any guide. We really didn't come with any expectations but were surprised as to how we felt and what we saw walking through the streets.
Let's just say we stood out. There aren't very many tourists in Ramallah and as far as we could tell we were the only tour group in the city. Foreigners were not so common to see yet the locals didn't treat us any differently. We were greeted with smiles from strangers. Except for a single child who tried to sell us a piece of candy for money, there was no begging or feeling of being cheated or ripped off because we were tourists. We felt like we blended in even though we obviously stood out.
We sampled street food and were shocked to pay only 5 shekel for something that would cost 30 + shekel in Jerusalem. We ate some of the best sticky and stretchy ice cream ever at Rukab's.
We saw a Mercedes, and new cars, some with bumper stickers saying, "my family" with sketches of guns. This was something that made people in our group from outside the US be like WTF? We laughed and said we could easily see someone in the US driving around with the same bumper sticker.
There was some sort of promotion going on outside of a business with two guys dressed up in what we could only guess was a Pooh Bear costume and a Teletubbie. They were playfully interacting with people walking by including me by stealing my hat, wearing it and walking away. The funniest moment would be when Pooh Bear picked up a random kid and freaked him out and started crying. The mom was laughing as Pooh set the kid down. We couldn't believe that Pooh Bear would just pick up a random kid and thought of how that would not be cool at home. Again, everyone seemed normal, this city seemed normal.
Our time here was short, 40 minutes of free time walking around and getting a feel for Ramallah. We left feeling like we were just in a regular city, not some scary war zone terrorist center the media has portrayed. It really was eye opening.
Overall feeling of Danger – None. Even when Megan's hat got stolen by Pooh Bear.
Fourth Stop: Bethlehem
Our final stop was in the most visited spot by tourists in Palestine, Bethlehem. Many Christians flock here on a pilgrimage to see the Church of the Nativity, the third holiest spot in Christianity. This is where you will find the birthplace of Jesus.
We showed up on a weekend to the church and were unable to actually see the cave where Jesus was born because of the hoards of crowds. Ashraf, our guide, told us that on a Saturday it is almost impossible to go see the cave unless you wait in a 2-3 hour line. Since we were with a group, we simply couldn't wait that long and still be on schedule. So after a quick pass through the inside of the Church of Nativity, we made our way out without witnessing the holy spot where Jesus was born.
Did you know Jesus was born in a cave?
What we found interesting is that 3 denominations of Christianity share this church, Eastern Orthodox, Armenian and Catholic.
The tourism here is unreal. You can actually see the lines of buses parked along the streets to go visit the Church of Nativity.
While there, Scott got stopped by two boys who noticed he was taking photos. They really wanted their photo taken. This was most likely the most dangerous thing that we experienced.
We continued on to the West Bank border covered in Palestinian graffiti and famous for the work of Banksy in the area. The graffiti covered wall was covered with tons of art including messages of peace and hatred at the same time. Our time here was a bit rushed as we had a schedule to stay on and this was our last stop.
We hurried through the wall past our third Banksy sighting of the day and then we surprisingly stumbled upon The Walled Off Hotel. This is Banky's latest masterpiece shedding light on the Palestinian and Israeli conflict as well as the 100 year anniversary of the British involvement with Palestine. All of his work has some sort of politically charged meaning.
This was actually a huge highlight of our tour as The Walled Off Hotel just opened about two weeks before our visit. We were only able to take iPhone photos inside the lobby of the hotel where guests and visitors were enjoying tea and snacks in the decked-out lobby with new pieces by Banksy. We were also able to go upstairs to see the museum featuring work by Palestinian artists.
We were unable to see any of the hotel rooms including the dormitory beds that go for around $30 a night and a suite complete with a jacuzzi tub in the center of the room on the top floor. It is said that The Walled Off Hotel will remain permanent, unlike Banksy's Dismalland which was only a temporary art project.
Banksy is known for his politically charged pieces in both the West Bank and Gaza. His earliest works in the area date back to 2005. He even snuck into Gaza to leave this message on the wall and make a powerful video.
"If we wash our hands of the conflict between the powerful and the powerless we side with the powerful — we don't remain neutral."
After an entire day of historical and religious site seeing ending on this was like going out with a bang and pretty much summed up the name of the tour, Best of West Bank by Abraham Tours.
By far Bethlehem was the most dangerous part of the trip because you may have been so moved by the meaning and beauty of the place that you may have lost track of time, or even your group and gotten lost for a bit. Which we understand, is TERRIFYING.
Our Guide
It was sad to see Ashraf go at the end of the day. He stayed in the West Bank by The Walled Off Hotel because he obviously couldn't come with us. All I could think of for the next few days was Ashraf's story and how different his life is. From the moment I realized why we were picking up the random guy on the side of the highway to the moment we had to leave him behind on the other side of the wall.
If Ashraf or any of his family wants to leave Palestine there is only one option. Using the two airports that were once active in the West Bank is no longer an option. Instead Palestinians must book an airline ticket out of Jordan and cross the King Hussein Bridge days in advance to make sure they arrive on time. There are daily caps for 1,000 Palestinians to leave into Jordan per day, and if you don't make the cut you have to come back the next day. Ashraf told us he has to plan about 5 days ahead of his flight to ensure he can cross the border. This is their only outlet out of the West Bank and to the rest of the world.
He also went on to tell us about the water and electricity restrictions for Palestinians. Each month families get a ration of water and electricity they have to plan out accordingly in order to survive. Imagine having a family and running out of water?
Ashraf explained that Palestinians just want basic rights and their dignity back. My heart sank when he told us this. For me, it's unimaginable to have to live with so many restrictions.
From the moment I realized why we were picking up the random guy on the side of the highway to tid bits of information he gave us about life in Palestine. It was hard to imagine how people actually live with these kinds of restrictions. It made me realize we take some of the most basic rights for granted. Traveling is about learning other cultures and places. Visiting the West Bank as an American has to be one of the most memorable learning travel experiences I have personally had to date.
We ended up leaving West Bank feeling empathy and sadness for what was going on that isn't included in the media. The conflict here is not black and white and we are not picking sides, but it was an eye-opening experience to see what West Bank is really like to visit as an American. And to know that it is safe for tourists to visit. What we can do now is share our experience with our family and friends who were worried for our safety back a home or thought that we were visiting just a death zone. We will share the story of Ashraf, his family, and many others of what basic rights they do not have living in the West Bank.
Again, we want to state that we are no experts on the topic, all we can do is share the story we learned from Ashraf and our day with him. The situation between Israel and Palestine is very complex and we are not taking sides but just sharing the compassion we felt for the people.
We highly recommend booking a tour through West Bank, there are a few to choose from including a dual-narrative tour through Hebron where you will spend half of your day with a Palestinian guide and the other half with an Israeli guide both giving you an inside look into their side of the story. If we come back to Israel this is high on our list. You can book the Dual Narrative Tour also through Abraham Tours.
Found this post informative? Share it on Pinterest below!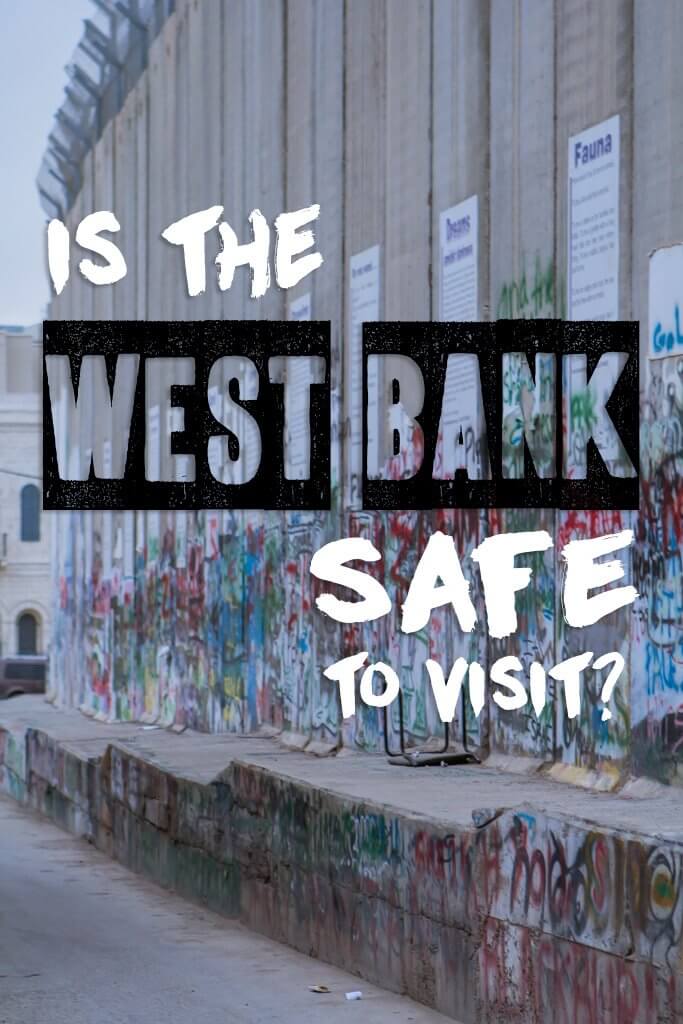 Disclaimer: Our Best of West Bank Tour was complimentary of Hostel Jerusalem Abraham, however as always all opinions are our own.