Scott and I got the opportunity to visit Israel, we were so excited to experience this country and finally see it with our own eyes. This post will highlight our impressions of Israel, through our three weeks in Tel Aviv, Jerusalem, and the infamous West Bank.
Before going to Israel we really weren't sure what to expect, as a matter of fact you could say we didn't have any expectations at all other than we were excited for the food and to experience a new place. Our friends and families were concerned about our visit, we had to keep assuring them we would be fine and that Israel isn't dangerous despite what they've heard on the media or whatever it was that gave them the idea that we were going into a scary terrorist war zone.
We were delighted to have had the opportunity to go experience this country for ourselves thanks to the Travel Blogger Exchange convention being held in Jerusalem where Scott and I both spoke at like in the Philippines a few months back. Our time in Israel was actually incredible, with the exception of a few days of a press trip gone bad, and full of enriching learning experiences – cultural, historical, and just experiencing a place for ourselves despite what the media says.
We were happy to then be able to come back and share our experiences, a real experience, not something you see on TV about what being in Israel, Jerusalem, Tel Aviv, and the West Bank was really like with our family, friends, and readers.
Tel Aviv
We spent our first nights in the cool coastal city of Tel Aviv. Scott and I were blown away by how Tel Aviv reminded us of Southern California. Not only because of the comfortable coastal climate but the atmosphere and vibe of the city too.
People were outdoors exercising and being active by the beach, the attitude is laid back, and there are hip restaurants, bars, and markets galore. We felt sort of at home, it had all the qualities we love about Southern California here in a foreign place and we could totally see ourselves living here awhile and loving it, the vibrant, laid back beach city was calling to us right at hello. Not to mention that there are friendly street cats EVERYWHERE. Win!
We spent one of our first days meeting up with another travel blogger, Trisha Velarmino of PS I'm On My Way. She is a Filipino who has worked her butt off to make her dream life come true. After traveling for years through South America and Asia she has moved to the Middle East, for now, to call Tel Aviv her home. It's no wonder why she stays here, it's totally an awesome place for young, creative people.
Be sure to check out her blog and why she likes living in Tel Aviv. She also does a great series dedicated to empowering women of the world.
Anyways, Trisha welcomed us to her city over drinks and told us to come prepared for Purim with a costume. We were really bummed out about leaving Nepal a day before Holi Festival (poorly planned right?) but little did we know we were showing up during one of Israel's most fun holidays, especially in Tel Aviv, the nation's party capital.
Purim is a local Jewish holiday celebrated by people dressing up in costumes. The dumbed down version of this holiday is that it's similar to Halloween in the sense that EVERYONE wears their costumes for days – and we mean all day! We've seen kids, adults, dogs, EVERYONE in costumes so we had to go out and get a costume and be a part of all the fun.
I'm a crazy cat lady and given all the cats I was seeing in the streets of Tel Aviv I dressed up as a cat, and Scott as my mouse.
The next day we cured our hangover by eating our way through Carmel Market with Inbal of Delicious Israel. The FOOD, oh the food here is soooo good. Just like Trisha, Inbal was warm, friendly, and went out of her way to give us an incredible impression of the people of Tel Aviv.
Tel Aviv was giving us an incredible first impression.
But, everyone in Tel Aviv kept telling us that Jerusalem and Tel Aviv are polar opposites of each other. We wondered if we were going to like Jerusalem and were scared to leave a place we liked, but luckily we were coming back to Tel Aviv for a press trip after the conference. We later found out there is a rivalry between both Tel Aviv and Jerusalem, like two sisters who are constantly picking at eachother even though they are of the same family.
One last thing we noticed about Tel Aviv was that the people here are incredibly good looking. Again with a comparison to Southern California where you feel like you're surrounded by super models and hunks. What is it with all these gorgeous people Scott and I kept wondering? Running, doing yoga, and biking along the beach. It reminded me of home.
So if you're single looking for a good lookin' guy or gal, head on over to Tel Aviv!
Check out our post on Best Things to do in Tel Aviv.
Jerusalem
We were nervous about going to Jerusalem after hearing how different it was from Tel Aviv. We were in love with Tel Aviv, what if we didn't like Jerusalem? What if we planned our trip wrong? But we were surprised, we fell head over heels for Jerusalem as well.
People were right, Jerusalem is different, completely different. It's Tel Aviv's older conservative sister.
Immediately out of the bus station we saw orthodox Jews dressed in dark colors men wearing hats and women in long skirts everywhere. It sort of reminded me of home growing up around Amish country in a way, people living a traditional life in a modern society. People, in general, were dressed more conservatively and even the climate even though we were only 40 minutes away from the coast. It seriously felt like we were in another country altogether.
Then there were the Israeli guards walking around everywhere with their machine guns. Every citizen in Israel is required to at least two years in military service, men and women. We kept seeing young women and men dressed in uniform carrying machine guns texting on their phone like it was no big deal. That was interesting to witness.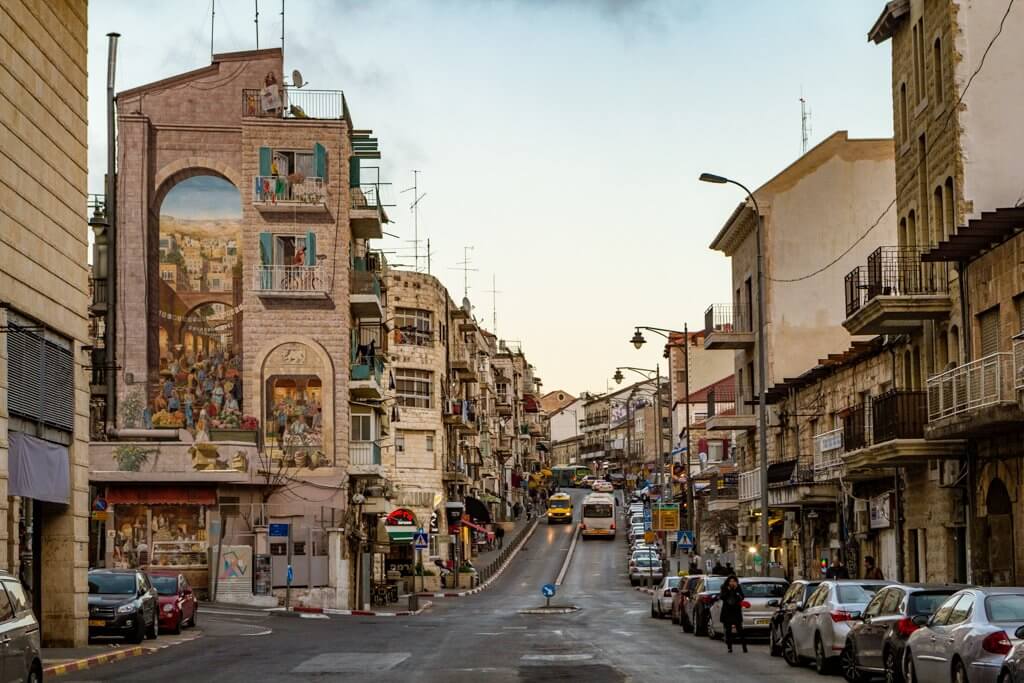 The architecture of the city is beautiful, we stayed near Machane Yehuda market our first nights and loved the area. We could see ourselves living here too.
We spent the rest of our time in Old City staying at the luxurious Mamilla Hotel. Old City is out of this world. We could have spent a month here just exploring every nook and cranny of this place. Not only is it incredibly photogenic and packed full of history but there are 3 major religions that share this city, Judaism, Christianity, and Islam. It's such a breathtaking and unique place.
Even though neither of us is religious, we always thought that the buildings used as places to worship for any religion are always the most beautiful, intricate, and interesting places to visit.
Other than the aesthetics of the place it is also an emotionally heavy place to visit. Whether or not you're Jewish, you feel the weight of emotions when you visit the Wailing Wall. Even if you're not Christian, you feel the powerful emotions running through the Via Dolorosa and the Holy Church of the Sepulchre where Jesus was both crucified and resurrected. Whether or not you're Muslim you can't help but feel captivated when you look at the Dome of the Rock where Muhammed descended into heaven.
Old City is an incredibly beautiful, powerful place to visit where many cultures reside together in a small place in peace.
When we toured the Tower of David, the ancient citadel packed full of history itself, our guide told us if only these walls could talk. She was right and it made us want to time travel to different periods of time in this exact spot to see all the different changes that have taken place over all the years. It's absolutely fascinating.
We highly recommend checking out the Tower of David's night spectacular. The entire walls of the citadel turn into an interactive light show showing the history inside the walls of the Tower of David, we haven't ever seen anything like it. Before the show be sure to check out the incredible view of Old City.
Jerusalem was a night and day difference from Tel Aviv, but it was amazing in its own way. We would love to go back and learn more, spend more time exploring the walls inside the ancient city so many from different backgrounds and religions consider their holy land.
Check out our picks for best things to do in Jerusalem for a first time visitor.
West Bank
The West Bank was another learning experience on its own. Before visiting the only thing we knew about the West Bank was it was one of the separation borders between Palestine and Israel. The safer of the two Palestinian borders made by the Israeli government that had tons of the famous works of UK graffiti artist Banksy.
Other than that, embarrassingly we knew very little about the West Bank and wanted to experience it for ourselves.
We first entered the West Bank by renting a car and driving through the West Bank to experience a sunrise at Masada, float in the Dead Sea, and visit Qumran National Park where the Dead Sea Scrolls were found. We were impressed and relieved with how easily we entered and left the West Bank without any issues all on our own. This was the first realization that there were some major misconceptions in the world about the West Bank.
We came back to the West Bank to do a 'best of' tour of the area getting to visit the Jordan River, the ancient city of Jericho, the capital of Ramallah, and the holy birthplace of Jesus in Bethlehem. Besides being absolutely beautiful and full of history lessons we finally got to learn more about the Palestinians and their struggle on their side of the wall.
We were captivated by our Palestinian guide Ashraf who shed light on what daily life was like for Palestinians. We left feeling both grateful for the experience but saddened by how restricted the lives are of the people who were born on the other side of the wall.
Read all about our experience in the West Bank here.
We left feeling compassion and sickened. The situation between Palestine and Israel is complex, heartbreaking, and is not black and white, but we felt sorrow for all who are affected. It left us realizing how much we take for granted.
We highly urge anyone visiting Israel to experience the West Bank yourself, take a tour with a Palestinian guide. Hear their story too.
Overall
We were impressed by the beauty and history of places like Jerusalem Old City and Masada. Our hearts and ears opened up to the stories we learned from our Palestinian guide in the West Bank. We imagine ourselves living in a laid back coastal Mediterranean city like Tel Aviv. And dream of floating in the beautiful Dead Sea again, perhaps from the Jordan side next time! Don't forget eating our weight in local hummus. Israel was full of educational surprises and is one destination with the biggest takeaways we've been. We were left with lasting impressions and a heap full of knowledge, whether it be religious, history, or about the conflict going on today with Palestine. Just like every other country we've visited, Israel we will be back, even if it is just to eat your tasty food!
Also, check out this amazing article about it being safe to travel solo in Israel.
Don't just take our word for it, check out what Israel taught A World to Travel.