Looking for a perfect 3 days in New Orleans itinerary? New Orleans is a must-visit city while traveling or living in the US. There's really no other place like it in the country or arguably in the world given its influences of Caribbean, French, Spanish, West African, and Native American cultures to name a few.
Together all of these influences have created its own regional identity by absorbing bits and pieces from all of these different cultures and influences making it completely unlike anywhere else.
Known for the great music, food, and friendly people there is enough to do in New Orleans that could fill a lifetime but if you're visiting you're going to want to hit all the highlights of the city and feel the overall vibe that will keep you wanting to come back for more.
We have put together the perfect itinerary for 3 days in New Orleans based on our hours of research, talks with locals and experience from our latest trip.
Table of Contents
Day 1 of 3 Days in New Orleans (Exploring the French Quarter)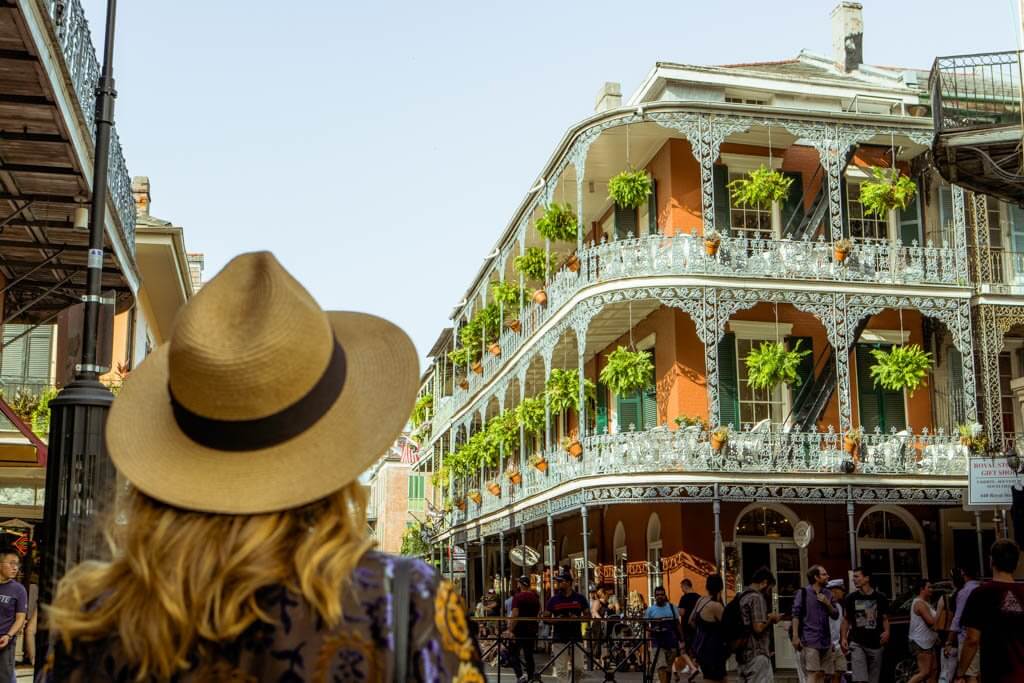 Get to know the French Quarter
Be sure to take as much time as possible during your 3 days in New Orleans exploring the historic district of the French Quarter. You'll be enamored by the gorgeous buildings with covered porches and balconies overlooking the gas lamp-lit streets.
What many don't know before coming to New Orleans is that there is so much more to the city and the French Quarter than Bourbon Street. As a matter of fact, this was our least favorite area of the quarter due to its frat party boy and spring break vibe, although it's worth seeing for yourself.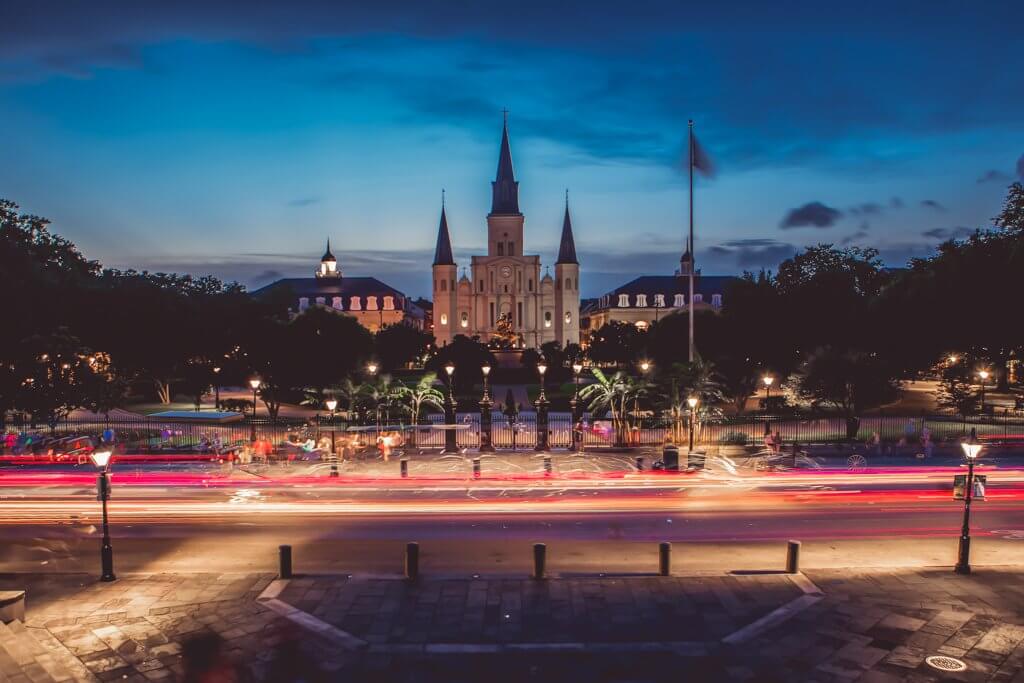 Head over to Jackson Square, the historic park and location of where the final version of the Louisiana Purchase was signed.
Walk to the Mississippi River front where you can check out the Natchez Steamboat, one of the historical steamboats of the Mississippi River.
Book a tour of a day cruise aboard Steamboat Natchez tour in New Orleans here.
While walking through the French Quarter you'll work up an appetite, you can get a delicious and famous po-boy at Johnny's Po-Boys, we recommend getting the shrimp!
Check out all the antique shops, boutiques, galleries, restaurants, and hotels on Royal Street.
Wander down to Governor Nicholls Street to see Lalaurie Mansion, once the home of actor Nicholas Cage, and one of the homes used for American Horror Story Coven. There are also other fancy homes like the New Orleans home of Angelina Jolie down this beautiful street.
If you're curious about voodoo to be sure to check out one of the many Voodoo Shops in the area, we recommend Marie Laveau's House of Voodoo where you can learn, window shop, or even buy charms and voodoo dolls.
Dinner Suggestion
While exploring and shopping through the French Quarter for a few hours you'll quickly be ready for a tasty meal. We recommend checking out Kingfish on Chartres Street in the French Quarter.
They have a great drink menu from wine, beer, and cocktails to delicious southern dishes. We went and sampled a few items off of the appetizer menu and enjoyed the alligator wings and the crawfish gratin the most.
Enjoy a Live Jazz Performance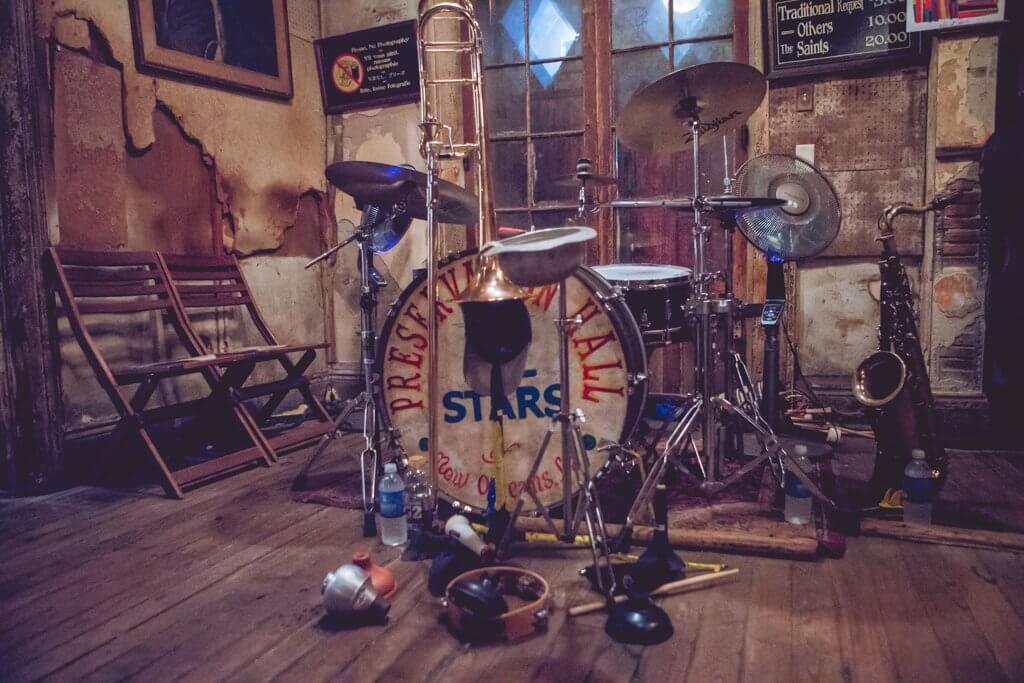 After dinner, there's no better way to spend your time on our New Orleans itinerary than to see a live jazz performance at one of the most historic jazz halls. Be sure to check out live jazz at Preservation Hall. This ended up being our favorite thing we did in New Orleans and strongly suggest you don't miss out on this during your 3 days in New Orleans.
Every night there are intimate, acoustic New Orleans jazz concerts held by some of the best musicians in the city. Be sure to get in line early if you want a seat unless you book ahead and pay extra for Big Shot tickets.
Walk Bourbon Street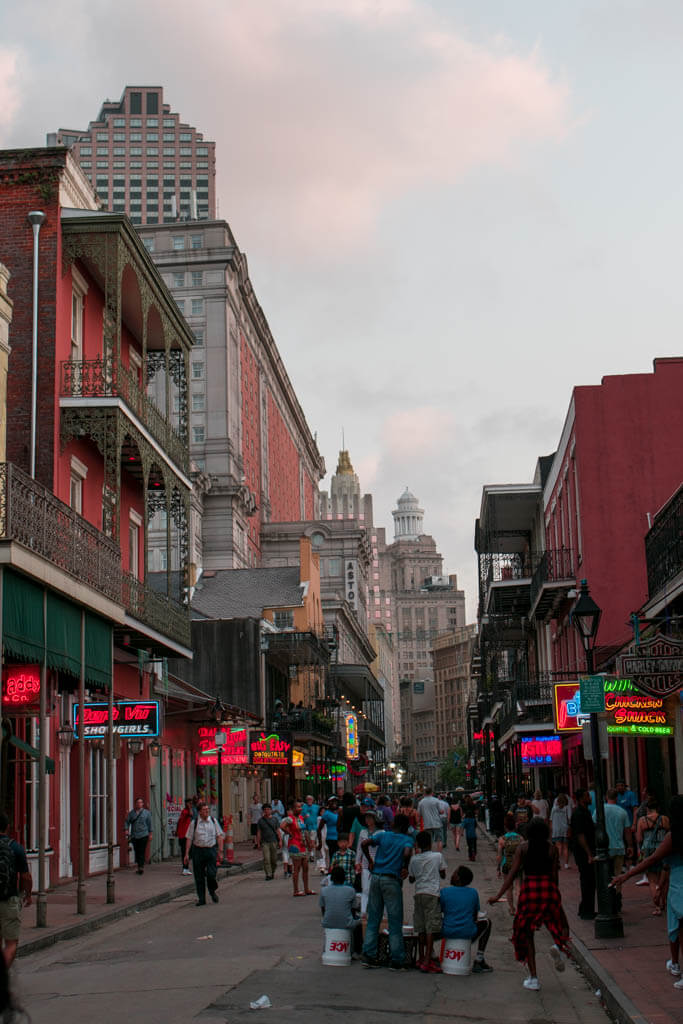 Bourbon Street is to New Orleans what Hollywood Boulevard is to Los Angeles, in our opinion of course. Bourbon Street is infamous for its party scene and especially popular during Mardi Gras.
To be honest, its a slimy place filled with drunks and neon signs, BUT having said that it's still something you have to see for yourself and should not be skipped even if you walk through it for only 5 minutes.
We recommend grabbing one of the best drinks in New Orleans to go and walking down taking in all the senses from the stench of the street to the sound of buskers and street performers. It's not as pretty as the rest of the city but still worth checking out before calling it a night and resting up for the rest of your New Orleans itinerary!
---
If you're looking to do any historic tours around the French Quarter be sure to check out our guide on the best tours in New Orleans to see which ones you should try!
Day 2 of 3 Days in New Orleans (Discover the Garden District)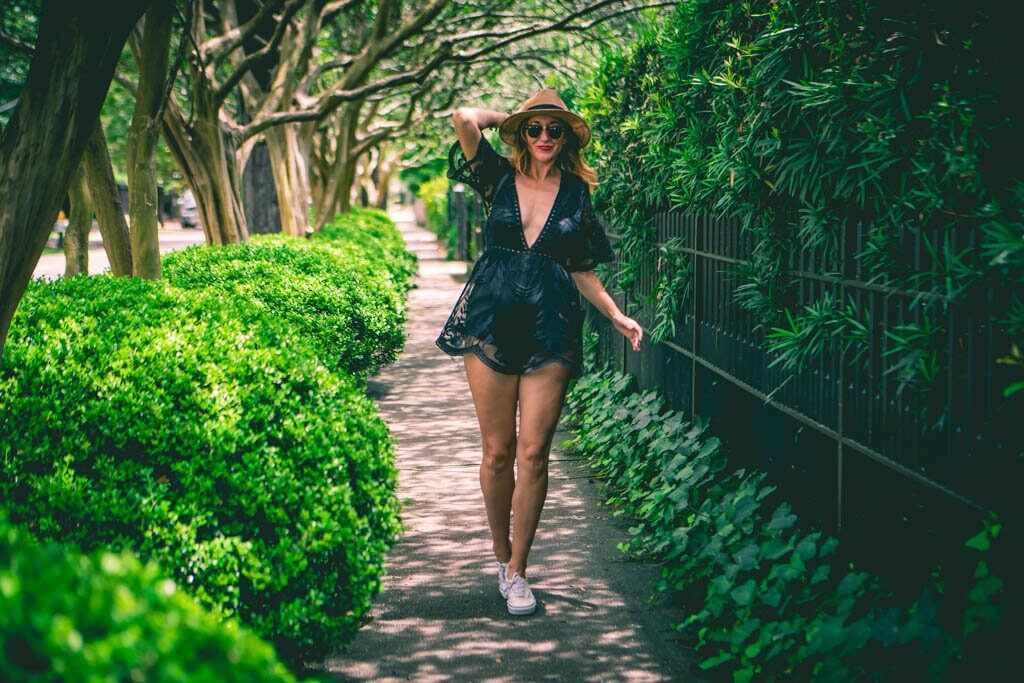 Cafe Beignet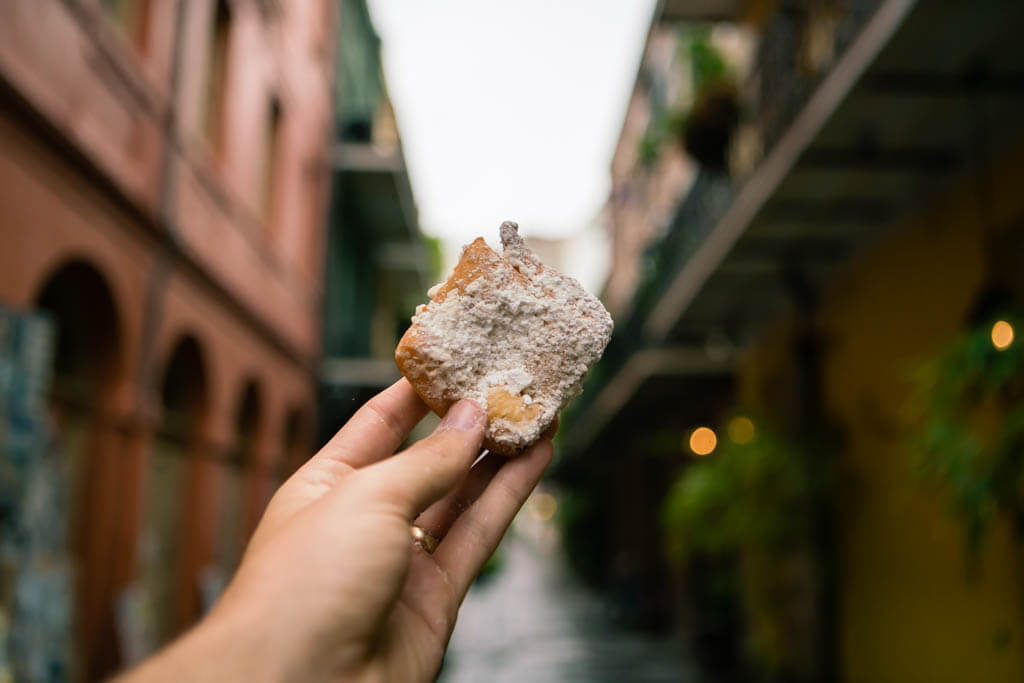 Start your morning of your day 2 of 3 days in New Orleans right with one of the two most famous spots to grab a beignet in the French Quarter at Cafe Beignet. (Don't worry you'll be going to Cafe du Monde during your New Orleans itinerary too, hang tight!)
Stand in line at Cafe Beignet and order your powdered sugary french donut goodness with a coffee. The local choice is always getting a cafe au lait, but we both prefer our coffee black.
Each order comes with three beignets, we split ours but that was a foolish decision, get your own order!
Head over to the Garden District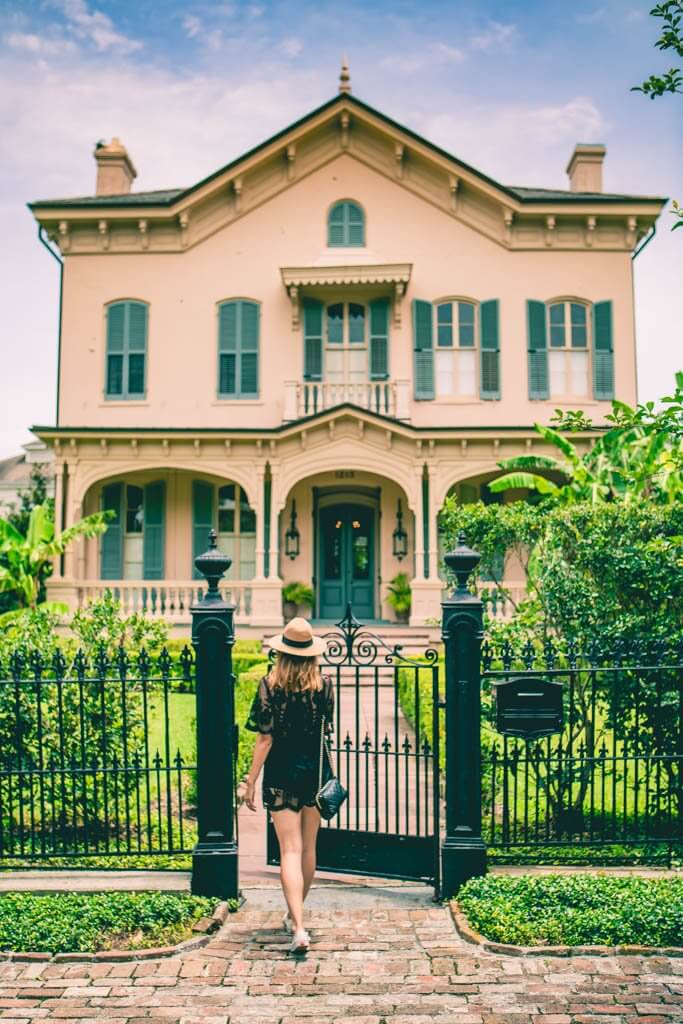 Explore the streets lined with gorgeous Victorian homes and mansions through the garden district. If you're like us you'll want to win the lottery so you can afford one of these incredibly beautiful homes in this area. You can actually feel yourself breathing in the fresh air from all the trees lining the streets and homes in the area.
Be sure to check out Buckner Mansion and the Cornstalk Fence Mansion as you're wandering your way through this dreamlike the neighborhood. You'll recognize Buckner Mansion if you're a fan of the TV series, American Horror Story Coven, it's the main home in the third season of the series.
Also walk through Lafayette Cemetery, visiting New Orleans without checking out one of their cemeteries would be a shame!
Not only are they eerily beautiful the stone mausoleums and tombs are being reclaimed by nature with plants and even trees growing out of their cracks and big beautiful trees surround the lines of tombs.
You may also recognize this cemetery in particular if you have ever seen the movie, "Double Jeopardy," with Ashley Judd when she breaks herself free from being locked up in a tomb by her crazy husband.
Be sure to check out this 2 hour Garden District and Lafayette Cemetery tour if you're looking for a guided and informative experience!
Dine at Commander's Palace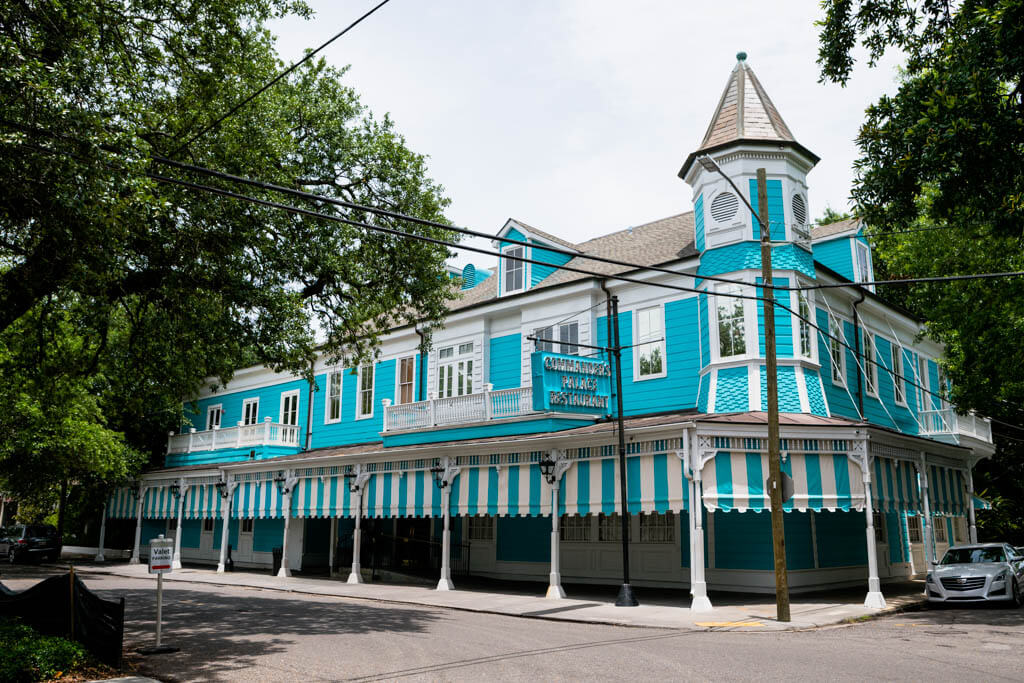 You can't miss the grand turquoise Victorian restaurant Commander's Palace when you're strolling through the Garden District and it shouldn't be skipped! Enjoy a fine Creole dining experience that makes you feel like you've gone back in time.
The interior decor complete with chandeliers and an old New Orleans feel it's no wonder why it's been named one of the best Southern Dining experiences.
Be sure to make a reservation in advance by calling or using their website for your unforgettable dining experience. During lunch service Mondays through Fridays you can enjoy the famous $.25 martinis with your meal! That's right, $.25 and they are GREAT!
You will need to dress up, that means men have to wear a button-down shirt, pants, and closed-toe shoes and women are suggested to wear a dress or business attire. You actually won't be allowed to dine in without following the dress code, so be sure to pack properly if you want to check it out!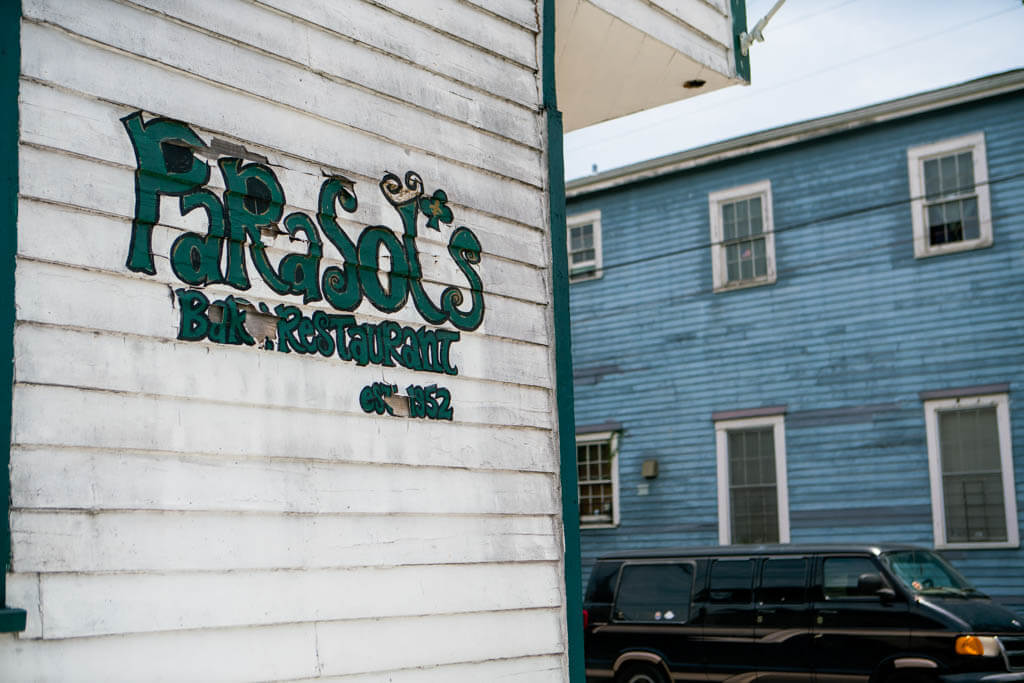 If you forget to make a reservation or forgot your dress clothes you can opt to go to the delicious dive restaurant Parasol's for one of their signature Po-Boy sandwiches.
We got the firecracker shrimp Po-Boy and we are still dreaming about those heavenly bites. Don't judge this place on its appearance, it serves up incredible food!
See why Parasol's makes it on our guide to the best food in New Orleans plus more great recommendations.
Shop and Snack on Magazine Street
Next up on our New Orleans itinerary, stroll down the lower Garden District part of Magazine Street for great shops and more restaurants. Except, you'll be full from your meal so you can check out District Donuts for dessert and coffee. Trust us, you're going to want to leave room to try at least one donut here or get a box to go.
They have different daily specials, we split the Ginger Mint Julep donut and almost cried it was so delicious.
They also serve cold and hot brewed coffees on tap! Seriously, don't miss this place, check out their daily Instagram posts to see why everyone is drooling over these donuts.
And don't forget to check out the cool shops along this street as you make your way to St. Charles Avenue, this is where you will walk past the famous Buckner Mansion!
Ride a Street Car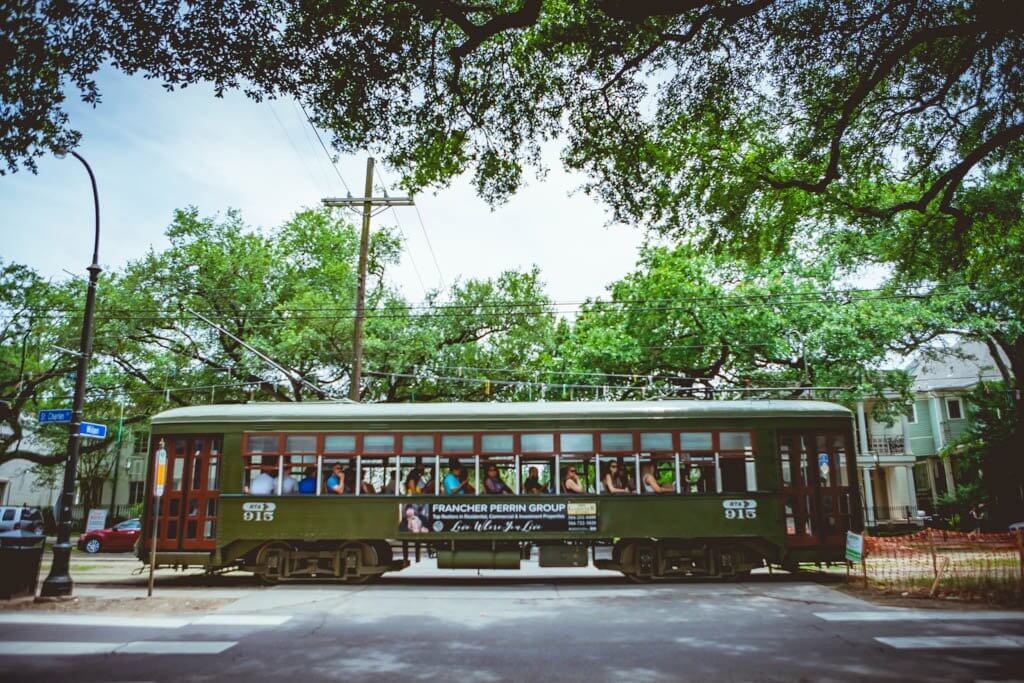 There are not many places left where you can ride a historic streetcar to get around anymore which is exactly why you must experience riding a Street Car in New Orleans.
You will need exact change, which is only $1.25 per person/one way OR you can buy an all-day pass for $3. Not a bad deal at all.
We recommend getting on at St. Charles Street to take you back to the French Quarter on Canal Street. The streetcars have no set schedule but usually, arrive every 5-15 minutes.
If the car is full the driver will go past you, don't sweat it though there is usually a less empty one just a few minutes behind it!
Enjoy Dinner at Coop's Place
After doing some great exploring around the Garden District on your New Orleans itinerary, freshen up and we recommend getting dinner at Coop's Place, a local favorite serving up scrumptious Cajun grub. We highly recommend the fried chicken and jambalaya. I also tried the fried oysters which were amazing.
Everything was actually mouthwatering but the jambalaya was out of this world served up with rabbit and sausage. You must try it, it's no wonder the Travel Channel considers Coop's Place to be one of the best spots in town for food.
Experience Live Jazz on Frenchmen Street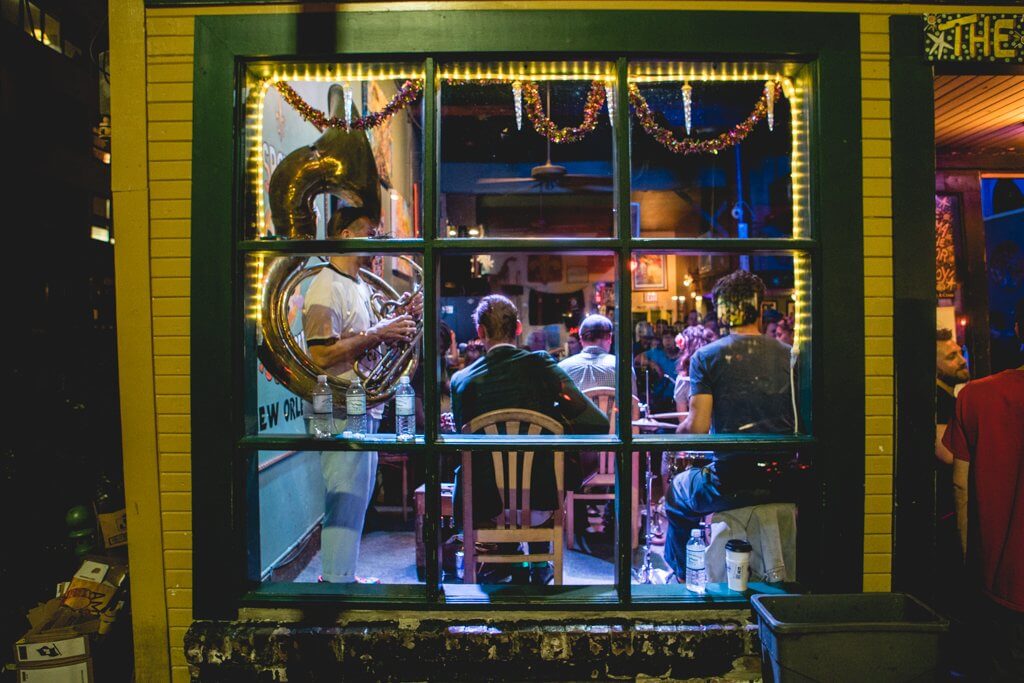 End the evening of your day 2 of 3 days in New Orleans on Frenchmen Street, one of the best spots to hang out in the city. Almost every local we talked to told us to head over to Frenchmen for tons of options for live jazz music every night.
We were even told by a local that Frenchmen was what Bourbon Street used to be like before it became the big neon party destination it is now for tourists.
Enjoy some drinks while listening to some incredible performers. We highly recommend the popular club The Spotted Cat and d.b.a for the scene.
Day 3 of 3 Days in New Orleans (Beignets, Cemeteries, & Marigny)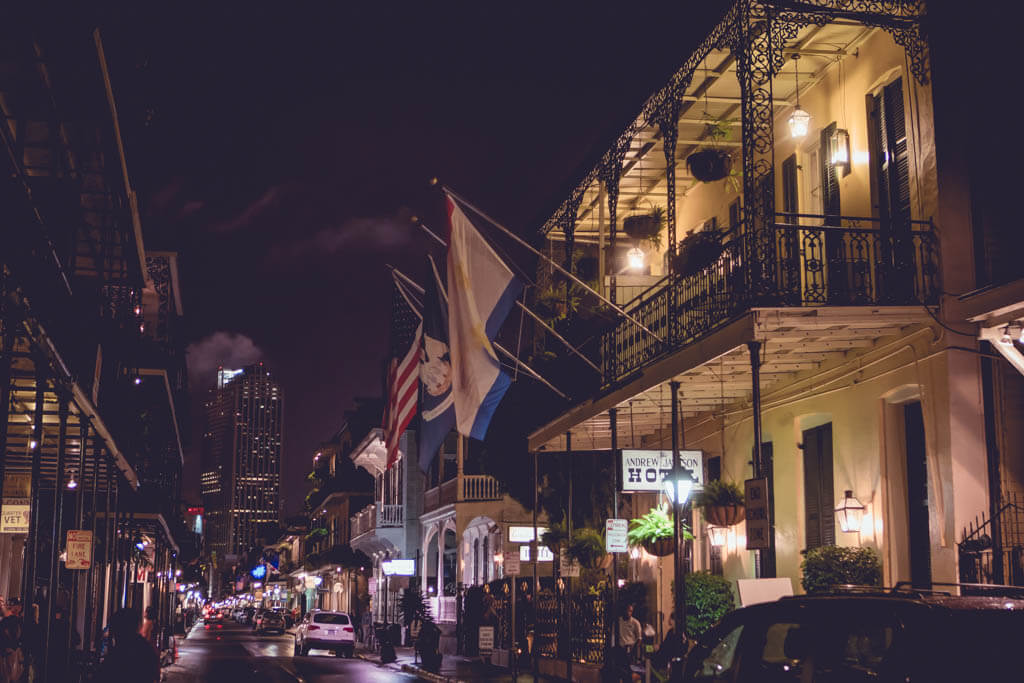 Cafe Du Monde
Finally, one of the most famous stops in the city and where to start your day 3 in New Orleans if you already haven't come several times, we'd totally understand if you come every day of your 3 days in New Orleans they're that good! Head on over to the most famous beignet spot in town at Cafe Du Monde, you won't be sorry!
We loved that you got to sit down outside under the covered porch area and listen to the live street musicians as you enjoyed your beignets and coffee.
Again, be sure to get your own order, there are 3 beignets per order and they are heaven. Locals prefer to drink coffee chicroy with their beignets, but again we prefer our coffee black!
Take a Cemetery and Voodoo Tour
We highly recommend taking a cemetery tour through Saint Louis Cemetery No. 1. This is the oldest and most famous cemetery in New Orleans and has the tombs of famous people like Marie Laveau, the notorious voodoo queen, Homer Plessy's tomb, from the famed Plessy vs. Ferguson civil rights case, and even Nicholas Cage's strange pyramid tomb for when he dies.
Get discounted tickets for a 2 hour New Orleans cemetery tour through St. Louis Cemetery No. 1 here.
You'll learn about the interesting history of the tombs, why people write three X's on Marie Laveau's tomb and thebackground of the Catholic and Voodoo ties to New Orleans.
St. Roch Market
After your cemetery tour hop in a cab or Uber and head over in about a 5-minute drive to St. Roch Market for lunch.
If you were intrigued by all the voodoo history you learned you can also make a pit stop on the way at the Voodoo Spiritual Temple, home of Voodoo Priestess Miriam, one of the last authentic voodoo practitioners in New Orleans.
We were told that most of the voodoo shops you see in the French Quarter are for tourists and kitschy. However, if you do want more of an authentic experience and learn more you can give Priestess Miriam a visit.
If Voodoo gives you the creeps, continue onward to St. Roch Market for an array of tasty food stalls to choose from. This famed food hall features different vendors offering up different types of cuisine from Cajun, Haitian, to even Mexican food.
What's great is that the food here is amazing and it's much cheaper than anything you'll find in the French Quarter. Go with a friend and sample around the food hall.
Don't forget to check out the cocktail bar in here and try one of their Sazeracs. We were lucky enough to show up during happy hour and were able to grab one of the best cocktails we had during our time in the city for only $5.
Explore streets of Marigny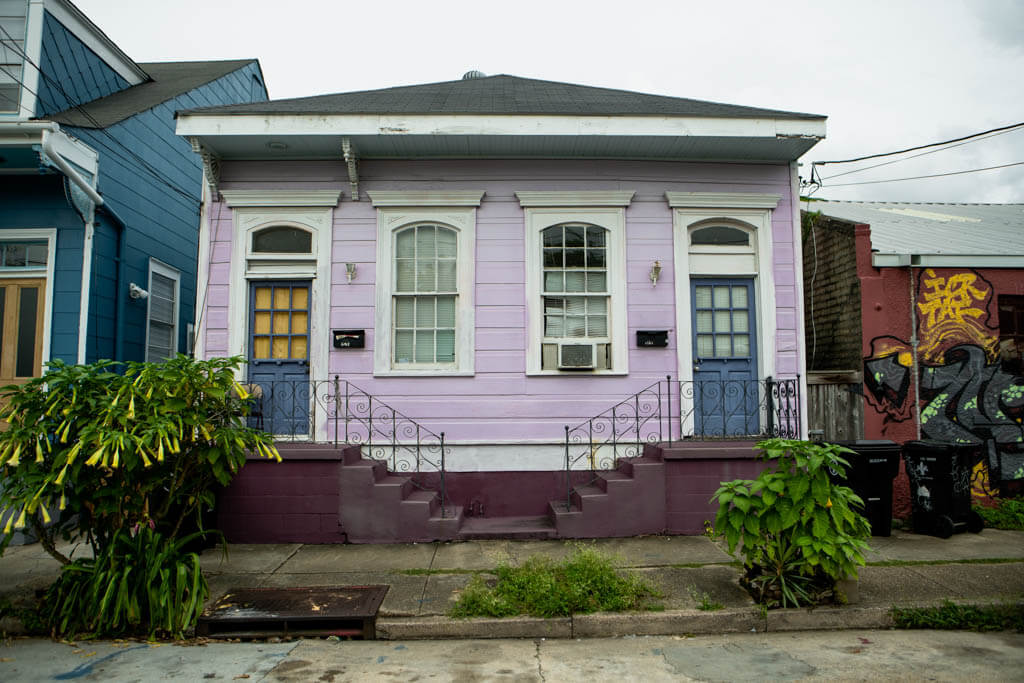 After lunch on your New Orleans itinerary take a stroll and explore the next few blocks of colorful homes in Marigny. This is where you'll discover the beautiful and colorful shotgun style homes and of course more places to eat incredible food, get drinks, and listen to live jazz music.
Dinner in the French Quarter
It's your last night of your 3 days in New Orleans and it's time for you to pick your last meal. If you want a Po Boy, we recommend checking out Killer Po-Boys, if you want a fancy dining experience where you dress up and have another Commander's Palace like experience head on over to Galatoire's on Bourbon St., if you want some great gumbo head on over to the Gumbo Shop, or if you want some of the best oysters in town to check out Acme Oyster House for their famed seafood.
We had a hard time choosing our last meal because all of the food we ate was so good.
After Dinner Drink and Jazz at Bourbon "O" Bar
Head on over for at least one cocktail at the best cocktail bar in the historical quarter. Connected to the Bourbon Orleans Hotel, the Bourbon "O" Bar is known for its quality drinks and live jazz music seven nights a week.
This is also the only place in town you'll find the original Ramos Gin Fizz just as Carl Ramos intended it to be made. They have a specialized shaker that will shake your gin fizz for minutes just like the original "shaker boys" Ramos used in the late 1880s in his New Orleans Bar.
The results are incredible and it will be the best Gin Fizz you'll ever have.
They also have tons of other amazing cocktails including Pim's Cup, French 75, and their mixologist's seasonal specials. Having a drink here is an experience.
Take a Haunted Tour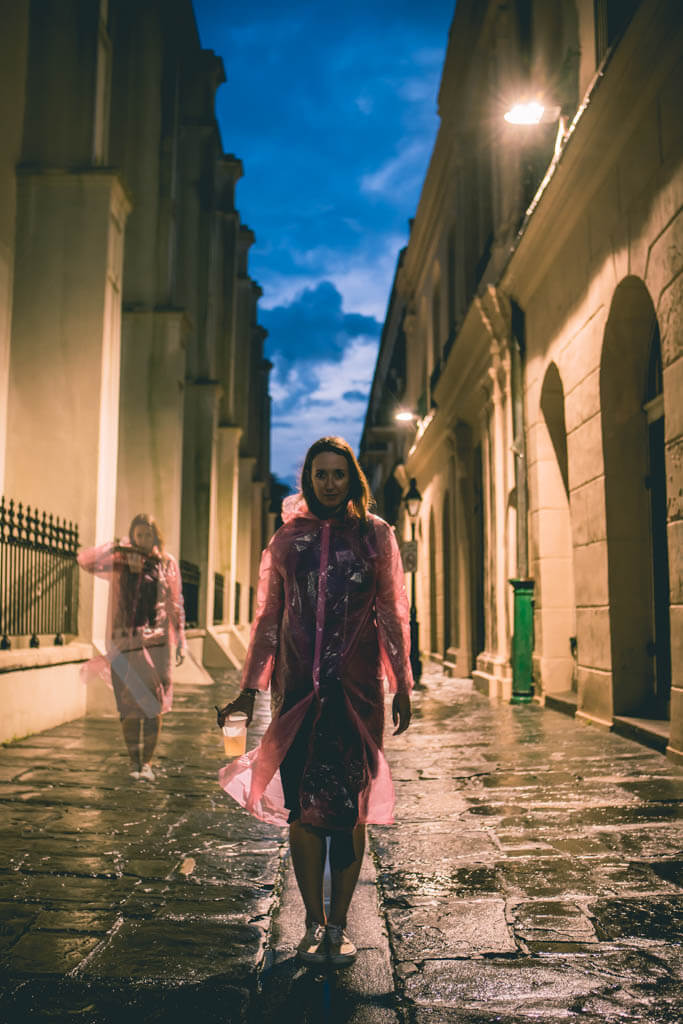 End your New Orleans itinerary with the spooky ghost stories from one of the most haunted cities in the United States. With a crazy history of the yellow fever epidemic wiping out alot of the local population you can expect many ghost stories among all the other crazy hauntings of the city.
We recommend doing a night ghost tour, but before you book please ask how many people are on the tour. Our only complaint with our tour would have been there were too many people and it was hard to hear our guide sometimes.
Book your Haunted Tour in New Orleans here.
This is the day we found out our hotel, Bourbon Orleans was haunted! It was best to figure that out on our last night because I slept with one eye open that night!
Extra Time in New Orleans
If you have any extra time during your 3 days in New Orleans or are planning a longer New Orleans itinerary we highly recommend checking out any of the following New Orleans attractions.
Honey Island Swamp Tour
Spend an afternoon in the swamps of Louisiana where a guide will navigate you through narrow slews and experience a real Cajun village right on the water.
Along the way, you will see tons of incredible wildlife including tons of alligators, birds, and even wild pigs! This ended up being one of our favorite things we did during New Orleans itinerary. We really couldn't believe how many alligators we saw!
This tour of the swamp and bayou is just under 4 hours and includes an experienced guide you will teach you about the different species you encounter along the way!
WWII Museum
We are really sad we missed the WWII museum during our 3 days in New Orleans, it's the country's largest WWII museum and has rave reviews thanks to its many interactive exhibits and even a 4D movie.
We skipped because we had such an action-packed schedule we couldn't commit the few hours we would want to spend inside. We already decided we would be back to New Orleans, so we will definitely make it a priority next time, however, if you have time be sure to check it out.
City Park and NOMA
Many of our readers would suggest us to check out City Park while we were posting photos of ourselves in New Orleans on social media. After seeing photos of this place it's no wonder why this place is a photographer's dream and has the most beautiful trees everywhere.
Located in the center of City Park is NOMA, New Orleans Museum of Art which the building itself is beautiful holding a permanent fine art collection of over 40,000 pieces. We will be checking this out on our next trip as well!
Travel Tips for New Orleans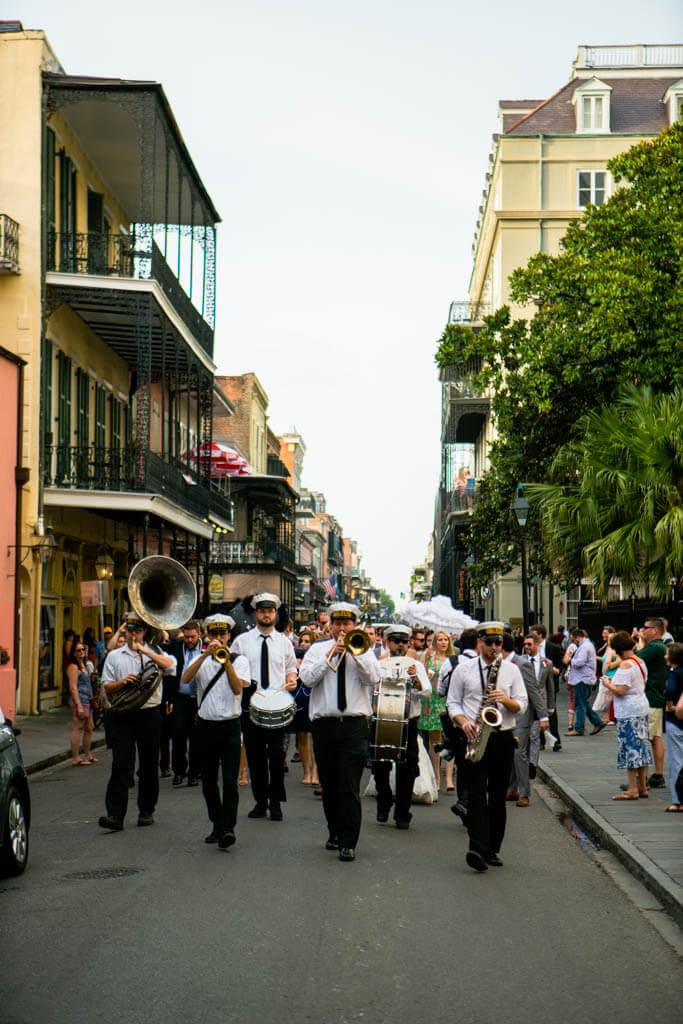 Here are a few travel tips to help you plan for your trip and perfect 3 days in New Orleans itinerary from when its the best time to travel here, transportation tips, and what to bring to New Orleans.
The Best Time to Visit New Orleans
The months of February to May are when it's considered the most comfortable and best season to visit New Orleans. New Orleans gets very humid and hot, so these are considered the best months for comfortable and cooler weather for New Orleans.
Mardi Gras is celebrated in February and is by far the busiest and most popular time to visit the city. If you wish to come during Mardi Gras you'll want to be sure to plan your New Orleans itinerary and trip well in advance and secure accommodation.
December and January are considered a great quiet time to visit New Orleans and a less competitive time to secure hotels.
The least desirable time to visit New Orleans in from June through November because of hurricane season. July through September are the worst months for weather. While it's not impossible to visit during this season, we recommend keeping an eye on the weather and taking all precautions.
Transportation in New Orleans
Getting around the city during your New Orleans itinerary is pretty straight forward. Depending on where you're staying, you can easily walk to many of the best New Orleans attractions mentioned on our 3 days in New Orleans itinerary.
Other modes of transportation include using local taxis or rideshare apps like Uber & Lyft.
Also, you can enjoy the unique streetcars in the city as mentioned above. This is a great way to get to and from the Garden District and the French Quarter.
Streetcar fares are $1.25 per person and must be paid in exact change when you board the car. Be sure to come prepared. You can also get Jazzy Passes for multiple-day transportation passes during your 3 day itinerary for New Orleans.
What to Bring to New Orleans
You'll want to dress accordingly to the weather in New Orleans during your visit. Check the weather before your visit and come prepared. We recommend wearing breathable fabrics on the hot, humid days. Here are a few things we recommend bringing with you on your New Orleans itinerary.
Where to Stay in New Orleans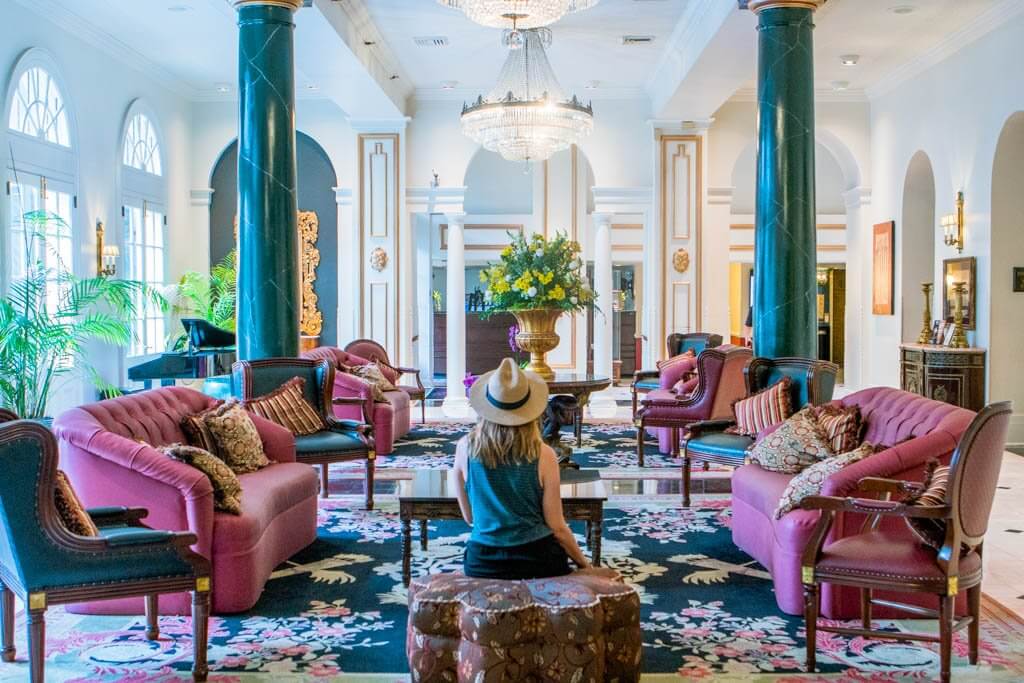 There are plenty of great options for where to stay during your New Orleans itinerary. We recommend checking out our comprehensive guide of where to stay in New Orleans by neighborhood with plenty of awesome hotel options to choose from.
The most popular area to stay in New Orleans is in the French Quarter. Book your hotel easily below on Booking.com.


---
We believe this is the perfect itinerary for anyone spending 3 days in New Orleans or even more. Even if you have less time you can pick and choose what you think is best from our suggestions, or check out our best things to do in New Orleans for a first time visitor, everything was seriously wonderful and no matter how much time you spend here you will fall in love.
Only spending 2 days in NOLA? Check out this 48 hour itinerary for New Orleans.
And as the locals say, "Laissez les bon temps rouler!" (Let the good times roll!)
Found this guide for the perfect 3 day itinerary for New Orleans helpful? Bookmark for later or share the love below on Pinterest.