Kathmandu is one of the cities we have been looking forward to experiencing for awhile. From the prayer flags, stupas, mountains, and UNESCO sites there is so much to experience and see. Kathmandu did not disappoint and interestingly enough has had a huge tourism increase since the 2015 earthquake. Check out why more and more tourists are coming to Nepal with our complete guide of what to do in Kathmandu!
What to do in Kathmandu
Durbar Square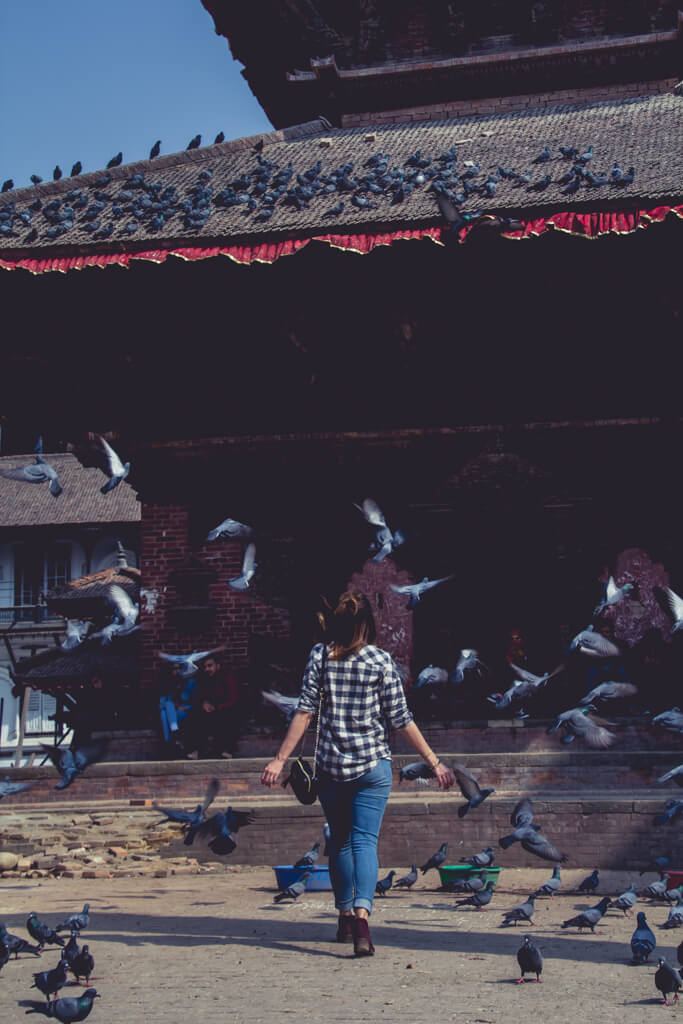 Although this UNESCO site was dramatically damaged by the 2015 earthquake, Durbar Square is still one of the best places to visit in Kathmandu as well as an important cultural and religious hub of the nation. To enter the Hindu and Buddhist temple complex you must pay a fee of $10.
We found the Kumari Bahal structure (aka Temple of the Living Goddess) to be most intriguing since it is home to the young girl who is worshiped by locals as a living goddess from her early childhood until she goes through puberty when it is said she has become mortal and a new goddess is then selected through a tedious selection process. During the hours of 9 am -12 pm and 4 pm – 6 pm you can catch a glimpse of the living goddess on the third floor of the courtyard. Witnessing her presence is considered good luck. While Scott has mixed feelings about the life of the little girl, I still felt intrigued.
To learn more you can check out this piece by Vice News.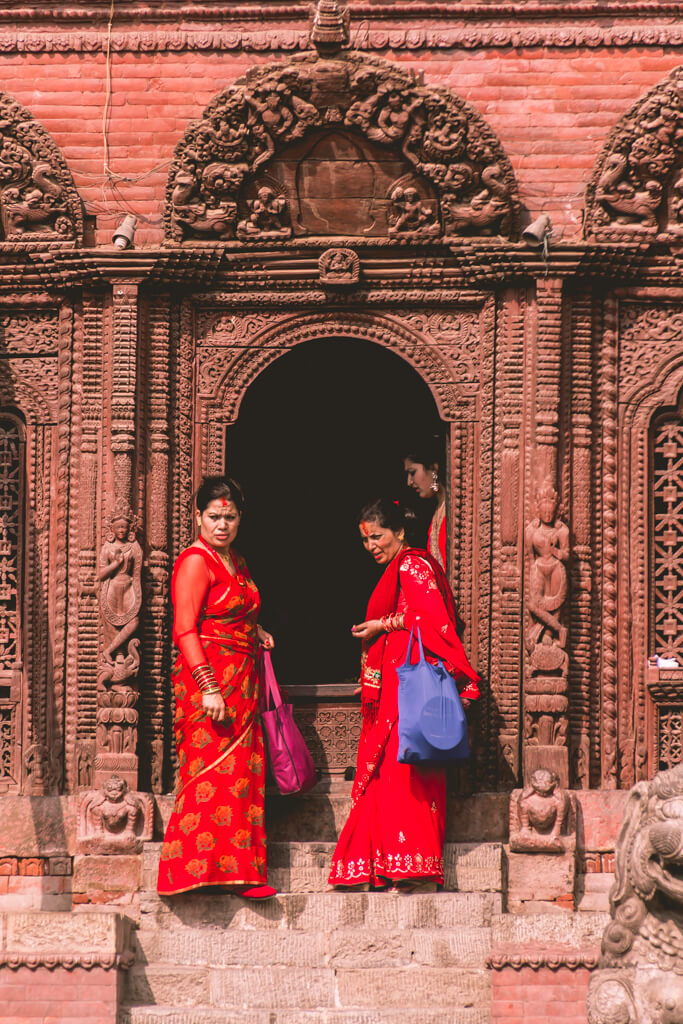 Many of the structures here are impressive. If you're a history buff we recommend making sure you get a local guide to walk you through the square and share the rich history of the complex.
Patan Durbar Square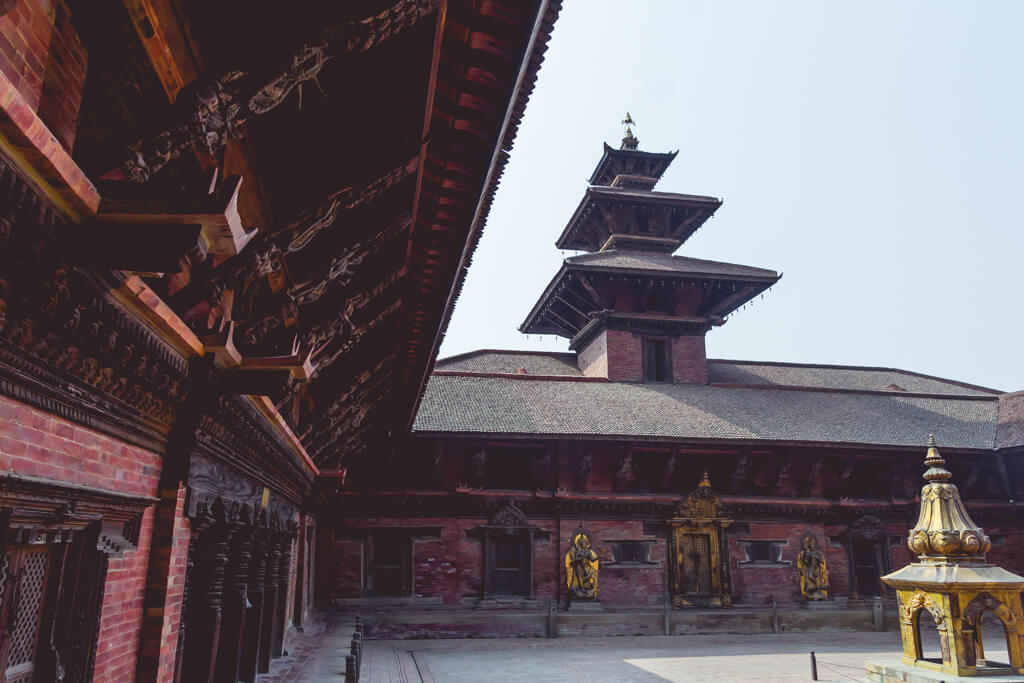 Another one of the three Durbar Squares located in the Kathmandu Valley and also a UNESCO World Heritage Site, Patan Durbar Square is a complex of several temples and is an open museum. Again, this site has suffered severe damage from the 2015 earthquake, but you are still able to walk through many of the buildings and read about the local history, religion, culture, and art.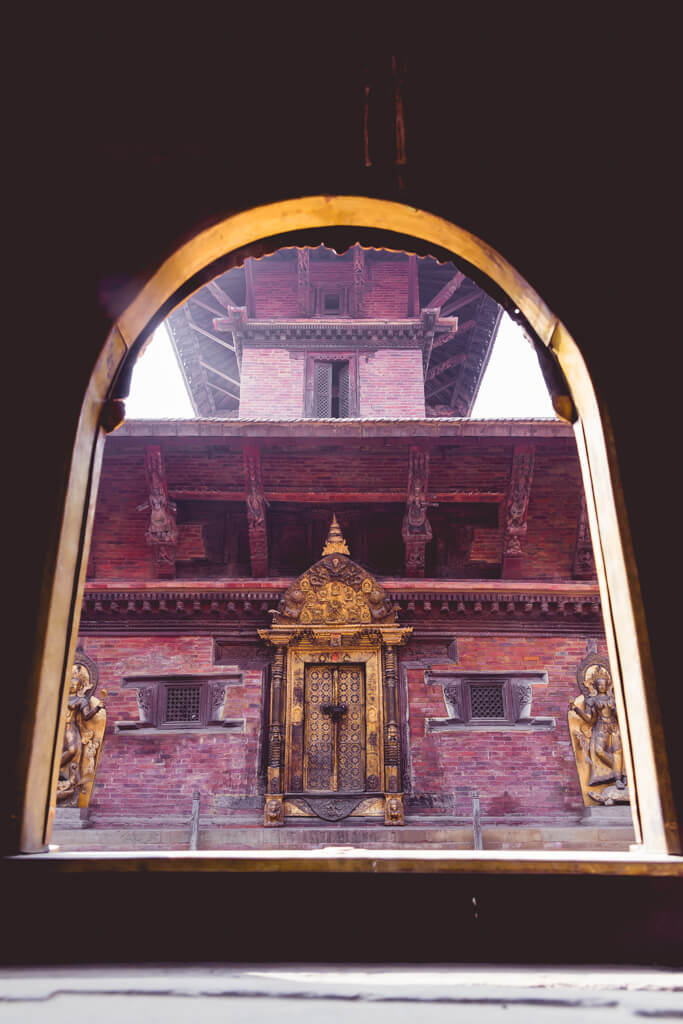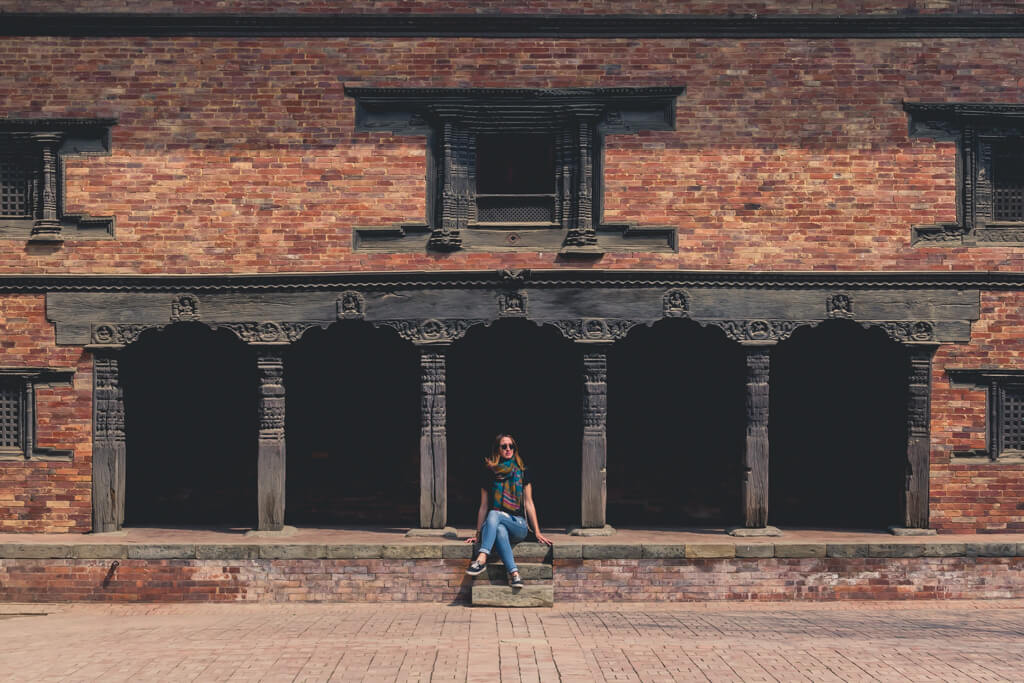 To get into the UNESCO complex you will have to pay a $10 fee, it's another ~$1 to get into the museum. It takes around an hour to get here via taxi with traffic, you'll have to negotiate with a driver for about $10 each way.
Bhaktapur Durbar Square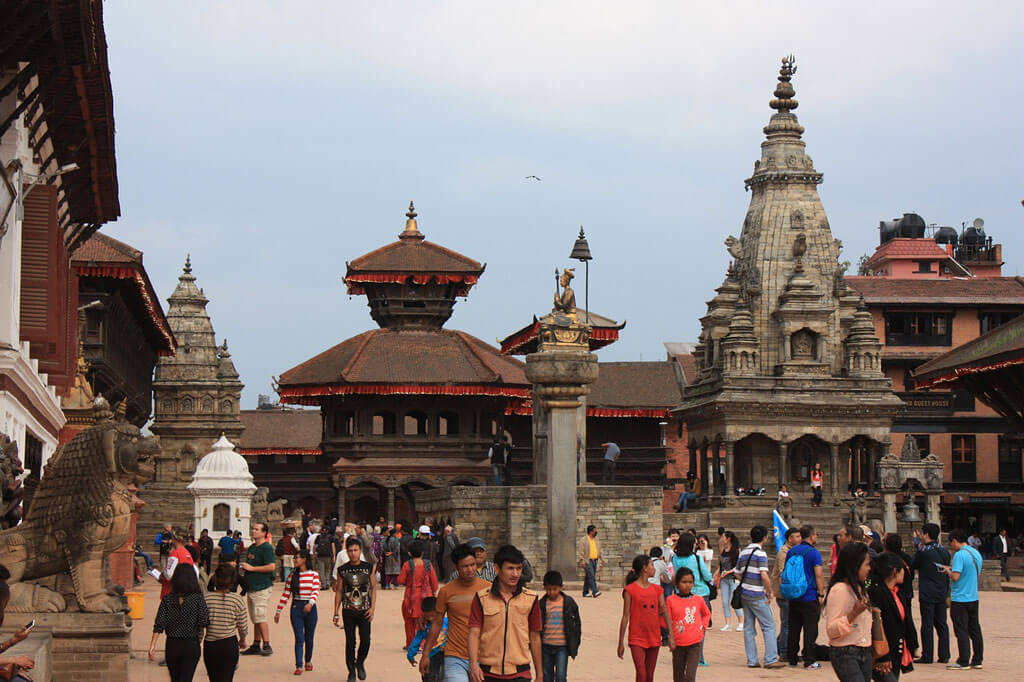 The final and third of the Durbar Squares located in the Kathmandu Valley, Bhaktapur is also the most challenging and expensive to get to. Located 13 km east of Kathmandu it can cost up to $20 for a driver with an additional $10 fee to enter the UNESCO Heritage complex.
There used to be up to 99 different courtyards in Bhaktapur but now only 6 remain because of the damage of the giant earthquakes of 1934 and 2015.
Pashupatinath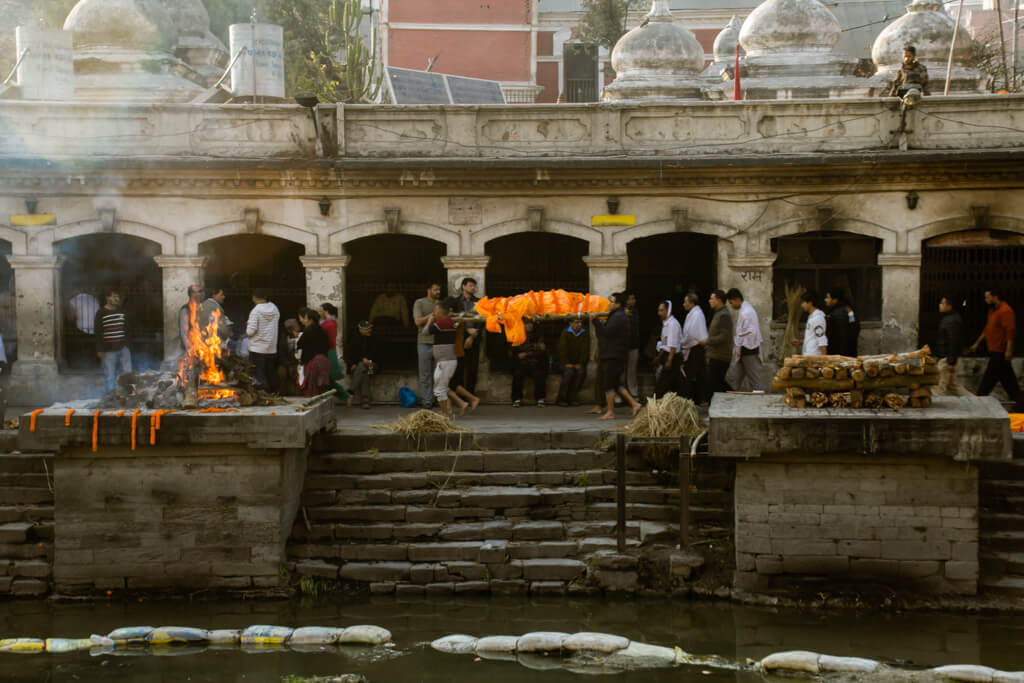 Pashupatinath is another one of Kathmandu's UNESCO sites and home to the oldest and most holy Hindu temple in Nepal. Here is where the locals practice open cremations along the Bagmati River. This river flows into the famous holy Ganges River where the Hindu of India sends their dearly departed down the river for an open cremation.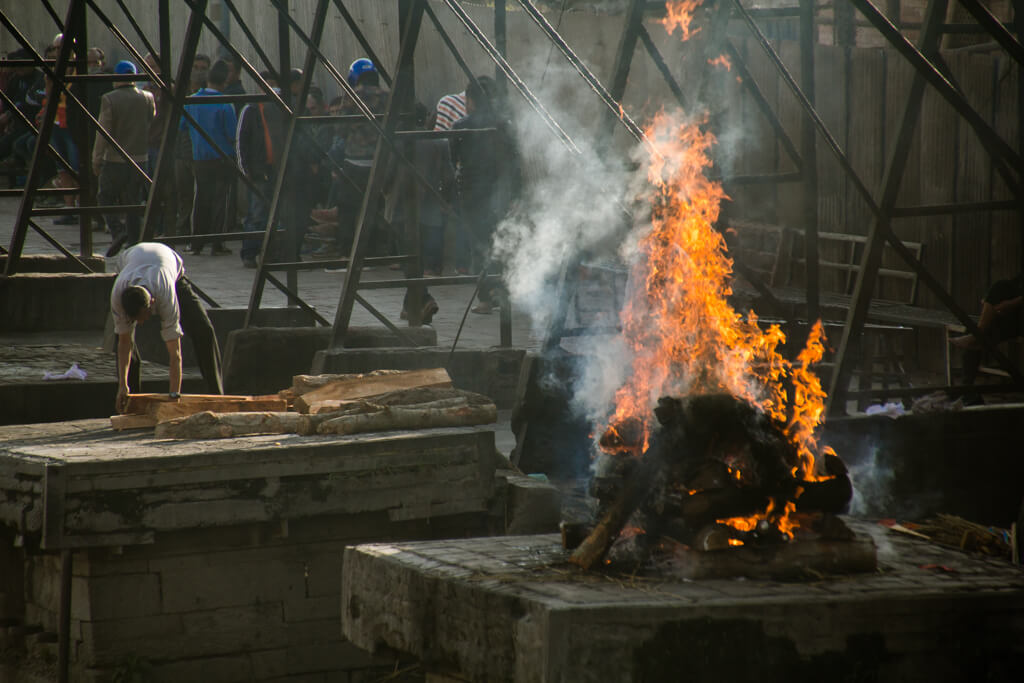 This was actually something we were really intrigued to see, but to be honest, once I was there I felt a bit strange and intrusive seeing mourners set their deceased family members into flames and let the remains wash away in the river where monkeys are swimming to and fro in while tourists sit and watch and ladies try to sell us necklaces and holy men ask for you to take a photo in exchange for some money like we are at any normal tourist attraction. It was interesting to sit and reflect the cultural differences when it comes to funeral practices, even if it made me a bit uncomfortable for a moment.
If you are not Hindu you will not be allowed to enter the actual temple, but you can proceed around the temple and witness the open cremations.
Boudhanath Stupa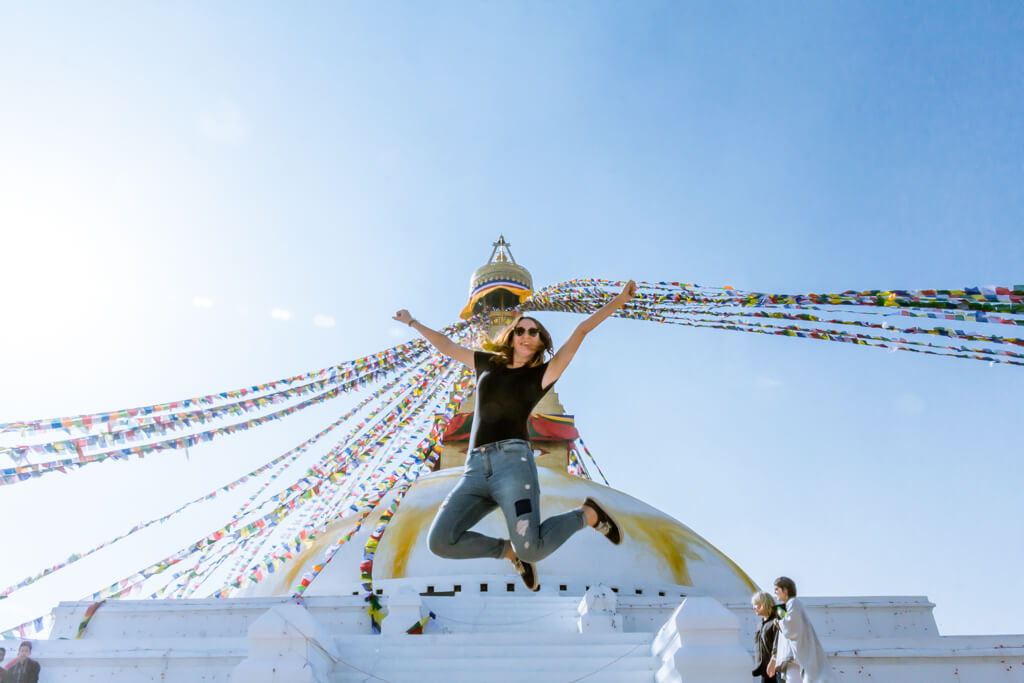 Yet another UNESCO site and a spot where you look and feel like you're officially in Nepal. This giant stupa is actually the largest stupa in Asia and where Buddhists believe the remains of Kassapa Buddha remain. Around the entire stupa there are the famous prayer wheels and it is said that the locals will circle around the entire structure while spinning the prayer wheels 108 times!
The square around Boudhanath Buddhist temple has some great rooftop cafes where you can enjoy a meal while overlooking the giant stupa. Be sure to check them out to enjoy the view.
Swayambhu (aka Monkey Temple)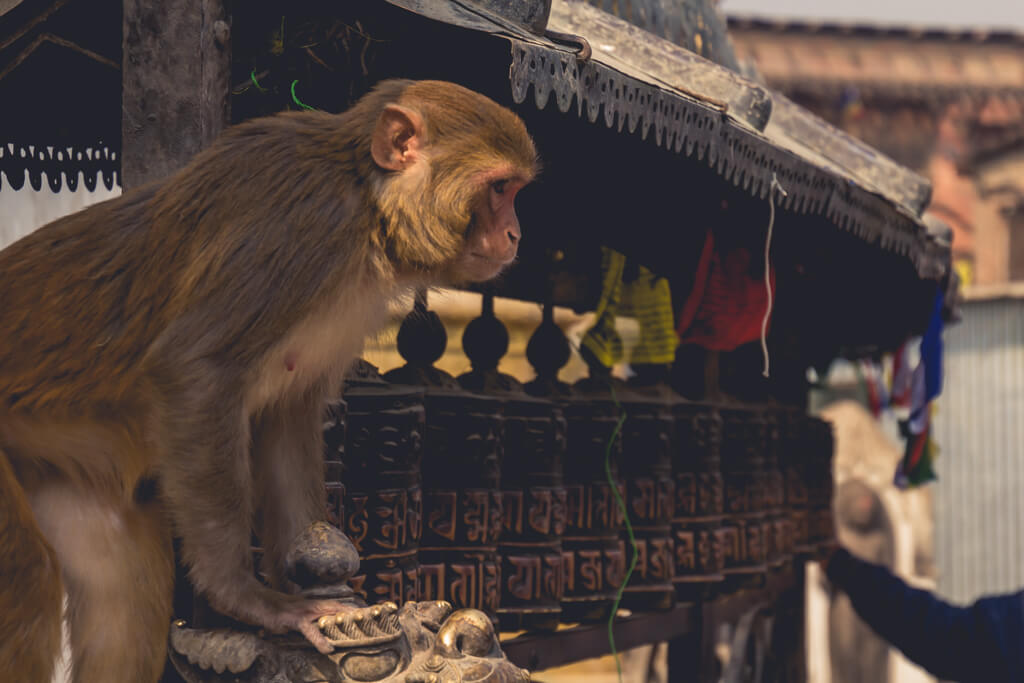 This sacred Buddhist temple and UNESCO site is located on top of a hill in the Kathmandu Valley and just a bit of a walk from Thamel. Climb the 365 stairs to the top where the large stupa rests with Buddha's eyes and brows painted at the top. Along the way, you will see dozens of monkeys that call this place home and are said to be holy as they supposedly don't have head lice.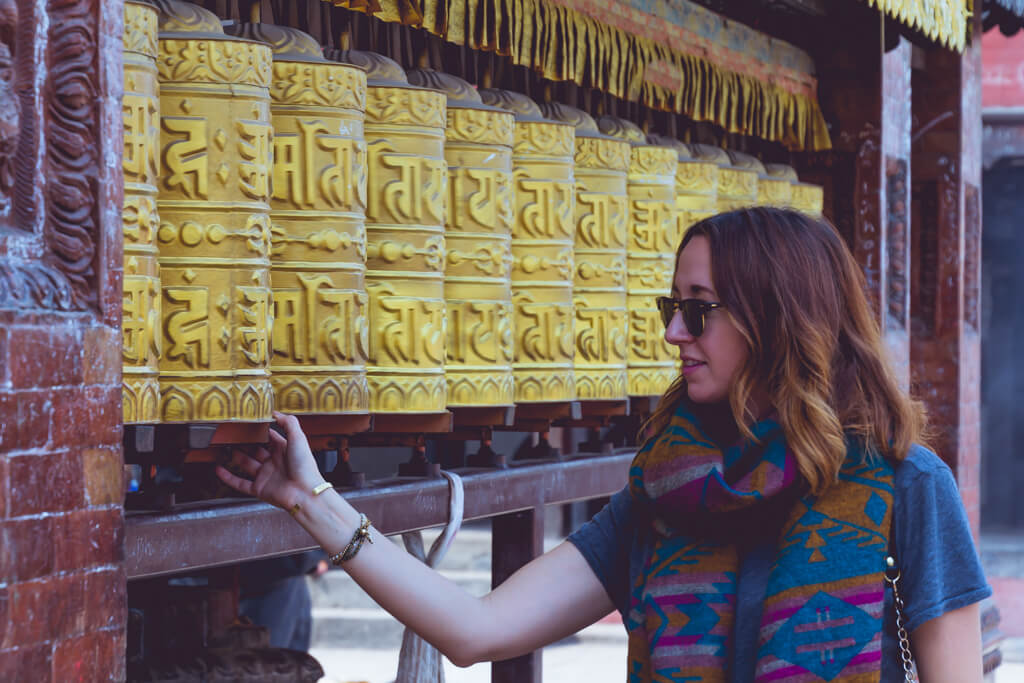 If you want to learn more about the history and importance of Swayambhu check out this article.
Nepal Natural History Museum
This is for anyone who is intrigued by creepy and morbid things. The Nepal Natural History Museum will either leave you thinking WTF did I just witness or thinking wow there's a bunch of cool animals in Nepal. We are thinking you will be leaning more towards the first. Imagine terrible taxidermy and tons of dead pickled animals in jars. The poor lighting and musty smell make you feel like you're some person who just discovered an abandoned early 1900s hunting trophy collection. The entrance fee is only $.50 and the location is just on the backside of the monkey temple making it a great 15-minute experience you will probably never forget, even if you want to.
It's an additional $1 to take photos, we regrettably didn't pay this fee. Now I wish I had a photo of some of that taxidermy for all of our readers. I guess it's just something you'll have to see for yourself.
Asan Tole Bazaar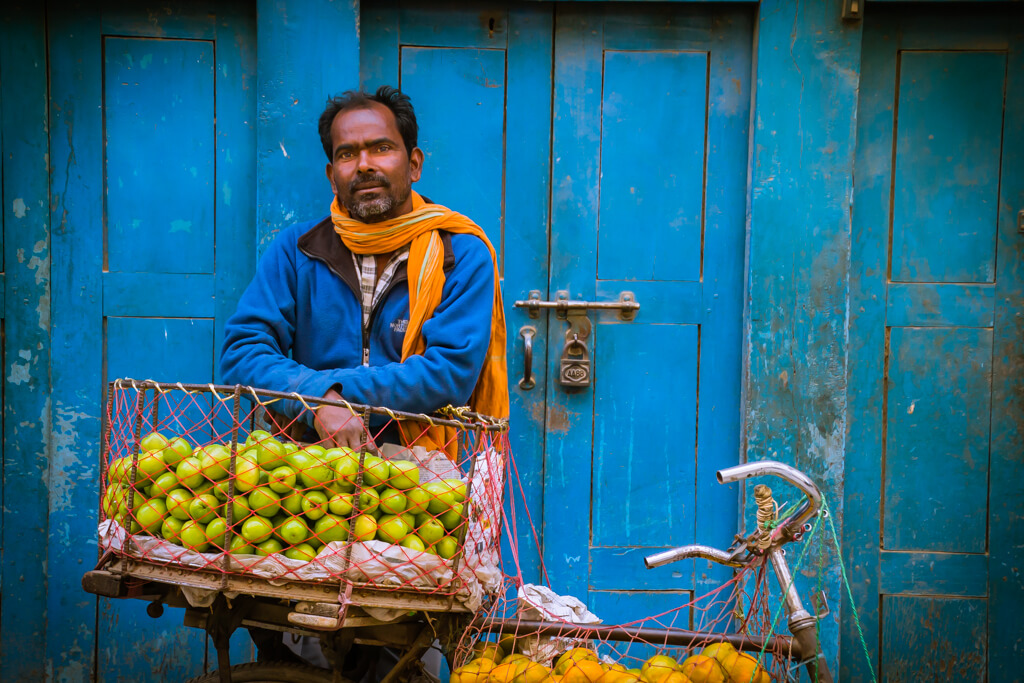 The Asan Tole Bazaar is a great thing to do in Kathmandu if you want to experience a bit of what life is like for the locals in the city. Locals come here to buy anything they need from bowls and plates made of leaves for ceremonies to spices for cooking. We loved the energy and colors here while checking out all the different shops and goods being sold down the streets.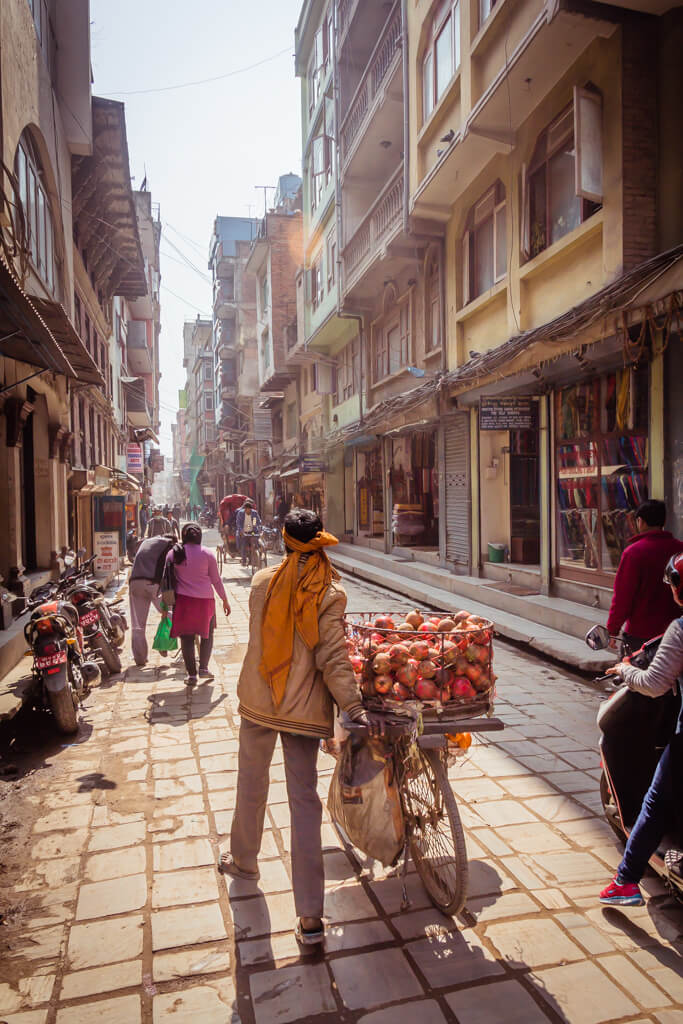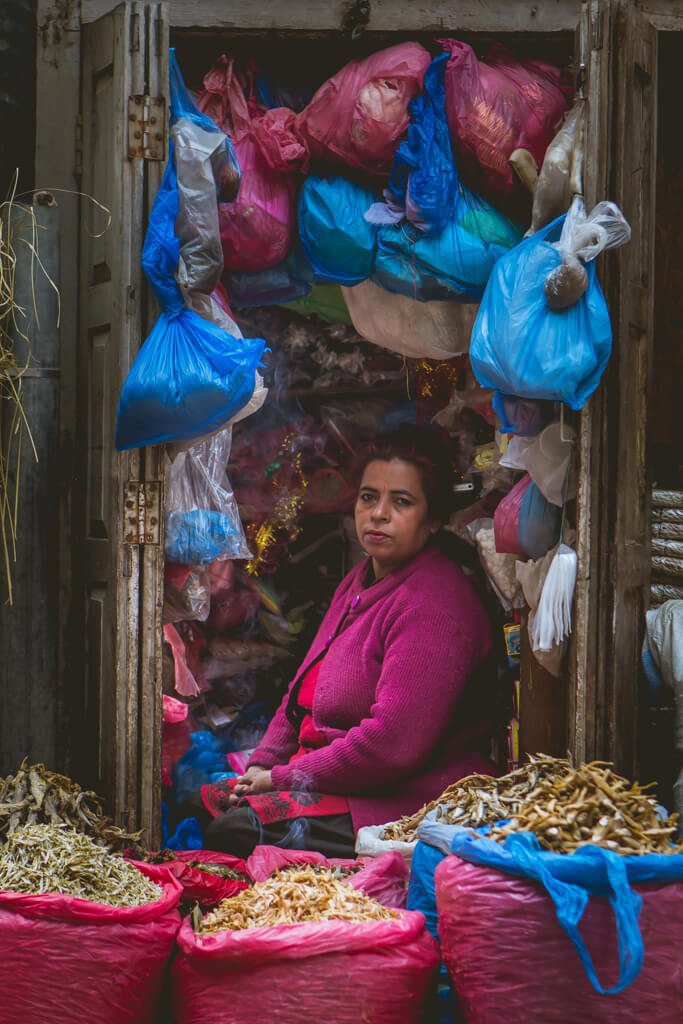 Kaathe Swayambhu Stupa
Located in the middle of the street in between Asan Tole Market and Thamel is this grand stupa. Walk through and check out the local place of worship and admire the large stupa in the center. Some locals refer to the stupa as Sigal and it makes for a great photo spot. Be sure to check out the shops with intricate paintings of mandalas and scenes of Nepal while you're here.
Narayanhiti Palace

Narayanhiti Palace is great for anyone wanting to learn more about the government and former residence of the monarchy of Nepal. The palace, now museum, was rebuilt in 1961 and the old palace that was terribly damaged by an earthquake in 1934 killing young royal members was demolished.
The monarchy is no longer in control of the country after the famous massacre that happened in 2001. It is said that during a royal family gathering Prince Dipendra was high on drugs and intoxicated with alcohol when someone in his family upset him. This led to him leaving the party and coming back with assault weapons killing almost everyone in his family including himself.
If you plan on visiting be prepared and leave your phones, backpacks, and cameras behind. They are forbidden from the palace museum and will force you to rent a locker at the entrance. The entrance fee is $5.
Garden of Dreams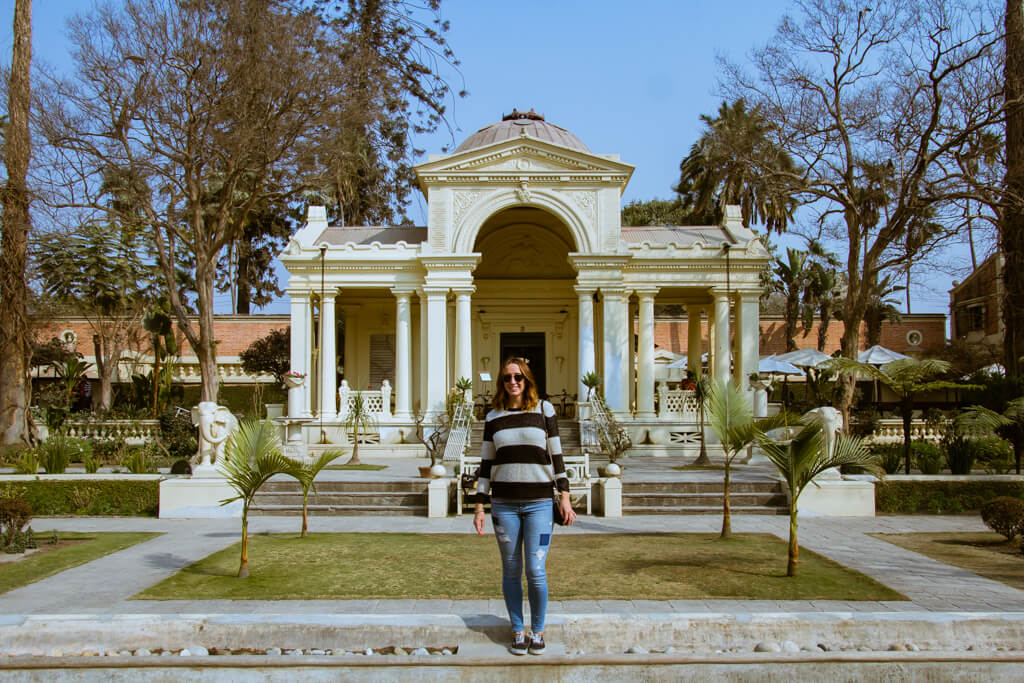 This quiet little sanctuary is the perfect place to go to remove yourself from the noise and dust of Kathmandu. Bring a book, picnic, or come for a cup of tea at the cafe. You will be charmed by the tiny squirrels who are fearless and will come up close to you to check you out. You will have to pay around a ~$2 entry fee, but after spending a few days in Kathmandu the peace and quiet in the Garden of Dreams make the fee worth it!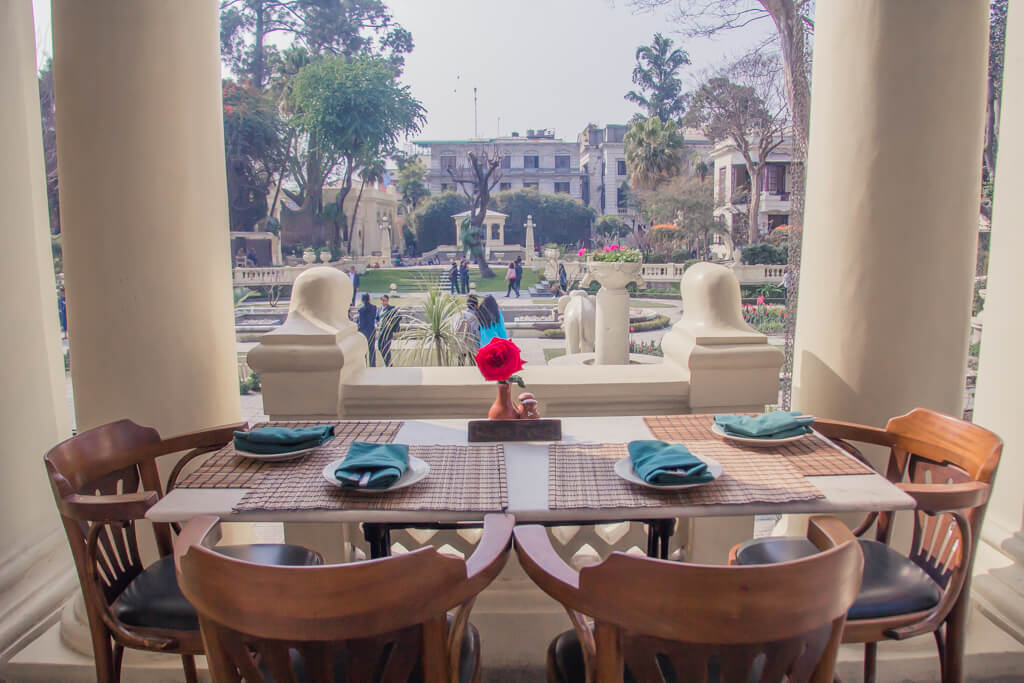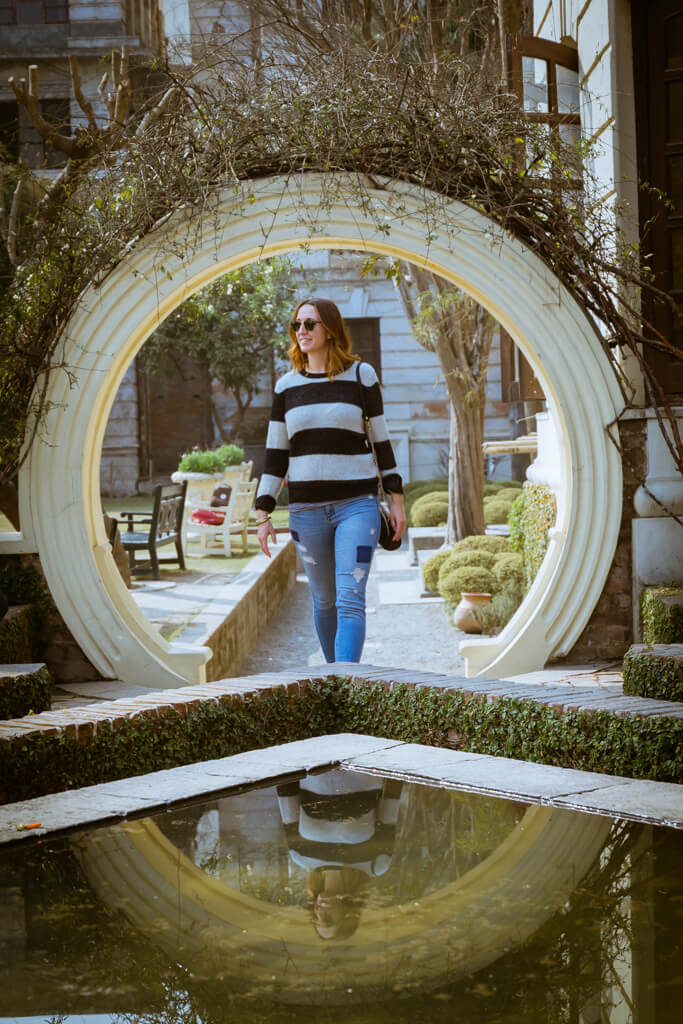 Take a Cooking Class
One of our favorite things to do when we visit a new country is check out a cooking class to learn how to make local dishes. Kathmandu has tons of cooking classes to choose from but we recommend doing Nepal Cooking School not only because the two ladies who run it are super fun but because all proceeds go towards helping women and young girls get an education as well as helping build schools the remote area of Dhading who was severely affected by the earthquake of 2015.
An added bonus would be the rickshaw ride to the market to pick out the food for the class! Be sure to come with an empty stomach and big appetite!
Where to Eat
If you're staying in the Thamel area of Kathmandu then you will have no problem finding food whether you're looking for local or western dishes. We ate our fair share of dal bhat, momos, thukpa, and Indian curries during our stay and pretty much loved the dish each time.
If it's your first time to Nepal you may notice the food takes a bit of time to prepare, so be sure to not show up starving and expect a dish within minutes as meals are made fresh and take time!
Here are some of our favorite spots to eat in the Thamel area.
Sarangi
Sarangi is a charity restaurant serving up delicious vegetarian and vegan options in a cozy, laid back atmosphere. We really enjoyed the food and vibe here. We sat and enjoyed our meal on their rooftop terrace surrounded by tables of people enjoying hookah and their unique fish tank supporting their aquaponic garden. At night they have musicians of the Gandharba tribe playing music. The prices are still rather inexpensive considering all the profits go towards helping people of the Gandharba community, a group of Nepali people who are discriminated against and do not have the same education and job opportunities as others and often end up on the streets selling instruments or playing music. While in Kathmandu you're going to eat out, why not eat delicious food that goes towards a great cause?
To learn more about Sarangi's mission check out their site.
Shiva Complex, Thamel 29, Nepal, Kathmandu 44600, Nepal
Yangling Restaurant
This popular mom and pop restaurant's claim to fame is that they serve up some of the best momos in town. The restaurant serves amazing and inexpensive Tibetan food. We loved the fried momos and the chicken thukpa. Be sure to find them at their new location next to International Guesthouse Kaldharachowk.
Atihi Satkar Bhanchha Ghar
If you're looking for dinner and a show then you will want to check out this restaurant for their cultural dance performances put on by local artists while you dine. Come with an empty stomach because you will be served many small local dishes before your main course, refillable dal bhat. The food will give you a good sample of some of the favorite dishes of the locals.
Jyatha-29, Thamel, Kathmandu
Utse Hotel
We stopped by Utse Hotel for momo soup, something I was really looking forward to trying since stepping foot in Nepal and I am so happy we did. This is still one of our favorite dishes we tried in Nepal. You can season your soup to taste and enjoy the cozy atmosphere on the rooftop terrace for the perfect lunch spot.
Jyatha Thamel, Kathmandu, Nepal
Oregano
We discovered Oregano restaurant by happen chance when staying at the Hotel Pilgrims our first few nights in Kathmandu. We ordered Indian curries and naan and ended up coming back two more times to eat here again. The restaurant is a part of their hotel and also offers rooftop dining. We recommend trying the Butter Chicken Curry and a pot of their rosemary tea. Their prices are affordable and the quality of the food is great.
Z Street, Kathmandu 44600, Nepal
Rickshaw Cafe and Juice Bar
This is the best breakfast spot in Thamel! This cafe features a small bakery for anyone on the go or sit down dining with excellent breakfast options. Their portions are large and the quality of food and ingredients were superb. We recommend the eggs benedict, pancakes, and eggs and bacon plate. Even better is the quiet courtyard giving you a little peace while you eat your breakfast admist the noisy Thamel area!
JP Road, Kathmandu 44600, Nepal
Thamel Doner Kebab
We are always game for a good doner kebab no matter where we are! We stumbled upon this small stand one of our first nights in Kathmandu and finally got around to trying one of these tasty, large, inexpensive kebabs! The friendly owner takes much care to make you the perfect kebab loaded with vegetables, hummus, cheese, and other toppings. The best part is each of these giant kebabs is around $2.
Chaksibari Marg, Kathmandu 44600, Nepal
Black Olives Cafe
We highly recommend coming to the Black Olives cafe for breakfast. They have about a dozen great dishes to try on their breakfast menu and we ended up coming back here almost daily for breakfast ticking off one breakfast item a day. My favorite was the shakshuka and scrambled omelet dishes. The location is central in Thamel and offers surprisingly quiet seating in a cute courtyard. We tried to eat here for dinner and the food just wasn't the same, but they've got breakfast on lockdown.
Chaksibari Marg, Kathmandu 44600, Nepal
Where to Stay
Accommodation in Nepal is surprisingly expensive compared to neighboring countries. Keep this in mind when budgeting for a place to stay and expect to pay more to get a hot shower and decent wifi.
Apsara Boutique Hotel
This was our favorite accommodation in Thamel thanks to the western bathrooms with a hot shower and comfortable, spacious rooms. We had issues with the wifi here, but the rooms were great. You can expect to pay around $60 per night here.
Click here to check out rates or book at the Apsara Boutique Hotel.
Hotel Pilgrims
Hotel Pilgrims is a budget option with private rooms at around $30 per night. This is about the average you'll pay in the Thamel area for a budget hotel with a central location. We recommend staying in a room on the side of the elevator for the best wifi connection.
Click here to check out rates or book at the Hotel Pilgrims.
Festoon Hotel
If you're on a tighter budget and don't mind basic accommodation then Festoon Hotel is your best option. We felt like the rooms at the Festoon were great quality given the price and compared to all the different hotels we stayed at during our time in Nepal. Rooms are around $15 a night or less depending on your needs and in our opinion the greatest value.
Click here to check out rates or book at the Festoon Hotel.
Other helpful information
getting around
The transportation in Kathmandu can be a frustrating experience, especially if you're not patient and do not have good negotiating skills. Be prepared to negotiate a price for any ride whether it's a rickshaw tour or a simple taxi ride. Drivers will try to price gouge the tourists and ask a hefty fee. Always sort your price out before getting in the vehicle.
prices
We found Nepal to be a bit pricey in comparison to other neighboring countries. When coming we were expecting to pay prices similar to India, instead, we were shocked at the prices for accommodation, transportation, and even food. Be sure to budget in an extra cushion in case you end up spending more than planned. We found the food to be generally inexpensive as long as you eat locally.
General Safety
We both felt safe walking through Kathmandu, even when I walked alone without Scott. After seeing the new Doctor Strange where he gets robbed almost immediately in Kathmandu I wondered if this is even a problem here. We discovered it was not, just some extra Hollywood drama. People will ask you to buy weed on the streets but a simple no and they will leave you alone.
Tour Companies
You will see that there are hundreds if not thousands of different tour companies in the area. It's hard to find a trustworthy company to plan a trek, cooking course, or sightseeing adventure when there's so many to choose from. We did all of our tours with Kathmandu Adventures and were very pleased with not only with their selection of tours but their flexibility and willing to make a custom tour for us.
We were introduced to this company by a friend and were pleased to learn that Kathmandu Adventures gives a portion of its profits to various charities and social enterprises helping the local communities.
They currently have over 50 tours to choose from and are willing to help you design a custom tour for your specific needs.
For trekking request Shyam and Rajan! They were awesome and we ended up with Shyam everyday!
Book your tour with Kathmandu Adventures through us and receive 30% discount using the promo code BOBOANDCHICHI30.
Want to Save more Money on your Trip to Nepal?
If the answer is yes, then you may want to consider checking out Tour Saver! By purchasing this coupon booklet you are basically getting 50% discount on activities around Nepal when buying for more than one person.
---
Have any other questions about your trip to Kathmandu? Feel free to leave a comment below!
Disclaimer: Our trek was courtesy of Kathmandu Adventures, however all opinions expressed on this website are our own.
Liked this post? Share the love on Pinterest below!