Wondering what the best things to do in Pokhara are? Here are our picks!
Pokhara is probably one of the most popular destinations for visitors in Nepal. It's no wonder as it's a beautiful city, and if you're lucky enough to have clear days you can see the Annapurna Himalayas. Plus you get a break from the crowds and dust of Kathmandu.
Many people use Pokhara as a starting point for many treks through the Annapurna Himalayas, but instead of passing through Pokhara we recommend staying an extra day or two to really get to see the wonderful sites this city has to offer. Check out our picks for what to do in Pokhara!
Pokhara Sightseeing
If you're thinking of a tour to see Pokhara, try this sightseeing tour which will to many of these spots.
Peace Pagoda
It's hard to miss at least a glimpse of the white Shanti Stupa perched on top of a hill while visiting Pokhara. It's easily one of the most iconic things to do in Pokhara. The Buddhist style stupa represents peace, hence the name Peace Pagoda. People flock up here to enjoy the views of the Phewa Lake and Pokhara below and on a clear day you get a pretty solid view of the Annapurna Himalayas! You have the option to hike or drive up here — it's also supposed to be an epic spot for sunrises and sunsets. We are hoping to experience one of these next time we visit!
Phewa Lake
Enjoy the views of the lake below the hills of Pokhara. Rent a boat by the hour and enjoy a relaxing time out on the water. The lake is actually deceivingly large. The view from the Peace Pagoda showed the true size of this lake, so don't paddle out too far! You can also grab a drink or snack and enjoy it down here. There's even a running path that goes around the park near the lake where you can enjoy some exercise. Also, if you're into fishing you can do that at Phewa as well!
Devis Falls
Did you know there's a waterfall in the middle of the city of Pokhara? This is one of the best things to do in Pokhara in our opinion. Nestled between a cluster of buildings is a big drop off where the river turns into a drop in the ground. There's a fence around the waterfall so you can't quite get as close as you'd like to look, but it's probably for the best as you can't see how far down the drop is and it looks like it goes to the middle of the earth.
There's actually a sad tale on how Devis Falls got its name, a Swiss woman (Mrs. Devis) was bathing in the upper falls in 1961 when a flash flood came and swept her away to hear unfortunate death. After retrieving her dead body the falls was then named after her.
Admission: 30 rupees, ~$.30
Gupteshwor Mahadev Cave
Directly across the street from Devis Falls is the Gupteshwor Mahadev Cave. Walk through a mini market where you can by touristy gifts and find the grand entrance to the underground cave. As you descend down the stairs you will first enter an underground temple. Photography is forbidden here.
Continue along to the large opening and photos are permitted once again. Go down the steep and narrow stairs to see that the cave leads to an underground river where you can catch a peek of Devis Falls flowing directly into it! This was a pleasant surprise for us as we had no idea this was where the falls lead to.
Admission: 100 rupees, ~$1
International Mountain Museum
I wasn't sold on visiting this museum until we actually went in and started learning about the history of the Himalaya mountain region.
We found ourselves reading almost everything. Learn about all the epic climbers that have succeeded at climbing multiple of the world's largest peaks, damage from the 2015 earthquake, pollution damage, trekkers who are cleaning up after Everest expeditions, the culture of the Sherpa, and even the tale of the Yeti.
Being in here made me even more interested in learning about the culture of the people who inhabit these impressive mountains and those who dare to climb them.
Check the movie times as there is a video that runs about 20 minutes and gives you glimpses of the different mountains and villages throughout Nepal.
The yak statue outside was about as close to a real yak I was going to see on this trip. There's also a replica of Machhapuchchhre, aka Fishtail, outside that you can actually climb since the real one is off limits as sacred ground.
Admission: 400 rupees, ~$4
What to Do in Pokhara: Trekking
Many people come to this part of Nepal for it's mountains. One of the best things to do in Pokhara is actually leaving to go trekking! From here you can get a driver to take you to some of the country's most popular trekking spots in the Annapurna Himalayas.
We have highlighted some of the most popular treks from Pokhara as well as links to book them. We used Kathmandu Adventures during our trip to Nepal and were completely satisfied and plan on using them when we come back.
The best part is that 50% of their profits go towards different charities and social enterprises helping locals who suffered from the 2015 earthquake, helping young women get educations, and building local schools.
Poon Hill
This is the trek we did and it was the perfect sampler to want us to come back for more. This trek takes anywhere from 4-5 days, we skipped a whole day by driving all the way to Sudame where we started and ended in Ghandruk.
During the Poon Hill Trek, you will get magnificent views of Mt. Annapurna, Dhaulagiri, and Machhapuchchhre to highlight a few.
The best part is that anyone can really do this trek, it's one of the easiest in the country but be prepared for thousands of stairs!
You can book your Poon Hill Trek here. (Use promo code BOBOANDCHICHI30 for a 30% discount)
Annapurna Base Camp aka ABC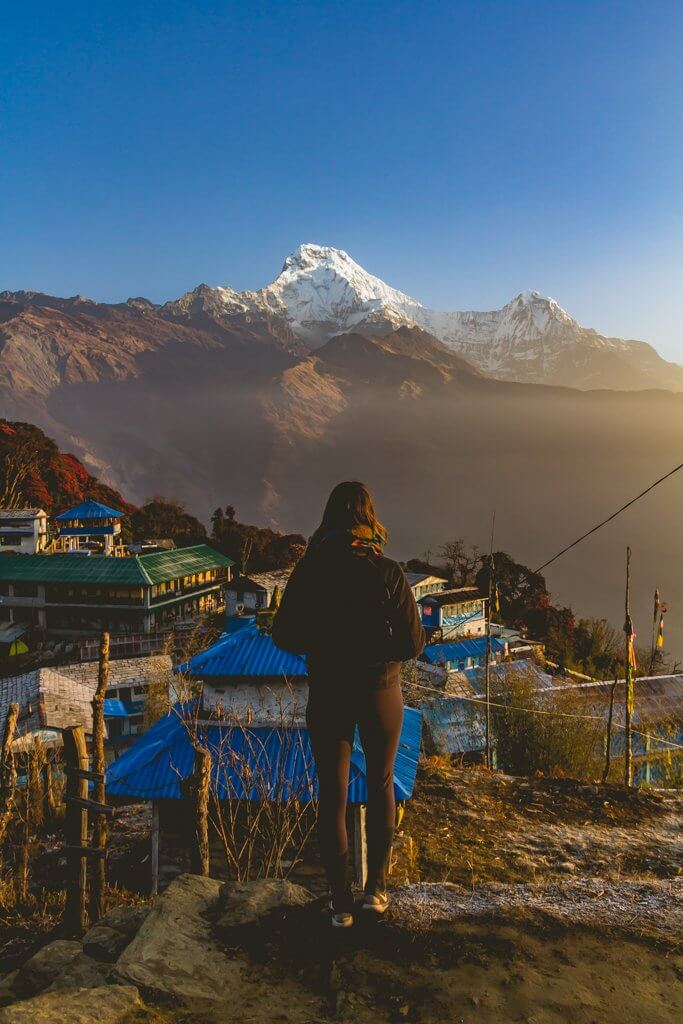 This is another popular trek for people coming to Nepal. It lasts anywhere from 7 to 12 days depending on which route you choose to get to Annapurna Base Camp. Through this trek, you will stay the night through the villages along the way in tea houses offering amazing views. You'll get to see stunning views of Mt. Annapurna I, Annapurna South, Machhapuchchhre, and Hiunchuli to name a few.
On the return, you can stop at Jhinu Danda to hit up the hot springs and soak your sore muscles!
You can book your Annapurna Base Camp trek here. (Use promo code BOBOANDCHICHI30 for a 30% discount)
Annapurna Circuit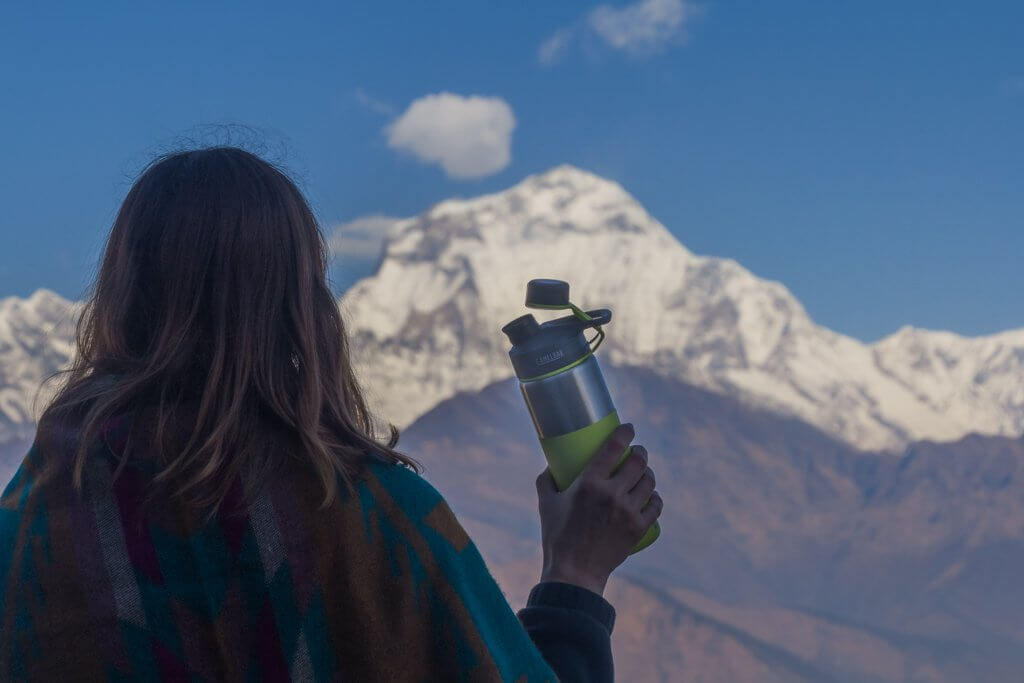 Considered one of the best long-distance treks in the world, the Annapurna Circuit takes roughly 15-20 days to complete and passes through Annapurna peaks I-IV, Dhaulagiri, Machhapuchhre, Manaslu, Gangapurna and Tilicho Peak. During your trek you can stay in tea houses along the way.
There is some flexibility and different routes that can be taken on the Annapurna Circuit to shorten or make your trek longer depending on what you want.
You can book your Annapurna Circuit trek here. (Use promo code BOBOANDCHICHI30 for a 30% discount)
Other Adventurous Things to Do in Pokhara

If trekking is not your thing or you want to combine trekking with other adventure activities then you're in luck. Some of the best things to do in Pokhara include the adventure sports and activities this area has to offer. Here are just some:
Be sure to plan the flying events on a clear day so you don't get cheated out of seeing the gorgeous nearby mountains!
You can book any of these adventures through Kathmandu Adventures and get a 30% discount by using our exclusive promo code BOBOANDCHICHI30.
Check out all the great tours available for Pokhara here.
Where to Eat in Pokhara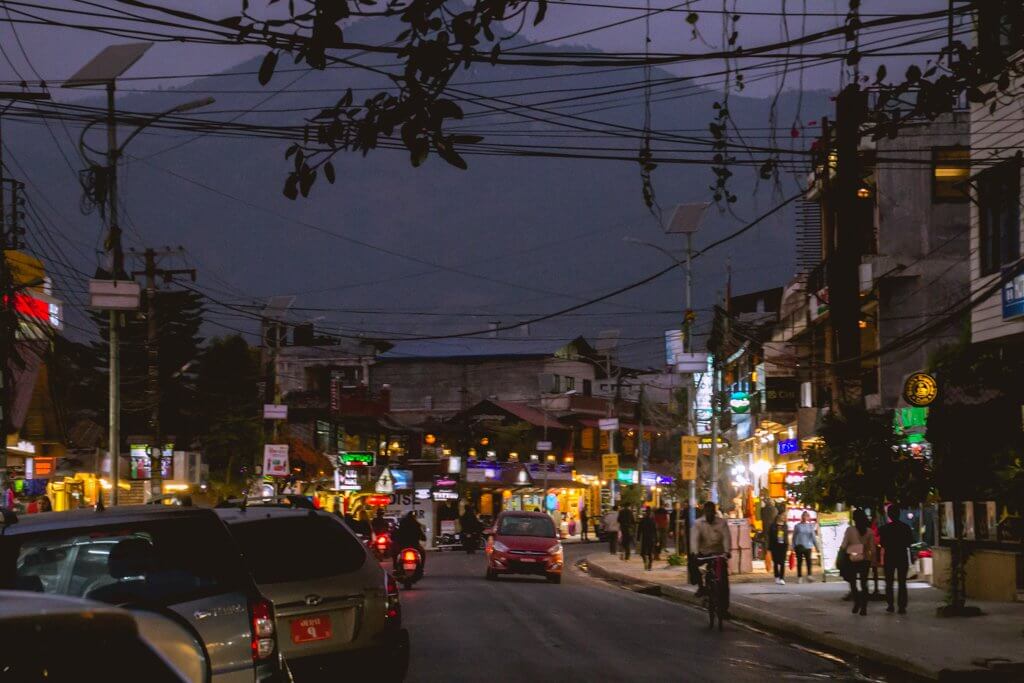 What if I told you one of the best things to do in Pokhara was to eat? If you go trekking for multiple days you may be sick of eating dhal bhat and craving some more variety. That's exactly what happened to us, even though we ate some amazing dhal bhat and curries in the mountains. The good thing is that Pokhara has plenty of restaurants offering amazing western cuisine. Here are two of our favorites.
MoonDance Restaurant
Moondance offers an expansive menu with tons of different options and has an inviting atmosphere. We loved the outdoor seating overlooking Phewa Lake next to candle light. We ended up ordering the Indian curries here and they turned out amazing. If we had extra days in Pokhara we would have been back for more.
Lakeside Rd, Pokhara 33700, Nepal
Byanjan Restaurant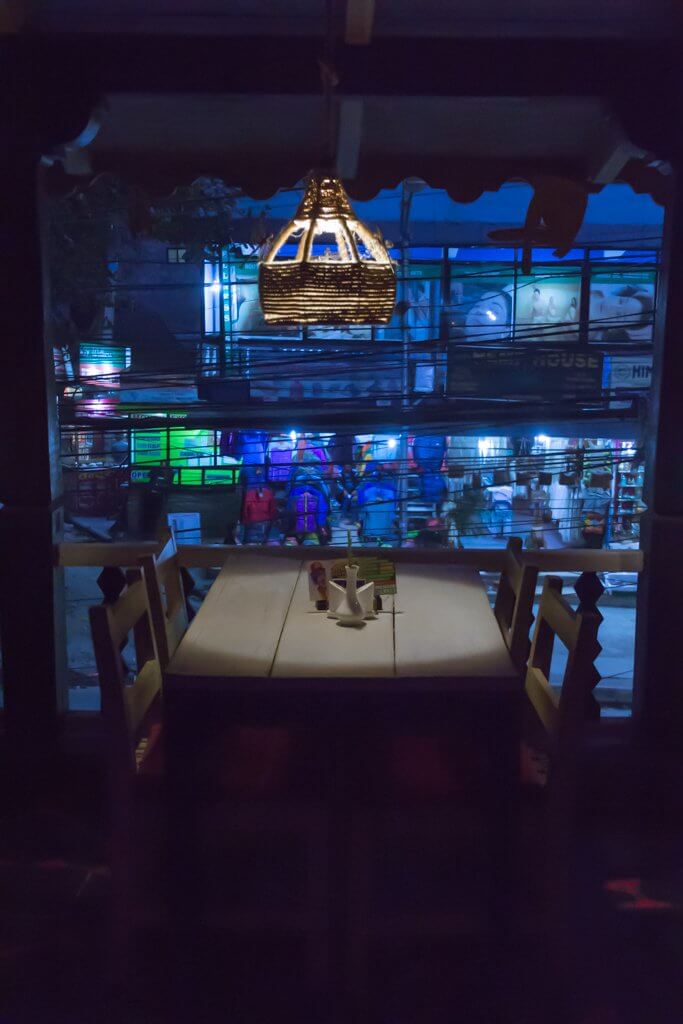 Byanjan Restaurant had a terrific menu that made it really hard to choose what to eat. We ended up here two different nights and between us and our friends each dish was a knock out!
We can say that the lasagna, pizza, fajitas, and Indian curries were all amazing. The atmosphere was laid back and comfortable, some tables even had soft couches to sit at and all the tables were lit by candle. We enjoyed the balcony overlooking the street for seating. We will totally come back here when we come back to Pokhara!
Lakeside Rd, Pokhara 33700, Nepal
Where to Stay in Pokhara
Hotel Center Lake
Although the name may be deceiving, the hotel is not located in the center of the lake nor is it waterfront, this was our favorite accommodation in Pokhara. The staff was friendly, the rooms were clean, the showers were hot, and the wifi worked! Our room even had a balcony which was great to look at the sky in the morning to check visibility. The rooms range from $20-$30/night.
You can book Hotel Center Lake right here!
Pokhara Eco Resort
Pokhara Eco Resort has a great location, just steps away from anything you'll need in the tourist district of Pokhara. The rooms are basic and offer a comfortable bed. The price range is anywhere from $15-$20/night.
You can book Pokhara Eco Resort right here!
For more places to stay in Pokhara, check out this map:
How to Get from Kathmandu to Pokhara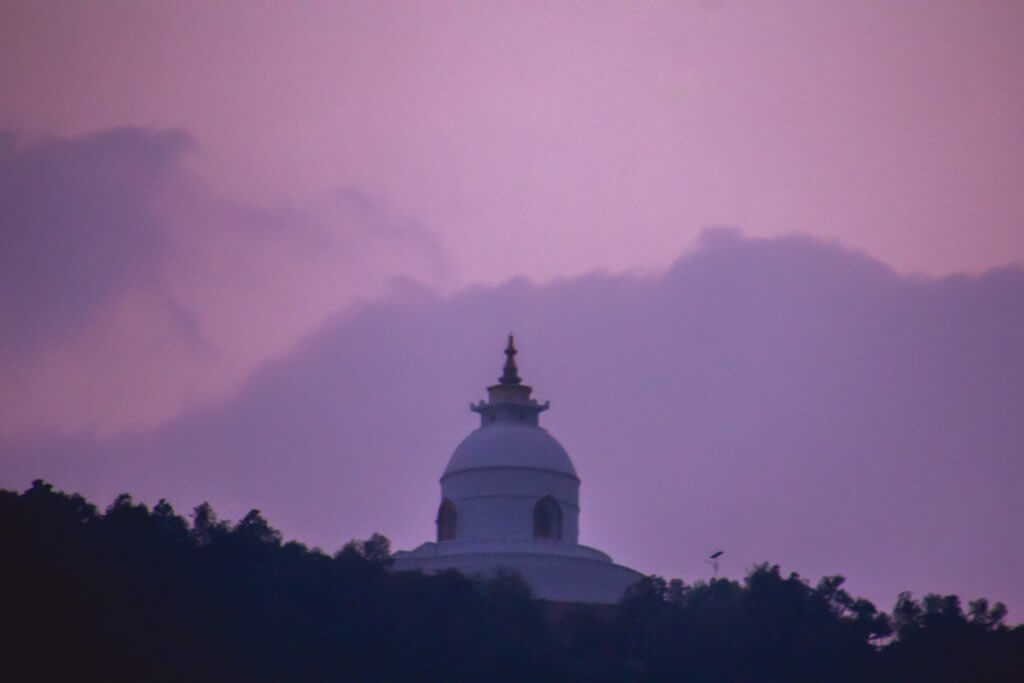 Kathmandu to Pokhara by Ground
You can take a bus for around $12/person that can take as little as 6 hours and up to 11 hours. Our rides were 9.5 hours and 8 hours and both were painful. You could also try booking one of the more comfortable shared tourist buses or evening just booking a private transfer.
Kathmandu to Pokhara by Air
You can also fly for around each way for a 30 minute flight, which is a great option if you're not on a tight budget and don't want to sit in a bus all day! Book tickets here
If you're not on a budget at all you can also opt for a helicopter ride that also gives you some amazing views of the Himalayas!
How to Book Your Adventures
You can book any of the activities around Pokhara, including trekking, through Kathmandu Adventures with us and get a 30% discount on any tour with the promo code BOBOANDCHICHI30. Check availability here.
Kathmandu Adventures also gives a portion of their profits to various charities and social enterprises helping the local communities such as building new schools and helping young girls get an education.
---
Did we miss anything? Let us know your thoughts on the best things to do in Pokhara in the comments below!
Sharing is caring, be sure to share below on Pinterest.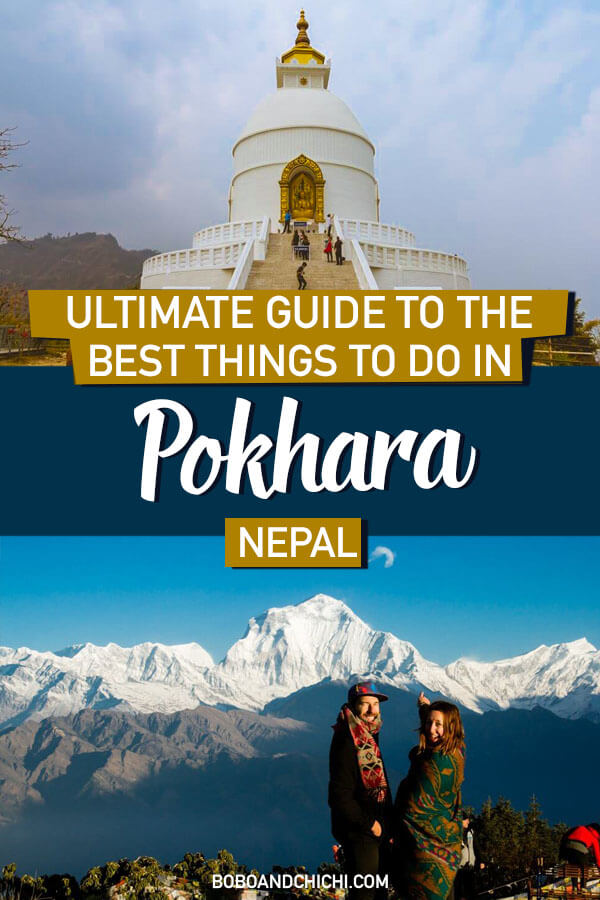 Disclaimer: Our trek was courtesy of Kathmandu Adventures, however all opinions expressed on this website are our own. This page also contains affiliate links. That means if you purchase anything from this site we make a small commission to help us run our website. All products for sale on this website we stand by 100%.