It's hard to plan for any of the big and epic treks in Nepal if you're not an avid trekker or don't have a ton of time on your hands. Luckily there are still short treks in Nepal that offer beautiful views of the Himalayan mountains and are only just a few days long rather than 1o to 20 days long! We have the perfect trek for anyone who is short on time and can't stray too far — the Kathmandu Valley Rim Trek!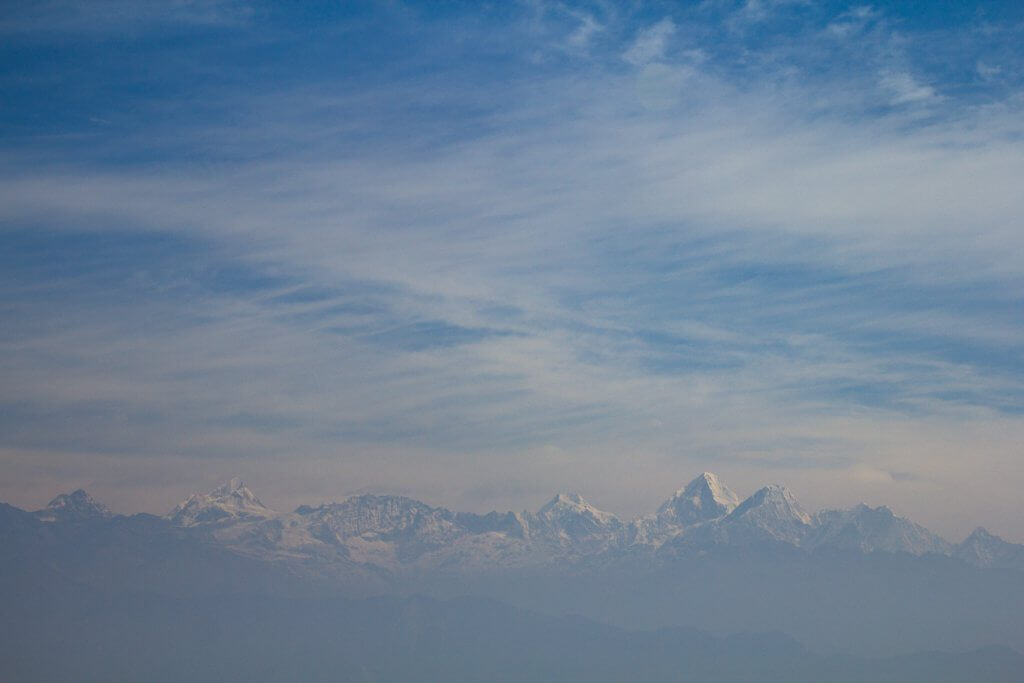 3 Days of Kathmandu Valley Rim Trekking: Sundarijal to Kathmandu
The Kathmandu Valley Rim offers three days and two nights of trekking. Go through Nepal's jungle, Shivapuri National Park, rice terraces, mountains, and take in views of gorgeous white capped mountains all just an hour outside of the capital city.
Day 1: Hiking Sundarijal to Chisapani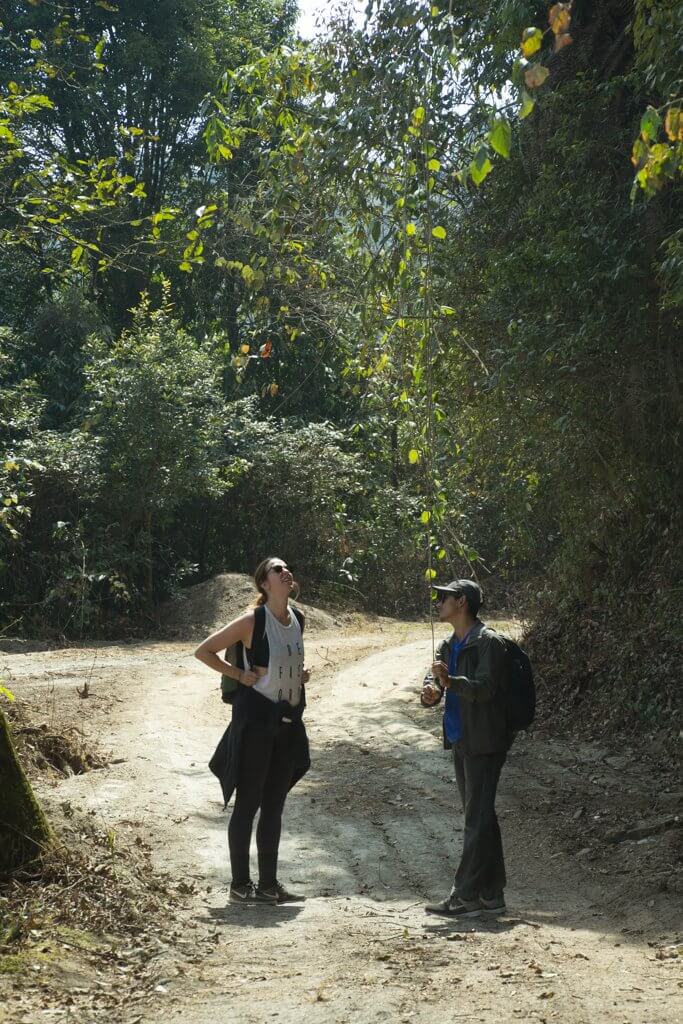 Sundarijal
About an hour drive from Kathmandu, we arrived at the small village of Sundarijal with our guide, Shyam. From here you start your butt burning climb and pay an entrance fee of 585 rupees for Shivapuri National Park. We got to walk through Nepal's jungle and even through local army stations on the mountains.
We were told the reason for so much military presence was to control the poaching problem of native species and animals.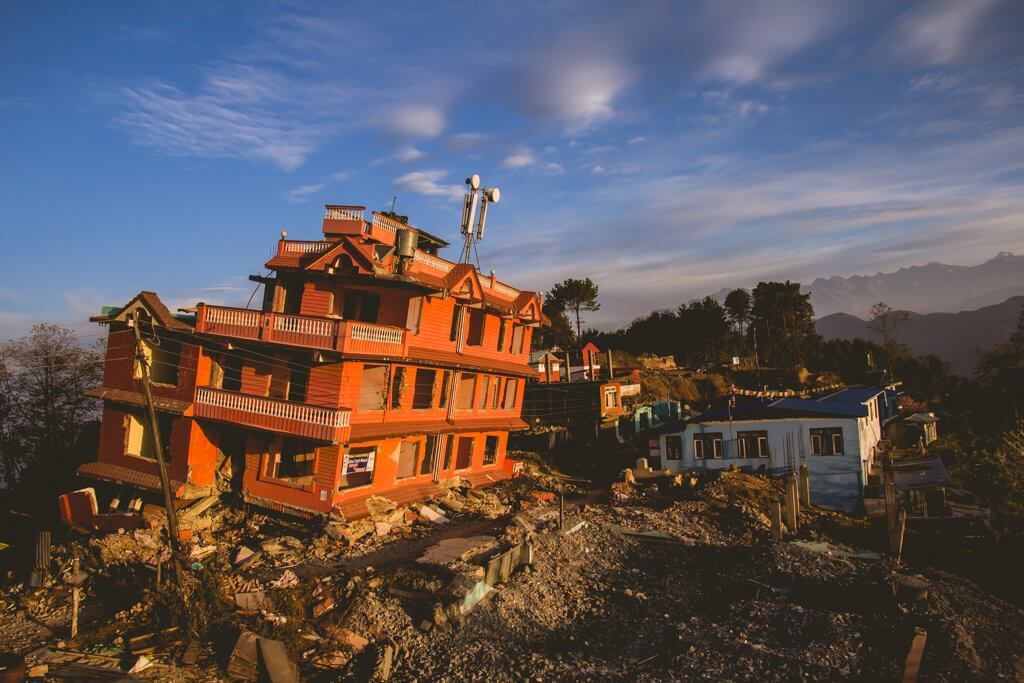 Chisapani
This was the most challenging day as it was about 4 hours trekking total and most of it was climbing. We arrived at Chisapani at the Sunrise Hotel with plenty of time to rest before dinner.
We were set up with the best room as we were the first hikers to arrive and had a balcony and window view of the mountains. This was amazing during the sunrise because we didn't even have to leave our bed to enjoy the epic panoramic view of the white Himalayas.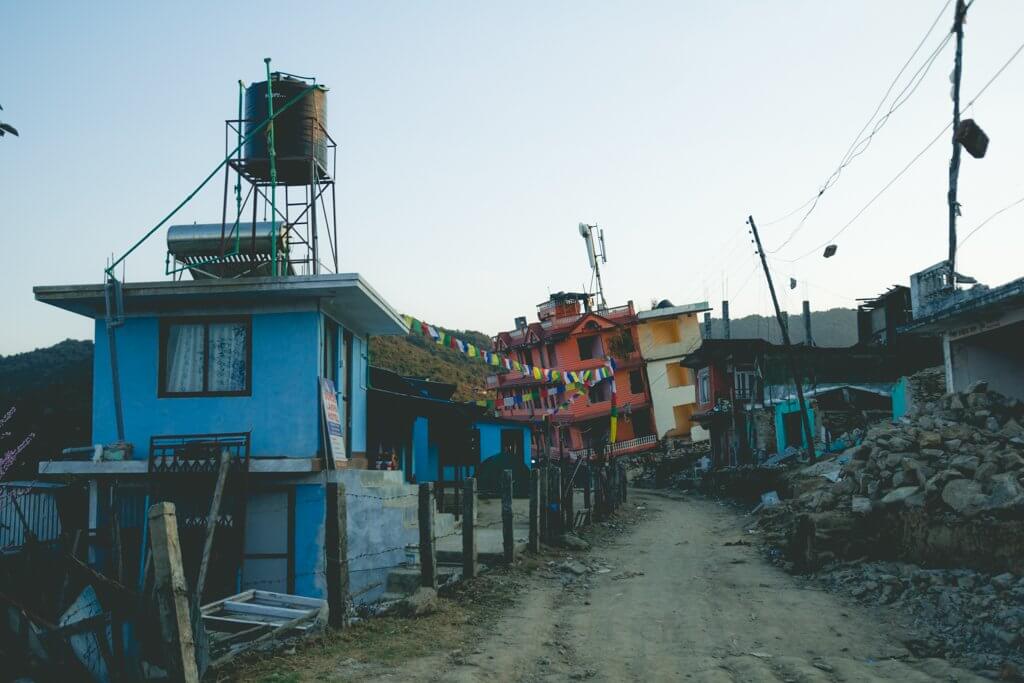 It was intense to see the 2015 earthquake damage here in Chisapani. There were still piles of rubble of where guest houses used to stand, a building that was teetering and tilting like it was about collapse at any moment, and a guesthouse that looked torn in half that eerily had a couch still sitting on the second floor.
Day 2: Trekking Chisapani to Nagarkot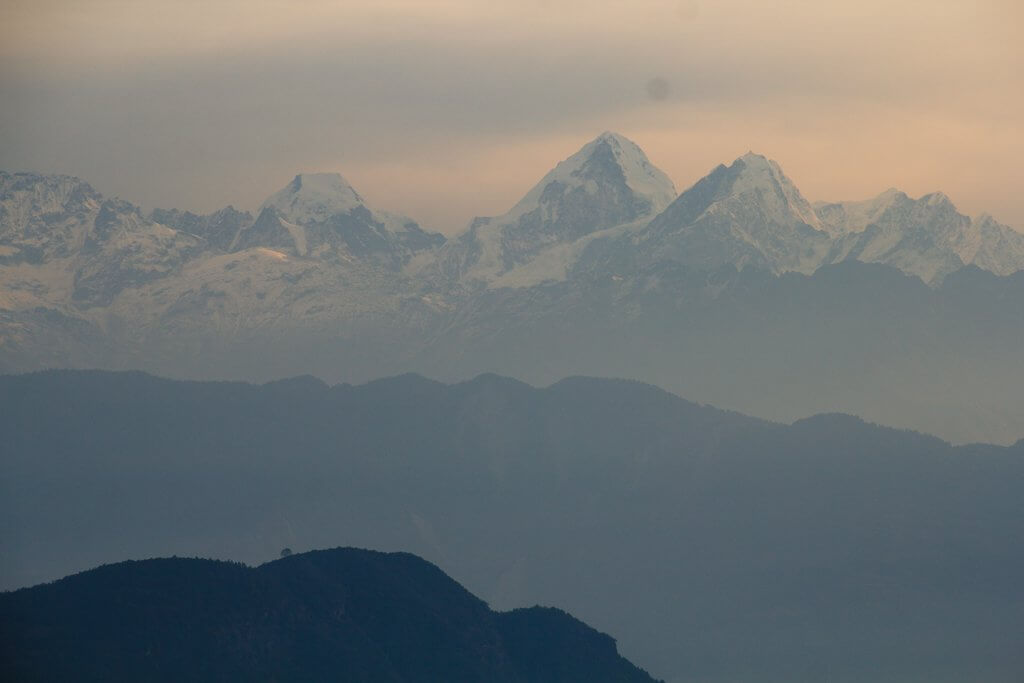 Chisapani
The morning views at Chisapani were the highlight of the trek. Apparently, on a REALLY REALLY REALLY clear day you can see the small thumbnail size of Mt. Everest about 300 km away. We were not so lucky but still the dozens of mountains we could see were incredible.
This day of trekking wasn't the most difficult because of climbing but because of the distance, we would cover. The terrain was mostly flat and through mostly jungle until we reached a motorbike path and some villages where we did some crazy turns until we found ourselves back on a path again through rice, wheat, potato, and corn terraces.
Nagarkot
When we started in Chisapani the sign said that Nagarkot was 18km away, but according to our iPhone Health app, we covered 25 km. Our guide said that was impossible and thinks we did around 20 km. Anyways, you get the gist, it's a long day and took us about 6.5 hours to get to our hotel in Nagarkot.
We stayed at Hotel View Point which has been the nicest room we've stayed at doing treks in Nepal. Over half of the rooms have a balcony overlooking the valley below and mountains in the morning. You also have rooftop access to enjoy the views. We were a bit unlucky both times we came to Nagarkot as we had hazy mornings and were unable to see the Himalayas.
Nagarkot looks beautiful in images but we just weren't able to capture it ourselves! Instead, Scott used this opportunity to practice shooting the stars and milky way. You can see it in our video:
TIP: Nargorkot is best visited in high season during October – November and again in mid-March for best visibility. We visited both at the end of February and beginning of March and did not have a clear view of the mountains either sunrise.
Day 3: Nagarkot to Kathmandu Trekking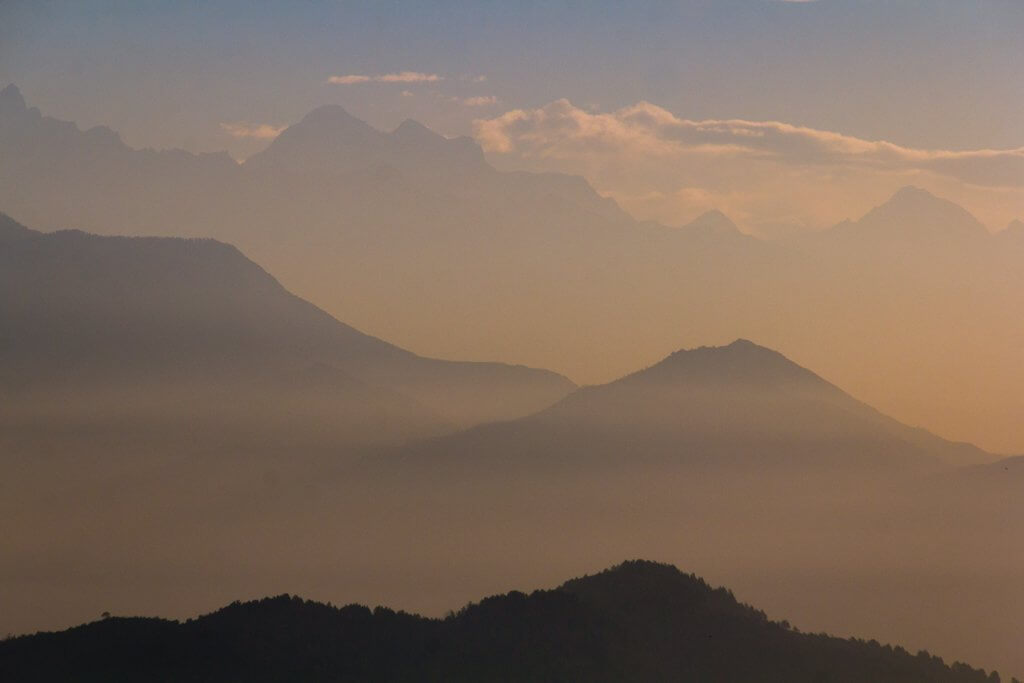 Nagarkot
As we mentioned above, we didn't get to see the epic sunrises that Nagarkot has to offer. We were just plain unlucky. But if you plan your tirp during the autumn months, you will most likely get to take advantage of the epic view points here.
You have two options from Nagarkot:
Option 1:
Continue trekking about 3 hours down the mountain to Bhaktapur and catch a bus back to Kathmandu from there.
Option 2:
You can have your guide arrange a car to take you on a 2-hour ride to the Thrangu Tashi Yangtse Monastery, aka Namo Buddha. We did this our first trip to Nagarkot and we found it to be an unexpected treasure on our trip to Nepal. This is something we would have never known about if it hadn't been for our trekking company, Kathmandu Adventures.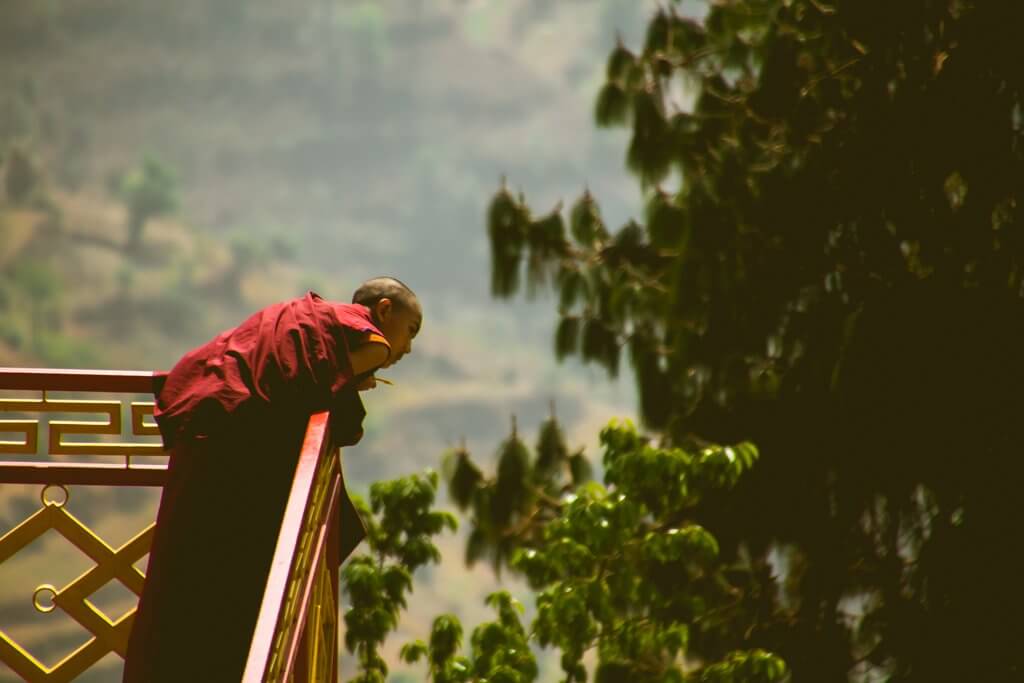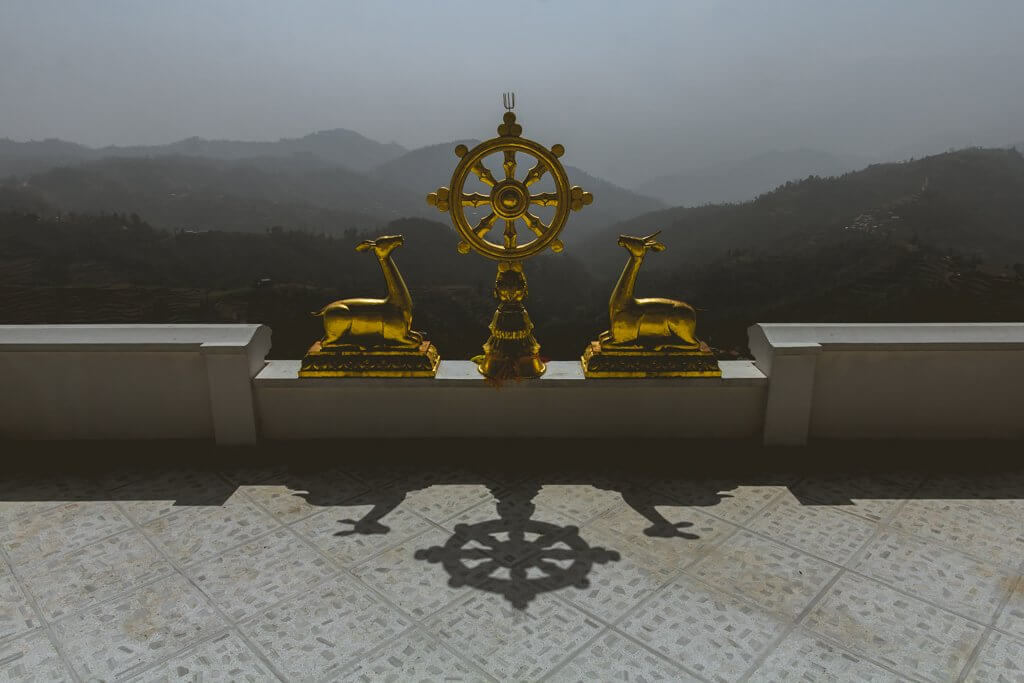 Namo Buddha
This Tibetan-Buddhist monastery is situated on top of a hill with beautiful views. It's considered one of the holiest Buddhist temples in the world and the most important in Nepal. Apparently, this is where Buddha, when he was a prince, sacrificed his body and fed himself to a starving tiger and her cubs.
We arrived in the afternoon when the monks were chanting. We were able to quietly observe from the back of the hall and be moved by the powerful sounds around us. It was such an incredible experience and felt like something out of a movie.
Wander around the complex and see the giant stupa and prayer flags to take in the entire area.
We noticed there were tons of children here at the monastery, and it was interesting to see them be serious and spiritual during the chanting. Then immediately after the children monks were running around, playfully hitting each other, and even singing, "Closer," by the Chainsmokers. This was something that made us laugh as we assumed that the children who live and practice their spirituality here lived by a strict code of life, yet here they were just being kids.
Afterward it takes about another 2 hours to get back to Kathmandu! If you're planning to stay in the area, check out our guide on what to do in Kathmandu for tips.
TIP: Be sure to have your guide arrange for you to arrive during the chanting. We were told the chanting times change depending on the time of year.
How to Book Any Short Treks in Nepal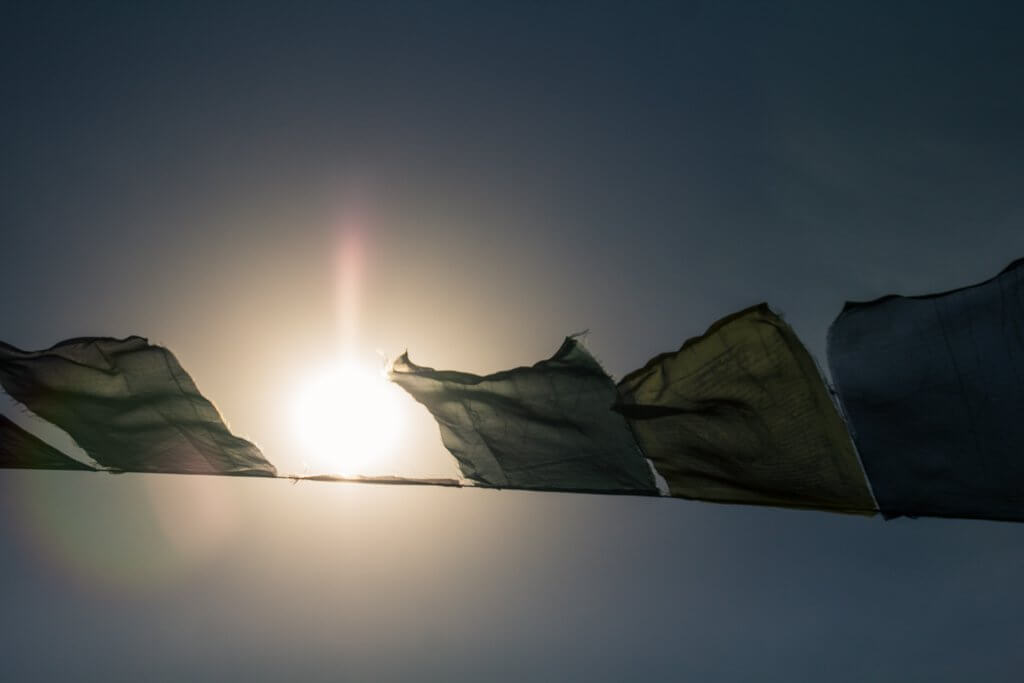 We recommend getting a local guide to show you the way from each place. The guide will also be able to take care of all the travel arrangements such as transportation and hotels.
There were some parts of this trek we would have never found if we were on our own as you had to go through random paths in villages. These paths were not only difficult if not impossible to describe but just has hard to find unless you're very familiar with the area.
We recommend booking your treks in Nepal with Kathmandu Adventures. We did all of our trekking through them and plan on using them again when we come back.
Kathmandu Adventures gives a percentage of their proceeds to help charities and other social enterprises such as building schools in rural areas, helping families who were displaced by the 2015 earthquake, and helping girls and women get an education in Nepal.
We recommend requesting for Shyam and/or Rajan. Both of these guides were AMAZING and we will be requesting them when we come back to Everest Base Camp!
Book your trip with Kathmandu Adventures through us and get an exclusive 30% discount with the promo code BOBOANDCHICHI30.
Check out their treks and tours here.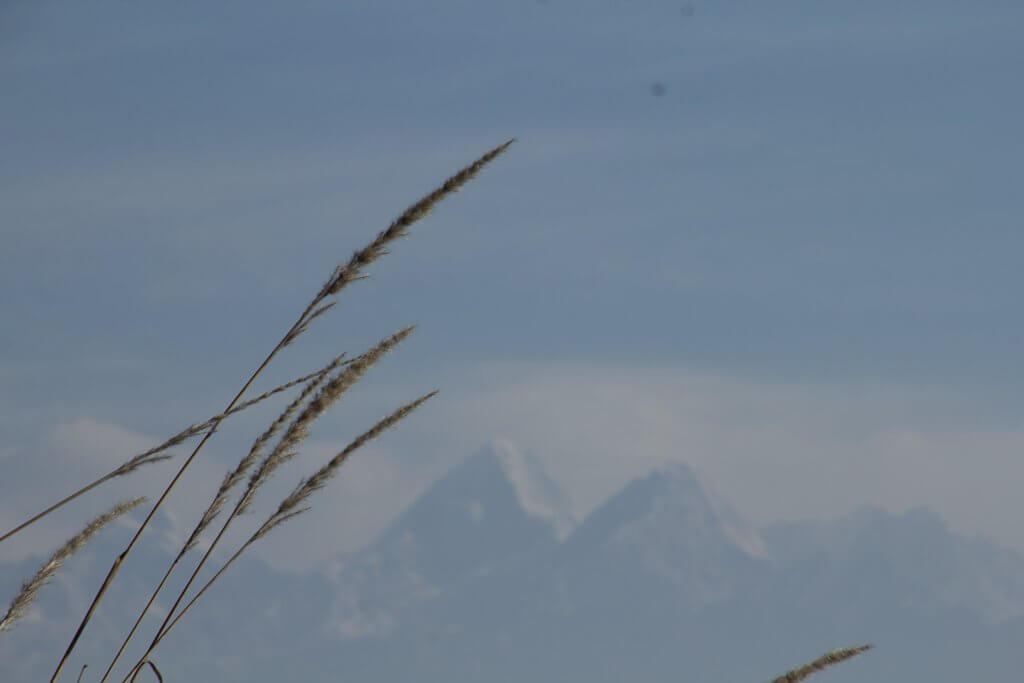 If you have a few extra days and are still looking for other short treks in Nepal, we also recommend the Poon Hill Trek starting from Pokhara.
Disclaimer: This page also contains affiliate links. That means if you purchase anything from this site we make a small commission to help us run our website. All products for sale on this website we stand by 100%.
---
Liked this post on short treks in Nepal? Share the love on Pinterest below!