It's so easy to visit a country and only see the big cities and nothing else. We are guilty of this all the time. And while we enjoy visiting the big metropolitan hubs of each country, if you don't stray and try to visit elsewhere you're likely to be missing out on some incredible places, people, and scenery.
We are spending an entire month in the relatively small country of The Czech Republic. Not only will we be hitting the big cities, but we plan on stopping at lesser known spots to see and feel more of the beauty, culture, and try new things.
On our drive from Prague to Cesky Krumlov, two of the most popular and touristy spots in the country – but also magnificent, we stopped at the small town of Tabor. Tabor is in the South Bohemian Region of the country and what was supposed to be an hour stop ended up being 4 hours. We could have stayed even longer if we didn't have a check in time to make down in Cesky Krumlov.
We ended up having feelings of love at first sight from the moment we parked our car in the town center. We enjoyed lunch then enjoyed walking around every hidden nook, cranny, and alleyway we could to try and see the entire place before we had to move along. What we learned was that there were enough things to do in Tabor to spend an entire afternoon or even day. Not only did we find this trip suitable for families with children but also an intimate city for couples or just the everyday traveler passing through.
Check out 10 reasons why you need to visit the city of Tabor Czech Republic.
1.The Town Square is Breathtaking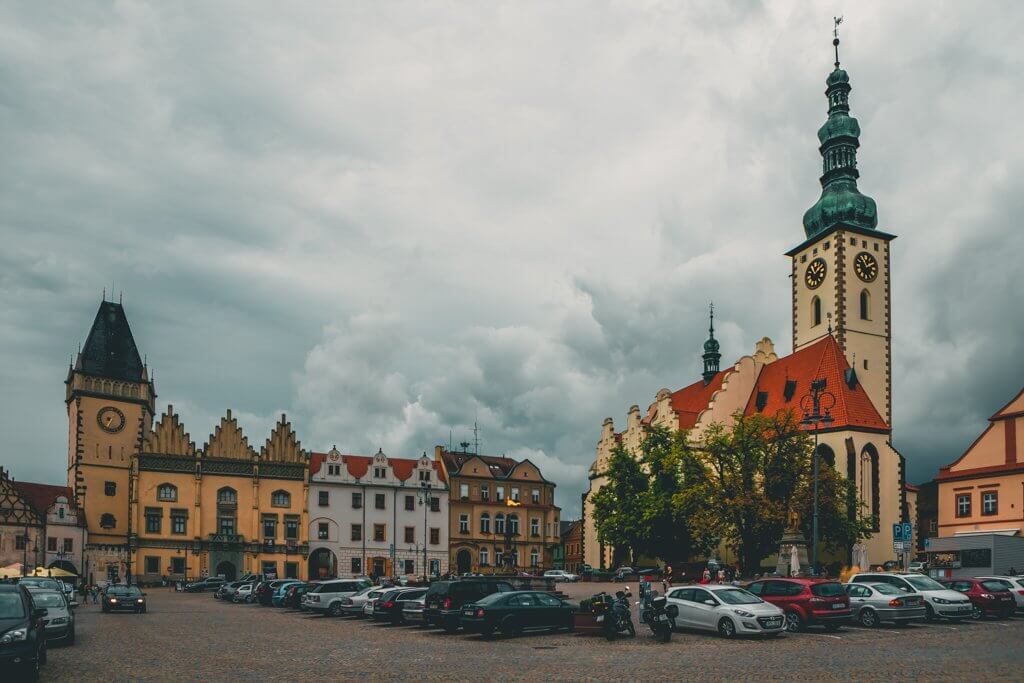 The town square of Tabor Czech Republic is known as Zizka Square. This is where you will experience in person any photo you will ever see of Tabor. This square is lined with beautiful buildings featuring different styles of architecture, including Baroque, Renaissance, and Gothic styles. The Deanery Church of Lord's Transfiguration also has an amazing tower you can't miss here.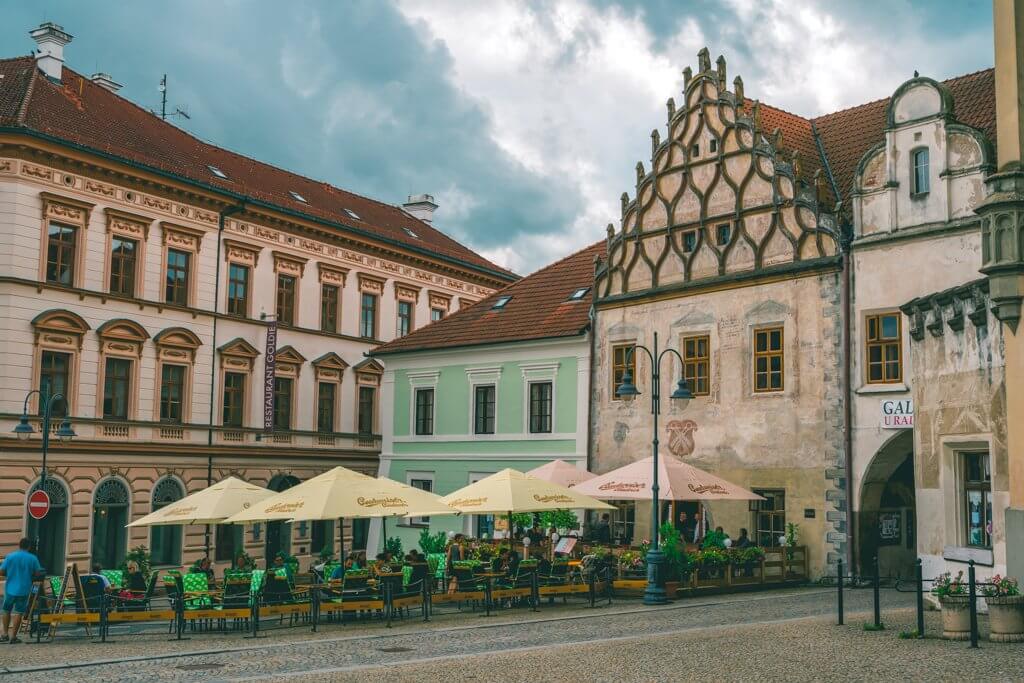 There are some great restaurant and café options with a fantastic view of the town center. Sure, you may be paying a little extra for the view, but it's totally worth it. You can still get a big beer for under 40 CZK, which is a steal of a deal.
2. You don't need a drone to get amazing views
Yes, we absolutely did fly our drone in Tabor, but you don't even need to own a drone to get an epic photo of the town's center. You can just climb the Tower at the church in Zizka Square and pay a small fee of 50 CZK to have a bird's eye view of the gorgeous town and scenery of Tabor Czech Republic.
Pay attention to the signs and go behind the cathedral for the best view and one of the best things to do in Tabor. Plus you'll get a nice bonus exercise in for the day!
You'll find a small door that you almost need to duck to get in and start ascending the tightly coiled ancient spiral staircase. After a few laps up you may start to get dizzy but you'll make it to the next level of steep wooden stairs. After ascending for what seems like way too long you'll reach the part of the tower where the bells are. This is where I was uncertain if we were breaking the rules or something because this move seemed to be a safety hazard. You have to duck low to the ground to go under the giant bell to reach the next set of stairs. All I could imagine was the bell starting to ring right as I was caught underneath. Luckily, this sketchy move is over within seconds.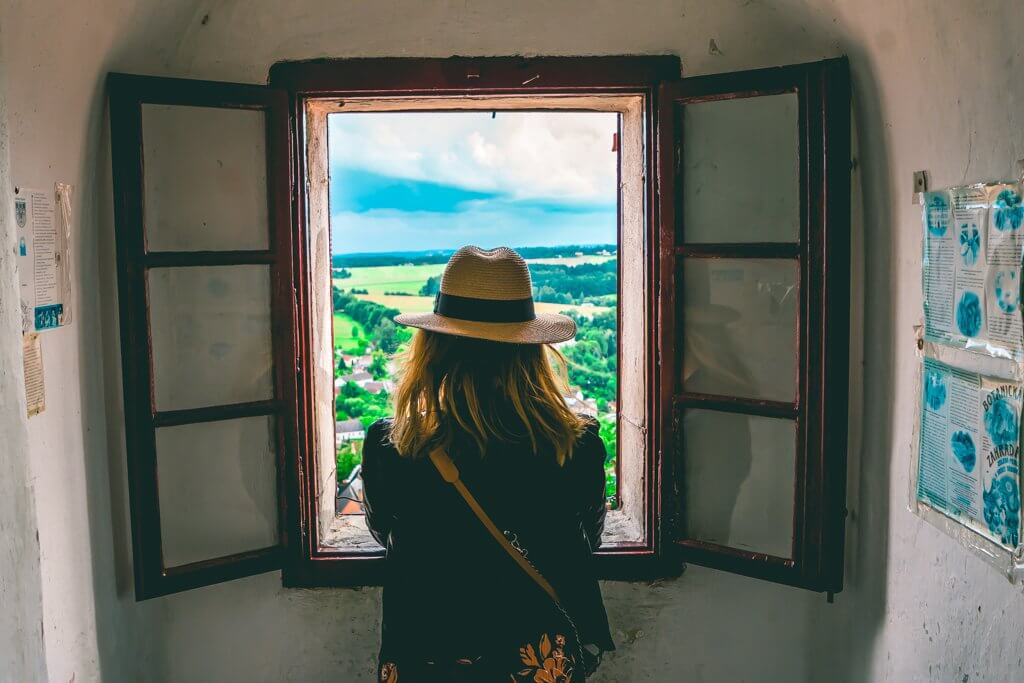 After making it up ANOTHER few sets of stairs you'll be rewarded with a grand view of the entire area including the river, castle, and square. Be ready to pay your 50 CZK when you get to the top or you may be disappointed to have climbed for nothing.
3. Its castle straight up looks like it's from Braavos in GOT
We are already huge suckers for castles, heck we made an impromptu stop along the way to Tabor because we saw a castle conveniently located just one kilometer from the road.
Knowing full well that we were going to see a castle in Tabor did not stop us. Once we arrived to Tabor we couldn't help but feel a strange familiarity to Hrad Kotnov, aka Kotnov Castle in Tabor. That's because it reminded us both of the city of Braavos in Game of Thrones, you know where Arya learned how to be an assassin.
For a small fee you can explore the interior, just be aware that no photography is allowed. You can also climb the tower here and get another incredible view of Tabor.
4.  There are underground tunnels you can explore
Tabor has its own underground tunnels that the public can explore. These old tunnels used to connect all the cellars of the buildings in the Old Town area. The tunnels were commonly used to store food and beer at cooler temperatures underground. You can explore a small section of the tunnels by entering through the Town Hall in Zizka Square.
5. Tabor Czech Republic is for the History Buffs
Check out the Hussite Museum in the town center if you're a history buff or want to learn a little more about the origins of Tabor Czech Republic.
The entire city of Tabor is linked to one of the most significant periods in Czech history, the Hussite religious movement, which was basically a religious feud of the Protestants versus Catholics. A group of Protestant radicals lived here and founded Tabor in 1420, known as Taborites. You can learn more in the museum or take a tour. If you want to brush up on some of the background information beforehand we recommend reading a bit about the history of the Hussites and the Czech Republic beforehand.
6. There's even a cool monastery
We sadly missed out on this on our trip, which is strange because it seemed like we covered almost every corner except this one in Tabor! The Klokoty Monastery is a site to witness yourself to experience the beautiful and ornate Baroque architecture and details of this religious landmark in Tabor.
If you're lucky or plan your visit right you'll show up during the live organ performance.
7. The streets are straight out of a storybook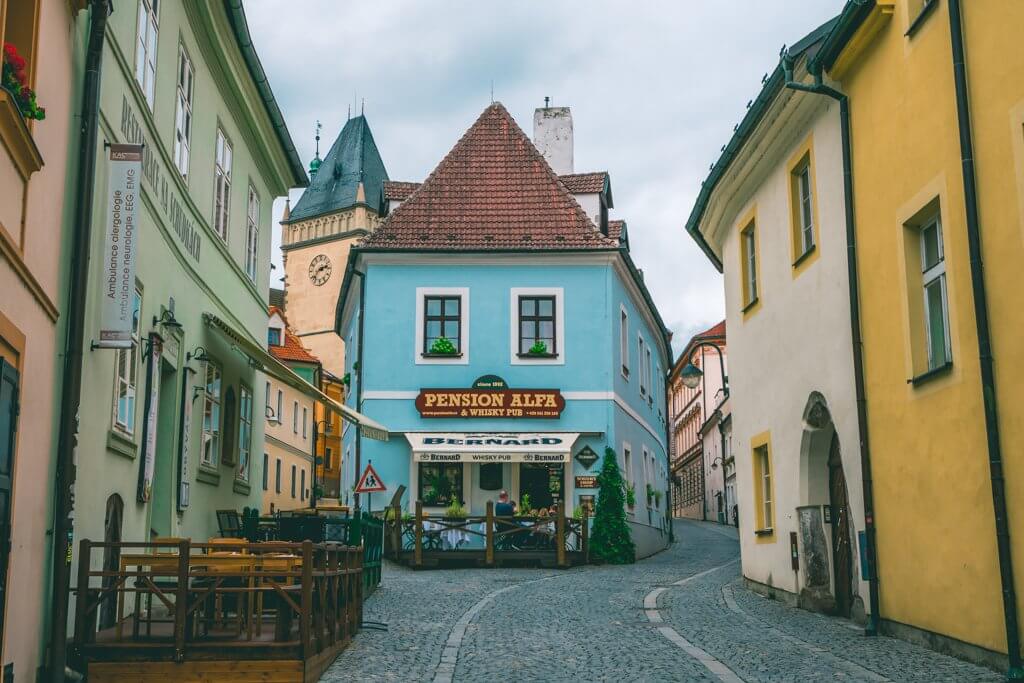 There are what seems a never-ending maze of gorgeous homes and beautiful buildings along the cobblestone streets of Tabor. Even though the town is small, you can find little nooks and crannies every which way you look.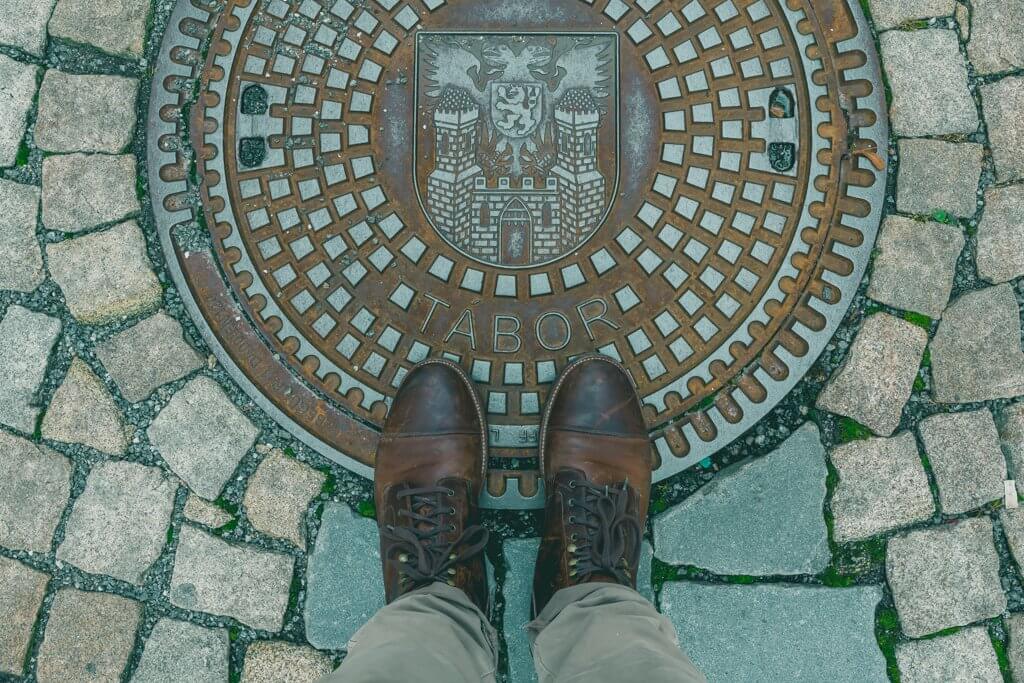 The pastel buildings are aesthetically charming, the cobblestone streets add to the charm, and when you make the right turn you even have a stunning clock tower, church, or castle tower in your backdrop. The mixture of renaissance, gothic, and baroque architecture is also incredibly eye appealing.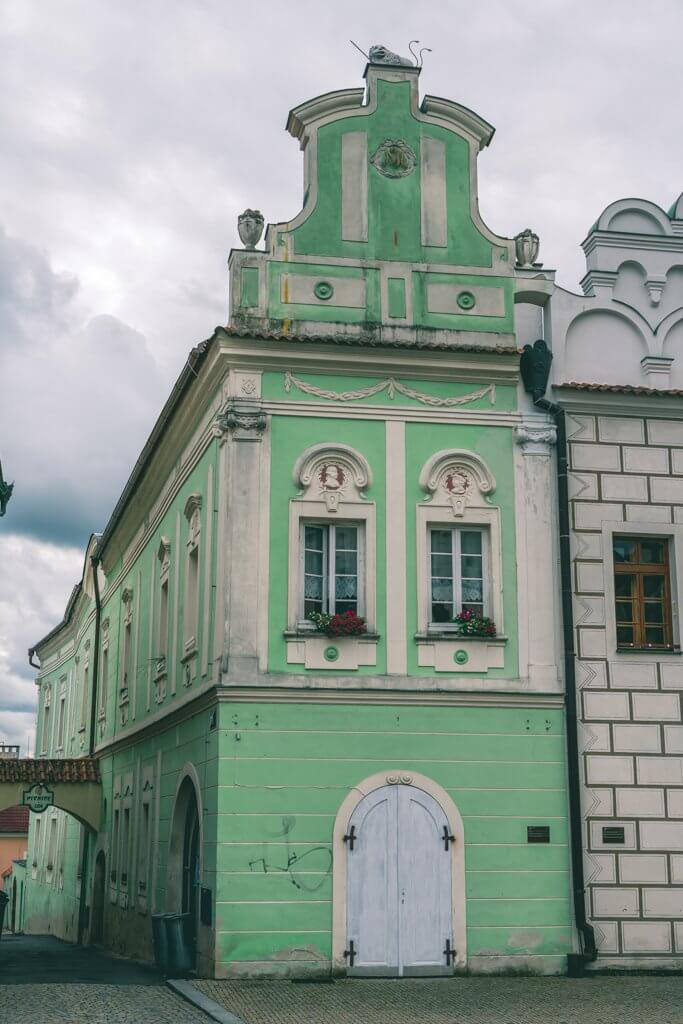 The entire time we felt like we were living in the pages of a fairytale storybook.
8. There are even options for active people and nature lovers
We are figuring out Czech people love walking trails and biking. Since we arrived we started noticing so many cyclists everywhere we went. There are bike paths that connect Tabor to anywhere you'd like to go.
There are also numerous walking trails you can enjoy. You can start in the park or near the monastery. Or if you don't have a lot of time just enjoy following and walking along the old castle walls.
If you love being by water you can check out Jordan Lake. It's actually the oldest reservoir in Central Europe and even has its own waterfall. There are also nice walking and bicycle paths around the lake.
9. Great for dates and even families
What's great about Tabor is that they have plenty of activities to do for just about anyone including children. While we were wandering the streets we noticed there was a kids train museum and exhibit. Children can get up and close to life like miniature train displays that are just adorable. The entire place is decked out with trains, so be sure to walk all the way through.
There was also a ghost museum for anyone who likes spooky mysteries! Don't forget to check out the zoological garden either. This zoo is one of the latest in The Czech Republic and has only been around since 2015 where you can check out all different species of animals.
10. There's a chocolate and marzipan museum!
If you have a sweet tooth this is where you will want to be! Learn the process of making chocolate and marzipan from the beginning stages to the final touches. You'll fall in love with the cute marzipan displays. Check out different chocolate and packaging from all over the world with their expansive collection. You can even participate in their many workshops including making your own chocolate, create a chocolate painting on canvas or even edible paper!
The best part is that the museum itself is actually free to the public!
Bonus: It's an Instagram dream come true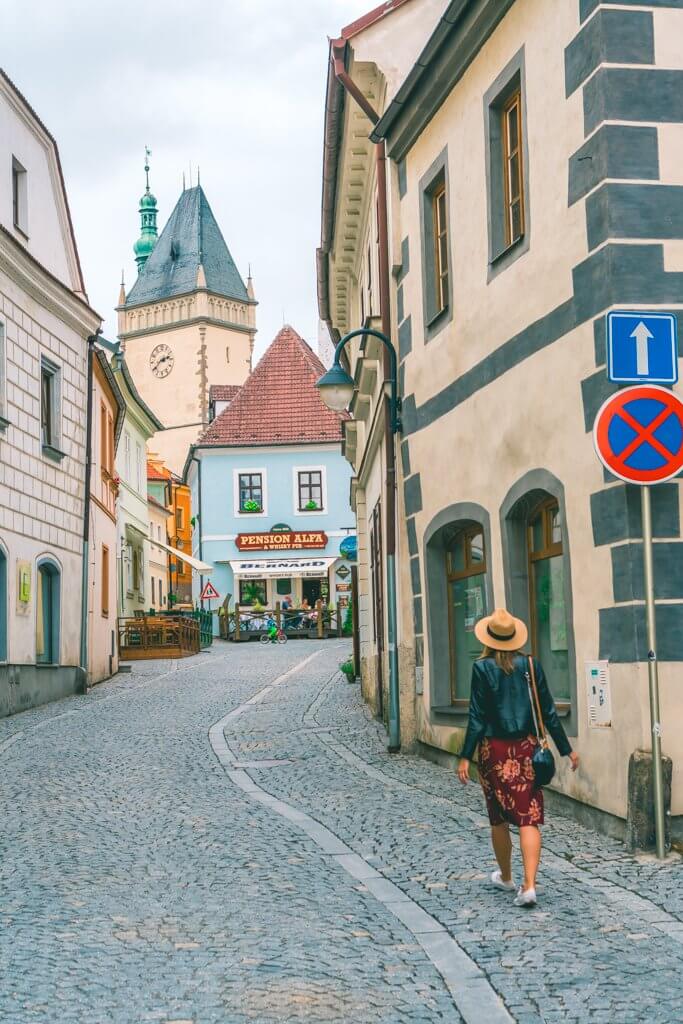 If you already couldn't tell, Tabor Czech Republic is an Instagrammer's dream come true. Between the narrow windy alleyways with colorful buildings from another time long long ago, to a castle that looks like it's straight out of a movie, a beautiful church with a bell tower with an incredible view, an adorable town square, and lots of delicious beer. One day here snapping away pictures will have you set on Instagram for awhile.
Where to stay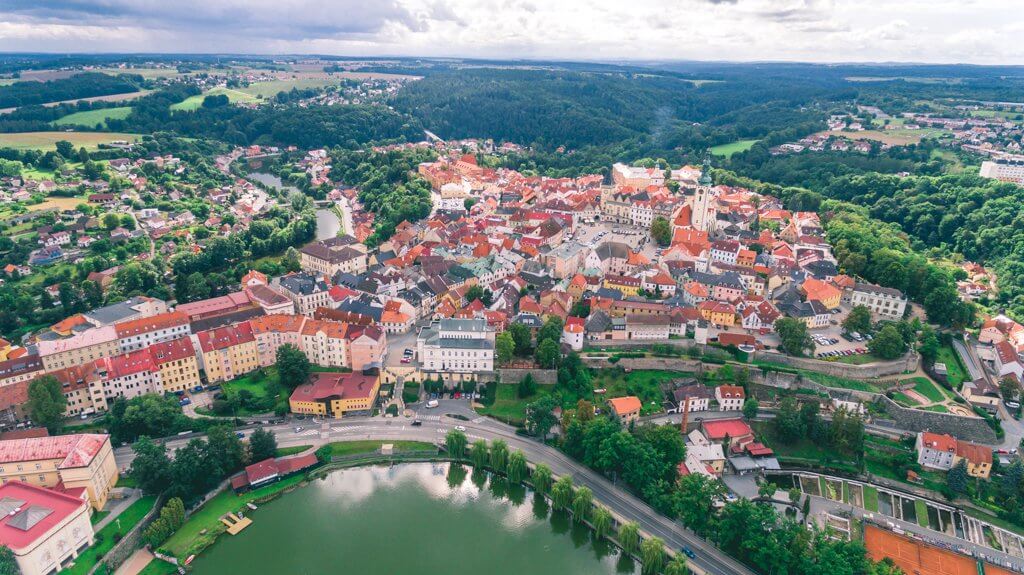 You can easily do Tabor in a day, but you can really get a feel for the place if you stay the night. Here are our recommended picks for places to stay in Tabor Czech Republic.
$ Hostel Bernarda Bolzana
This is a great option for budget travelers. This hostel has dorm style rooms, shared bathrooms, and a prime location close the town square and bus/train station.
Check availability and rates here.
$$ Penzion Kostnický dům
This is a fantastic option and probably the best bet for your money. This pension offers chic, modern rooms on the square. Another perk would be that breakfast is included.
Check availability and rates here.
$$$ Hotel Nautalis
This 4-star hotel has a prime location right in Zizka Square featuring wifi, TVs, and whirlpool tubs in these elegant rooms. You can also enjoy the wine bar, restaurant with a terrace, or spa on the property.
Check availability and rates here.
Tip: If you're not sure what to do you can always just explore on your own or visit the Visitor Center for pamphlets or a friendly person who is able to speak English and answer any questions you may have.
If you love adorable Czech towns then be sure to check out Telc and Trebon as well!
Disclaimer: Part of our trip was in partnership with Czech Tourism, as always all opinions are our own!
If you liked this post share the love on Pinterest below!