What was supposed to be another site seeing day on our month long excursion in the Czech Republic in Kromeriz, home of another UNESCO World Heritage Site and home to the impressive Baroque Flower Garden, ended up being completely different in an amazing way.
We had a pretty solid and jam packed itinerary full of tour after tour in one beautiful and historical city after another in the Czech Republic. We were looking forward to doing the same in Kromeriz, but thanks to us running late getting stuck in traffic in Czech's second largest city Brno and to some rain, we didn't end up doing the usual tourist circuit.
While this trip has been exhilarating and incredible, it has also been a bit chaotic. We were working with the Czech Tourism Board, who has been amazing to work with and super helpful with setting us up with locals to show us around their marvelous country.
We are working on creating some interesting stories, visiting places that aren't visited as much by tourists, and of course making a hyperlapse video.
We spent an entire week in Cesky Krumlov, the 2nd most visited city in Czech. After days of scouting, planning, and countless hours of shooting from early sunrise mornings starting at 3:50 am and ending well past sunset we were exhausted.
A few days later, our hard drive crashed with some of that footage.
Talk about bad luck.
Anyways, after a mini-meltdown at the possibility of losing all that work and footage, we decided to pick ourselves up and be hopeful. We dropped our hard drive off in Brno, where we would have to wait a few days for a diagnosis and made our way to Kromeriz.
Spoiler Alert! After a hefty bill, we were able to recover our footage and made this video of Cesky Krumlov!
What we thought was a 45-minute drive ended up being 1.5 hours, making us late for meeting Mr. Urbanovsky, a friendly Moravian local who was waiting to show us around his beloved city Kromeriz.
Feeling terrible that we were late, he greeted us and was super kind and understanding. Because we were late we missed almost an hour window of site seeing before the rain would come in.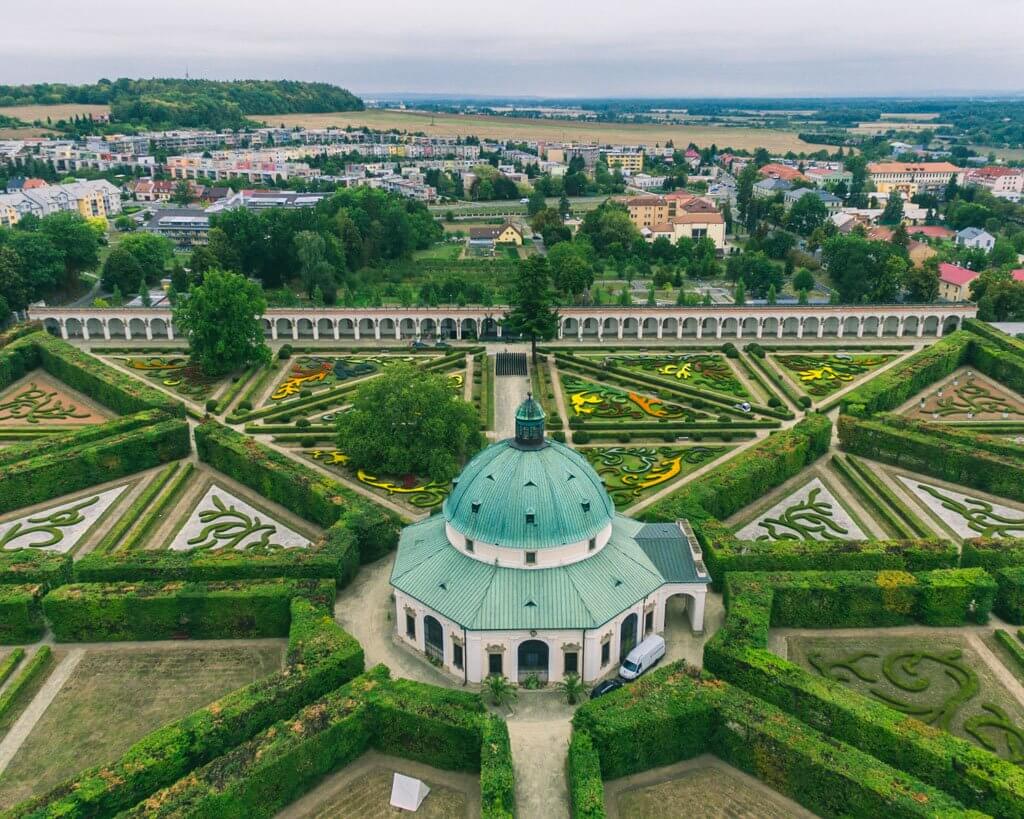 We hustled over to the Flower Garden, part of the Kromeriz Bishop's Palace complex before the rain came crashing down on us. We had just enough time to see why the local slogan is, "a town of captivating beauty," and of course pop up the drone (Walter is his name) and snap a few pictures before the wind speed picked up too much.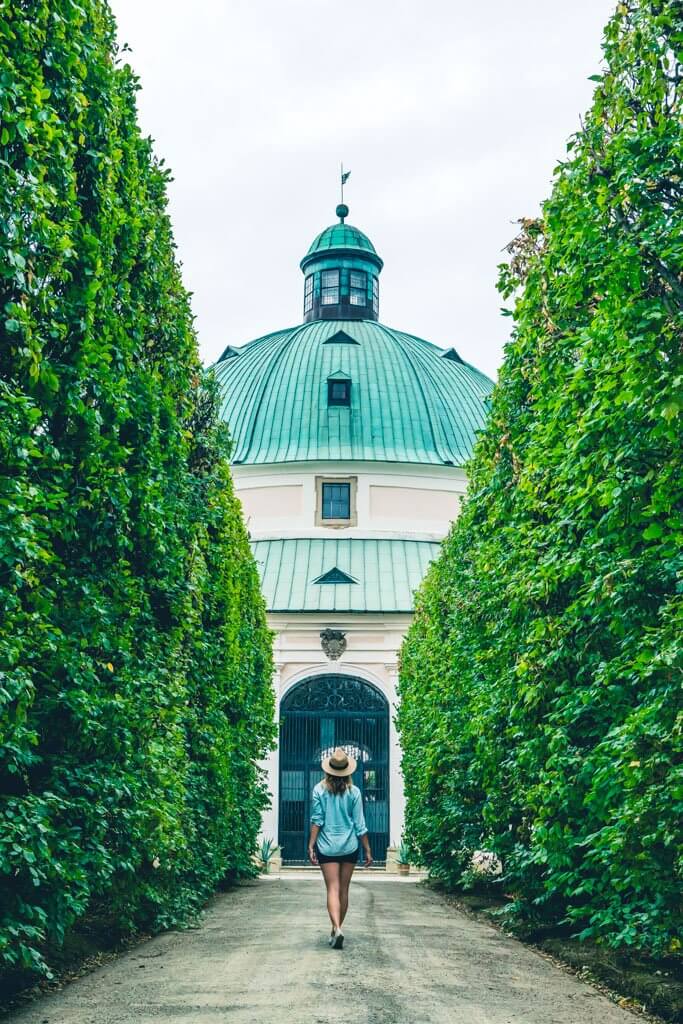 The gardens were closed to the public this day to prepare for a big event over the weekend. This is rare as the gardens are usually open to the public, but Mr. Urbanovsky knew someone who would grant us access so we could see and experience the grand gardens for ourselves.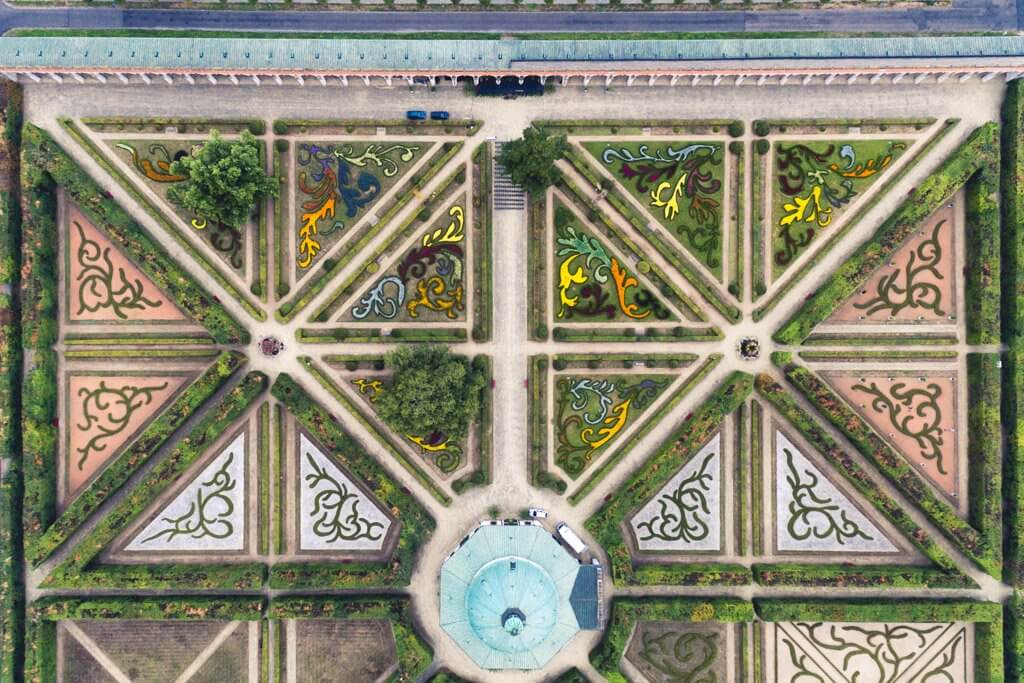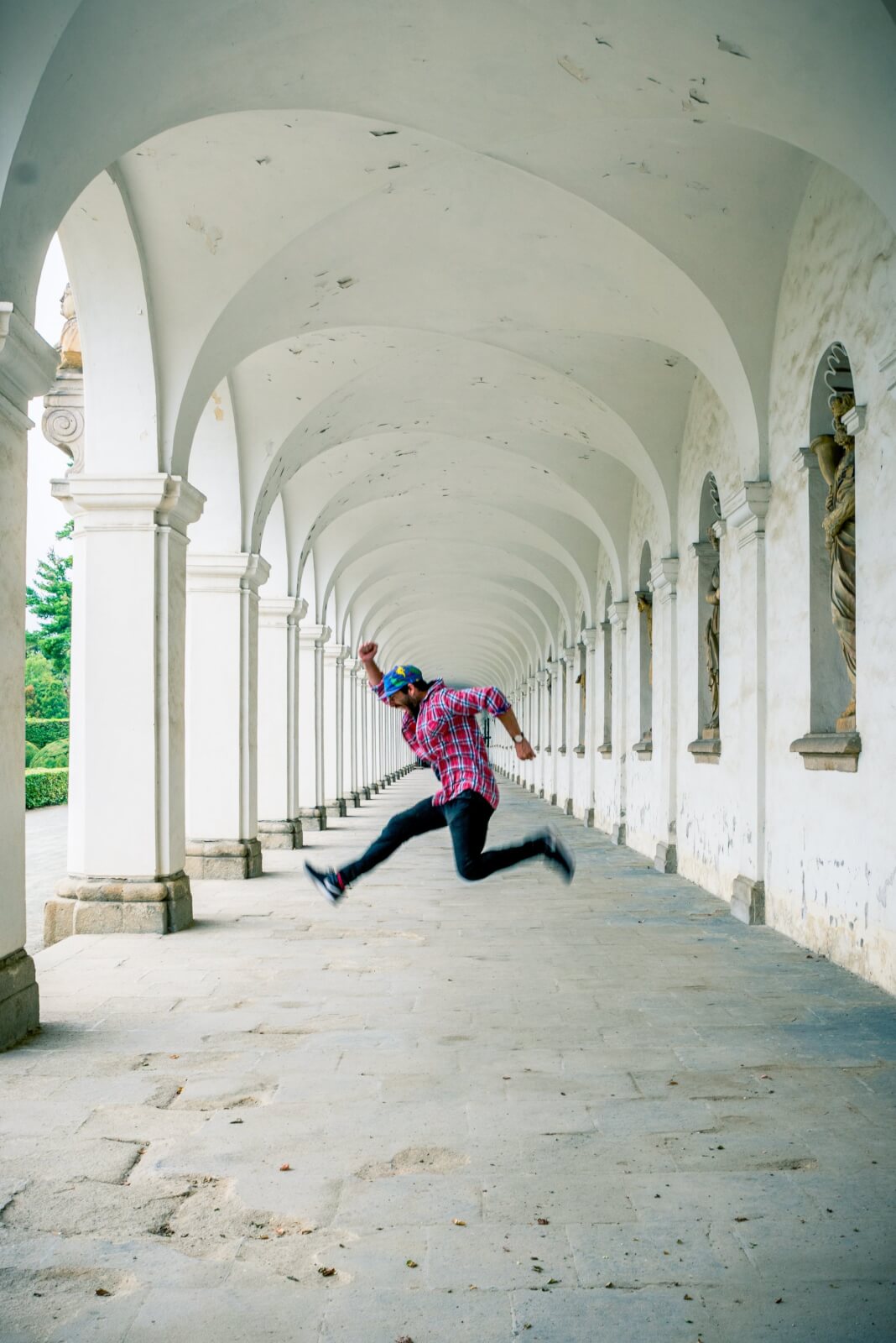 We were in awe. The beautifully patterned and exquisitely manicured gardens were a form of art. The symmetry, the perfectly maintained hedges, the colorful designs of flowers, the immaculate colonnade, to the ornate interior of the rotunda sitting as a centerpiece in the middle of this extraordinary garden complex.
We even saw large rabbits hopping through the maze of hedges, it sort of made us feel like we were in a scene of Alice in Wonderland.
Walking through a mysterious looking archway of trees with perfectly framed fountains at the end felt like a fantasy.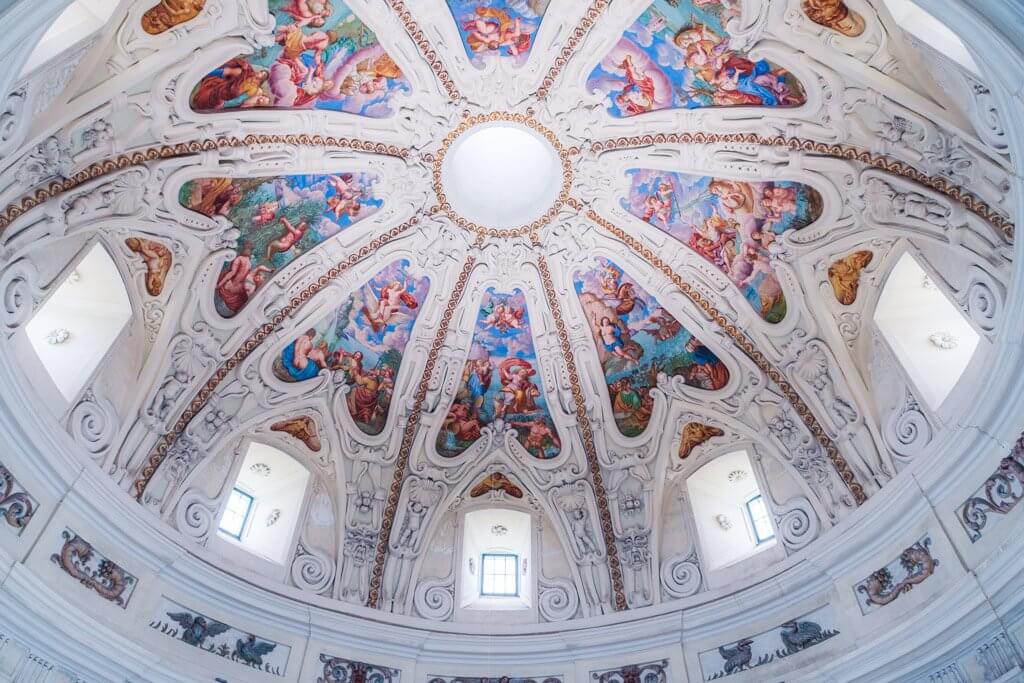 It was no wonder why this beautiful mix of French and Italian style Baroque garden is honored with the title of being a UNESCO World Heritage site for the beauty alone. Although, to be named a World Heritage Site there has to be historical and cultural significance. We were told by Mr. Urbanovsky that this is one of the best preserved historical gardens in Europe which is why it was named a UNESCO site.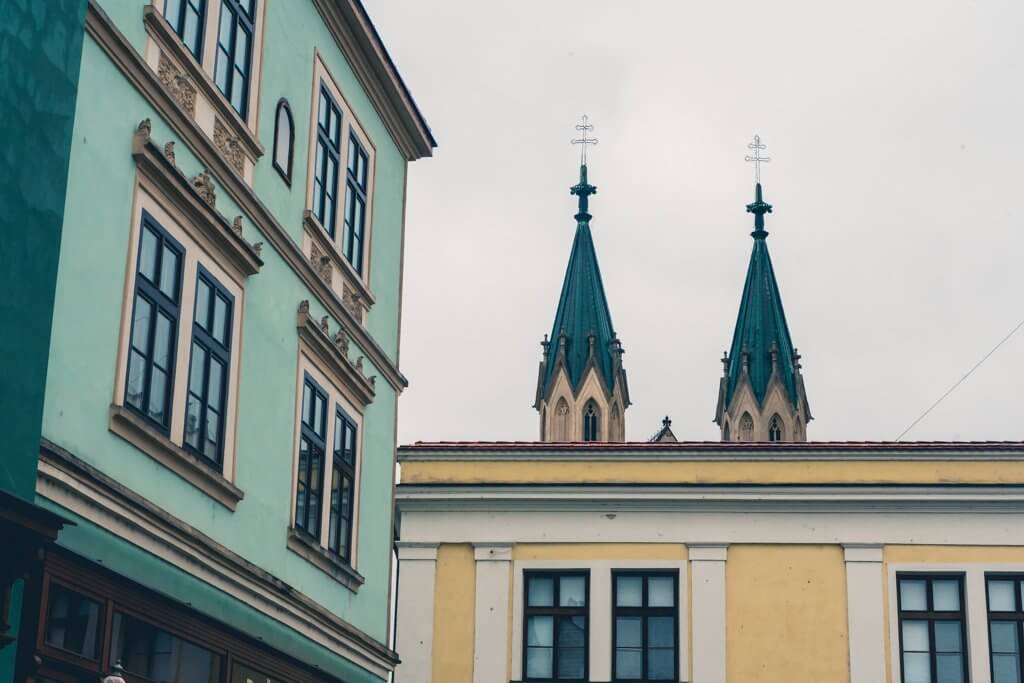 Just as we almost made an entire lap around the complex the rain started coming down. We made our way back to the town square where we were supposed to see the staple attractions in a town like the castle, watch tower, wine tasting in the cellar of the chateau, and cathedrals, but instead Mr. Urbanovsky improvised and showed us the personality of Kromeriz instead.
He first took us to U Zlateho Kohouta right on the square. This 4-star hotel also has affordable hostel accommodation for backpackers, a café, and an amazing terrace overlooking the entire square including the St. Maurice Church and the clock tower to Kromeriz Castle.
We came for the view and a coffee to warm us up on this chilly beginning of an autumn rainy day.
Afterwards, we sipped local beers and sampled what Scott and I describe as the best chocolate we have ever tasted at The Black Eagle Brewery or Cerny Orel Pivovar next door on the square.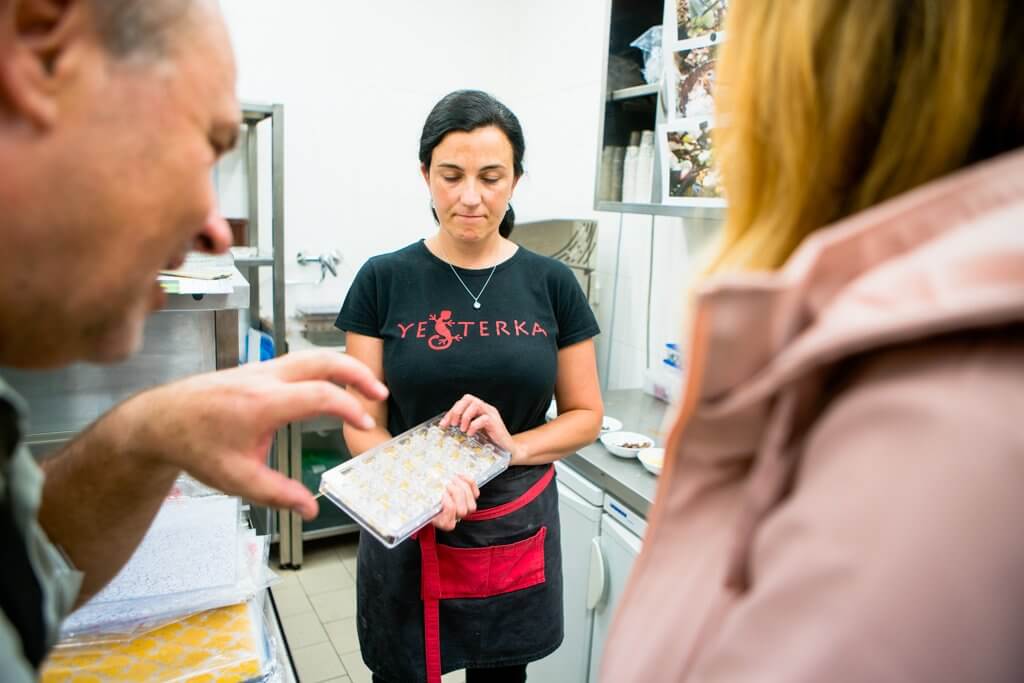 Mr. Urbanovsky is one of those friendly locals everyone knows in town, he wanted to show us the local microbrew and what was going to be a quick 10 minute stop ended up being an hour sampling and seeing where the lovely couple who own this establishment make their award-winning beer and finest Belgium chocolates.
Cerny Orel also is a hotel and pension, talk about having all amazing things in one place, great beer, delicious chocolate, and a place to sleep in a prime location.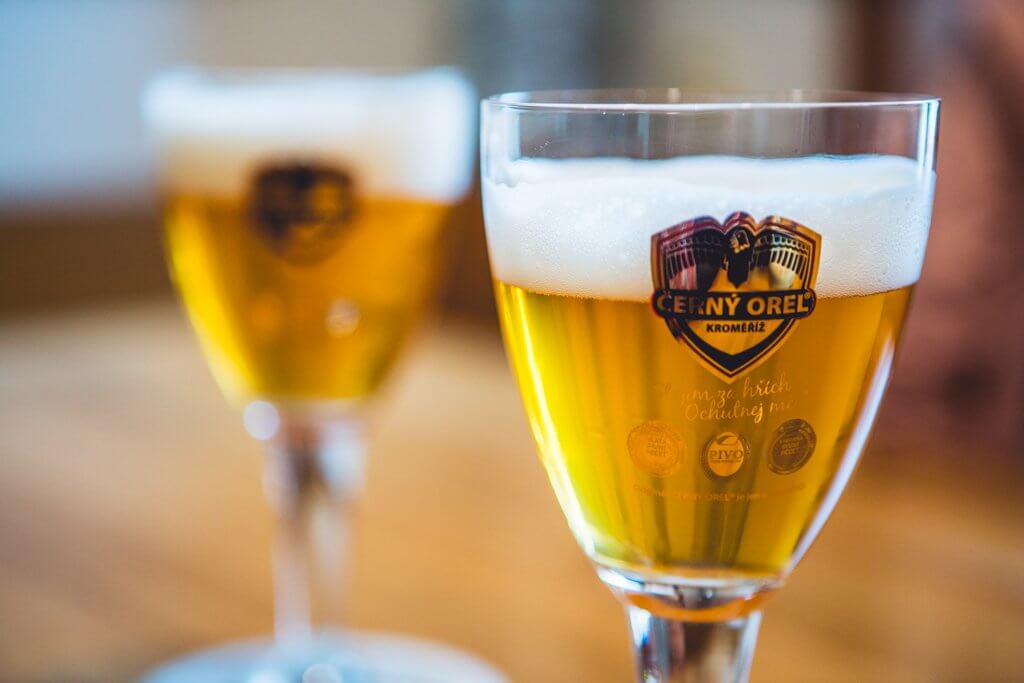 As we were sampling the beer we ended up having a discussion with Mr. Urbanovsky about how we would have totally missed out on seeing such character and personality of the Czech Republic if we decided to only visit the country for a few days only staying in Prague.
While we love Prague and wouldn't skip it on a visit to the Czech Republic,  if we would have only visited the large, well-known cities, we wouldn't have gotten to absorb what else this country has to offer including small town individuals like Mr. Urbanovsky that will leave a lasting impression on us from our entire month-long visit to the Czech Republic or the smaller towns like Telc where we showed up on a Sunday when the entire town seemed to be closed.
While showing up in the smaller towns in the Czech Republic can be a bit more challenging as there can be more of a language barrier than if you were to visit Prague or Cesky Krumlov, you can experience a bit of what a place is like that isn't designed for tourists. Shops and restaurants close early, next to nothing is open on Sundays, you may only find hot dogs for breakfast, cafes open later in the morning, and restaurant menus are all in Czech leaving you to play roulette ordering your food.
While all of these things may sound like minor inconveniences, they ended up leading to new experiences, like trying new food, going to a restaurant we normally wouldn't go to, trying to communicate without knowing the local language, and getting to see a glimpse of a different kind of life than your own.
If you feel more comfortable with a guide, you can always try reaching out to the local information center, almost every town has one, and see if they can arrange a local English speaking guide to take you around like Mr. Urbanovsky did for us in Kromeriz.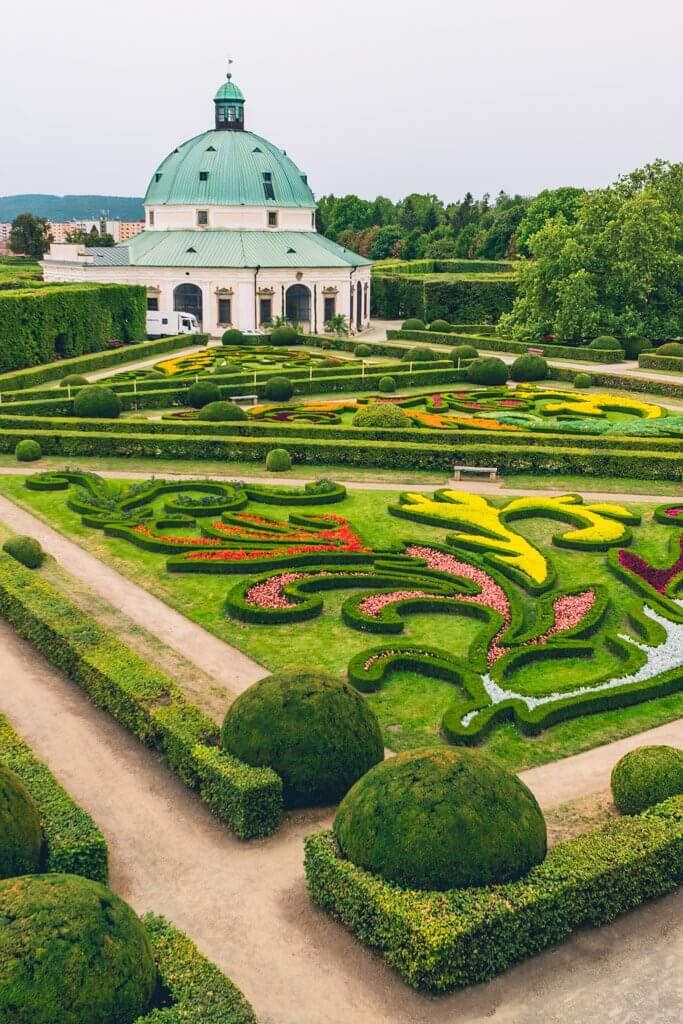 At the end of our day in Kromeriz, we weren't disappointed that we missed out on all the town's historical and beautiful monuments, we were excited to have experienced the local personality, witness the background of a local business, and make a new friend along the way.
---
Even though we had a set schedule we couldn't stray from, if we could we would have ended up staying at least a night in Kromeriz. If you decide to do the same, we recommend both hotels we stopped at.
U Zlateho Kohouta
U Zlateho Kohouta or The Golden Rooster is a beautiful 4-star hotel with a great rooftop terrace overlooking Kromeriz city center. Not only does this hotel have a great location but the rooms are large and spacious.
Check rates and availability here.
Cerny Orel
Cerny Orel also has a great location and is a hotel & pension. This is a great option as it has rooms for just about any budget. What we loved is that this hotel also has the incredible chocolatier and microbrewery all in one spot! You won't need to leave for anything here!
Check rates and availability here.
---
Liked this post? Share the love below on Pinterest!