Cleveland, Ohio is one of those cities we have been to many times but never wrote about. Why you may ask? Because, Megan, aka Chichi, grew up here and it's so easy to not think of your hometown or something you're so familiar with as a cool destination to travel to. We discovered there are so many cool and interesting things to do in Cleveland not only on this trip but on trips in the past. And it wasn't until recently that we started realizing and appreciating the places we grew up as a fun destination others may enjoy.
Cleveland is home to the Rock and Roll Hall of Fame, Lake Erie, The Great Lakes Science Center, and tons of other places you could fill a year's worth of activities with. However, instead of trying to cover it all, which would be close to impossible unless we had a website just dedicated to Cleveland, we decided to feature some of the most happening spots and our picks for best things to do in Cleveland.
We partnered up with Destination Cleveland for this post to bring to you the coolest things to do in Cleveland to inspire you to check out this underrated and under-visited city in the U.S. With inexpensive flights from Spirit Airlines having frequent flights to Cleveland, there's no excuse not to make this one of your go to U.S. cities this year!
Ohio City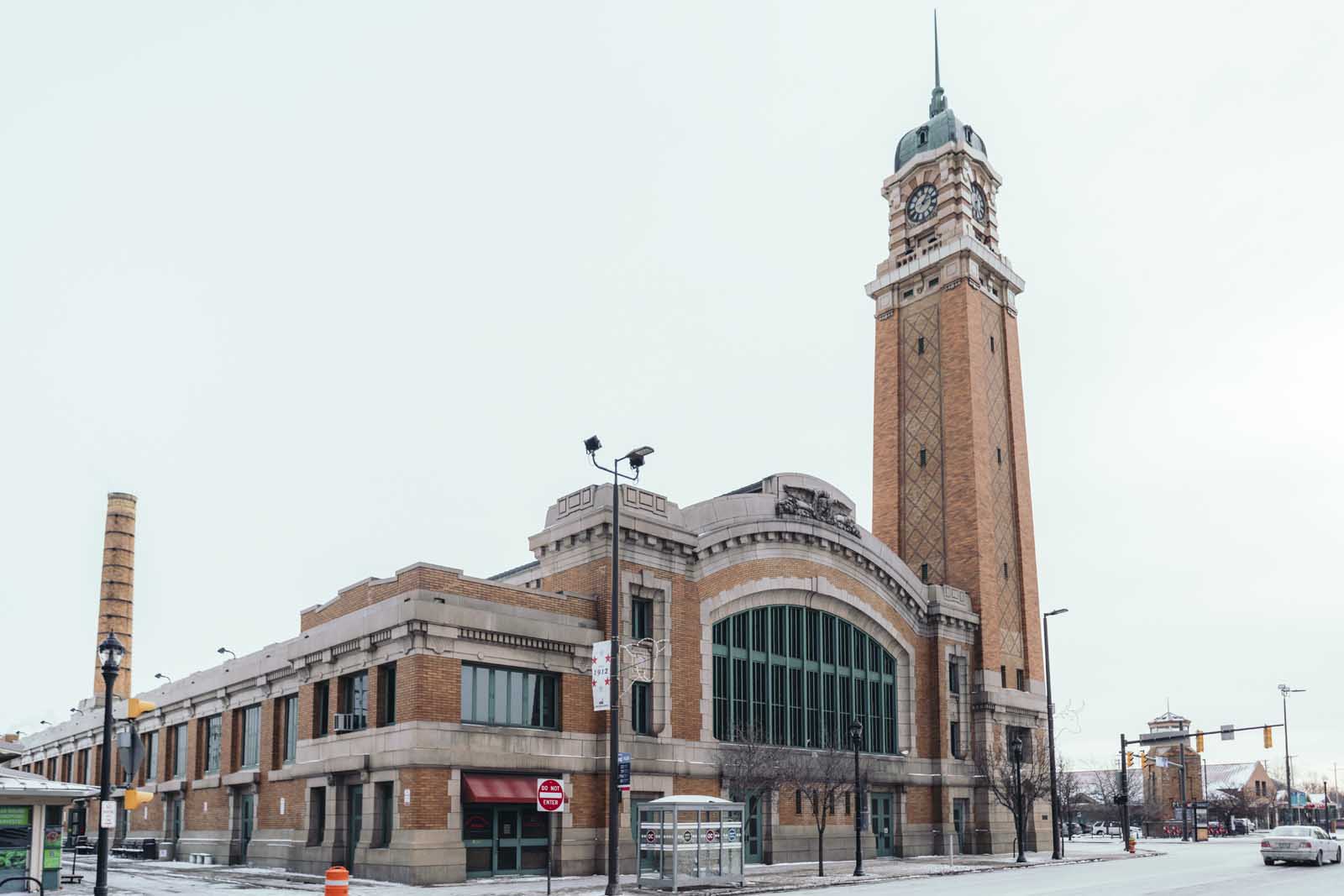 One of our favorite things to do in Cleveland was to visit the Ohio City area. There is a lot going on here from cool art galleries, murals of street art, great food, and of course beer. Home to Cleveland's foodie and original beer scene with West Side Market, Great Lakes Brewery, and great restaurants you won't want to miss this area for a meal, or maybe two. Save room for dessert at Mitchell's Homemade Ice cream, a sustainable and tasty treat.
West Side Market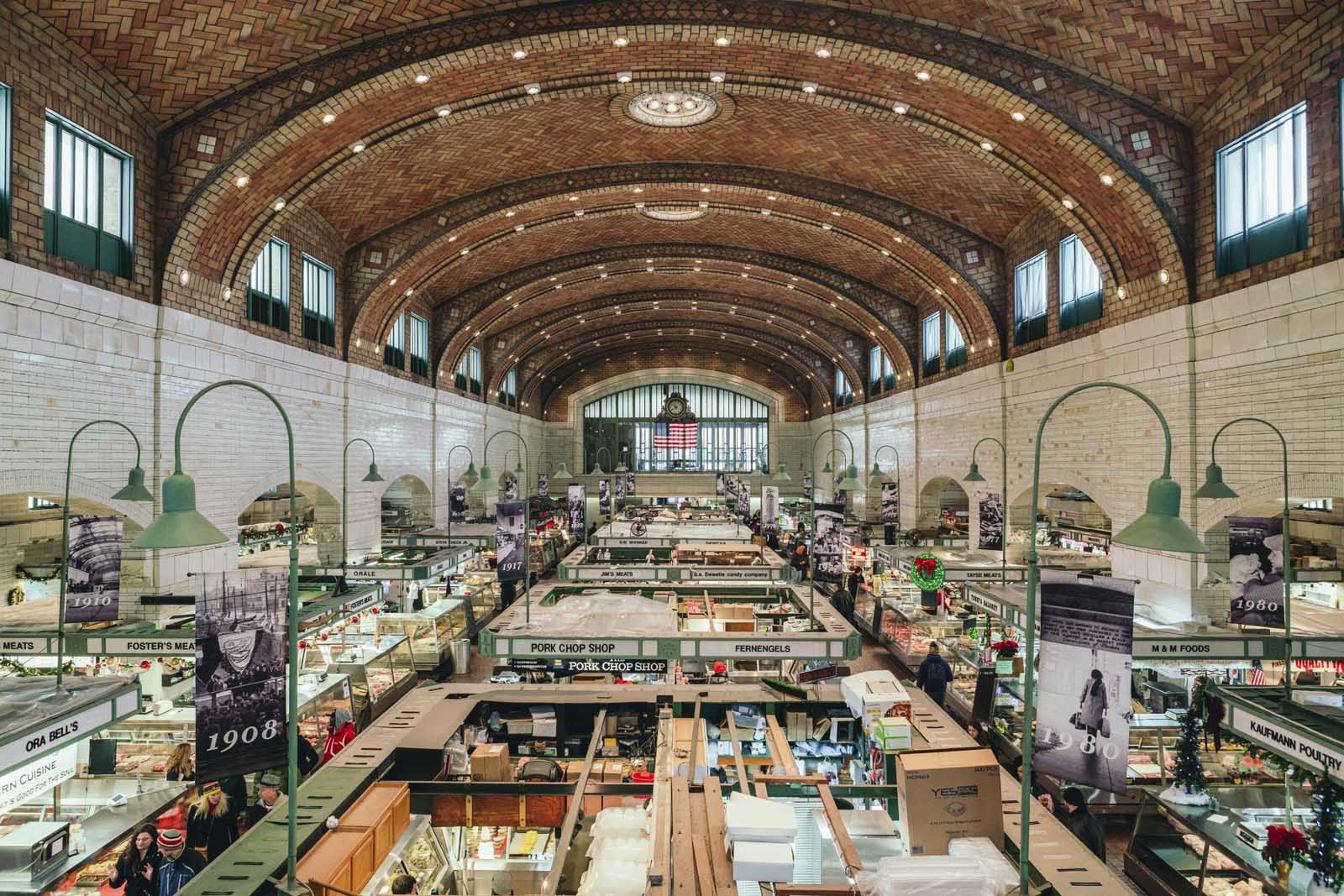 This is one of those 'not to be missed' things to do in Cleveland. West Side Market is the oldest indoor/outdoor food market in the city. Think of it as Cleveland's own Pike Place but instead of fish you have pork everywhere. There are over 100 vendors inside this historical landmark selling everything from candy, artisan cheeses, olive oils, meats, falafel, to fresh produce. Just walking through here is an experience of its own.
Try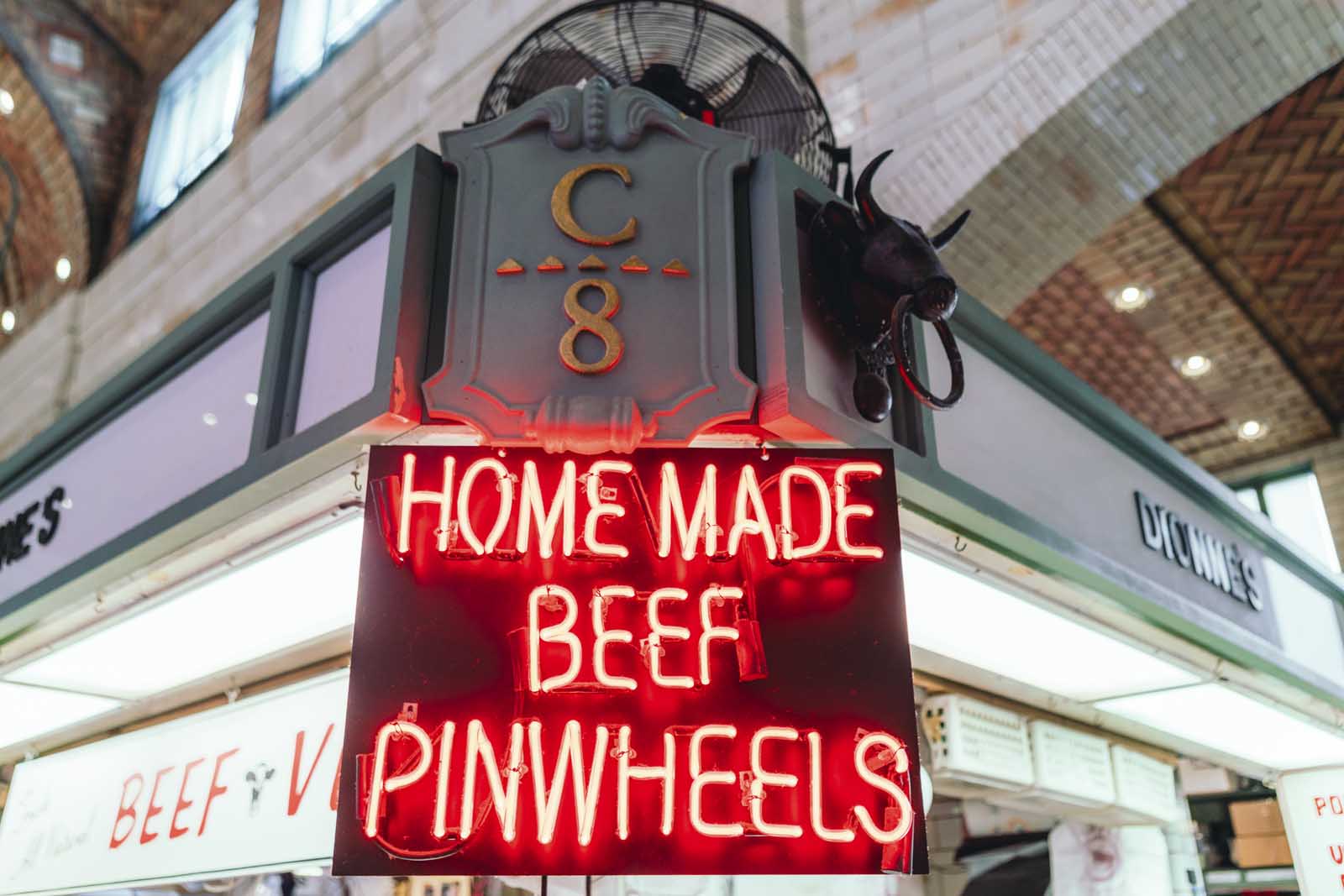 One of the best ways to be introduced to a new place is to take a food tour. We absolutely LOVE food tours and after all, food is what brings people together all over the world. Learn more about the history of West Side Market and while tasting your way through the place? Try a tour with Taste of Cleveland Tours. They offer guided West Side Market Tours stopping at 15 different vendors on Wednesdays, Fridays, and Saturdays. They also do private tours upon request.
Great Lakes Brewing Co.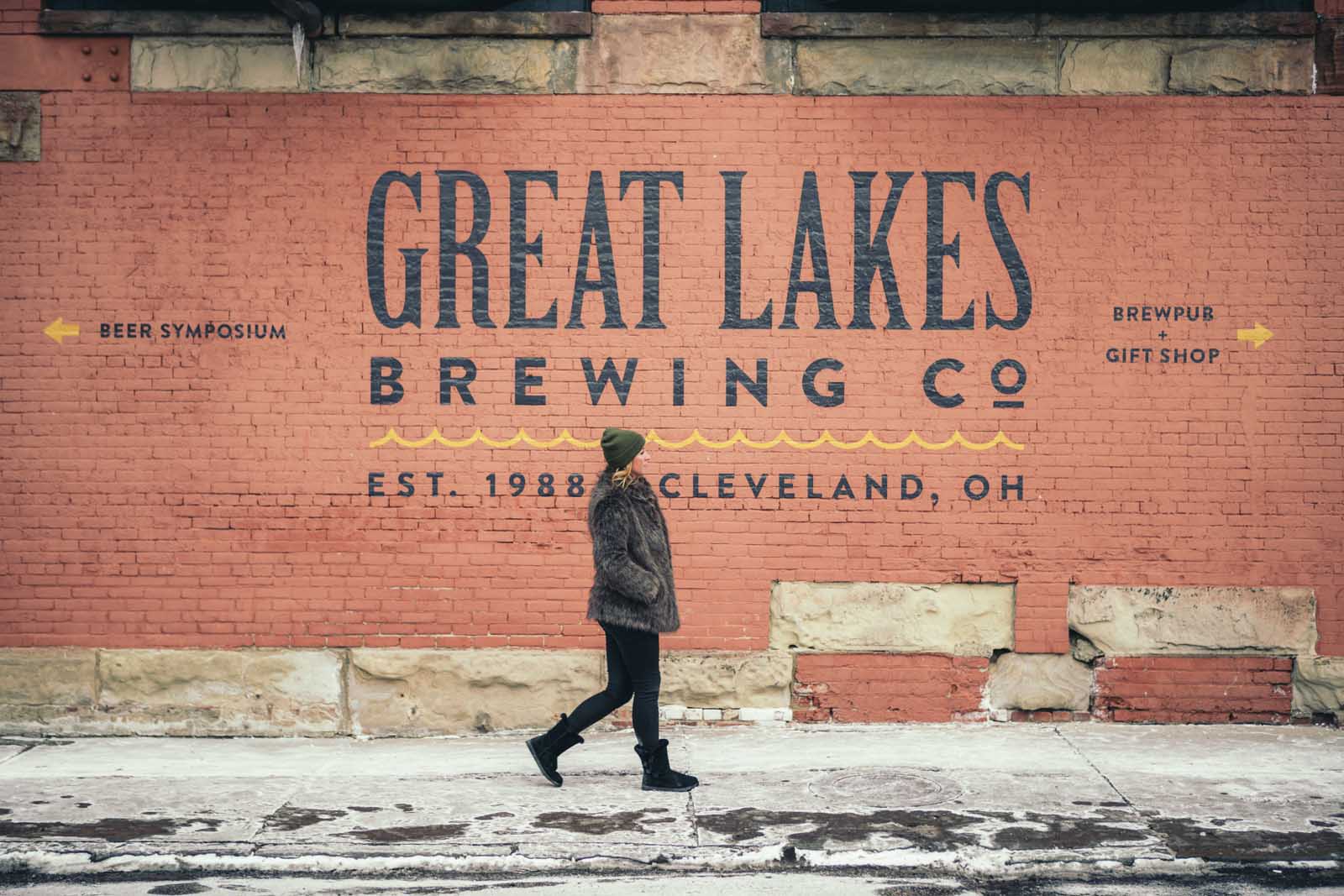 Besides being the OG microbrewery in all of Ohio, Great Lakes Brewing Co. has to be one of the coolest and best breweries with fantastic beer, incredible marketing, and even great initiatives. They are all around awesome and visiting their brewery and restaurant in Ohio City is one of the best things to do in Cleveland. Each of their beers tells a story. With names like Burning River IPA and Eliot Ness each with a backstory rich with local history. Even the incredible artwork on their packaging tells a story and if you look close you will see symbolism from the stories behind each.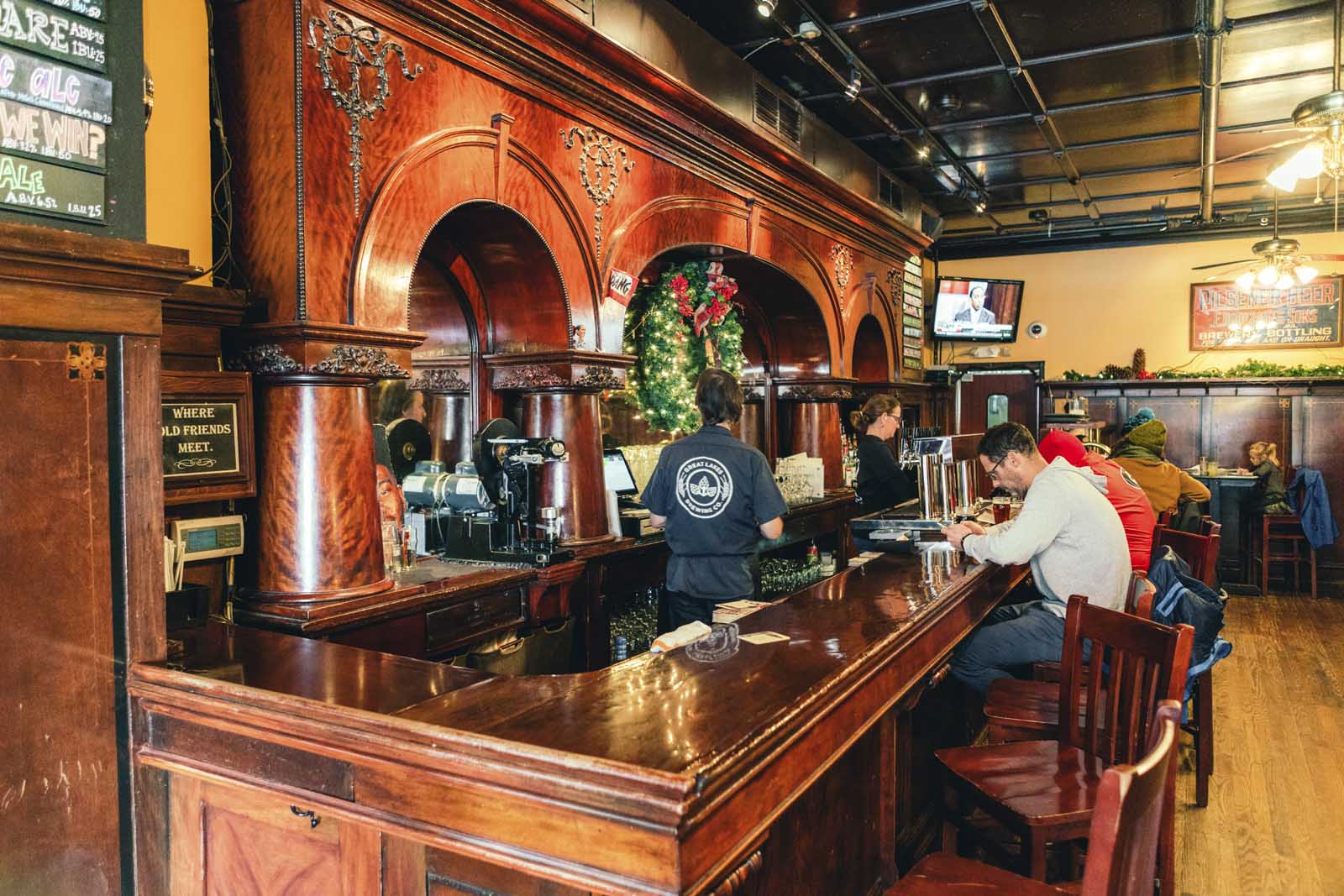 Besides having killer brews, like their Edmund Fitzgerald – the most awarded porter beer in the U.S., the restaurant in the brewery offers up a delicious farm to table menu directly from local farms, like within 10 minutes of the city close. They also don't let their leftover go to waste. All the scraps from customers go directly back to compost to grow the produce on your table. Besides their awesome low waste methods, Great Lakes Brewing Co. also help and contribute to many local clean water initiatives and even host the annual Burning River Festival which helps support and raise awareness to freshwater resources.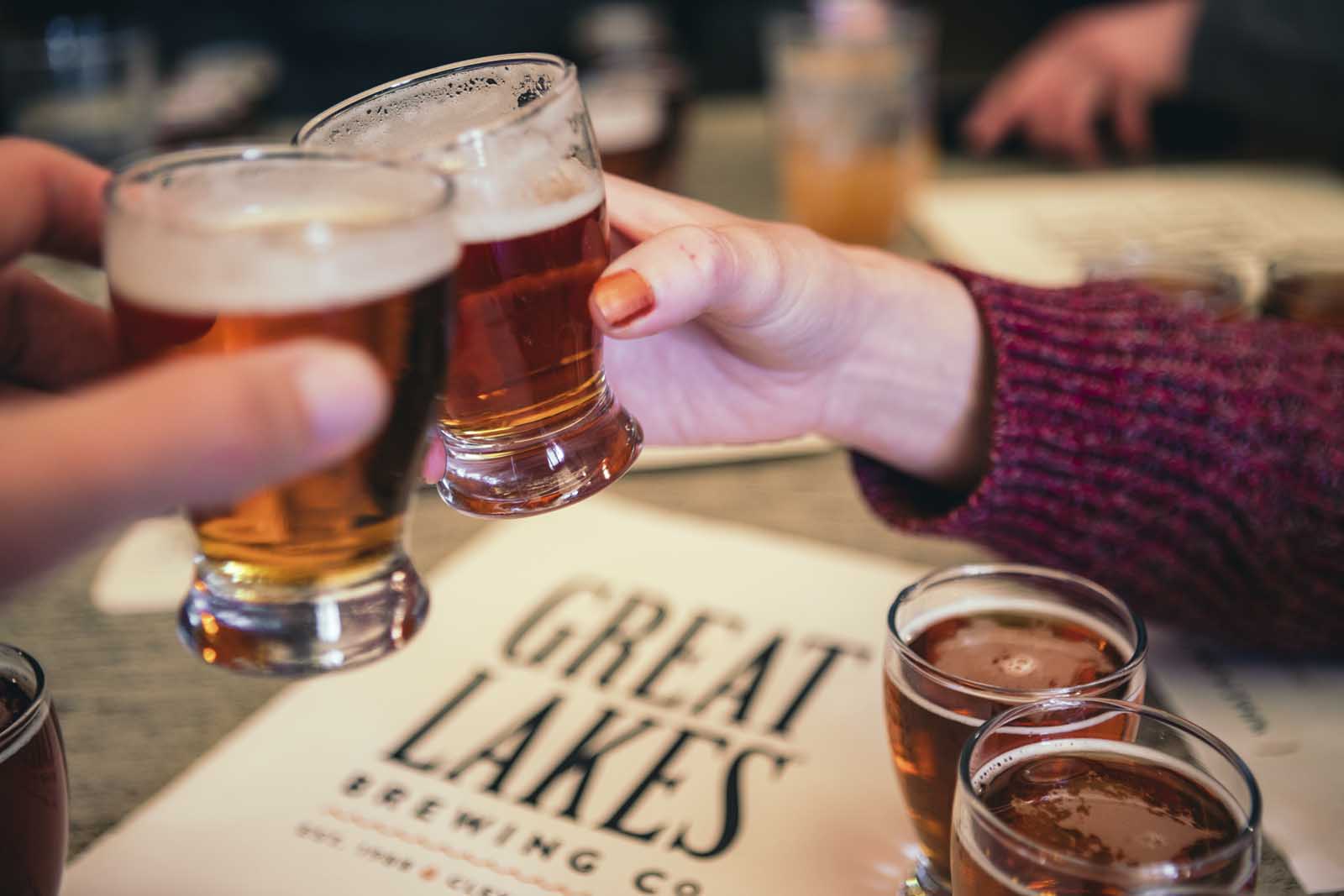 Don't miss out on trying a sampler flight in this incredible local business who gives back. This is undoubtedly one of the best things to do in Cleveland.
Fun Fact: There are real bullet holes in the bar meant for Eliot Ness, a famous prohibition officer who took down Al Capone in Chicago and later came to Cleveland (who also has a beer named after him). Ask your bartender to point it out! This place is rich with Cleveland history inside and out!
Ohio City Murals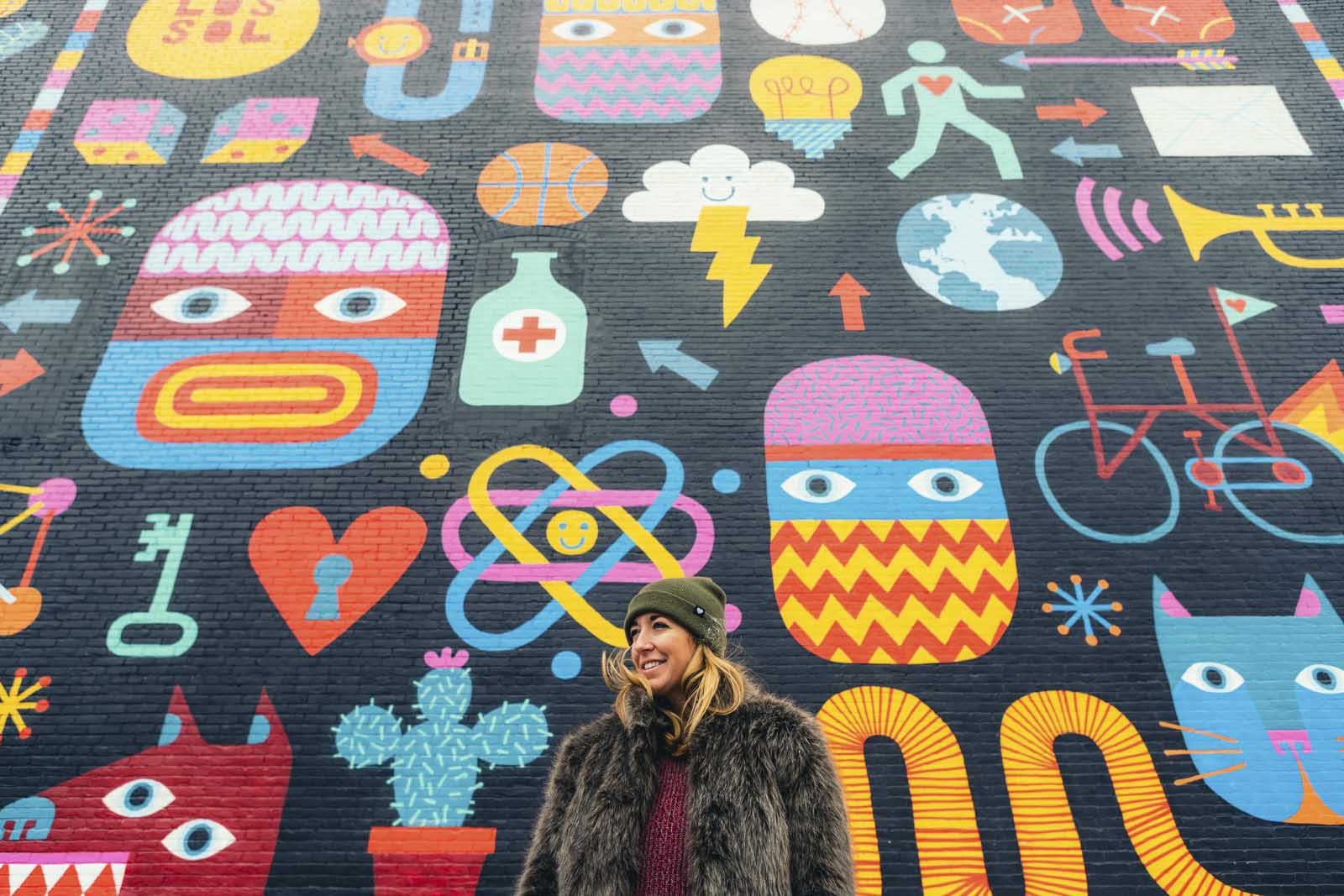 If there's one thing we love taking photos of it is giant, colorful murals in the different cities we visit. In the Hingetown area of Ohio City, you can't help but notice the large, brightly covered art covering the walls. Artists were commissioned by a non-profit known as the LAND Studio and funded by the Cleveland Foundation to help transform the area with the different artists work.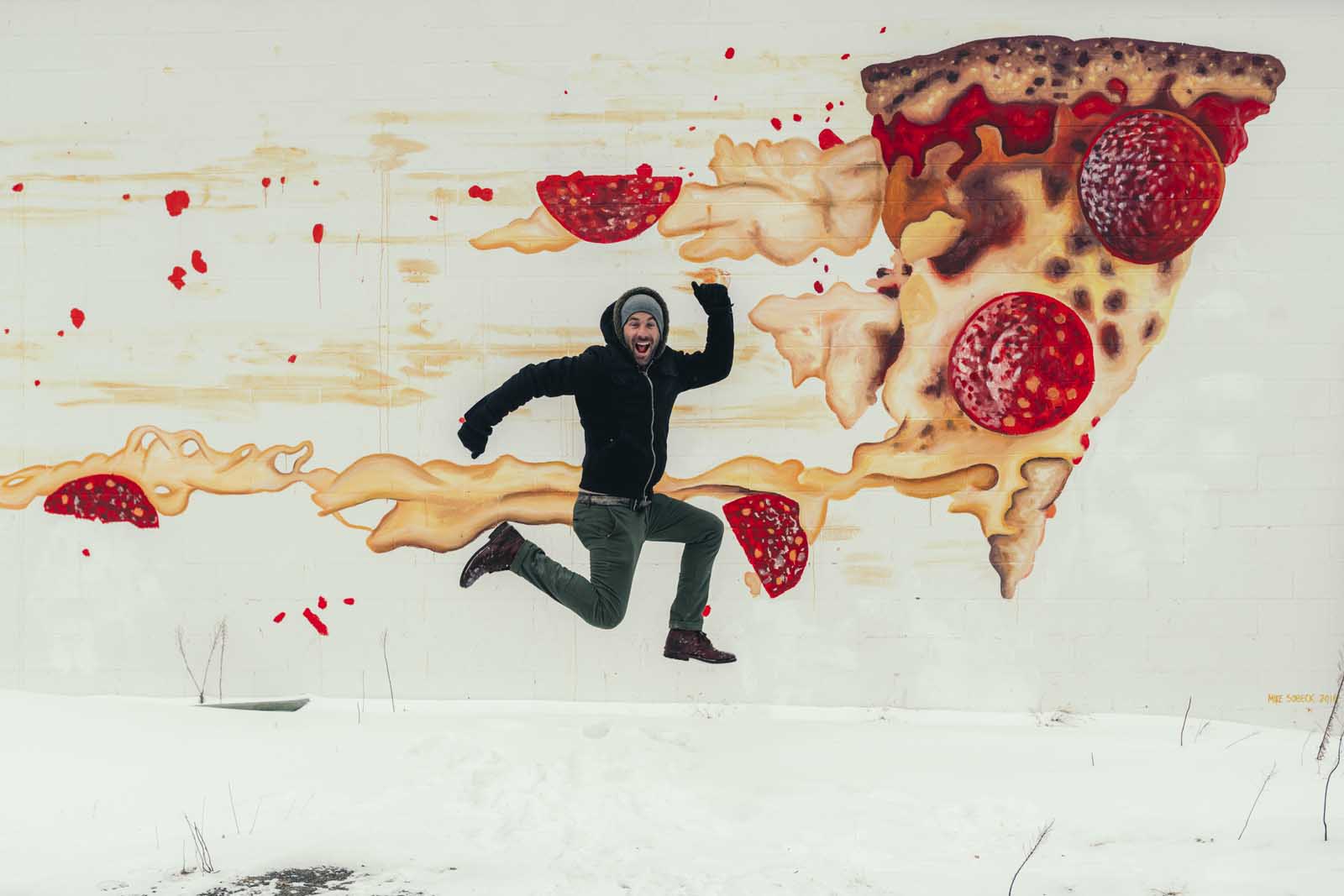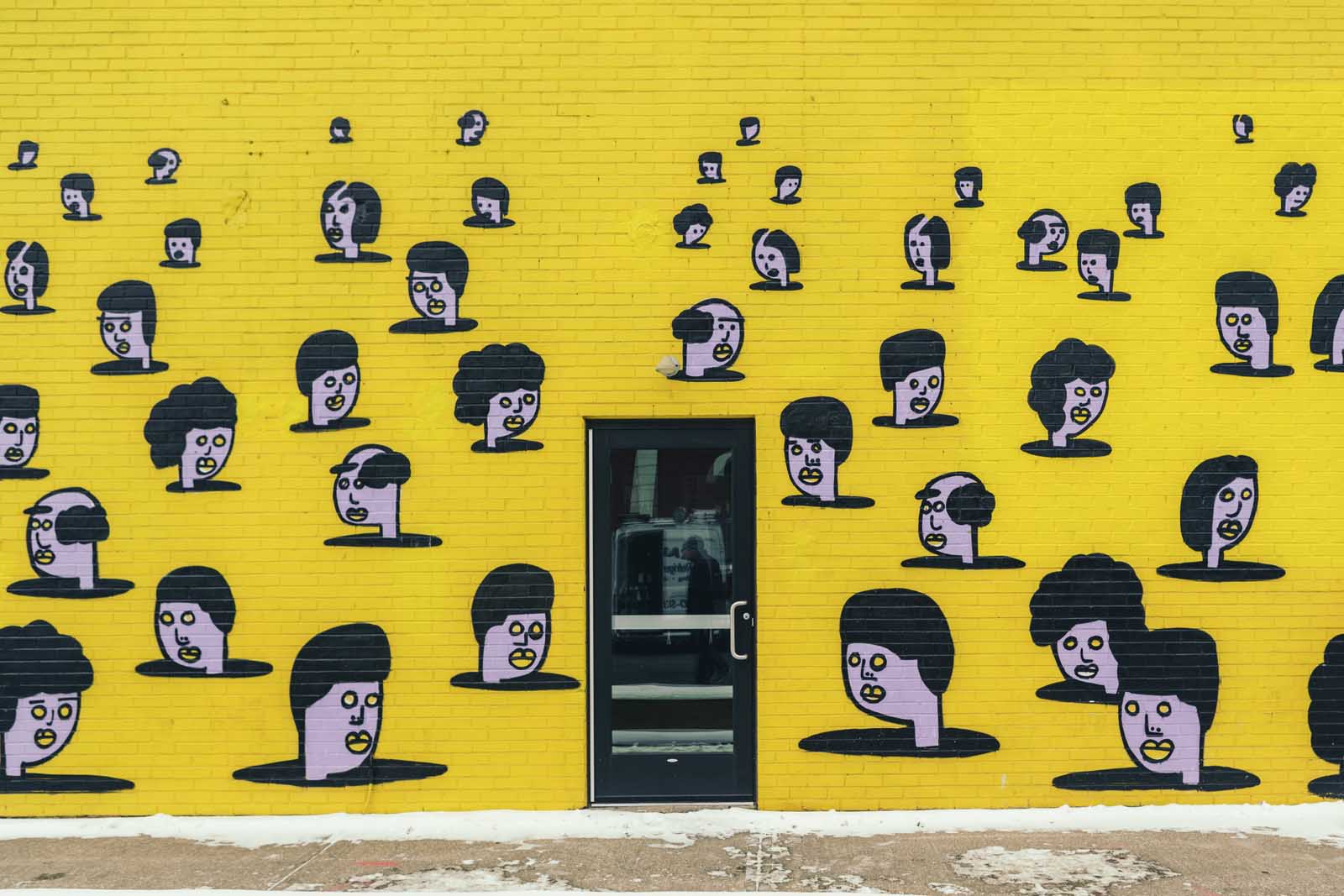 Read more about the project here, in the meantime, this is one of the best things to do in Cleveland if you're a lover of these colorful artistic walls.
Transformer Station
Another one of the best things to do in Cleveland is check out the smaller art galleries like Transformer Station in Ohio City. The building itself is actually an old transformer station used by the Cleveland Railway Company, hence the name. Now you can check out the contemporary art on display in partnership with the Cleveland Museum of Arts. The best part would be that visiting here is absolutely free!
Note: Transformer Station is Closed Sunday- Tuesday
SPACES Gallery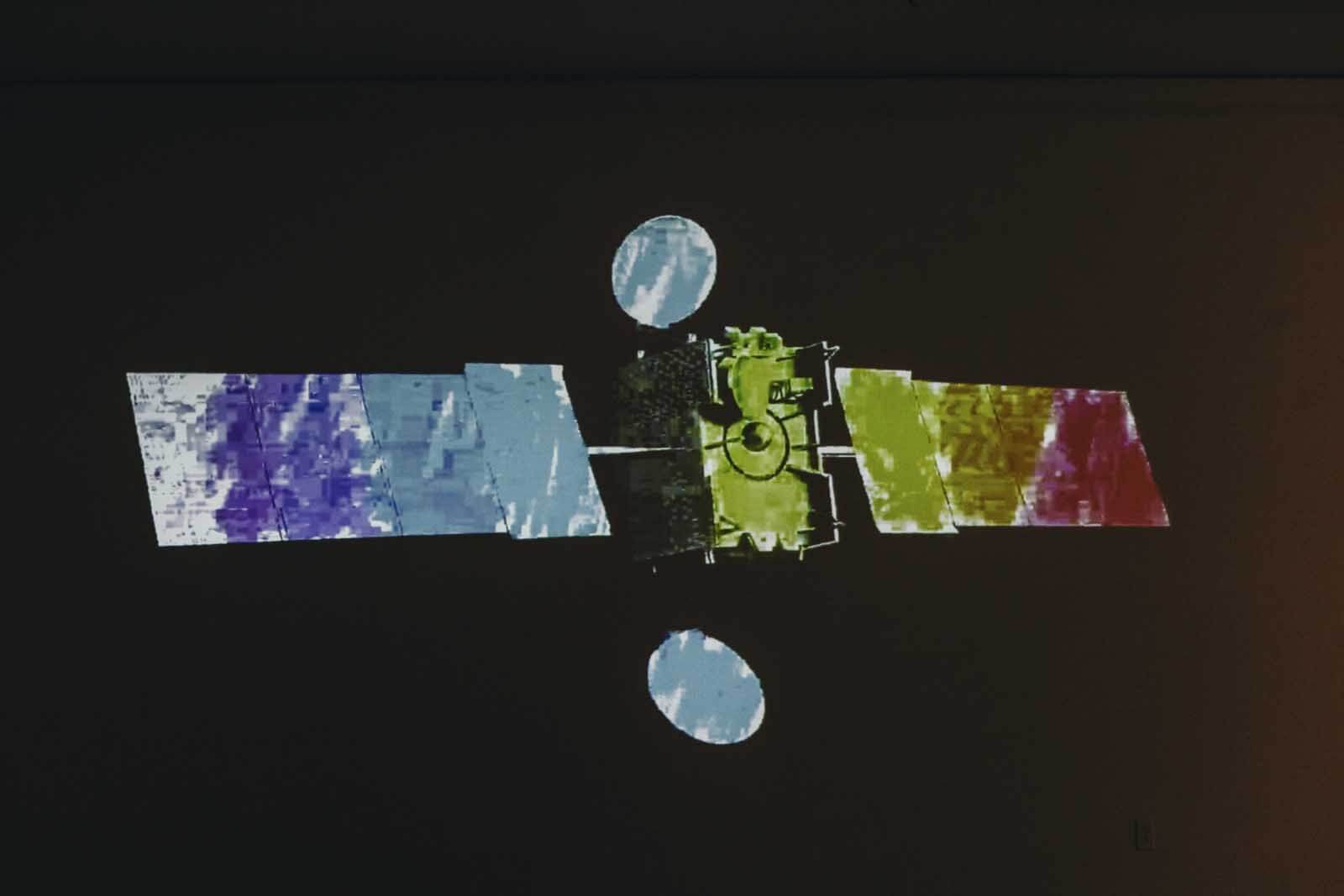 Looking for more of the best things to do in Cleveland that are absolutely free? SPACES Gallery is another contemporary art space in Ohio City just steps away from Transformer Station. This art venue is small, but not to be missed. The exhibits change from time to time, so be sure to pop back in if you visit the city more than once to see the different exhibits.
Detroit Shoreway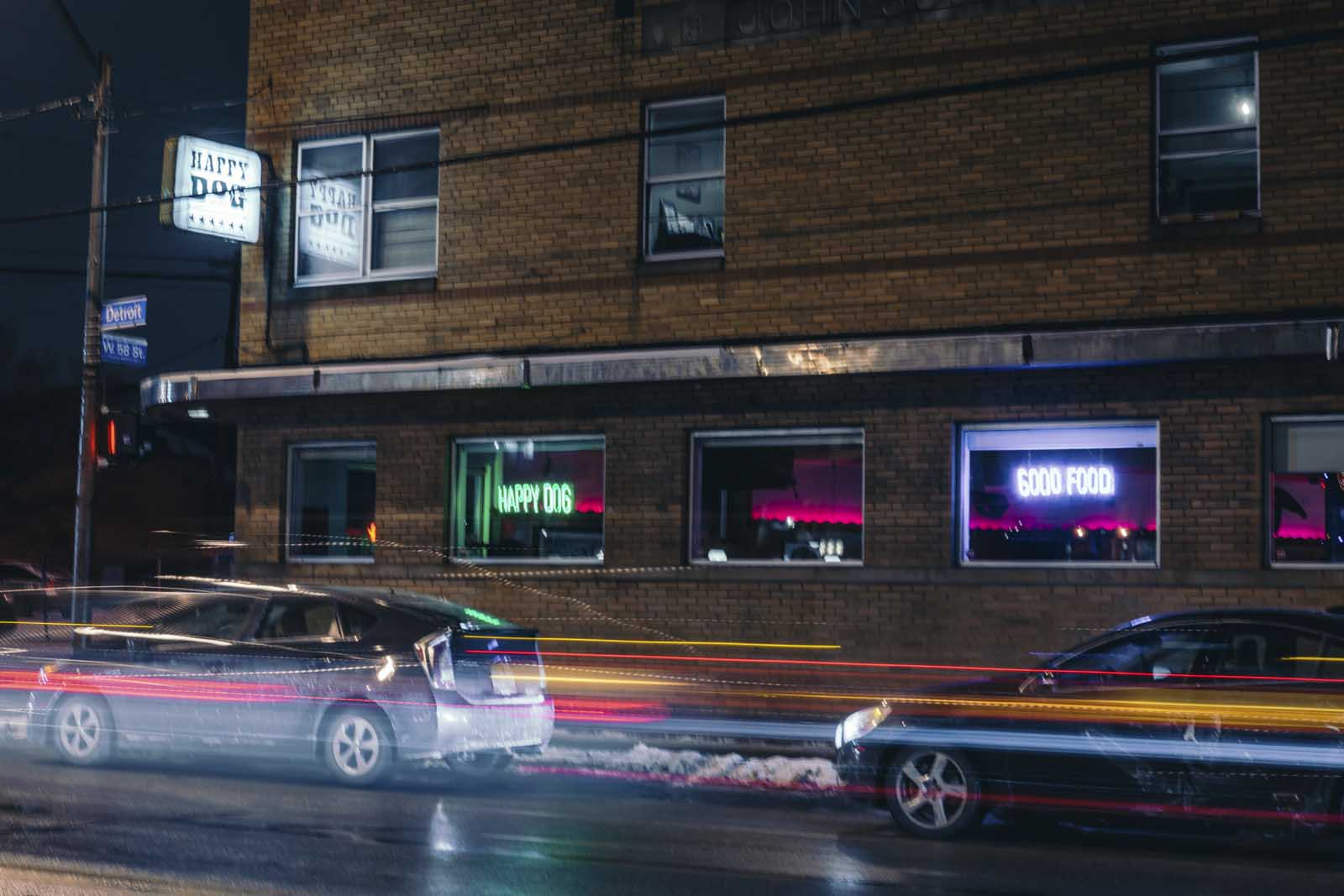 The Detroit Shoreway neighborhood in Cleveland is one of the best up and coming areas and one of the best things to do in Cleveland. Situated on a stretch of an old lakeside neighborhood along Detroit Ave. this area is bustling with great eateries, an old theater, adorable independent boutiques, art spaces, and even a pinball game room.
Happy Dog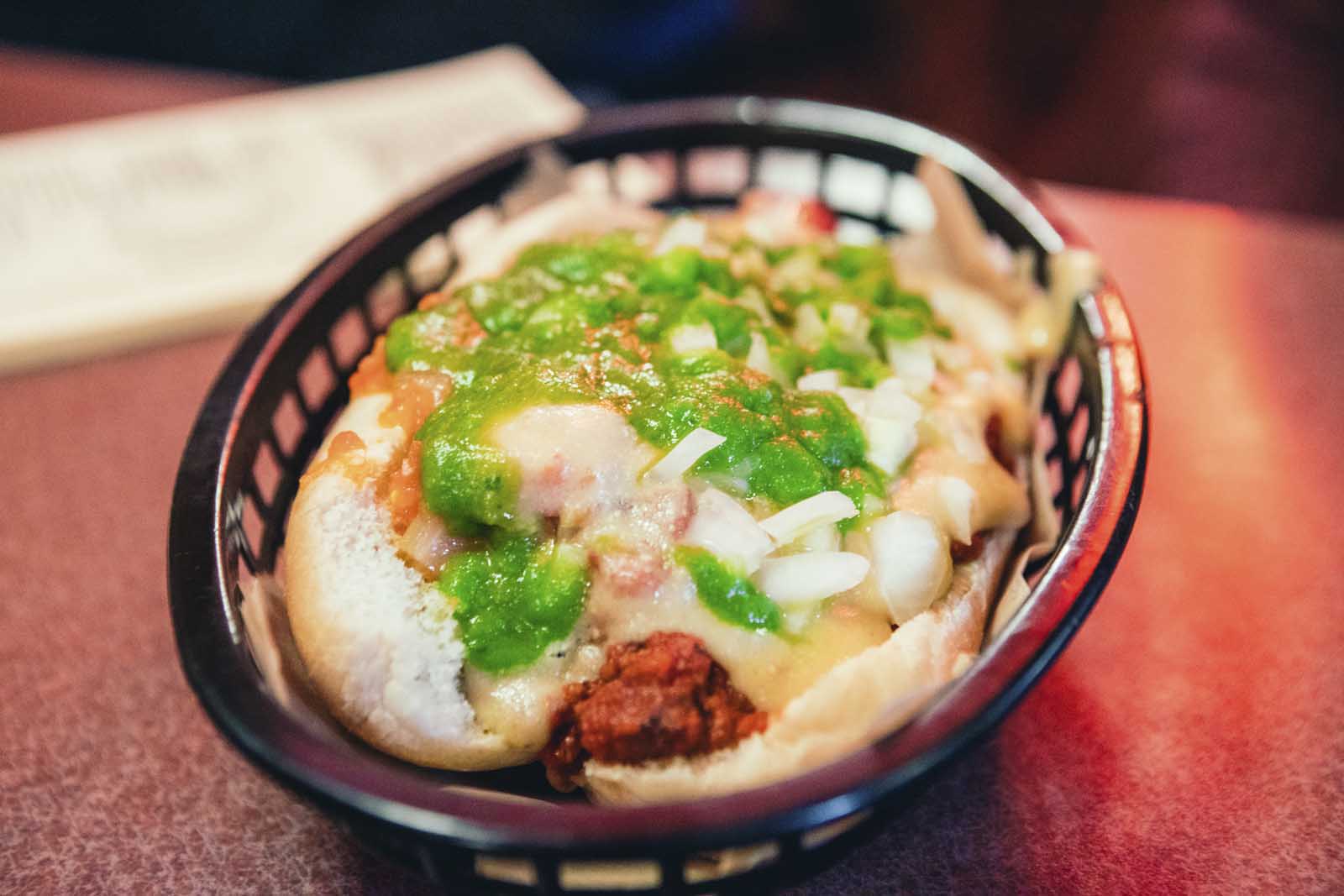 Besides being one of the coolest things to do in Detroit Shoreway, Happy Dog is actually one of our favorite things to do in Cleveland. This unassuming dive bar hot dog shop has a cult following and has been featured on numerous travel and foodie shows for its unique environment. In an old building that still has the original 1940s bar and details, you can order customizable hot dogs on a little sheet of paper with over 50 toppings from cheeses, meats, to wacky options like Froot Loops. The toppings change from time to time, but we recommend going for an adventurous dog with a few of their unusual topping selections. There are even suggested combinations that have been proven to be good mixtures like the Iron Chef Michael Symon favorite dog with a spicy alien relish, chunky peanut butter, and sriracha sauce.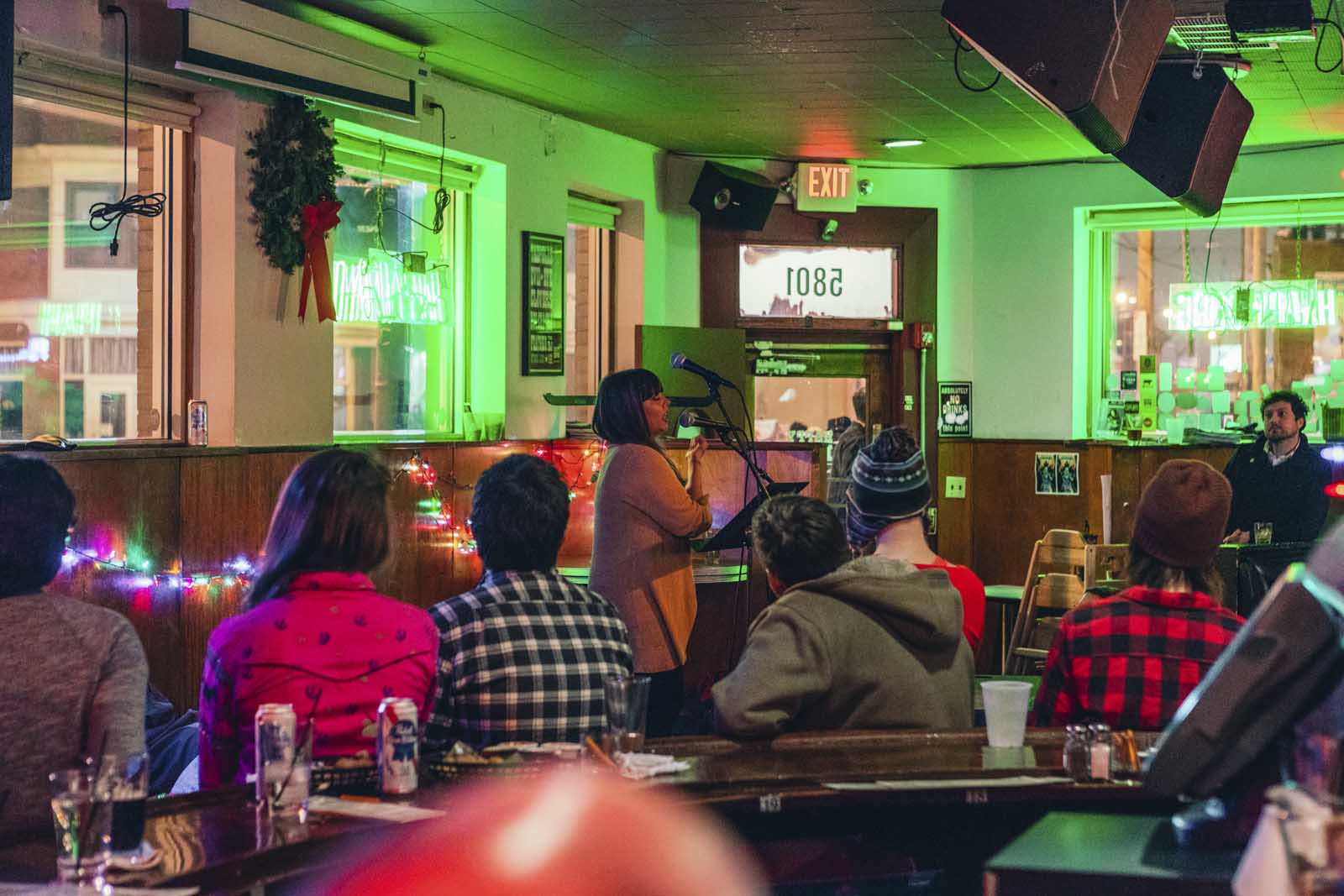 Besides having a unique food concept, you can also enjoy their array of delicious craft beers on tap and a full bar. Show up in the evenings and enjoy their nightly performances from their own versions of TED talks about cosmology and space to global issues and discussions, comedy shows, live bands, storytelling nights, and even members of the Cleveland Orchestra will play here from time to time.
Head to the basement, known as Underdog, and play some old pinball machines. This isn't your typical dive bar and it's no wonder why so many people love Happy Dog. This is a must see and one of the best things to do in Cleveland hands down.
Follow their Facebook page for a schedule of their latest events.
SuperElectric Pinball Parlor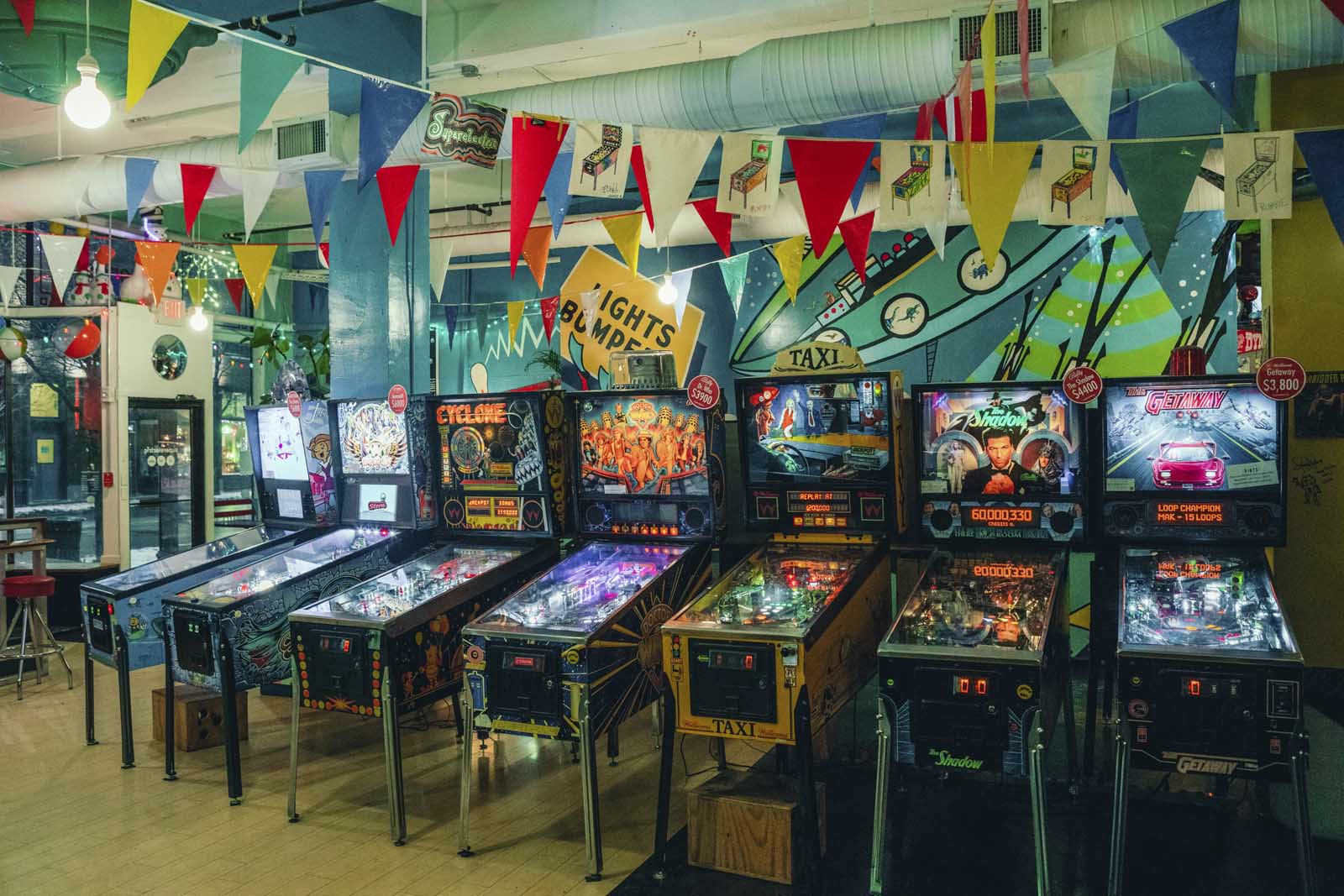 If you're a vintage pinball wizard or junkie this is the best thing to do in Cleveland for you! Superelectric Pinball Parlor is located at the Gordon Square Arts District and has an array of different pinball machines for sale and to play! If you have a party coming up you can even rent out the space for you and your friends. The space has a fun vibe and the games are all played with tokens you can buy at the counter.
Capitol Theater
We are suckers for old theaters, there's just something about them that we love! Capitol Theater in the Gordon Square Arts District and Detroit Shoreway neighborhood is a restored theater from the 1920s and a great place to catch a movie in the area. Visiting Capitol Theater is one of the best things to do if you're into documentaries, independent, and foreign films. If not, no worries, they do offer at least one Hollywood blockbuster if not two at a given time on their three screens.
Shop Around Gordon Square
This is one of the things to do in Cleveland if you like shopping. This was our favorite area in the city for small independent boutiques! This small artsy area of Gordon Square Arts District has an array of small independent shops to browse for yourself or for impressive and unique gifts for your friends back at home. One store that particularly caught my eye was Oceanne, a jewelry shop with unique handcrafted pieces. There's also a cool high-end leather shop, S.P. Leather, and Artful Living a fun home store with great gifts for home, soaps, chocolates, and cool neon signs to name a few.
If you build up an appetite shopping, check out Sweet Moses Soda Fountain and Treat Shop, a cute vintage soda and ice cream parlor too sweet to miss.
Tremont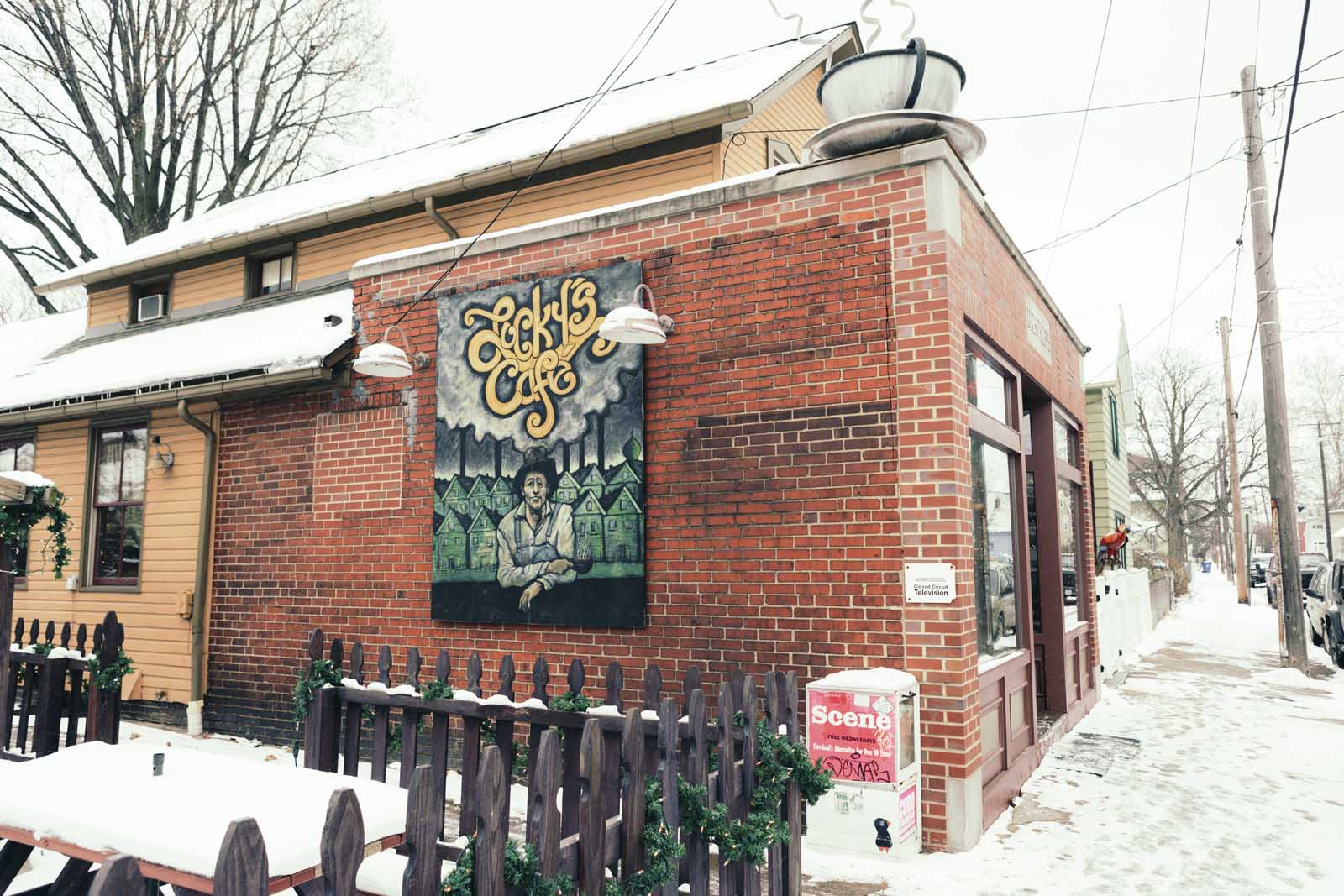 The Tremont neighborhood is also one of the coolest and happening spots in Cleveland. The neighborhood surrounds the industrial plants of Cleveland and is where families of steelworkers lived after the Civil War. Today you can find some great restaurants, shops, and bars to explore and also admire one of America's best examples of Russian architecture at St. Theodosius Russian Orthodox Cathedral. One thing we found unique to Tremont is that many of the shops and even restaurants are old homes converted into businesses. It gives the area a cozy little neighborhood feel to it and is one of our favorite things to do in Cleveland.
Brunch at Lucky's Cafe
Another Cleveland eatery not to be missed. Lucky's Cafe is another one of the best things to do in Cleveland if you are a foodie and love chasing down popular restaurants featured on tv shows. Lucky's Cafe's claim to fame is that Guy Fieri dined here and after eating brunch here it's no wonder why. With heaping portions both with their excellent cafe menu and brunch selection, you will not leave here hungry. As a matter of fact, you may want to split an entree with a friend. Lucky's Cafe is also a farm to table restaurant sourcing all their food from local farms. We highly urge you to try their gingerbread waffles served with caramelized apples or the sausage biscuits and gravy with a chai tea. Grab a few friends and split these dishes, or if you're super hungry order one all to yourself and plan to walk around the Tremont neighborhood after.
Christmas Story House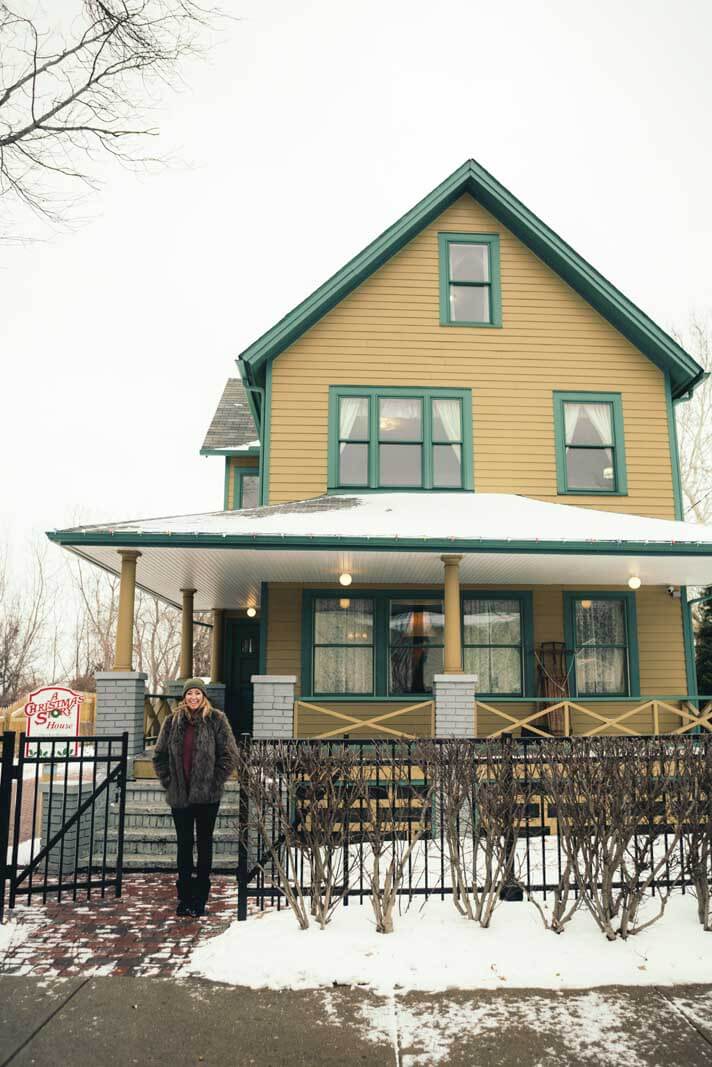 One of Cleveland's all-time treasures is that it is home to the filming of the cult classic Christmas Story movie. Half of the film was filmed here in Cleveland and the original Christmas Story House is now a place you can visit and take a tour around. If your a Christmas movie aficionado this is one of the best things to do in Cleveland for you. The gift store alone has tons of kitschy items you'll recognize from the movie, even the infamous pink bunny suit Ralphie gets for Christmas. There are several tours a day of the house itself where you can take photos in the original house the movie was filmed with props up to make you feel like you're on set, complete with the leg lamp and all!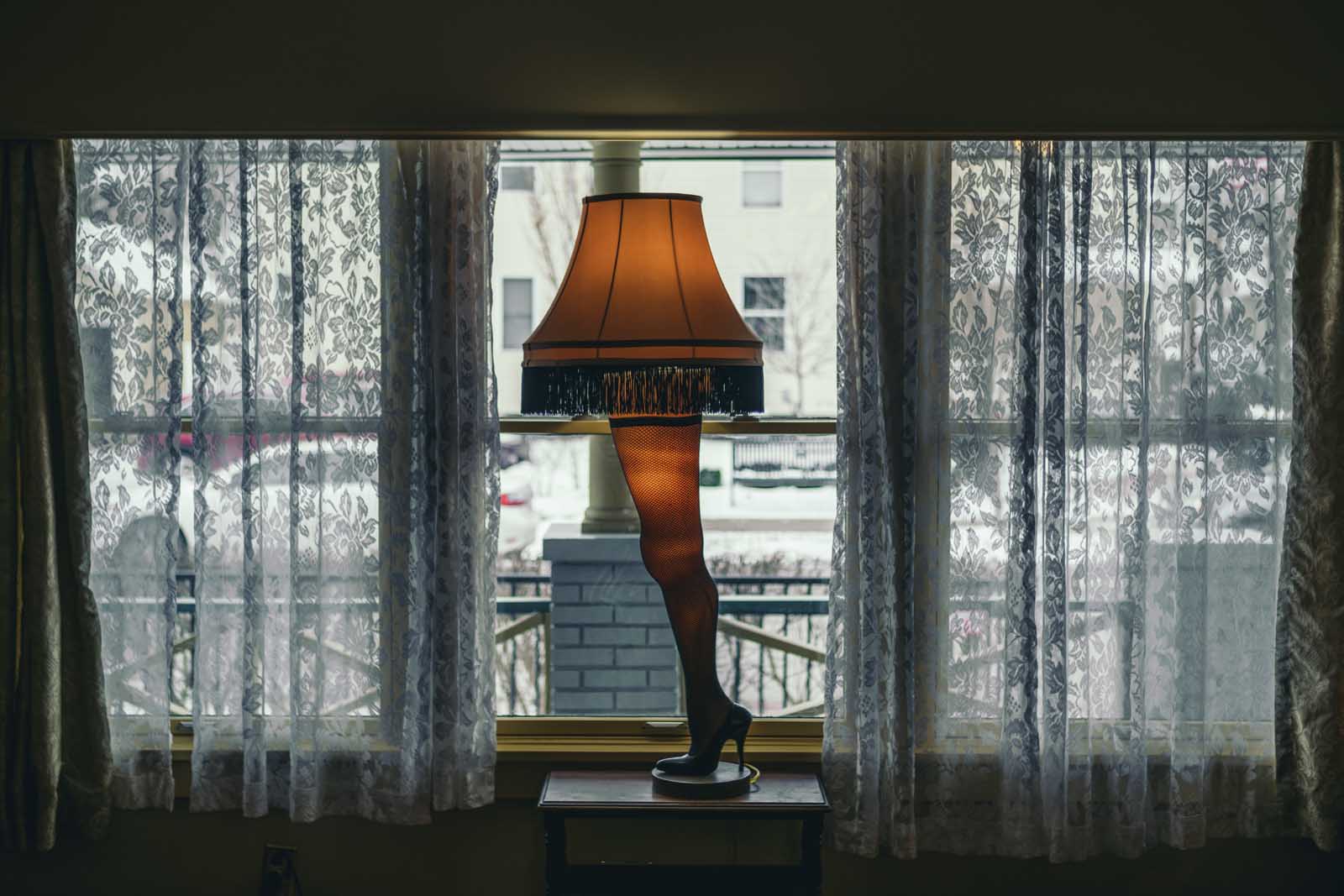 If you're a super fan then you may want to look into staying in the loft of the Christmas Story house. Starting at around $400 a night with prices going up closer to the holidays, you can stay in the house and sleep up to 6 people. That's a bit steep for us, but apparently, this is a popular thing to do in Cleveland as it is almost booked out for over a year.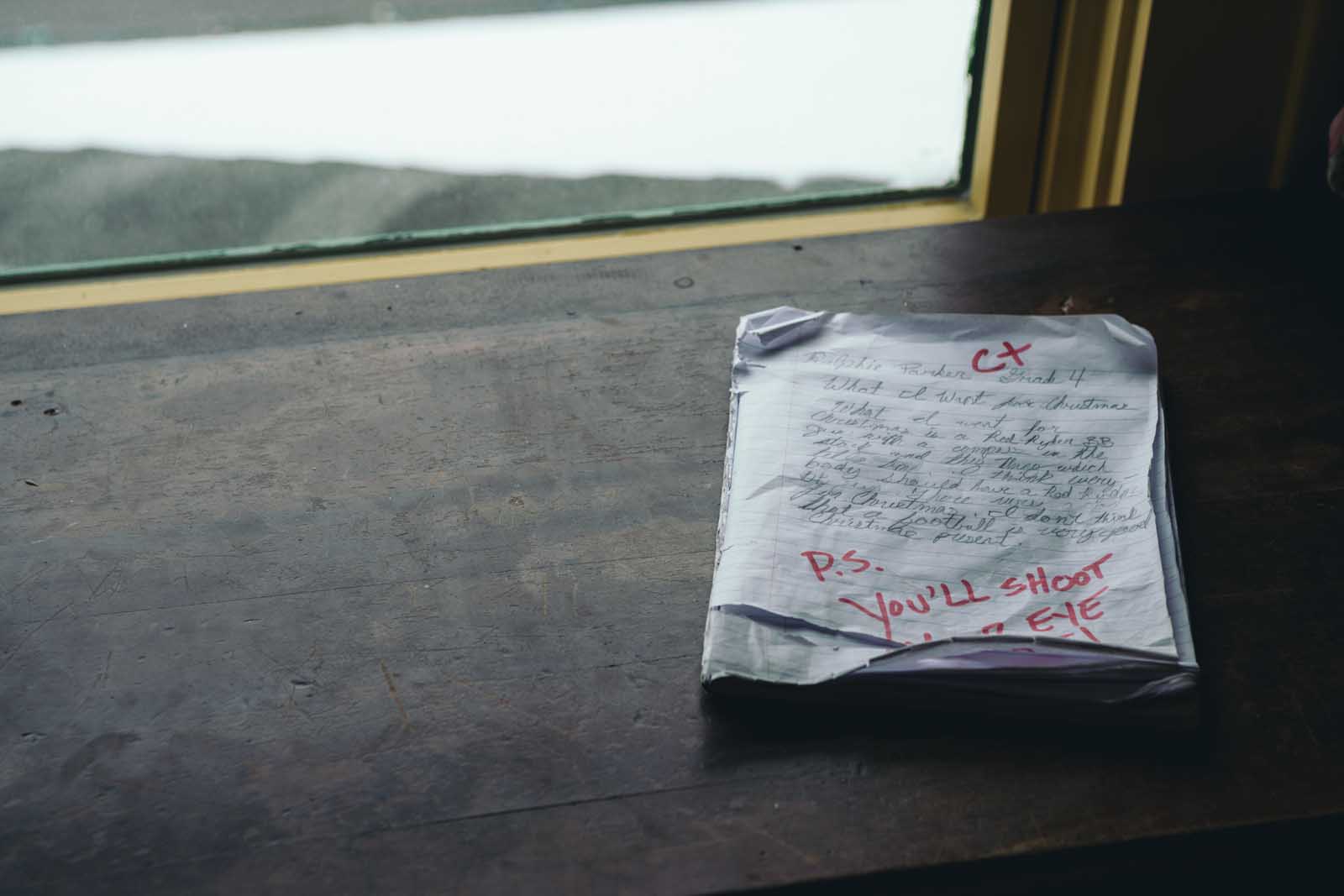 Random Fact: Did you know that the two children actors in the Christmas Story had terrible contracts with MGM Studios? Neither of the children in the movie receives royalties from the Christmas Story film, which is one of the most re-aired Christmas movies of all time playing for 24 hours straight every Thanksgiving. 
Prosperity Social Club
Something we sadly missed on this trip to Cleveland (we visited in the morning) but will be making a priority next trip is Prosperity Social Club. Open only in the evenings, this cool hangout spot is the place to go for a drink. The location is set in an old 1938 ballroom and even has a retro bowling machine, vintage jukebox, and live music performances. Besides being a fun drink spot they also serve up comfort food to pair with your drink of choice. This will be one of the things in Cleveland we will not miss on our next trip!
University Circle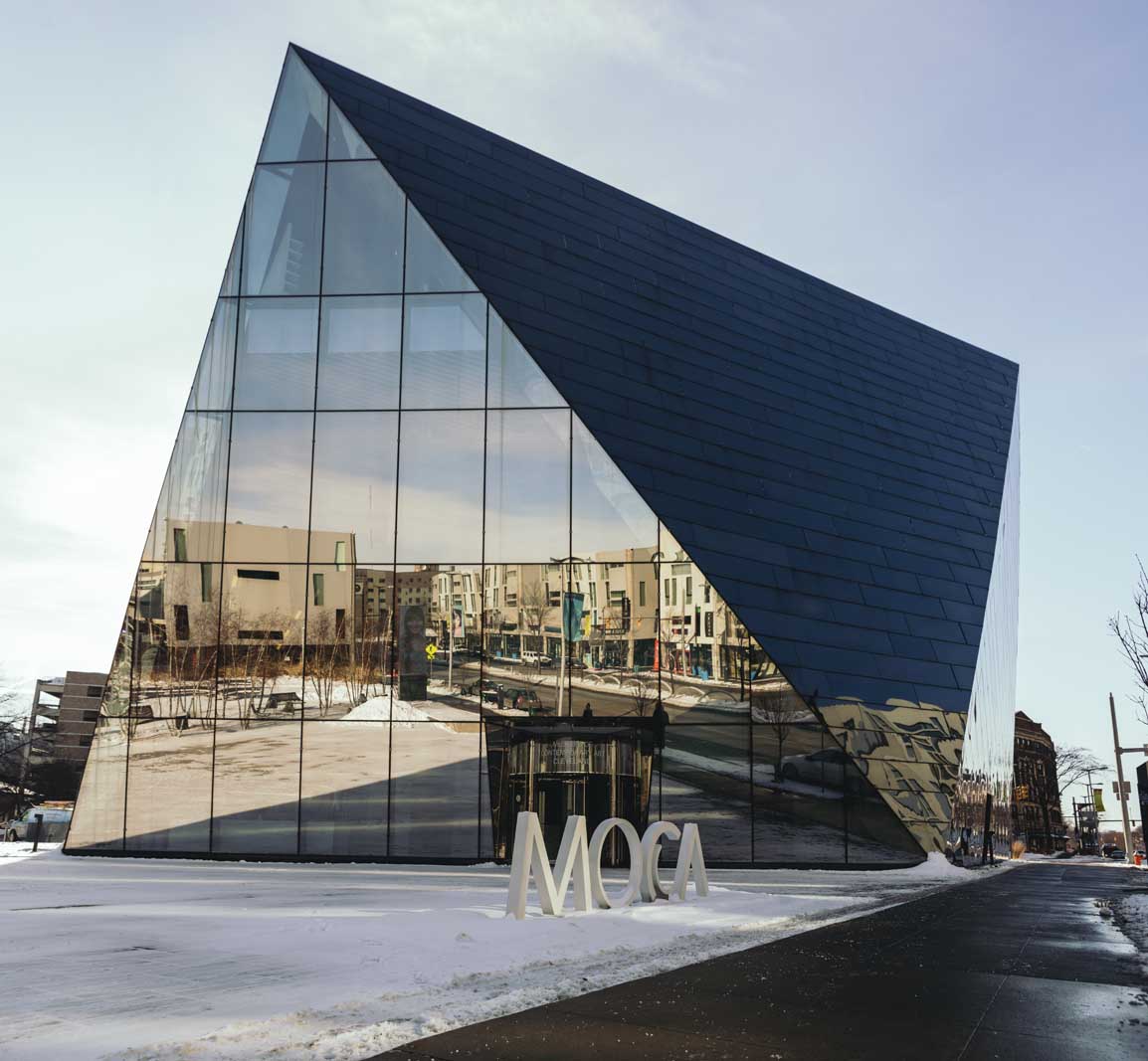 University Circle is one of the best things to do in Cleveland if you are a lover of culture and arts. This area alone has more than 20 venues from multiple museums, galleries, historical societies, gardens, universities, and music halls making it one of the most concentrated areas in the United States for art and culture.
Check out the many museums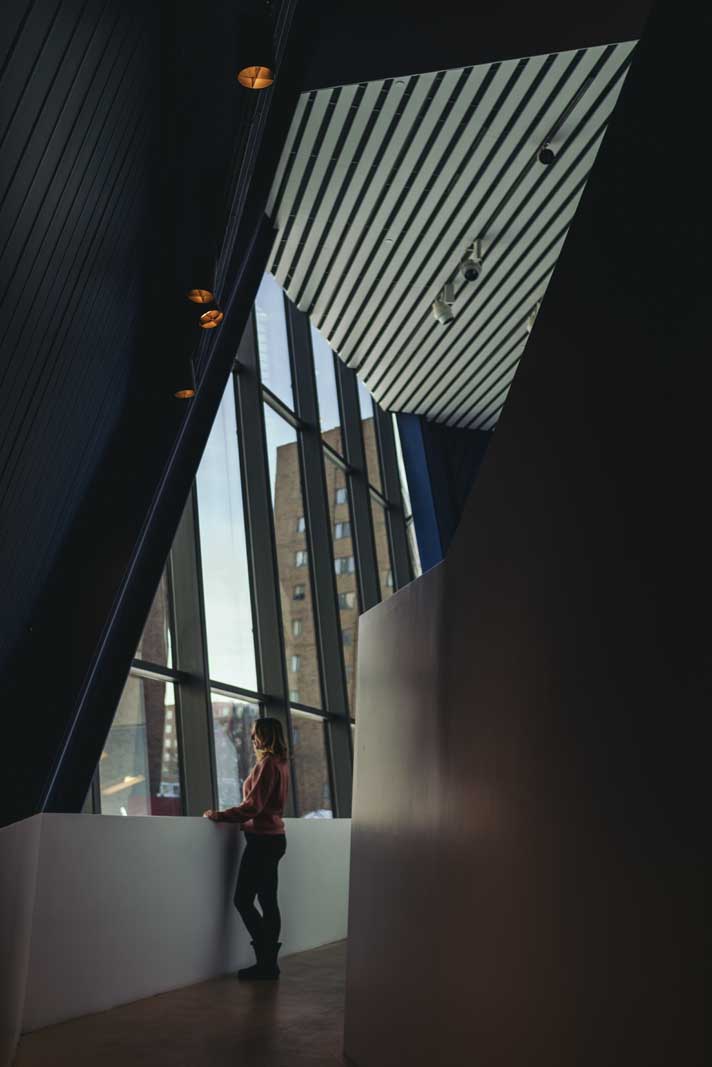 If you're a museum love this is one of the best things to do in Cleveland. We have been to a few here and there during our visits to Ohio and during my time growing up in Ohio. In just a small area you have the Museum of Contemporary Art, Cleveland Museum of Natural History, Cleveland Museum of Art, the Cleveland Botanical Gardens, Cleveland Institute of Art, and the Cleveland Institute of Music and Severance Hall to name a few of the best.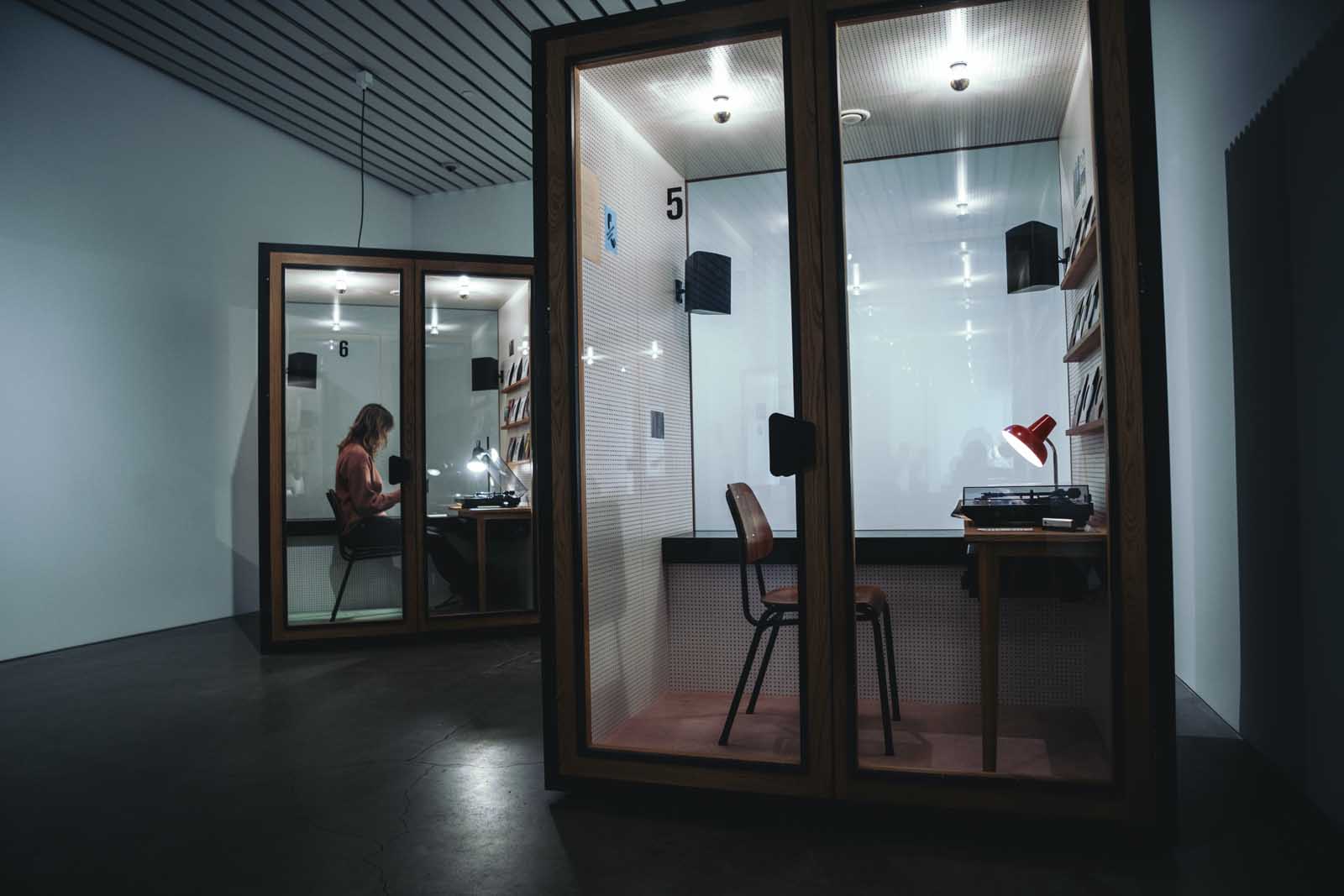 We stopped by MOCA, the Museum of Contemporary Art and couldn't help but admire the architecture of this building. Even on a miserably cold day like the day, we were visiting we couldn't help but bear with the cold to take photos.
Lakeview Cemetery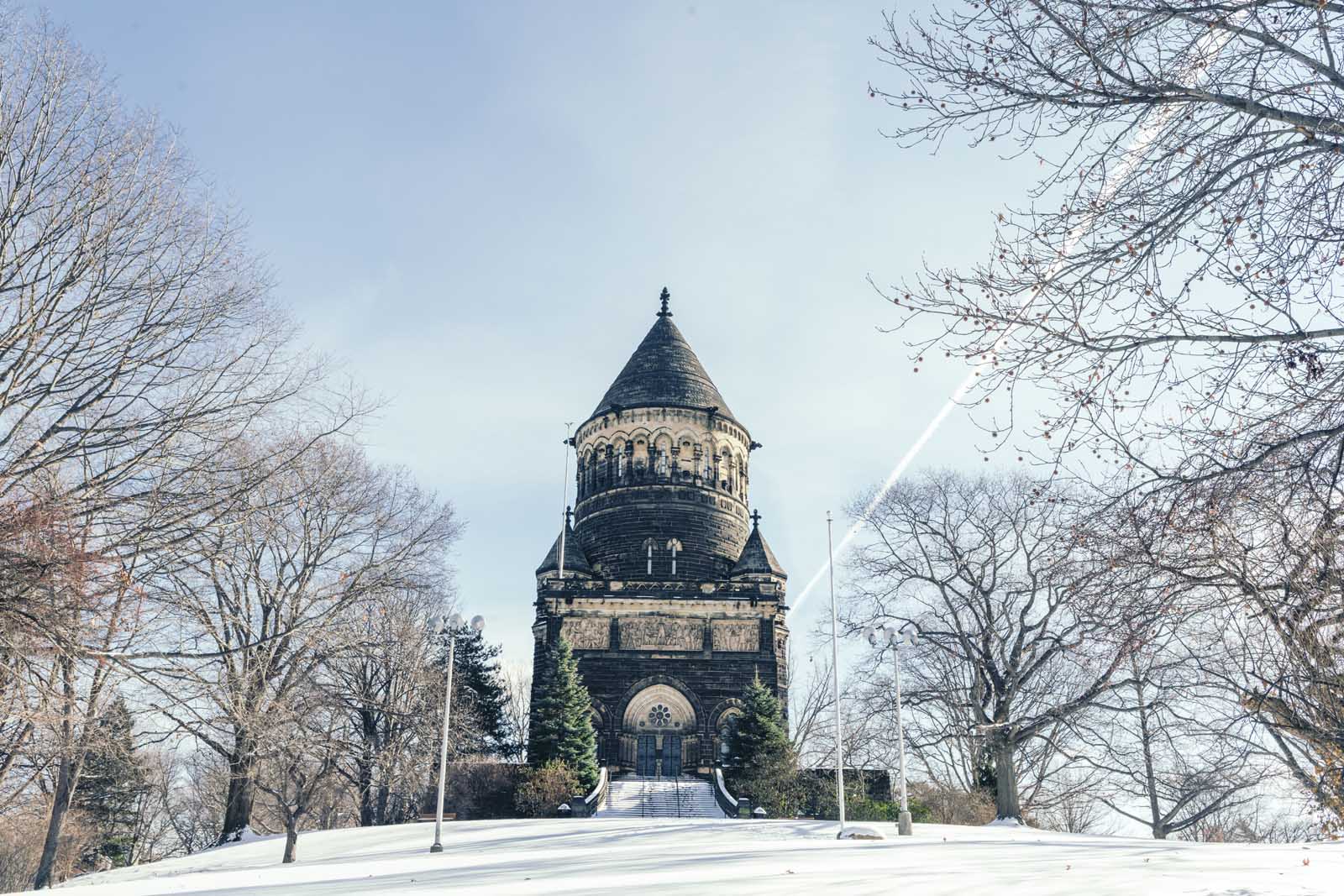 If you find historical old cemeteries fascinating like us, then you won't want to miss Lakeview Cemetery. We found Lakeview Cemetery and the drive to it to be one of the best areas to photograph. However, we were visiting on such a cold day we didn't get as many photos as we wanted. The cemetery is home to the burial sites of famous people throughout Cleveland's history including the Rockefellers, Eliot Ness, and President James A. Garfield. Besides having famous people buried here, the mausoleums and gravestones here are impressive making Lakeview Cemetery the most beautiful cemetery in the state.
Little Italy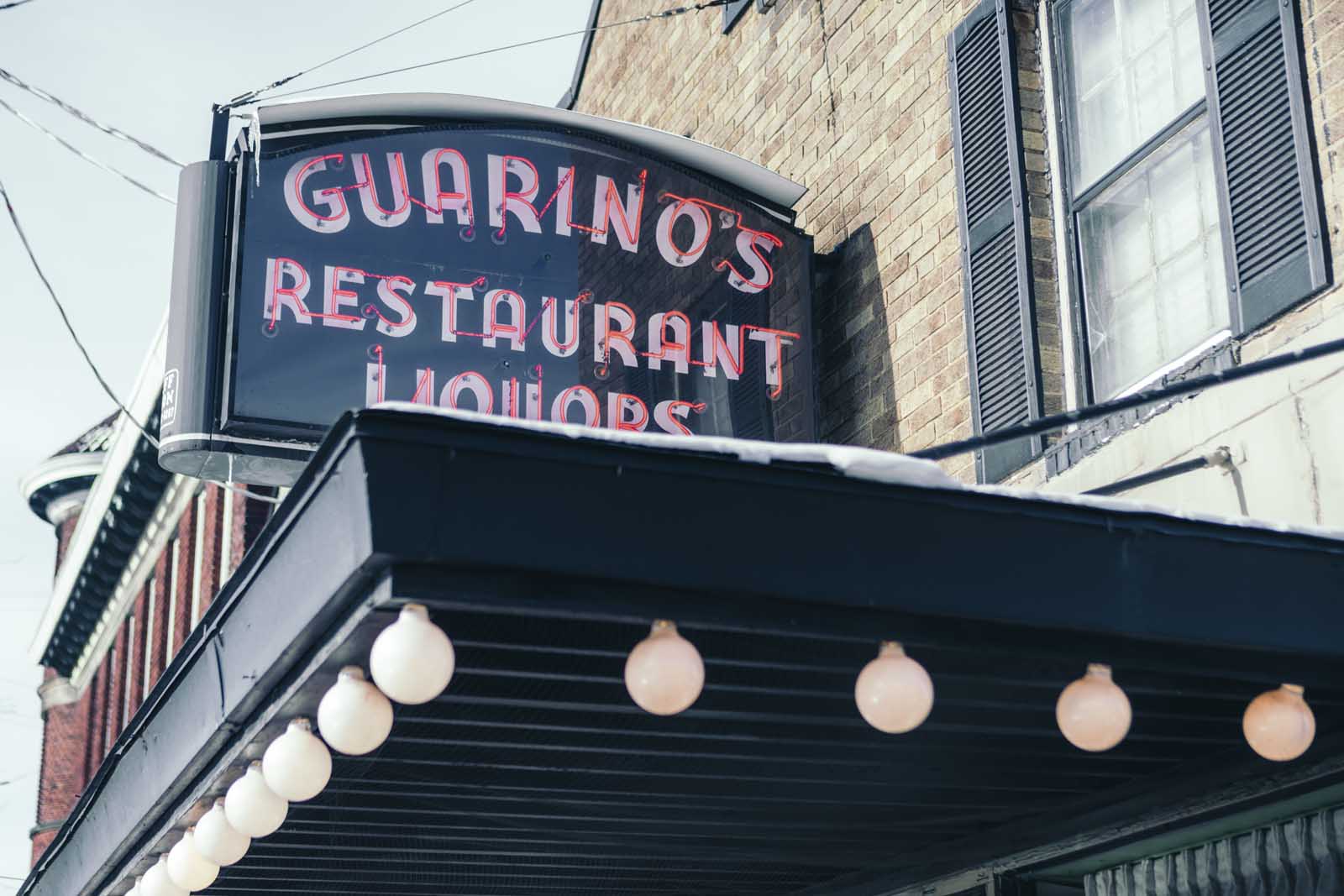 One of the best things to do in Cleveland is visit Little Italy. Cleveland's Little Italy is no joke, really little, but has alot of character. The community here has done a great job preserving the area over the years to give you that old world charm. Besides having great eateries and Italian bakeries there are small art galleries and boutiques lined up on this little street of culture. One of the best stops in Little Italy and one of the best things to do in Cleveland is stop by Presti's Bakery. They have gelato, pastries, and a full deli full of delicious options.
Downtown Cleveland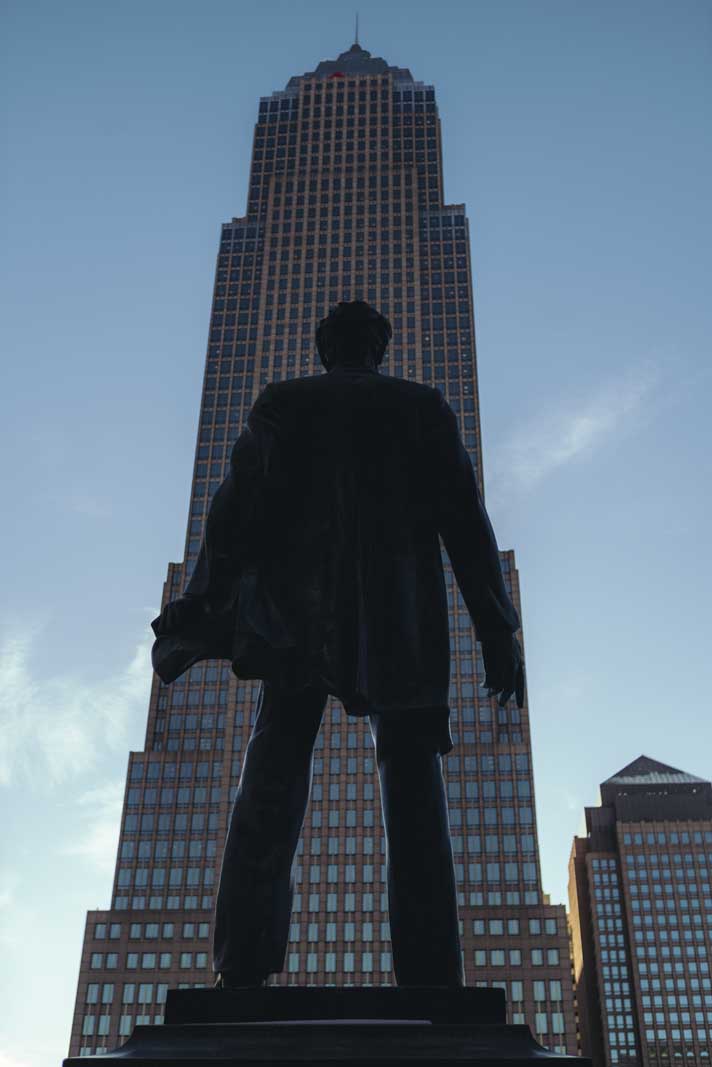 Downtown Cleveland is not to be missed on your trip! From the old historical buildings, you can still see today to all the restaurants and options for entertainment like the Playhouse Theater with its famous outdoor chandelier and performances. We found downtown to be the best place to stay in Cleveland and one of the best areas to explore and just admire the heart of the city.
Masthead Brewery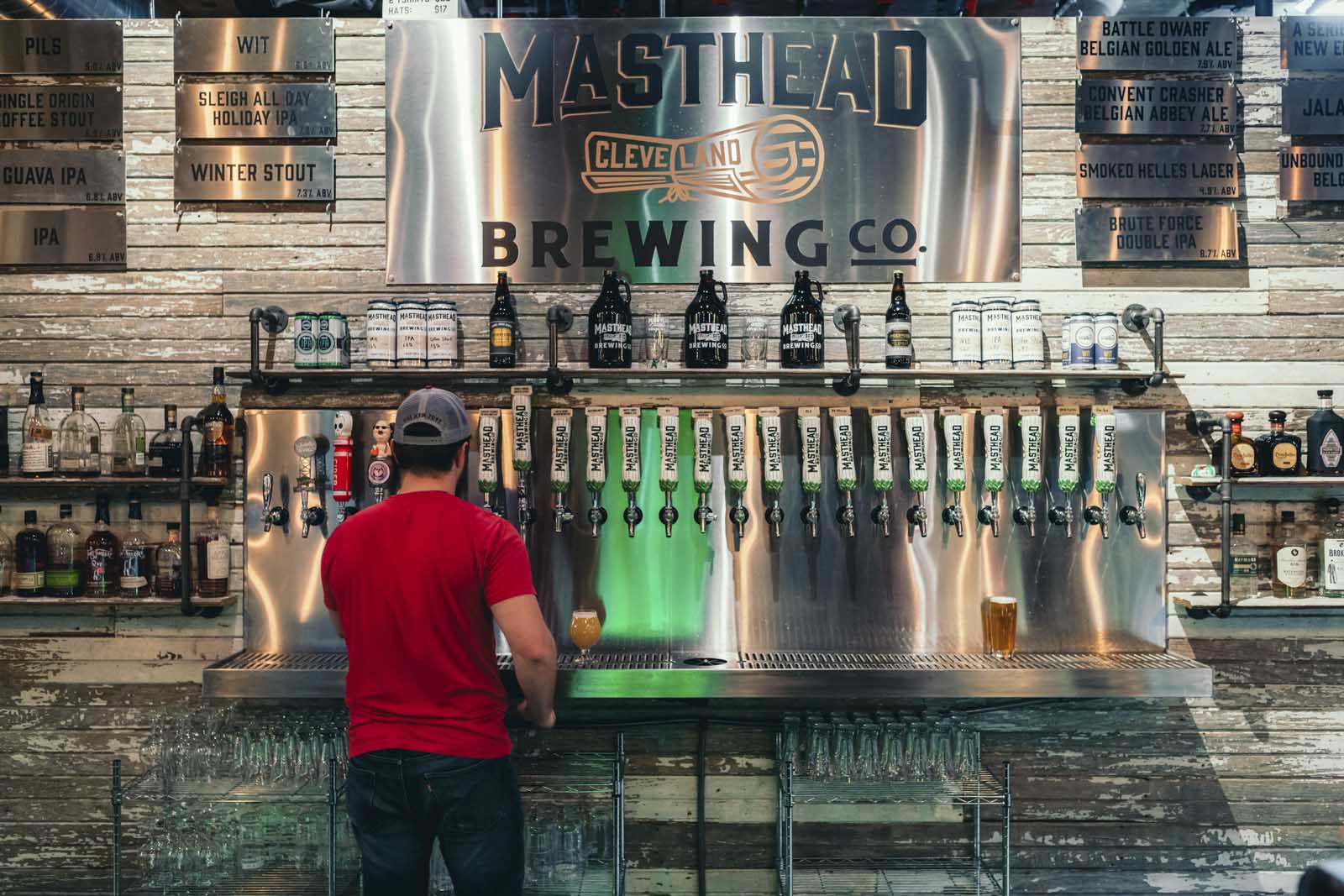 We love our beer and one of the best things to do in Cleveland is to explore the up and coming beer scene here. Masthead Brewery is one of the newer microbrews to the area and has really made a name for itself in its short residency here in the city. The location itself it central and near everything you'd want to see in downtown and an easy stop before a Cleveland Cavaliers or Cleveland Indians game. They have over a dozen homebrews on tap with unique flavors like a Tiramisu Stout and a Jalapeno IPA.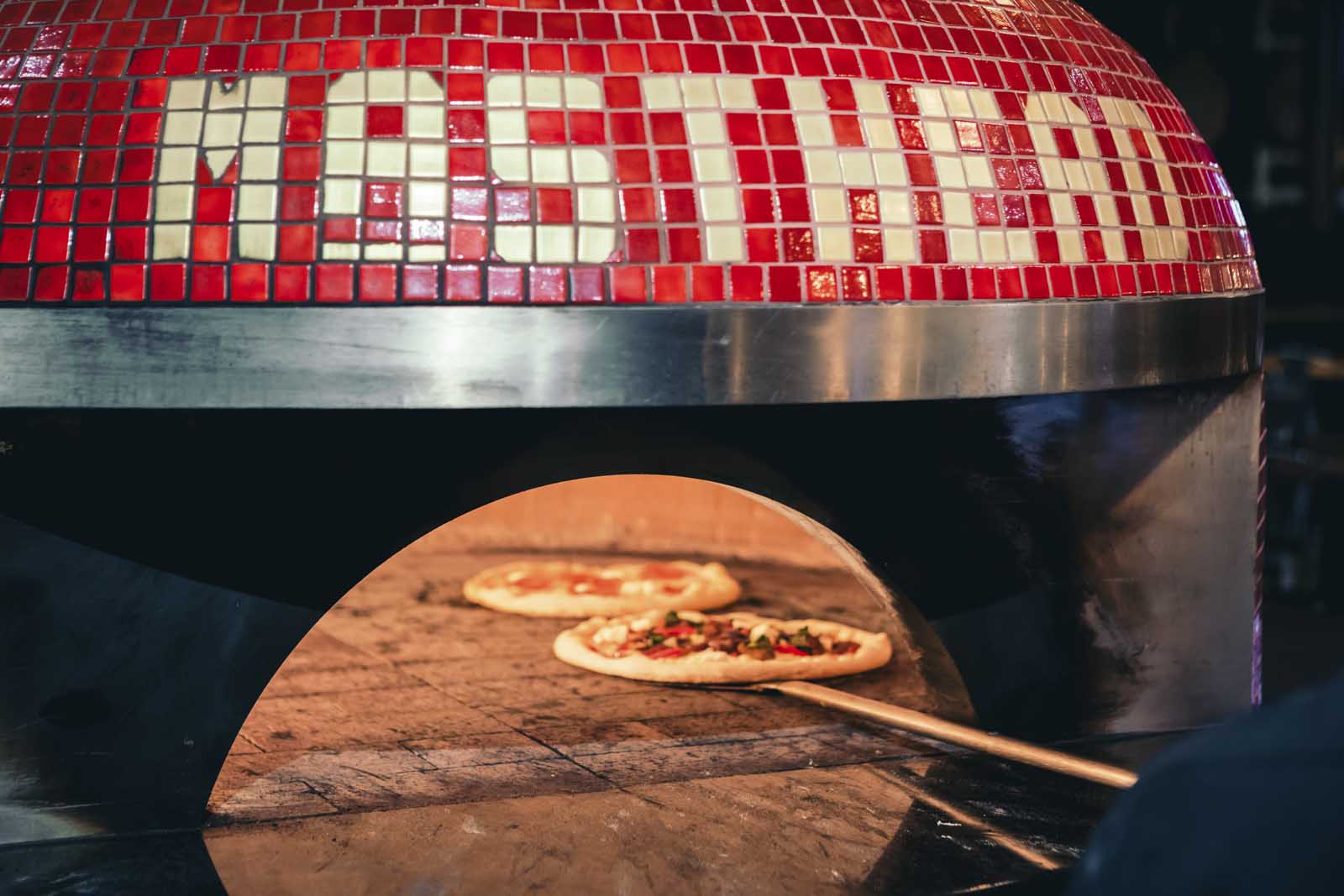 Besides having killer brews, they also have an impressive woodfire pizza oven with tons of eclectic options and sides. We loved the laid back, no fuss, garage-style vibe here and will be back for more.
Walk Around the Downtown Buildings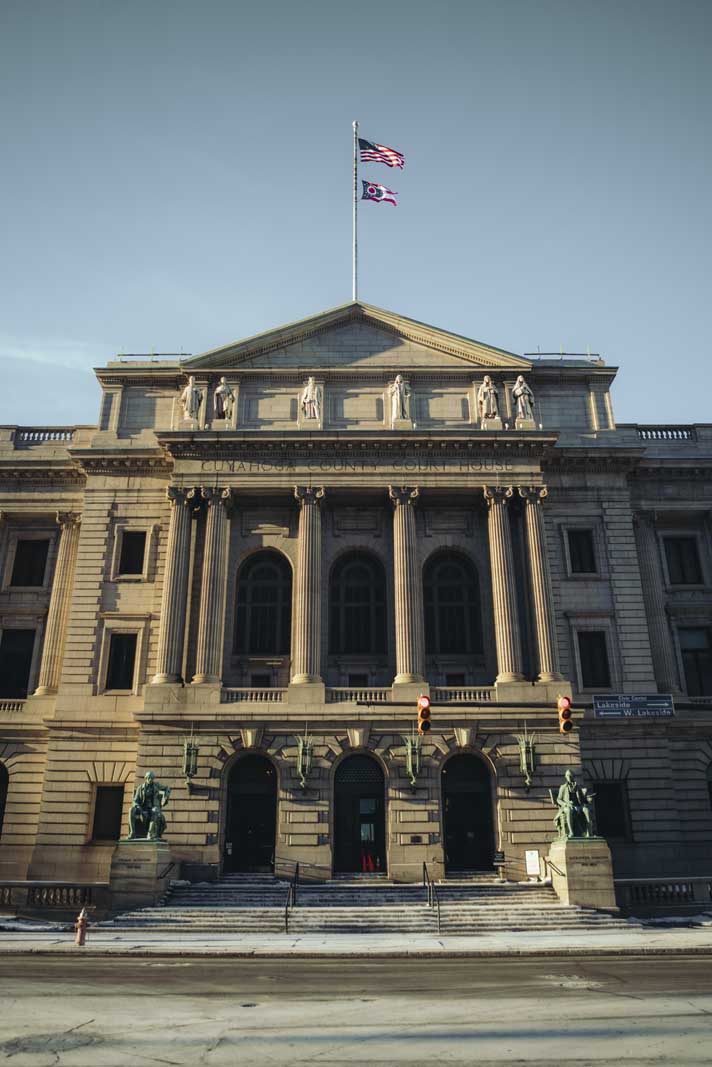 Cleveland is full of history and old buildings that you just don't see or notice anymore in some of the larger cities in the country. If you're an admirer of old architecture then walking around downtown checking out the old buildings is one of the best things to do in Cleveland for you. You can see remnants from when Cleveland was one of the most prominent cities in the country. This is where John D. Rockefeller started Standard Oil before moving to New York to name one of the many notable moments of Cleveland's past.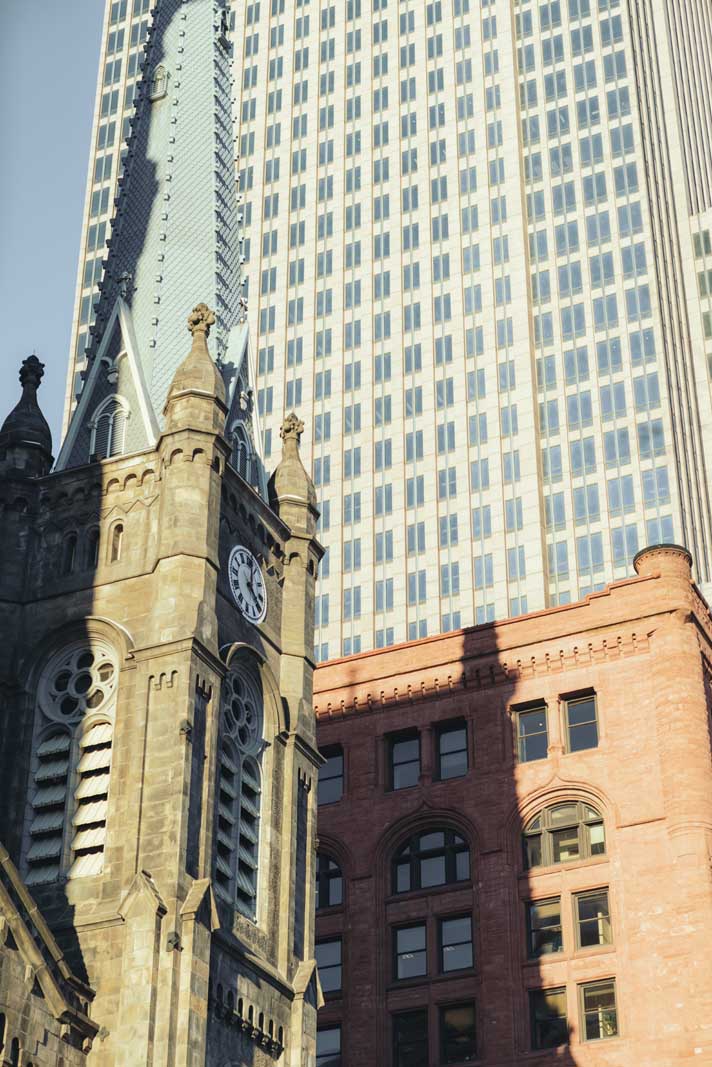 From Terminal Tower, the old Higby Department Store, City Hall, to the Cathedral of St. John to name a few. The buildings still stand to today making the city even more admirable and picturesque.
Where to Stay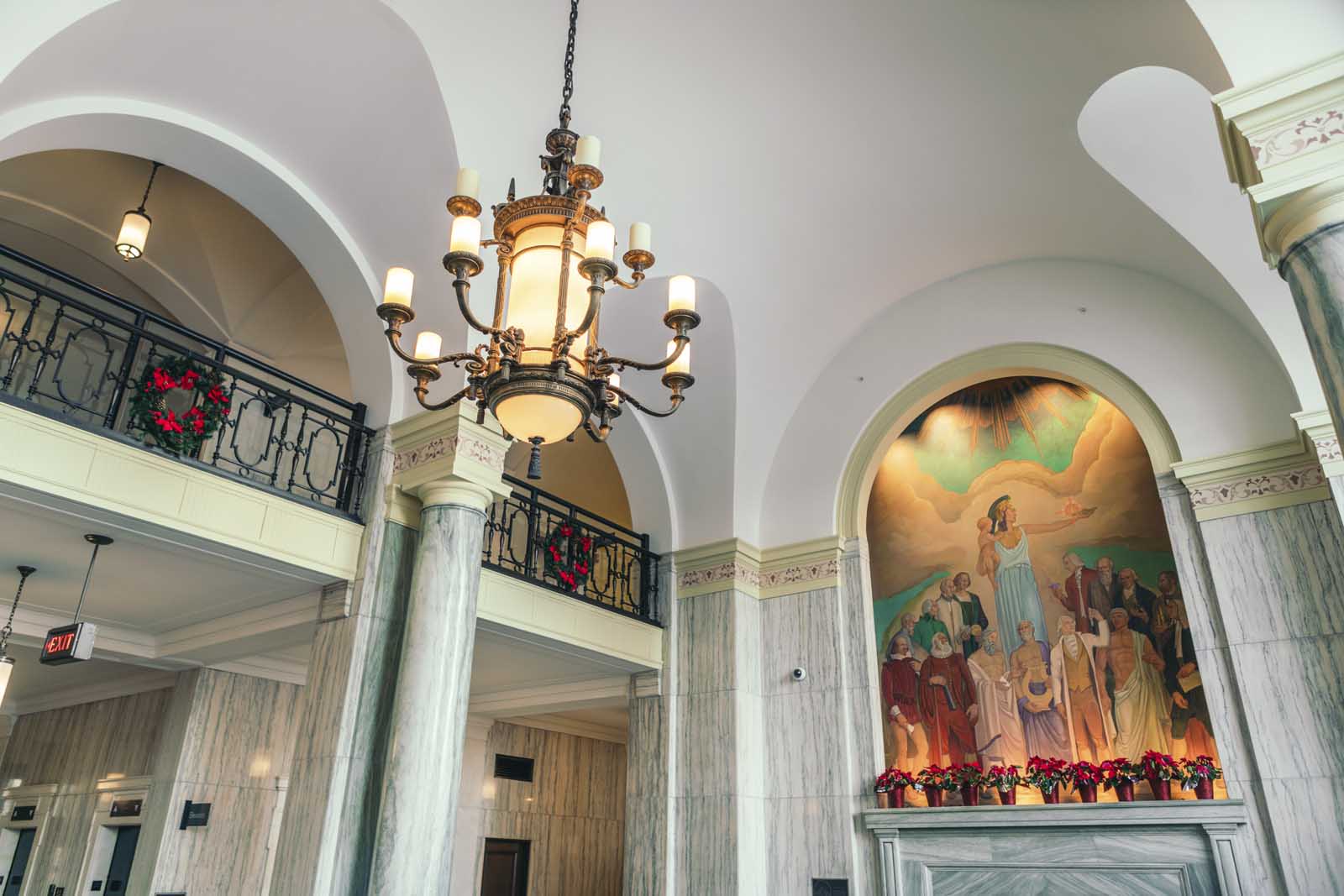 We stayed at and highly recommend anyone visiting Cleveland to also stay at the Drury Plaza Hotel. Besides having a fabulous location in the heart of downtown by the Key Bank and Terminal Tower buildings, the Drury Plaza Hotel itself is in a historical location. Once the Board of Education Building, the hotel has a local and historical charm to it. You can see small details from the buildings past like the murals in the lobby with famous intellectuals painted on the walls. The hotel also offers a complimentary breakfast buffet and complimentary evening cocktails and snacks to their guests. The rooms are also spacious and offer excellent views of downtown Cleveland.
The only complaint would be the $25 valet parking fee each day that's not included in your rate. But, from what we were told this is actually one of the most reasonable rates with the downtown Cleveland hotels! Just be prepared to pay for parking during your stay.
You can check out more on Drury Plaza Hotel's website.
You can check rates and availability here.
Getting Around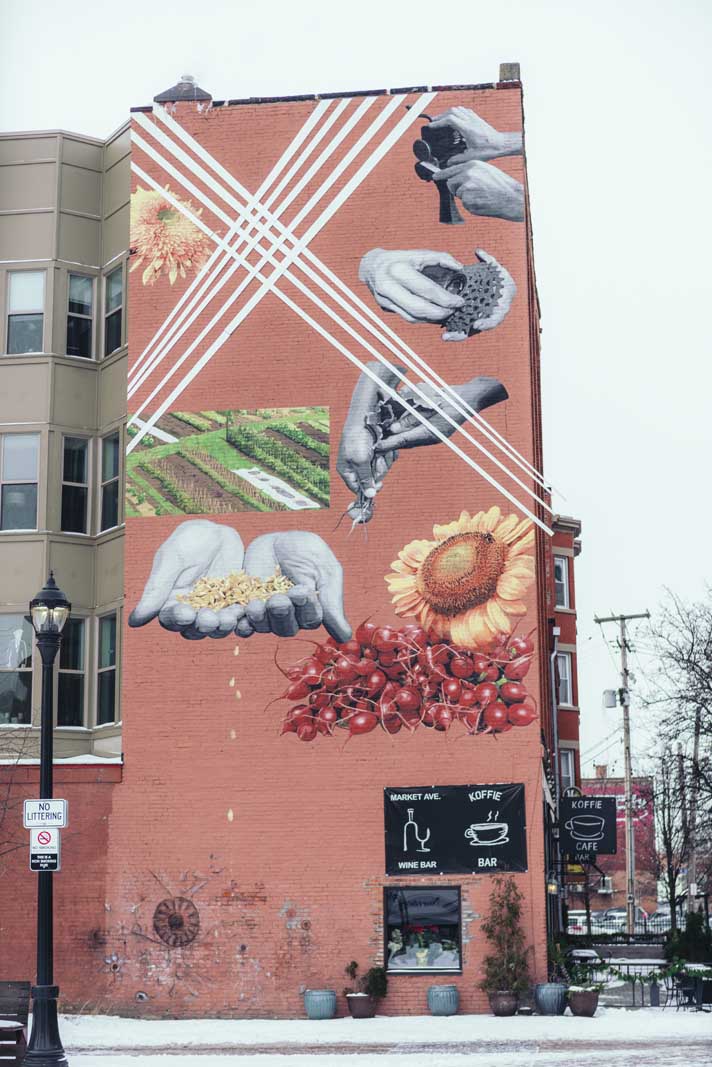 If you don't have access to a car don't worry! Cleveland actually has a great public transport system. The RTA provides public transportation throughout the city and has stops in or close to all the areas we mentioned in our the best things to do in Cleveland!
You can even get a direct connection between Cleveland Hopkins Airport and downtown using the Airport Service and a one-way ticket only costs $2.25!
Besides the RTA, you can also ride the adorable FREE Downtown Trolley system that connects all of downtown Cleveland.
Uber is also always an option too! Happy Travels!
---
Disclaimer: Our trip to highlight the best things to do in Cleveland was in partnership with Destination Cleveland. However, as always all opinions are our own.
Liked this post? Share the love on Pinterest below!