Visiting Mexico's capital city was nothing short of amazing. The vibrant city is full of history, art, incredible culture, and incredible food. We fell head over heels in love and want to inspire more to visit this lively city. The city is huge and spread out, so planning can be a bit daunting! We put together the best Mexico City neighborhoods to explore on your trip to take help make planning your trip as painless as possible.
Check out our picks for the best Mexico City attractions by neighborhood. And trust us, no matter how much time you plan it just won't be enough! You'll be leaving with the feeling that you'll want to come back for more.
What to Do in Mexico City by Neighborhoods
Historic Center of Mexico City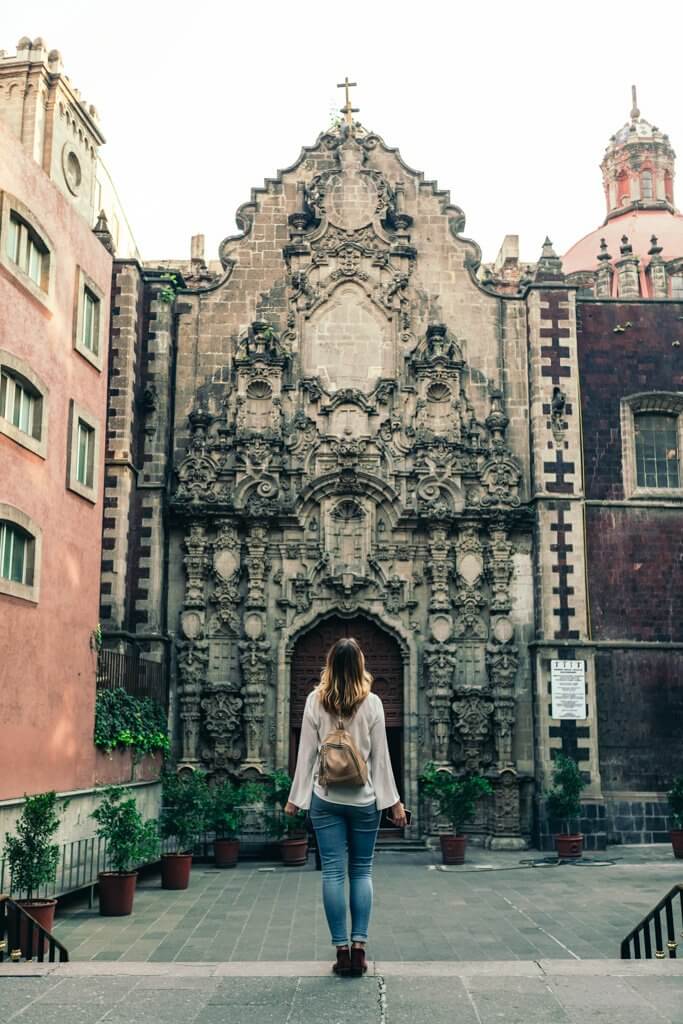 The most iconic and must see Mexico City neighborhood to explore is the Centro Histórico de la Ciudad de México, aka the Historic Center of Mexico City.
This is where you will find all the main government buildings including Zocalo, many national monuments, museums, and the impressive Metropolitan Cathedral. Besides being a UNESCO World Heritage Site, you'll find that much of what to do in Mexico City is right in the historic center.
Zocalo and the National Palace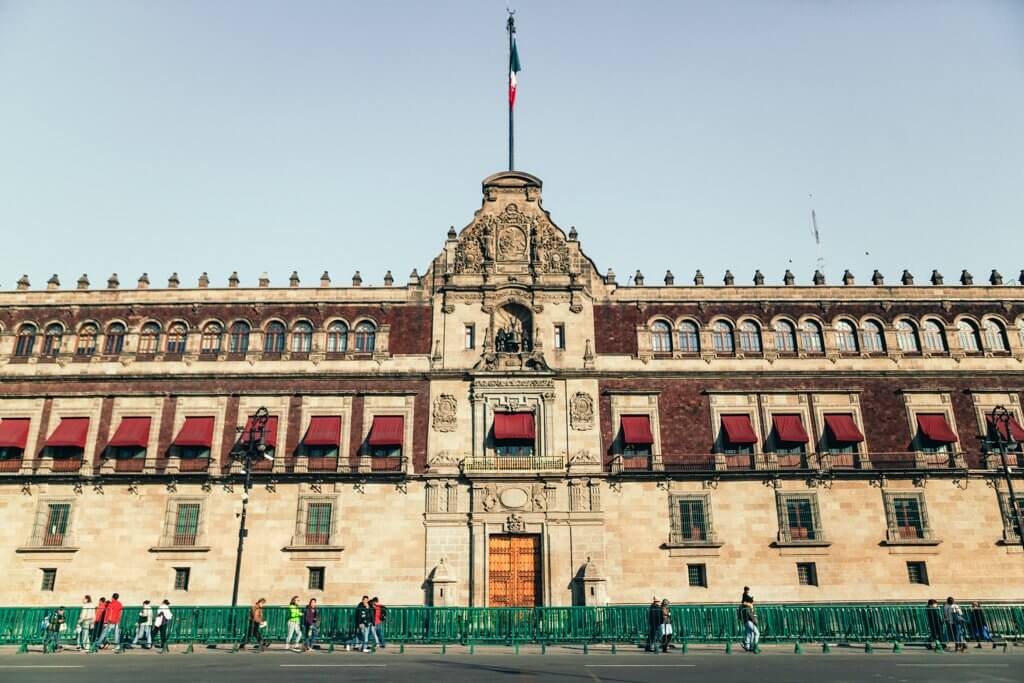 Zocalo or the main plaza is the largest plaza in Latin America and home to the National Palace. You will need a passport to visit, so be prepared before showing up. Zocalo is enormous and extends in multiple directions for many blocks and the architecture has a mix of Spanish and Aztec influences.
Inside is worth a visit, especially if you're into art because this is where Diego Rivera's famous mural of the history of Mexico is displayed.
Metropolitan Cathedral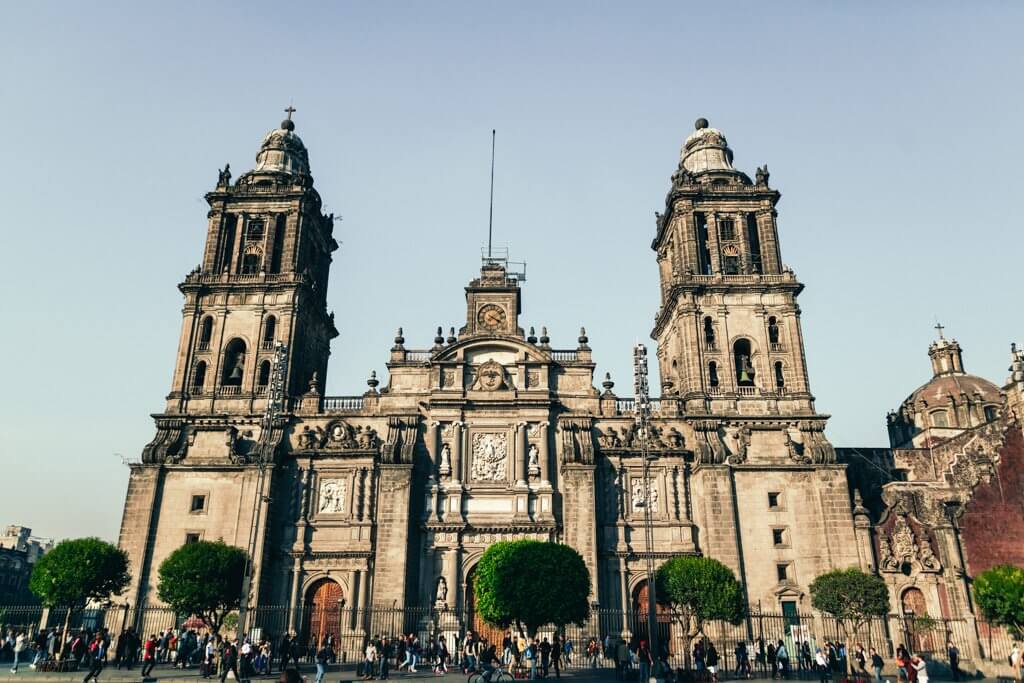 The Metropolitan Cathedral is a must see site and the centerpiece to this Mexico City neighborhood. The full name is actually a mouthful, Metropolitan Cathedral of the Assumption of the Most Blessed Virgin Mary into Heaven, and it was actually one of the filming locations for the James Bond movie Spectre.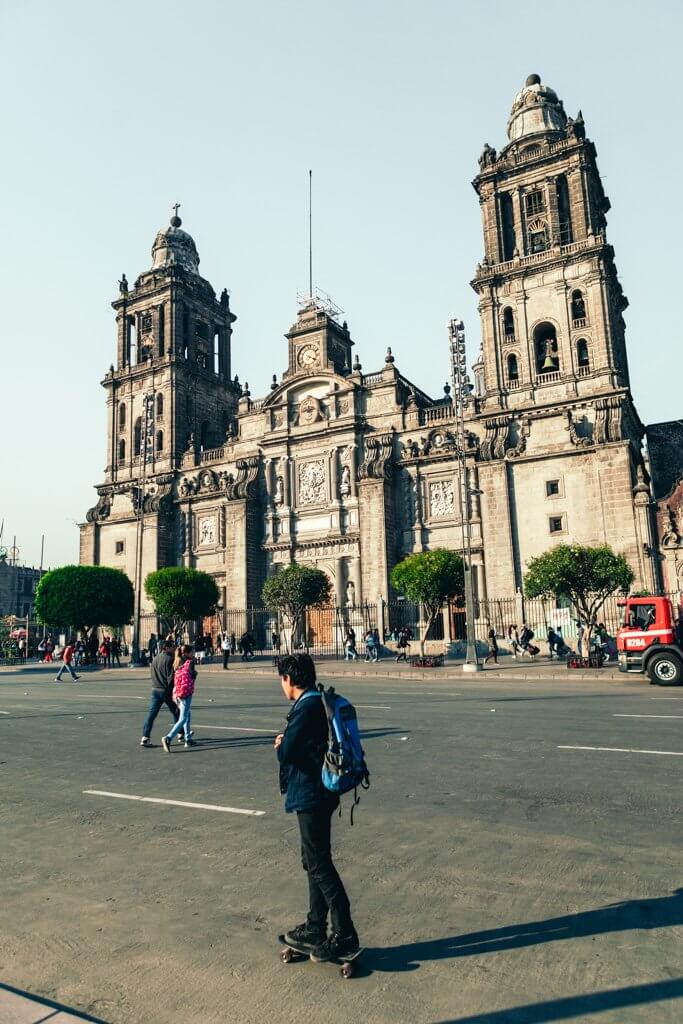 Some of the Catholic cathedral's features include the baroque tabernacle, bells towers, and four facades. The cathedral is worth admiring from both the exterior and interior as well as visiting the rooftop for an incredible view of the historic center.
Avenida Madero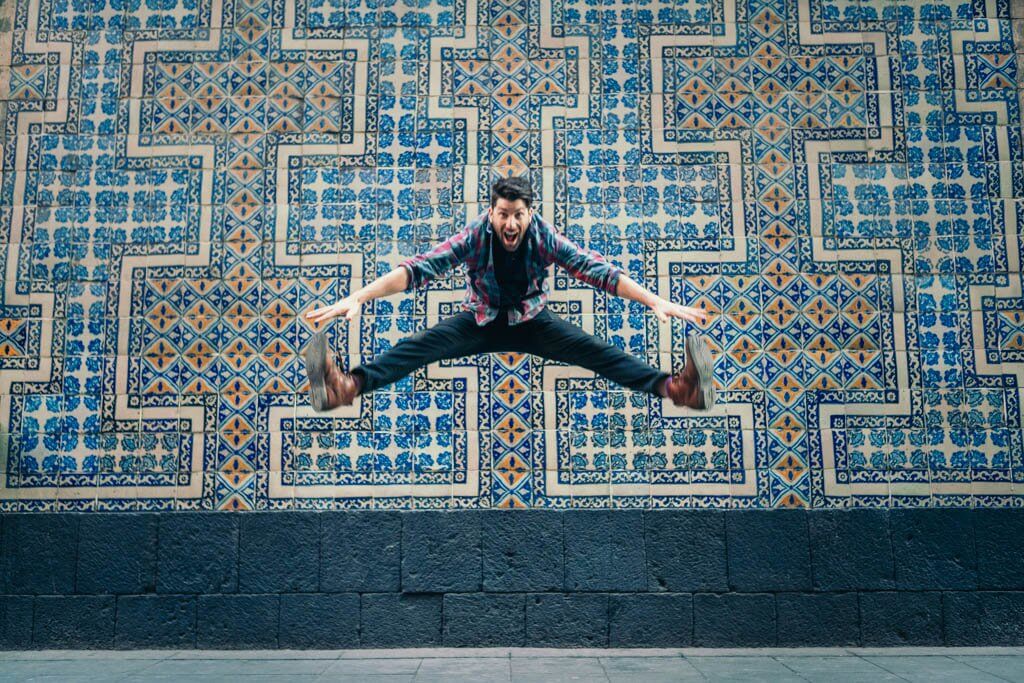 Avenida Madero is top Mexico City attraction. The street is closed off to cars and is a completely a walking street with shops and restaurants between the Metropolitan Cathedral to the Latin America Building.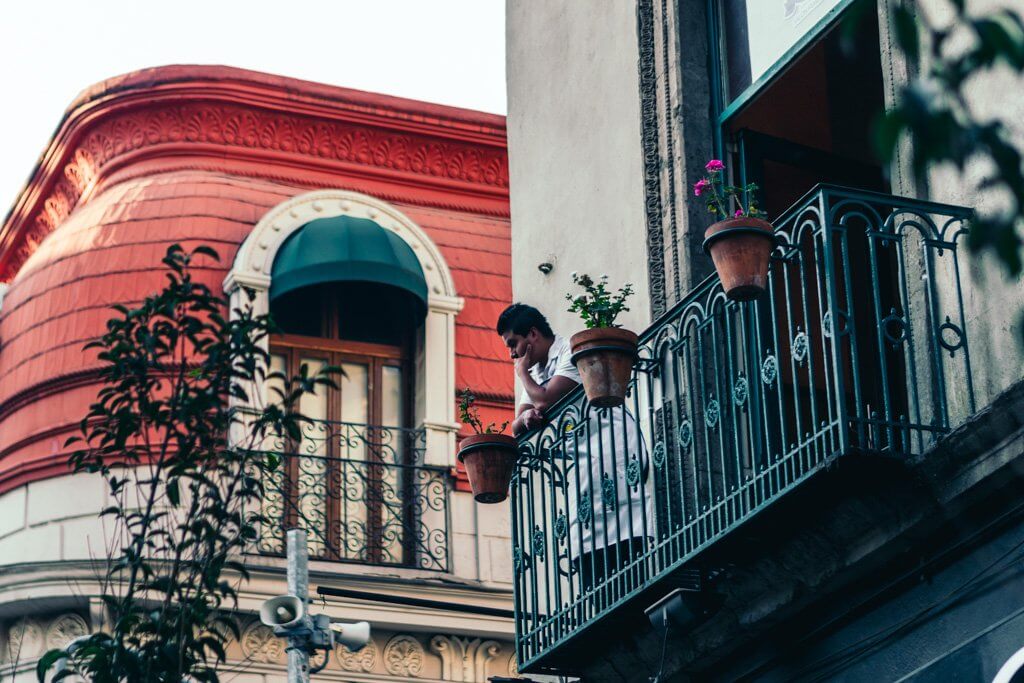 Watch out for cool stops along the way, there was a Salvador Dali sculpture park and a beautiful tile building that made for an amazing backdrop for some photos!
Latin America Building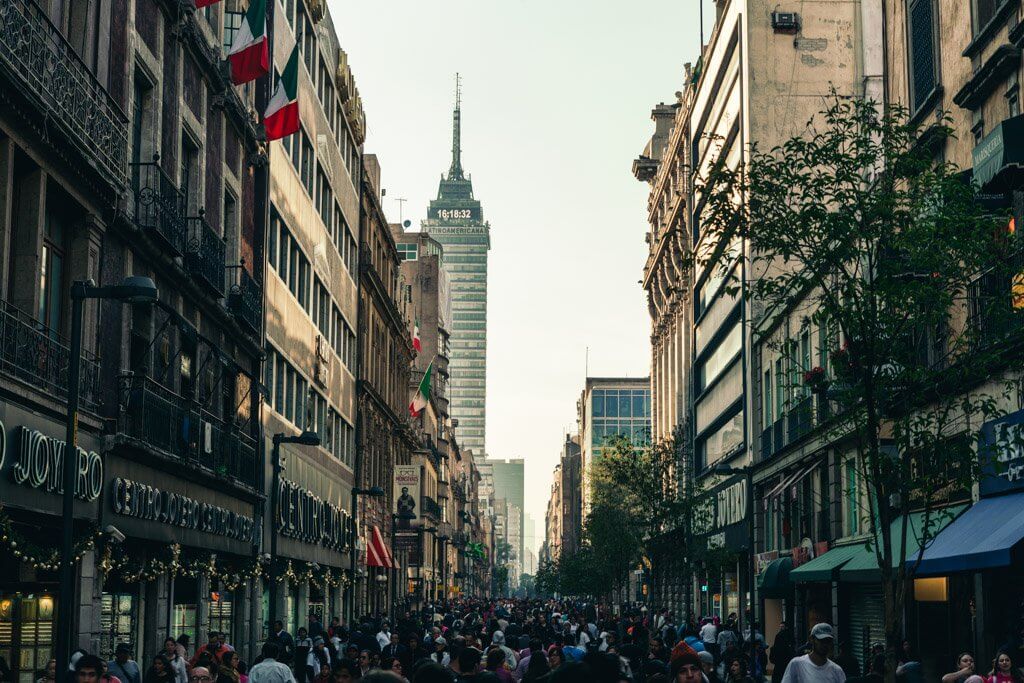 One of the tallest building in all of Mexico, the Latin America Building isn't much to look at from the outside but from the inside is where this place offers one of the best views of the entire city and all of Mexico City's neighborhoods!
There is a restaurant called Miralto and bar at the top of the building. We were told you need a reservation for the restaurant, but you can go on up just to enjoy a drink at the bar.
We showed up with all our camera gear out to take photos and were turned away. Be prepared for this, it may be just for viewing only. However, if you're dining at a table I am sure you can take photos with your phone without a problem.
Tip: The view from Miralto isn't as amazing on a hazy day.
Palacio De Bellas Artes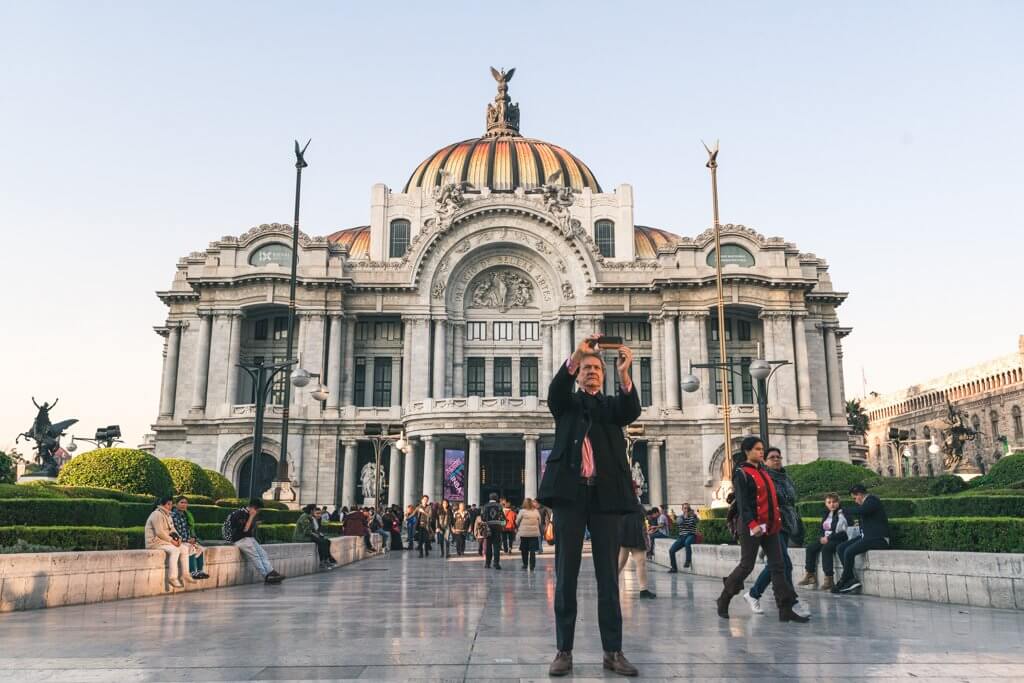 Besides being a visually stunning building, Palacio De Bellas Artes, aka the Palace of Fine Arts is the perfect place to visit if you're an art lover or enthusiast.
Each floor is full of pieces by famous artists including one of the most famous, Man at the Crossroads mural by Diego Rivera. This mural was originally meant for the Rockafeller Center in New York City but was destroyed and stopped the day before completion because of its anti-capitalism theme. For a nice view check out the cafe terrace inside as well.
This is worth a visit and should top anyone's list of what to see in Mexico City! The museum is spectacular and what makes it even better is you're seeing some of the most notable artists in history for just a few dollars.
Alameda Park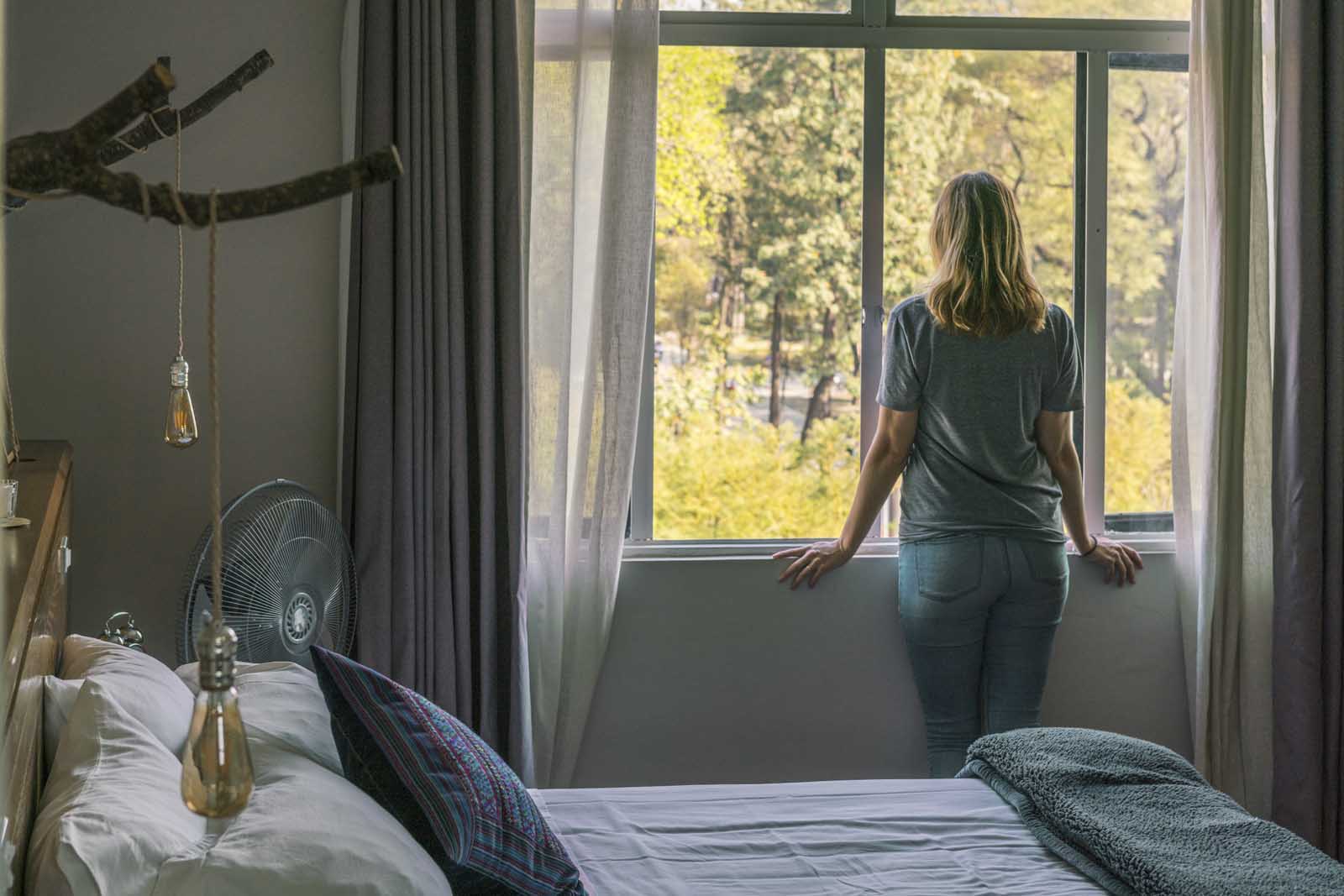 Visit Alameda Park is what to do in Mexico City if you're looking for some great food at night since the edge of the park fills up with a market selling all kinds of food stalls and vendors selling local crafts.
Alameda Park is also a great place for a walk and enjoying a bit of greenery in the city, although CDMX doesn't seem to have a problem with not putting enough parks around the city.
A fun fact about this park is that it used to be an ancient Aztec marketplace.
At one edge of the park is Palacio de Bellas Artes and the other end is Barrio Alameda and the Diego Riveria Mural Museum. Both are worthy of your time.
The Diego Riveria Mural Museum features "A Dream of a Sunday Afternoon in Alameda Central Park," with an explanation of the significance behind each figure/person featured in this masterpiece. This museum was built around this mural which was relocated here. Best yet, this museum only costs around $1.50 to go in.
When you're in this Mexico City neighborhood don't miss Barrio Alameda. This building is an indoor mall featuring cute/vintage/cool shops selling unique gifts and handicrafts from local artisans as well as a mezcal bar and other eateries.
This is where Chaya B&B is also located with a killer view of Alameda Park and a great rooftop hangout spot.
Right around the corner of Barrio Alameda is also a fabulous place to find quick and delicious eats under the tents. We had a killer gordita here, but there are tons of options for heavenly super cheap eats. Don't miss out!
Get a Killer View from Tereza Catedral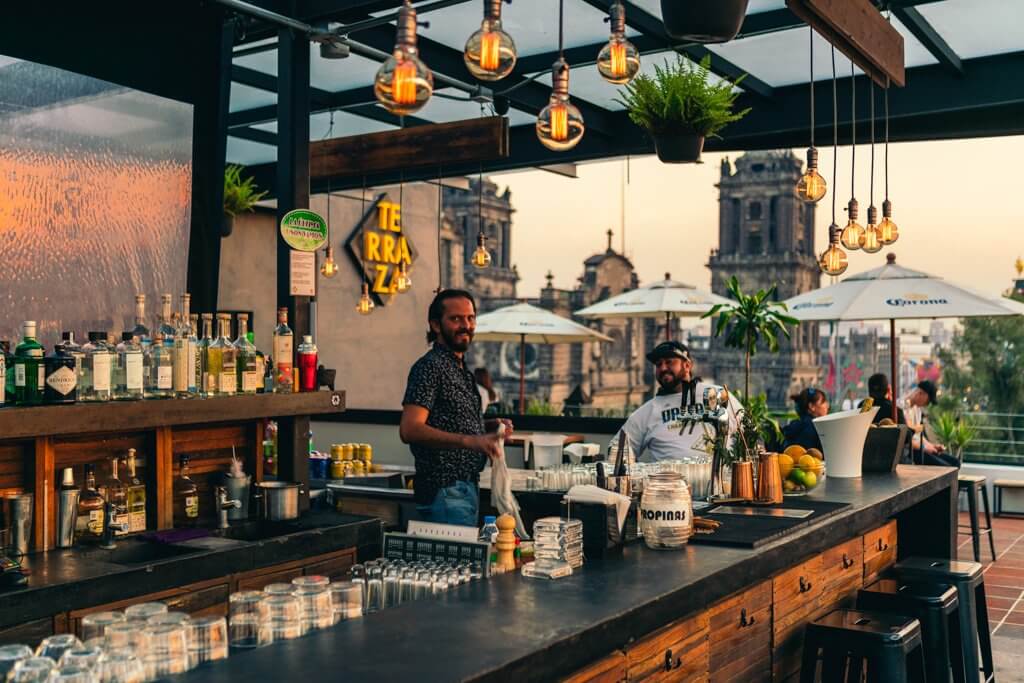 When you're in this historical Mexico City neighborhood there's not better way to end the day then with an amazing sunset, drink, and view of the city.
Do not miss one of the many rooftop bars, but if you had to choose one on the fly we recommend where we went, Tereza Cathedral.
This rooftop bar has cool vibes, good music, great drinks, and an awesome view/location.
Roma & La Condesa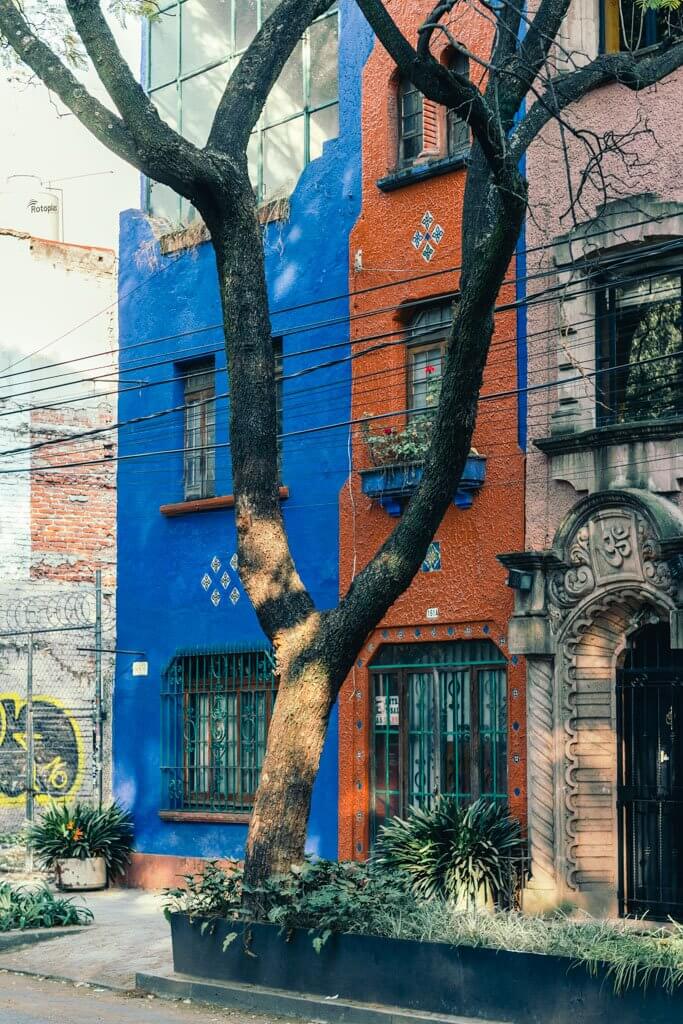 Roma Norte, Roma Sur, and La Condesa are all right next to each other and easily walkable as well as some of the best Mexico City neighborhoods to explore.
This trendy area has a young and hip vibe, this is where you'll find a great array of food from vegan, vegetarian, international food, and adorable restaurants as well as your classic taco stands.
Great food spots
One of the best features about these Mexico City neighborhoods is that it is a great foodie spot! There are tons of options to choose from and this is the place to go if you have any dietary restrictions or want a swanky meal in a cool setting.
We enjoyed tasty flavored margaritas, tostadas, and tacos with an adorable atmosphere and vibe at Cabrera 7. Tasty vegetarian soyrizo tacos at the Por Siempre food truck.
An array of craft beers, local and international at El Deposito. Amazing cheesy tacos and pastor plates at Taqueria Alvaro Obregon.
And one of the best stops would be the Latin America food court at Comedore de los Milagros which features many different food stalls featuring different dishes from all over Latin America and even craft beer. This is the place to go to sample and taste around Latin America.
La Gateria Cat Café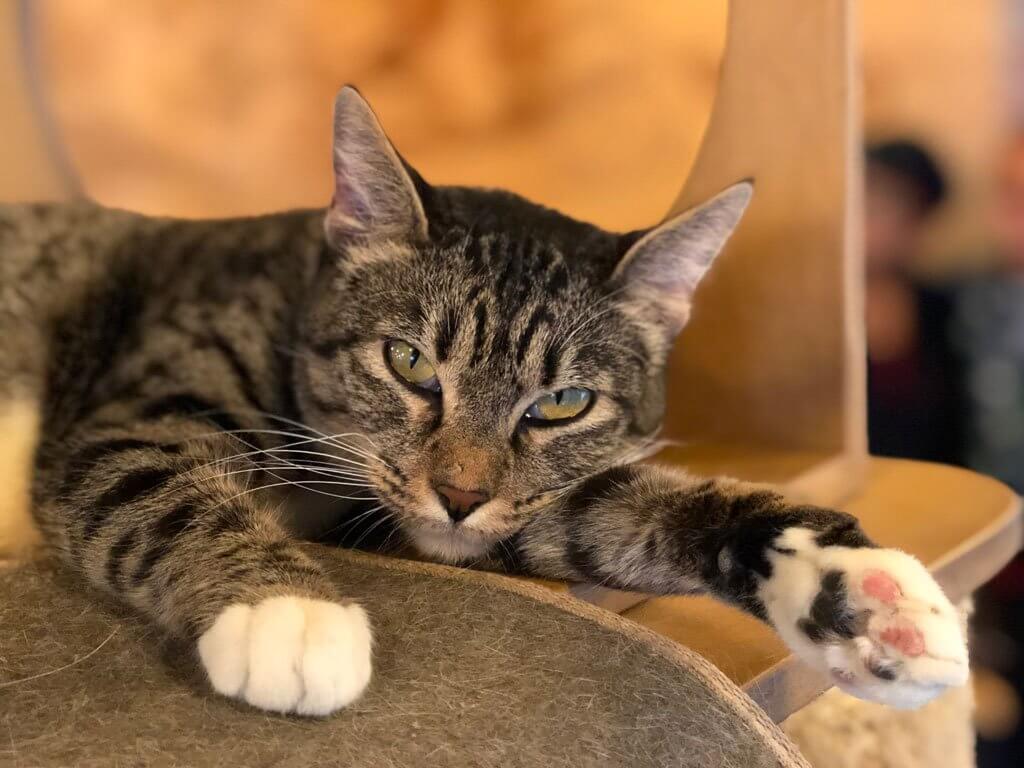 This was one of the sweetest surprises for us, Roma Norte has its very own cat cafe! La Gateria cat cafe helps make this Mexico City neighborhood one of my new favorite spots around!
There are around 7 cats that are fiesty and playful while you chill out and sip on a coffee or a smoothie or even a meal. There are even cute shaped cat cookies and desserts!
If you have a friendly feline at home you can even take home a gift from the shop on your way out.
Alvaro Obregon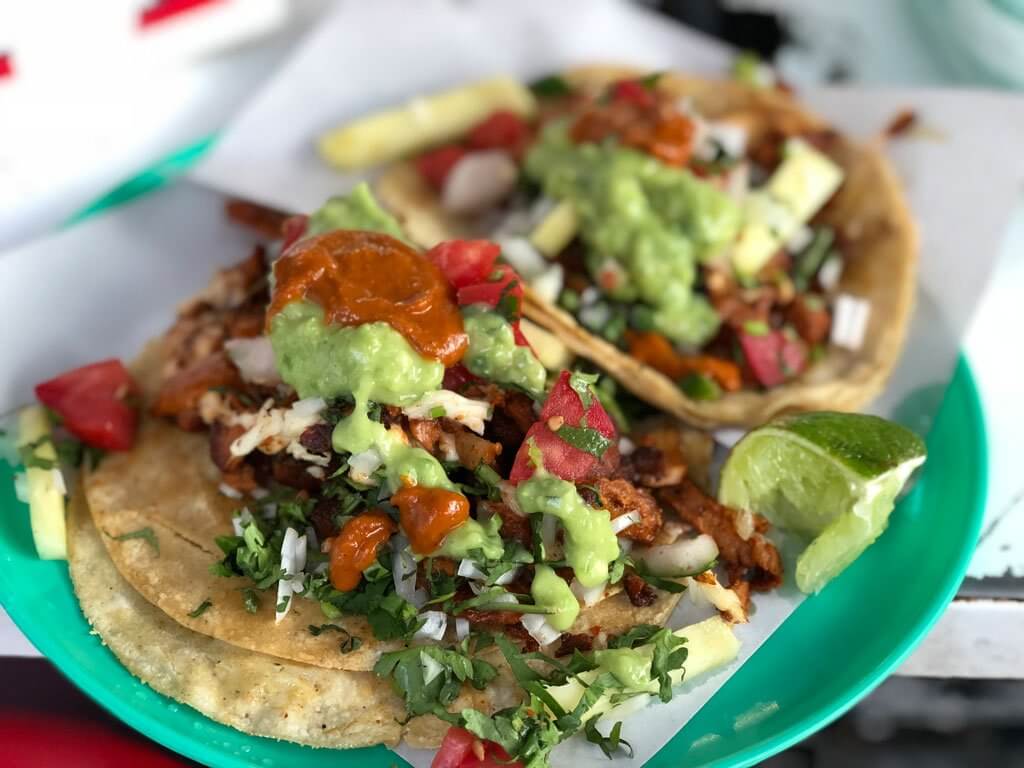 One of the best spots for nightlife and food in this Mexico City neighborhood of Roma Norte is Alvaro Obregon. This street is lined with restaurants, for every price range, bars, and hotels. This is where you will find El Deposito and Taqueria Alvaro Obregon.
We were eyeing up all the cute stops and just didn't have enough meals to sample around the area with.
Parque Mexico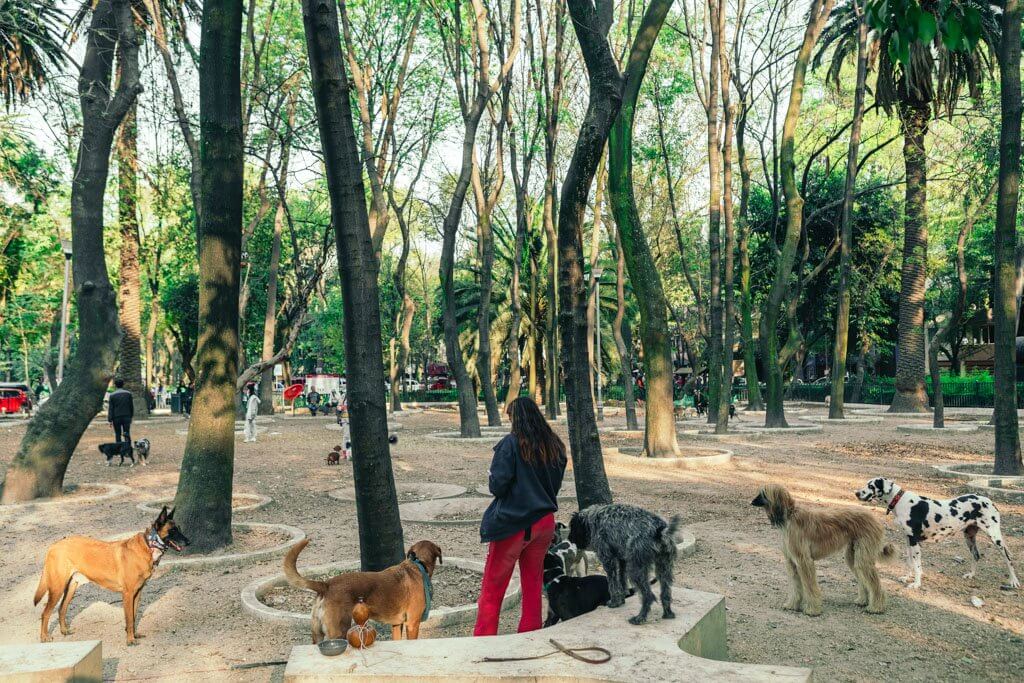 One of the Mexico City attractions to relax and get some fresh air from gorgeous vegetation is Parque Mexico. The lush park is full of benches, walking paths, and people walking their dogs.
There is even an area of the park that is solely dedicated to dogs and if you come on a weekday during the am or mid day you may even see the dog walkers lining up all their dogs in a row that has caught the eye of many travelers over the years.
We visited on the weekend and missed this but got to see many playful dogs enjoying their section of the park.
Coyoacan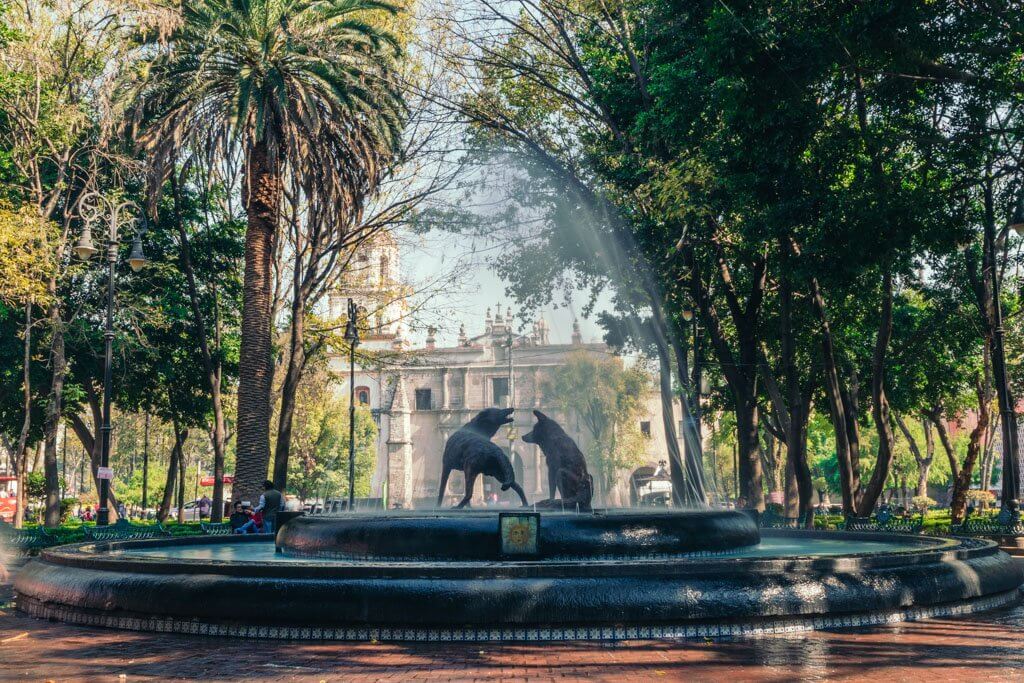 Located south of the city, Coyoacan is one of the best Mexico City neighborhood to get lost in. Filled with museums, colorful Spanish baroque architecture, markets, adorable shops, and cantinas.
This area is famous for being home to and inspiring artists for ages including famous locals Frida Kahlo, Diego Rivera, and Jose Chavez Morado to name a few. An entire afternoon needs to be dedicated to aimlessly exploring this area.
Frida Kahlo Museum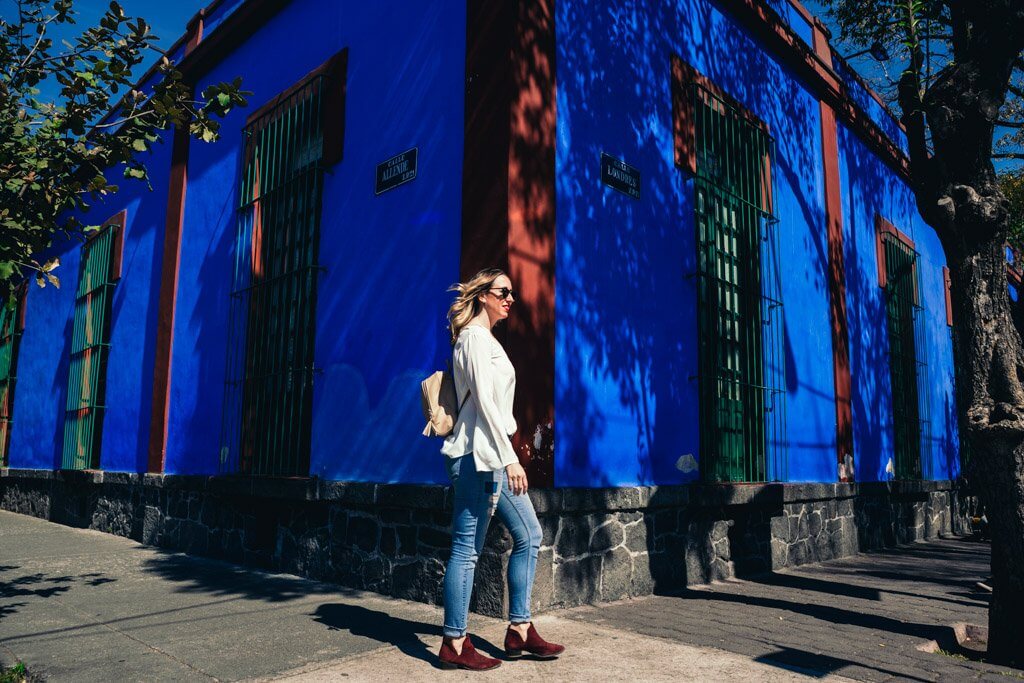 The Frida Kahlo Museum is a must, even if you don't have time to go in, which would be a shame. Not only is this the location of where Frida was born and died in this Mexico City neighborhood, but also a great collection of her most famous work is on display here.
The famous blue house is even more beautiful on the inside where you can explore through her garden and colorful rooms. You will want to make sure you book your tickets online in advance and note that the museum is closed on a Monday.
We were so bummed, as we did a majority of our sightseeing on a Monday and missed out on the interior of this museum and many others.
Before coming, you can get inspired and watch Frida with Salma Hayek playing Frida Kahlo beforehand. It has been on Netflix for the past few years!
Nearby you can also visit the Leon Trotsky Museum, this home where the famous Russian seeking asylum in this Mexico City neighborhood lived and was murdered. Diego and Frida both were responsible for assisting refuge for Trotsky and Frida even had a love affair with Trotsky.
Mercado Coyaocan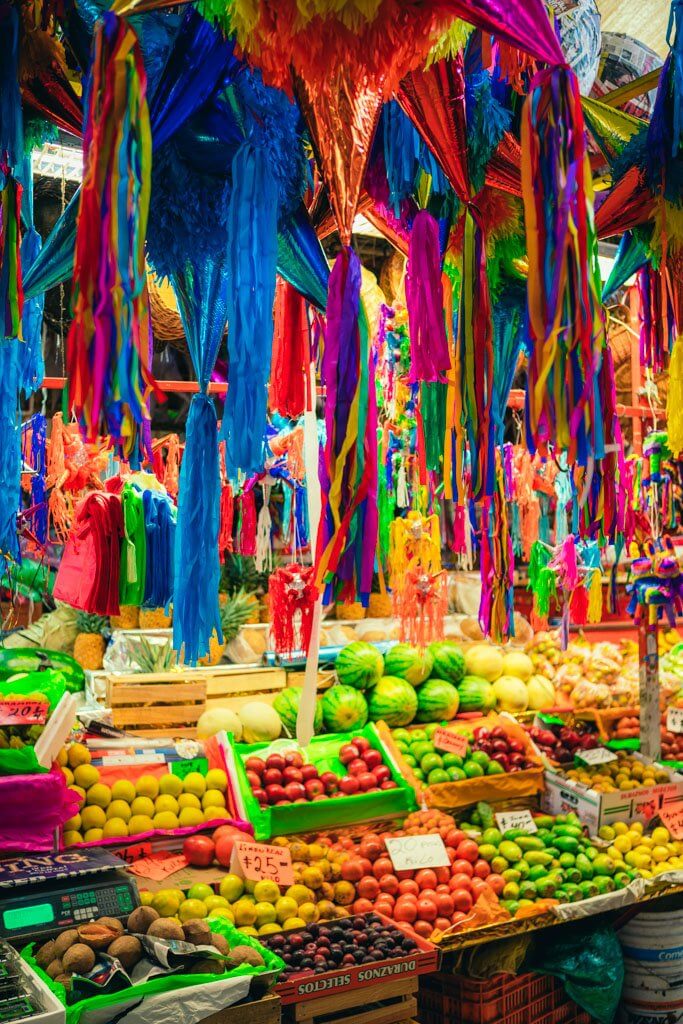 One of the best things to do in this Mexico City neighborhood is to stroll through the Coyaocan market. Loaded with traditional food, vendors, and tons of colorful pinatas!
You can find everything from freshly made tortillas, fruit, vegetables, to cosmetics through the vibrant aisles and friendly vendors. Also, they are famous for their tostadas!
Plaza de Coyoacan
This is a spot that is not to miss and one of the best things to do in Coyaocan! The centerpiece and focal point of the plaza is the famous coyote fountain.
Around here you will be surrounded by lush green vegetation of Garden Hidalgo and if you take a closer look you may even find the photogenic squirrels in the palm trees.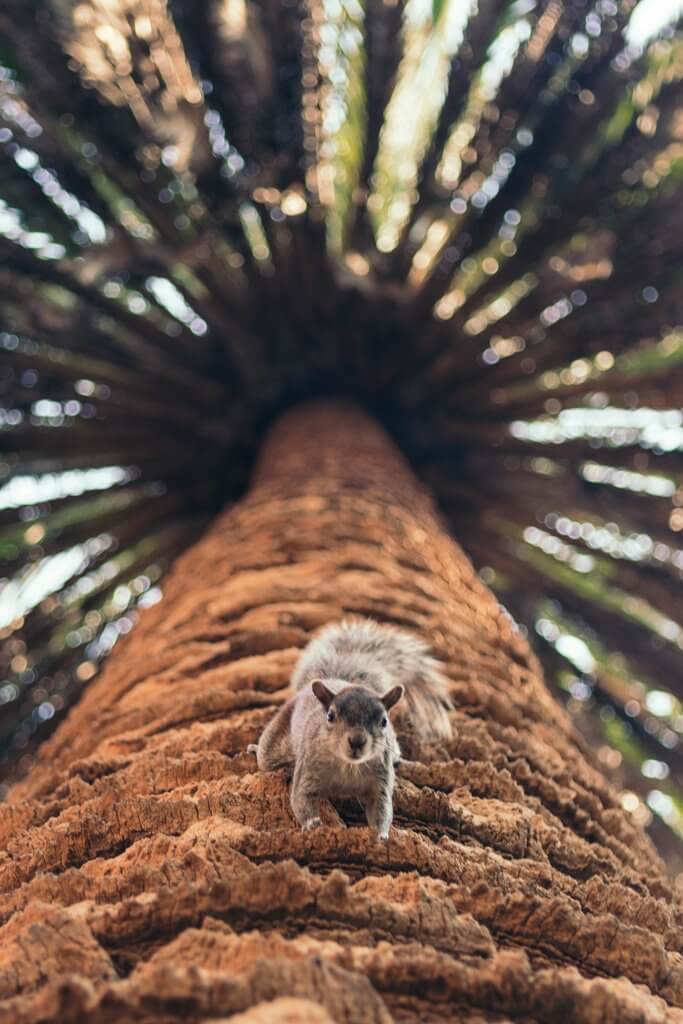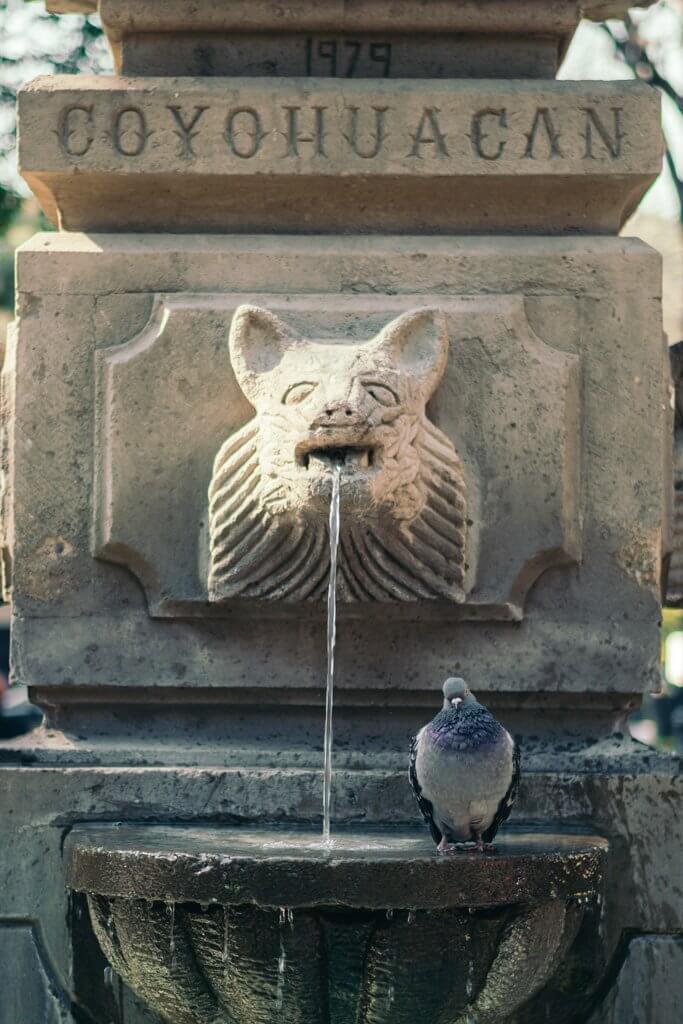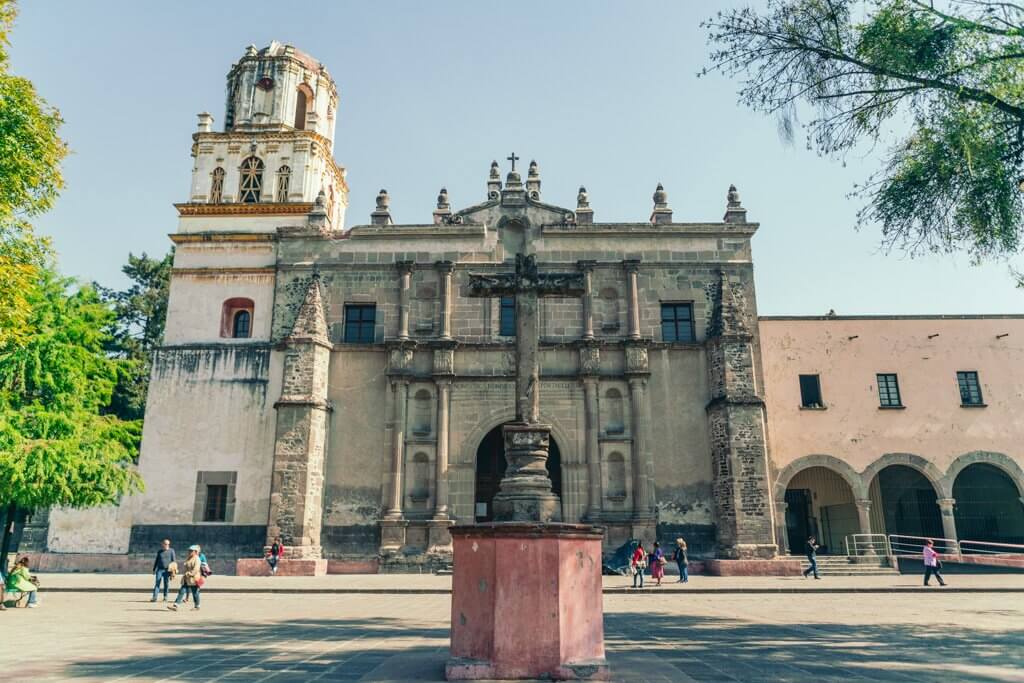 You also can't miss the Church of Santa Catalina de Siena. Be sure to explore the shops around this area too there's everything from cute gift and boutique shops to art shops.
Polanco
Polanco is the most ritzy of the Mexico City neighborhoods and this is where you can find luxury hotels, shopping, galleries, museums, and even embassies.
This is the part of the city where you will find modern and Californian Colonial architecture. Be sure to check out Museo Soumaya here, the building is unmissable and better yet, the gallery inside is free to the public!
Xochimilco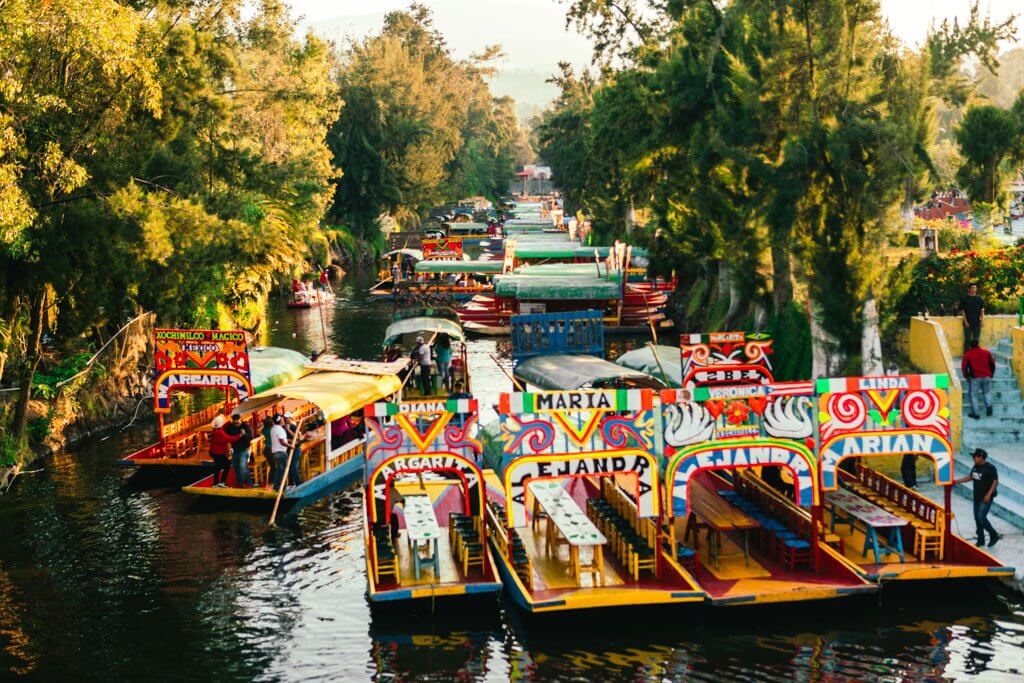 Considered the Venice of Mexico this is also another experience you do not want to miss in Mexico City. The canals are filled with a reminder of what Mexico City was before the Spanish arrived and colonized the city.
Most of Mexico City was made up of canals and today you can visit this colorful boat fiesta for an unforgettable experience. You will even get to experience mariachi bands performing for you on boats while you're cruising down the canals.
Bring snacks, beer, and hire a private boat for about $17 USD per hour. If you want to go longer you can and if you want to make an entire afternoon out of it you can go visit the creepy Isla de las Munecas, the island with dolls everywhere hanging from trees.
We followed the wonderful guide for Xochimilco by Eternal Expat and this Xochimilco guide by Journey of Wonders.
As an expat living in Mexico City, she gives the best guide for experiencing Xochimilco including what to expect, what to avoid, and exactly where to go to make your experience as painless and enjoyable as possible.
Plus this spot is extremely touristy and you don't want to end up in a tourist trap with an empty canal without any other colorful boats! Do your homework before visiting by checking out her guide linked above.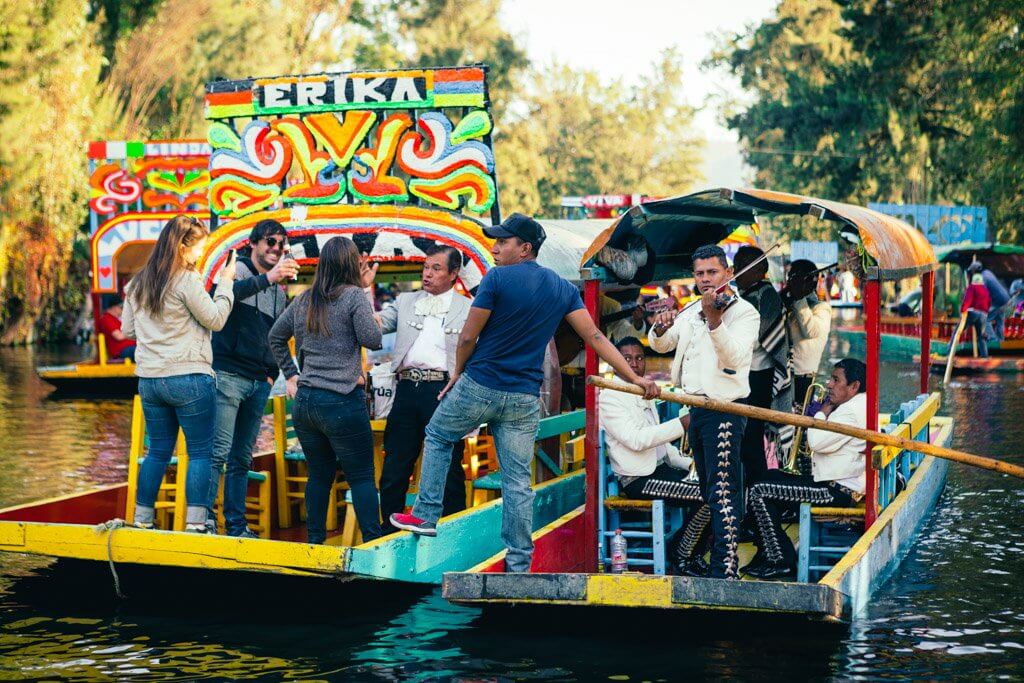 Tips: Be sure to only go to Embarcadero Nuevo Nativitas to rent your boat. After the market, cross the bridge to hire your own private boat for 350 pesos/hour.
Teotihuacan Pyramids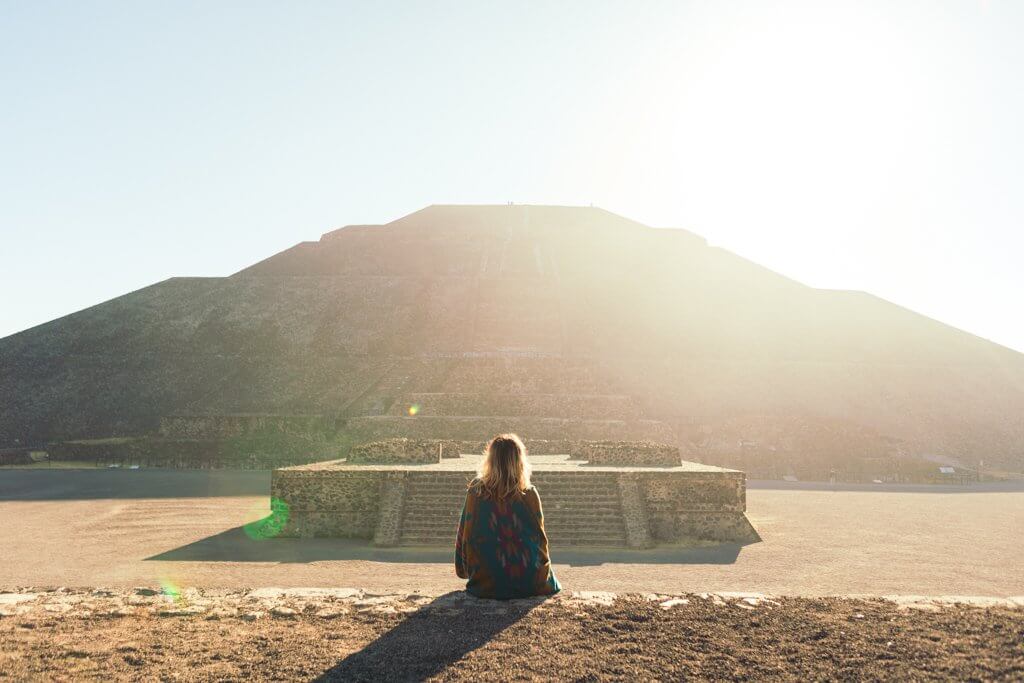 Technically not a Mexico City neighborhood, but not to be missed is the Teotihuacan Pyramids. Located about an hour bus ride from the city you can witness the 3rd largest pyramid in the world! Besides having huge pyramids, the city that once was here predates the Aztecs and Mayans.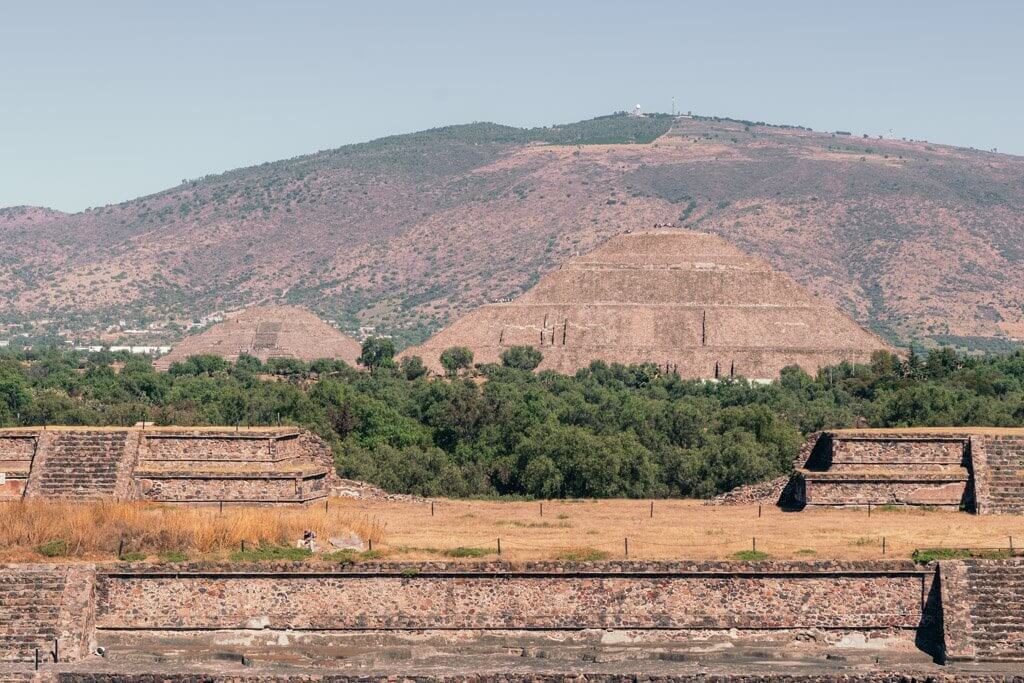 The pyramids were originally a Mesoamerican civilization from as early as 100 BC! The Aztecs lived here later. While you can't see much of what the original city had to offer you can climb and admire the Pyramid of the Sun and the Pyramid of the Moon as well as the Avenue of the Dead.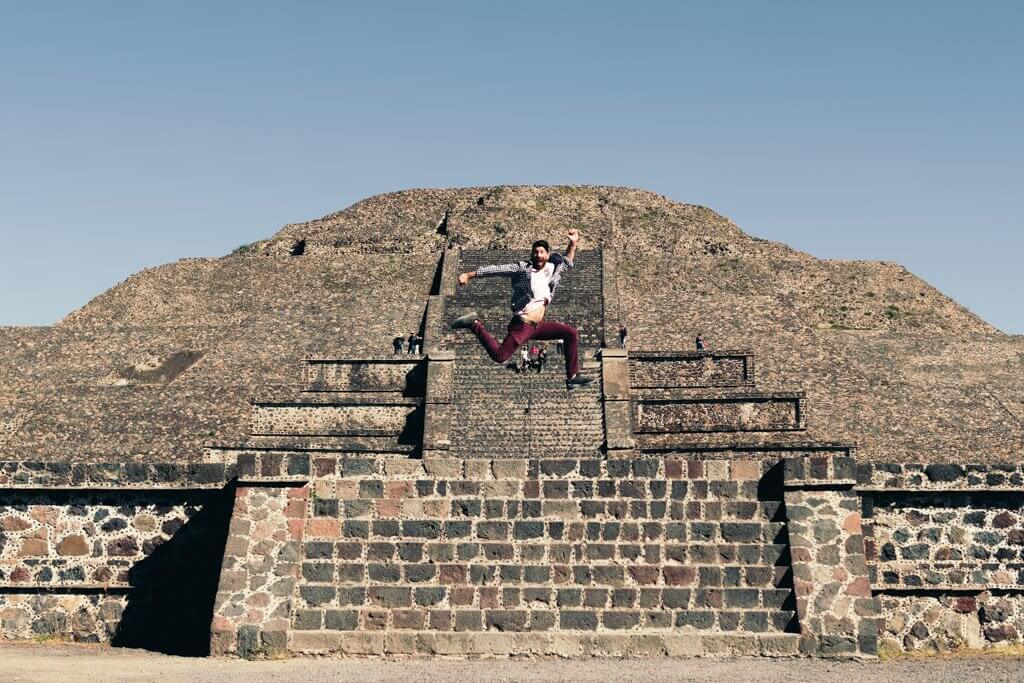 Be sure not to miss the Temple of the Feathered Serpent, the third largest pyramid at Teotihuacan with some of the best-preserved details of all the pyramids here.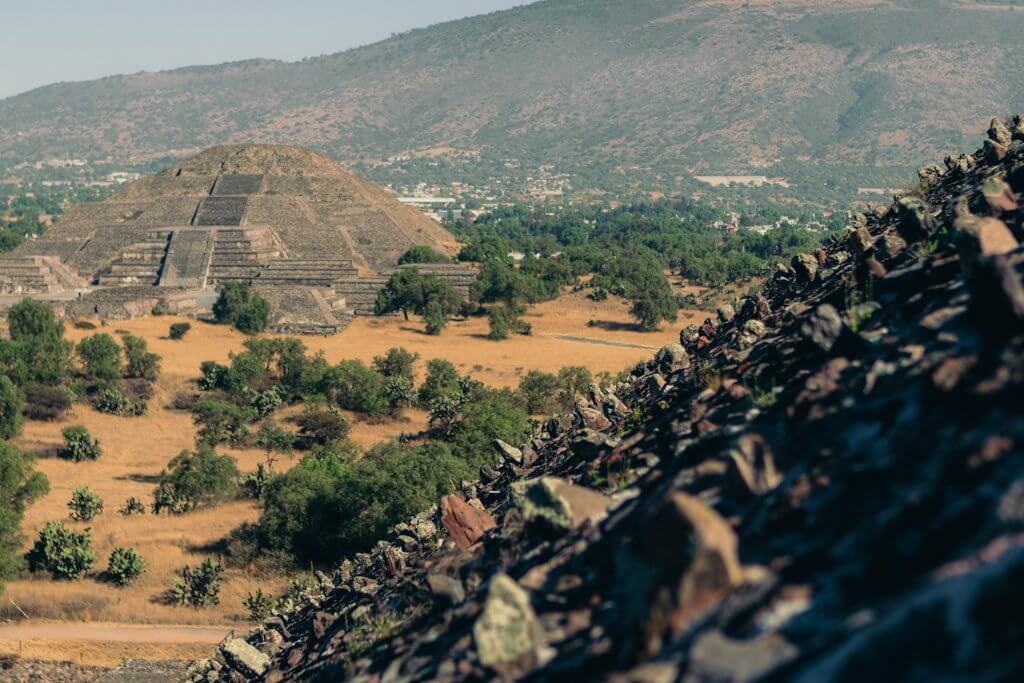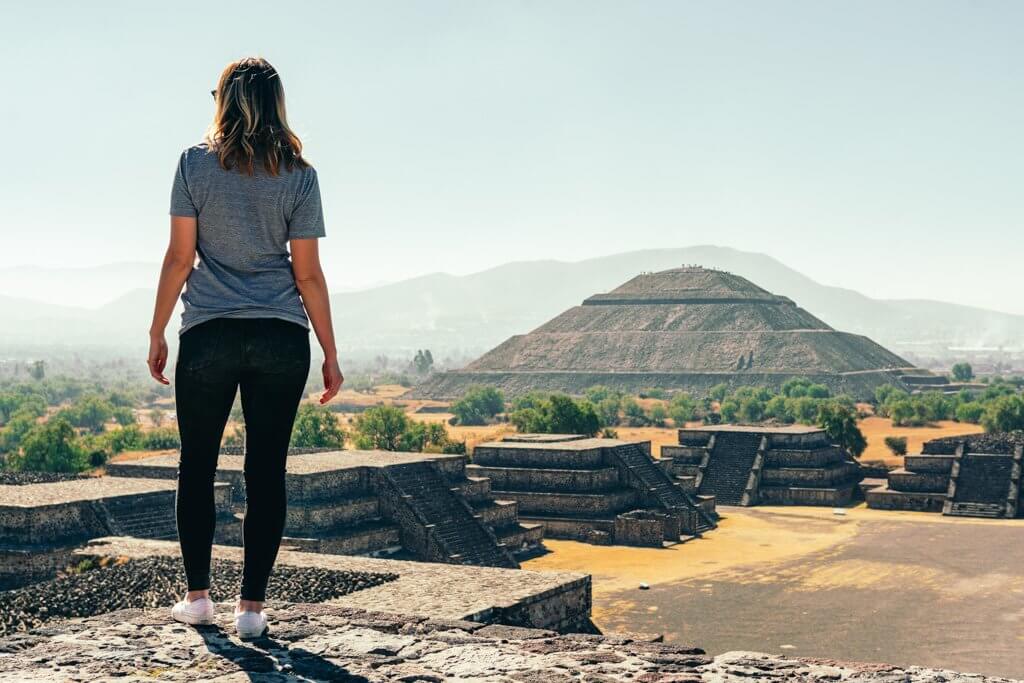 While we were visiting there was also an archeologist dig site going on, we are excited to follow along and see what they discover.
To get here you can take a direct bus from Autobuses de Norte bus station in Mexico City. It's only 50 pesos per person for a round trip. Try to get to the pyramids right when they open at 8 am to enjoy without the crowds.
Tips for Mexico City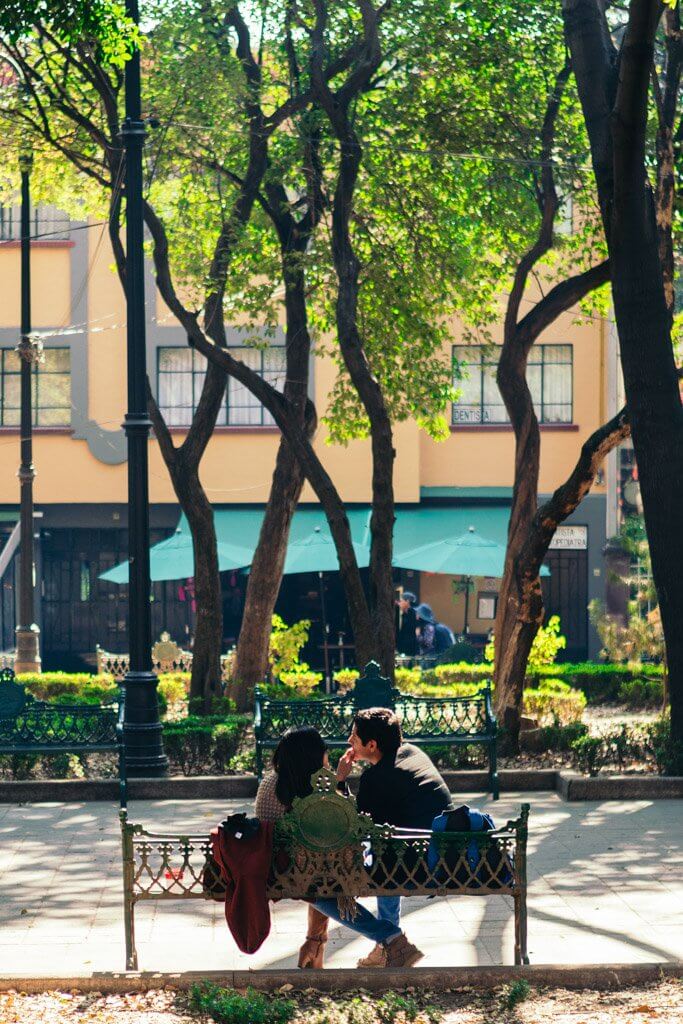 Where to Stay in Mexico City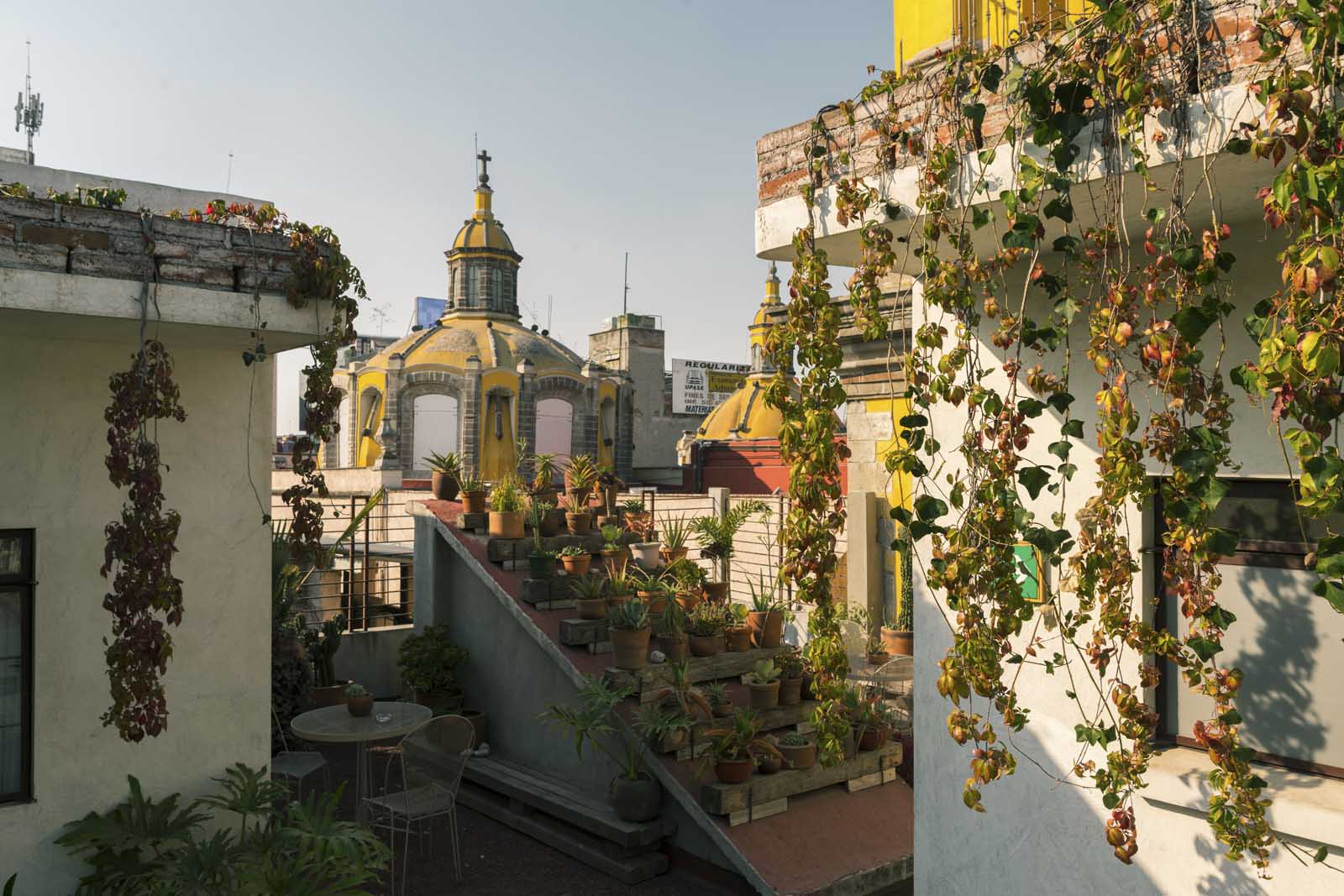 We recommend staying either in the Historical Center of Mexico City to be in the heart of all the action or staying in the chill neighborhood of Roma Norte or Roma Sur.
We stayed in Roma Sur during our visit and loved being walking distance from great food options, food, and anything we need. We were centrally located and an easy Uber ride from anywhere we wanted to go in the city.
Historic Center
$ Hotel Habana
Hotel Habana is a great super cheap budget-friendly accommodation in the historical Mexico City neighborhood. The rooms are basic but a great value for what you're paying and only a 3 minute walk from the metro and a 6-minute walk to the Metropolitan Cathedral and Zocalo. A perk would be the outdoor terrace you can hang out at and relax.
Book Now | Compare Prices for Later | Check TripAdvisor Reviews
$$ Chaya B&B
This chic and stylish boutique hotel is the perfect spot overlooking Alameda Central Park in the historical Mexico City neighborhood. The building has a central location and has a beautiful rooftop terrace, patio garden, and a hammock area to rest in. The rooms have en suite bathrooms and suites have even better views and larger living areas.
Book Now | Compare Prices for Later | Check TripAdvisor Reviews
$$$ Gran Hotel Ciudad de Mexico
This 5 star hotel has elegant rooms and a grat location in historical Mexico City neighborhood bordering Zocalo square. Some of the rooms even have Zocalo views and the hotel lobby is grand. This is the perfect luxury option in this prime location. The hotel also offers a fabulous restaurant overlooking the square, a piano bar, and a cafe with a Tiffany stain glass ceiling.
Book Now | Compare Prices for Later | Check TripAdvisor Reviews
Roma & La Condesa
$ Hotel Segovia Regency
This is the best option for budget travelers in the Roma and La Condesa Mexico City neighborhoods. The rooms are basic and seem like they are straight out of the 80s. Besides being super affordable you are also only a 4-minute walk away from the metro station and walking distance from shopping and food and only a few blocks away from Alvaro Obregon.
Book Now | Compare Prices for Later | Check TripAdvisor Reviews
$$ Maria Condesa Hotel
Maria Condesa is a great mid-range option in La Condesa Mexico City neighborhood. The location is great, right in the heart of the La Condesa art deco area. The rooms are super stylish and the suites come with a street view and walk-in saunas. A huge perk to staying here would be the restaurant on the terrace. If you have a car there is also free parking available.
Book Now | Compare Prices for Later | Check TripAdvisor Reviews
$$$ La Valise Hotel
La Valise Hotel is a great option in the Mexico City neighborhood of Roma Norte. The hotel is a trendy boutique property in a 20th-century building that has to die for rooms and even a terrace to relax on. Each room is equipped with Nespresso machines, living rooms, and TVs. Some rooms even have a hammock and a terrace you can move your bed out to.
Book Now | Compare Prices for Later | Check TripAdvisor Reviews
For more places to stay in Mexico City, check the map below
Transportation
We honestly recommend using Uber in Mexico City for your main transportation. Not only is it super inexpensive but it takes the worry out of trying to figure out how to get where you're going or getting pickpocketed on a crowded metro.
Money
Mexico uses the peso, which looks like they use a US dollar sign and will be quite a shock if you think the prices listed are in USD. Check your exchange rate before visiting and we recommend getting your cash out of ATMs at any of the bank ATMs around the city.
We prefer using the ATMs that are inside a bank since they have surveillance and are less likely to be tampered with. This actually goes for any city we visit. Most places, besides street food stall vendors and some bus tickets accept credit card.
Visiting Museums
Note that most museums and monuments are closed on Mondays. Be sure to avoid this mistake, we missed out on some of our sightseeing because showed up on a Monday!
If you have time
One thing you may want to experience is Mexican Wrestling! Known as Lucha Libre with almost daily events. You can find tickets on Ticketmaster during your visit.
Tickets are super cheap, around $10 but we were told you are expected to buy drinks while you're there to make up for the cheap ticket prices.
We were so sad we missed this opportunity and it will be high on our list when we make it back!
---
Check out this Mexico City itinerary to help plan your trip. Also, check out this article by LL World Tour on why to visit Mexico City after the earthquake. And want to see more culutral attractions in Mexico City? Check out this post by Sand in My Suitcase.
Which of the Mexico City neighborhoods is your favorite? Let us know below!
Liked this post on what to see in Mexico City by its neighborhoods? Share the love below on Pinterest.