There aren't many places in the world where in the middle of winter you can surf in the morning and by the afternoon be snowboarding or skiing down a mountain in the snow. That's just one of the many reasons that make Big Bear Mountain in Southern California unique. Besides for local Southern California residents, Big Bear is also a great place to take a vacation. Not only are you just 2 hours drive from the coast but this is where you can tie in surf and sand with your winter skiing and snowboarding getaway.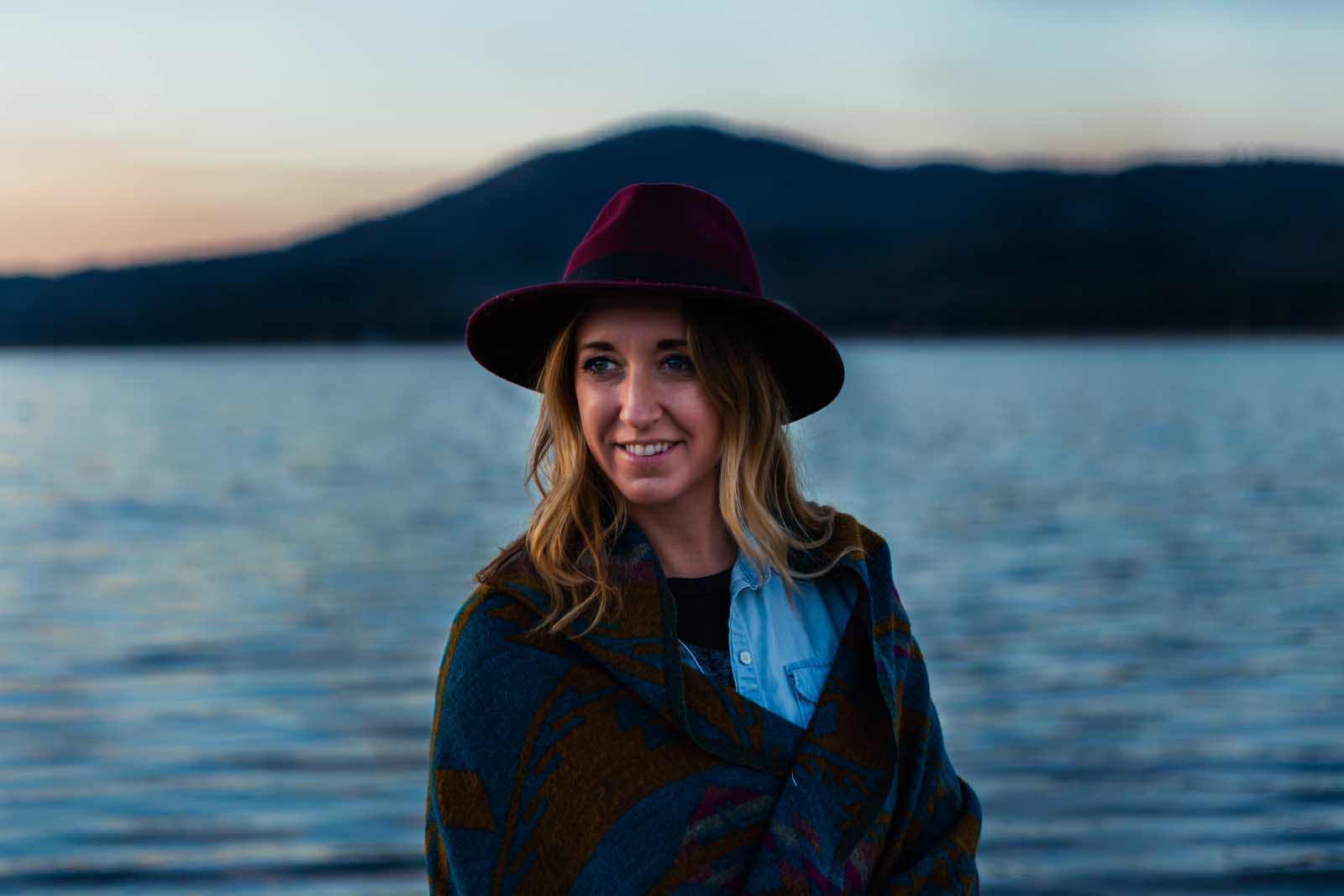 Find out all the best things to do in Big Bear and you'll see why we love this Southern California mountain getaway so much.
Hit the Slopes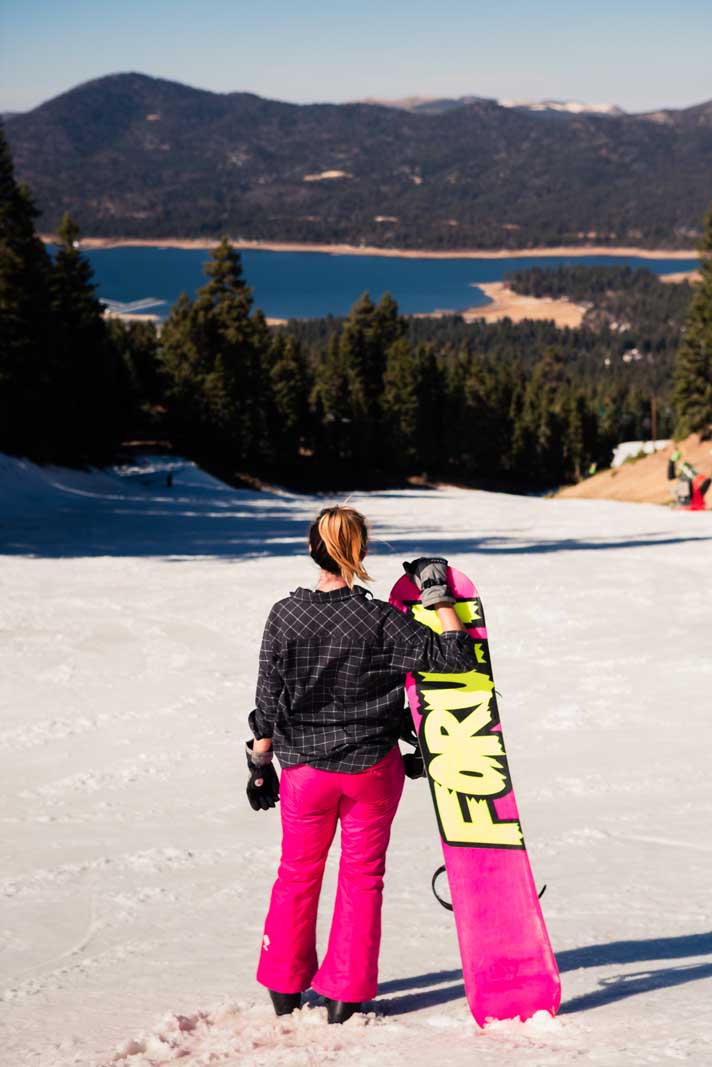 Arguably the best thing to do in Big Bear would be to hit the slopes. The snowboarding and skiing scene here is what attracts most visitors during the peak season of mid-November to mid-March. We visited in February and experienced some really warm winter weather up at Big Bear Mountain. Thanks to man-made snow we were still able to ski and snowboard in this really comfortable weather. We were looking at mid-60s degree weather and were able to ski and snowboard without jackets!
While ideal conditions would be natural powder, it's nice to have the option to still ski and snowboard during warm winter weather patterns thanks to the man-made snow.
There are two skiing and snowboarding options, Bear Mountain and Snow Summit. Snow Summit is better suited for families and beginners. When you buy your lift ticket you have access to both mountains so if you plan a multi-day trip, which we highly recommend, you will get to try both out!
You also have one more option for snowboarding and skiing near Big Bear Mountain, about a 30-minute drive from Big Bear is also Snow Valley Mountain, Southern California's oldest ski resort. So if you're itching to hit up three different slopes during your stay you do have this option as well!
Snow Play
One of the best things to do in Big Bear if you are traveling with a family is going to Snow Play for some winter tubing! This small park has man-made snow machines that ensure that there is snow for tubing every day during peak season. You can even go snow tubing at night after a long day at the slopes.
The admission is rather pricey, expect to pay $30 for kids and $35 for adults but this admission comes with a tube and a magic carpet ride to the top every time you want to take a whirl down the hill.
Note: Snow Play closes from 4-5 pm daily to prepare new snow for the night tubers!
Alpine Zoo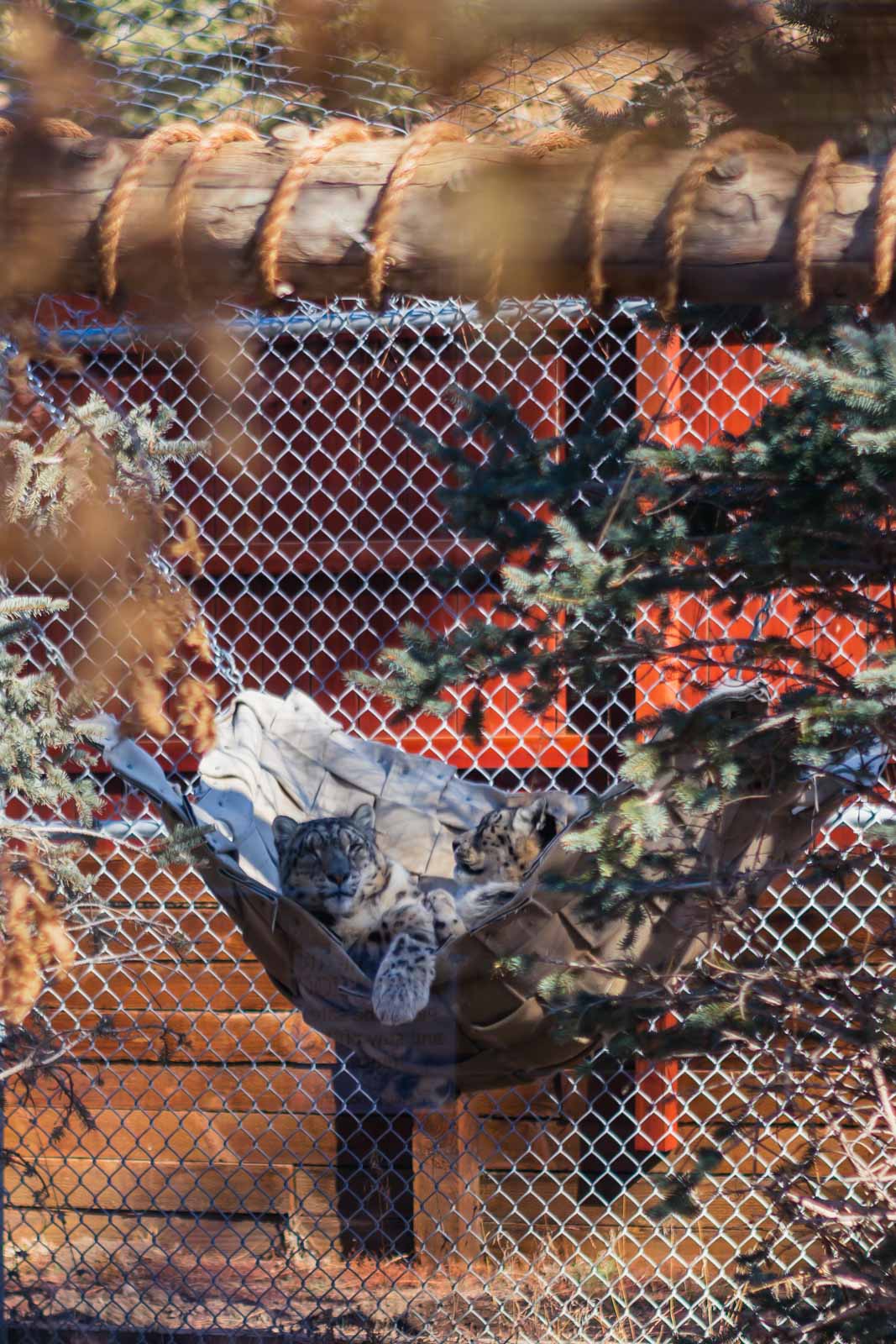 Hands down one of the best things to do in Big Bear is visit the Alpine Zoo. We have been to zoos but we never walked away with as much information as we did on this trip. We had a tour with the curator of the Alpine Zoo, Bob who took over the zoo a few years ago and has really turned the program and zoo around and is also working on a move of the zoo down the road to a larger space.
Bob also educated us on US zoos as we didn't realize how little we knew until our tour with him. He came from San Diego Zoo and when he took over the previous zoo ownership left the place in a mess. There are photos of an obese and unhealthy mountain lion from when Bob took over the zoo, fast forward to a few years later and now the mountain lion is healthy and active again. Had it not been for the new crew looking after the health of the animals and especially this mountain lion she probably wouldn't be alive today.
Besides her, we learned that the Alpine Zoo only takes in animals from breeding programs to help conserve species as well as injured wild animals who go through rehabilitation at the zoo. The rehabilitated animals that aren't strong/healthy enough to go back in the wild become a part of the family at the Alpine Zoo.
Besides having a great cause and mission to help local animals and conserve species through breeding programs, the Alpine Zoo at Big Bear also is here to educate visitors on these animals making it one of our favorite things to do in Big Bear.
We were also educated on the fact that the US hasn't actually taken any animals from the wild for zoo placement since the 1940s and that there's alot of misconceptions about zoos and how they are actually really helpful for animal species. Read more on this piece by Time.
Big Bear Village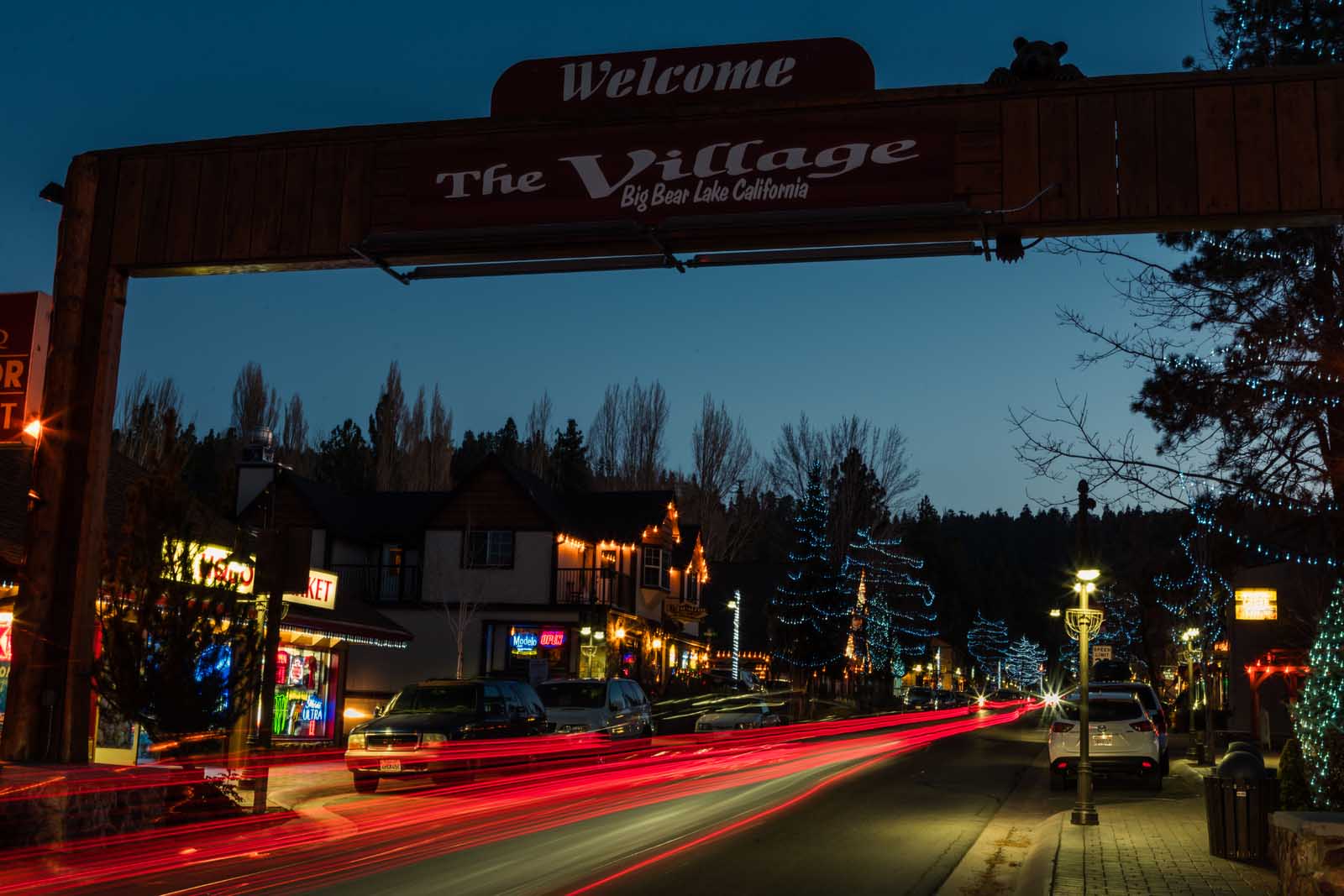 Another one of the best things to do in Big Bear is to head to Big Bear Village for food, drinks, and shopping! There are tons of great dining options here as well as great beer spots and little shops you can get any of the winter gear you may need or a souvenir to take home with you. The village is charming and a great spot to hit up day or night.
Bowling Barn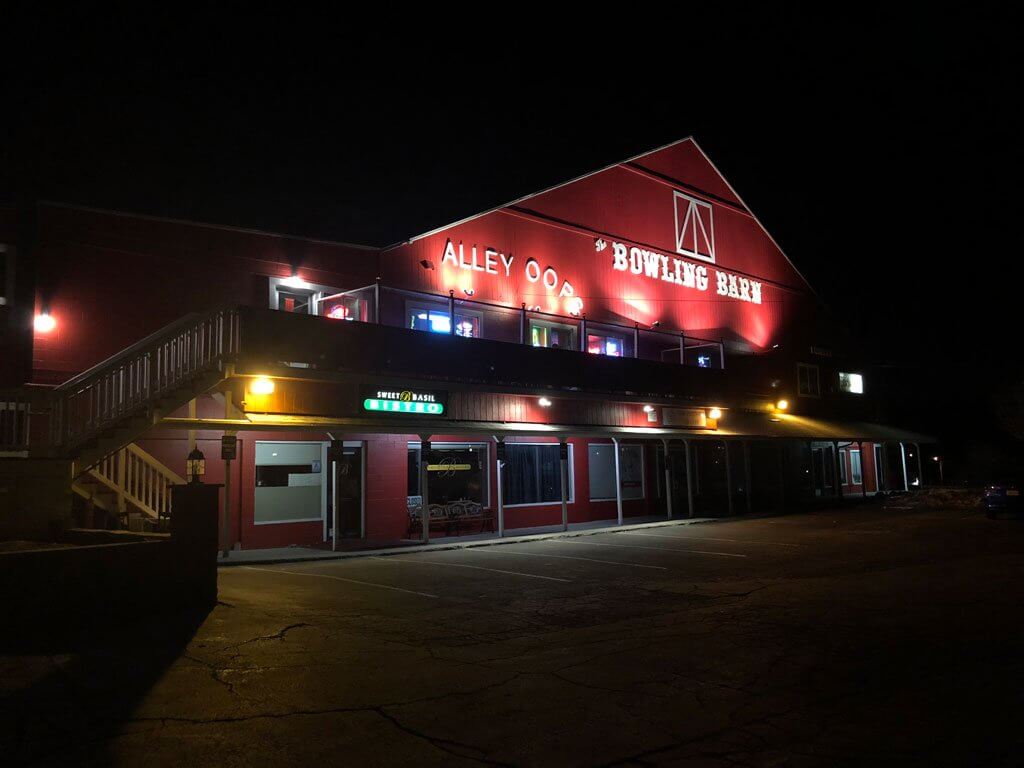 One of our favorite things to do in Big Bear after a long day of snowboarding or skiing is head to the Bowling Barn. This is our second visit to the Bowling Barn and it's always a fun place to end the night at. In the evenings the lights go dim for glow bowling! There's also the Alley Oop sports bar here so you can take your breaks with a nice refreshing beverage of your choice.
Where to Eat
For being a considerably small mountain community, Big Bear has many different options for food from fast food joints like McDonald's to small local eateries and local breweries. The best thing to do in Big Bear for food is check out some of the local spots. Check out our picks and some other top picks by LA Weekly.
Big Bear Mountain Brewery
One thing we love doing when we go to different places is try the local craft beer! We recommend dining at Big Bear Mountain Brewery if you're a beer lover like us. They have a great menu, including amazing starters like  deep fried avocado bomb and some killer wings. We never made it off the starter menu because it was so good! We recommend this as one of the best things to do in Big Bear if you want to taste the local beer and eat some great bar/comfort food after a day on the mountain.
Grizzly Manor
This popular breakfast joint is not to be missed and one of the best things to do in Big Bear in our opinions. If you don't get here early enough expect to wait in a long, but well worth it, line. The inside can only seat a small number of people but the food is amazing, hence the line. We must warn you though, the portions here are HUGE. They are honestly bigger than any other restaurant we've been to. We highly recommend splitting a dish here.
Fire Rock Burgers & Brew
Our last restaurant pick for Big Bear is Fire Rock Burgers & Brew. This semi-new establishment serves up great burgers, fries, and a selection of craft beers. We were recommended to come here by a local as one of their picks for best things to do in Big Bear and we are glad we listened. We split the Bat Country burger, which came with bacon-infused Angus beef, smoked gouda, garlic sauteed mushrooms, bacon, and black truffle aioli. The burger was to small to split so we ended up getting a big order of the sweet potato fries to fill us. The food was great, the location was cozy, and the beer made it all better.
Where to Stay
We recommend staying where we stayed, the Marina Resort right on the shore of Big Bear Lake. The exterior is a bit dated but don't judge a book by its cover. The rooms are cozy and complete with a fireplace and an amazing view of Big Bear Lake. There's access to a private beach area on the lake as well as pool and spa.
Just be prepared as breakfast is not included. There are mini fridges in the rooms and hot water and coffee available in reception. We ended up buying oatmeal from the grocery store and adding hot water for a DIY quick and easy breakfast.
Book Now | Read Trip Advisor Reviews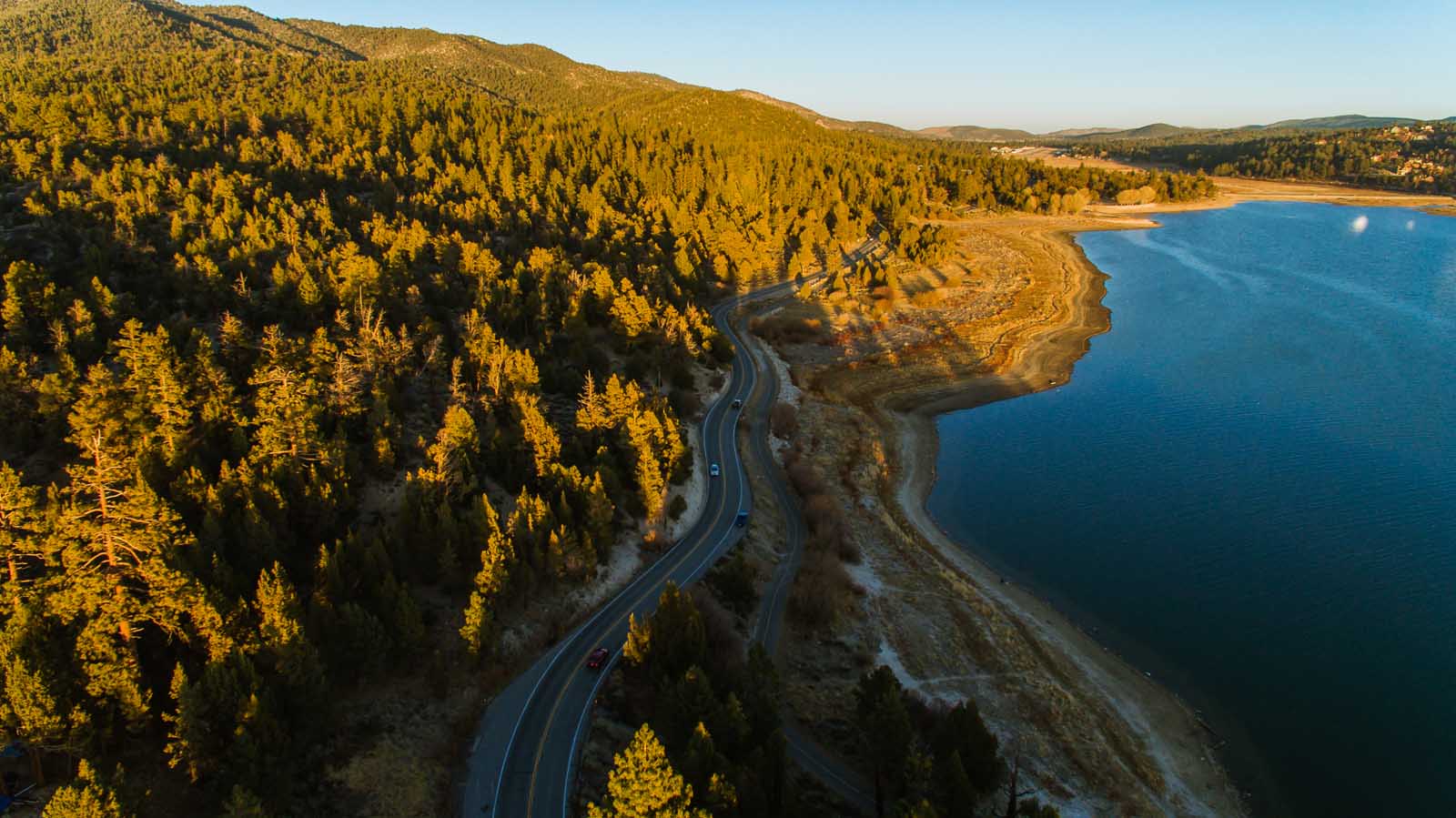 Disclaimer: This post on the best things to do in Big Bear was in cooperation with Visit Big Bear. However, as always all experiences and opinions are our own.
This page also contains affiliate links, meaning if you book a hotel through our link we will receive a small commission at no extra cost to you.
Liked this post on the best things to do in Big Bear? Then share the love below by pinning this post for later on Pinterest.