Jamaica is a beautiful tropical island in the Caribbean that's famous for its beaches, music, food and the warmth and energy of the people. Tourists flock to the shores of this tiny island in droves all through the year. Some are escaping cold countries to enjoy the all year warm weather and get a glimpse of the lush environment, while others are chasing the excitement that the famous reggae capital of the world offers. Whatever your reason for visiting, you're bound to enjoy your time with so many amazing things to do in Jamaica.
This post takes you on a journey throughout several cities of Jamaica for different types of adventure. Pick a couple things to do or do them all since you can travel around the whole island by car in less than a day.
Things to do in Jamaica – Montego Bay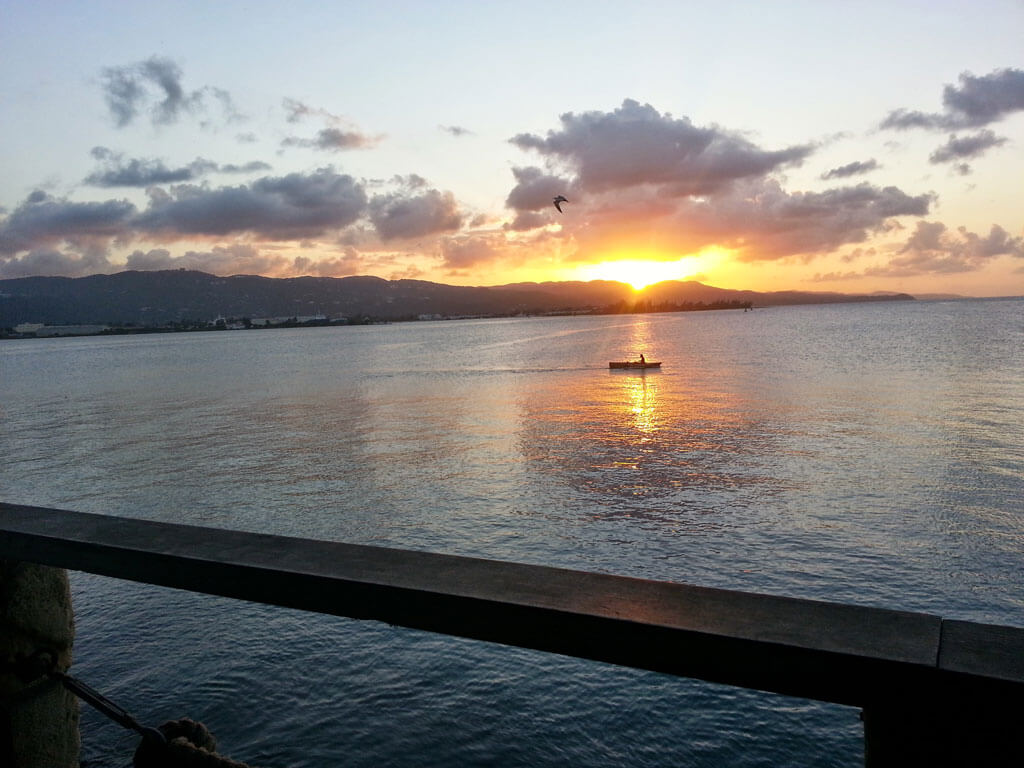 Montego Bay is where you'll likely land in Jamaica since that's where one of the island's two international airports is located and it's home to some of the best beaches on the island. If you're staying at a hotel on the coast, you will enjoy the warm and gentle turquoise waters with powdery white sand which is an absolute must thing to do in Jamaica.
Doctor's Cave Beach
If you're not at a beach hotel then head to Doctor's Cave Beach which is right on the hip strip in the heart of the town. There's a small fee to access the beach ($6 for adults, $3 for kids) and it's perfect for families with gentle shallow water that is crystal clear and one of my top picks for things to do in Jamaica.
Tour the White Witch of Rose Hall Greathouse
For a spooky thing to do in Jamaica, that's also an adventure, book a tour to visit the White Witch of Rose Hall. Annie Palmer, the lady of this former plantation greathouse, is buried on property and legend has it that she's been captured in pictures taken during the tours.
It's a fascinating story told by knowledgeable and friendly tour guides and the view from the guest house is splendid. Bring your smartphone or camera to try and capture her yourself and sip on the Witches Brew cocktail served in the greathouse dungeon that's been refashioned into a bar area.
Local Party Central
This is the best thing to do in Jamaica if you're a party goer. If you're looking for a good Jamaican party, visit Pier 1 on a Friday or Saturday night where Jamaican DJs get the party going into the wee hours of the morning.
This location is visited mostly by locals. It's in the heart of town making it likely to be close to your hotel and the party gets pumping at around 10 pm.
During the day, Pier 1 is a great location to eat like a local right on the water. If you go here for dinner you'll enjoy an amazing seaside sunset as your backdrop while enjoying a menu of local home-style dishes like jerk chicken, brown stewed fish, oxtails or curry goat – and let me tell you, eating is one of the best things to do in Jamaica for everyone!
Take a Tour!
Don't have alot of time to enjoy all the great things to do in Jamaica in Montego Bay? Then take a 6 hour tour including the Rich Man Hill Greathouse where you're rewarding with amazing views of Montego Baytown, go to the Iron Shore residential area where you get to see some local villas and homes, and last you stop at the Hip Strip where you can hit up the beach, shop, or go to Margaritaville.
Book your tour of Montego Bay here.
Negril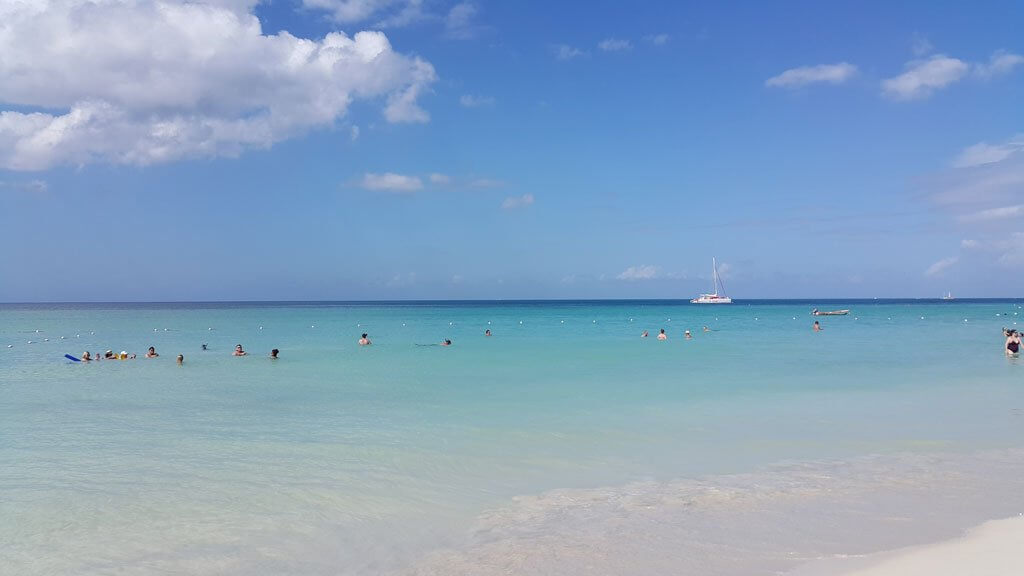 This town is about an hour's drive west of Montego Bay and boasts a seven-mile beach that faces the most amazing sunsets and is one of the most beautiful things to do in Jamaica. The beach here is also spectacular and full of culture. It's not uncommon to walk past a local beating drums and singing reggae music, a coconut stand to get fresh coconut water straight from the nut or a jewelry maker putting together stunning pieces for sale. Depending on the time of year that you visit Jamaica, the town of Negril can be party central or a sleepy little beach village.
Boating and Snorkeling
Book a glass bottom boat right on the beach that will take you out to enjoy some of the marine life and sea creatures just off shore. There's a tiny island a little out at sea called Booby Cay that's worth the short boat ride. The island is home to Fireman's Lobster Pit. They serve up fresh lobster and shrimp daily, done to your liking and you can snorkel in the water while waiting on your meal to be ready.
Cliff Diving
Rick's Cafe is a famous spot in Negril that can be a very touristy thing to do in Jamaica but worth the visit. Here, brave local divers perform trick dives into the depths of the emerald green water below. You can take the jump too if you're an adrenaline junkie. If not, order a Red Stripe Beer (the local brew) and wait on the sunset from this cliff bar. It will amaze you.
Take a Tour!
Not staying in Negril this trip? No sweat, you can book a 10-hour tour that stays in Negril until the sunset and experience this amazing spot in Jamaica and see why so many people love it. The tour includes pick up and drop off service at your hotel, stopping at Margaritaville, shopping at Times Square, and end at Rick's Cafe for sunset. Your guide will also give you the history of the area while you sit back and enjoy the ride.
You can book your sunset tour to Negril here.
Ocho Rios
Dunn's River Falls and Blue Hole
This hip little beach town is home to some of the more popular things to do in Jamaica. If you love water adventures, you'll love Ocho Rios. You can do the famous Dunn's River Falls which even though it can be crowded with tourists, is still worth the trip. Gentle falls cascade into the Caribbean sea below and you can climb these falls up to the top in about 30 – 45 minutes. Take your time though and enjoy the natural pools on each level of the falls. You can do it on your own or go with one of the tour guides, just be sure to wear water shoes to avoid slipping on the falls.
For a more local thing to do in Jamaica, that's worth the adventure is grabbing a taxi and head to Blue Hole. This is another waterfall a short ride away in St. Mary. It doesn't end in the sea like Dunn's River but the trade off is the colour of the water.
Aptly named, Blue Hole is a gem to see and offers an exciting adventure too with several natural pools, a couple spots with ropes for swinging off and jumping into the water and even a little natural slide taking you into a small cave under the waterfall. It's less touristy but can still get crowded depending on time of day since it is a local favourite.
Mystic Mountain
Continuing on the adrenaline junkie type of things to do in Jamaica, Mystic Mountain offers an amazing rustic bobsled ride through the mountainside and if that's not enough, you can zipline through the jungle too. You'll begin your adventure to Mystic Mountain on an air tram up to the top of the mountain which offers spectacular views of Ocho Rios and the coastline.
Margaritaville is party central in Ocho Rios. You can visit this sports bar chain to hear good music all through the day while lazing on the beach or bouncing off several large trampoline and jungle gym type floaties anchored just offshore.
At night, themed parties take over and DJs local and international get the crowd into a hype with the latest beats while drinks flow from the bar.
Take a Tour!
Visit Dunn's River Falls easily by taking a tour. Take the Dunn's River Falls tour with lunch plus a stop at Bob Marley's birthplace and final resting place. Your guide will give you a background about his life and you can shop at the store for any souvenirs. Stop at an included "jerk" lunch spot at Usain Bolt's Tracks and Records and end at Dunn's River Falls.
Book your Bob Marley and Dunn's River Falls tour here.
OR
Take the Ochos Rios Blue Hole, white water tubing, and Dunn's River Falls tour for the ultimate adventurer. You can plan this on your cruise ship stop as well! Go white river tubing for a quick adrenaline rush with a Red Stripe Beer, next you'll stop at the Blue Hole and last Dunn's River Falls where you can swing from vine to vine into the turquoise water surrounded by cascading falls.
Book your Ochos Rios Blue Hole, white water tubing, and Dunn's River Falls tour here.
Kingston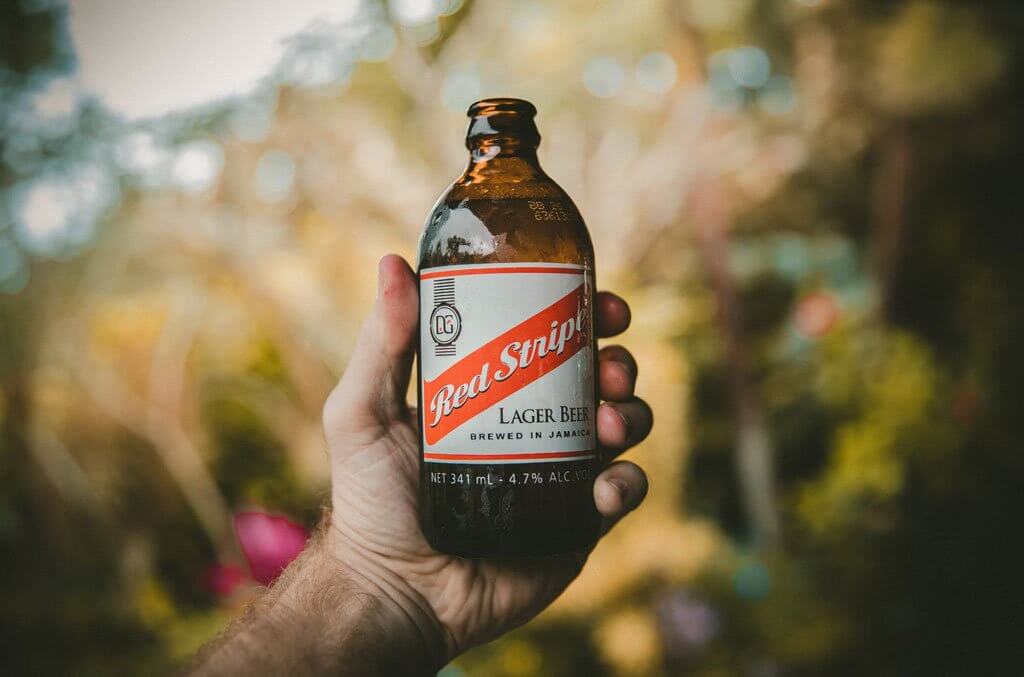 Kingston is Jamaica's capital city and it's rarely a stop on most visits to Jamaica unless you're in the island for work. It's definitely worth the trip however as there's so much to do and see here.
At the top of your list of things to do in Jamaica should be touring the Bob Marley museum. This is where the reggae superstar lived and recorded many of his legendary albums. The house has been kept in top notch shape and boasts many original items from the icon and his family. The tour is very entertaining while taking you through a timeline of his life and the grounds offer many picturesque backdrops to capture your memories.
Best Restaurants
The city boasts several gourmet restaurants serving up their unique spin on international cuisine from the Mediterranean, French, Italian, Greek, Indian and Japanese flair among other types of awesome eats. The courtyard at Marketplace offers up a fantastic selection of good food in a laid back atmosphere with the option to sit inside each restaurant or out in the open air.
One restaurant, sitting on top of the city in the world famous Blue Mountains (famous for top notch coffee) is Strawberry Hill. This restaurant is on the property of a luxury spa and boutique resort and offers up a little bit of pampering and indulging in rich local cuisine in the calm cool mountains. It is a favourite hideaway for city corporates to get away to a lush, peaceful surrounding without being too far from the city center and the wine selection here is world class.
Hiking in the Hills
Further up the mountainside, nature enthusiasts can take a hike up to Holywell Park, a national park abound with local fresh fruits and vegetation and several streams running through. The park offers log cabins for overnight stays, spots for outdoor camping and pagodas and fire pits for grilling or just keeping warm in the often foggy and chilly environment.
Reggae Parties and Clubbing
If you're looking for a place to jam out to reggae and dancehall music, you'll have lots to choose from in Kingston. Jamnesia, the local surfing spot, hosts a jam session with reggae artists a couple times per month. The jam sessions are complete with a bonfire on the sand, Rastafarians selling local herbs and an ital restaurant serving up some good stews.
There's a similar vibe in the hills, just ask anyone for the Dub Club schedule. Reggae artists like Protoje and Chronixx frequented these jam sessions back in their early days.
For a more hardcore party session, there's a street dance every night of the week in a different part of town and several nightclubs to choose from. Fiction is the reigning nightclub for the young and hip while Puls8, Escape and Susies offer open-air entertainment for a different vibe.
The wide variety of things to do in Jamaica satisfies the appetite of any nature, music or adventure lover visiting the island. Whether you're a traveling family, on a couples or girls/boys trip or heading out solo, you won't be out of options anytime soon for activities to do and things to eat and see.
Take a Tour!
Want to see the best of Kingston with a guide? Check out this all day Kingston City and Blue Mountain Tour. Stop at Devon House Mansions, the Bob Marley Museum, admire the collection of fine art at Decor VIII Jamaican Art Gallery, enjoy an included lunch at Cafe El Centro with one complimentary Red Stripe Beer, and end your day with a Blue Mountain coffee tour at the Craighton Estate Coffee Farm and Greathouse.
Book your Kingston City and Blue Mountain Tour here.
---
Have you ever been to this Caribbean island? What are your favourite things to do in Jamaica?
Author's Bio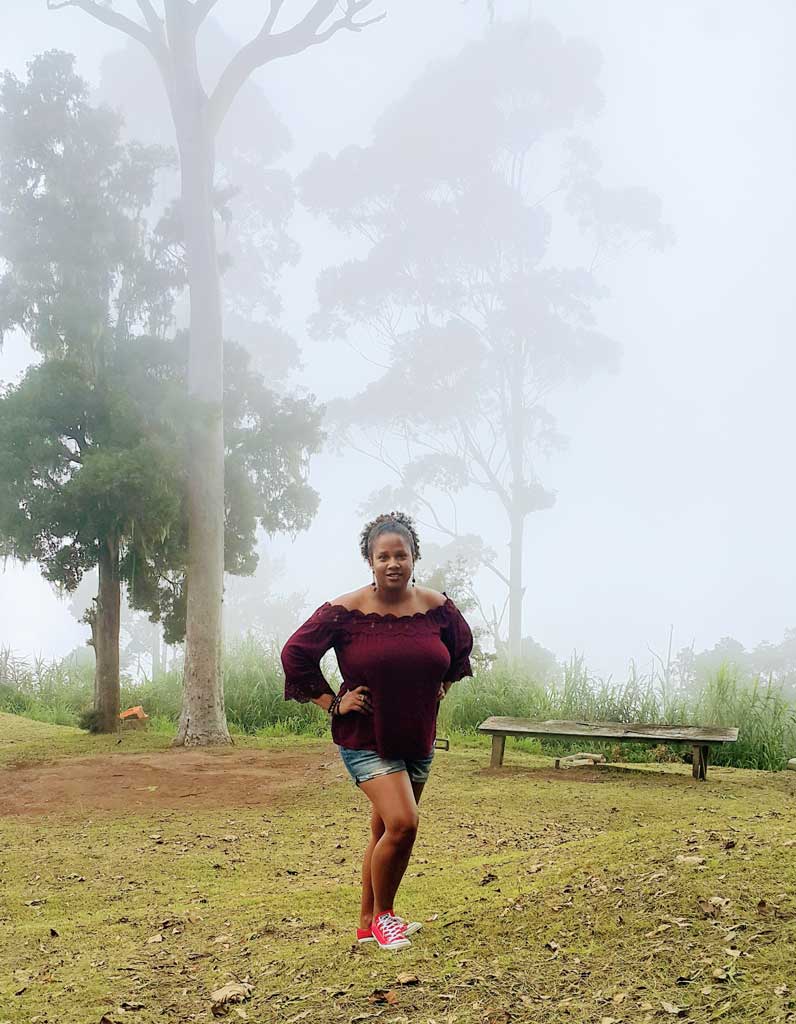 Monique Solomon is a Jamaican lifestyle blogger at Irie Diva where she shares the best of her island tropical paradise with her readers. She's into DIY beauty, fashion and personal development and shares her take on these topics over on her blog and social media channels as well. Follow along with her on any of the platforms below.
Disclaimer: By booking a tour through this article we receive a small commission of the sale at no extra cost to you and help keep our site up and running. We only recommend tours that we would take ourselves.
Liked these local tips on the best things to do in Jamaica? Bookmark it for later or share the love below on Pinterest!