Traveling as a couple is great, neither of us knows anything different, to be honest. When traveling abroad as a couple we find places that are more romantic than others. We tend to find tropical getaways to be the most romantic, perhaps its the entire marketing that goes around honeymoons and how they always end up in a tropical paradise somehow, whatever the reason we love a good paradise for couples. That's why we think the Thailand paradise Koh Samui should be your next romantic escape.
Check out our 5 reasons why we think Koh Samui should be your next romantic holiday.
1. There's plenty of room for adventure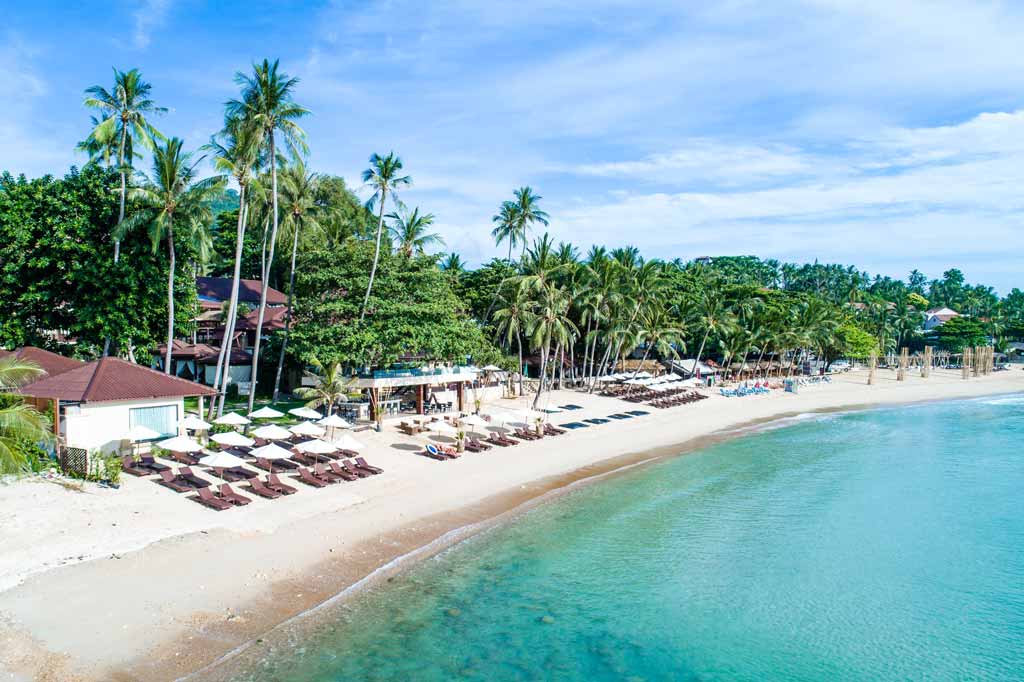 One awesome thing about Koh Samui for couples is that the island is relatively large, it's actually one Thailand's largest islands. One of the popular activities you can do is rent a motorbike and explore the island yourself. We did something similar in Koh Chang and it was one of the most memorable experiences we've had during our Thailand trip. By renting a motorbike you have access to secret beaches and hidden coves that are far removed from the touristy spots on the island. What's more romantic than having a beach or a cove all to yourselves?
What's not romantic is getting in a motorbike accident, if you're not an experienced on a motorbike make sure you just spend the extra money to rent a car. There's nothing sexy about road rash all over your body and plus most travel insurance doesn't cover motorbike accidents unless you have your motorcycle license back at home!
If all of that sounds too risky or difficult then no worries, you can still adventure by kayaking together since there is no shortage of amazing places to kayak.
2. There are amazing romantic resorts
There's nothing more romantic than a resort with a beach view. Another reason Koh Samui is an amazing romantic escape would be all of the amazing resorts on the island. We recommend Impiana Resort Chaweng Noi right on Chaweng Noi beach. Besides being one of the main beaches to stay on and being in the center of everything the island has to offer you can also have a romantic dinner right on the beach at their on-site restaurant, Sabai. Treat and pamper yourselves to a couples spa session and afterward make your way back to your cozy room with waterfront views. Surprise your significant other with a private candlelit dinner on the beach under the moonlight! You can even arrange a wedding here if you want the ultimate romantic destination wedding with your closest friends and family!
Check out Impiana Resort Chaweng Noi rates and availability here.
3. You can learn how to cook together
There's nothing sexier than a couple who cooks together. What a way to remember your romantic escape for years to come than to cook recipes you learned together on your holiday. Koh Samui offers a range of cooking classes that teach you many of the local dishes. Thai food is probably one of our favorite cuisines we've ever had and both of us had a blast when we took a cooking class together in Chiang Mai.
Taking a cooking class is the gift that keeps on giving and everytime you make your recipe back at home you can reminisce and relive your romantic holiday on Koh Samui through your taste buds.
4. You're surrounded by natural beauty
If you couldn't tell from the photos alone, Koh Samui is absolutely stunning and you're constantly surrounded by natural beauty. We recommend visiting Ang Thong Marine Park. Hire your own boat and guide to take you through the marine park stopping to snorkel, kayak, and checking out incredible viewpoints.
Besides the Marine Park, the beaches all around the island offer natural beauty some amazing less crowded beaches to enjoy include Mae Nam Beach and Lipa Noi.
Another amazing place to enjoy the natural beauty of Koh Samui is at the Hin Yai Rocks. These are incredible rock formations at the end of Hat Lamai beach and what some say resemble male and female genitalia. We'll leave this up to you and your creativity if you see the male and female body parts in the rocks. Regardless, you can understand why some might find this spot especially romantic for its natural beauty.
End each day by watching the sunsets. We found from our 45 day trip in Thailand that the islands here were some of the most stunning and colorful sunsets we've ever witnessed. There's something just absolutely magical about sunsets especially when you get to relax and enjoy them with your significant other.
5. You can chase waterfalls together
There's something about waterfalls that are so majestic and amazing to look at. Spend part of your romantic escape chasing down some of the several waterfalls scattered throughout the island. You'll probably want to do this on your motorbike adventure day as some of the islands are in the center of the island and scattered around. Some of the waterfalls require a trek so make sure you and your partner are both up for the challenge.
Some of the best waterfalls to check out on the island include Hin Lat Waterfall, the double falls at Na Mueang, Khao Yai, Lat Wanon, and the ziplining with Canopy Adventures at Secret Falls on Koh Samui.
Make sure before leaving you at least get one photo together in front of the waterfall as a couple!
Tip: Don't try chasing waterfalls during the dry season as you might be disappointed when you show up and the waterfall is more like a water stain rather than a raging waterfall. This happened to us when we were in Pai and found out the hard way!
The dry season is December – February.
---
There are plenty of reasons why Koh Samui is perfect for your next romantic escape from the natural beauty, endless adventures, and incredible resorts and spas right on the beach you can't beat the array of options to do here together as a couple for an unforgettable memory with your partner.
Have 4 days in Koh Samui? Check out this great 4 day itinerary by Every Steph.
Liked this post about 5 reasons why Koh Samui should be your next romantic escape? Bookmark for later or share the love below on Pinterest!