Where do we begin? We showed up to Potsdam, Germany not quite understanding what we were getting ourselves into. We knew it was going to be beautiful from the photos we had seen but we didn't realize HOW beautiful or how interested we would be with every aspect of our bicycle tour with our local guide Alexandra who is a history buff on the area.
We foolishly didn't leave any room in our itinerary for Germany this trip and keep kicking ourselves because we have been finding that we want to stick around longer in almost every place that we have already visited, the biggest one being Potsdam, Germany.
A four hour bicycle tour and another hour or so on our own isn't nearly enough time to scratch the surface of Potsdam, Germany. We aren't even going to pretend we know enough about this gorgeous area to put together a guide yet, maybe after another visit or two we would be knowledgeable enough to feel confident in trying to portray all the incredible stops and information you need to know on this area.
Instead, we are going to put together our favorite photos from this incredibly photogenic place full of palaces, parks, and history with the little tid bits of knowledge we did learn.
We HIGHLY recommend giving yourself a full day and perhaps a full second day to explore Potsdam, Germany for your first visit and Germany's largest UNESCO World Heritage site.
What makes Potsdam even more amazing is that it's easy to get to being only located on the outskirts of Berlin in Brandenburg accessible 30 minutes by train making it a perfect day trip from Berlin.
Palaces Galore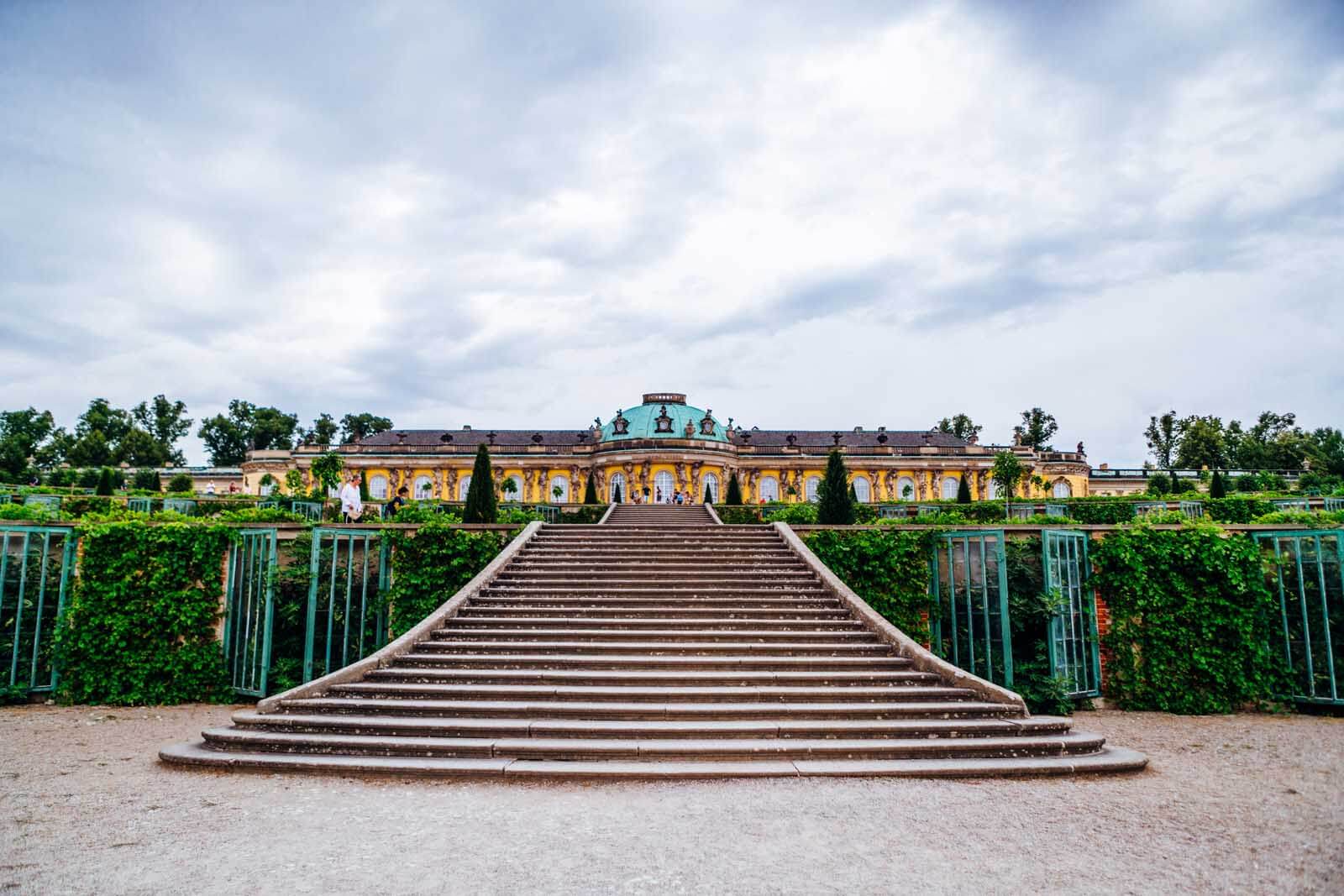 With 16 palaces you can imagine how opulent a city like Potsdam, Germany must be. Potsdam was the residence of the different Prussian Kings as well as the German Kaiser, each of which had their own impressive home. Potsdam, Germany was considered the capital of Prussia and eventually the capital of the German Empire during the 20th century.
Each palace is as unique and beautiful as the next with carefully planned gardens and parks surrounding each impressive home.
Riding our bikes through Potsdam it was just fascinating seeing one palace after another, palaces facing eachother, and palaces off in the near distance. No matter where you looked or where you were somewhere near multiple palaces.
Many of the palaces allow tours inside, those that don't still allow for visitors to enjoy the surrounding park views by foot.
The most famous palace to visit is Sanssouci Palace, the summer home of the Prussian Royal and German Imperial families. The layered gardens leading up to this gorgeous residence is one of the most popular spots photographed in Potsdam, Germany.
Plenty of Parks
With each of the 16 palaces come their very own unique parks that surround the property. The one that we explored the most was at Bablesberg Palace where the landscape felt a bit similar to something we had seen before. We found out that Count Pückler, whom we were introduced to during our trip to Cottbus was not only a count but a landscape architect who became known for his passion with his masterful gardens at his residence at Park Branitz in Cottbus, he was called upon at Babelsberg Palace to help with the landscaping.
If you have already been to Branitz like we have you may catch on to some of the similarities in the way he frames sceneries by planting trees a specific way. Pückler believed himself to be like a painter, but with nature.
There are parks and gardens for each of the palaces, another impressive and massive park is the Sansoucci Park, but we simply didn't have enough time to explore.
A Few of the Historical Points of Interest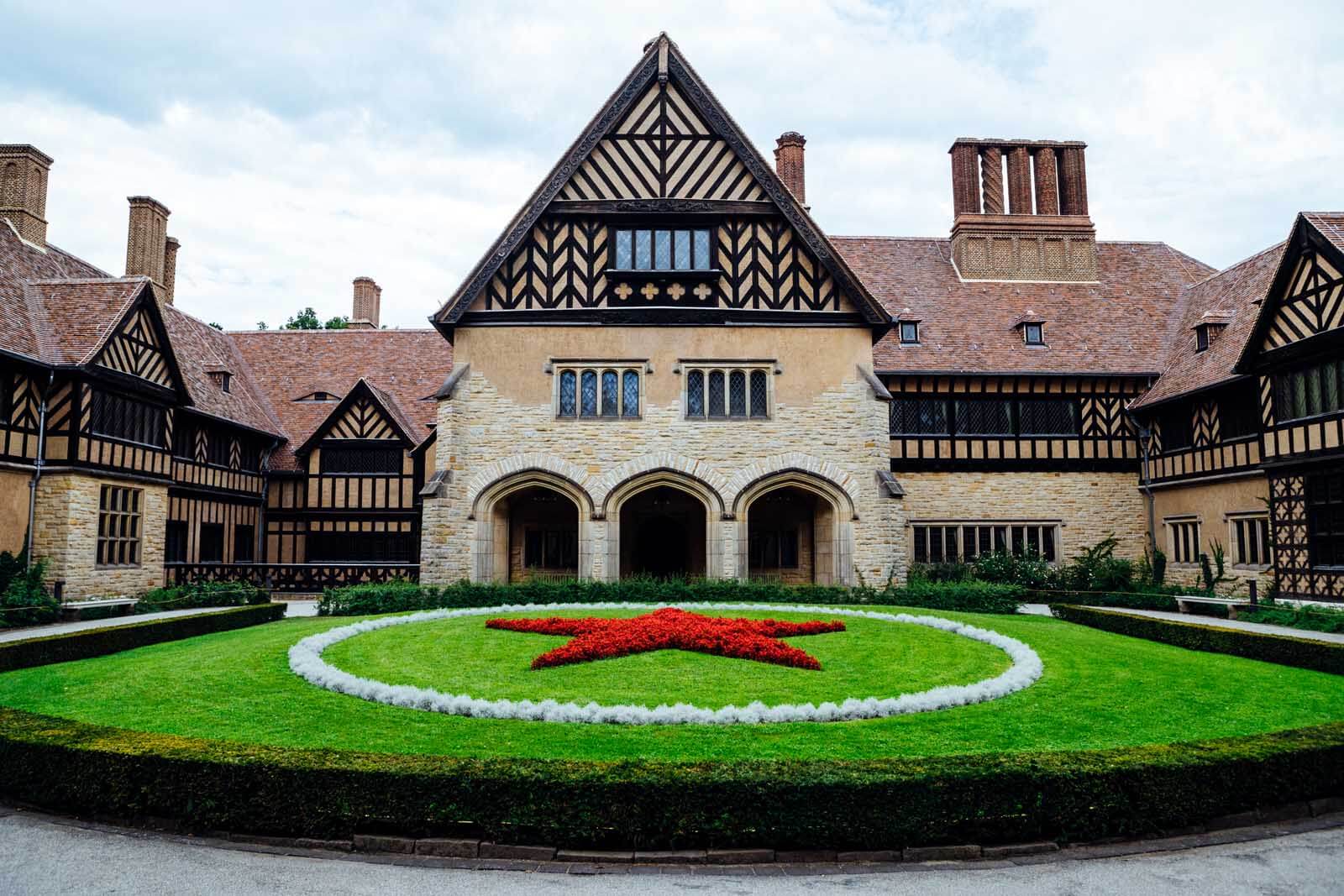 In no way are these the ONLY historical points of interest in Potsdam, Germany. The entire city is filled to the brim with historical points of interest, we are only highlighting a few that we found most interesting and that we happened to see during our bicycle tour around Potsdam.
When visiting the different palaces you can't help but notice the giant English Tudor style palace known as Cecilienhof. Besides being another home to another Prussian royal, this is where the famous Potsdam Conference took place in 1945, or as some know it as the, "Big Three," where the three heads of state of the USSR, USA, and UK all met to negotiate the ending terms of WWII.
The three heads of the time were Truman, Churchill, and Stalin. As you can imagine, this was a very notable moment in the history of WWII and there are many daily visitors who come here to tour the inside where this historical event took place.
Another interesting historical point of interest not far from Cecilienhof by bicycle is the old KGB headquarters and the KGB prison. The headquarters were located in an unassuming, elaborate pink building in the Military Town No. 7 on the edge of West Berlin with a not as nice, standout building next door that was the KGB prison until 1991.
This was the location of interrogation and torture to Soviet and German Nazi soldiers who committed some sort of war crime. Sort of a gruesome and dark place to visit, but there is a visitor center here and a tour that takes place, you can read all about it here.
The Famous Bridge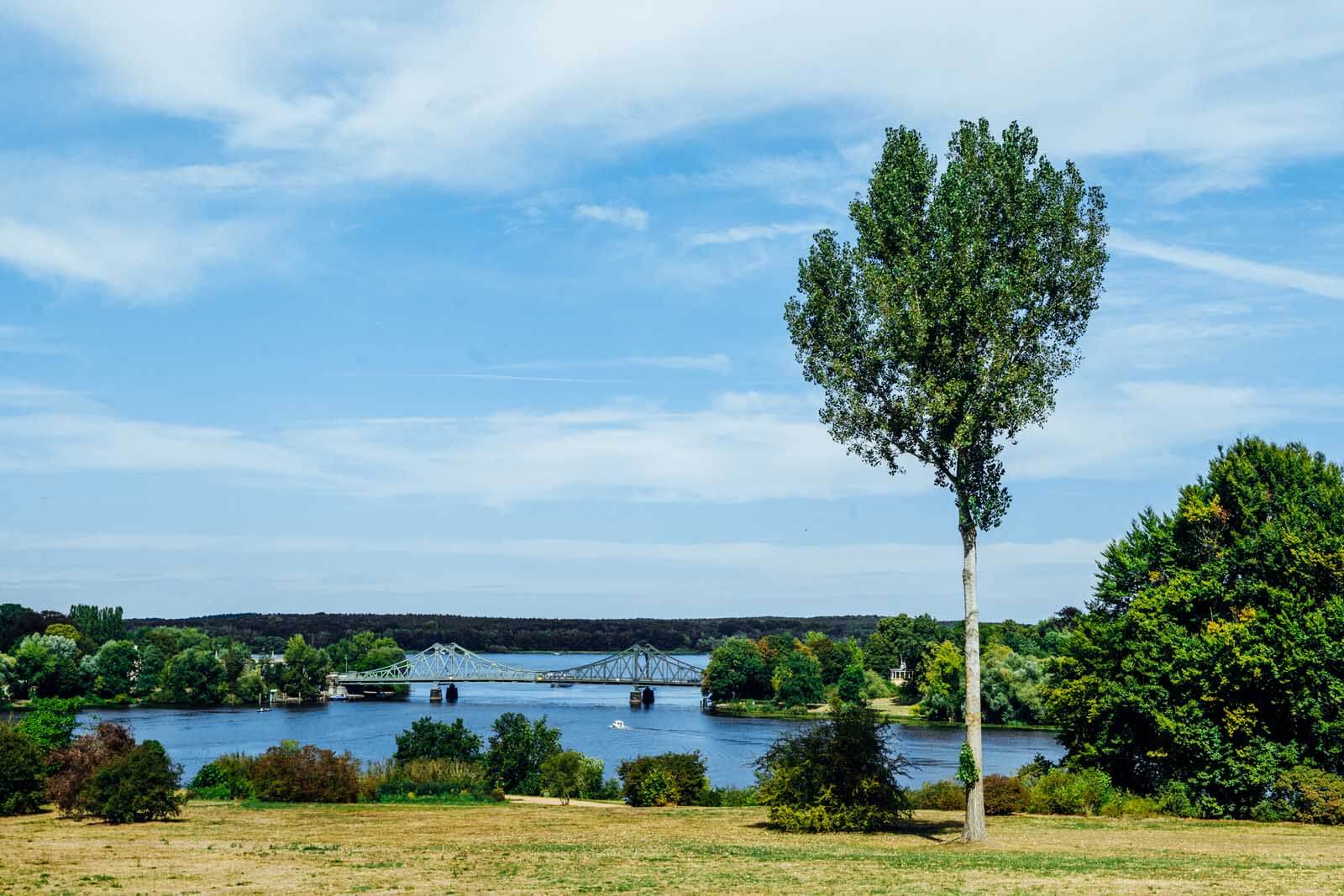 From the park of Babelsberg Palace is one of the most renowned historical landmarks of the Cold War, the Glienicke Bridge, also known as the Bridge of Spies was used during the Cold War to exchange spies.
Perhaps you've seen the Steven Speilberg movie, the "Bridge of Spies," if you haven't we highly recommend so as it was up for an Academy Award and Tom Hanks gives a spectacular performance.
Anyways, that famous bridge scene takes place here on the Gilenicke Bridge and was actually filmed here.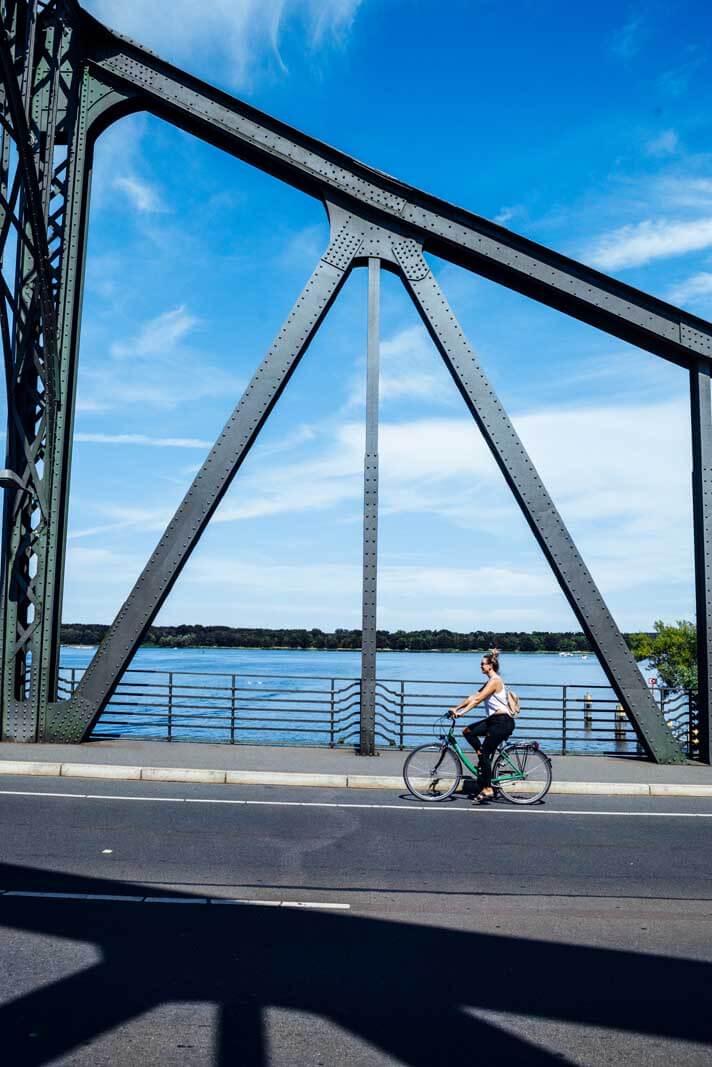 If you look closely the bridge is split in two colors right in the middle, there are a lighter green and darker green side of the bridge. The lighter green color is the Potsdam side of the bridge which was under the German Democratic Republic (or Eastern Germany) and the darker green side of the Bridge is considered West Berlin.
When you are physically standing on the center of the bridge there is a dividing line. Besides being a famous spot during the cold war this bridge is also a symbol of how complicated politics were during this period.
The Berlin Wall separating West Berlin and East Germany also used to run right through the water and the gardens of Babelsberg Palace.
The Dutch Quarter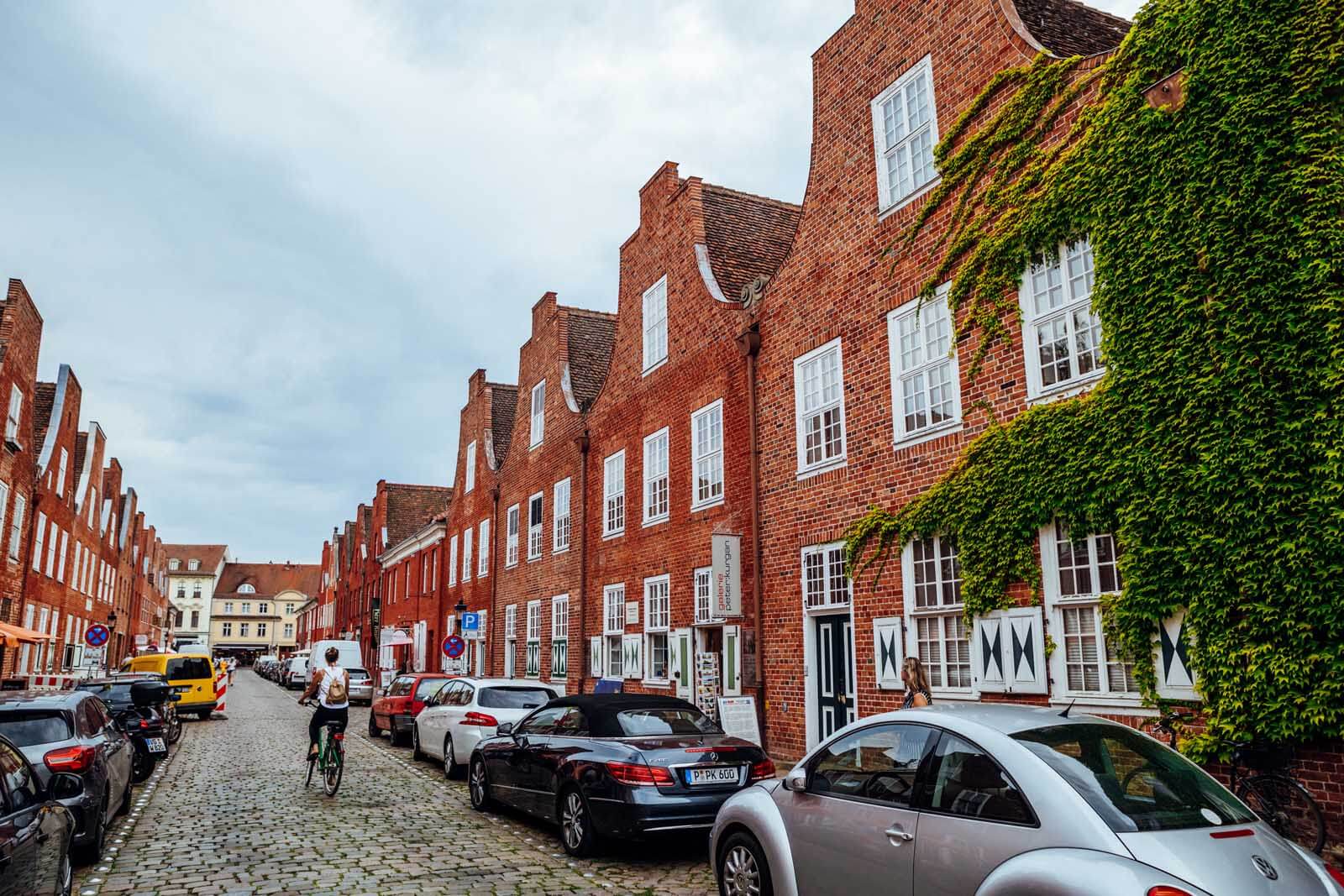 You can't miss one of the most picturesque spots in Potsdam, Germany's city center. The Dutch Quarter consists of two intersecting streets with gorgeous rows of red brick Dutch style buildings. Scattered among the Dutch buildings are cafes, shops, and restaurants. This area is too adorable not to check out.
In the two intersecting streets there are around 150 brick Dutch-style houses that were all built in the 18th century to be used by Dutch settlers invited to live and work in Potsdam. Our guide told us only about 30 or so settlers came, but this area is unique and beautiful and a popular spot for photos!
The Russian Quarter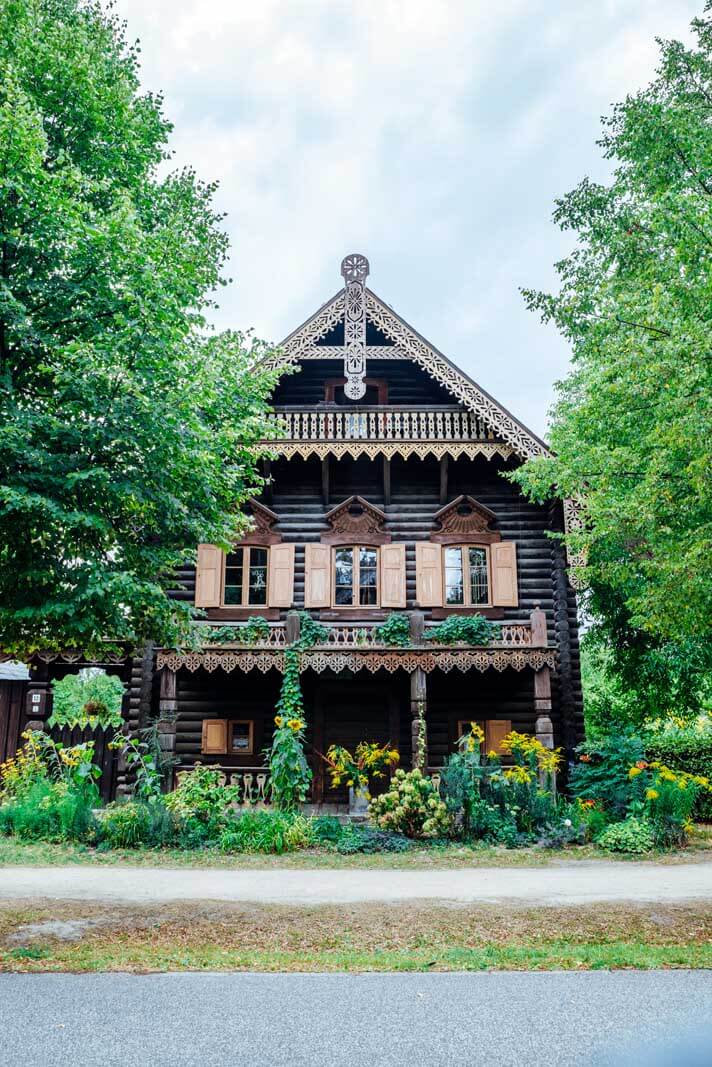 The Russian quarter, also known as Alexandrowka is another picturesque and unique spot to visit during your trip to Potsdam, Germany. The beautiful wooden homes make up the Russian enclave of the city for the small group of Russian immigrants in the 19th century that were a gift by Frederick William III to his close friend, the Russian Czar.
The Russian quarter feels like it's situated in its own park with plenty of space between the homes and is the perfect place to explore by foot or bicycle.
Old Market Square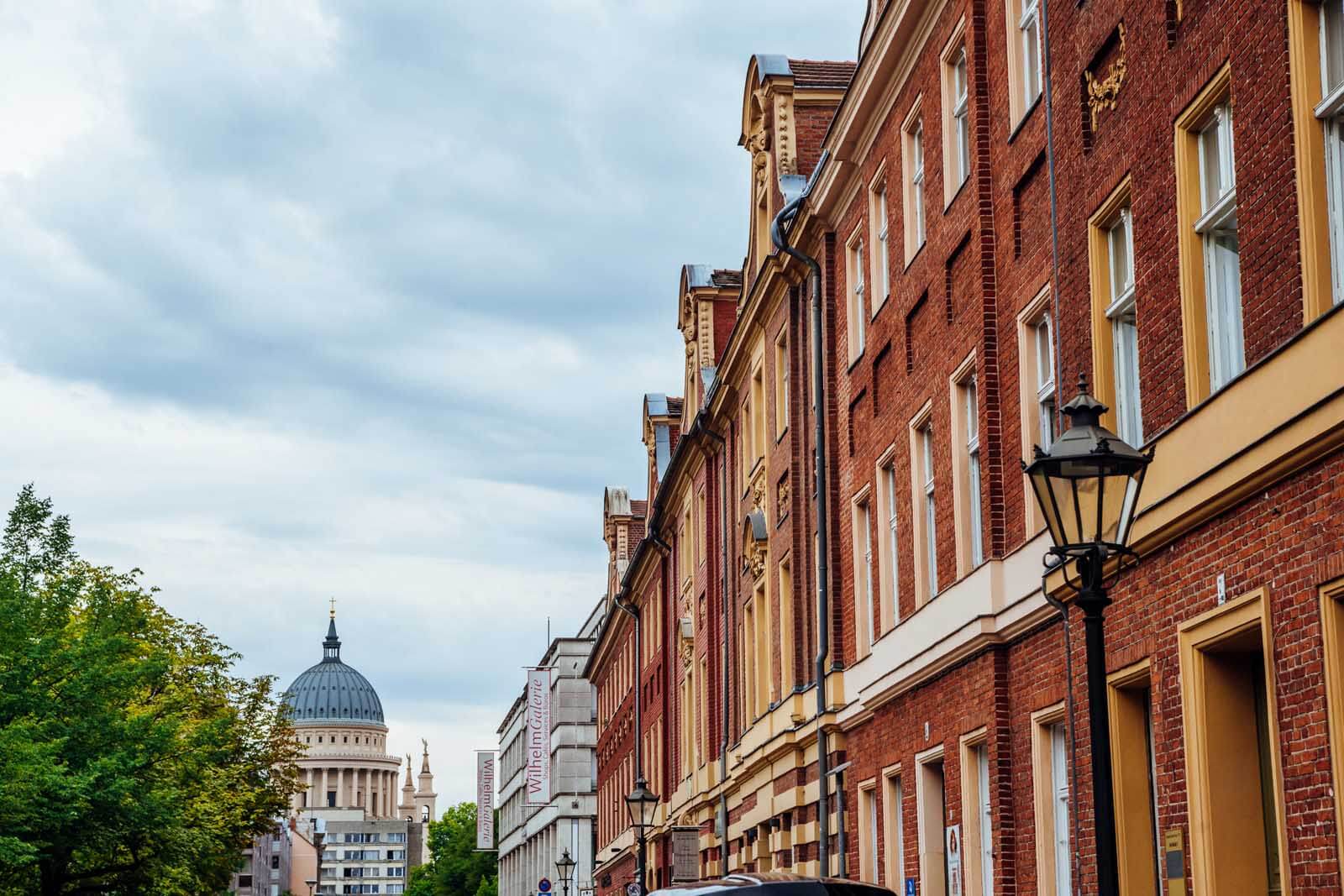 The historical city center or Alter Markt is another must see stop in Potsdam, Germany. Much of the original city center was destroyed and bombed during WWII, since then some of the monuments and historical buildings have been built upon so there is still incredible buildings to see here.
The most notable building in this part of Potsdam, Germany would be the unmissable turquoise dome of St. Nicholas Church.
Tours of Potsdam, Germany
In order to learn the history of Potsdam, Germany and see the most during your time we recommend seeing this area by tour or bike. We explored the area by bike using Pedales bicycle rentals right outside of the Potsdam Hauptbahnhof, aka Potsdam Central Station which comes with a free audio guide tour of the city using their app.
We also recommend the Hop on and Hop off tours through Potsdam since you can get on and off as you please and get transport around the city. This is a great way to explore the area.
Buy your Potsdam Hop on Hop off bus tickets in advance here.
Another fantastic way to see Potsdam, Germany is by boat. Potsdam is an actual island surrounded by water, as you'll see on your tour. One of the most scenic ways to see this historical and gorgeous area would be by water!
Buy your Potsdam boat tour tickets in advance here.
Getting to Potsdam, Germany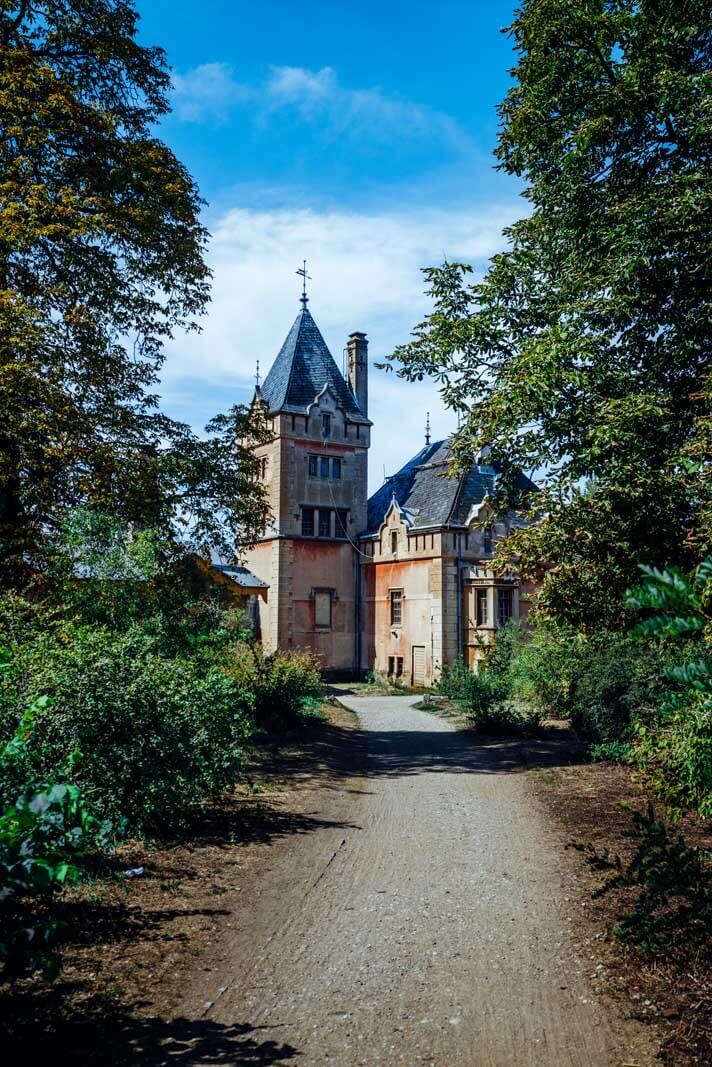 Getting to Potsdam, Germany couldn't be easier from Berlin. There are trains that run every 30 minutes and take 30 minutes from Berlin to Potsdam Hauptbahnhof, aka Potsdam Central Station.
You can buy an ABC zone train ticket for Berlin and it will work for Potsdam since it runs on line C for 6.80 Euro for the day!
The most common train routes from Berlin to Potsdam leave from Berlin Hauptbahnhof (central station), Alexanderplatz, and Berlin Zoologischer Garten Station.
Movies Filmed in Potsdam Germany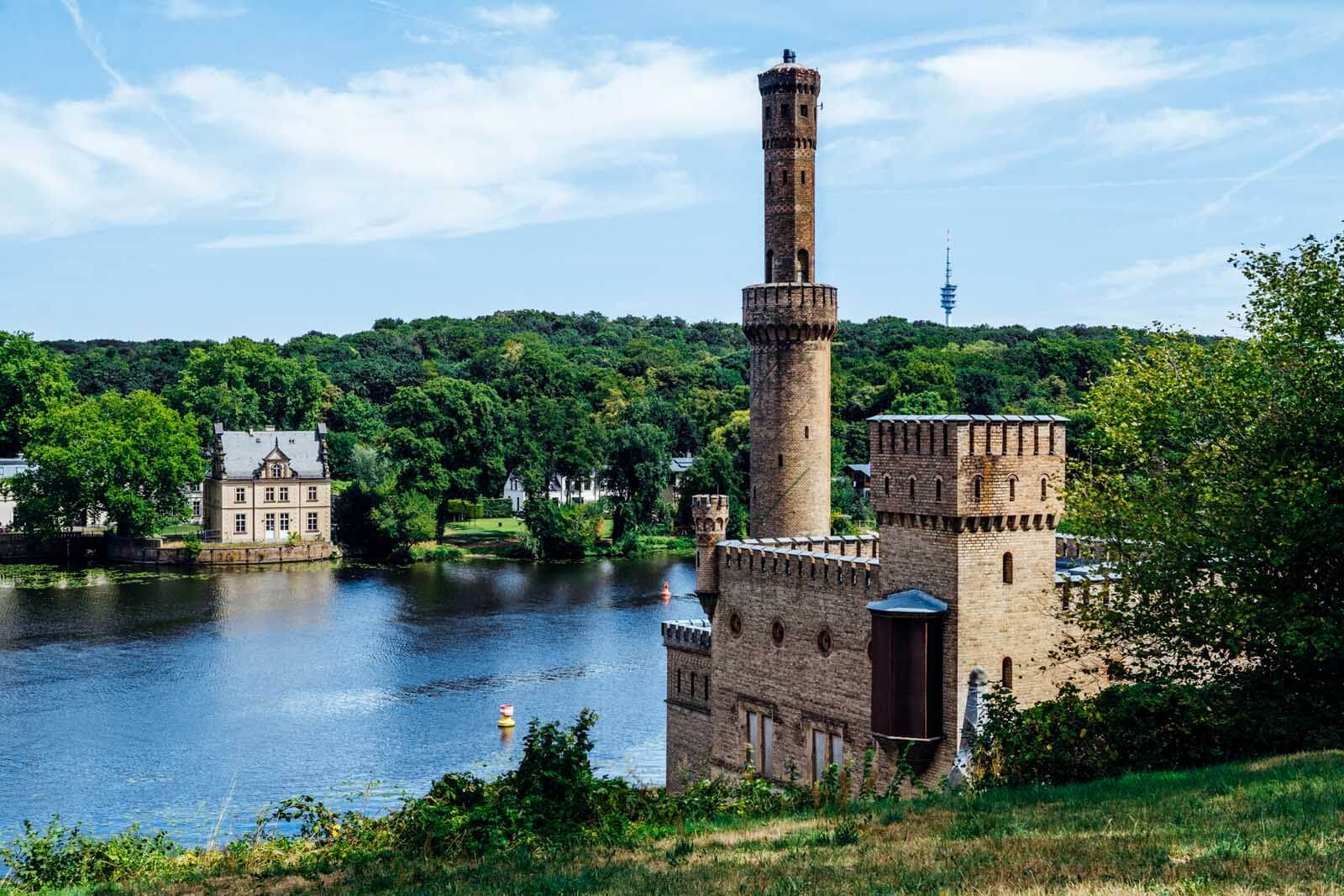 We found it incredibly interesting that some incredible movies have been filmed right here in Potsdam besides the Bridge of Spies. We learned that V for Vendetta was filmed here along with one of our favorite's from Wes Anderson, Grand Budapest Hotel and Inglorious Basterds The Bourne Ultimatum and Bourne Supremacy with Matt Damon were also shot and take place in Potsdam. Besides movies filming here because of their plotline, there is also the noteworthy Studio Babelsberg here, Germany's Hollywood.
---
There are plenty of amazing things to do in Potsdam, Germany we recommend spending more than a day. We didn't nearly have enough time and are already planning our next return for a more in depth visit. You will get lost in the history and architecture here. Make sure you don't make the same mistake as we did and give yourself time, better yet you can stay in Potsdam rather than travel to and from Berlin every day.
Where to Stay in Potsdam, Germany
We plan on staying in NH Potsdam on our next visit as it's a beautiful hotel for a great price and its located just steps away from the Dutch Quarter. We recommend checking out NH Potsdam for your trip as well.
Book Now | Compare Prices for Later | Read Trip Advisor Reviews
---
Disclaimer: This post contains affiliate links, by purchasing through these links we receive a small commission at no extra cost to you!
---
Liked this post about Potsdam, Germany? Bookmark for later or share the love below on Pinterest! Happy Travels!