A beautiful city in the heart of Brandenburg just an hour and half by train from Berlin was our first stop on our first visit in Germany. We had no idea that there would be so many incredible things to do in Cottbus that it would be love at first sight.
We were met by our guide for the next day and a half, Sven, to show us around Cottbus, Germany which would end up being a place we fell in love with at first sight. From the adorable town center, the rich history from centuries ago to the days of Eastern Germany, to the endless possibilities for amazing photos, we couldn't believe how lucky we were to kick start our first ever trip to Germany with such an amazing and interesting place.
We just love little European towns like this and after our tour last year in the Czech Republic where we hit one storybook village after another, we were really pleased to experience Cottbus, Germany where we would discover our first fairytale town in this country.
We were in good hands, accompanied by our English guide Sven, who showed us the local hospitality and was thrilled to share the beauty and history of his town with foreign strangers. He was rather curious as to why we would be traveling here as Cottbus, Germany is not often visited by foreign tourists. We told him how we love visiting the big cities but we love even more to find the small towns and cities around it that often get overlooked but have so much to offer.
What makes Cottbus, Germany especially interesting was that in just recent history this town was a part of Eastern Europe. You can see signs of the Iron Curtain all throughout the city as well as its effect on the locals who unlike Western Germany don't speak as much English yet all know Russian.
There are hints and clues of the not so long ago past which makes this place even more fascinating to learn about from the details of architecture to the friendly and kind people themselves with stories of a different time to tell.
After one and a half days we walked over 40,000 steps getting to know this German charm of a village. Check out all the amazing things to do in Cottbus Germany below that will hopefully make you consider visiting during your next trip to Berlin.
Things to do in Cottbus, Germany
Altmarkt

The town center is the heart of Cottbus and a place that you just can't forget, known as Altmarkt, or Old Market. There's something that feels so romantic about this town center, whether it's the colorful facades or the little restaurants with outdoor seating in the middle of it all, we felt something just being in the town center.
Admire and notice the different styles of architecture represented here from Baroque, Neo-baroque, Art Noveau, Classist, and modern architecture. You can see the centuries represented here just from the facades that together create this unique town center that we haven't seen anything else like anywhere else.
Apothecary Museum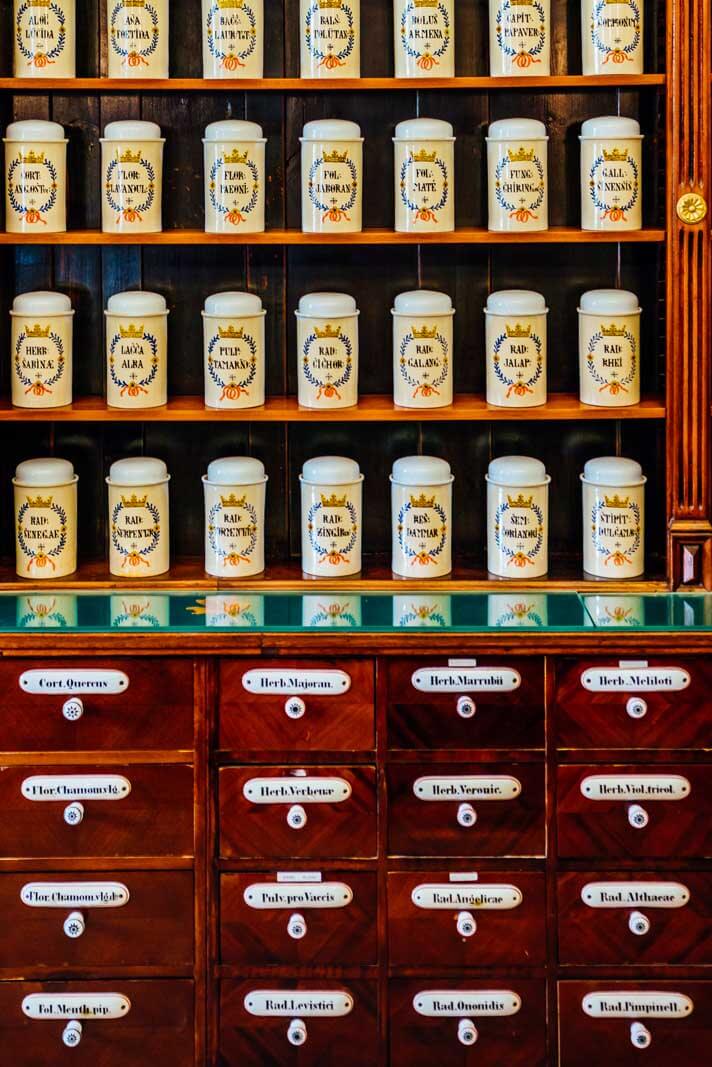 One of our favorite things to do in Cottbus, Germany may come as a surprise, it's the Apothecary Museum in the heart of the town center. The enthusiasm of the woman who was taking us through the museum rubbed off on us. We got lost in the history of this old pharmacy that is over 400 years old. The old jars and canisters on display still have items in them from herbs to bizarre ingredients they used back in the olden age to cure remedies.
We learned that the first cosmetics were sold in apothecaries and ladies red lipstick was made of blending crushed up lice, cactus, and carmine to make a crimson red lip stain.
Or that they used to crush up millipedes and honey to consume orally for kidneys.
These medieval remedies were astonishing to learn about and that the pharmacists used to hide in the back while they combined ingredients like blood, urine, sweat, plants, and unicorn hair (ok, I made that last one up but not the others) to create concoctions that were supposed to heal people.
This is when I was very grateful to be alive now rather than then. Then, she walked us through the garden where she grows herbs and poisonous plants that could kill you if you consume. Apparently, the Bella Donna plant was used to counteract nerve gas, works to counteract heroin, and women used to rub it in their eyes to dilate them to oblivious to look "pretty" for men even though they couldn't see for the three weeks it affected their eyes. Yikes.
Another incredibly interesting stop was the poison cabinet which was locked behind four sets of doors and where she pulled out the old prescriptions for poison to kill pests like rats that used to be shown and signed off by authorities in case there was any foul play.
The last stop was the Eastern Germany mock-up pharmacy. This was insanely interesting because this pharmacy smelled of strong medicine and looked to be older than something that existed in my lifetime. The bottles they used to keep medicine in didn't have a great seal, therefore the strong medicinal cough syrup smell was always noticeable. We found the smell to be overpowering and disturbing, but locals who are old enough to remember life in Eastern Germany days think the smell reminds them of home.
Last, we were able to peek inside the register that is full of old Eastern Germany currency. Obviously, this currency isn't in circulation today but it was interesting to be able to touch and see a currency that no longer exists.
We decided we could do a series of tours about old apothecaries and pharmacies as we found this to be completely fascinating and one of the best things to do in Cottbus, Germany.
Note: There is no English tour so you will want to hire Sven to be your translator, trust us, it's worth it!
Stroll the Streets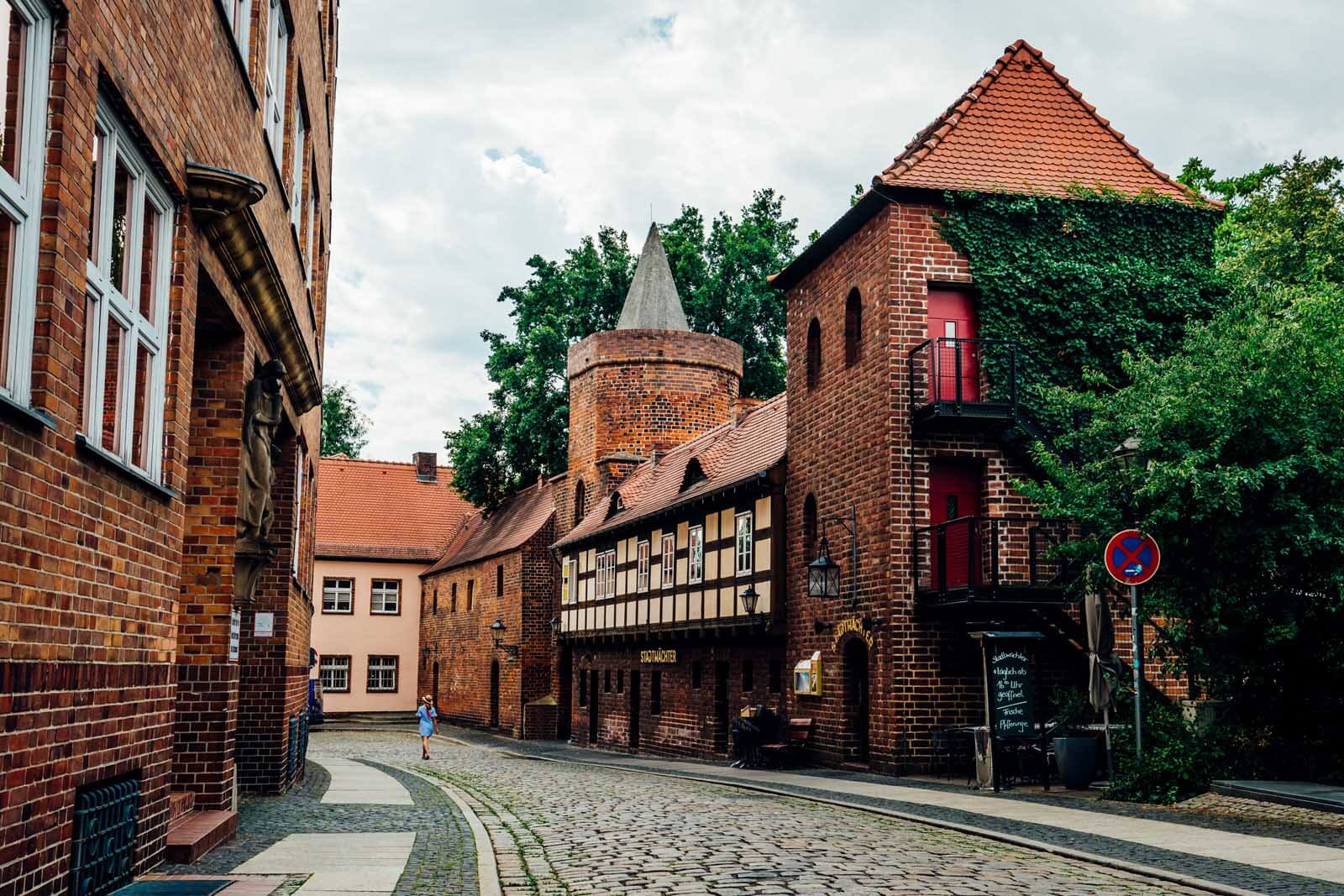 One of the best things to do in Cottbus, Germany is to weave your way aimlessly through the cobblestone streets lined with beautiful homes to communism era architecture. The blend of architecture here is a beauty of its own and there are little nooks and crannies of the city that just feel like they are peeled right out of the pages of a storybook.
One of our favorite areas of the city was a storybook setting where Wilhelmsmühle is. This area is a street of old German homes and a little canal with weeping willow trees and an electrical power plant and mill that give you all the feels. We spent a good 20 minutes here photographing this small section of Cottbus because we loved it so much. There are several little spots and stops like this throughout the city, you just have to keep strolling to find them.
Don't miss walking where what's left of the old fortification walls remain, the Coin Tower, and up to the castle clock tower.
Art Museum Cottbus
If you're a lover of the arts and especially love modern art than this is a great thing to do in Cottbus, Germany for you. Located next to the hydropower plant is the Modern Art Museum or Dieselkraftwerk. Give yourself time to take in this contemporary collection of fine art.
Staats Theater
Located a bit out of the town center but still, a walkable distance is the Staats Theater of Cottbus Germany or State Theater. The theater and the surrounding area is impressive as this is where the wealthy used to live and you can see it in the style of buildings that surround the late art nouveau style theater.
This theater build in the early 1900s made the locals proud because they completely funded it as sort of a gift to themselves. They felt an immense feeling of satisfaction since they funded and built their local place for entertainment and arts.
There are still multiple weekly performances held at the theater from music, dance, to theater going on all year except for a short summer break. It would be worth seeing what was on the program during your visit to Cottbus, Germany.
Visit the Churches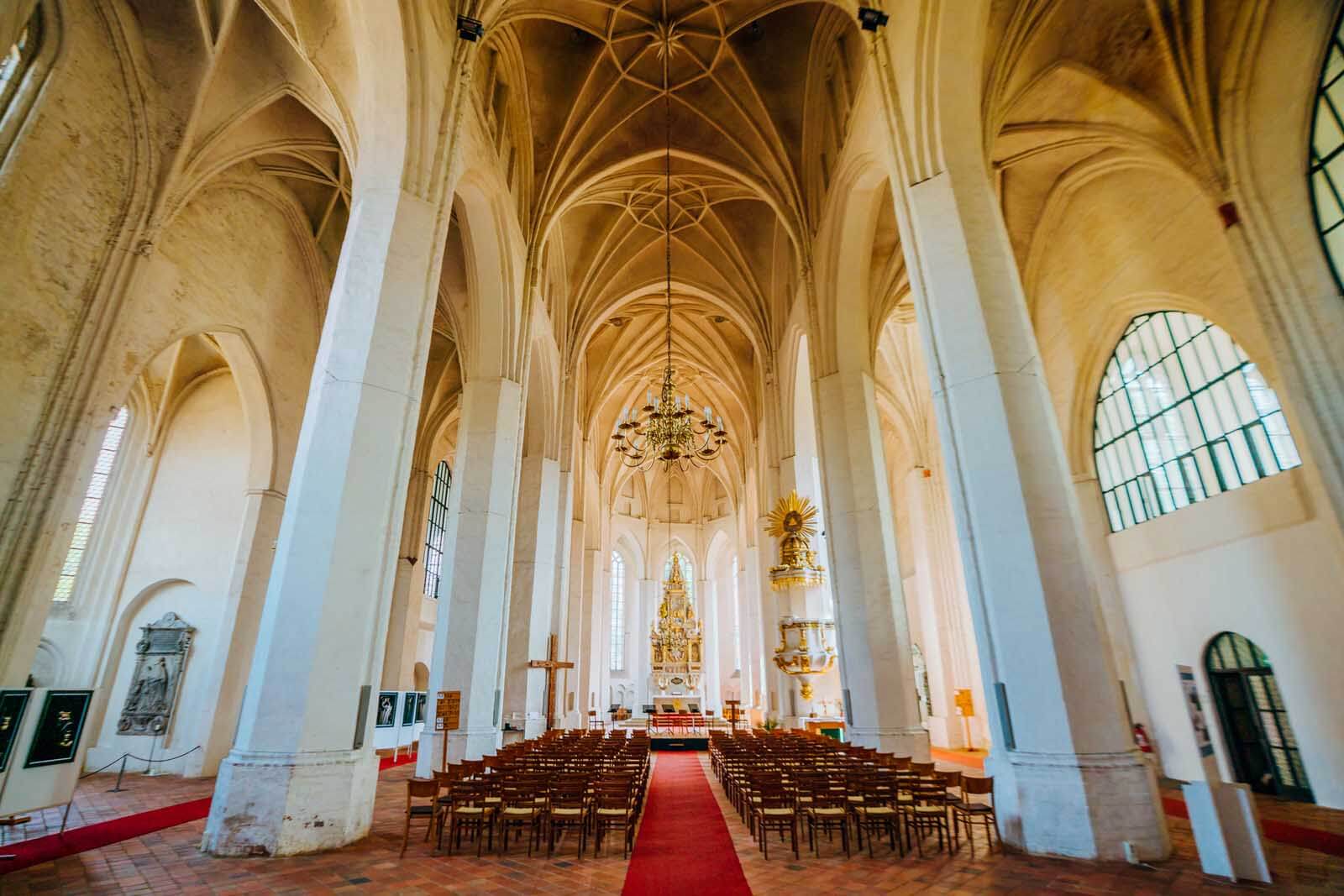 Another one of the greatest things to do in Cottbus, Germany is visit the churches. While neither of us are religious or spiritual ourselves we do find some of the most fascinating places to visit in our travels are places of worship and old European churches and cathedrals.
Be sure to visit Oberkirchplatz or the Church of St. Nikolai is the main cathedral in the city with Gothic architecture you won't find this cathedral to have much of its old detail. That's because the cathedral burnt down in an accident during the East German days and had to be repaired and much of the interior details were brought from other churches.
Walking in only takes a few minutes and it is worth checking it out to admire the gorgeous Gothic details even though you won't be seeing much of the historical remnants inside.
There's also the Schlosskirche Synagogue which from the outside does not look anything like a synagogue and that's mostly because it was once a Protestant church. The locals agreed that they didn't need so many churches and gave this location to the Jewish community to use a synagogue in 2015.
We found this to be very interesting to see two religions coexisting so peacefully in the same small vicinity of one another especially given the history towards the Jewish community in this region of the world.
Climb the Spremberg Tower for a Panoramic View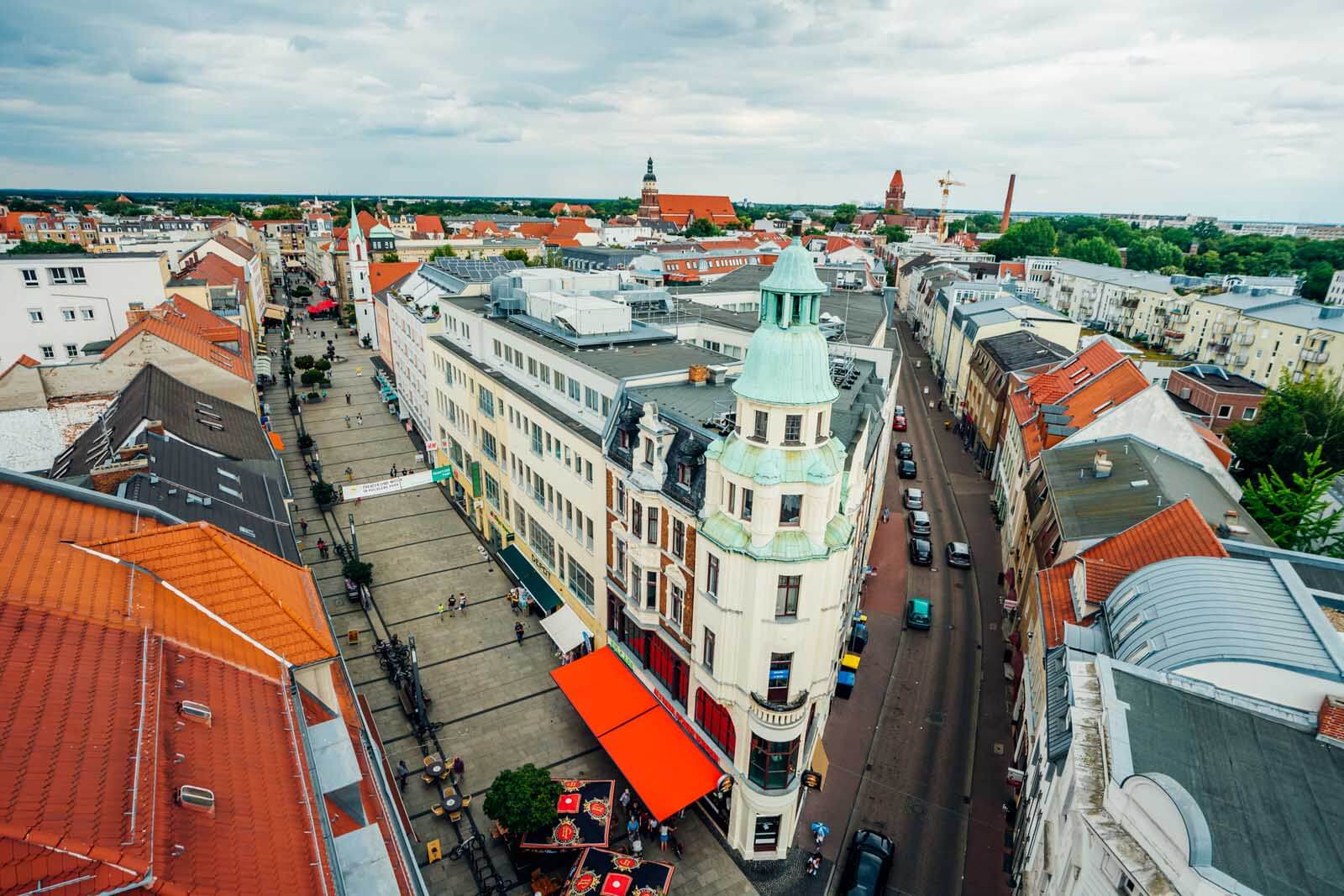 For 2 Euro you can enjoy one of the most incredible panoramic views of the city which is why this is one of our picks for best things to do in Cottbus, Germany. You'll earn your beer later by burning off calories climbing the stairs to the tower passing the intricate and working insides of the clock on the tower making your way all the way up to the 360 viewing platform.
View the town center all the way to the coal plants off in the distance miles away. The view is rewarding and so is the local beer you can have afterward since you burned off a few extra k cals.
Explore the History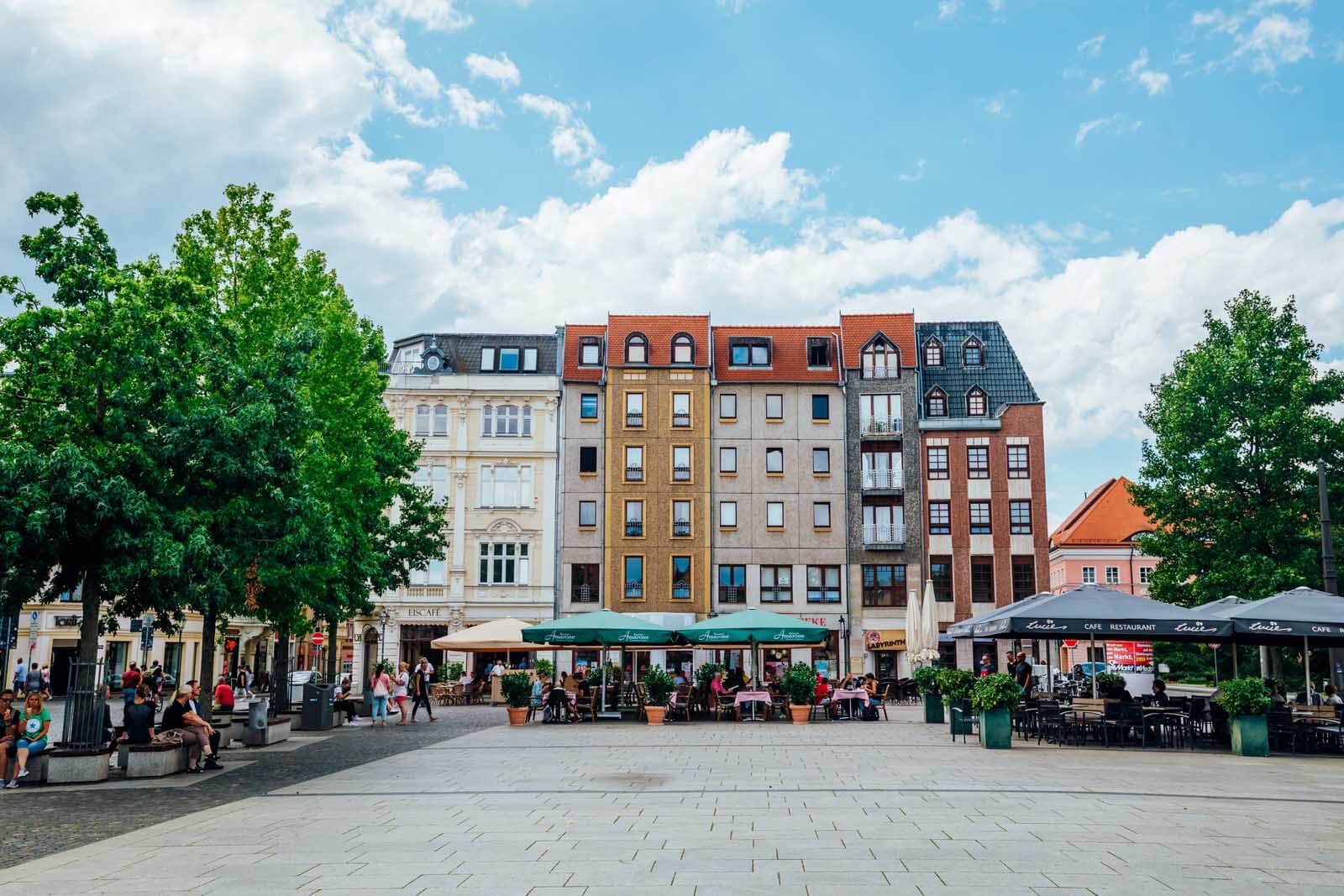 One of the most incredible things to do while in Cottbus Germany is explore and visibly see the history on the walls or facades throughout the city.
You will see architecture from centuries ago mixed in with GDR era architecture from the East Germany days. You can actually see the history which we found to be super fascinating once it was pointed out to us.
Even the town center has a mixture of architectural styles and together they create this beautiful and unique place that is rich in history, both older and newer.
Find the Postman for Good Luck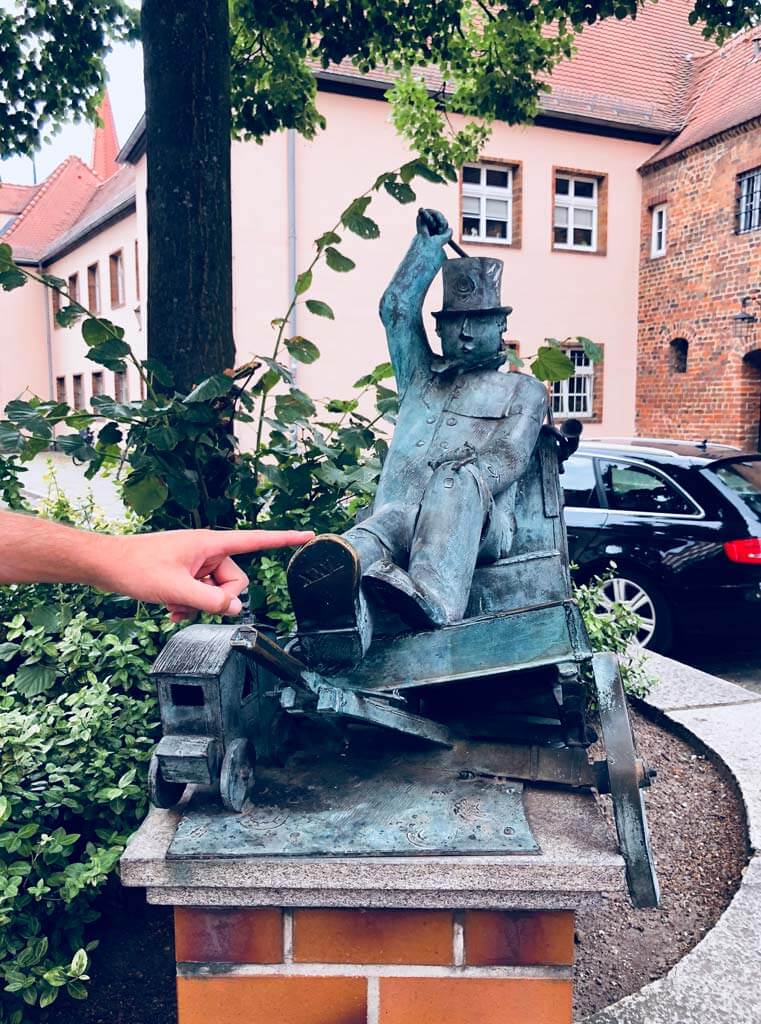 This best thing to do in Cottbus Germany is for the superstitious! You can't come to Cottbus Germany and not find the good luck tradition in the city. Located on a well you can't miss a statue of a postman who's wheel fell off his wagon.
If you look closely one of his shoes is rubbed smooth because this is where you rub or touch for good luck. Don't leave without getting your wee bit of luck!
Check out Park Branitz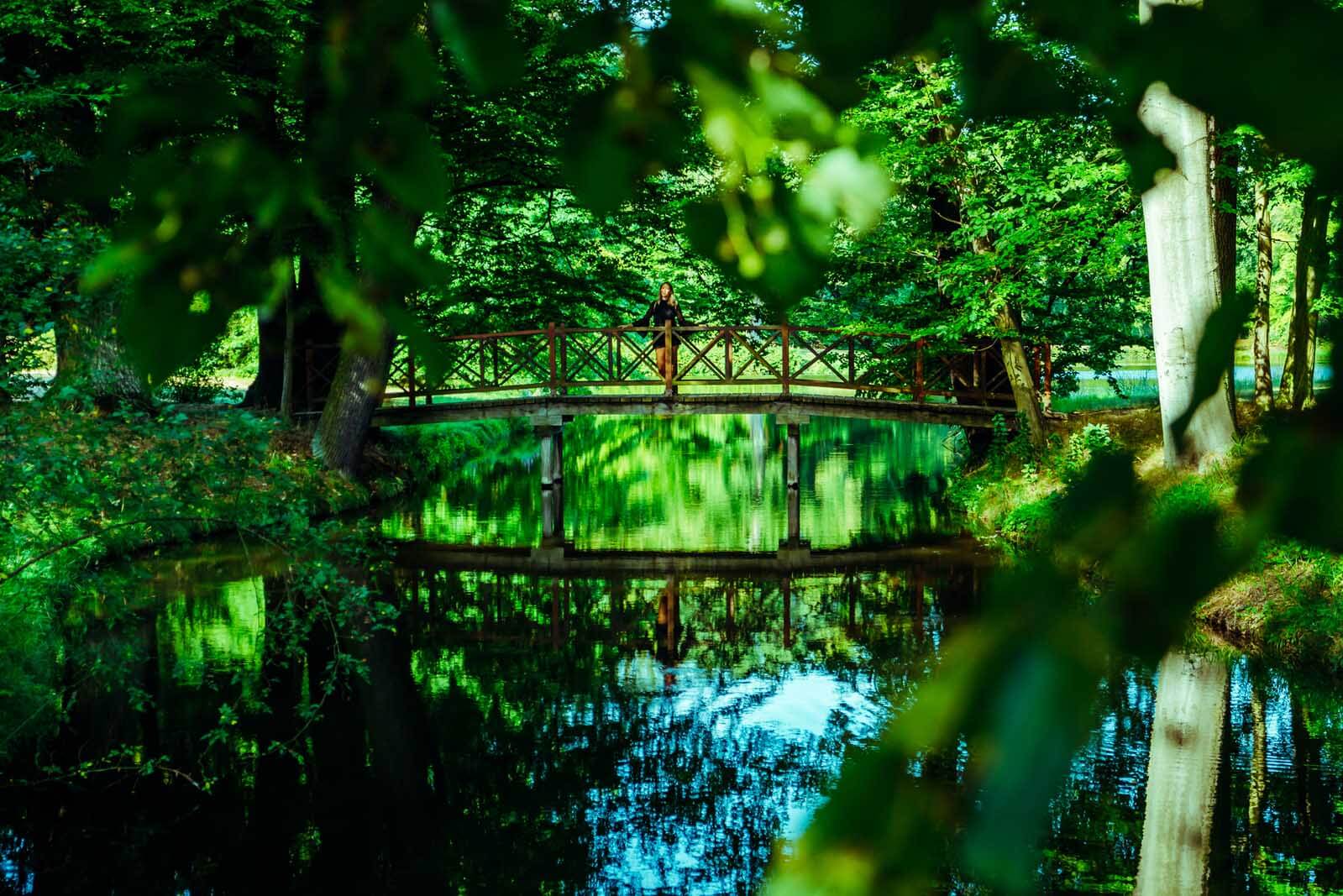 Park Branitz is one of the best things to do in Cottbus Germany if you're looking for a beautiful place to take a stroll among gardens and forest and if you're one who loves history and old castles.
Once home to a famous count near the city of Cottbus, Hermann Furst von Puckler designed this entire large space of land himself. A love of landscaping and parks shared with his wife, together they designed this treasure that is enjoyed by locals and visitors today.
Through Park Branitz you can enjoy wandering through the endless weaving trails leading from one scenic spot to another and even see the peculiar, yet beautiful, pyramids in the grass that were inspired from his trip to Egypt. The pyramid that is a stand-alone island is actually Count Pückler's tomb. You could easily enjoy this lovely park for an entire morning or afternoon with a packed lunch or snacks.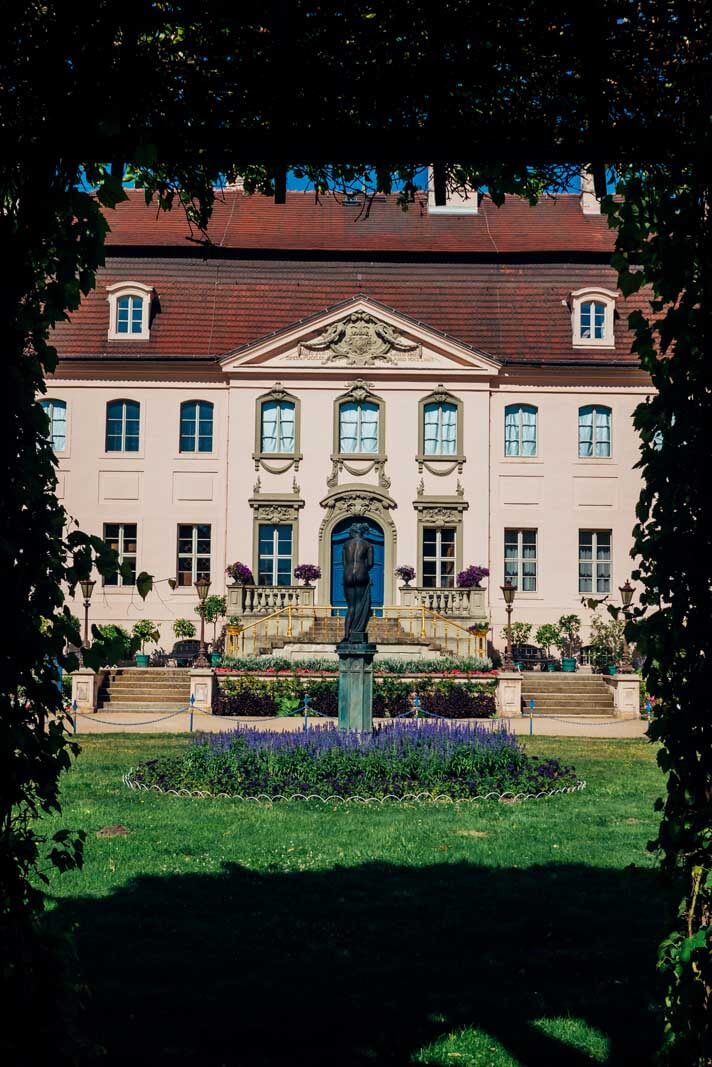 Afterwards, make your way to the impressive home of Count Pückler and his wife. Inside you can stroll through and admire the renovated rooms to Pückler's time.
Find the Lobsters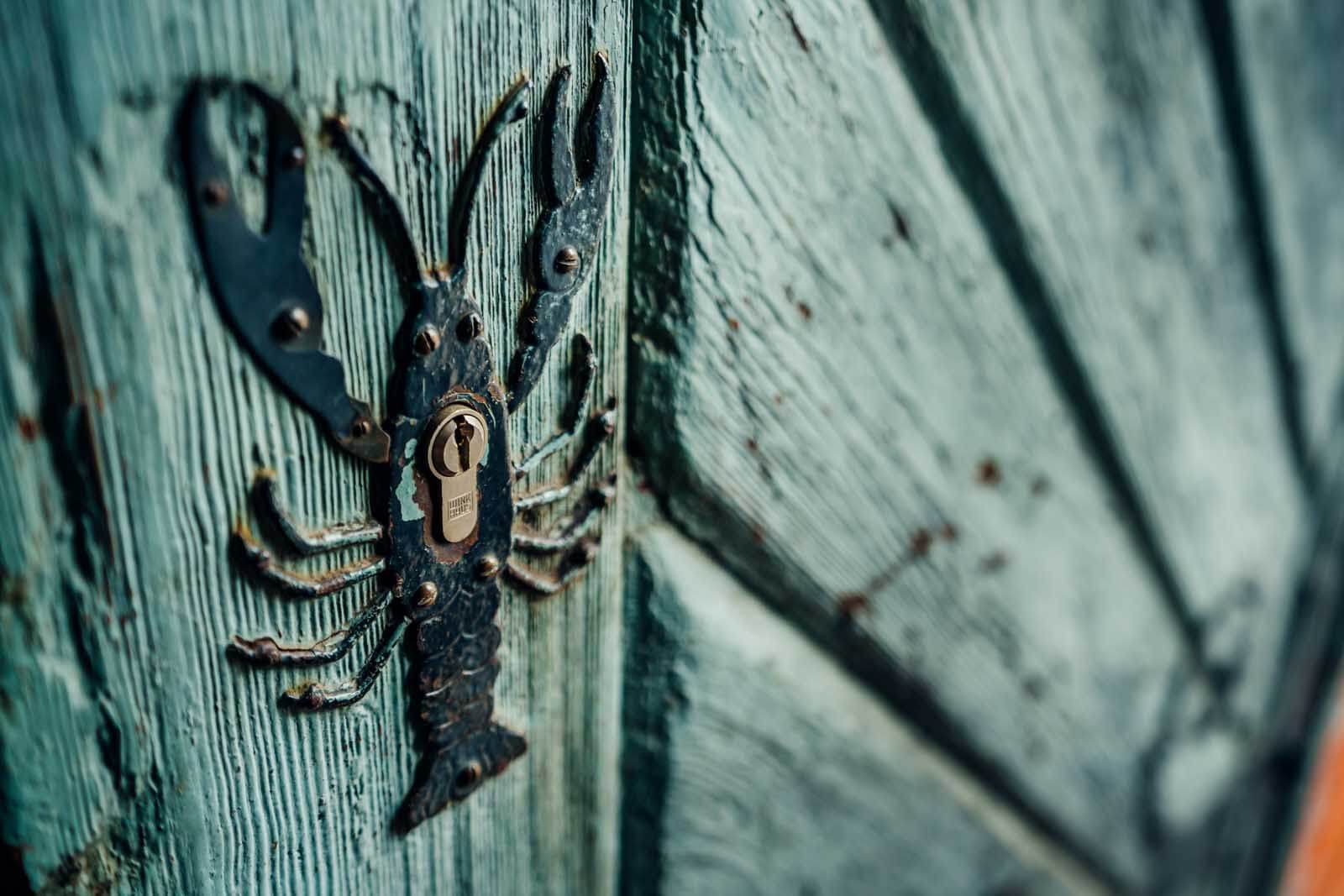 This is an unofficial thing to do in Cottbus, Germany that Scott and I came up with. We found it rather odd that there were lobster symbols around the city since there are no actual lobsters native or in the area.
We were told by Sven that the lobsters originated from one of the first count's from around 800 years ago who had a lobster on his shield as his coat of arms rather than the typical lion or other popular symbols. This lobster symbol stuck and you can see them hidden in plain sight all around the city, see how many you can spot! We found 62.
How to get to Cottbus Germany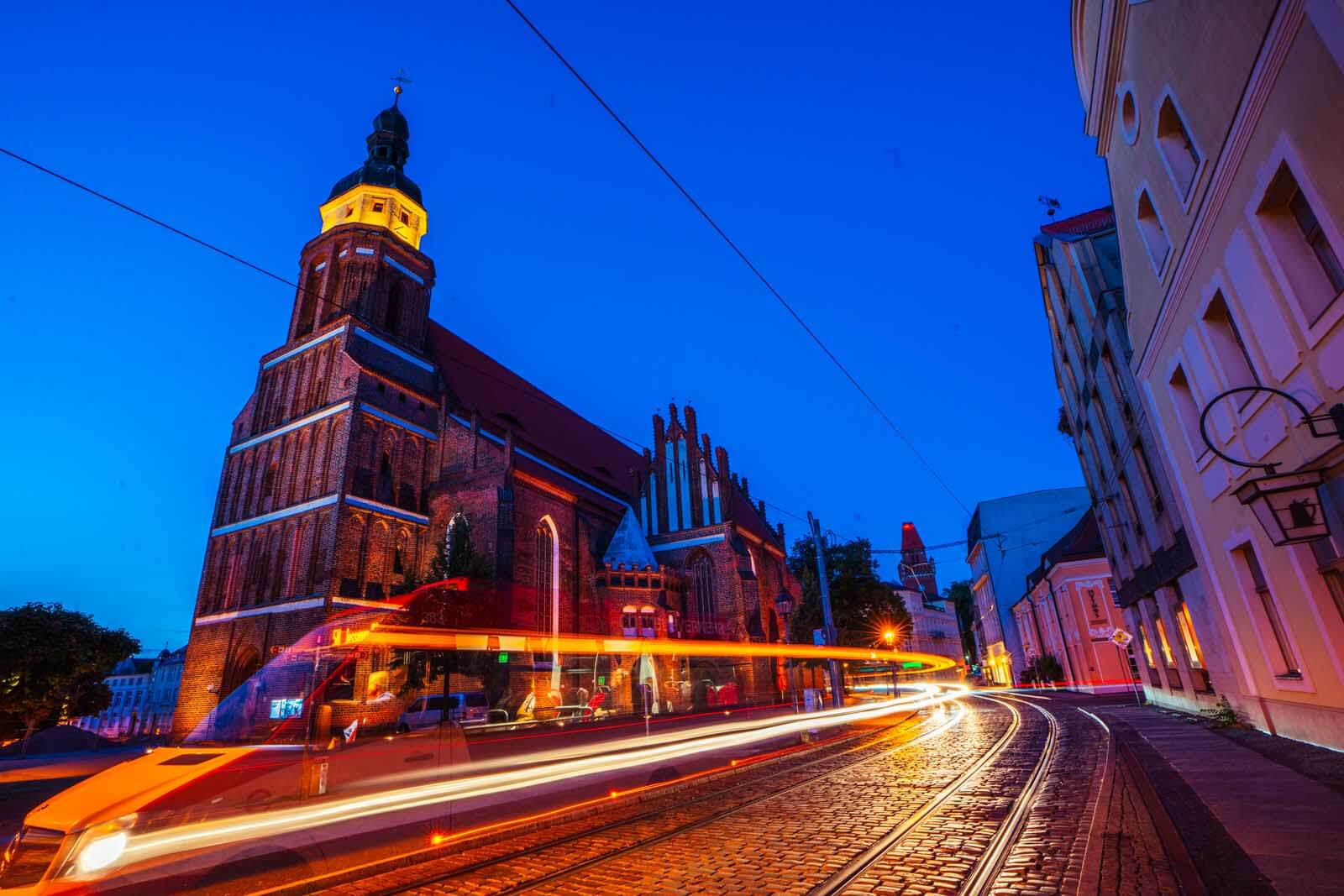 Getting to Cottbus Germany couldn't be any easier from Berlin and is why we recommend it as one of the best day trips from Berlin.
We recommend taking the train from Berlin Central Station, aka Berlin Hauptbahnhof. There are a few times available but we recommend getting an earlier train so you have more time to see all the best things to do in Cottbus Germany, we took the 8:35 train and arrived to Cottbus by 10 am.
To buy tickets you can use the machine if you're already familiar with the train systems in Berlin or if you're like us scratching your head then you can see an agent in the ticket information counter who will make sure you have the right tickets and if you ask will provide the correct platform number.
Cottbus Germany in English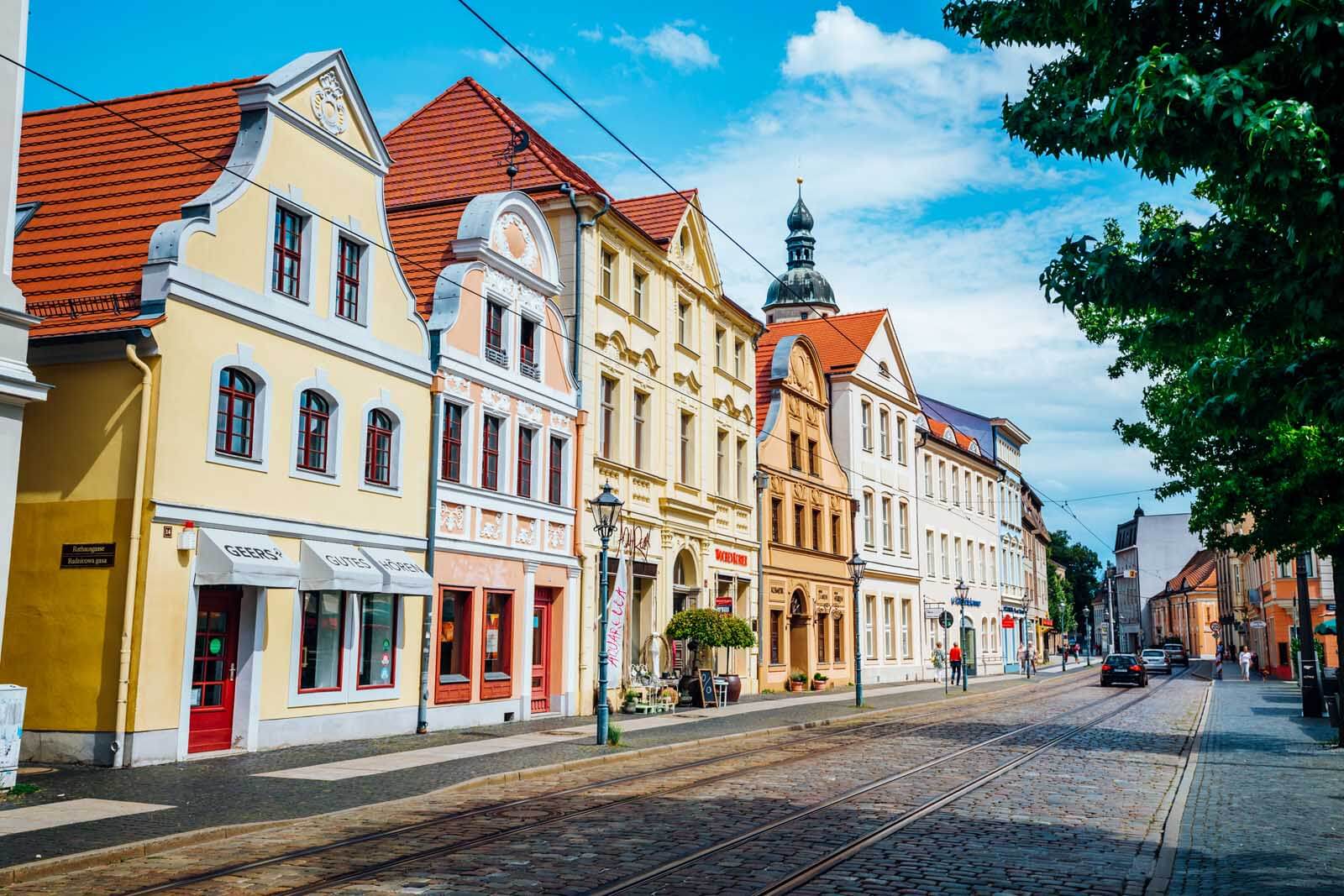 We highly recommend getting to learn about the best things to do in Cottbus Germany and the history of the city with our local guide, Sven. He does private tours that you can arrange in advance.
Before the fall of the Iron Curtain in the early 90s the people living in Eastern Germany were taught Russian for 10 years in school. Students were allowed to learn English for 5 years after their 10 years of Russian, but it had to be on their own.
During this time you didn't want to really be questioned as to why you would want to learn English so therefore many locals never learned English or their English speaking skills are minimal, this is all apart of the culture here and while it's not impossible to get around without having an English guide we highly recommend it so you can enjoy some of the best things to do in Cottbus, Germany like the Apothecary Museum which is not held in English, you will need a translator.
Contact Sven in advance, [email protected]
Where to Stay in Cottbus Germany
We recommend staying at the hotel we spent the night in, Lindner Congress Hotel right next to the city hall and just a 5-minute walk to city center. This hotel not only had a great breakfast included but cozy rooms with incredible views of the city. Ours provided a panoramic view of the town center and landscape beyond.
Book Now | Compare Prices for Later | Read Trip Advisor Reviews
---
Liked this post about all the incredible things to do in Cottbus, Germany? Bookmark for later or share the love below on Pinterest.