Utah somehow won the National Park lottery. Did you see it on the news? It's all because of the rocks running deep in the earth that have been slowly, but surely, exposed to us in wonderful and creative forms.
Not counting the National Monuments like Grand Staircase Escalante, they have  Arches, Canyonlands, Capitol Reef, Zion and Bryce! And today I want to give you the lowdown on Bryce Canyon National Park. The things you can see and do there. And how best to cover it all.
Are you ready for the ride of your life?
Spending Time In Bryce Canyon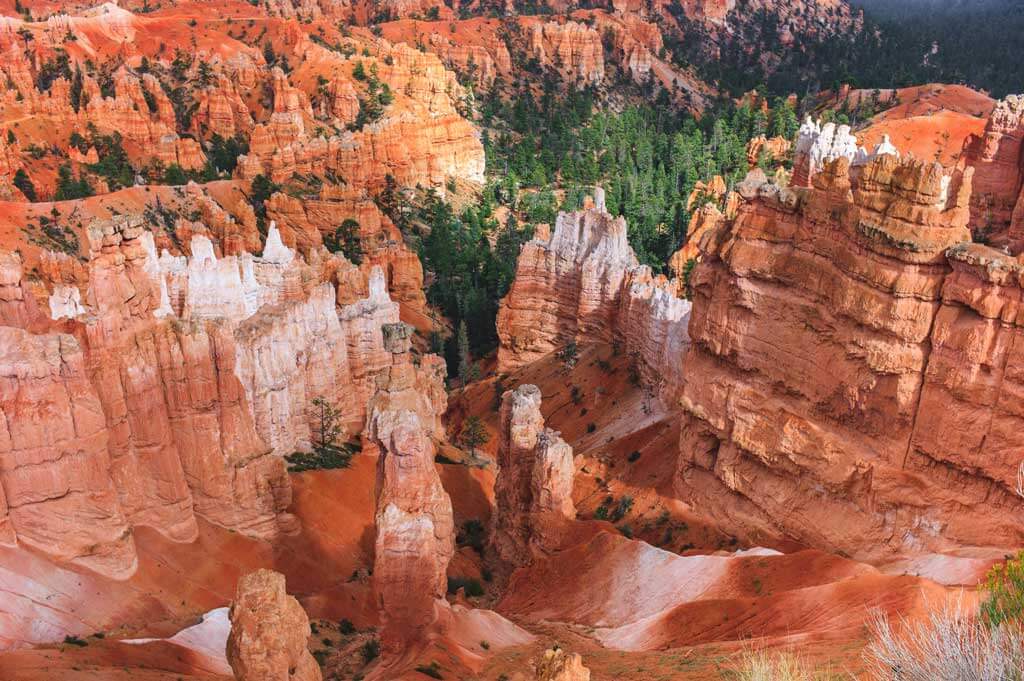 Bryce Canyon is actually one of the smallest National Parks in Utah. So, if you are really pressed for time, you can see most of the highlights in one day.
I would do the full scenic drive to the end first. Then I would selectively visit some of the stops along the way back, focusing on the main canyon with the viewpoints I mention below.
Then, if you have a bit more time, throw in a short hike or two, they usually go down from one of the viewpoints.
If you have another day to spend, you could do a longer hike, say along the rim or further into the canyon. Or, you can enjoy one of the other activities on offer in the surrounding area.
The following is a breakdown of all these options in an easy to digest form…
Viewpoints & Scenic Drive
Some of the most stunning things to see at Bryce Canyon are the views. The road through the park is located at the highest level in the park, so this means views are everywhere you go. You get to see all the beautiful rock formations and colors, in all their glory, without (almost) ever having to leave your car.
I recommend you visit them all. First, because they each offer you a different view of this stunning series of rock formations. Second, depending on the time of day, some are significantly better to see than others.
Sunrise Point
Starting with the beginning of the day. Sunrise.
I know, I am not an early riser either. But, if you are, or can at least manage to get yourself out of bed, I swear it's worth it. Sunrise over the canyon can be one of the from awe-inspiring and quietest times of day.
And, Sunrise Point is designed to take advantage of just that, with this part of the canyon looking its very best at sunrise.
Sunset Point
Perhaps a little easier to stay up for is Sunset Point. The viewpoint here is pointing in a different direction to again take advantage of the sun when it sets. If you can time your day to make it here for sunrise, then all the better.
Just be sure to be there at least 30-45 minutes before the scheduled sunset so that you still get to see the sun and the light before it goes below the horizon.
Inspiration Point & Bryce Point
These two are again quite similar, but different enough to make a trip to. I would space these visits out with a hike or other activity so you don't get "viewpoint fatigue". The canyon is at first stunning, then slowly as you see more and more views, you will no longer be as "wowed" (that is human nature I'm afraid).
Bryce Point is the further along the road of all, so, if you are going to skip one, this might be it.
Note: For those wanting a bit of a walk, there is also the option to walk along the canyon rim between these two points.
The Drive
The road leading through the National Park is the perfect way to lead you through all of these viewpoints, so if you want to do them all in one go, it's the perfect option.
The full 17-mile drive also takes you a little further than the above 4 (main) viewpoints. You also get to see Natural Arch, which is a cool sight, especially if you haven't yet been to Arches National Park.
There are further viewpoints and canyons you can visit and do some short hikes at towards the end like at Swamp Canyon or Rainbow Point.  However, I will give you more tips on the hikes you can do next.
Hikes in Bryce Canyon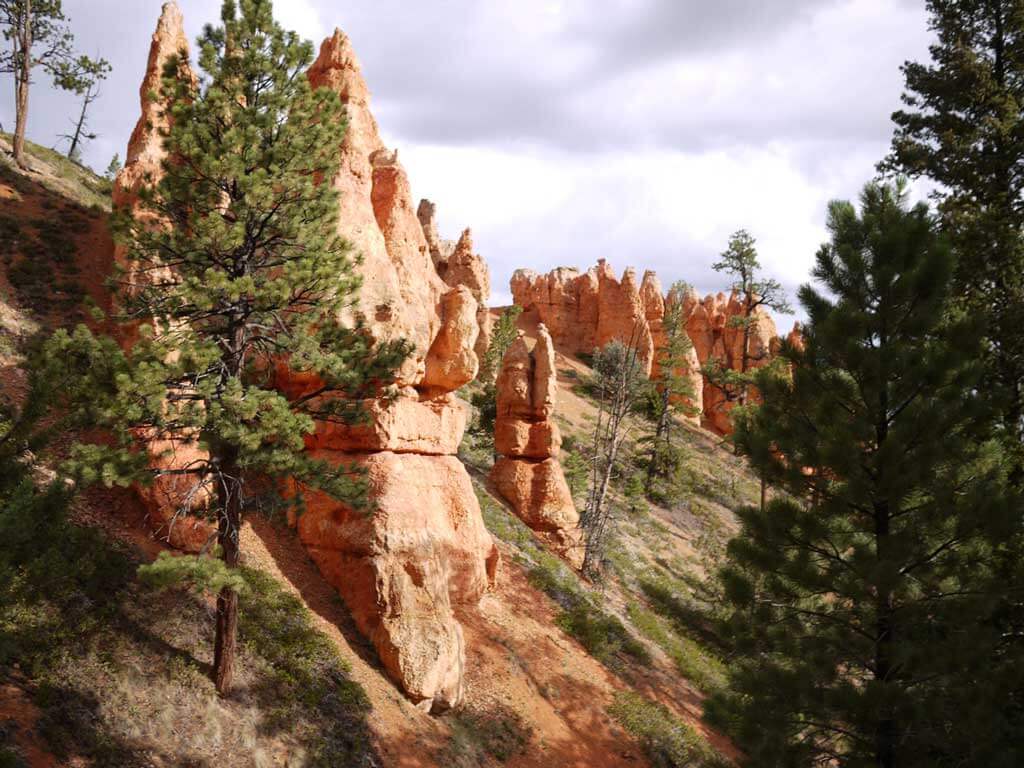 Depending on the amount of time you have, and your level of fitness, there are quite a few options in for hikes in Bryce Canyon.
Hike The Rim
If you prefer to walk instead of drive, many of the main viewpoints I mentioned above are connected via the canyon rim and are some of the best hikes in Bryce Canyon.
You can hike in Bryce Canyon from Sunrise to Sunset Point point, which is just over 1 mile. So, returning to your car should only take you 1 hour roundtrip, or a bit more if you take a break.
If you want an even longer option for hikes in Bryce Canyon, you can hike the whole rim in this section, from Bryce Point to Fairyland Point. The total distance is 17 miles, so it will take quite a few hours (depending on how fast you walk) – an estimate is 5-6hrs.
Personally, I would do this hike in Bryce Canyon from Sunrise or Sunset to Bryce Point instead. Why? Because you can use the free park shuttle to get back to your car (it doesn't run to Fairyland Point). Be sure to check the times at the Visitors Center and give yourself enough time to get to the end of the hike.
Queens Garden Trail (1.8 mi)
Starting at Sunset Point, the Queens Garden Trail is probably one of the most popular hikes in Bryce Canyon and easiest ways to get up close and personal with the towering hoodoos (aka rocks).
Descending approximately 300ft (100m) this is not a challenging hike, but you might get out of breath on your way up. It's worth it though. Seeing the columns of rock up close, especially when you are surrounded by a small circle of them is inspiring. There are also a few fun parts to the hike too, like the little tunnel through the rock and the slightly slippery footing so be sure to wear good shoes.
Navajo Loop Trail (1.2 mi)
This hike in Bryce Canyon starts at Sunrise Point and requires a little more work with a 550ft (170m) climb to get back out. A totally different experience to the Queens Garden Trail, both are worth doing and in fact, they connect. So, you can combine them and use the shuttle bus to get back to your car.
The Navajo Trail descends down a stunningly winding trail, that slowly loops its way down into the hoodoos. This hike really gets inside the smaller parts of the canyon as well as showing you some persistent trees that have managed to not only grow but thrive in the difficult conditions of the canyon.
Peekaboo Loop Trail (5.5 mi)
One of the more difficult hikes in Bryce Canyon, this trail not only goes for 5.5 miles, it also descends over 1500ft (500m). So, it will require a reasonable amount of fitness.
It's certainly a lot quieter in this section of the park, first because of the difficulty of the hike, but also because it is further from the visitor center – it starts at Bryce Point.
You definitely get another view of the canyon from this side though, with the highest concentration of hoodoos and some stunning views of them all around you. One of the highlights is the wall of windows. I will let your imagination run wild on that one.
More Hikes in Bryce Canyon
There are a lot more trails combinations and hikes in Bryce Canyon available, so be sure to ask at the Visitors Center when you arrive.
For those that want to camp wild, there are two backcountry hiking options. Neither of them super-difficult or far, but certainly worth the effort to get away from the crowds.
There is the Riggs Spring Loop, which is just 9 miles and the longer Under-the-Rim trail that is 23 miles. Whichever you choose to do, you need a permit to camp, which you can get at the Visitors Center when you arrive.
Other Options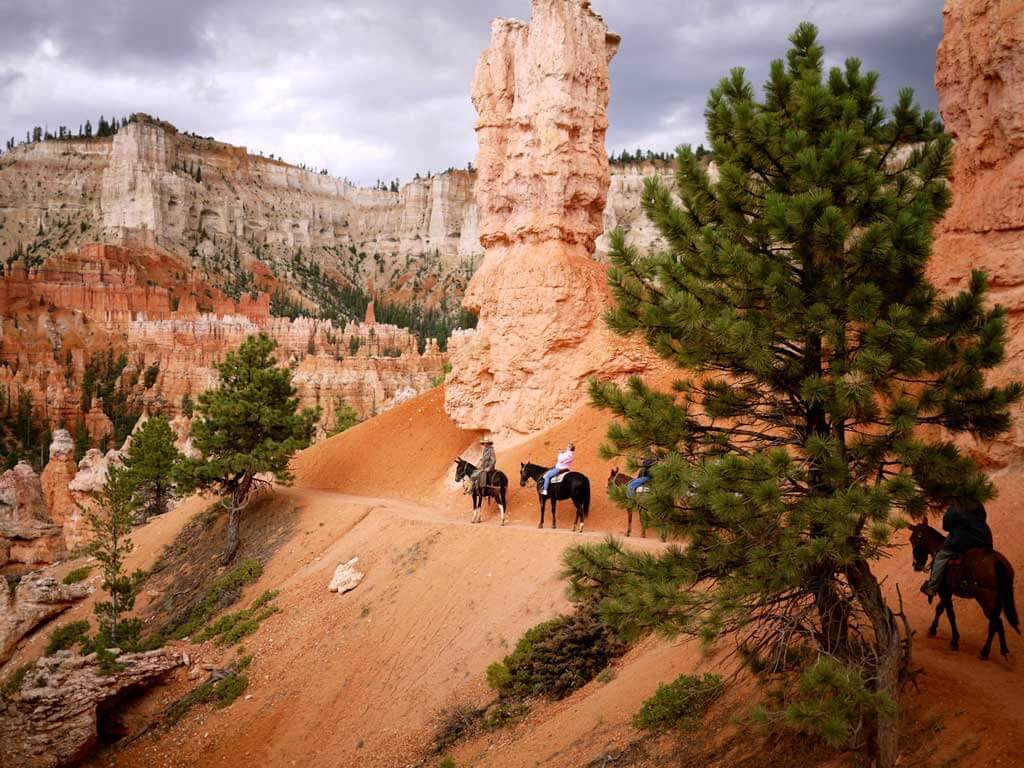 Although Bryce Canyon National Park is mostly protected from motorized recreation and other unwanted activities (including drones), there are still a lot of options. Mostly just outside, or above the park!
Scenic Flight & Helicopter
One way to get an awesome view of Bryce Canyon National Park and the surrounding area is by air. You can book either a helicopter or plane and for various times and distances. Some even go as far as other parks in Utah and make a half-day of it.
And, if you have never been in a helicopter before, it's another reason to tick it off your bucket list.
ATV Tours
ATVs are not allowed inside the park, but there is still lots of stunning and similar scenery around the park for you to explore on an ATV. You can either do self-guided tours or with a group.
Horseback Riding
Horses are surprisingly one of the things they do allow, aside from humans, in the park. You will see the trails they use on the map you get when you arrive, and you may even come across them on the Peekaboo trail.
You can also participate and have the horse do the heavy lifting for you, which is understandable given how far up it can sometimes be!
Mountain Biking
Mountain bikes are also not allowed in the park itself, but like with ATVs, there are a lot of stunning trails and options just outside the park. All you have to do is hire a bike for a half-day or day, and grab a map.
Campgrounds & Accommodation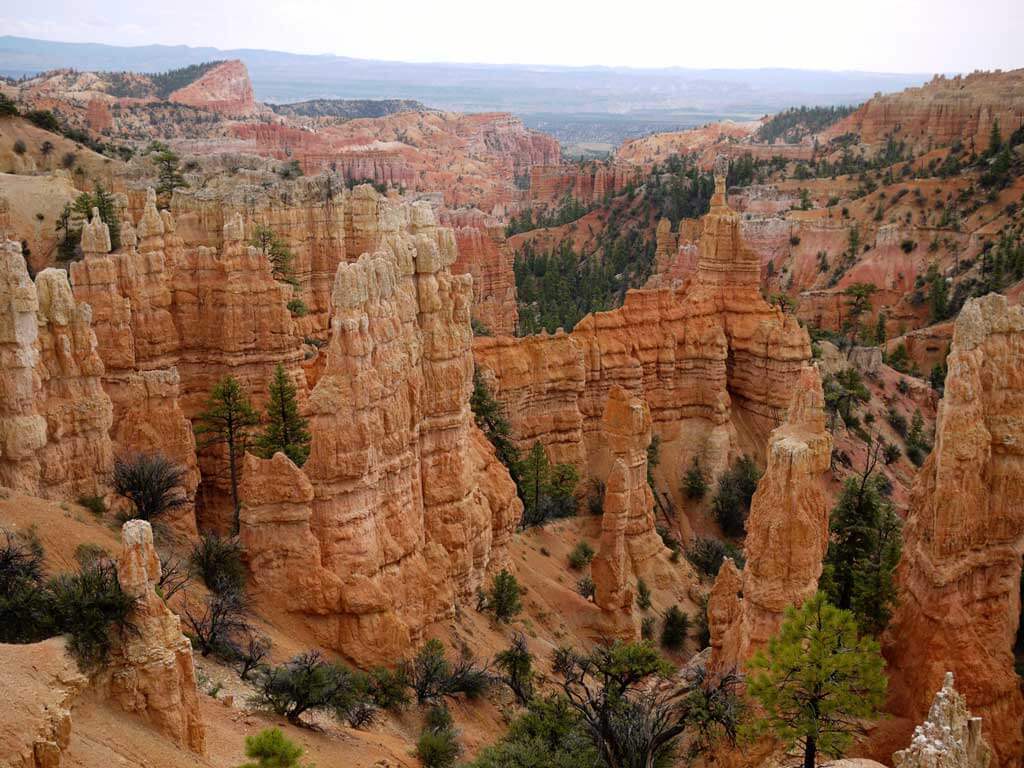 One of the challenges you will face when visiting Bryce Canyon is the lack of nearby accommodation. So, before I even go into the options, here is my first tip: book early.
Camping
There are two campgrounds in the park, called Sunset and North campgrounds, both for RVs and tents. They both hold a reasonable number of people, but be aware that Sunset is closed from mid-October to mid-April. Also, in summer, things tend to fill fast.
Outside the park, you can also camp at Rubys Inn, which is the closest to the park. Other options include Bryce Canyon Pines Campground and Coyote Hollow Equestrian Campground.
Accommodation
Rubys Inn is just outside the park and has lots of options from doubles to kings and rooms for families of four. This is also where you can organize most of your activities outside the park, so if you are looking to do anything like that, you can kill two birds by staying here.
Book Now | Read TripAdvisor Reviews
Your next best bet is Bryce Canyon Pines Motel, which is just a little further away. They have similar sleeping options to Rubys, and also have a pool. And, they offer trail riding (horses) too.
Book Now | Read TripAdvisor Reviews
---
Bryce Canyon is stunning and a place I would put on my US National Parks bucket list for sure. The hoodoos and colors are astonishing and something you can truly only see here.
It's also a small park, so you can see it all in one day, or two, depending on the time you have and what you want to do.
And no matter how long you decide to stay, be sure to book your accommodation ahead, as it can get busy here in summer!
About the Author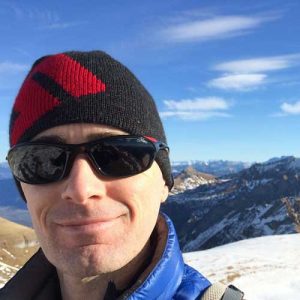 Roger is a little obsessed with travel and spends every waking minute thinking about it. He now lives in the heart of the Alps in Switzerland and spends his spare time blogging about his experiences on his travel blog or via Twitter and Facebook.
---
Liked this guide and best hikes in Bryce Canyon? Bookmark for later or share the love below on Pinterest! Happy Travels!