Dating back to the 7th century Krakow is one of the oldest cities in Poland that has rich history from centuries ago to being the capital of Germany's General Government during World War II and the Nazi invasion throughout Europe. There are many amazing things to do in Krakow from historical points of interest to beautiful architecture to great food and not to mention, the historic center of Krakow is also a UNESCO World Heritage site.
Don't miss out on all the amazing Krakow attractions and this amazing European destination on your next visit. Use our complete guide of things to do in Krakow, Poland and what to see in Krakow to help you plan your trip!
Say it right.
The first thing to do in Krakow, Poland is to learn how to properly pronounce it. That is only if you're anything like us and have no experience in the Polish language or traveling through Poland before this visit. Luckily for us, we had our Polish friend Hanna who was patient enough to teach us the correct pronunciation, or close to it. It turns out, we had a really hard time saying things properly, so to save yourself the embarrassment we endured, take a minute and learn how to say it properly.
It's pronounced like krakuf.
Explore the Jewish Quarter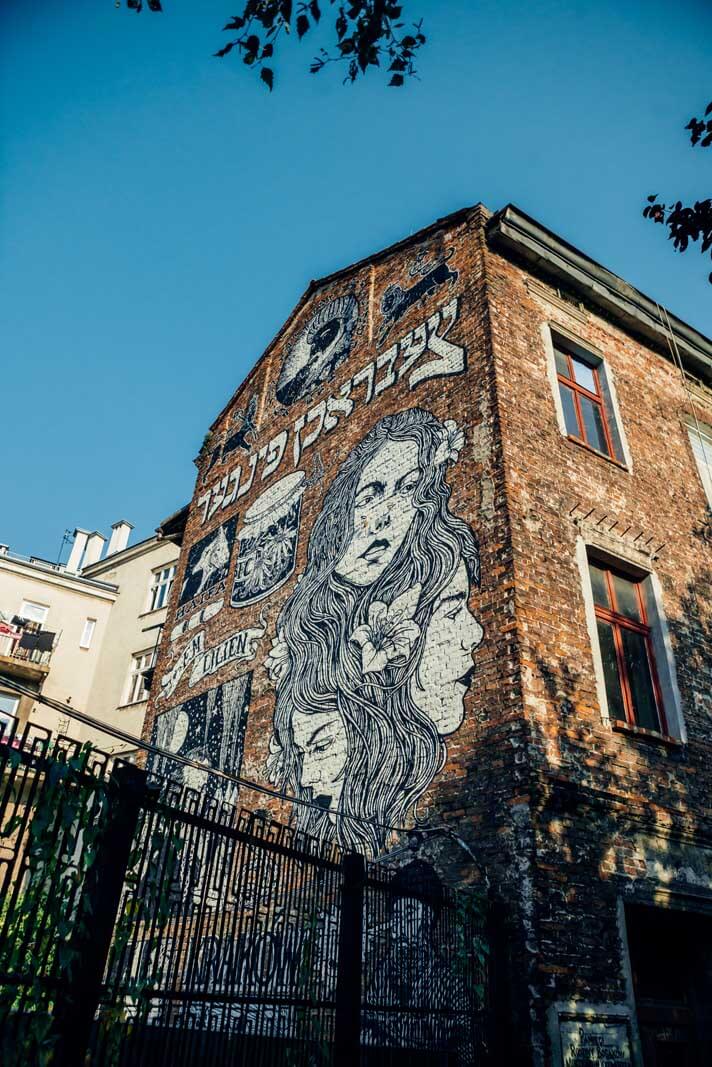 One of the best things to do in Krakow is explore Kazimierz, or the Jewish Quarter extensively as its one of the most cultural and historical parts of the city and where you can find some of the best Krakow sightseeing. Being the hub for Jewish culture in the city, this is the place where Jews have lived since the 14th century until they were forcibly relocated by Nazis to the Krakow ghetto across the river in 1941. Before this, this was always a place where Jews and Polish people coexisted together in the same place.
Today, you will find this area littered with cafes, restaurants, galleries, and even murals and food trucks. It's a beautiful neighborhood filled with tragic and devastating history during World War II. If only the walls could talk here.
One of the best Krakow attractions is the Jewish Heritage Route that leads from the Jewish Cultural Center to the new Jewish Cemetery for a cultural tour through Kazimierz, try walking it yourself.
Wander Through Main Square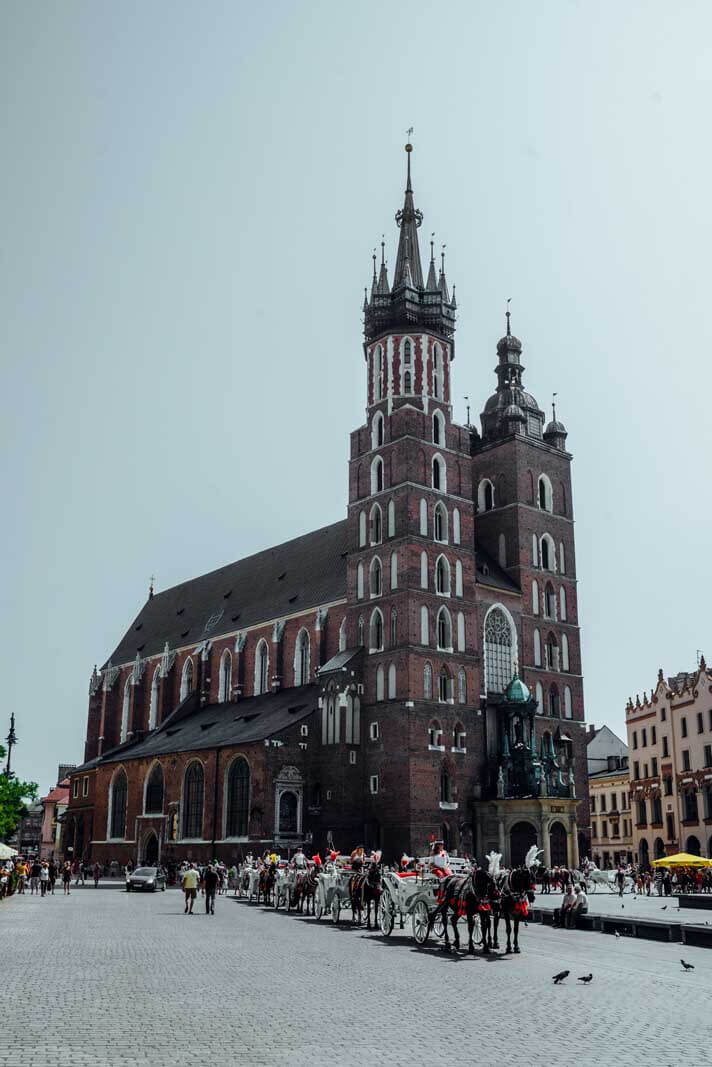 Another unmissable thing for what to do in Krakow is check out the Main Square, or Rynek Główny as the locals would say. This impressive town square dates back to the 13th century and is considered one of Europe's largest town squares. Surrounded by townhouses housing restaurants, cafes, various vendors in the square, and the main focal point. St. Mary's Basilica.
Every day on the hour you can hear the famous trumpet call on the tower of will want to make of St. Mary's Basilica. The noon calling is the most famous since it is broadcasted to the entire country every day. This tradition dates back to when the Mongols were invading Poland and the trumpeter on the tower warned the city with his call to save the city since they were able to close the gates before the intruders arrived says a local legend. Apparently, this trumpeter lost his life because he was shot with an arrow in the throat and is said to be why the song today is even cut off and seem to end abruptly. This has become a popular Krakow attraction to witness.
Take the Royal Road from Wawel Cathedral leading all the way to Main Square for the beautiful historical walk on the cobblestone streets passing by the former Pope's home, the beloved Pope John Paul II on the way. This is where you see people also taking horse carriage rides and is what to do in Krakow if you're interested in walking the most historic route in the city.
Krakow Cloth Hall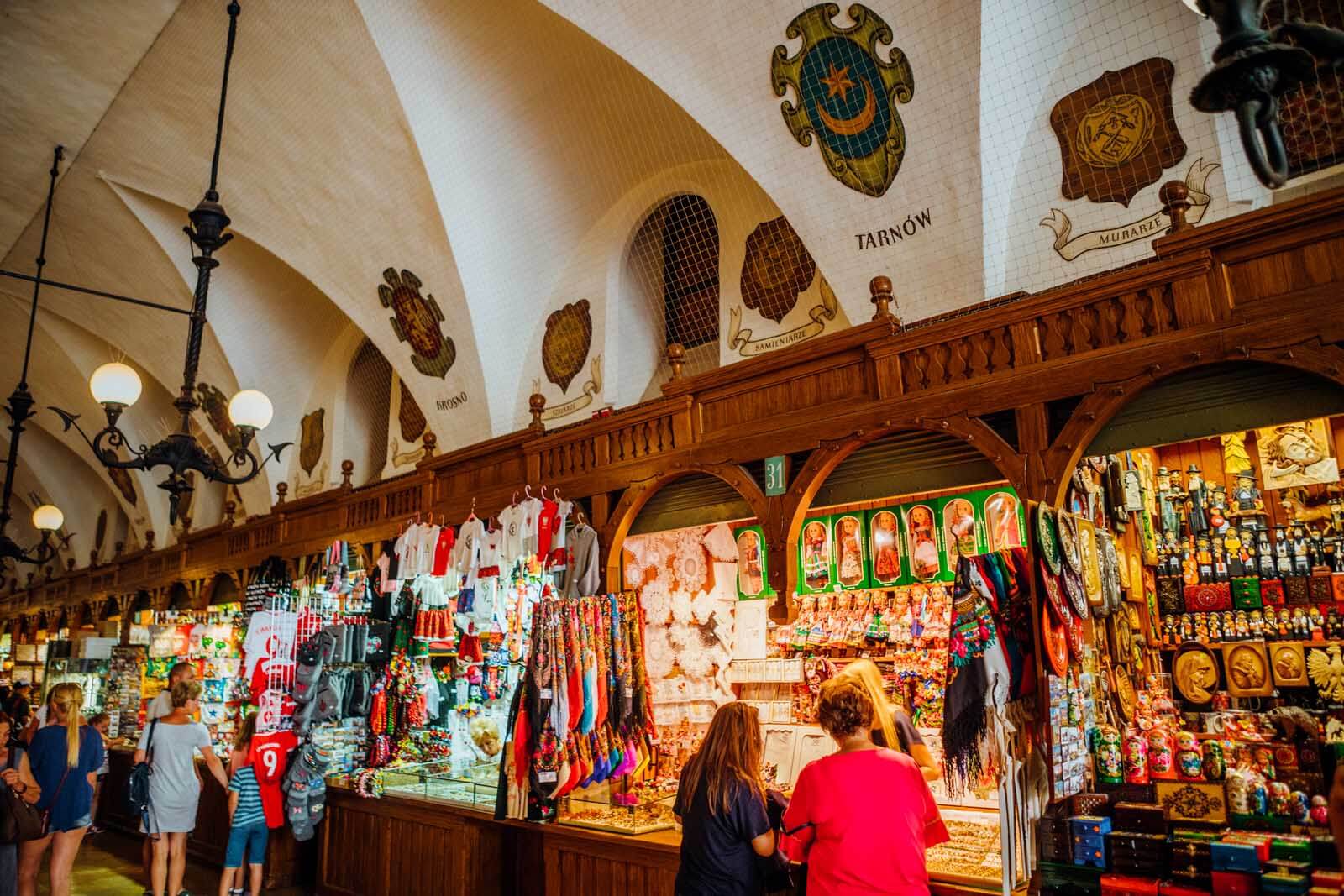 This is what to do in Krakow if you're a shopper! An unmissable thing to do in Krakow while exploring Main Square is Krakow Cloth Hall. This historic shopping arcade has been the major center for international trade for centuries. Famous for barters and business transactions for both imports and exports of goods including salt from the Wieliczka Salt Mine nearby.
Today you can shop for souvenirs and Polish crafts from local pottery to leather goods. The scene in here is unique and fun to just walk through even if you're not looking to take home anything.
There's also a museum on the top floor that is a division of the National Museum, another great Krakow sightseeing spot and attraction.
Go Underground
Another awesome thing to do in Krakow in the heart of the city center and Main Square is head to the underground in the Rynek Underground Museum where you can see original medieval foundations to the city and centuries-old artifacts like coins and pottery.
There are interactive exhibits including touch screen and hologram displays to make this journey through the underworld history even more interesting making it a state of the art Krakow attraction!
Buy your tickets in advance here that also includes access to the clock tower in Main Square as well as inside Krzysztofory Palace.
Hunt Down the Street Art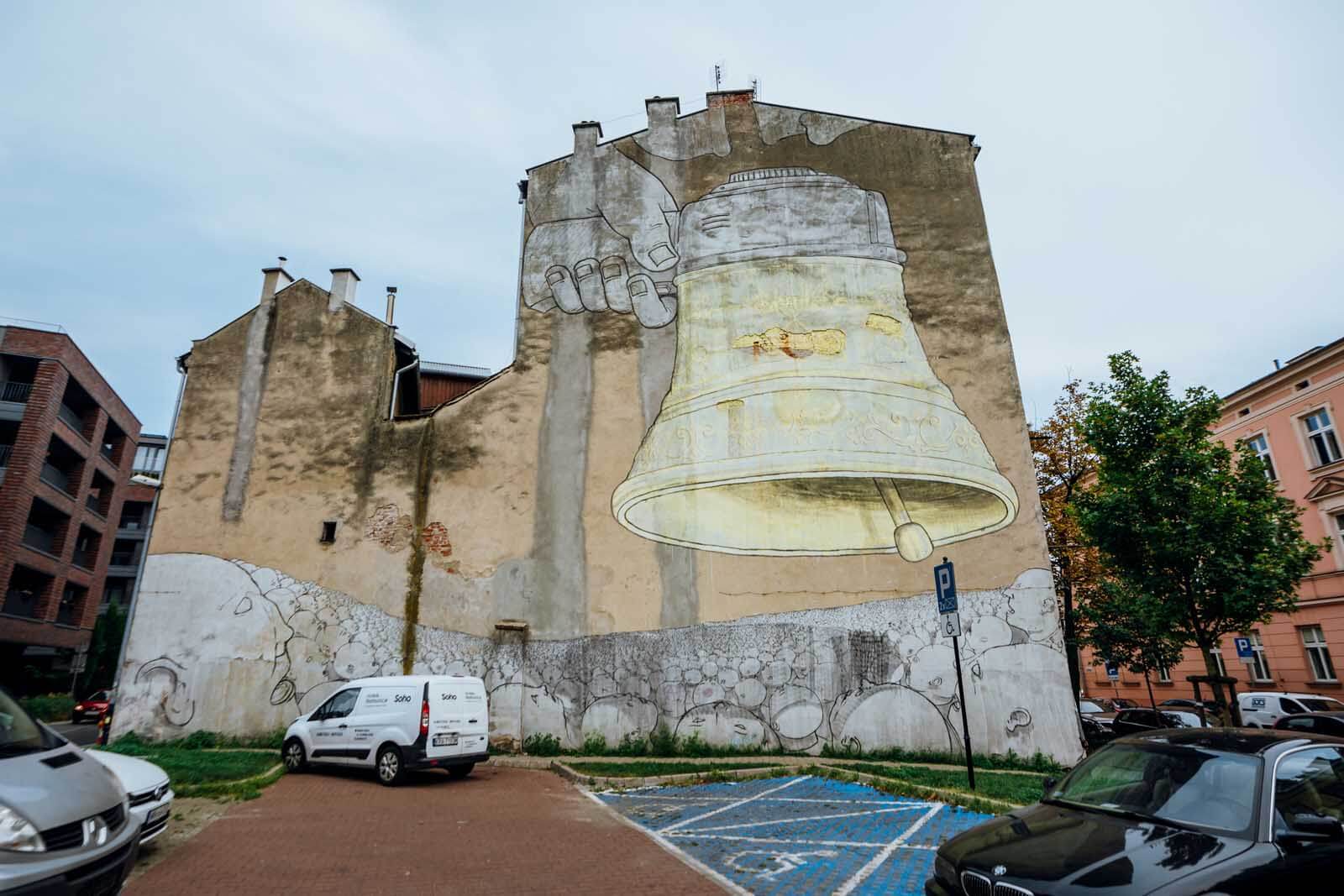 One of the best things to see in Krakow are all the beautiful murals and street art. We love beautiful murals and most street art, it's always one of our favorite things to do when we travel to a new city and it also happens to be a great thing to do in Krakow. We saw most of the street art by wandering through the streets of Kazimierz.
Some notable pieces include Judah by Pil Peled, the controversial piece by BLU titled Ding Dong Dumb, and the beautiful black and white mural by Broken Fingaz to name a few.
I am not going to lie, we were a little disappointed that there were food trucks blocking half of the mural Judah. The area is now known for being a food truck park but it seemed like some rearranging of the food trucks and you could still see this beautiful mural with its message about Jews' struggle to survive on full display.
You can see more about the street art of Krakow here in this guide.
Wawel Cathedral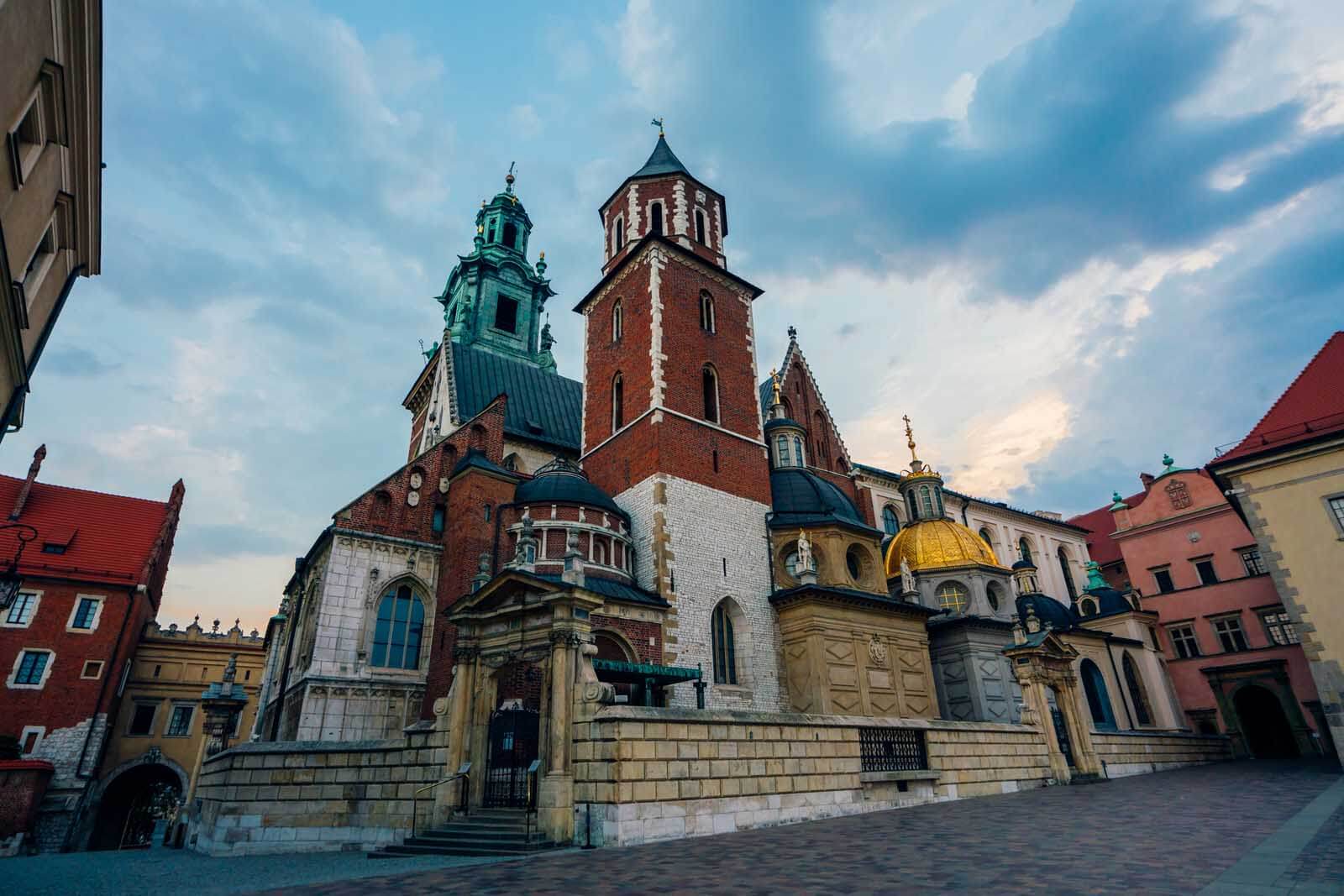 One of the most impressive things to do in Krakow is visit Wawel Cathedral on Wawel Hill. You can't miss it, it is one of the most iconic spots in the city with an interesting legend. The gothic cathedral itself is Catholic and has been at this location for over 900 years. This is also the site where many Polish kings have had their coronations as well as the site of the crypt for many notable figures and heroes in Polish history.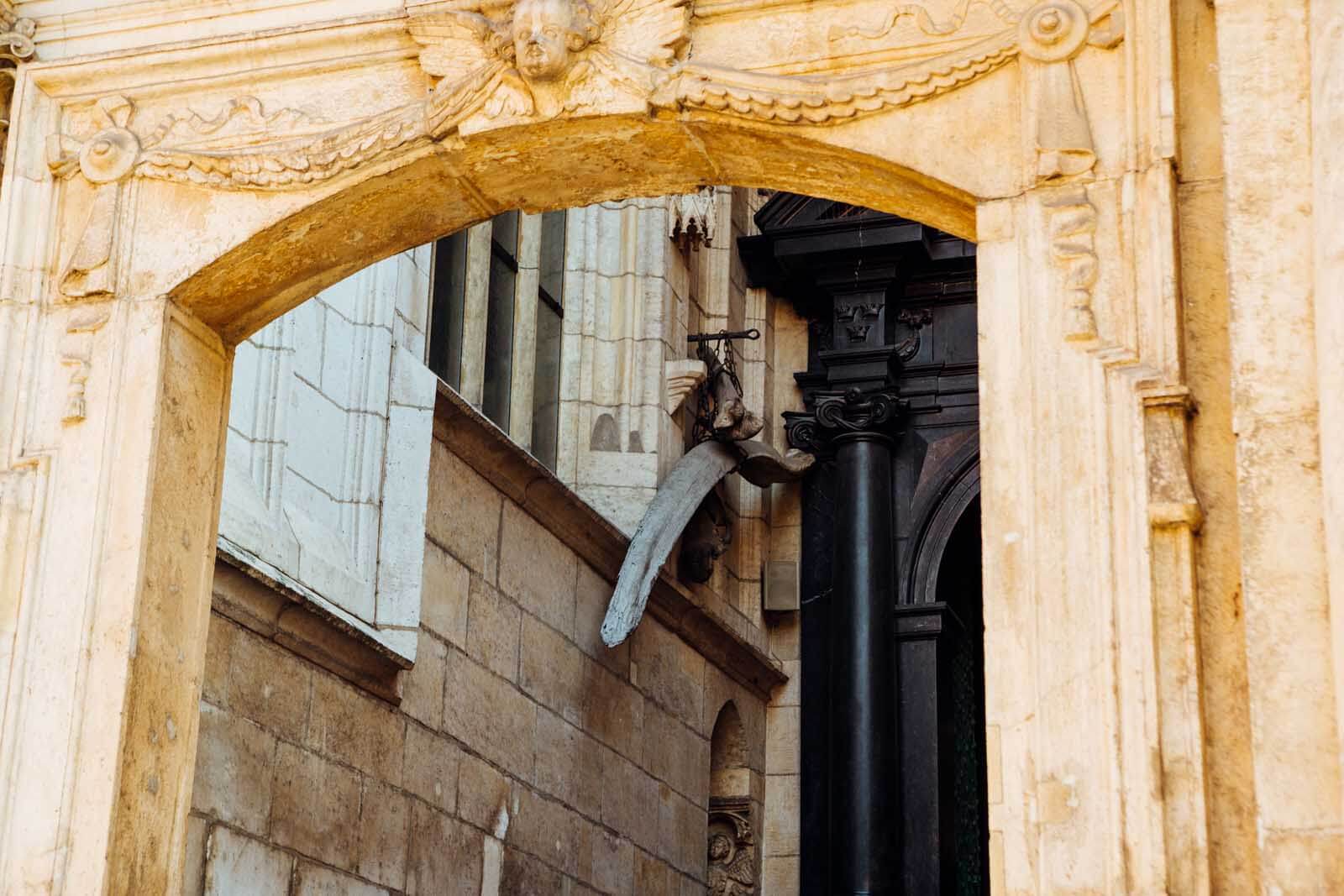 The interior and the exterior of the cathedral are impressive, but one of our favorite parts about Wawel Cathedral would be the myth of the dragon. If you look closely while walking into the door of the cathedral you'll see a giant bone to the top left of the door. This is said to be the bone of a dragon, really it's been revealed to be a whale bone, womp womp.
Anyways, the legend goes there was a local dragon who eventually was killed by a man who fed the dragon a sheep carcass filled with sulfur, the dragon was so thirsty it went to the river and basically drank itself to death. Anyways, this is what to see in Krakow if you love a good legend like us.
Also, don't miss one of the most unique Krakow attractions, the fire-breathing dragon statue at the base of the castle and cathedral along the Vistula River, it breathes fire every 5-10 minutes!
See The Fairytale Cathedral
This is a city of cathedrals and one of the best things to do in Krakow is visit some of the best ones. We ended up finding ourselves popping into random cathedrals we'd stumble upon on our walks but one that really stood out to us is the fairytale cathedral of St. Joseph in Podgórze.
This Gothic Revival cathedral sticks out in the distance and looks like something out of a Disney movie. Its tower is what is most notable and stands out from afar and keeps you wanting to get closer. The best way to get to this removed church from the city center is by foot and exploring some of the streets less visited in Krakow.
We recommend crossing Kładka Ojca Bernatka, or Lover's Bridge to make your way towards St. Joseph's Church. The bridge has padlocks all over it from lovers and there were really interesting trapeze sculptures attached to the bridge as well during our visit.
This whole route across the bridge and to the cathedral is a great opportunity for some incredible Krakow sightseeing.
See Krakow From The Vistula River by Boat
See the city from a new vantage point while cruising down the Vistula River for our next thing to do in Krakow. There are dinner cruises and regular leisure cruises on boats that take you through the city via boat past iconic spots like Wawel Cathedral.
We would recommend doing this closer to dusk when the lighting is right, we were doing a photoshoot from the bridge of Wawel Cathedral and were wishing we were cruising on one of the boats below us. Don't miss out like we did! This is high on our list of things to do in Krakow on our next visit.
Do the best of both worlds by booking this ticket in advance that gets you a hop on hop off bus ticket for the day PLUS a 30-minute river cruise along the Vistula River that allows you to experience all the best things to see in Krakow. Book here.
Schindler's Factory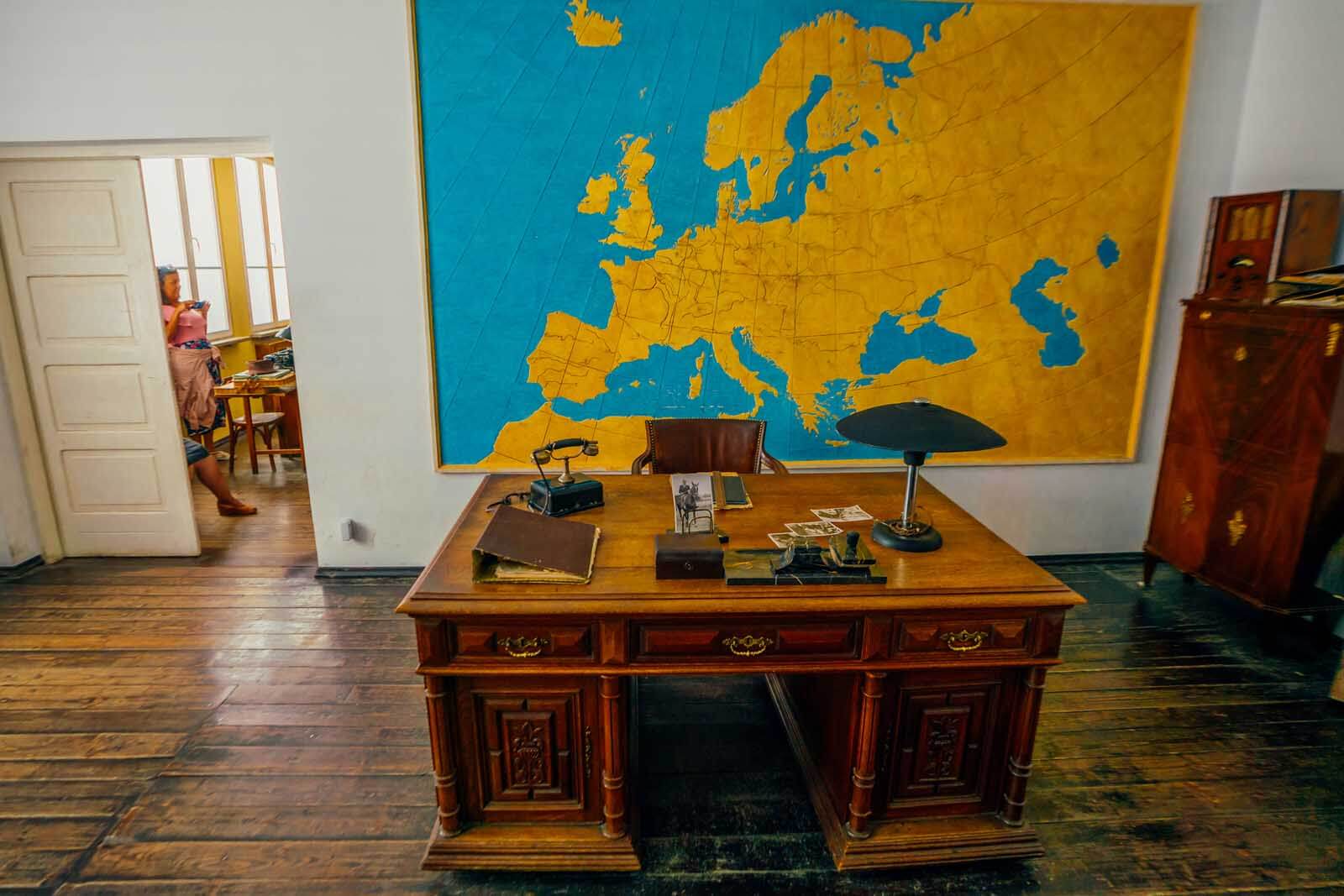 Another amazing thing to do in Krakow to learn more about the history and wartime experiences of the city is visit Schindler's Factory. This is the famous Factory run by Oskar Schindler you may have heard of from the famous and moving film, Schindler's List. The entire museum isn't really about Schindler and his factory where he saved 1,200 Jews, it's mostly an exhibit about the experiences in Krakow during World War II and what the Jews went through in Krakow during this time.
Much like visiting concentration camps, this is a very heavy and emotional tour. There is some graphic material here including real photographs of Jews being hung in the city. The exhibit is astounding with letters, photos, videos, and other artifacts and exhibits that take you through the journey of the devastating and evil history that took place here.
Give yourself a few hours as there is a lot of reading and media to look at. We easily spent two hours here. You can also buy a combination ticket to get you into the MOCAK Museum of Contemporary Art Krakow next door.
Or, book a guided tour and ticket in advance to get more information. Book Here for a guided tour of Schindler's Factory or purchase your ticket for just your entry in advance here.
MOCAK
This is what to see in Krakow if you're a lover of contemporary art. Another great museum and thing to do in Krakow is visit MOCAK, the Museum of Contemporary Art Krakow located next to Schindler's Factory and is actually located where part of the original Schindler's Factory was located but had been demolished since. This museum has two floors of modern art focusing on the last 20 years. You can easily spend an hour if not more in here exploring the works of various artists on display here.
Once Upon a Time in Kazimierz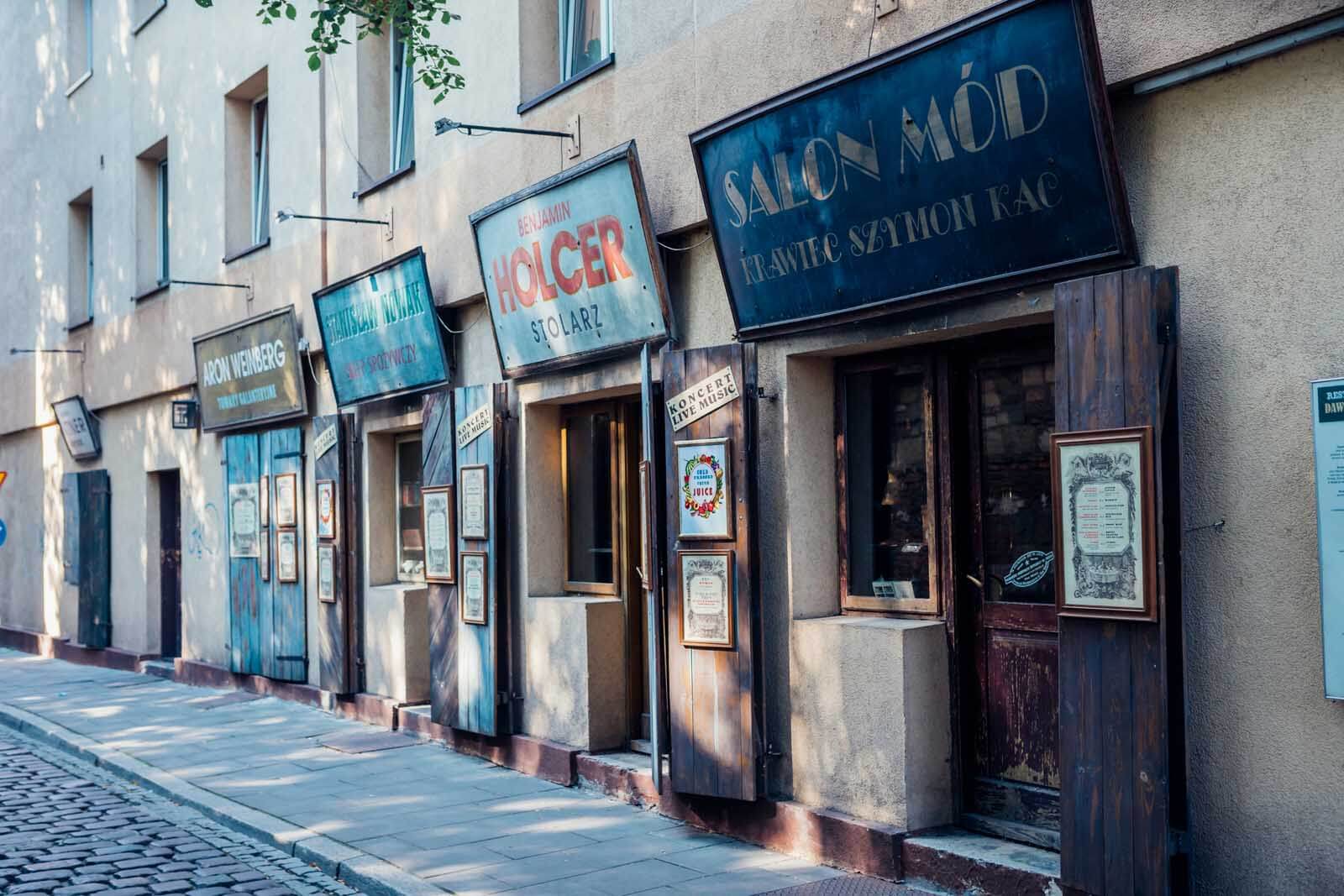 One of the best things to do in Krakow is either eat or get a drink at Once Upon a Time in Kazimierz in the heart of the Jewish Quarter. This restaurant/bar is a museum in itself decorated with antiques and takes you back to Jewish life here through décor.
The entire bar and restaurant was originally trade shops in the Jewish quarter and they have the feel that you've transported back in time from the street view to the inside from every detail from the sign outside to the table you sit at once you're inside.
This is a really special place and we really urge you to visit. Read more about it by Messy Nessy.
Auschwitz-Birkenau
One of the most important things you can do in Krakow is visit one of the most well known in history concentration camps from World War II, Auschwitz. While this isn't a very fun or happy thing to do in Krakow, this is one of the most important places to visit to remember all the lives that were lost during the senseless evil that took place in the last century.
This is where approximately 1.3 million lives were lost and you need to come knowing you're going to leave with a heavy heart. Auschwitz 1 and Auschwitz-Birkenau are only a part of the history where so many innocent people lost their lives.
If you plan on visiting, don't make the same mistake we did. We waited until last minute thinking it was such a big tourist attraction that there's always availability. It turns out there's not. We waited too long and couldn't book an English tour. Make sure you reserve online in advance either on the official website and arrange for your own transportation via public transport or renting a car OR book a guided tour in advance. We are kicking ourselves for not planning ahead enough in advance and missing our chance this trip, however, this will not be our last visit to Krakow so we will be sure to have this high on our priority for our next visit.
Book your guided tour in advance here.
Wieliczka Salt Mine
Another popular thing to do in Krakow outside of the city is visit the Wieliczka Salt Mine. This area is known for its salt and has been used to trade for centuries being one of the world's oldest salt mines and was actually still an operating salt mine from the 13th century until 2007 when it closed. Today, the salt mine is an attraction featuring chandeliers hanging from the ceiling illuminating the statues, carvings, and chapels carved out by the miners and artists.
Besides being a UNESCO World Heritage Site, the salt mine is a national monument to Poland and even referred to as the "Underground Salt Cathedral of Poland."
During World War II, Jews were also sent here to work as forced labor.
With the history and current art on display, this is one of the more unique things to do in Krakow you won't find anywhere else in the world.
Book a tour to the Wieliczka Salt Mine in advance here.
Eat Some Great Food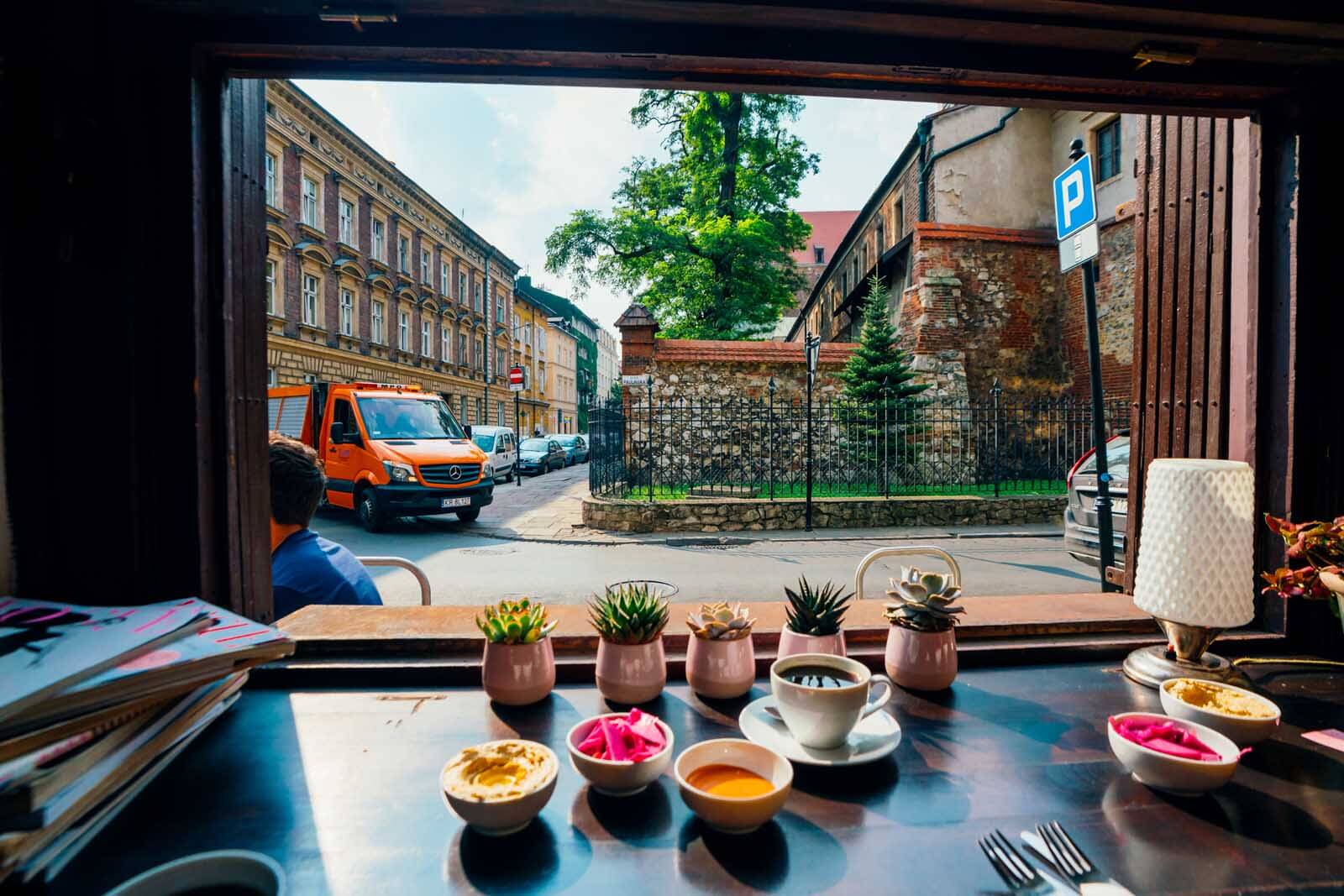 One of the best things to do in Krakow is EAT. From traditional Polish cuisine to food in the Jewish Quarter, there are tons of great options. Here are a few of our favorites.
Pub Wrega – This pub in Kazimierz is a great spot to enjoy a 5 zloty beer during their happy hour until 3 pm with lunch or an evening spot with great food. Their fried pierogis here are to die for, the Russian pierogis here are mouthwatering and we recommend coming here and trying them whether you're hungry or not, find room for these pierogis!
Ranny Ptaszek –An incredible instagrammable place in the heart of Kazimierz this is where you can find amazing shakshuka, hummus, and middle eastern inspired dishes from Israel. This is a great spot for breakfast.
Chlopskie Jadlo– Another great option for lunch or dinner in Kazimierz is Chlopskie Jadlo. This traditional polish restaurant serves up exactly that, traditional polish food. Between Scott and I and our polish friend we all tried different dishes and everyone's meal was a knock out. They also serve up great beer here on draft.
Zapiekanki– This next place is a great lunch or late night food after drinking in Kazimierz. A bit tricky to find but if you follow the directions to plac Nowy 4B, 31-056 Kraków you can't miss the green pavilion selling food around it. Each one of the vendors are selling zapiekanki, or baked bread from the oven with various toppings, sort of like a French baguette pizza. These are tasty and do the trick if you're in a hurry or want to eat something cheap.
Outdoor Market next to Cloth Hall- Another great spot, if it's available is in Main Square next to the Cloth Hall. There were various vendors out selling handicrafts, traditional polish items, and the occasional food stall! This is where we got to try cooked smoked cheese with cranberry sauce. This is more of a snack than a meal, but worth checking out.
Grab a Drink
Another amazing thing to do in Krakow is enjoy cocktails or beer at any of the amazing bars in the city. Here are a few of our favorites.
Pub Wrega– First one of our favorite places to get pierogis and now also one of our favorite places to enjoy a cheap, delicious beer. During their happy hour until 3 pm you can enjoy 5 zloty beer, it doesn't get much better than that! There is plenty of seating inside or outside if its warm and there are even cool murals just on the exterior of the entrance to check out.
Komisariat- A great place for cheap beer and a fun environment is Komisariat in Kazimierz. Beer is always 5 zloty, some of the least expensive drafts in the city and is also a great hangout spot in the evening. If it's not too crazy they even bring out free snacks with your rounds of beer. This is an evening spot as it doesn't open until after 4 pm.
Once Upon a Time in Kazimierz- Already mentioned earlier as one of the best things to do in Krakow but deserves another mention for best place to get a drink is Once Upon a Time in Kazimierz in the Jewish Quarter. This is really a unique and special place to grab a beer or a cocktail inside a living museum of Jewish life in the 19th century.
River Boats- Another amazing place to get a drink in Krakow is head on down to the Vistula River and hop aboard any of the giant, permanent sitting boats with restaurants and bars. Enjoy a drink with the reflection of the river for a serene atmosphere in the city.
Where to Stay in Krakow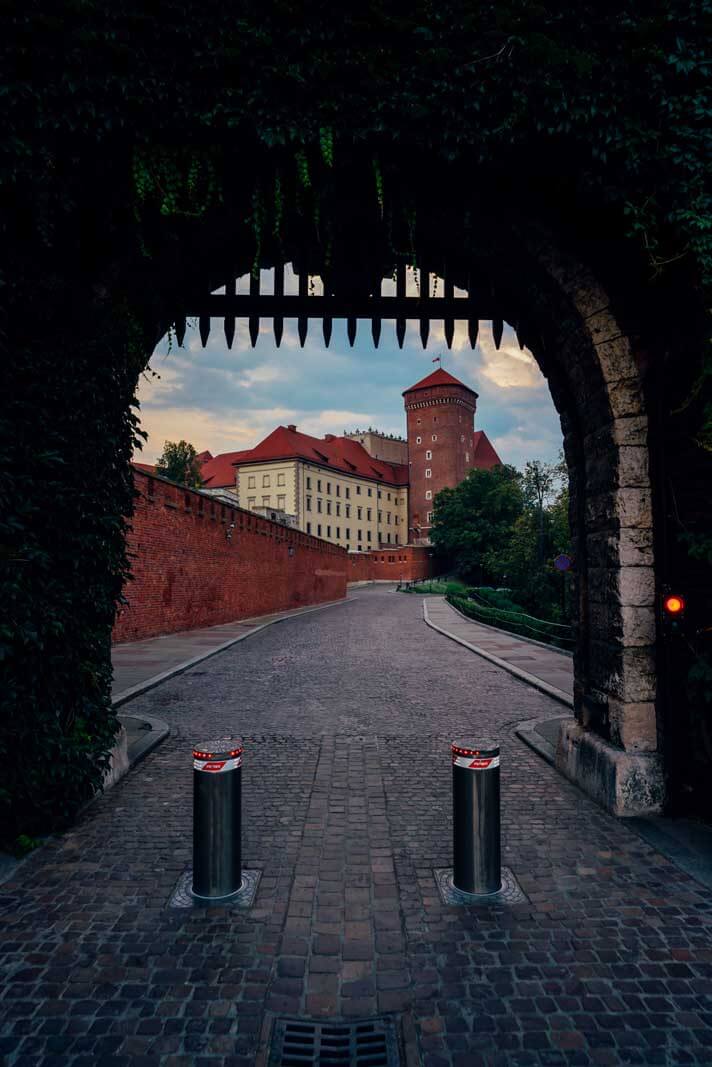 $ Hostel Cinnamon
Hostel Cinnamon is a great place to stay in Krakow on a budget. This hostel is only 1km from the main market square, Rynek Glowny with simple dorm rooms with colorful art decor. There are lockers for each guest and even the option for private bathrooms. There's a kitchen on site, dining room, and a lounge with TV as well as parking.
Book Now | Compare Prices for Later | Read Trip Advisor Reviews
$$ Imperial Hotel
Imperial Hotel is a great value for its location and 4-star rooms in a historic 14th-century building. Located facing the Main Square you can walk anywhere in the city. The rooms are decorated with a mix of modern and antique furniture and are cozy, some even have Main Square views. Don't miss out on enjoying the terrace bar overlooking the Main Square too!
Book Now | Compare Prices for Later | Read Trip Advisor Reviews
$$$ The Bonerowski Palace
This is the ultimate 5 star and luxury experience in Krakow located right in Main Square. The hotel is located in a historic building from the Middle Ages with luxe rooms each room decked out with unique grand decor that will take you back in time and feel like royalty living in a palace. Breakfast is included, there's also a cafe with a terrace, spa, fitness center, and a cave like night club that looks unreal!
Book Now | Compare Prices for Later | Read Trip Advisor Reviews
---
A special thanks to our Polish friend, Hanna! She so graciously showed us around Krakow during our visit and even has a blog, check it out!
Enjoyed this post on the best things to do in Krakow, Poland? Don't forget to bookmark or save for later below on Pinterest below so you can plan for all the best things to see in Krakow and experience the best of Krakow sightseeing on your trip!