During our first ever trip to Berlin, Germany we were able to stay and explore in one of the coolest neighborhoods the city has to offer and experience the best things to do in Kreuzberg. While we wish our inaugural trip to this vibrant and amazing European city could have been longer we feel as though in our short stay we experienced one of Berlin's best scene.
When you walk around Kreuzberg, Berlin you feel why this is where the birthplace of the counterculture movement of Berlin is and why it's known globally for this scene. You can't help but notice the alternative youth and lifestyle that made this area what it is today, even if it is becoming a bit more gentrified than it once was.
Kreuzberg, Berlin is also where the diversity in the city is. After World War II this was the cheap neighborhood where the immigrant guest workers lived after the area had been heavily bombed in the war. Today, this is where you will see the influences and beauty of immigration in this area from after WWII to today, especially with the global dining selection.
Besides being the punk rock and alternative scene for Berlin, Kreuzberg is also the epicenter and home to the LGBTQ community in Berlin.
We fell in love with this area like many others which is why we highly recommending spending time to get to know this area of Berlin. We've highlighted the best things to do in Kreuzberg, Berlin to help you plan your next trip.
Also, check out the best things to do in Friedrichshain, another cool area to explore in Berlin.
Traveling more through Europe? Check out this awesome Europe bucket list to help get ideas of where else you should visit!
Best Things to do in Kreuzberg, Berlin
Turkish Market
Experience one of the most prominent areas in Berlin for immigration after the war. One of the best things to do in Kreuzberg, Berlin is visit the Turkish Market on Tuesdays and Fridays between 11 am and 6:30 pm. You will feel as though you've transported to the streets of Istanbul rather than navigating your way through this lively market in Berlin.
A large percentage of immigrants that came to Berlin after WWII were Turkish, and this is the area they lived in. Wander through the market just off of the Kottbusser Tor stop and enjoy Turkish cuisine or shop for various products and handicrafts.
Sadly, we were in Berlin neither on a Tuesday or Friday and missed our opportunity to visit the Turkish Market, however, our next trip this will be a priority.
Checkpoint Charlie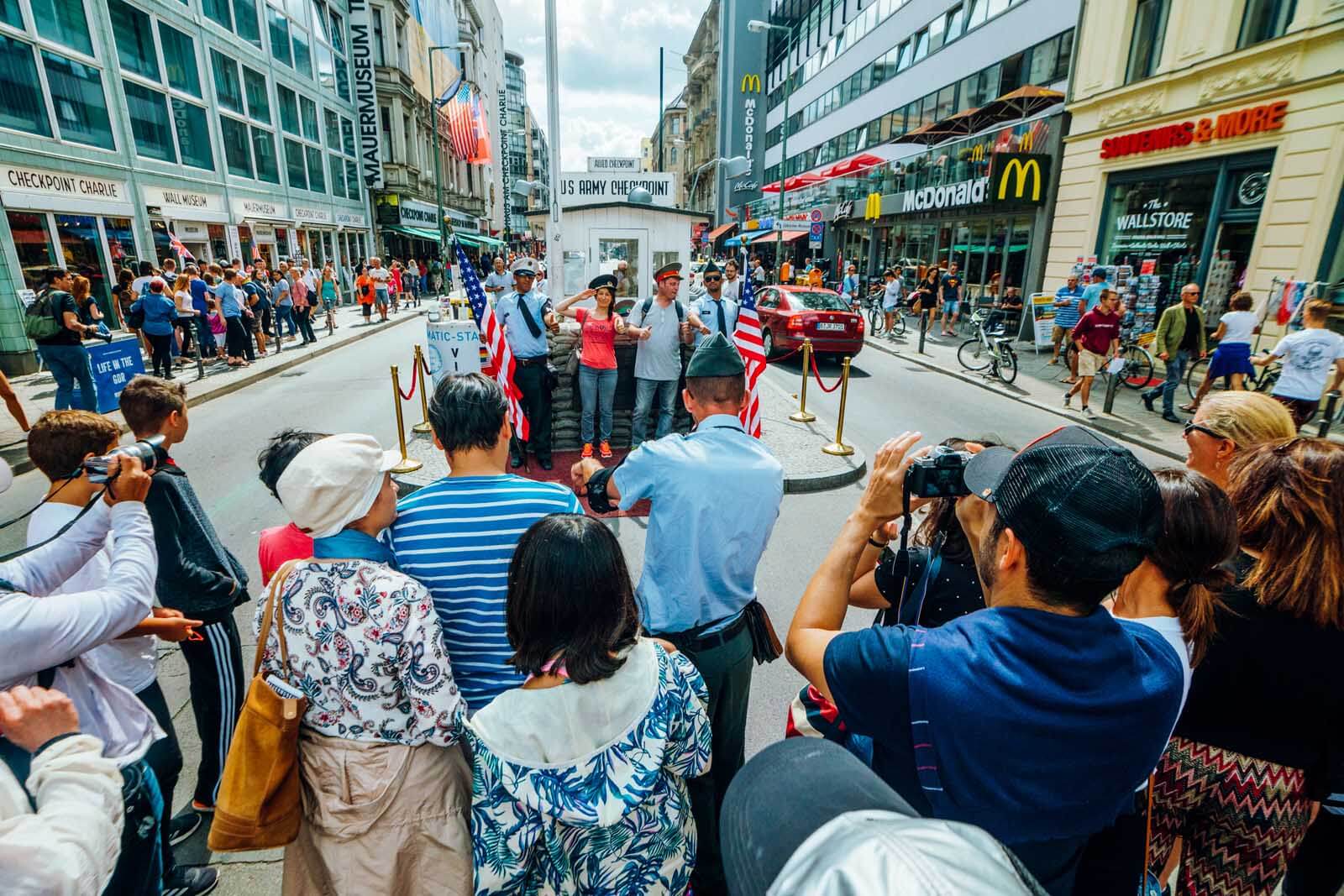 This is one of those things to do in Kreuzberg, Berlin that is sort of a letdown but our list would be incomplete without even a mention of Checkpoint Charlie. Coming to Berlin and not at least peeking at Checkpoint Charlie would be like going to Hollywood for the first time and not peeking at the scene down Hollywood Boulevard.
This was one of the most famous checkpoints along the Berlin wall separating West Berlin and the GDR. Western allies, the US, were guards at this checkpoint. Today, there are gentlemen dressed in US military outfits who charge for photos.
This feels like a tourist trap, mostly because it is. Take a peek, snap a photo, and move on because there are plenty of other amazing things to do in Kreuzberg, Berlin that your time will be better spent at.
Berlinische Galerie
If you're a lover of modern art this next thing to do in Kreuzberg is for you. Check out the different and changing exhibitions in the Berlinische Galerie from modern art collections to photography. The building the museum is located in is a masterpiece of itself.
There are some permanent exhibitions and temporary so there's always an excuse to go even if you've already went on a previous visit!
Jewish Museum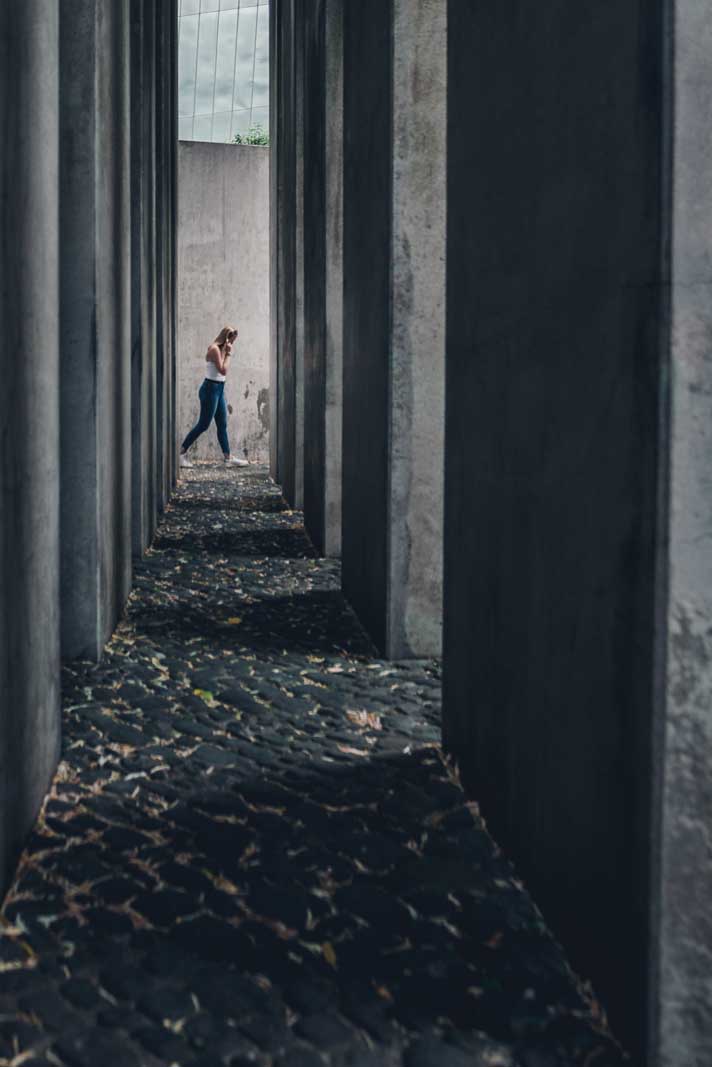 One of the best museums and things to do in Kreuzberg is the Jewish Museum. Located in a beautifully designed modern building and filled with modern art installations with deeply connected to what the Jewish community went through during and after World War II in Germany as well as historical and informative exhibits.
The two installations that stood out the most to us were Fallen Leaves in Memory Void and the Garden of Exile.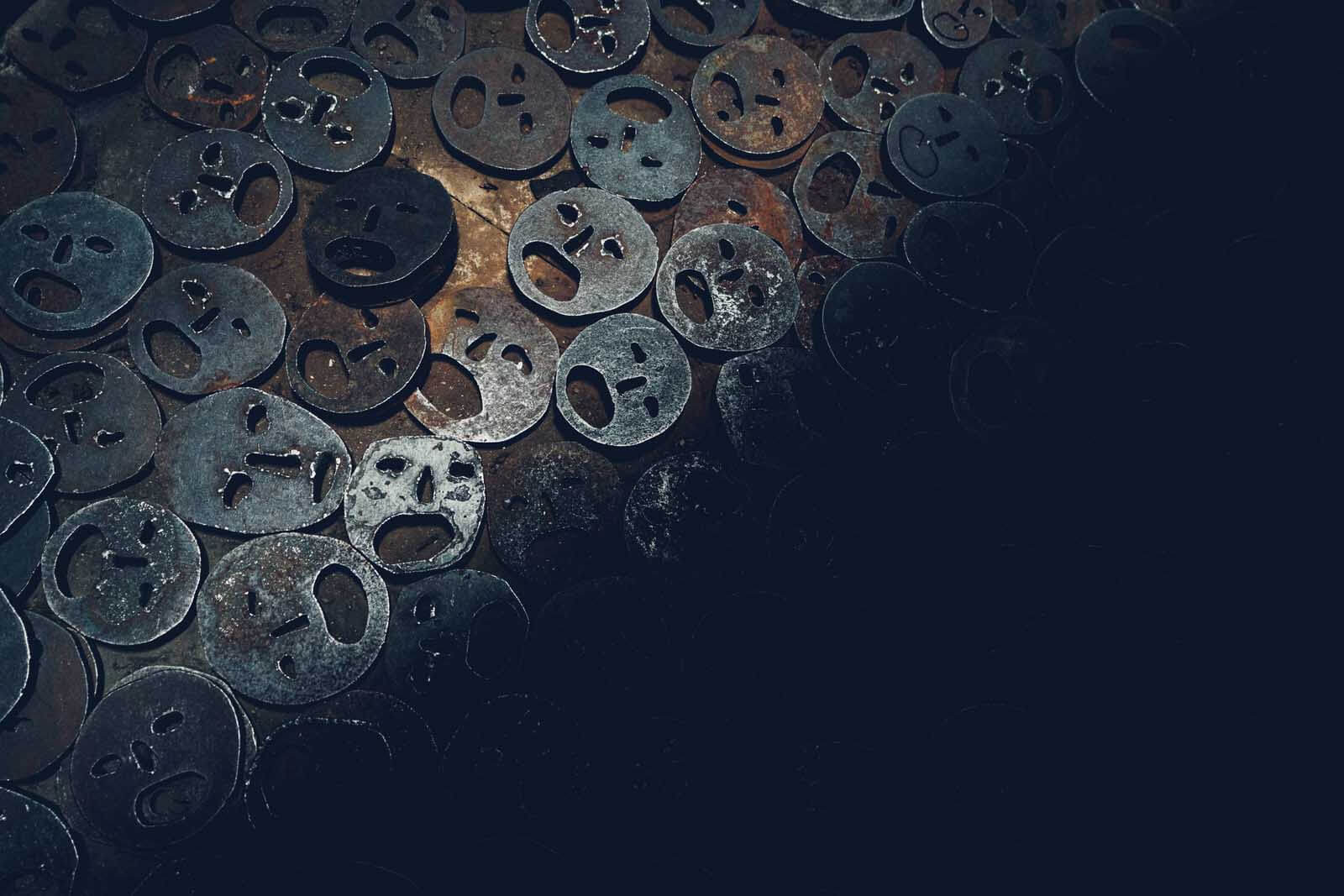 Fallen Leaves in Memory Void by Menashe Kadishman represents the innocent lives of the 10,000 metal faces on the ground who lost their lives due to violence. You're invited to walk over the 10,000 metal plates with faces expressing horror which make an eerie clanking sound that echo throughout the empty space in the hall named, Memory Void. You can't help but just look at the expressions on the face and feel a somber weight as you pass through the corridor.
The Garden of Exile is another installation but outdoors. The concrete structures form a square pattern on a slight slope. You're invited to walk through the sculpture, as I was walking through it I suddenly felt a bit nauseous. I am already sensitive to motion sickness in a moving vehicle and the feeling I had walking through the Garden of Exile was very similar to that. Without putting much thought into it I went to the edge to sit down until I felt better.
This is when I noticed the sign that said, "enter at your own risk," and explaining that people feel sick walking through. After looking it up, apparently the feeling I was experiencing is common and a part of the exhibit's purpose to portray disorientation.
Markthalle Neun Food Hall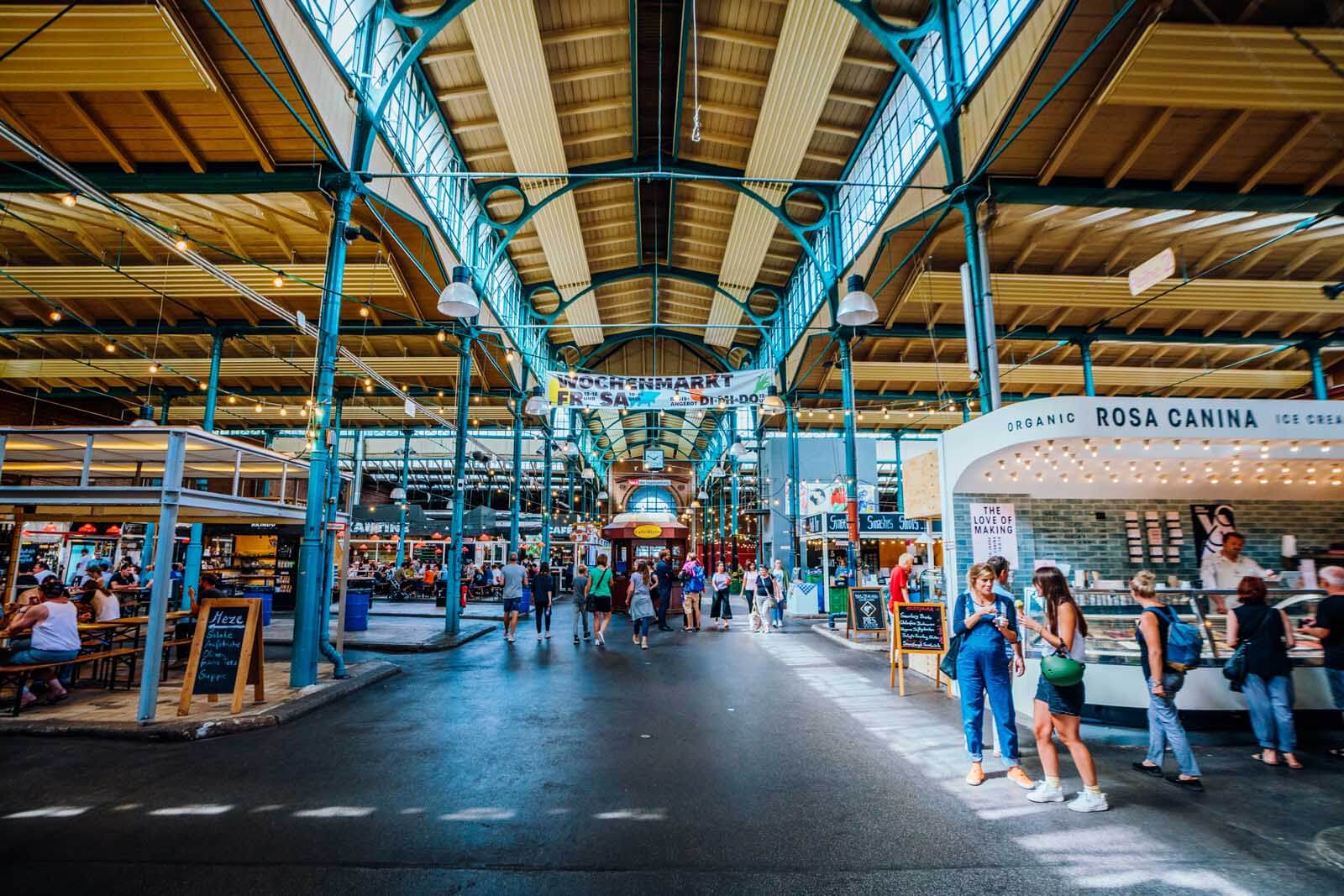 One of our favorite things to do in Kreuzberg, Berlin for food is visit Markthalle Neun. This hip food hall is filled with tons of great food options from fresh Italian food to burgers and cute bars. Shop around and pick out what you want to eat then find a picnic table to share with your friends.
This is a particularly great spot to eat at if you are with a group since everyone can pick the type of food they'd like. If you want to build your own picnic, you have that option as well since there is an Aldi also located inside Markthalle Neun.
Check Out Bergmannstraße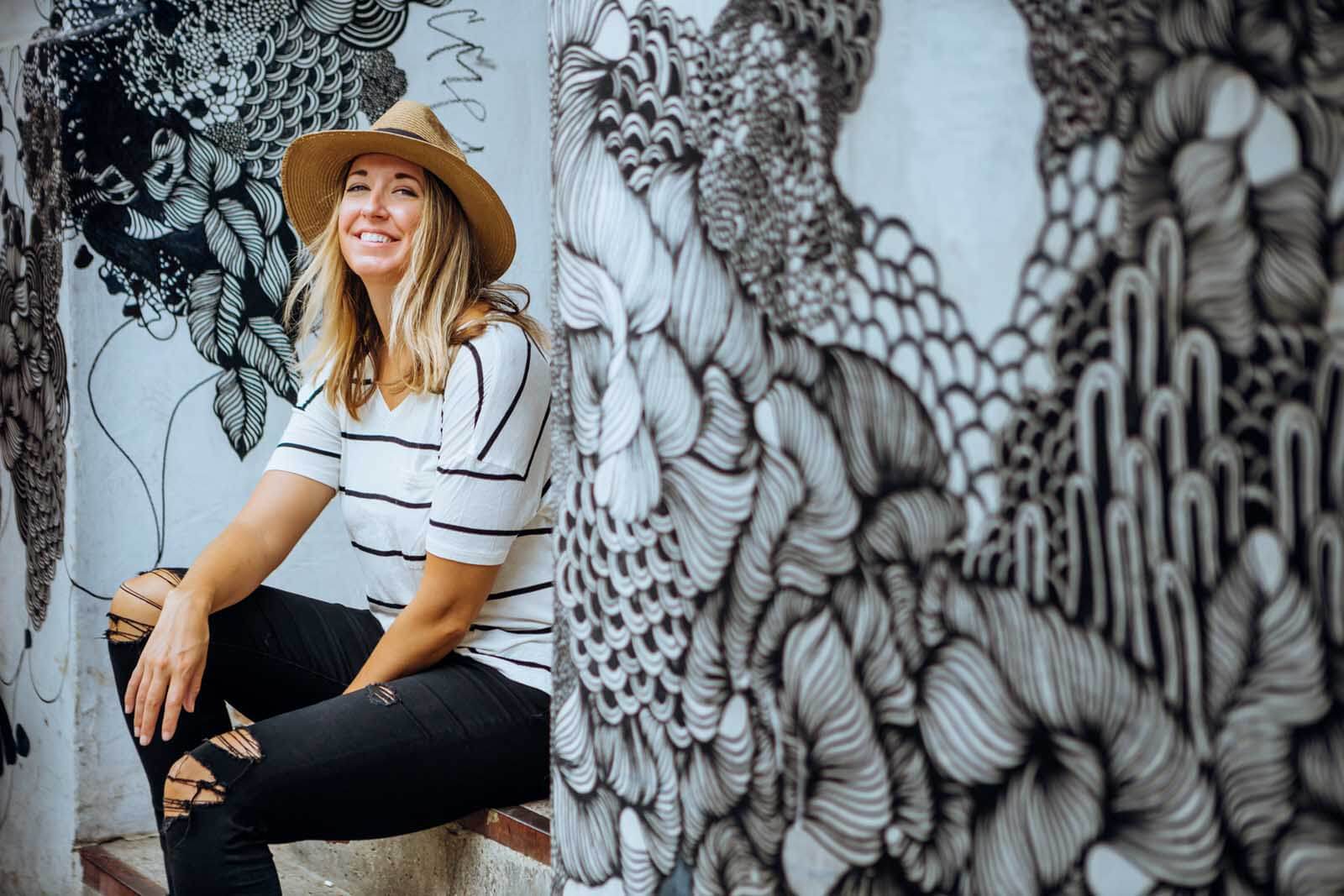 One of our favorite areas to explore and things to do in Kreuzberg, Berlin is wander the streets of Bergmannstraße. This area is filled to the brim with cute shops and independent boutiques from designers to second-hand stores.
There's also a great selection of restaurants ­­­and cafes with a fun scene or if you want to explore more food options check out Marheineke Markthalle.
Bergmannstraße is also close to Curry 39, a very popular and famous currywurst stand in Berlin. Currywurst is a must try while you're in Berlin if you haven't had it before. It's basically a sausage with ketchup and curry seasoning which has a unique and tasty flavor. Curry 39 often has a long line, however, if you go right before the lunch rush you might luck out like we did, we got there at around 11:30 am and there was no line! We were told that is VERY rare.
Oberbaum Bridge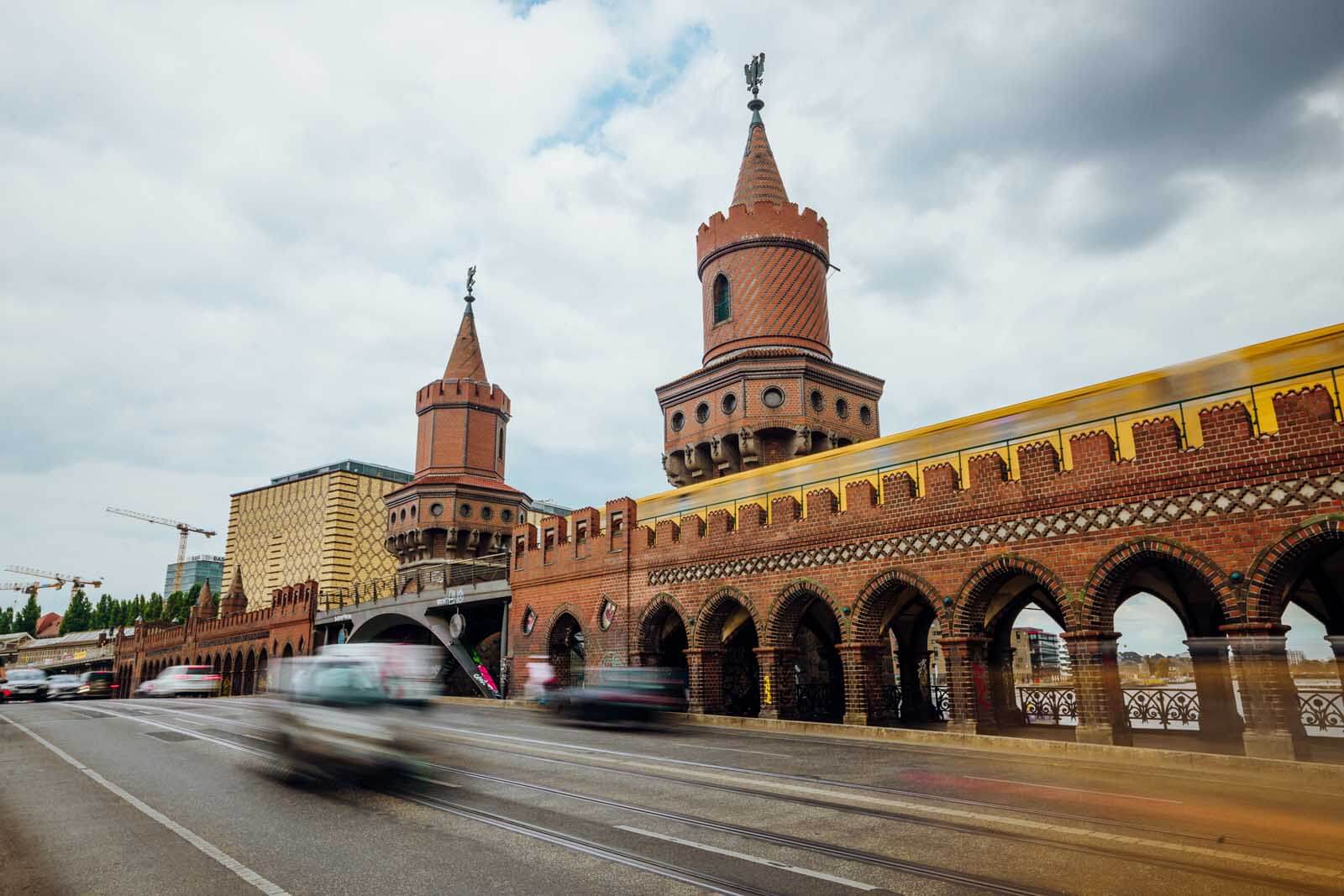 Another iconic thing to do in Kreuzberg is visit the beautiful Oberbaum Bridge. This bridge connects Kreuzberg to Friedrichshain over the River Spree and is not only a great way to get from one neighborhood to another but also great for photographs.
The Oberbaum Bridge also has an interesting history as the two sides of Kreuzberg and Friedrichshain have sort of fought over the bridge over the years with their famous water battle. Every year since 1998 until 2013 the two different sides of the bridge, Friedrichshain and Kreuzberg hold an anarchic battle using nonviolent objects such as rotten produce or water. Each year there was a new winner.
Besides the famous water fights that took place here, the Oberbaum Bridge was also another checkpoint during the Cold War era and the bridge was used as a crossover checkpoint from the West to East.
You may also recognize this bridge if you're a fan of the Matt Damon Bourne movies as it was used for a filming location in The Bourne Supremacy.
Explore Oranienstraße
Another one of the best areas to explore and best things to do in Kreuzberg is exploring the scene at Oranienstraße. This area is famous for its nightclubs and entertainment scene and is great for anyone looking for good nightlife. One of the most famous bars is SO36 and was one of the famous hang out spots for music icons, David Bowie and Iggy Pop.
Oranienstraße is also home Café Ora, a cool bar set in a former pharmacy with apothecary themed cocktails and décor.
We were also told that 1001 Falafel had some of the best falafel in town and that the Korean Fried Chicken, the Angry Chicken spot was also a must. Had we not already ate, we would have been all up in that Korean fried chicken since we LOVE IT and miss it so much from our days living in Seoul.
Find the Street Art of Kreuzberg, Berlin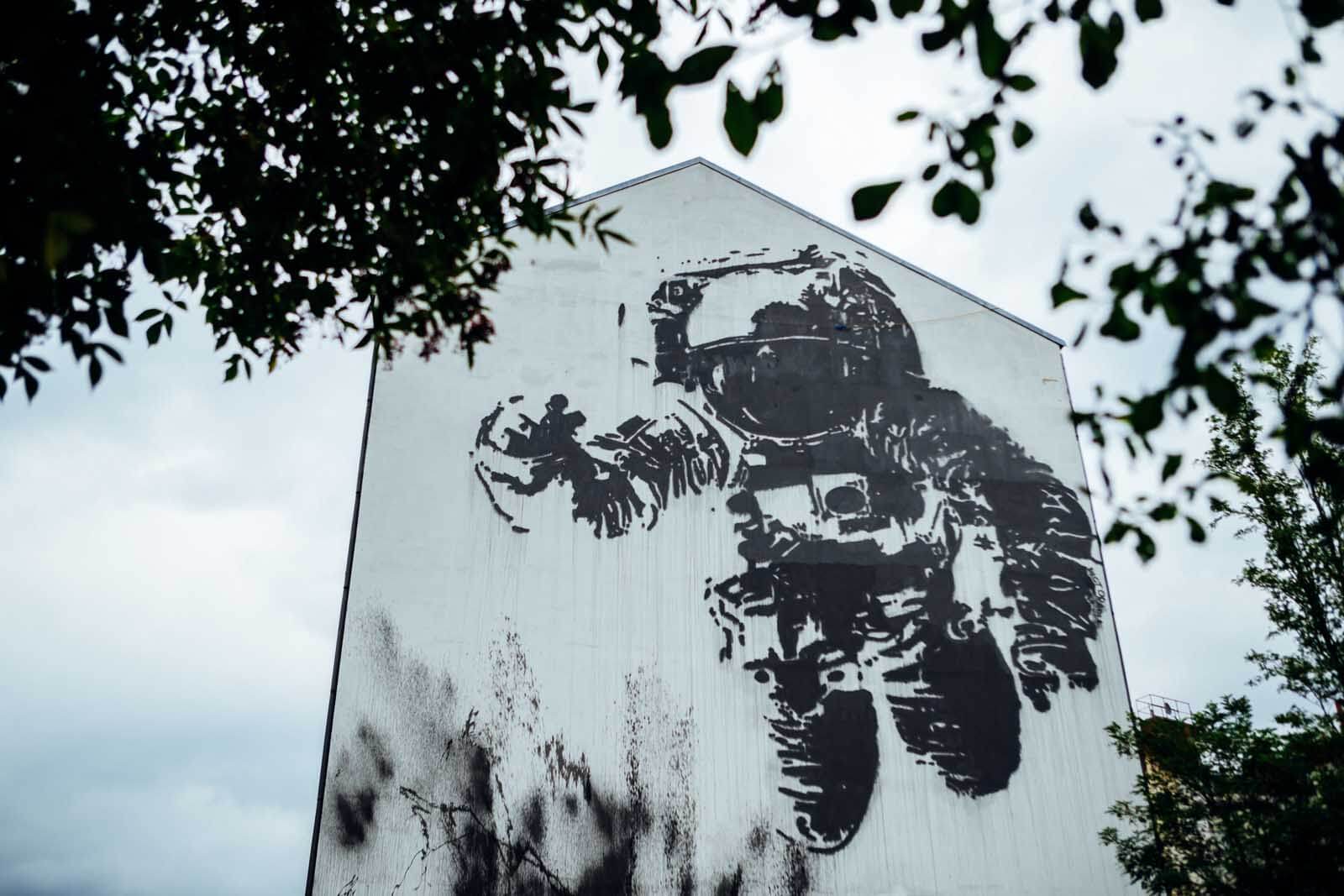 If you're into street art then this is one of the best things to do in Kreuzberg, Berlin for you. Check out some of the most famous murals and street art around Kreuzberg. Here were a few of our favorite spots:
Astronaut Cosmonaut by Victor Ash
Located in Mariannenstraße you can find the giant spaceman, despite popular belief, this is not one of the largest stenciled murals, the artist actually painted this piece on a grid scaled larger from his smaller copy.
To get to this piece you need to take the U-train station to Kottbusser Tor. After you arrive, walk east on Skalitzer Strasse and take the first left turn up Mariannenstrasse and you won't be able to miss it.
Street Art on Curvy Street
You can see giant murals and work by the famous artist BLU on Curvy Street. You can find most pieces in the area between Schlesischer Straße, Curvystraße, and Spree.
See more by the artist BLU by walking on Oppelner Strasse and Oberbaumstrasse near the River Spree. This was the one we saw and didn't realize it was by artist BLU and didn't take a photo. The mural is made up of a face of man made by many smaller people, the piece is known as Backjump.
Elephant Playing With a Balloon by Jadore Tong (S.Y.R.U.S)
Another one of our favorite pieces in Kreuzberg, this giant mural is not far from the Jewish Museum and Berlinishche Galerie connected to a basketball court and next to a children's playground by an apartment complex.
The Bethanien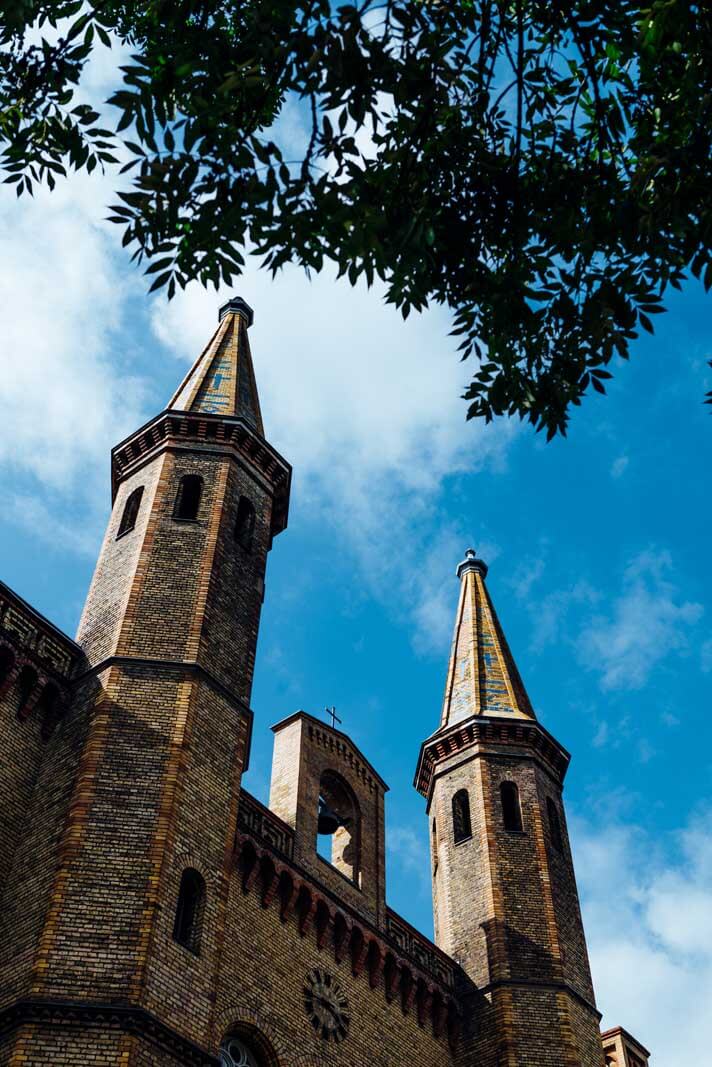 Once an old hospital run by nuns then a squatters residence in the 70s, now an entire urban complex full of great things to do in Kreuzberg like art exhibits, restaurants, an open air cinema with movies in English, and even a pharmacy that is still operating from the old hospital days. Besides being a compound of cool things to do in the area set in these historical buildings, the Bethanien is still an area for squatters today. See more here.
Treehouse By The Wall
Another cool thing to do in Kruezberg is check out Treehouse By The Wall. While this doesn't look like much in person, it's the backstory and history that goes along with this little plot of land that makes this spot fascinating.
Turkish immigrant, Osman Kalin, noticed a small plot of land that was unused on the west side of the wall that technically belonged to East Germany during the era of the wall. The wall was built around this little plot on a curve to save money and technically belonged to the GDR even though he was on the west side, so the west couldn't do anything with the land and the east couldn't reach it.
Kalin saw this plot of land and decided to grow a garden on it, the East Germans decided he was allowed to grow his garden there, it was actually the West who gave him a hard time about using the plot of land.
Eventually, the little piece of land went from being a garden to having a full on tree house built by Kalin. The East German guards enjoyed Kalin and even waved to him. Kalin even offered them garlic and produce from his garden, he didn't care about politics, he just was a kind person.
In the 1980s the anarchists in the alternative scene in Kreuzberg respected Kalin for doing his own thing. He became a local celebrity in some sorts.
After the wall came down, authorities wanted to build a road in its location but Kalin and locals fought on his behalf to keep the land. Sadly he passed away last year but his family keeps the property currently and tells his story to this day.
Check out the Kreuzberg Beach Bars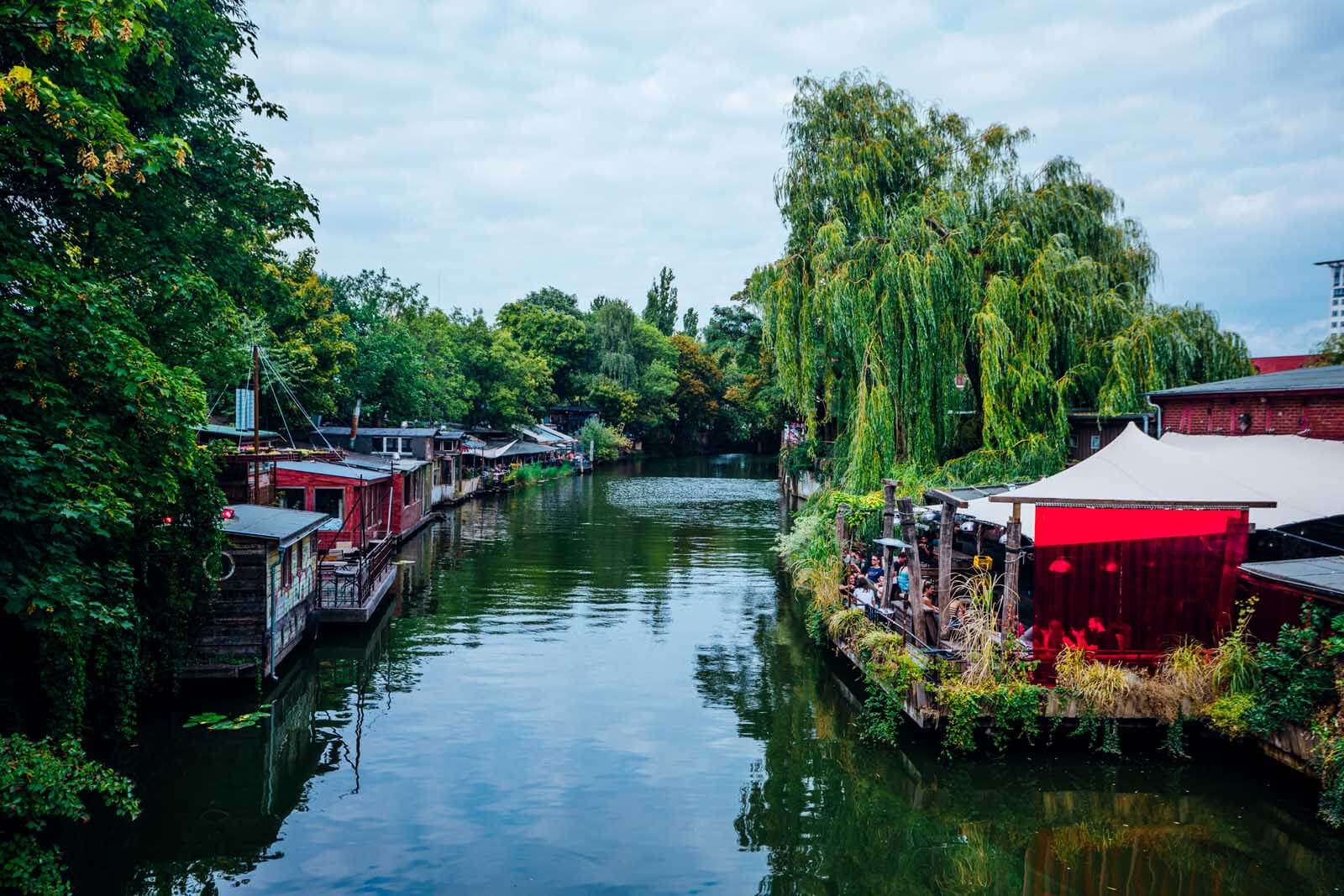 Another one of the best things to do in Kreuzberg is check out the local beach bars. It's funny to call them 'beach bars' but the city calls them that as they are often located right along the River Spree.
One of our favorite spots was Club der Visionӓre recommended to us by a Berliner. This bar has a laid back, cool vibe with electro music and a wooden sun deck.
Apparently, Sunday afternoons are the best but we came on a weekday evening and it was still a fun, relaxed scene with good music and drinks.
Just a few steps further is Badeschiff, a public floating swimming pool along the river with stand up paddle boards, sand, beach lounge chairs, and a bar! Sadly, this was closed for a private event during our visit but just peeking in this spot looked awesome! We will have to visit this on our return to Berlin.
Not a beach bar, but located right next to the beach bars mentioned above is an awesome restaurant and something you need to add high on your things to do in Kreuzberg Berlin list. Freischswimmer is a riverside restaurant directly across from Club der Visionӓre, you can actually see into the club from this side of the restaurant.
They serve up great food on their wooden deck with a great view and perfect for a relaxing dining experience. We enjoyed the atmosphere the most and it was a perfect location for a meal right after a few drinks at the beach bars.
Check out the best beach bars in Berlin here.
Where to stay in Kreuzberg, Berlin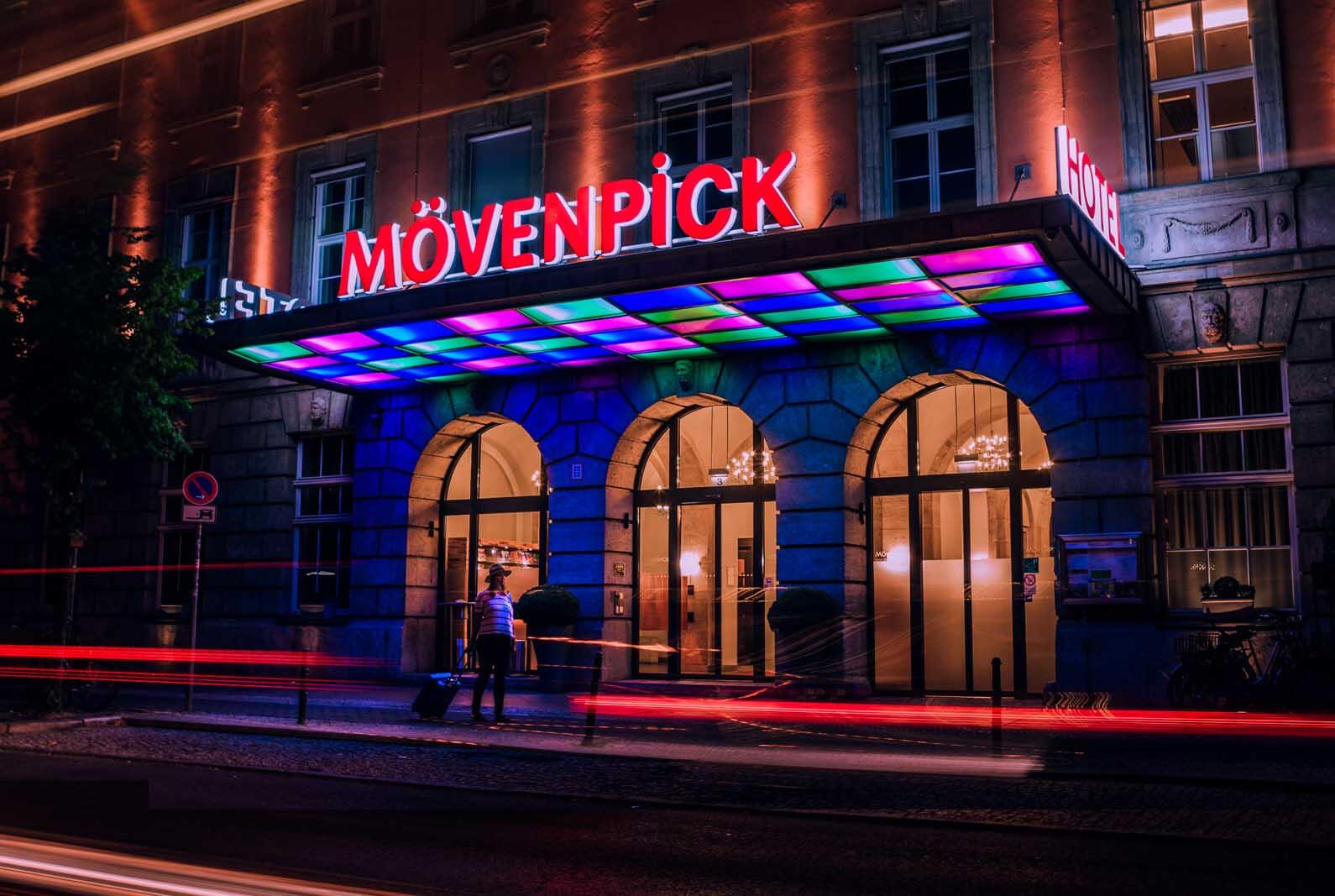 We recommend staying where we stayed, at Mövenpick Hotel Berlin in Kreuzberg. This hotel offers comfortable rooms, ours offered a specialized mattress that adapts to our weight, body, and sleeping position along with a remote that let you adjust the firmness or softness for your hips and shoulders on each side of the bed. We had great sleep here!
We also enjoyed their delicious breakfast spread every morning and there is a fitness facility and spa on site too. We were also walking distance to alot of the attractions in Kreuzberg which also made it very convenient and there was a bus stop right outside for those spots not so close.
Book Now | Compare Prices for Later | Read Trip Advisor Reviews
---
Disclaimer: Our trip to Berlin was in cooperation with Visit Berlin and Berlin Welcome Card, however, all experiences and opinions are our own.
Be sure to also check out the best day trips from Berlin and this great 3 day itinerary for Berlin to help you plan your trip.
Liked this post on the best things to do in Kreuzberg, Berlin? Bookmark for later or share the love below on Pinterest.