There are tons of amazing things to do in Wroclaw, Poland's fourth largest city. Today the city boasts a younger crowd as there are students here who attend an acclaimed university here in the city and is ranked for its quality of living throughout Europe but it always hasn't been this way. Wroclaw is a city who has been through it all, from wars, fires, floods, a smallpox epidemic, to being under the rule of several different kingdoms and regimes including the Kingdom of Prussia, Kingdom of Poland, Kingdom of Bohemia, Kingdom of Hungary, and Nazi Germany to name a few.
The entire city has been rebuilt since the end of World War II after 70% of the city lay in ruins after the Battle of Breslau that took place from February to May in 1945. As you walk around the city you will see plaques showing photos of scenes from where you're standing in May 1945. You can actually compare the complete devastation to what has been rebuilt and what you see today. It is incredible to see a city with so much resilience bounce back after such devastation throughout history and most of all current history within the last century.
This is a city worth visiting, besides being absolutely beautiful there are plenty of great options for what to do in Wroclaw during your visit. Check out our guide for the best things to do in Wroclaw, Poland.
Learn How To Pronounce Wroclaw Correctly
Before worrying about what to do in Wroclaw, the first thing to do in Wroclaw, or before you visit is learn how to say the name properly. We did NOT do this and made a fool of ourselves, we were pronouncing it the way the word looks in English, that's so American of us. Anyways, we are lucky to have a few dedicated followers, one being a Polish friend who traveled with us in Nepal, who so kindly sent us a video on how to pronounce it properly.
The way you pronounce it is 'vrohtz-wahv.' It's really tough without hearing it so we are going to drop a video below, but practice this before you come so you don't sound like a wacko like we did.
Go to Cathedral Island
Check out the oldest part of the city in our next pick for what to see in Wroclaw. Cathedral Island, also known as Ostrów Tumski was formerly an island in the Oder River, nowadays it just isn't an island. Not sure what happened here with the island, but it was once an island. Anyways, the best way to visit Cathedral Island is to cross Most Tumski from Wyspa Piasek, or Sand Island.
The main highlight, other than the beautiful Tumski Bridge with love locks all over it, cobblestone streets, and gas lamps that are hand-lit every evening, is the gothic Old Wroclaw Cathedral dating back to the mid 10th century when it was built.
Make sure you walk all the way around the cathedral to admire the structure from different vantage points to see why this is one of the most beautiful places to visit and things to do in Wroclaw.
Visit The Islands on the Oder River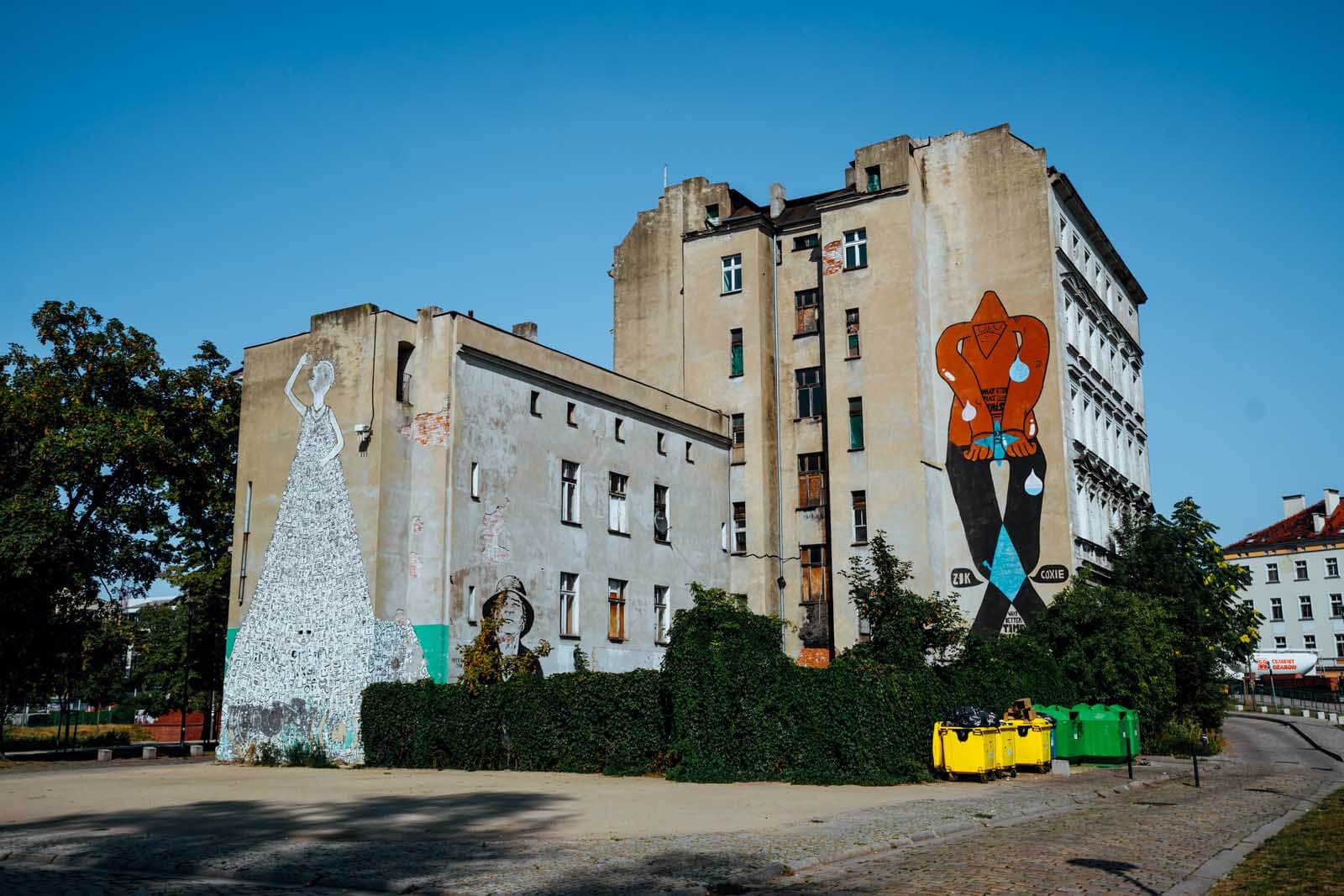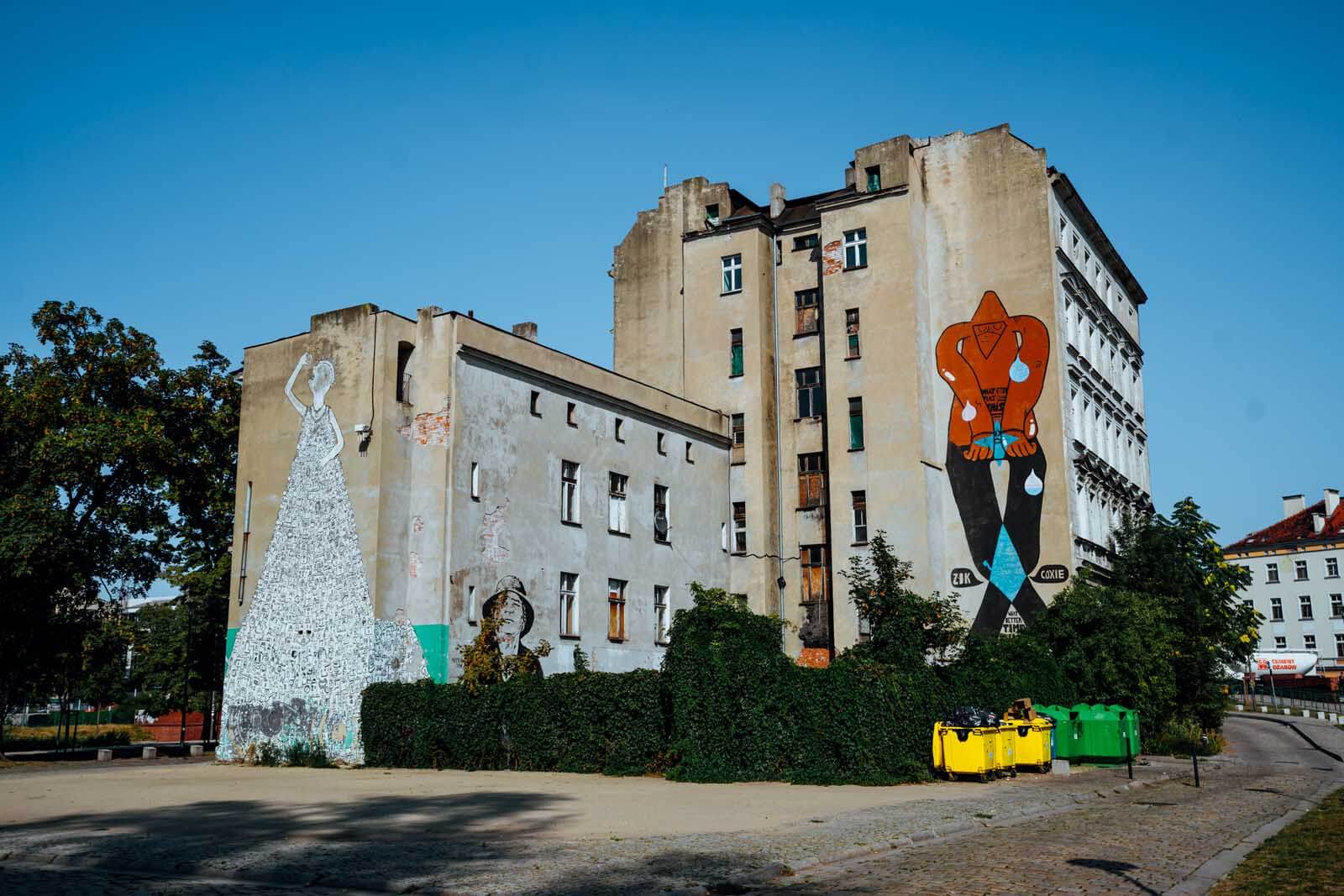 Another amazing idea for what to see in Wroclaw is visit the islands in the Oder River. With around 130 bridges connecting the 12 islands, you might begin to understand why some declare Wroclaw as the Venice of Poland. While we think this is a bit of a stretch, this area is still beautiful to explore and one of our favorite things to do in Wroclaw.
The islands are very small and easily walkable in about 10-15 minutes from the Main Market Square. Some of the islands take just a few minutes to walk across while others you could spend a few hours enjoying.
Our favorites were Wyspa Piasek, aka Sand Island. This island is very small and connects to Ostrów Tumski. There are two beautiful churches on the island, the Old Gothic Church of St. Anna and the Baroque Church of Saints Cyril and Methodius. Before World War II and the destruction of 70% of Wroclaw, there were also gorgeous homes on this island, however, you will have to use your imagination today as they were never rebuilt after May 1945.
Our other favorite island and Wroclaw attractions was Wyspa Słodowa or Malt Island. This island has a lovely park on it with benches and walking or biking paths and is the perfect place to sit riverside and watch the swans or ducks or even read a book.
There's also some beautiful murals on the buildings here and this island hosts various events throughout the year. Our favorite part about Wyspa Slodowa are the floating bars! There are several floating beach bars around the island that are the perfect place to hang out and enjoy a drink on the waterside.
Go Dwarf Hunting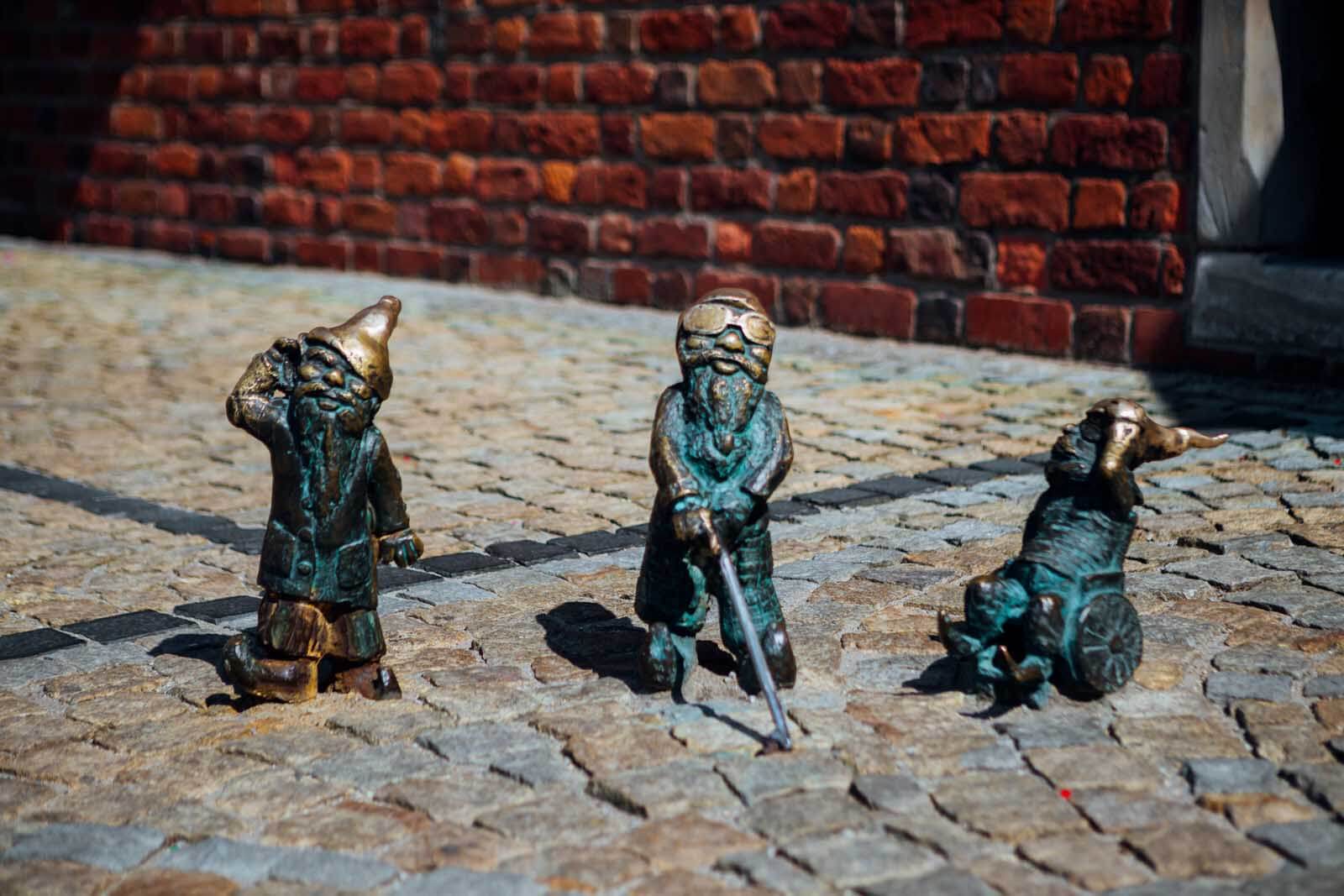 This is one of the most popular things to do in Wroclaw and honestly what makes this one of the more quirky places to visit in Poland! This is basically Wroclaw's own version of Pokémon Go before Pokémon Go ever existed.
Grab a map at the Dwarf information center or the various tourist shops around the city and set out to find the 100 dwarves on the map or download the app, there are actually 5x as many dwarves in the city, so many that the city of Wroclaw has lost track and they continue to add more. You'll find these cute little dwarves or gnomes all over the place doing different things from using a computer to putting out a fire.
The back story of these dwarves is actually quite interesting too! Before this became a popular Wroclaw attraction there was a political movement behind the dwarves. The city of Wroclaw didn't start putting up the dwarves around the city as a tourist attraction until 2005 to nod at a significant anti-soviet and oppressive regime resistance movement in the 1980s. The Orange Alternative, the local Polish anti-communist nonviolent protestors used a gnome or dwarf as their symbol. They would spray paint little dwarves on communist propaganda all over the city and it caught on like wildfire.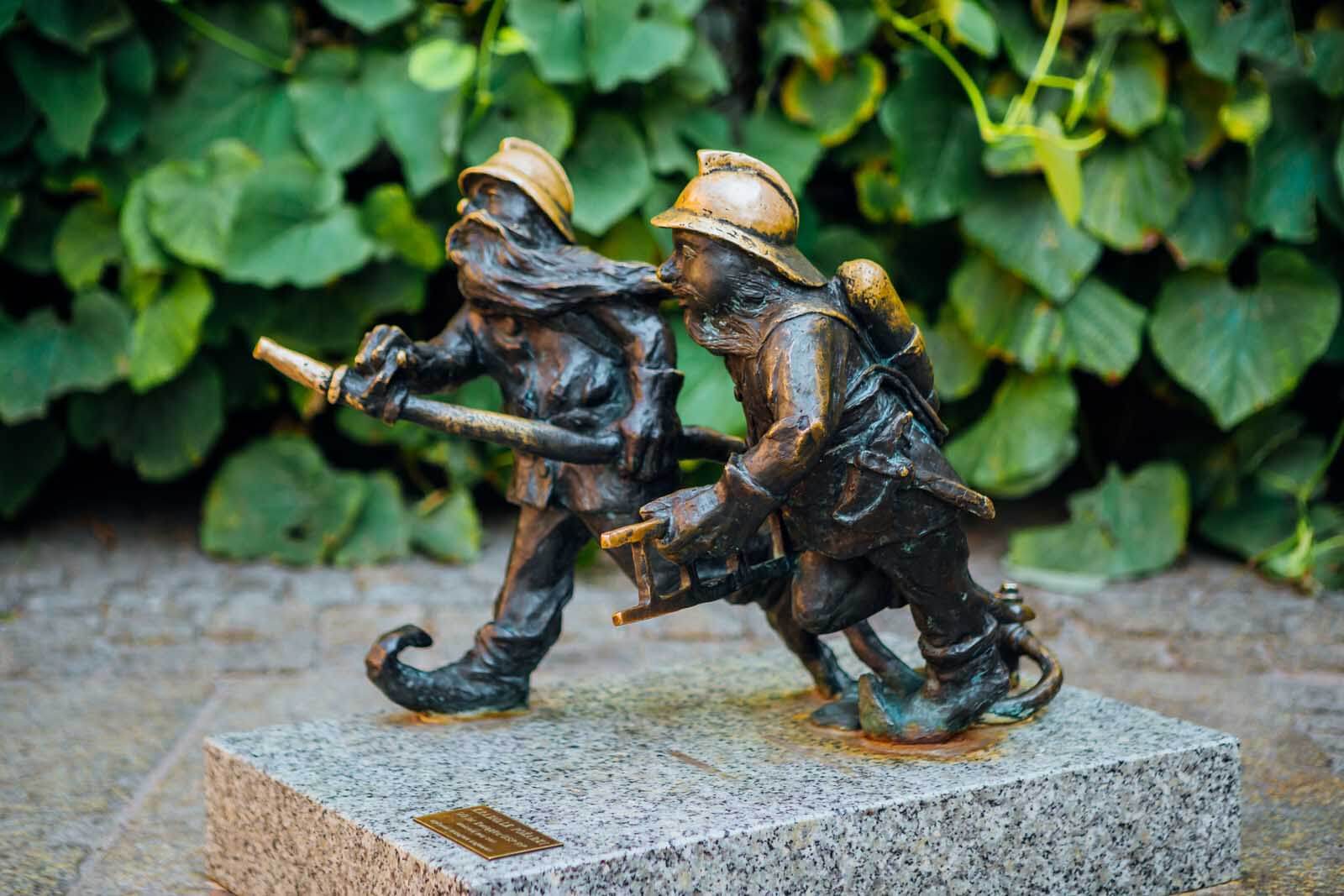 There was even a protest in 1988 where over 10,000 protestors showed up in the town center wearing little orange dwarf hats. This movement became a symbol and was known as the "Revolution of the Dwarves," and this was their way of rebelling against the government in a peaceful way.
The OG dwarf used to commemorate this group is found on Świdnicka Street before the city started putting them all over the place. This is the spot where the Orange Alternative would meet.
We were told you can see one original dwarf from the Revolution of the Dwarves from the 1980s in Wroclaw near Smoluchowskiego 22 on the wall. However, we didn't go to see it for ourselves, so if you find it please let us know!
Fall in Love With Main Market Square
The most obvious thing to do in Wroclaw is visit the beautiful Main Market Square or Rynek. Considered one of Europe's most gorgeous and beautiful town centers you can admire the unique blend and mix of styles of architecture here ranging from Gothic to Baroque styles and influences from the Bohemian, Prussian, and Austrian times of the city.
You also don't want to miss the iconic Old Town Hall in the Market Square, you can't miss this gothic building from the 13th century that looks almost like an elaborate gingerbread house and is one of the most iconic things to see in Wroclaw.
This is one of the most photogenic spots in the city with plenty of outdoor restaurants to choose from so you can dine and enjoy the view. This is also where you can find several of the dwarves on your little dwarf hunt throughout the city!
If you love informative tours like we do, consider this 2-hour tour through Old Town.
See Where Europe's Oldest Restaurant Was
Our next thing to do in Wroclaw is an interesting little tid bit I found on the web. Apparently, Europe's former oldest restaurant is located in the underground of the Old Town Hall building on the side entrance. The restaurant is called Piwnica Świdnicka and opened in the year 1275, but sadly it closed last year.
We aren't sure why it closed and are sad we missed the chance to eat here. They used to serve traditional polish cuisine and had a beautiful location and authentic look. However, today you can just look at the side doors that used to lead to Europe's oldest restaurant, womp womp.
Now, not only Europe's oldest restaurant but the world's oldest continuously running restaurant is in Regensburg, Germany.
Try a Tasty Cake at Nanan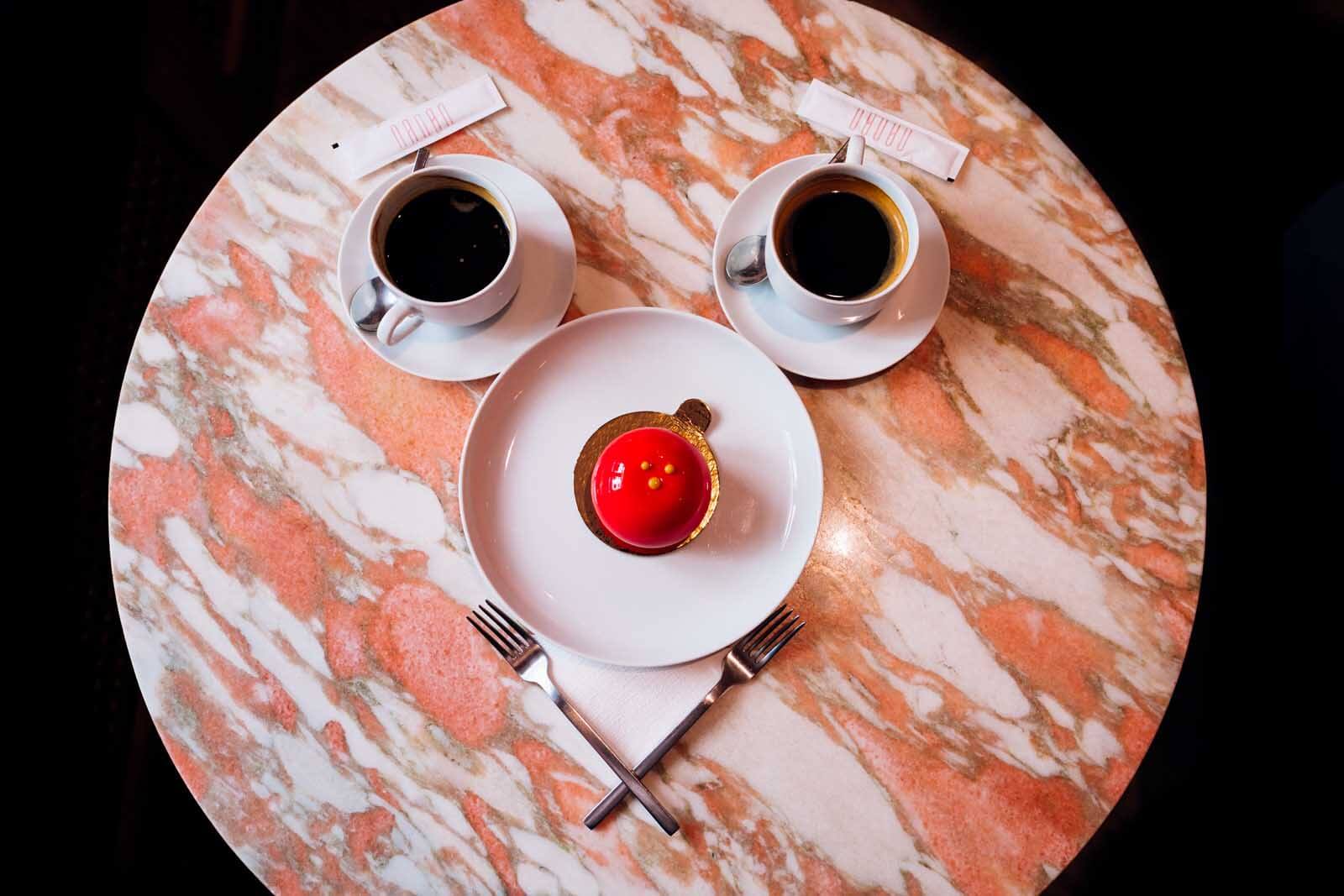 This next thing to do in Wroclaw is for anyone who has a sweet tooth and who LOVES Instagram worthy places to photograph. This café serves up the most amazing designer cakes, coffee, and a few select drinks like Aperol Spritz in their pink art deco inspired café.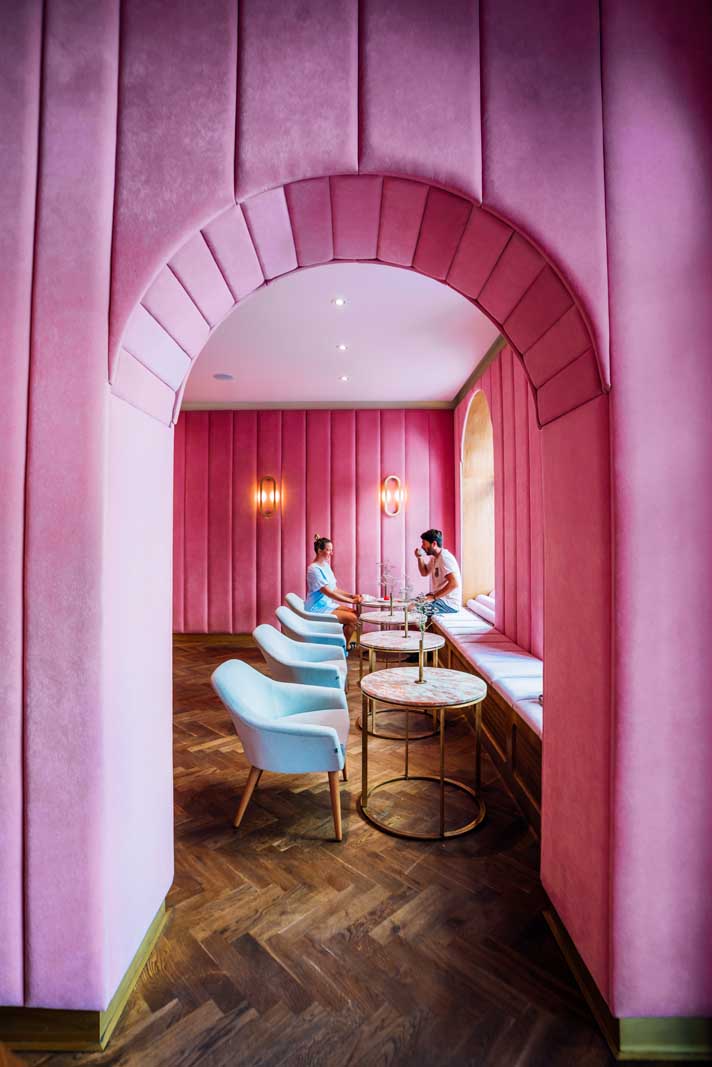 The cakes are almost too beautiful to eat, but EAT them because they are amazing! Ours had raspberry and a hint of lavender with the smooth creamy texture of cheesecake. Each bite was heavenly. An experience like this in New York City would easily cost you 5x as much, for one cake and two coffees we spent around $9 USD which wasn't bad at all!
This is what to do in Wroclaw if you have a sweet tooth like us!
Take a River Tour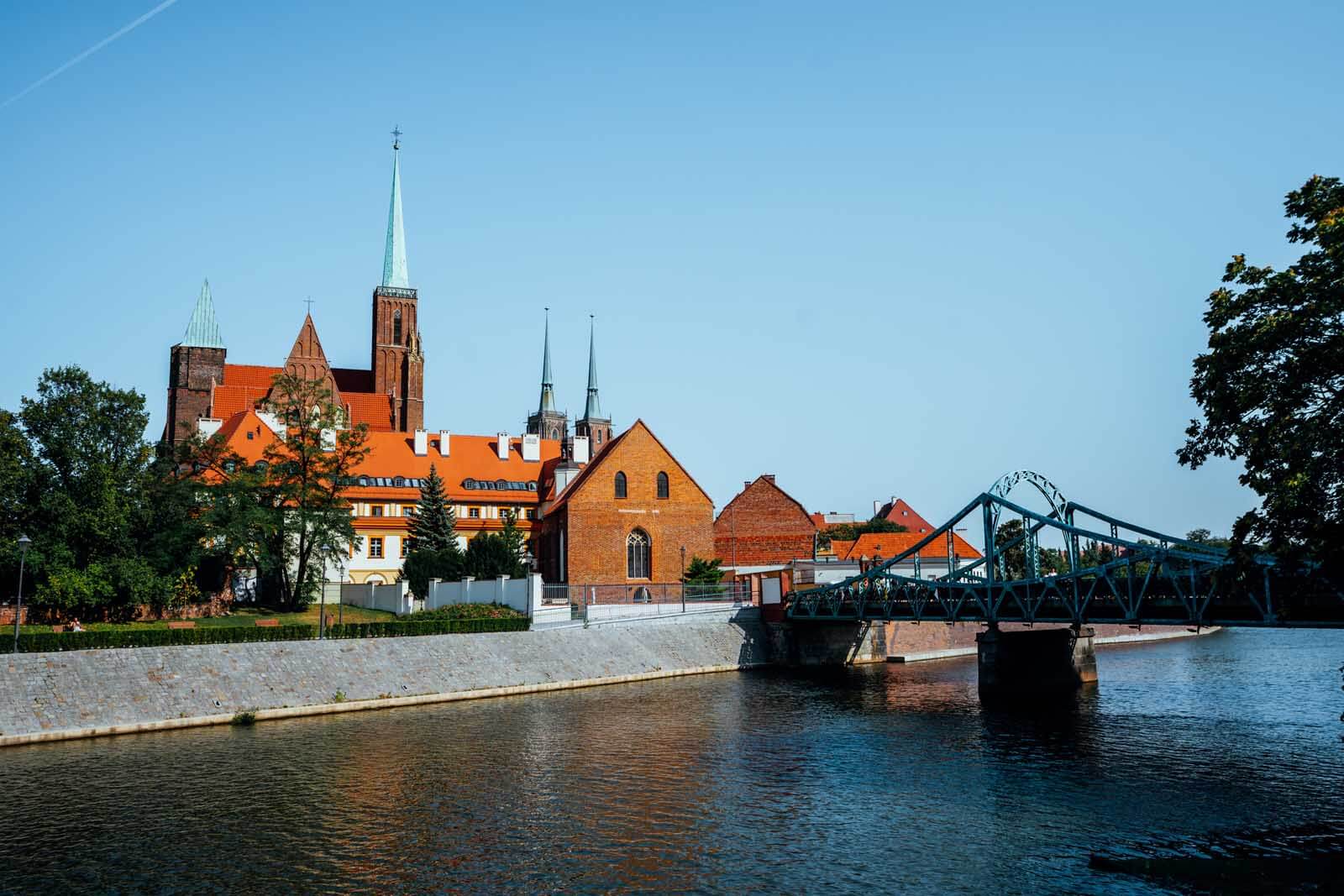 Our next thing to do in Wroclaw takes you to the water of the Oder River. Enjoy a gondola ride through the river with a guide telling you the history of some of the city's most notable spots seen from along the river.
This tour comes with a guide but you will have to pay and extra $3-4 to ride the gondola. Book your tickets here.
Shop Down Stare Jatki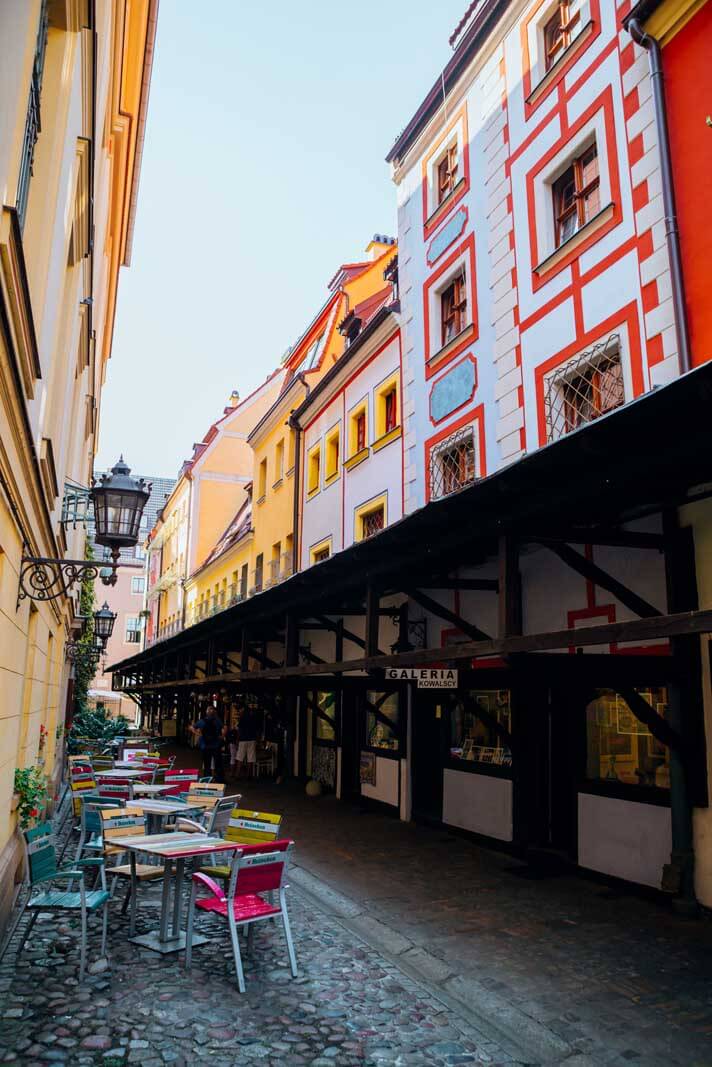 Another great thing to do in Wroclaw is walk down Stare Jatki where you will find galleries and shops today but this little alley dates back to the 1300s and was used as old meat and butcher shops. The narrow alley of little wooden buildings is quite adorable. You can see a statue commemorating the lives of animals sacrificed here as well as a butcher dwarf for your dwarf hunt!
BWA Galleries of Contemporary Art
Calling all art lovers, this is what to see in Wroclaw for art enthusiasts. The contemporary art museum located just around the corner from Market Square. We, unfortunately, walked past the museum as it was closing but couldn't help but admire the few pieces of the Widmo Brockenu collection on display that we could see through the window. The exhibits change from time to time, so be sure to check in to see what exhibit is showing during your visit to Wroclaw.
Botanical Gardens
Another amazing thing to do in Wroclaw is visit the botanical gardens just walking distance from Ostrów Tumski. The botanical gardens in Wroclaw are the second oldest in the country after Krakow and displays over 11,000 plants. This is a beautiful place to take a stroll and take in the fresh air.
Hala Targowa Market
Take a visit to the Hala Targowa aka Wroclaw Market Hall for another amazing thing to do in Wroclaw during your trip. This lovely covered market sells everything from fresh flowers, fruit, vegetables, fresh pastries, and even local pottery. There's even a restaurant connected to the market serving up craft beer and food with a fun and inviting atmosphere.
Visit Auschwitz from Wroclaw
Another thing to do in Wroclaw is book a tour to the Auschwitz-Birkenau Memorial and Museum and learn about one of the most well-known concentration camps from World War II and the Holocaust. This is not only one of the most famous Wroclaw attractions, but places to visit in Poland.
This is more of an emotional experience but well worth it understand and learn more about the history and the suffering of the Jewish community during this time in history. The drive is 2.5 hours and it is an entire day trip. You can book your tickets here.
---
Liked this post on the best things to do in Wroclaw Poland? Bookmark for later or share the love below on Pinterest to help you plan what to see in Wroclaw and what to do in Wroclaw! Happy Travels!