The Florida Keys is one of the best paradise destinations in the United States, the epitome of the "American Dream vacation," with its azure waters, breezy tropical sunsets, colorful buildings, and plenty of places to have a cold drink on a hot Florida day.
We have put together a suggested itinerary on how to spend your Florida Keys road trip and Miami to Key West drive based on our own experiences to help you plan an incredible vacation. You can easily adjust some of the activities on this itinerary to customize it for yourself.
We wanted to highlight some of the best natural activities to do including businesses and organizations who have efforts in protecting and helping their community and environment. You can read more about the sustainable Florida Keys activities in our other guide.
Your Florida Keys road trip itinerary starts and ends at the Miami International Airport (MIA) since this is the best airport to fly into to enjoy the best stops on the Miami to Key West drive.
Table of Contents
Things to Know Before Visiting the Florida Keys
Before embarking on your Florida Keys road trip and Miami to Key West drive here are a few things to know before you go to help you plan a great trip.
Renting a Car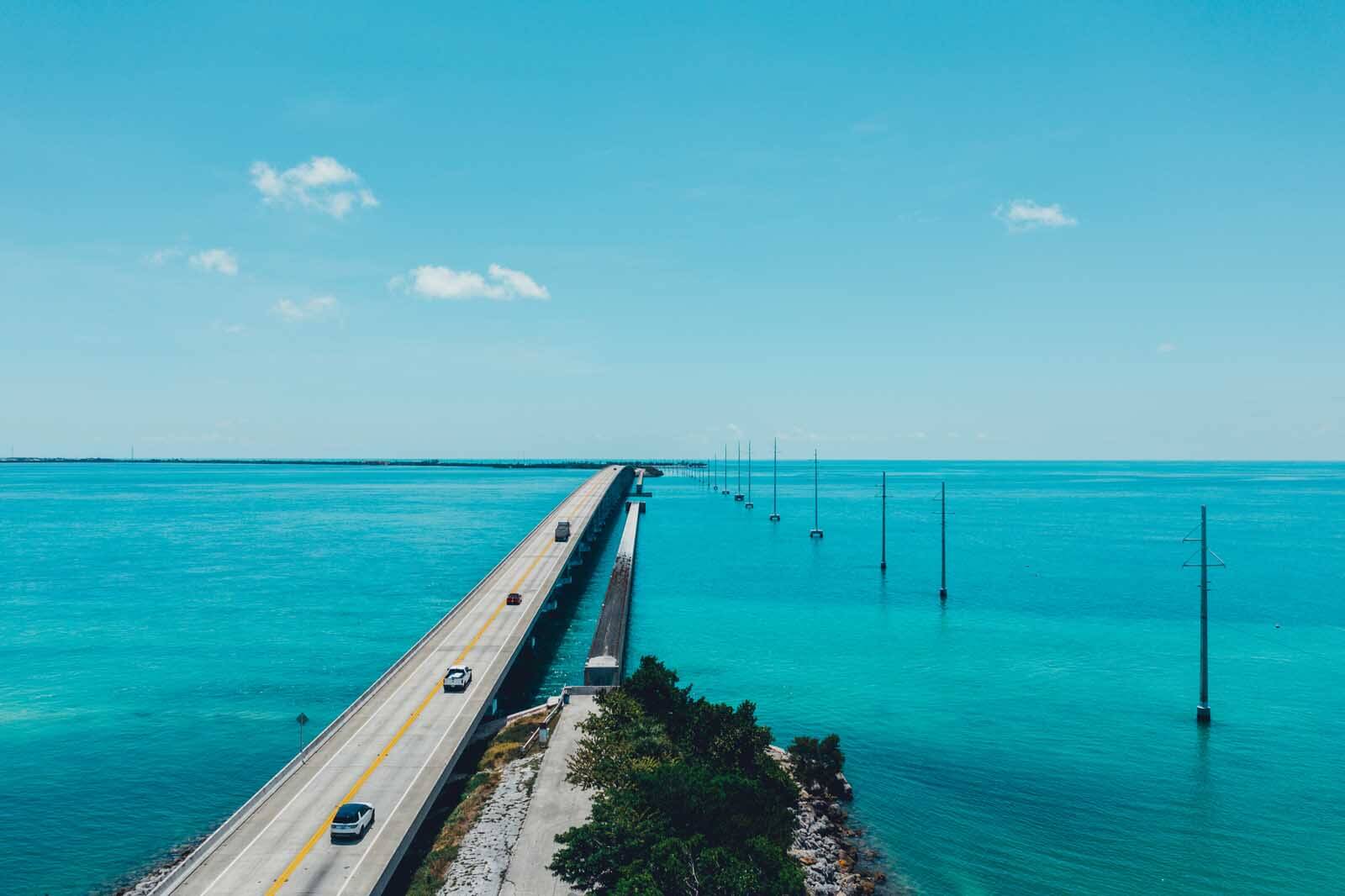 We recommend preparing for your rental car in advance for Miami International Airport (MIA). Getting to the car rental places at the airport is easy.
Once you collect your baggage you follow the signs to the MIA Mover that takes you to where the car rentals are.
We recommend booking your car rental in advance with Expedia.
Before purchasing car insurance be sure to check with your credit card company to see if it already included in your perks. If you do have rental car insurance coverage with your credit card, be sure to check to see if you need to have a letter from the credit card company proving your insurance so you don't end up getting pressured into buying the insurance you don't need on the spot. Some rental car companies require this letter proving coverage from your credit card company which is easy to get with a phone call but you need to come prepared.
Florida Keys Roadtrip Mile Markers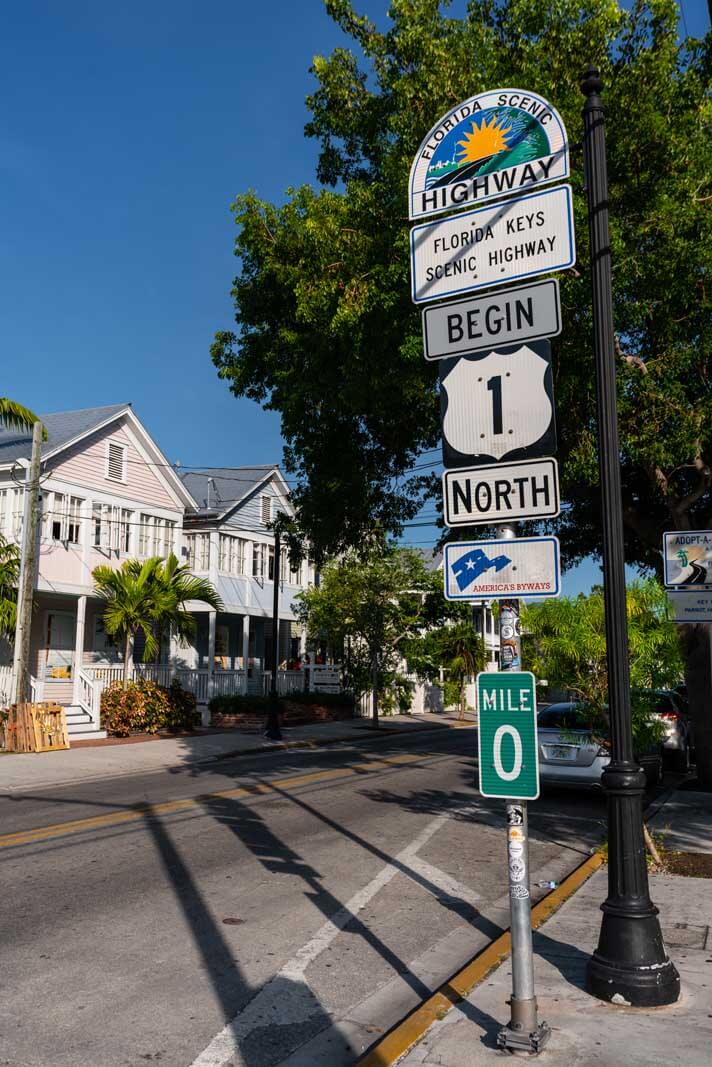 Once you start your Florida Keys road trip and drive from Miami to Key West you will notice that there's alot of talk about Mile Markers. These Mile Markers indicate the location or address in reference to the number of miles north of Key West's Mile 0.
As the address numbers get smaller, this indicates the further south you're going closer to Mile Marker 0.
For example, the first stop on our itinerary is Kona Kai Resort Gallery & Botanic Gardens. Their address is 97802 Overseas Hwy. Their street number indicates they are 97.8 miles away from Key West.
Once you get to Key West you can take your photo with the famous Mile Marker 0. These Mile Markers can also indicate how far of a drive it is between your planned stops. With Google Maps now you don't need to calculate the Mile Markers yourself but its a fun little tid bit of knowledge to know on your drive from Miami to Key West.
Reef Safe Sunscreen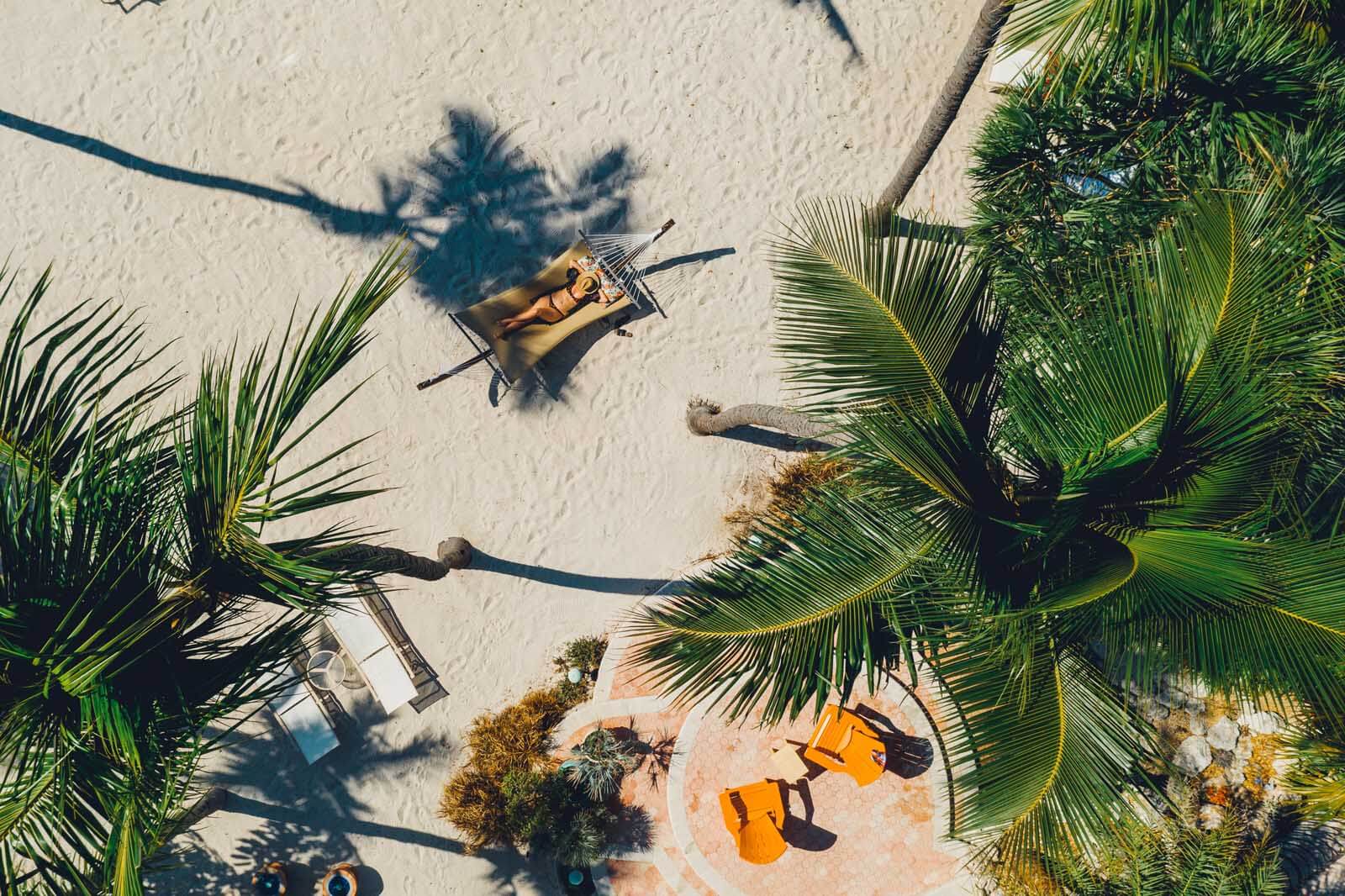 The Florida Keys can be hot and the sun is strong down here! This goes without saying, but you need to come prepared with sunscreen. If during your Florida Keys road trip you plan on getting in the water we urge you to use reef safe sunscreen. Did you know that most sunscreens are filled with chemicals that are toxic and harmful to the environment?
Two harmful chemicals often found in sunscreen are oxybenzone and octinoxate that contribute to coral bleaching. Other harmful chemicals include petrolatum and titanium dioxide.
Shockingly, finding reef safe sunscreen along your Florida Keys road trip isn't so easy and may require multiple stops, so we urge you to come prepared with your own. We have picked out a few you can purchase online in advance to prepare for your trip below.
Many reef safe sunscreens require a bit more time to 'apply' as there is often zinc in the sunscreen, and some even leave a faint white appearance after applying to your skin. We found Thinksport to be one of the easier reef safe sunscreens to apply. Also, if you apply a small amount at a time it's much easier to apply!
When's the best time to visit the Florida Keys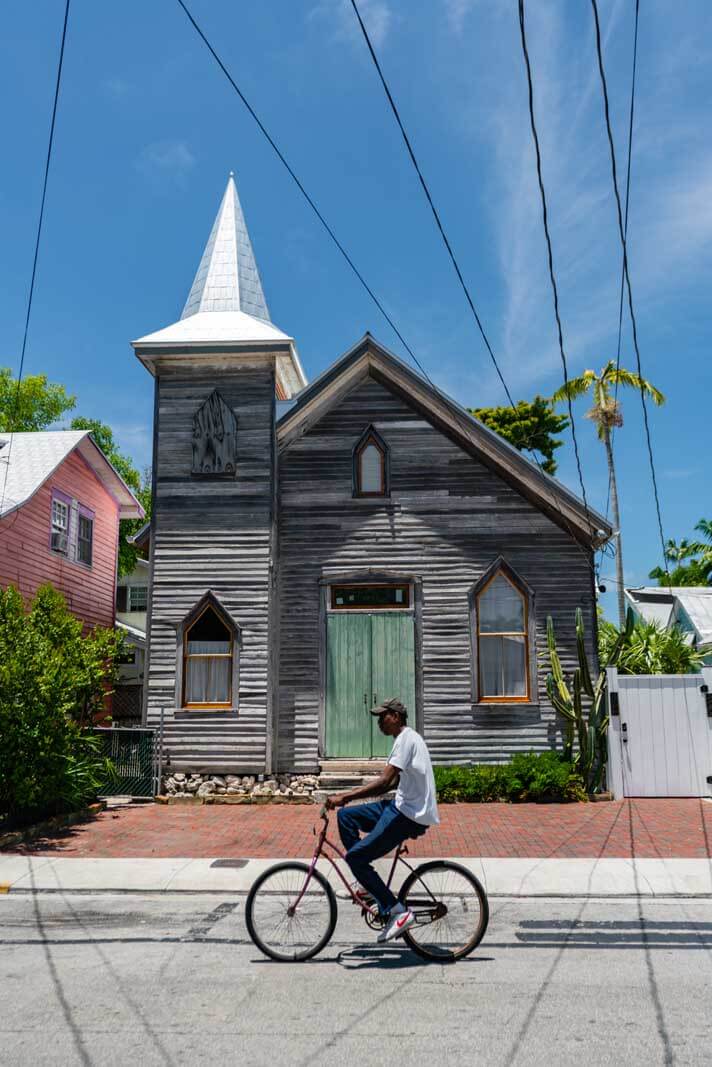 The best time to visit the Florida Keys is in the winter months, this is the most popular time because the weather is the most comfortable and people are escaping their cold weather homes to visit a warm paradise in Florida.
The spring months are a good time to visit the Florida Keys before the temperatures get too hot and humid and there are way less crowds and lower room rates than in the popular winter months.
Hurricane season is between June and November so its a gamble to travel during this time.
Be sure to also check out our guide for the best places to stay in the Florida Keys to help you plan your trip!
Day 1: Miami to Key Largo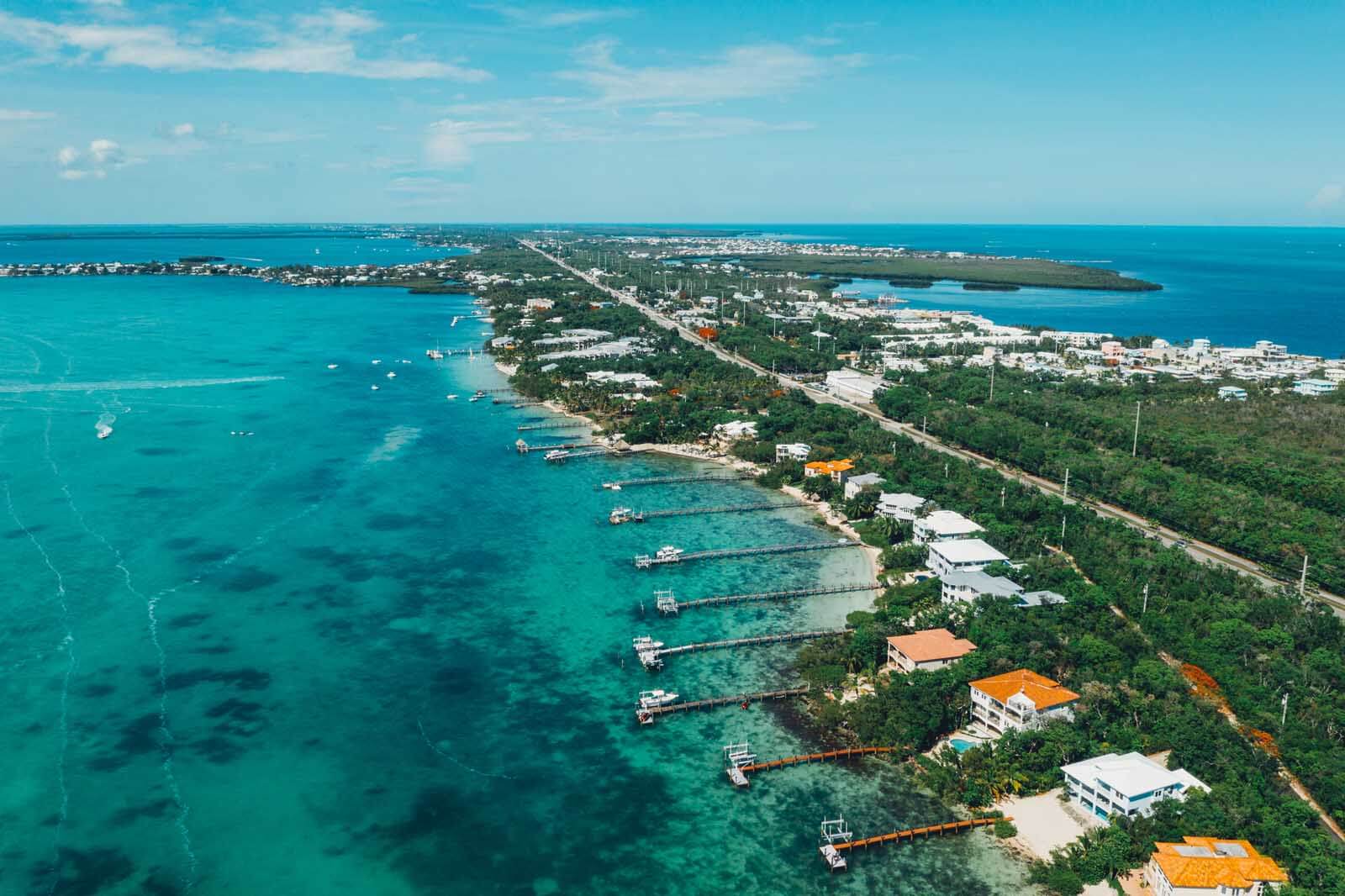 On your first day on the Miami to Key West drive we are recommending you stop at Key Largo to explore the northern Keys extensively. We have recommended where to stay as well as some great activities to enjoy.
We recommend spending some time in Miami before your trip, even if it's just an afternoon. We recommend checking out the colorful Miami neighborhood of Wynwood if you only have time for one stop!
Kona Kai Resort Gallery and Botanic Gardens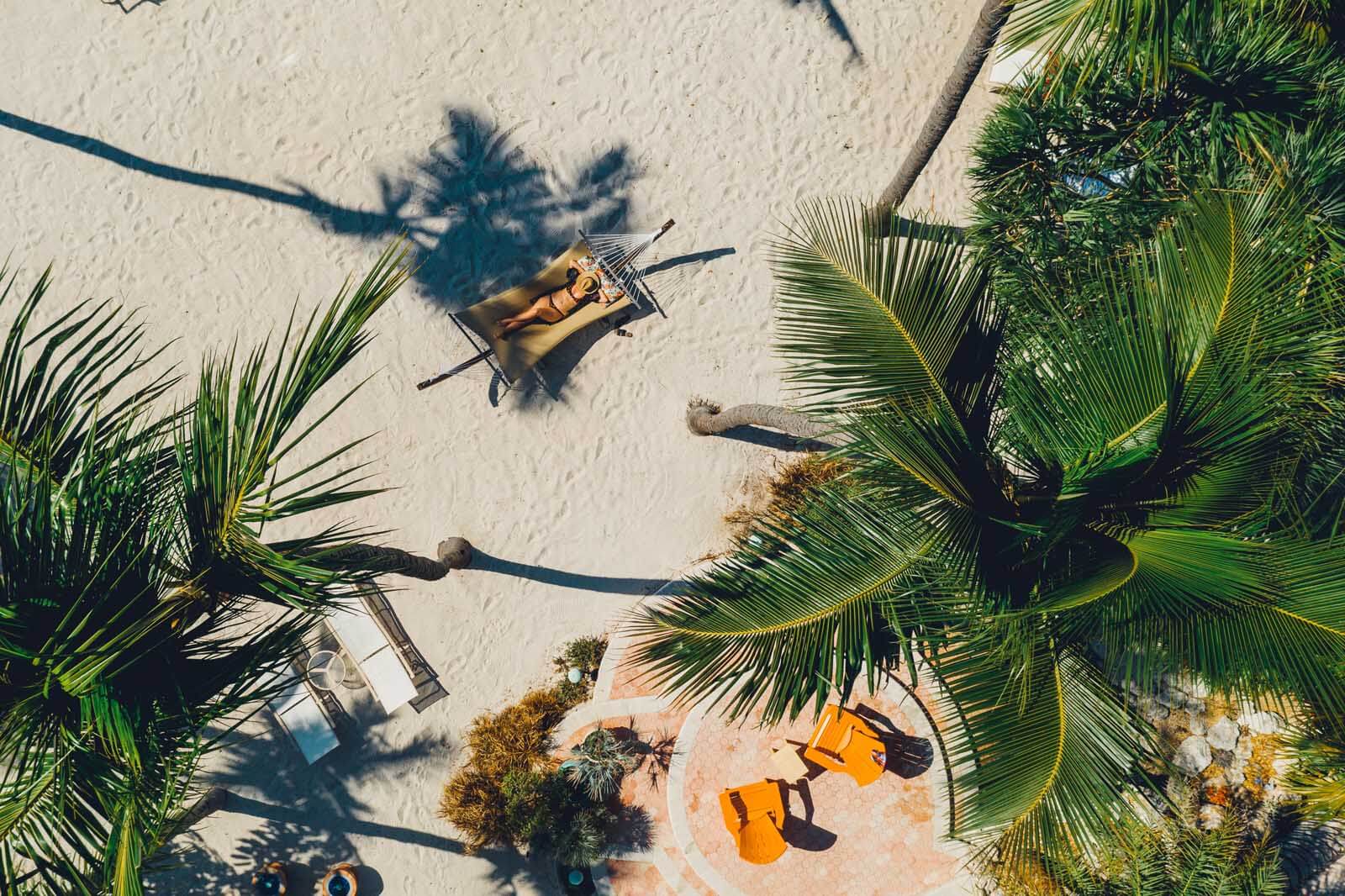 Our first stop on our Florida Keys road trip itinerary is a place for rest and relaxation in paradise. There's nothing more taxing on the body than flying and we like to take it easy on days that involve flights because they suck so much of our energy out of us.
Start your Florida Keys itinerary at this quaint resort made up of individual cottages on the waterfront. We are recommending using this resort as your base for the next two nights as we explore our days 1 & 2 Florida Keys itinerary attractions.
This boutique property not only has individual charming, beachy cottages for its guests located in a botanic garden but also a gorgeous waterfront location perfect for catching a sunset.
You will find little lizards and iguanas running around the botanic garden as you make your way to the beach on the walkway. The small botanic gardens here are actually one of only two frost-free tropical botanic gardens in the continental US!
With your stay you get free access to kayaks, stand up paddle boards, and paddle boats. There's also a pool and hot tub for swimming. Along the water, you can find a dock for sunbathing, sunset watching, and hammocks under the swaying palm trees to relax.
Each of the cottages comes with a fully equipped kitchen, so if you do like to cook on vacation you have this option but there are plenty of incredible seafood restaurants nearby. We recommend spending the first afternoon after flying and driving relaxing by the waterside here with your drink of choice before kicking off the rest of your Florida Keys road trip.
Dinner at Sundowners
One of the most popular spots in Key Largo for dinner and sunset is Sundowners restaurant. The restaurant has a full bar and a menu full of local fish dishes located right on the water in the Florida Bay.
This is only a 15-minute drive from Kona Kai Resort, so we ate dinner here before sunset and made it back to Kona Kai's quiet dock for a more romantic sunset!
Day 2: Around Key Largo and Islamorada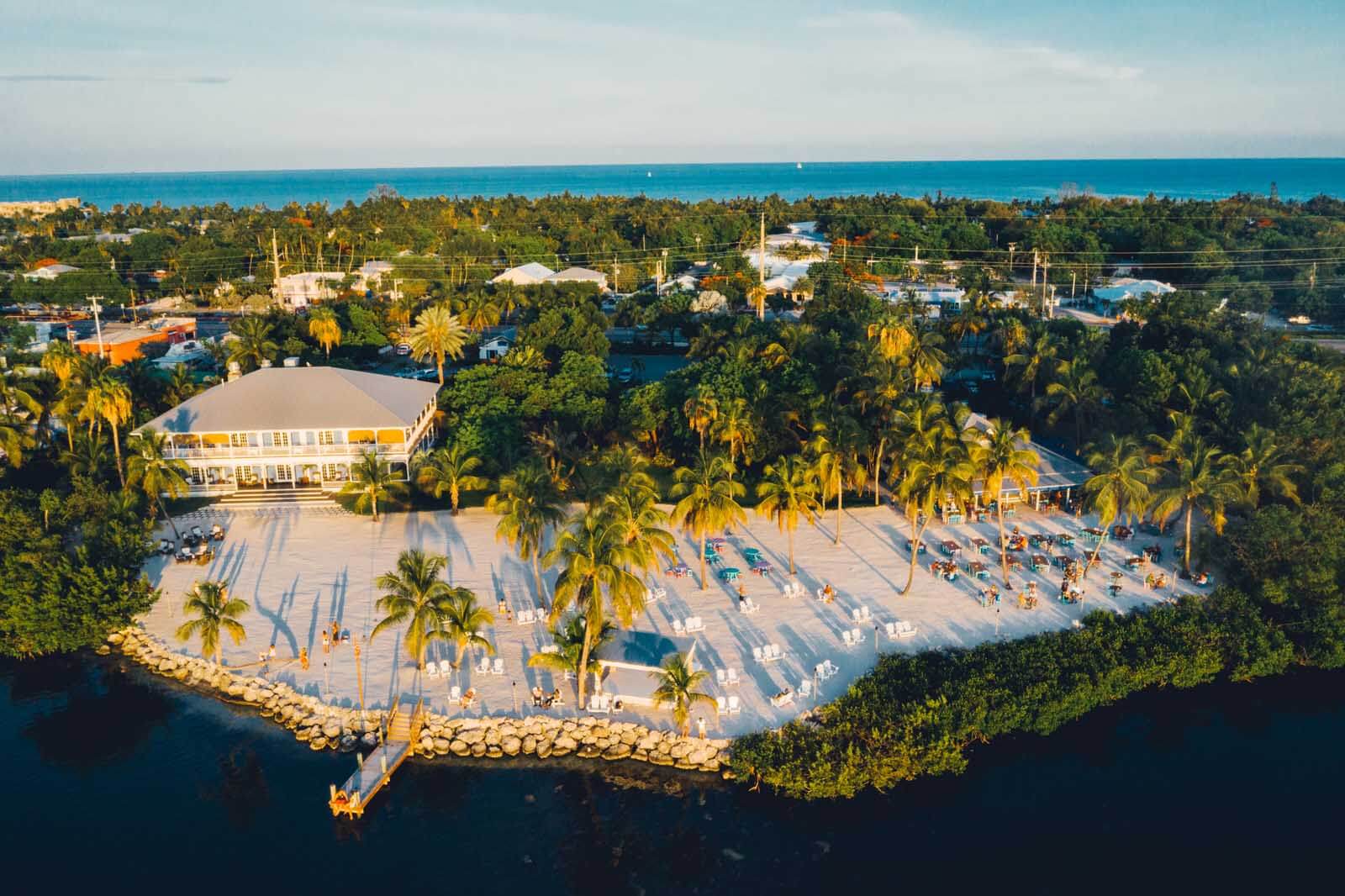 On day 2 of our Florida Keys road trip we recommend continuing to explore the northern Keys including Key Largo and Islamorada before continuing further south to Key West.
Snorkeling at John Pennekamp Coral Reef State Park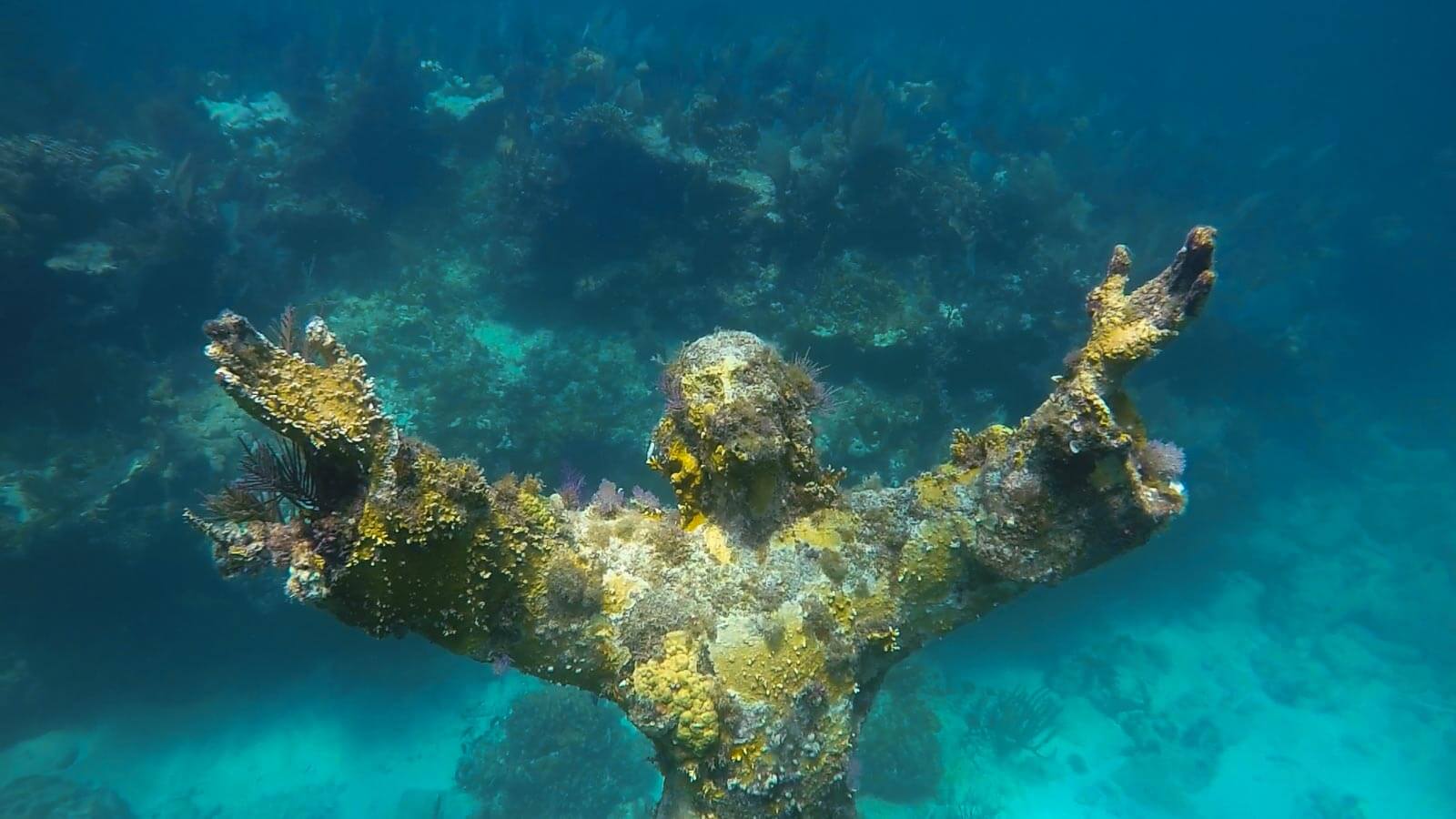 Our first stop on our Florida Keys road trip itinerary day 2 involves some of the best snorkeling in the Florida Keys! The John Pennekamp Coral Reef State Park is the first underwater preserve in the United States protecting the Florida Keys barrier reef, the only reef system in the continental US.
John Pennekamp State Park includes mangroves you can walk through, seagrass beds, beaches to hang out on, and the underwater barrier coral reef system you can witness by snorkeling.
Visitors can enjoy walking through the mangroves on a trail, hanging out on the beaches, snorkeling, scuba dive, and kayak. This is a protected area with wildlife, so you will definitely see iguanas basking in the sun, fish, and perhaps even crocodiles just by hanging out around the coastline near the visitor's center.
We highly recommend reserving a snorkeling tour in advance for one of their multiple snorkeling tours throughout the day. The snorkeling here is very popular and during peak season you will definitely need a reservation.
We went on a snorkeling tour to the Key Largo dry rocks where you can snorkel among the coral reef with tropical fish and visit the Christ of the Deep underwater statue, a 4,000 lb bronze statue placed underwater in 1961.
You can snorkel right up to the statue as the hands reaching above his head are just a few feet below the surface of the water. However, we highly recommend not touching the statue as there is fire coral all over the statue which you will be sorely sorry if you touch.
You can spend a bit of extra time exploring the rest of the park before or after your snorkeling trip before heading off to the next suggestions on our Florida Keys itinerary.
Bring Your Own Reef Safe Sunscreen
Shockingly, the visitor center doesn't sell reef safe sunscreen so you will need to come prepared yourself and plan in advance. We have picked out a few you can purchase online in advance to prepare for your trip. You can see our suggestions earlier in this guide for the Florida Keys road trip itinerary.
Lunch at Mrs. Mac's Kitchen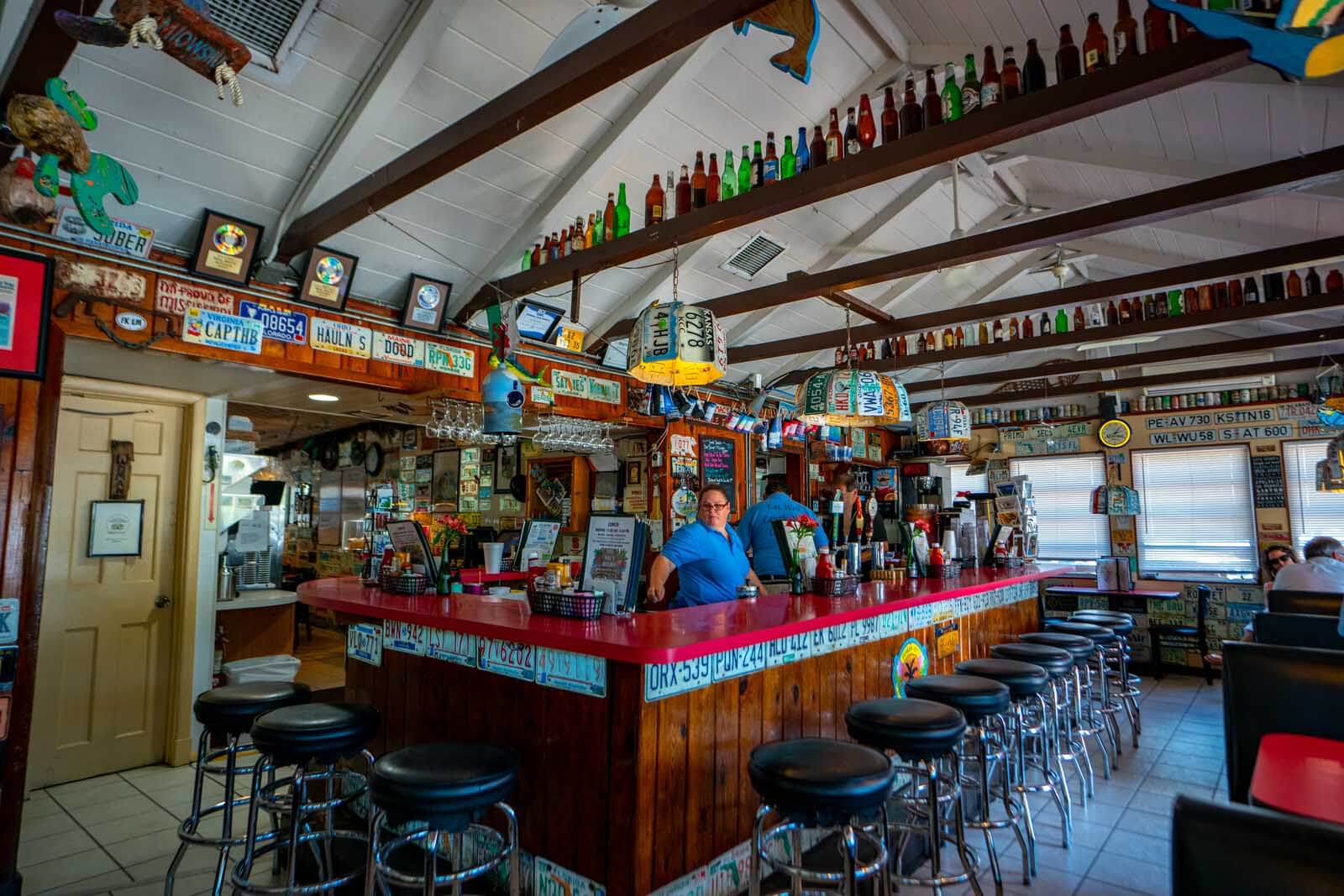 A local restaurant everyone loves and worth a stop on your Florida Keys road trip itinerary is Mrs. Mac's Kitchen. This kitschy joint has two locations just down the road from one another, we recommend trying to stop at the original location at 99336 Overseas Highway unless they are too full and you're starving.
The original location is much smaller and has the old school charm to it that made it a local favorite. Inside you will find license plates covering the floor to ceiling on the walls donated by guests who visit. This just goes to show how popular of a place this is that people plan to visit with their own license plate to decorate the restaurant!
The menu offers everything from seafood to comfort food.
This restaurant gained so much popularity they were forced to open a second location down street. This building itself was made for Instagram painted in pastel pinks and other fun colors. This location is much larger and better for bigger groups or if the line or wait is too long at the original.
We highly recommend saving room for dessert and getting a slice of their key lime pie!
Beer Tasting at Florida Keys Brewing Company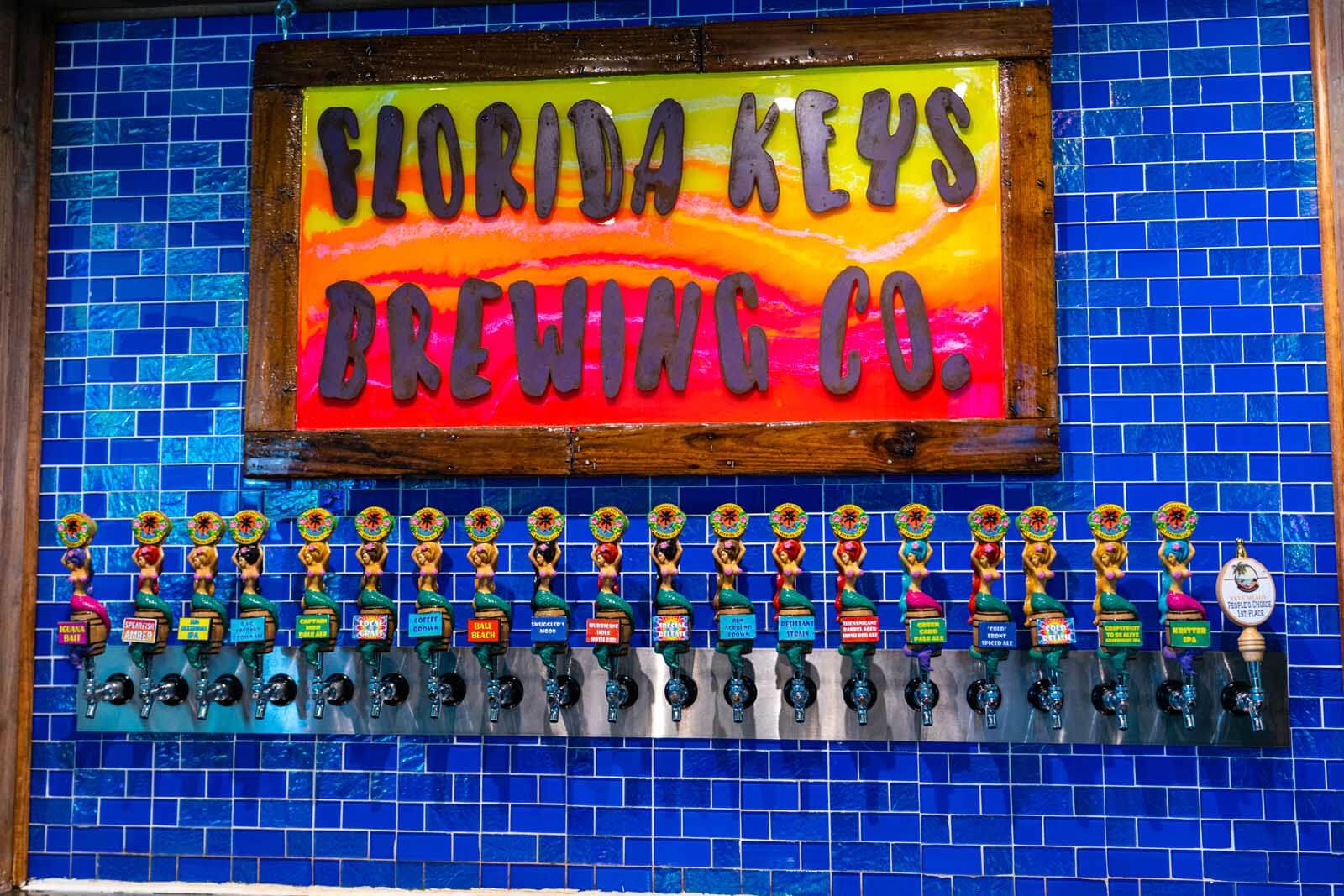 We love our beer and couldn't do a perfect Florida Keys itinerary without stopping at least one of the breweries in the area. The Florida Keys Brewing Company is the first brewery in the north Keys and is a perfect place to stop for a cold refreshing beer on a hot day.
They have a gorgeous tropical beer garden with fans outside that's a great place to hang out in the early evenings or inside their colorful tasting room where there is a huge selection of their beer to try on tap.
We recommend trying a flight of beer so you can sample a few different of their specialty beers. They have quite an assortment and many infuse some tropical ingredients that are unique to the Florida Keys.
Something we love about this brewery is they often have a limited edition beer on tap that goes towards a local cause. During our visit they had a Double Hibiscus Kolsch made with local honey. Part of their sales go towards the nonprofit organization the Mote Marine Laboratory who is working on the Florida Keys disease outbreak known as the Coral Tissue Loss Disease that has coral mortality rates of 80% putting their reefs at risk of extinction.
We love that they are using their beer and the love of beer to help support local causes. It's not often you get to drink for a cause!
Sunset and Dinner at Morada Bay Beach Cafe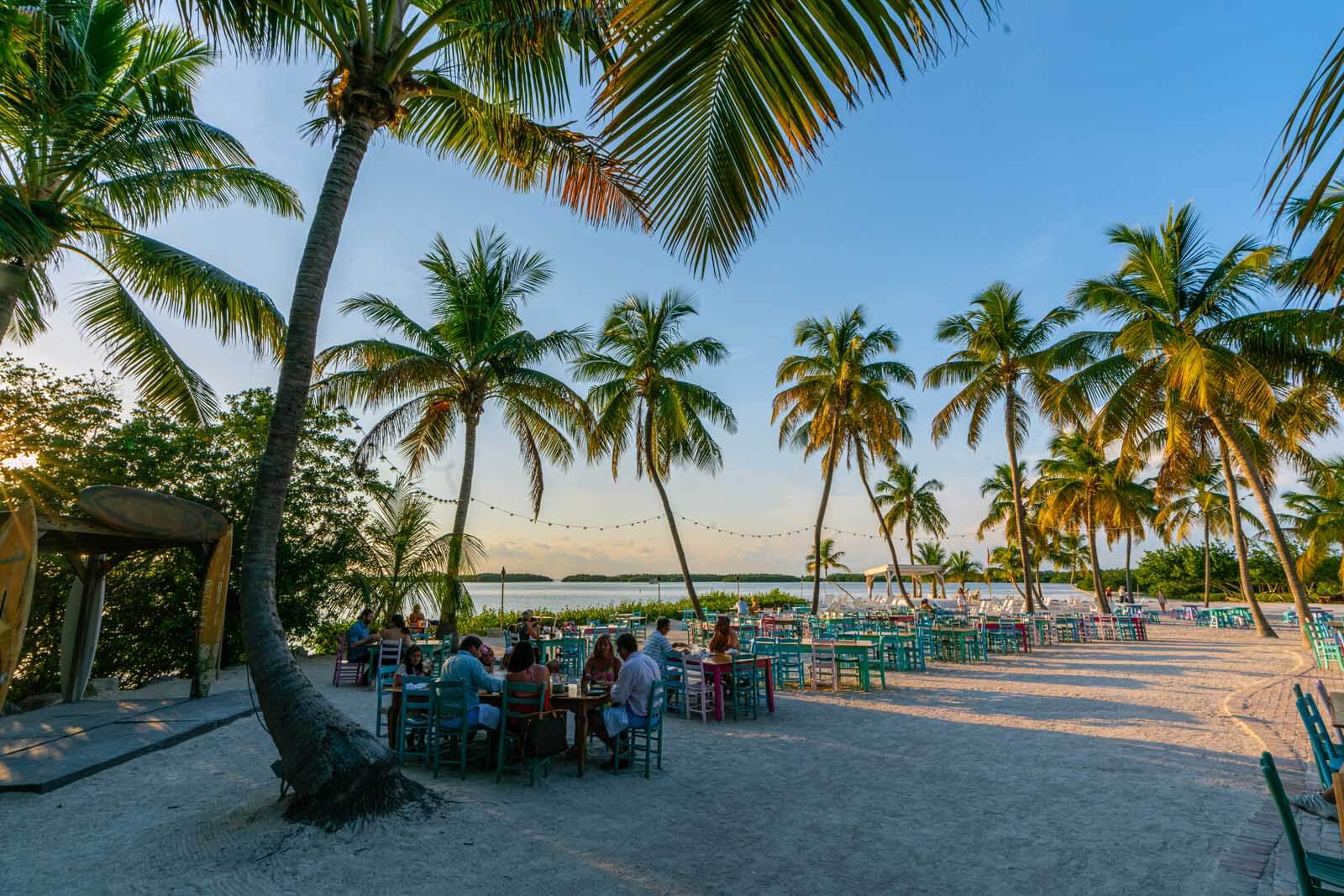 Our last stop for the day on our Florida Keys road trip is at Morada Bay Beach Cafe. This is the perfect place to unwind after a fun day in the Florida sun and have a delicious meal.
This restaurant and hotel has a gorgeous location right on the water and is the perfect place for a sunset. Dine with your toes in the sand or if its too hot you can sit in the indoor area with a waterfront view.
The atmosphere here is inviting and a fun place to enjoy a gorgeous slow sunset over dinner. They have a great variety of fresh seafood dishes.
This is also used as a filming location for the tv show, Bloodline.
Day 3: Drive to Key West with Stops Along the Way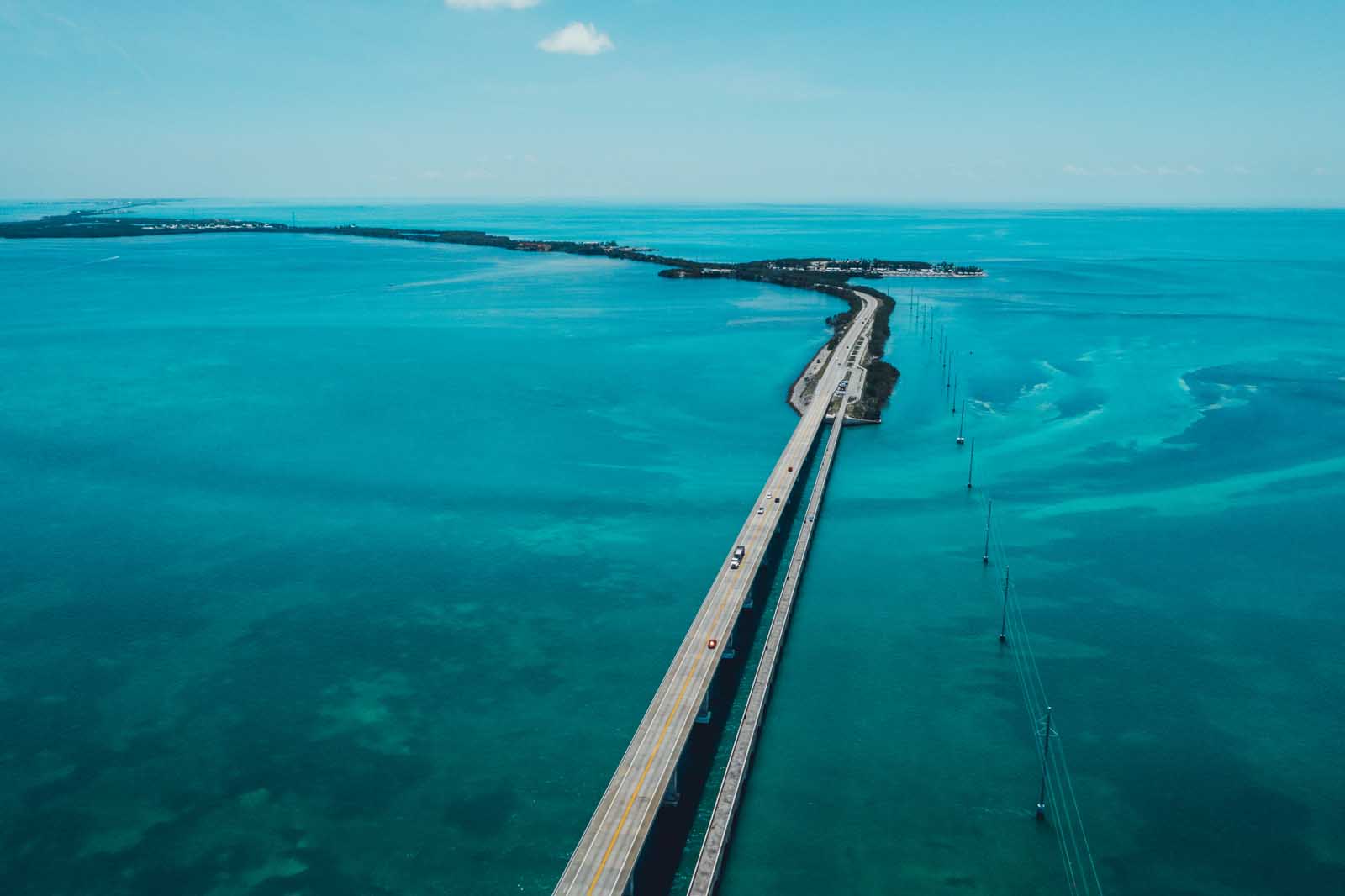 After spending a few great days in the northern Keys we recommend making a few stops on your way to Key West on your Florida Keys road trip itinerary including lunch that doubles as a place for some great water activities before arriving to Key West.
Along the way you will cross the famous 7 Mile Bridge that's completely surrounded by water. The original bridge which you can see running parallel to it was the most famous because of its narrow lanes passing over a large body of water. It was a dangerous road that required alot of attention when crossing it.
The modern bridge is much safer and is absolutely a once in a lifetime experience to drive along a road like this where you're surrounded by gorgeous blue water below.
Florida Keys Wild Bird Center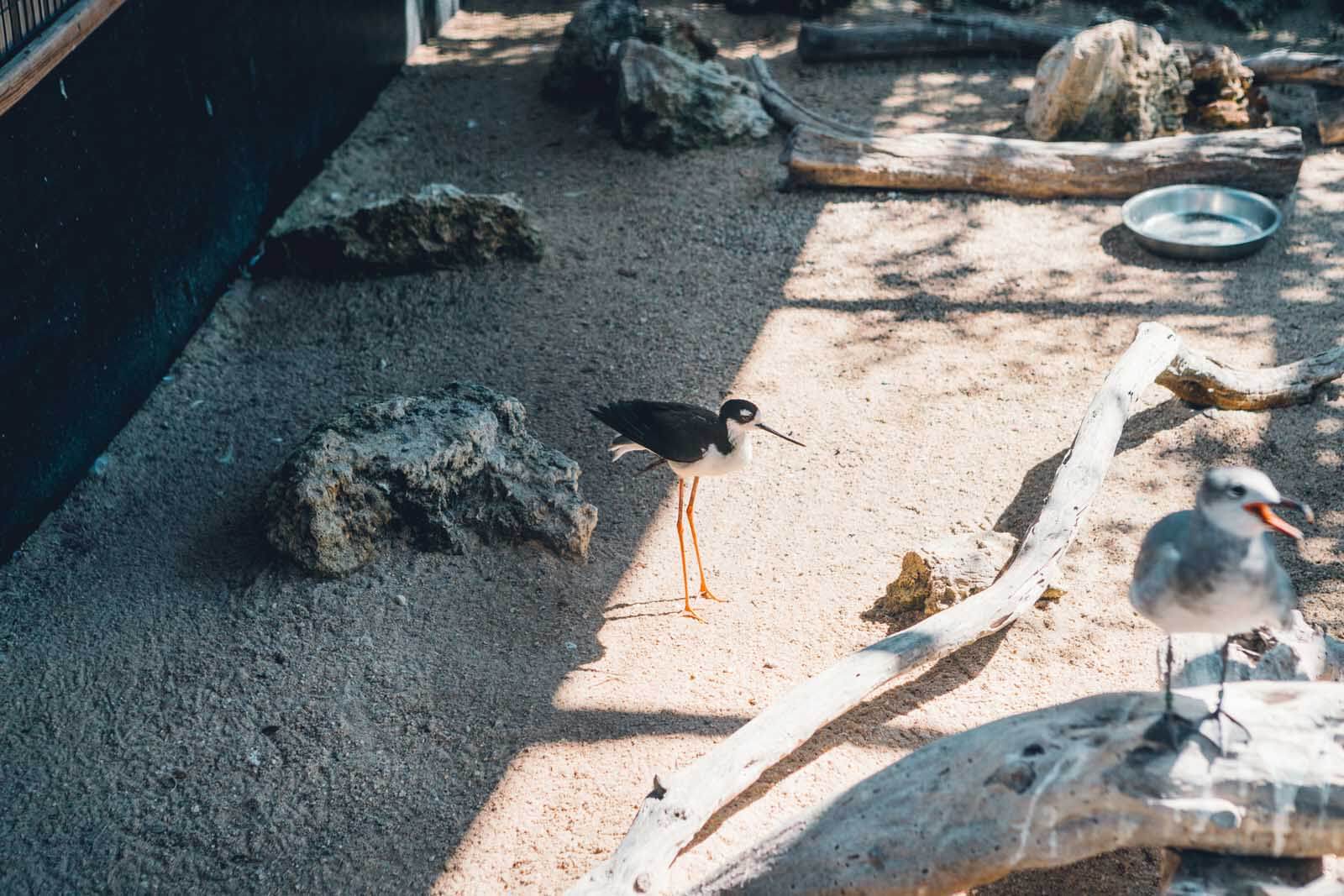 Continue your Miami to Key West drive on the Overseas Highway stopping at the Florida Keys Wild Bird Center. This is a family-friendly activity where you get to see and experience all kinds of wild bird species while your visit helps fund this wild bird rehabilitation facility to help release injured birds back into the wild.
There are two different facilities here, the Mission Wild Bird Hospital where they accept injured birds and rehabilitate them for release and the Laura Quinn Wild Bird Sanctuary where the injured birds who couldn't fully recover and thrive in the wild have their new permanent loving forever home.
The Mission Wild Bird Hospital is for staff only but there is an education center and gift shop here. We highly recommend visiting The Laura Quinn Wild Bird Sanctuary to see all kinds of wild bird species who now call this a forever home. The birds you find here are ones that were injured and couldn't fully rehabilitate and thrive in the wild on their own.
You can learn a bit about each of the birds here including their name and backstory of how they ended up here.
There is no set admission for visiting the Wild Bird Sanctuary, but they do recommend a $10 donation per person, or what you can give. This facility and program is a completely nonprofit organization and they keep helping birds from donations from visitors.
We personally fell in love with Booby. He is a masked booby bird who had a bold personality during our visit. It turns out he is a little local celebrity because a few years back the Florida Keys Brewing Company had a limited edition beer named after him and a portion of the proceeds come back to help fund the Wild Bird Center.
What's great about visiting stops like this along your Florida Keys road trip is that just by visiting you are helping the cause and rehabilitation for animals by paying a small fee.
There are all kinds of interesting birds who are here that you'd probably have a very slim chance seeing in the wild, we highly recommend this stop on your Miami to Key West drive.
Lunch and Outdoor Activities at Robbie's of Islamorada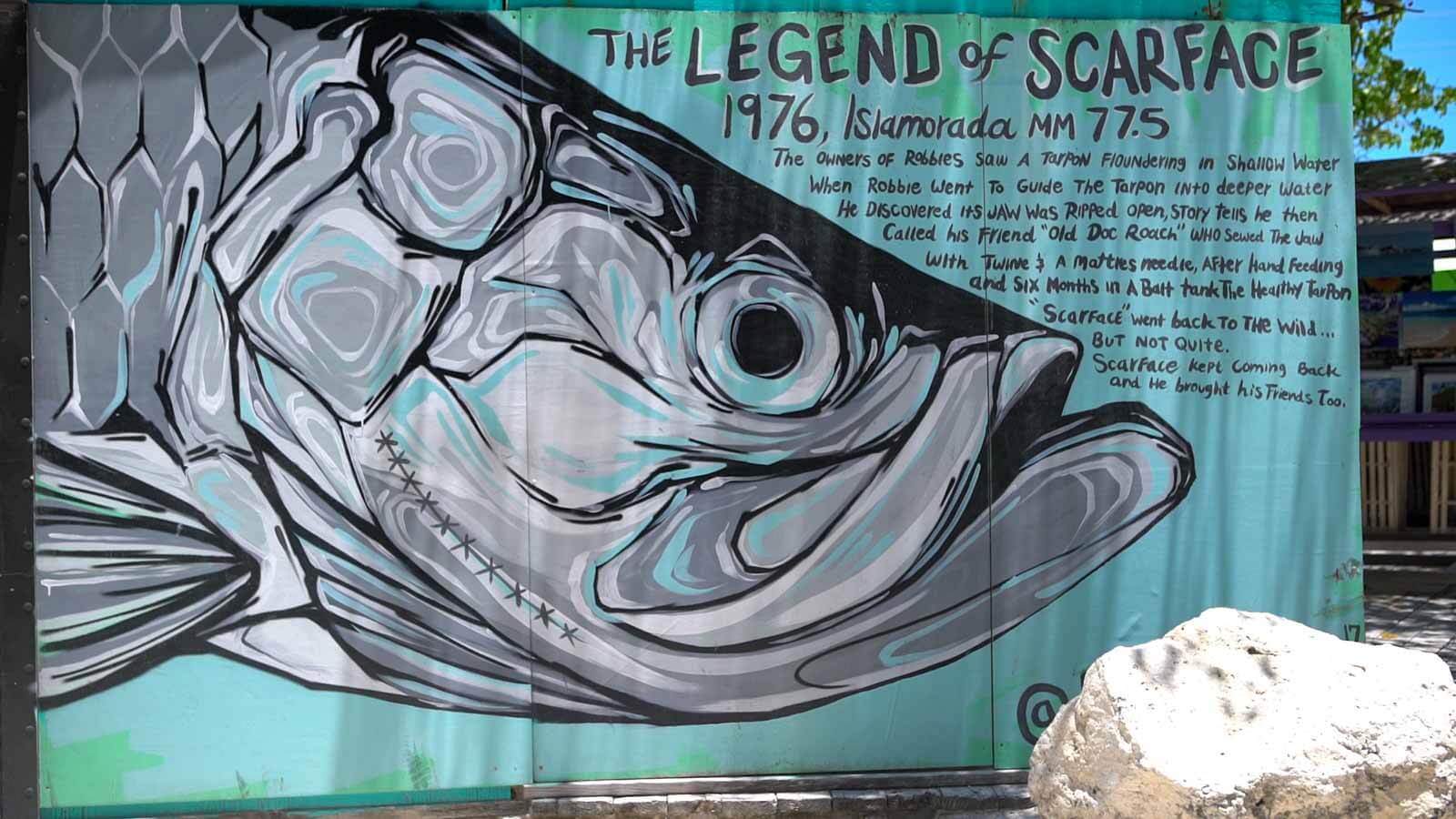 Our next stop on our Florida Keys road trip itinerary includes another local favorite spot! Robbie's of Islamorada not only has a great restaurant to eat at but they have all kinds of water activities to enjoy as well as an outdoor shopping market full of fun finds and local souvenirs.
Depending on your arrival time we recommend getting lunch first at the Hungry Tarpon restaurant. This waterfront restaurant and bar is in a prime location on Lower Matecumbe Key. We recommend the fish tacos!
While you're eating you can't help but notice the people gathering on the dock feeding the tarpon fish. Grab a bucket of small fish and feed the giant tarpon right in the water outside the restaurant! Don't worry, you won't be feeding and befriending fish that they serve at the restaurant. No one eats tarpon fish because they are too bony.
The whole backstory and legend of the tarpon fish feeding tradition here goes back decades. The owner of Robbie's saw an injured tarpon fish where its jaw had been sliced open from a hook. He and his friend stitched him up and took care of him in a tank until he was able to be released back into the water. They called him Scarface because of the big gash in his jaw.
When they released Scarface he didn't just go away and live on his own, he left and came back with a ton of his friends and now they still feed them. Or that's at least what they claim the legend to be.
If you still have more time for fun in the sun here you can always check out parasailing, jet ski rentals, kayak or stand up paddleboard rentals, or just shop around before finishing the drive to Key West.
Drive to Key West and check in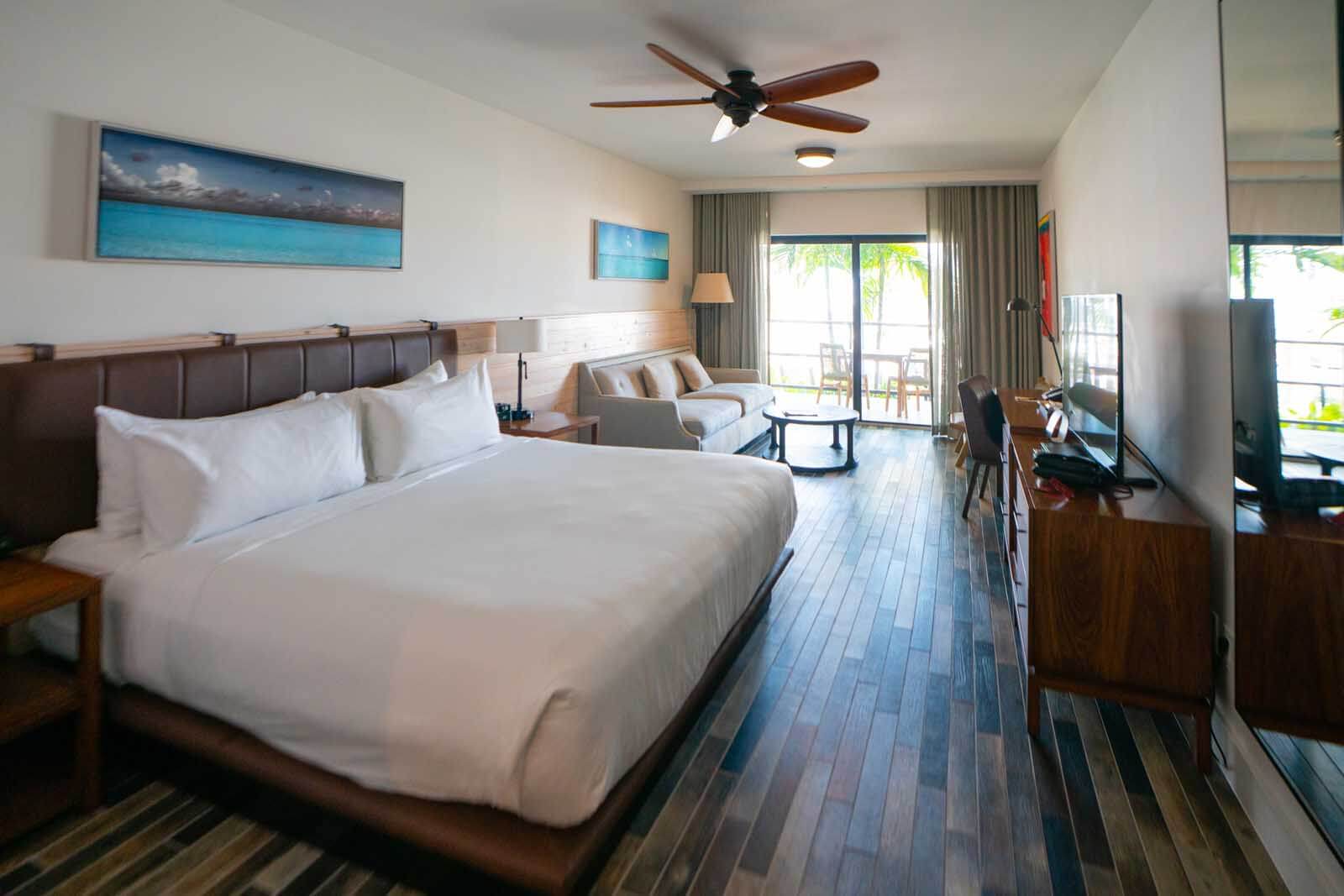 Continue your Florida Keys road trip by making your final stop at Key West. Depending on what time you arrive we recommend checking in to your hotel first.
We stayed at the Perry Hotel Key West. This location is a bit outside of where all the action is in Key West, but the hotel property is gorgeous and located right on the water. They have Vespa scooters for rent, a free shuttle that goes to downtown Key West, or since you have a car on your Florida Keys road trip then you have the option to drive yourself.
Book Now on Booking.com | Compare Prices on Expedia.com | Check out rates on Hotels.com
If you prefer to stay closer to town and walking distance to everything we recommend trying one of the gorgeous properties available. Southernmost Beach Resort is a beautiful 4-star hotel located near the southernmost point of the continental US marker!
Book Now on Booking.com | Compare Prices on Expedia.com | Check out rates on Hotels.com
Dinner at First Flight Island Restaurant & Brewery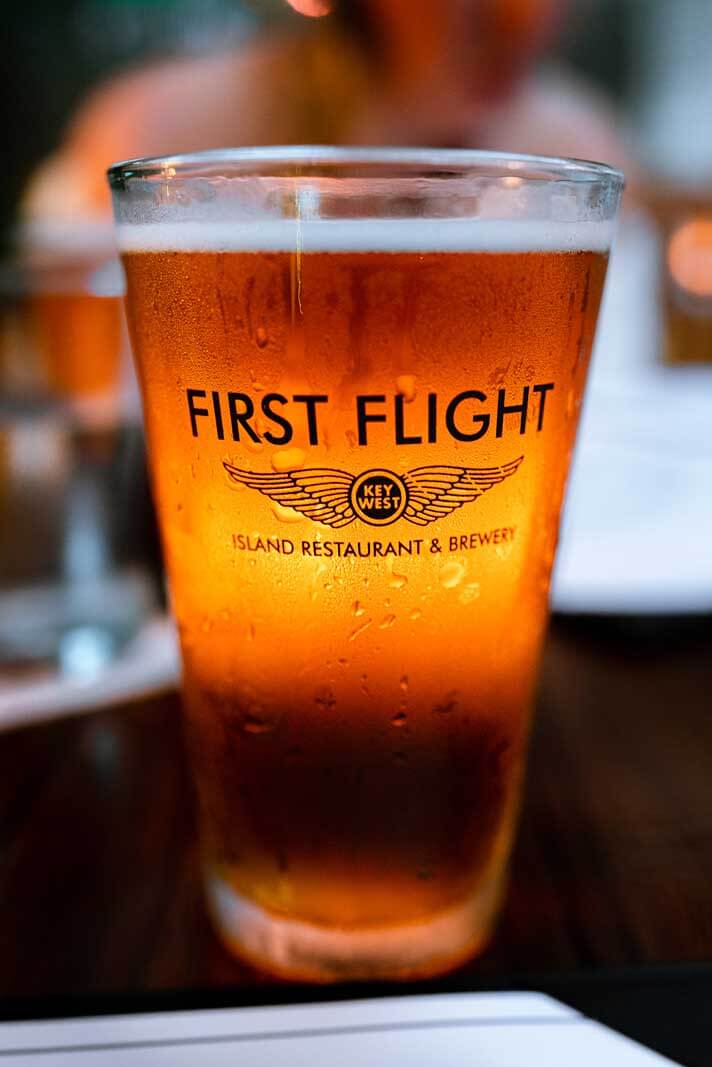 After getting settled into your hotel we recommend enjoying dinner at this historical location. First Flight Island Restaurant & Brewery is located in the building that the first PanAm international ticket was sold and the birthplace of Pan American World Airways in 1927.
You can see traces of aviation history here if you look closely. They have their own beers on draft here and a delicious menu of seasonal dishes.
We loved the canopy garden seating in the evening too as it had a tropical atmosphere that makes you feel like you're really on vacation.
Day 4: Key West Activities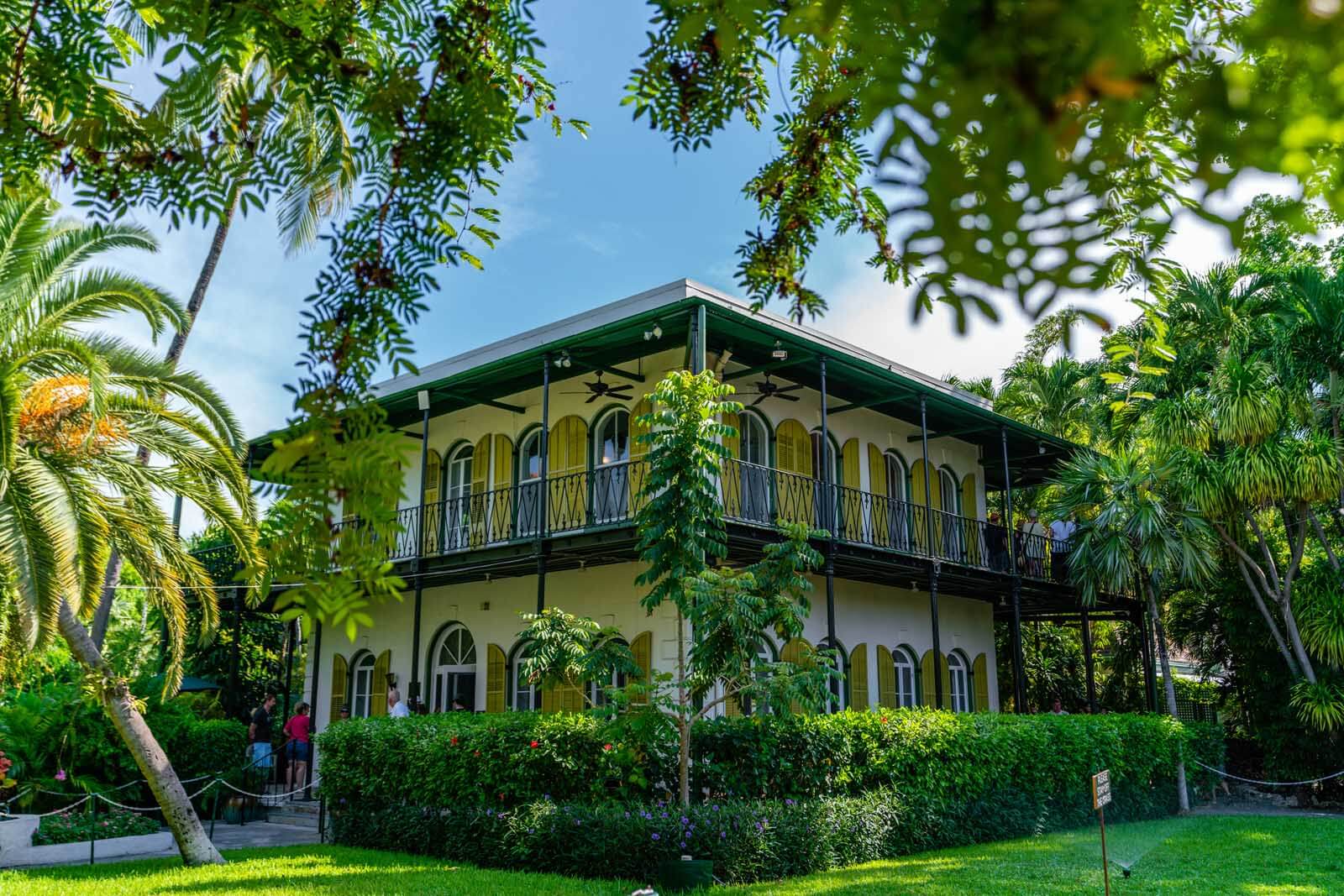 A Florida Keys itinerary wouldn't be complete without spending at least an entire day enjoying all the incredible things to do and see in Key West. We are going to list some of our favorite activities to enjoy on Key West to pick and choose what you'd like to see.
All of these attractions are walking distance from one another. If you find yourself tired of walking you can always use the Duval loop shuttle to get you close to all the locations you'd want to visit.
The Hemingway Home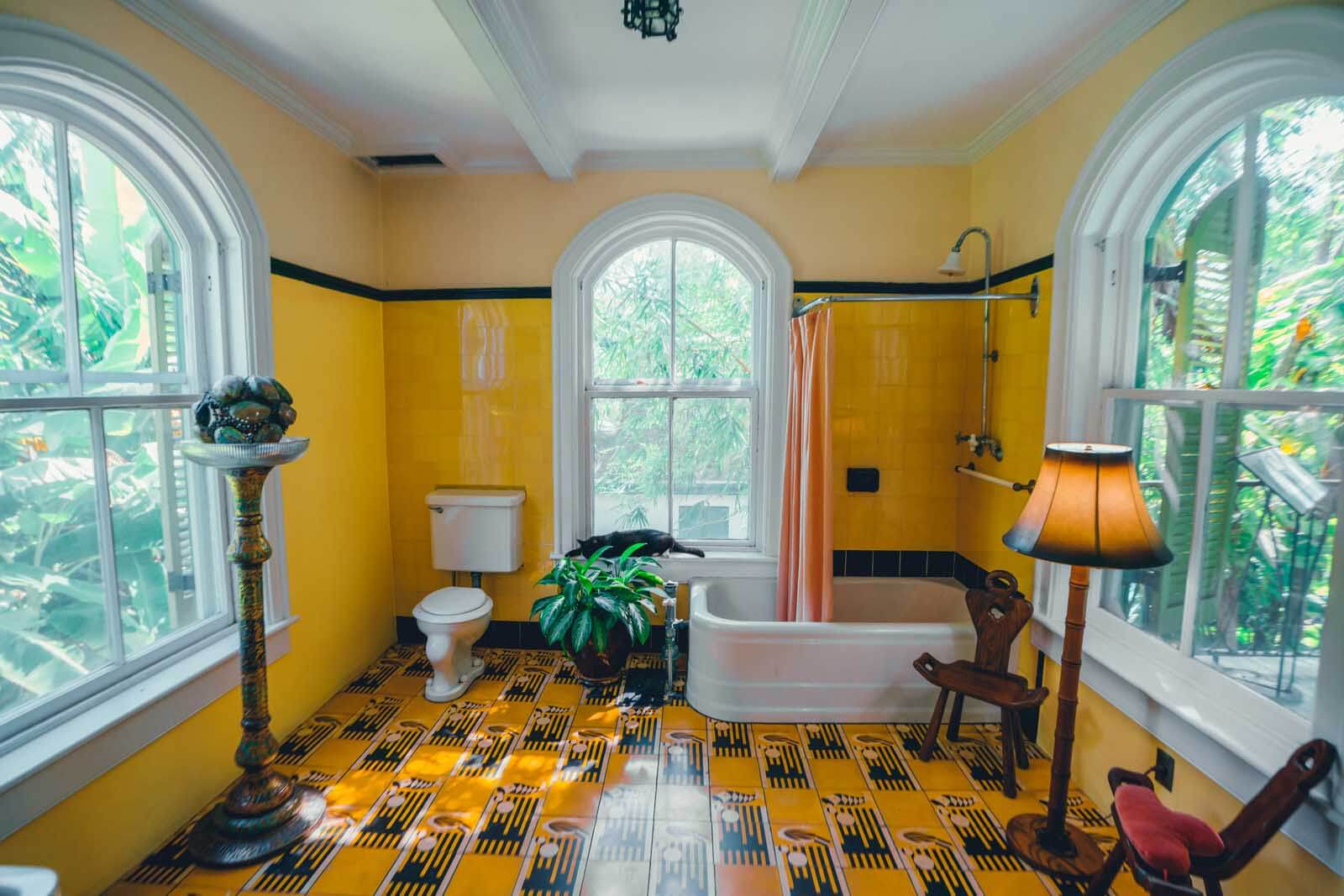 Easily one of my favorite stops on our entire Florida Keys road trip was the Hemingway Home. Did you know that Ernest Hemingway spent 10 years of his life here in Key West? His old home is now a museum open to the public, but it's not just the prolific author's home that attracts visitors.
The Hemingway Home is famous for having its collection of polydactyl cats who live here to this day. During Hemingway's years in the house, he started with one cat with extra toes and in its peak had between 50-60 cats on the property.
To keep the tradition alive, the museum keeps that many polydactyl cats on the property where they live their lives like the royalty they are at one of the most famous and nicest houses in Key West.
The cats are as much of the history of this house as Hemingway himself. I could have spent all day here!
There are 30 minute guided tours often, but you don't need to join one to enjoy the property. The admission is $14 for adults and $6 for kids, be sure to bring cash as they do not take credit cards.
Key West Butterfly and Nature Conservatory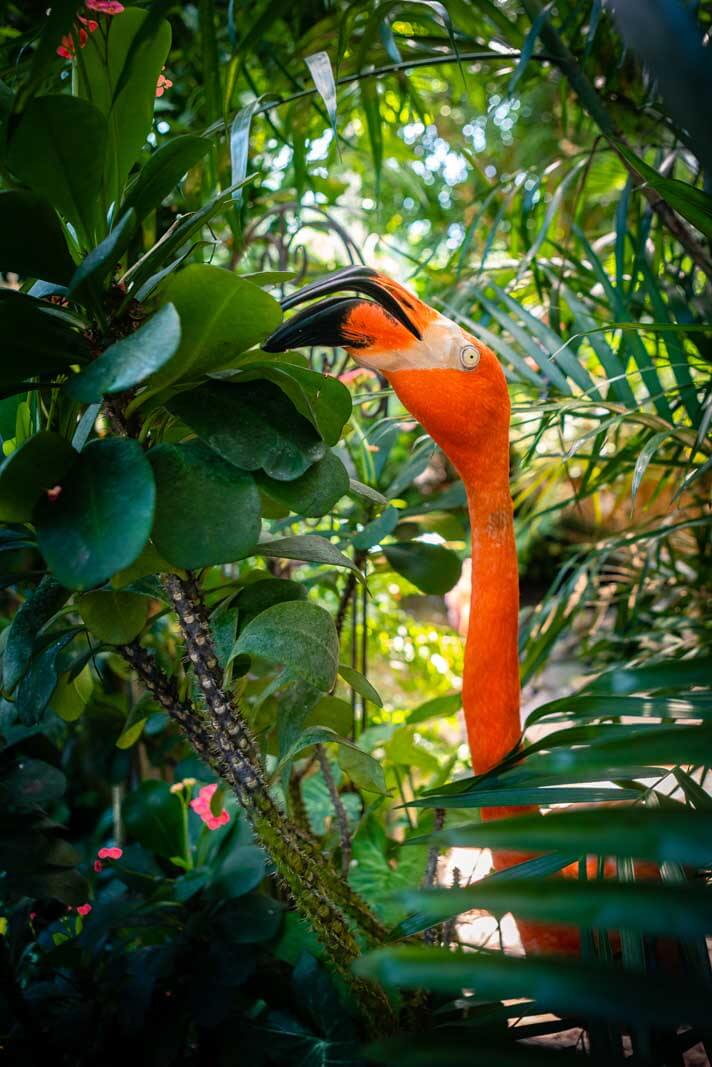 Another great stop in Key West is the Butterfly and Nature Conservatory. What looks like a house on the outside is actually a butterfly conservancy and tropical garden with little critters from birds to butterflies.
Walk through the tranquil tropical gardens while witnessing some of the most beautiful tropical creatures who are inside.
There are also two rescued flamingos who call this conservatory home.
Southernmost Cultural Food & Walking Tour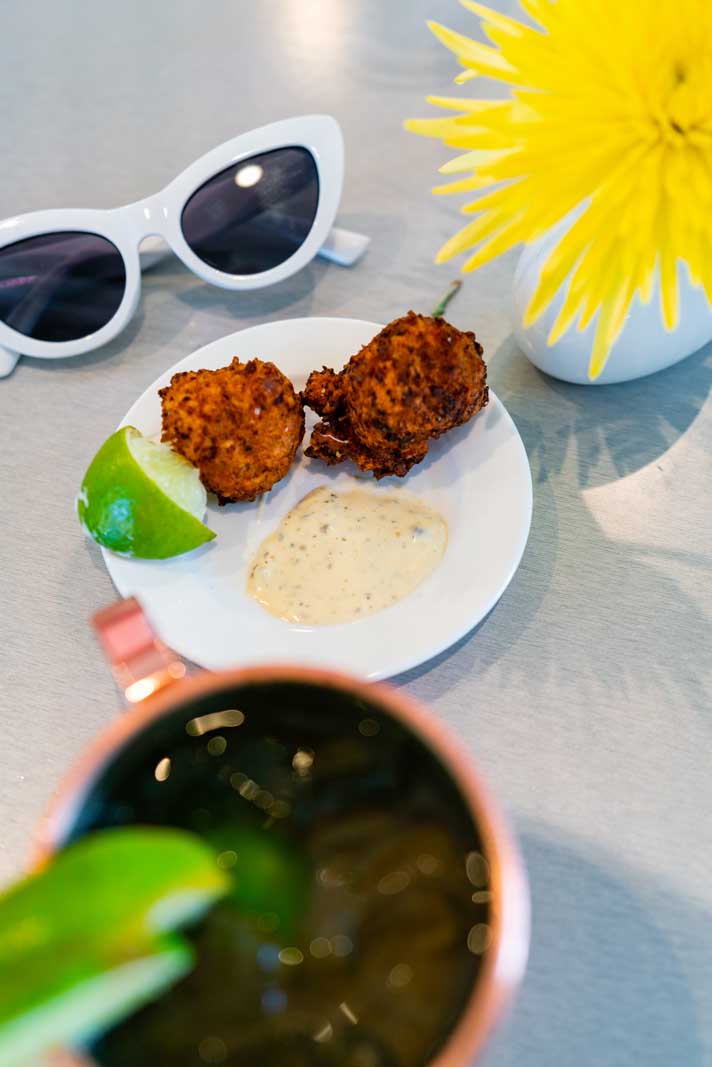 If you've followed our blog long enough you know how we feel about food tours. We LOVE THEM! This is one of the best ways to try a bunch of different local dishes/restaurants and learn the history of where you're visiting.
The Key West Food Tours journey is 3 hours long stopping at some of their favorite local spots to eat from Cuban cuisine to a great rum bar with a history dating all the way back to the prohibition.
This is a great way to spend lunch during your Florida Keys itinerary stop in Key West, be sure to secure a reservation in advance. They also offer cocktail tours if that's more up your alley!
Southernmost Point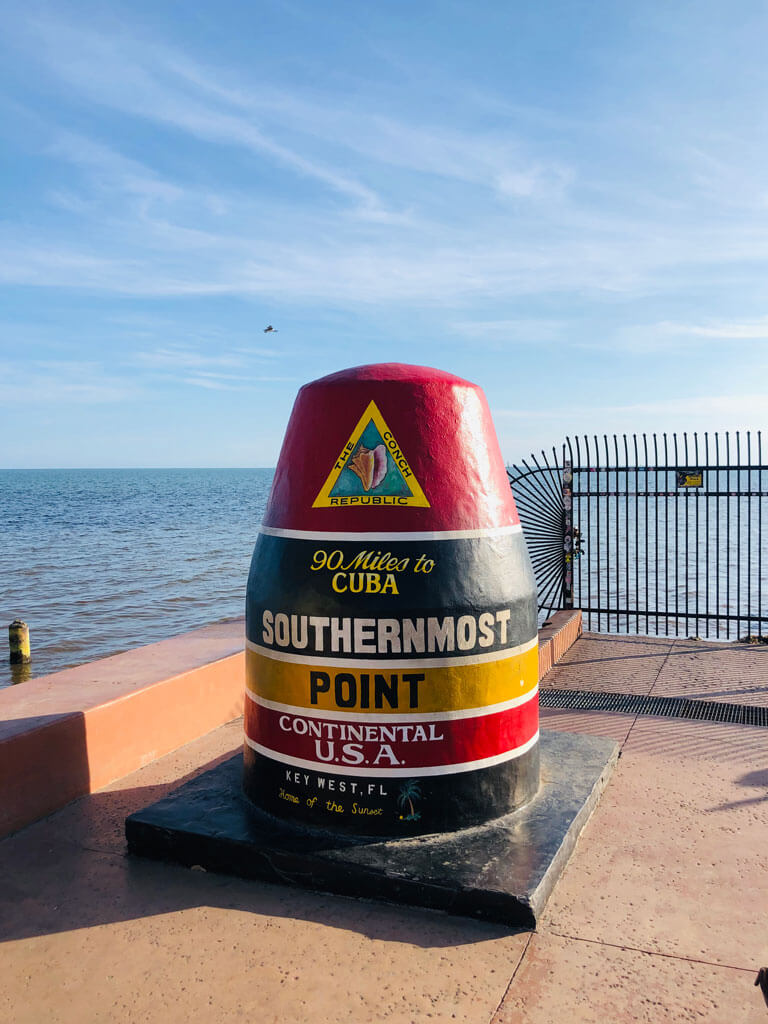 One of the best photo spots in Key West is the Southernmost point buoy. You'll surely see a line here waiting to get a photo unless you come early in the morning. This spot marks the southernmost point in the continental US! It's a quirky stop but fun to say you visited the southernmost point of the US.
Walk down Duval Street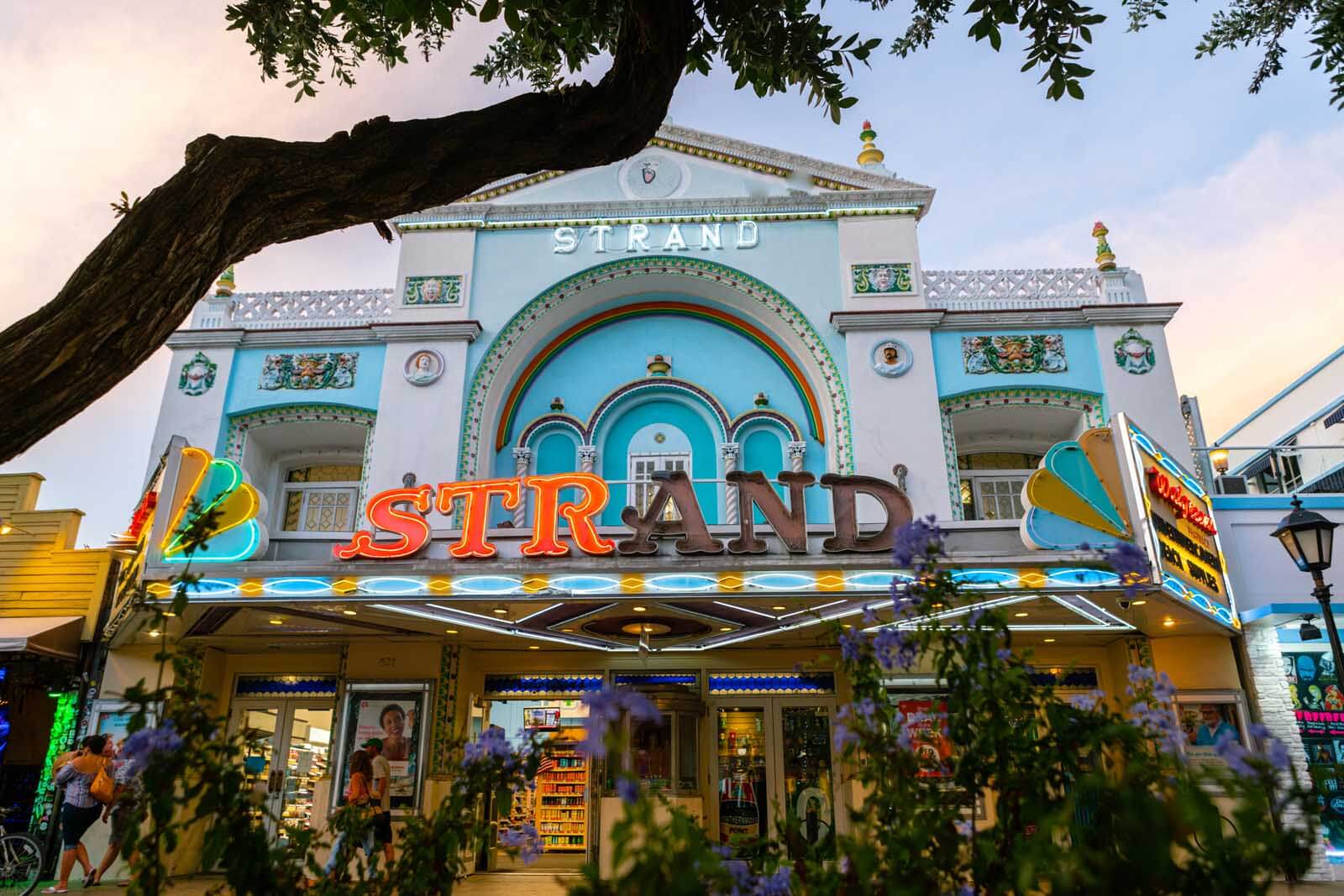 Easily the most iconic street in Key West is Duval Street. This is where you will find tons of bars and shopping in what feels like the Bourbon Street of Key West. This commercialized street connects the Southernmost Point to Mallory Square with plenty of places to stop along the way if you want to drink, dine, or shop.
Mallory Square in the Evening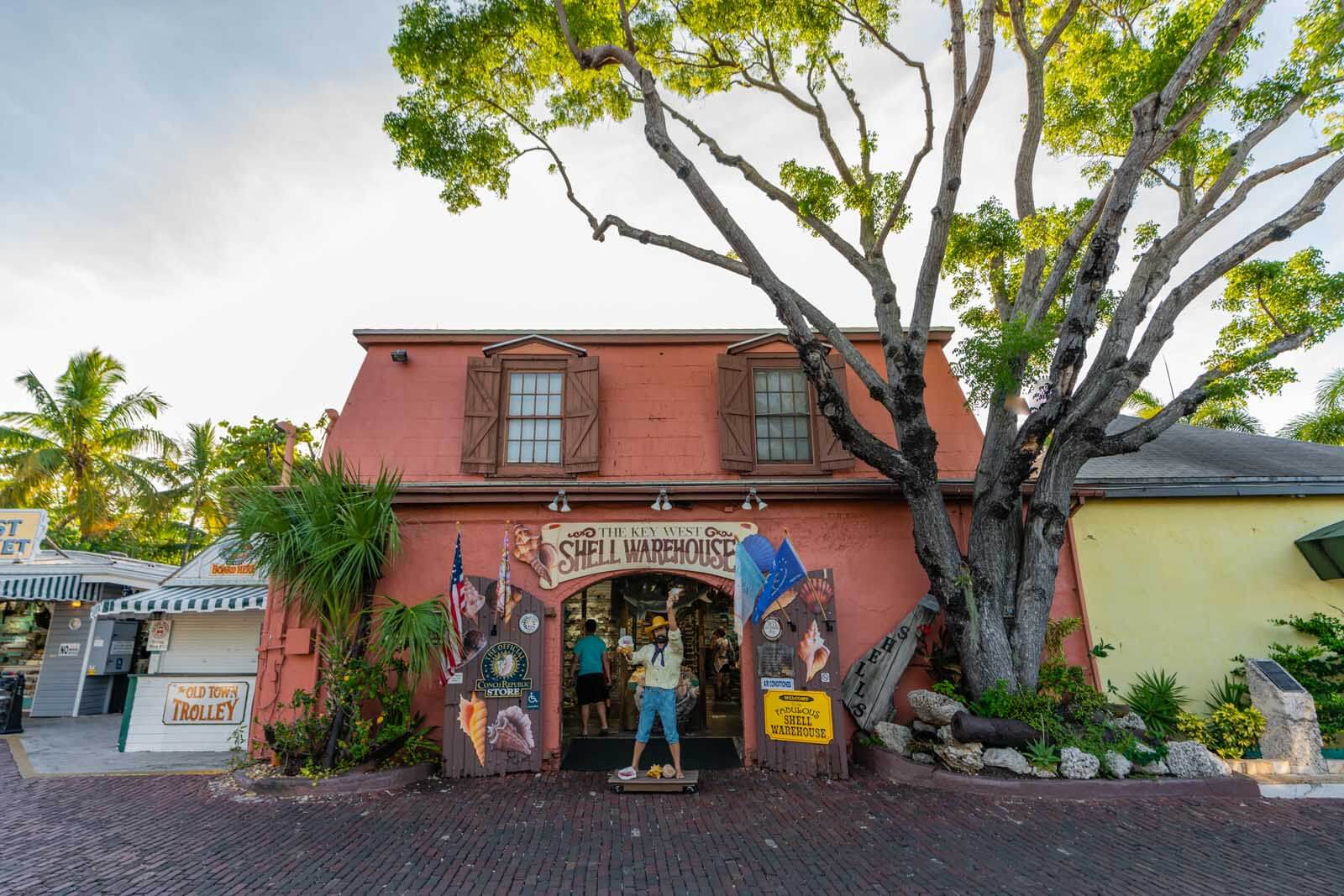 This waterfront square is another great stop in Key West on your Florida Keys road trip. There are outdoor and indoor shops, museums, and waterfront outdoor entertainers who gather here. This scene gets lively in the evenings, especially during peak season and is a fun place to gather.
Along the water from two hours before sunset until sunset is known as the Sunset Celebration at Mallory Square. This is when all the performers come out and where many gather to enjoy the sunset together. It's actually an official thing here!
Truman Little White House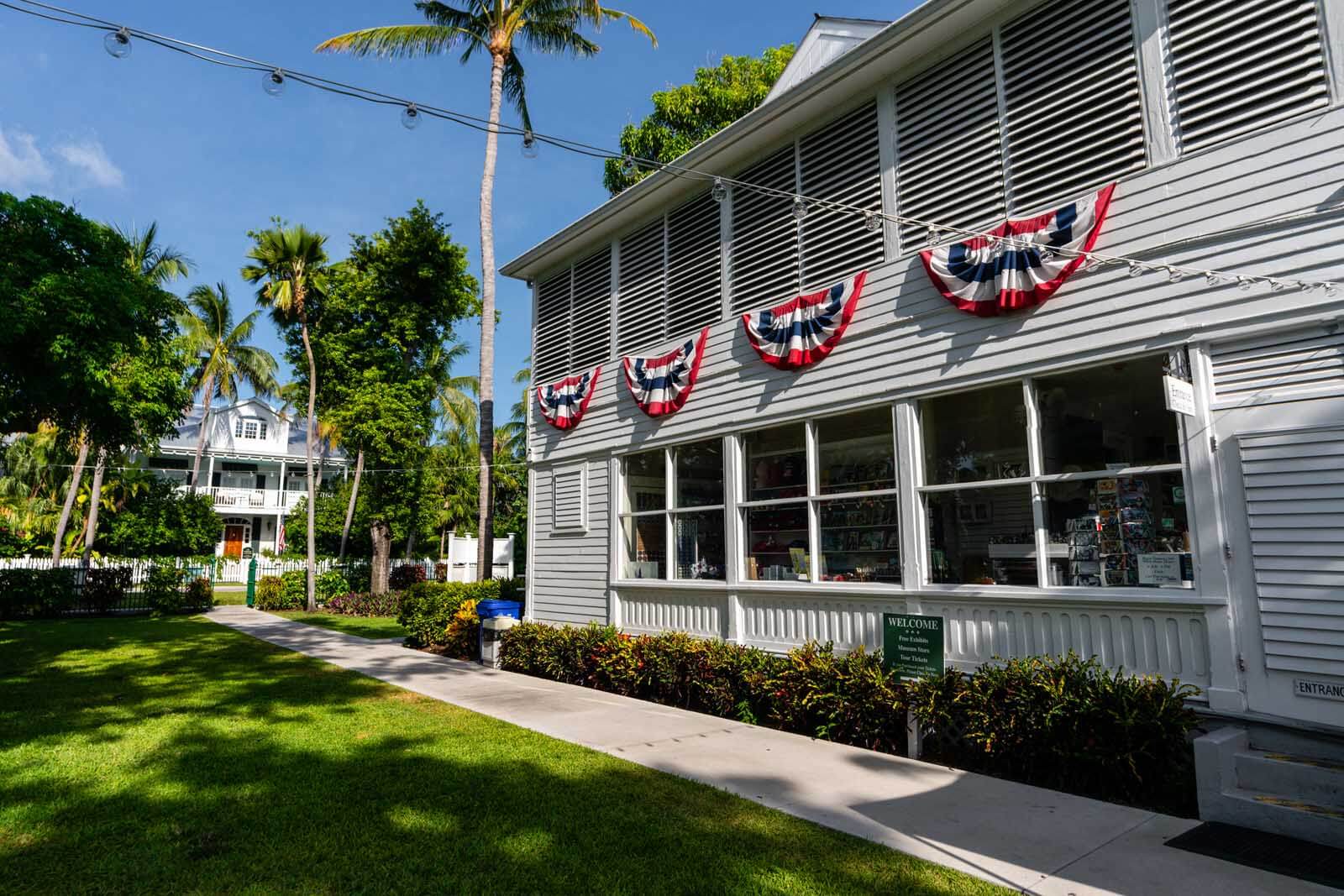 There are many famous historic homes in Key West, you'll notice this as you're walking around and see a plaque for many different houses explaining who lived there and why it's a historic landmark. One of the most famous, besides the Hemingway Home is the Truman Little White House.
This was the winter home for Truman during his presidency. Truman wasn't the only US president who used this house though, Taft, Kennedy, Eisenhower, Carter, and Clinton all used this home during their presidency as well used as a facility and a vacation home.
There is a museum inside if you wish to learn more, if not this is just a fun stop while wandering Front Street, one of the most gorgeous streets to walk down filled with historic homes and lush greenery.
Day 5: Key West to Marathon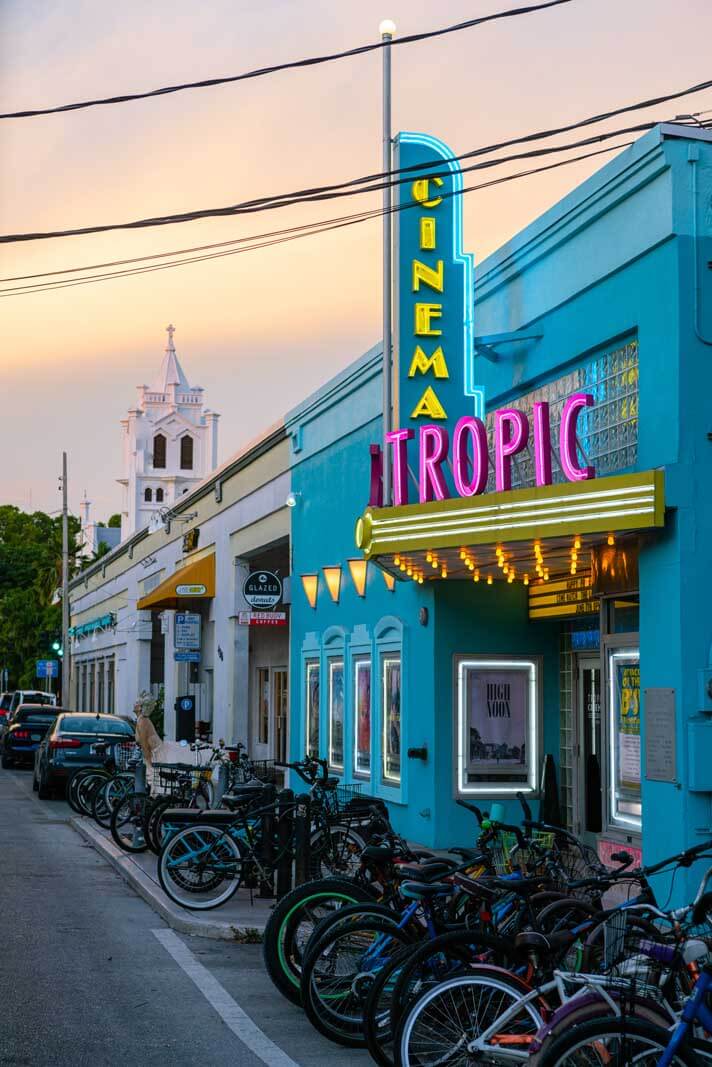 The Miami to Key West drive is now complete, now that we spent time doing all the spectacular activities offered here we recommend spending your last days making your way back up to Miami for your departure. We stopped in Marathon which is an hour north of Key West and another beautiful place to stop on your Florida Keys itinerary.
You can spend the morning in Key West and head towards Marathon around lunch time. This would also depend on what time your appointment is at the Turtle Hospital. If you've had enough of Key West we recommend scheduling in some extra down time relaxing at the resort we recommend staying at in Marathon.
Breakfast at Blue Heaven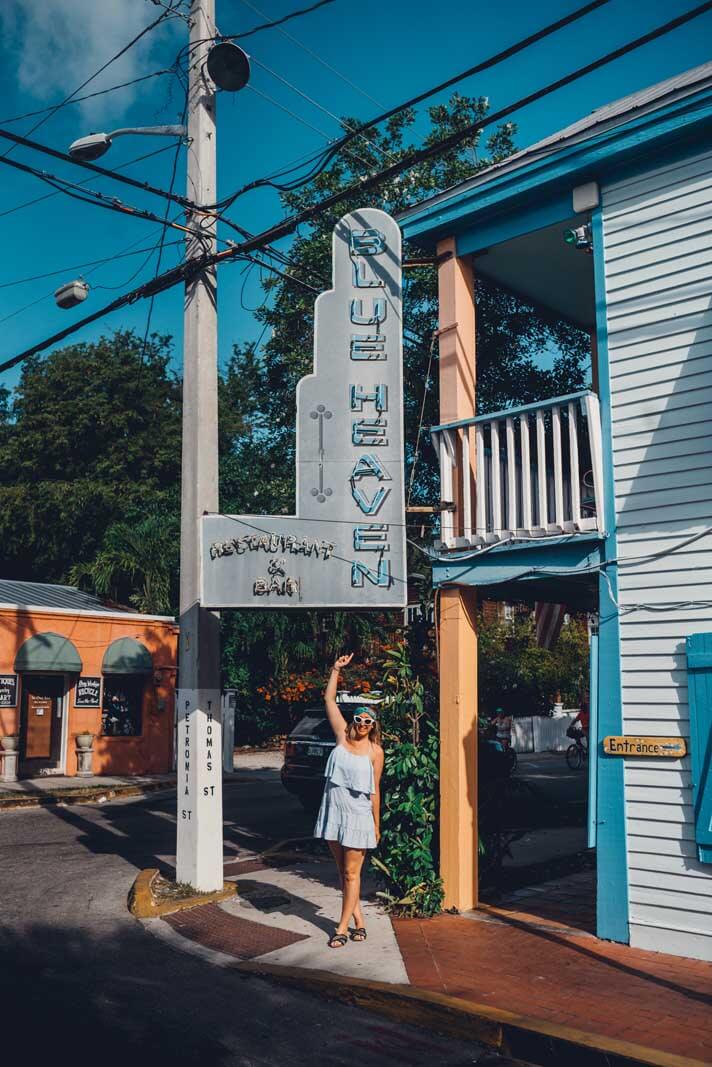 Don't leave Key West just yet, you need to try one of the most famous brunch spots in the Florida Keys. Blue Heaven is located on the best foodie street in Key West, Petronia and is a crowd favorite.
This place is steeped with island history from being a place where Hemingway himself attended the boxing matches, being a brothel, to a cock fighting location. While this place is far from that today, you can still see traces of its history if you look closely, it is said you can see the peep holes in the building for those who used to come for the brothels.
This jungle garden hang out spot gives you the chance to eat with the sand beneath your toes without being on the beach. They have a full bar and serve up some tasty dishes for brunch including lobster benedict and shrimp grits!
Turtle Hospital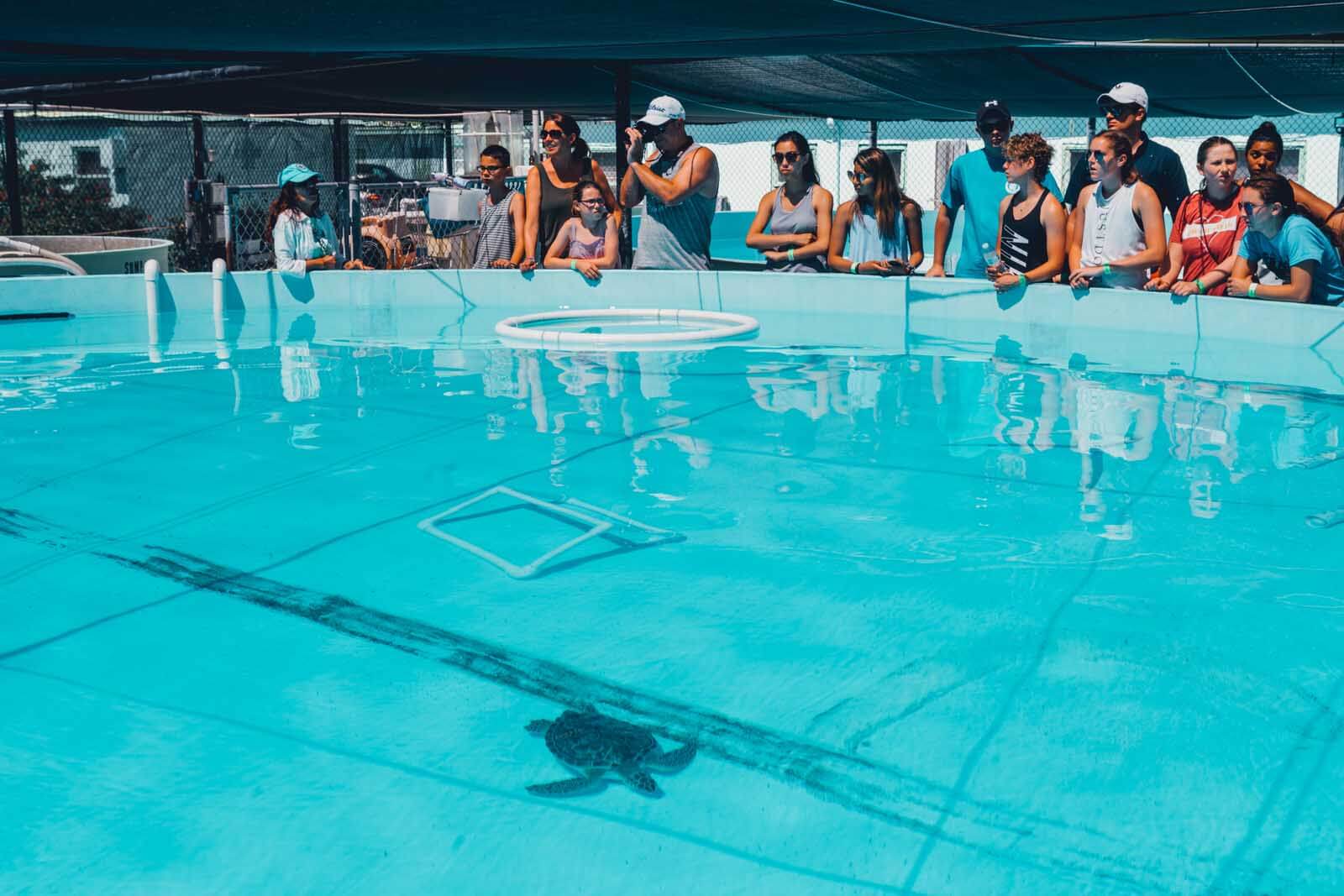 The Turtle Hospital is one of the best stops and most popular stops on a Florida Keys road trip. This turtle hospital treats injured endangered sea turtles who are brought to the facility. This is where they are rehabilitated and released back in the wild or if not, they are looked after the rest of their lives here.
The Turtle Hospital does require a reservation to join a 90 minute guided tour teaching you about the endangered species you'll witness in the Turtle Hospital, see the facility where they are treated, and see the open tanks of water where the sea turtles are living until they are healthy again to be released back in the water.
Your admission goes to funding this nonprofit facility and if you wish to donate more you can. We recommend calling a few days in advance or in peak season maybe even a few weeks in advance to make sure you can grab a spot on the tour.
Call the Marathon Turtle Hospital to reserve your spot on a tour (305) 743-2552
Lunch at Castaway Waterfront Restaurant & Sushi Bar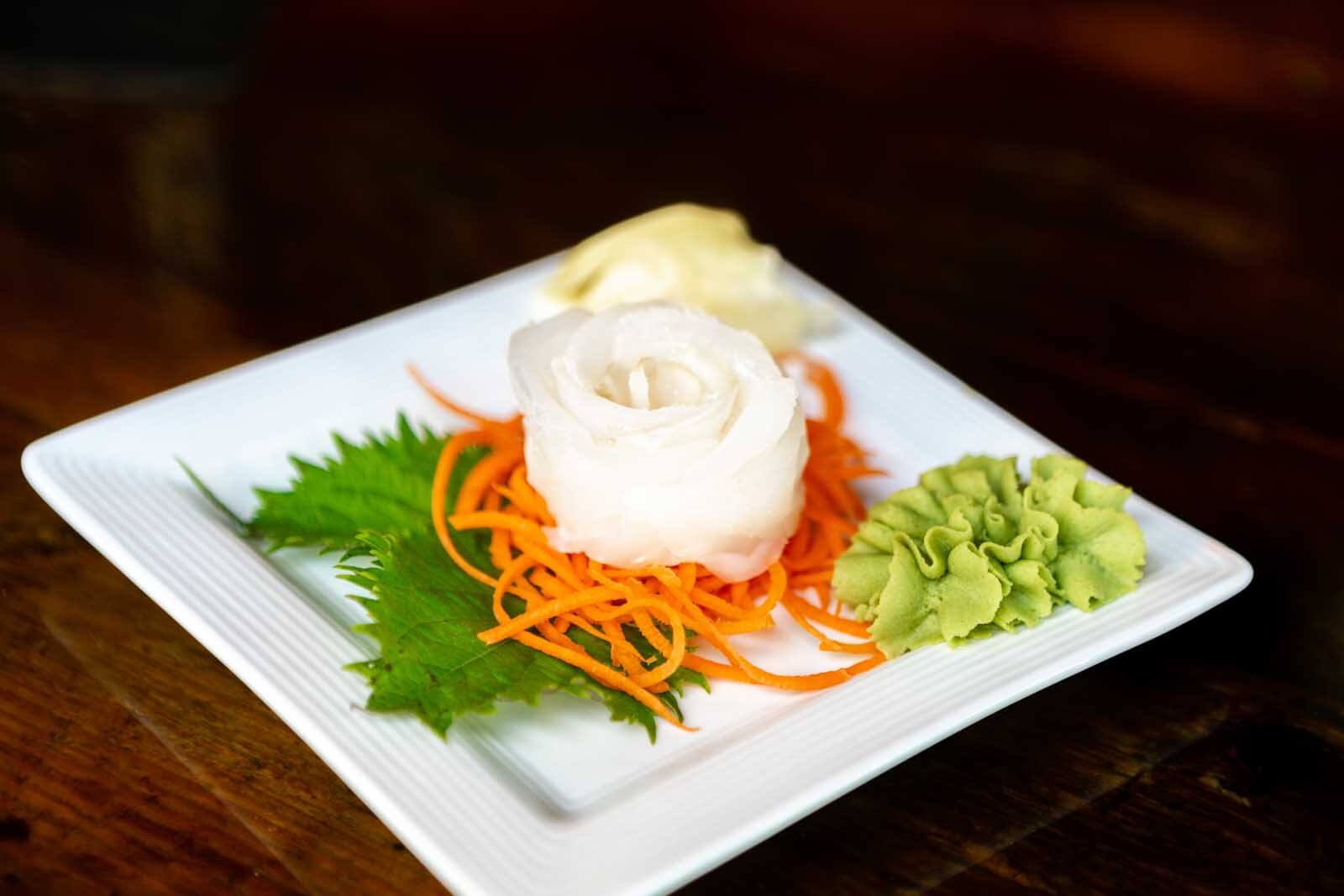 Our next stop on our Florida Keys road trip itinerary for a meal is a restaurant who is doing something great for the local marine environment. During recent years, nonnative lionfish have been threatening the marine environment off the Florida Keys.
The lionfish are native to Indo-Pacific waters and it's a mystery how they found themselves here in the Florida Keys. They are an invasive species that are capable of causing the extinction of native plants and animals. The spines on the lionfish are venomous and can sting. This makes them have very few predators. In addition, they have a very rapid reproductive rate and they eat alot.
The lionfish were quickly wiping out young populations of fish which were damaging to the entire biodiversity of the area. Local fishermen are doing what they can to hunt the lionfish and serve it on menus because its actually a quite delicious fish to consume.
However, that is also difficult because the only way you can really hunt lionfish is by spearfishing in deeper waters making it a hard fish to hunt in large quantities.
Castaway's owner John fishes himself for lionfish that are served in the restaurant as sushi rolls. This is not only a great way to try lionfish but to help the local biodiversity in the waters here in the Florida Keys.
They offer dozens of beer on tap, an extensive sushi menu, and a regular seafood menu to choose from. This is a great stop for slow lunch right on the water and we recommend trying the lionfish while you're here!
Spend the Afternoon at Isla Bella Beach Resort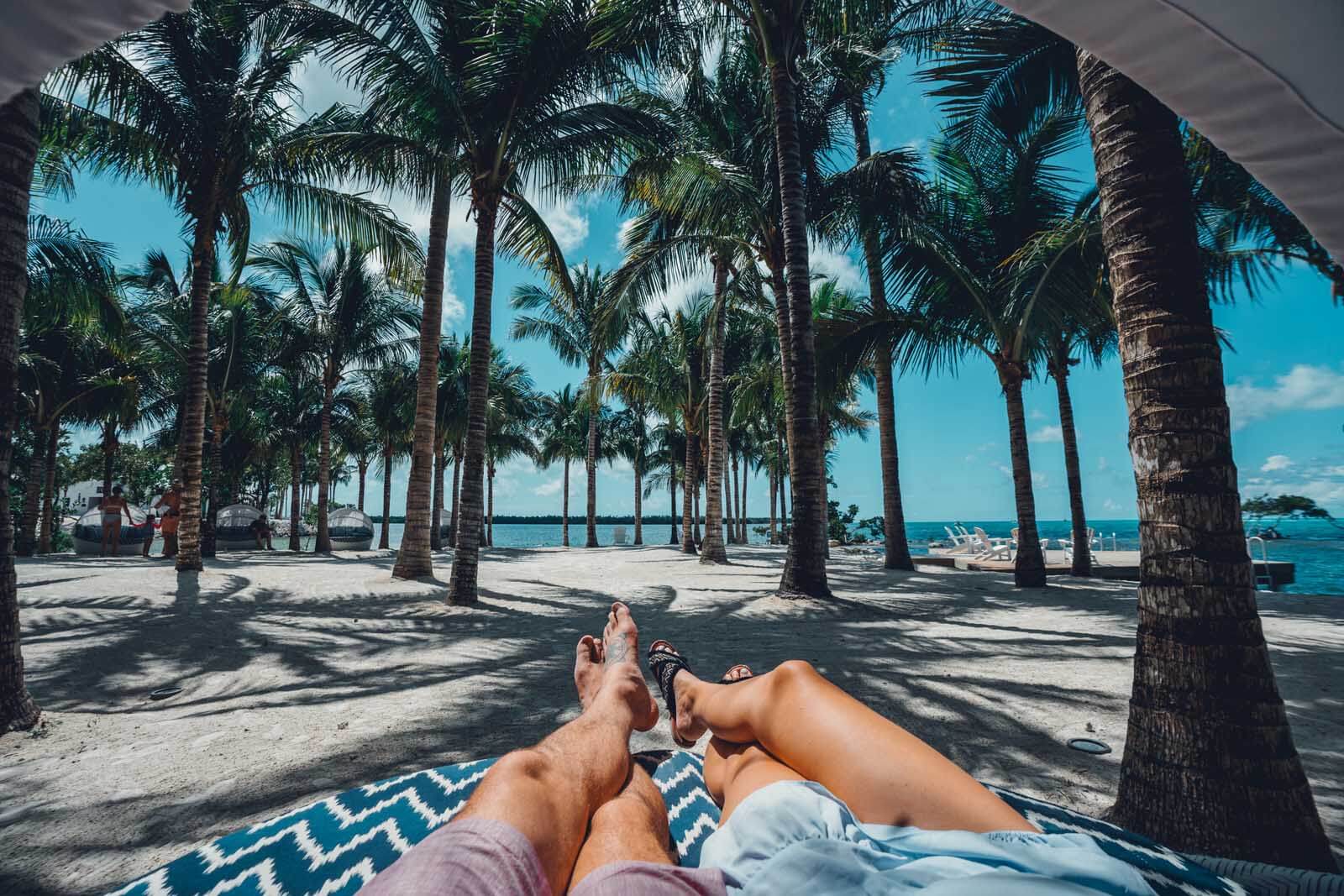 Our final stop on our Florida Keys Road trip itinerary is the perfect place to unwind and reminisce on all the good times you had on your vacation. The incredible waterfront Isla Bella Beach Resort is the perfect place to do it.
Their waterfront villas are gorgeous and comfortable, a great way to pamper yourself before the end of your trip. There are several pools on the property as well as beachside cabanas you can hang out and relax in.
The views here are incredible and relaxing. There's also a beachside bar with slightly overpriced drinks, but you're paying for the location here! And an Italian restaurant on site.
If you don't want to stick around for dinner they do offer bicycles you can borrow from the property to explore anything nearby.
Book Now on Booking.com | Compare Prices on Expedia.com | Check out rates on Hotels.com
---
Disclaimer: This Florida Keys road trip was done in partnership with the Florida Keys & Key West tourism board. However, as always, all opinions and experiences are our own.
---
We hope you enjoyed our guide to the perfect 5 day Florida Keys road trip and Miami to Key West drive guide. If you found it helpful consider bookmarking for later or sharing on Pinterest below.